Last Updated on January 15, 2023 by DMEditor
Today we are going to be looking at two tools that can help you achieve your email marketing goals: Sendinblue vs Sendlane compared, so you can see what each of these tools offers and decide if it's right for you and your business.
Email marketing has a tendency to get overlooked as a marketing tool, particularly for small businesses. But it's actually one of the most cost-effective marketing tools at your disposal, with an average ROI of 3,800%, ($38 for every $1 spent) and with some top-performing companies achieving a return of 70% for every dollar spent – Incredible!
More people are using email now than ever before. There are currently over 3.9 billion email users in the world, and this is predicted to grow to a huge 4.3 billion by 2022.
In fact, 73% of the Millenials say that email is their preferred way to receive communication from the business! This is exactly why if you don't have an email list, you should get started now. It's as easy, we promise!
In this review, we are going to be looking at both the benefits and downsides of Sendinblue and Sendlane, as well as the pricing, and everything else you might want to know about these tools so that you can decide for yourself which is the best solution for your business.
Before we get stuck into the main review, we are just going to go through the main differences between each of these automation platform tools, so that if you are in a rush, you can find what you need quickly.
Bottom Line Up Front Summary: Sendinblue offers MORE features, for LESS MONEY, and is similarly easy to use compared to Sendlane. You can also use their service FREE here for up to 300 sends per day.
Main Differences Between Sendinblue vs Sendlane
The main differences between Sendinblue vs Sendlane are:
Sendinblue lets you create forms and landing pages, whereas Sendlane lets you create popups and forms, but not landing pages.
Sendinblue has a free plan with unlimited contacts, whereas Sendlane plans start from $79/month for 5000 contacts.
Sendinblue includes live chat for your website, whereas Sendlane doesn't offer this feature.
Sendinblue Review 2021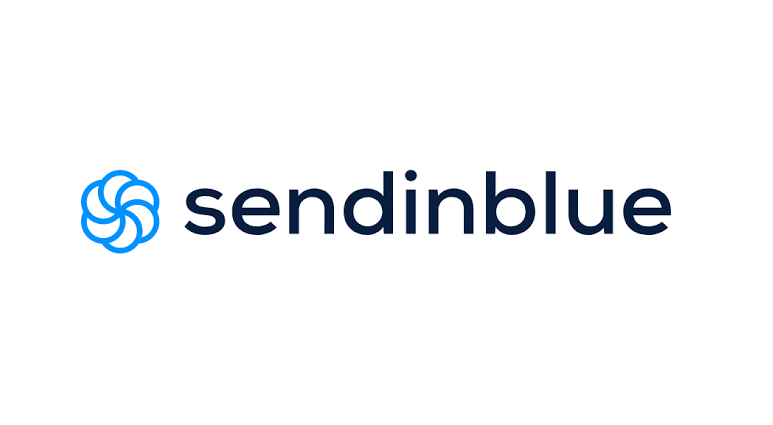 Sendinblue is a suite of powerful cloud-based digital marketing tools that allows you to easily and effectively communicate with your customers. They actually started life as a digital agency, so the team at Sendinblue knew exactly what growing small and medium-sized businesses needed before they created the software
Not only does Sendinblue offer email marketing, SMS marketing, and chat, but they also offer CRM and marketing automation features, not to mention a landing page builder, signup forms, Facebook Ads, and other tools to help you convert your visitors into happy customers.
Let's start by looking at the email marketing service features Sendinblue has to offer. Sendinblue makes it really easy to create beautiful, professional-looking emails that you will be proud of, using their drag and drop page editor.
You can build designs from scratch, or start with one of the professionally designed templates and customize it until it's just the way you want it. There are over 70 templates for you to choose from, so you will always be able to find something that works with your branding and products. You can also create and save your own email template designs so you can use them over and over again.
All of the templates are GDPR compliant and are fully responsive so look amazing on any screen or device. If you're a more advanced user you can take advantage of the dynamic personalization features with Sendinblues powerful templating language, opening up endless possibilities for you to customize your emails.
You can have unlimited lists and contacts within Sendinblue, so you can group contacts in any way you need to, and even create smaller segments such as gender, location, and purchase history so that your customers receive emails tailored specifically for them.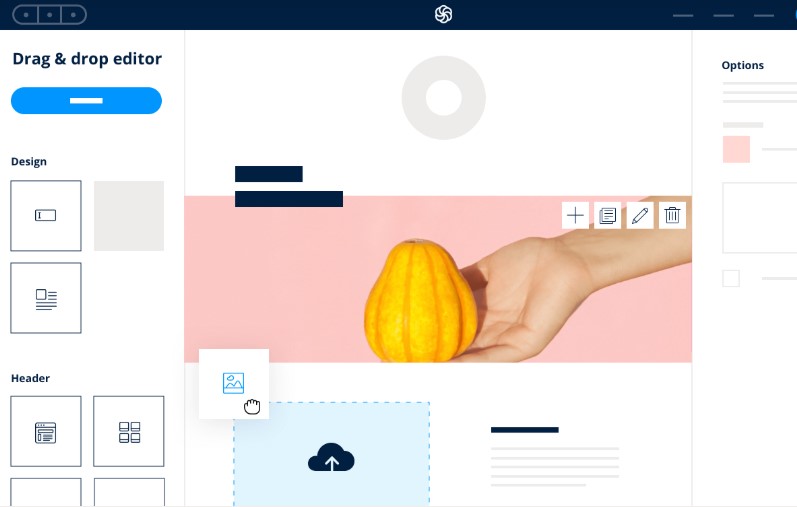 Once you have finalized your message you can experiment with A/B testing to see what subject lines work best for your audience, and you can take advantage of the send time optimization features where Sendinblue uses machine learning to find the times that your emails get the best open rate and engagement.
As well as email marketing, you can also use SMS and chat to communicate with your customers. SMS has been proven to work well for any urgent messages you want to get out to your customers, such as last-minute sales and special offers. You can also use SMS to keep your customers up to date with any important information about their order, such as shipping and delivery information.
The chat features allow you to connect with your customers in real-time by installing a chatbox on your website. The chatbox can be completely customized so it complements your website and your customers immediately recognize it as part of your brand. It's easy to install so you can have it up and running in minutes, allowing you to start helping your customers.
The live chat can be used to help your customers while they are browsing your website so you can assist if they come across any problems, or answer any questions they may have about your products or services. You can even see which page of your website your customer is on so that you can help them even further, saving time for both you and your customer.
To make sure your team stays on top of everything, you can assign different customer chats to different team members, so that no one is left waiting, and no sales are lost.
Sendinblue also has an inbuilt CRM, so that you can easily manage all of your customer relationships from one place. You can centralize all of your customer information, and add notes, see records of previous conversations, and upload any documents that are relevant to the customer too.
You can organize your contacts in whichever way suits you best, so for example, you could organize them by where they are in your conversion funnel!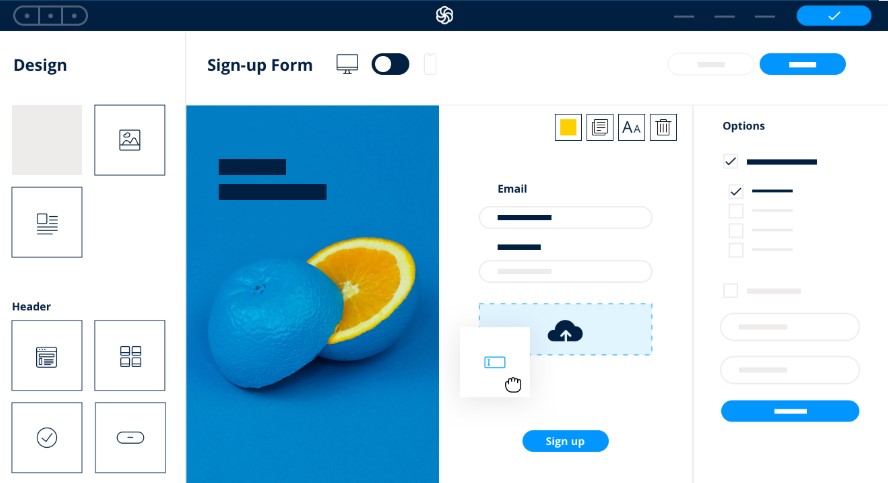 Having your contacts organized this way makes it easier to work as a team with your colleagues, as you can create tasks for different team members, add notes and deadlines, and even set automated follow-up emails.
You can create automated email workflows with Sendinblue's email marketing autoresponder and automation features. This saves you hours of time each week and makes sure no customer gets forgotten about. A welcome email can be automatically sent when a customer signs up to your list, and you can automate a follow-up sequence too if you wish, to nurture the customer and help them get to know your brand.
You can also create more advanced workflows, sending customers emails when they take specific actions such as visiting certain web pages with the lead scoring features, allowing you to automatically send customers the right emails at the right time on autopilot, to help boost your sales. The split testing features can also be used on your workflows so you can test how things like different email designs affect your conversion rates.
Transactional emails can also be automated, so that when a customer makes a purchase they automatically receive their confirmation and delivery notifications, leaving you more free time to worry about other areas of your business.
To help you grow your list, Sendinblue includes signup forms. You can build the forms yourself with the drag and drop builder, and customize the images, text, and colors, to suit your branding.
You can add as many different fields to your form as you like, to let you collect the exact information you need from your customers. Once your form is ready, you can add it to your website with the embeddable HTML code, or include a link within your social media profiles or emails.
Landing pages are also included with Sendinblue, so you can easily create beautiful pages to help you achieve your goals, whether it's to get sign-ups for an event, webinar, or even to sell a product or e-book, and there are lots of templates for you to choose from whatever your goal is.
To create a guided experience for your customers you can also include follow up pages such as a thank you page, special offer or simply just a confirmation page.
Once you are ready to reach out to a larger audience, you can use Sendinblue to create and manage your Facebook ads. The ad builder allows you to choose the format of your ad and lets you add creative elements such as images and copy to help you convert new customers.
You can target specific lists of contacts with your ads, or find completely new customers within your target audience by using Facebook's lookalike audience feature from within Sendinblue. Everything you need to do for your ad can be done from within your Sendinblue account, from setting your daily budget to the duration of your campaign, and you can easily see how your ads are performing and track your results from your dashboard.
The Main Features of Sendinblue
Email marketing
Machine learning
SMS marketing
Live chat
CRM
Marketing Automation
Transactional emails
Signup forms
Landing pages
Facebook ads
Retargeting
The Benefits of Using Sendinblue
You can manage all of your emails and CRM all from one place, saving you from switching from one tool to another.
It's easy to build emails, forms, and landing pages with Sendlinblue's drag and drop builder. There are also lots of templates to choose from and you can save your favorite designs to use again for future marketing campaigns.
Sendinblue offers SMS marketing, so you can reach your customers instantly, wherever they are, allowing you to communicate important messages quickly.
Sendinblue includes live chat for your website, allowing you to help them through any issues and answer any questions they might have.
Creates advanced workflows with the marketing automation features, so customers receive the right emails at the right time, helping you increase conversations.
The Downsides to Using Sendinblue
There aren't really many downsides to Sendinblue, the only thing we could say is that the customer support can sometimes be a little slow, and there is a small learning curve when setting up your account. Other than that, it's a great value tool with lots of useful features.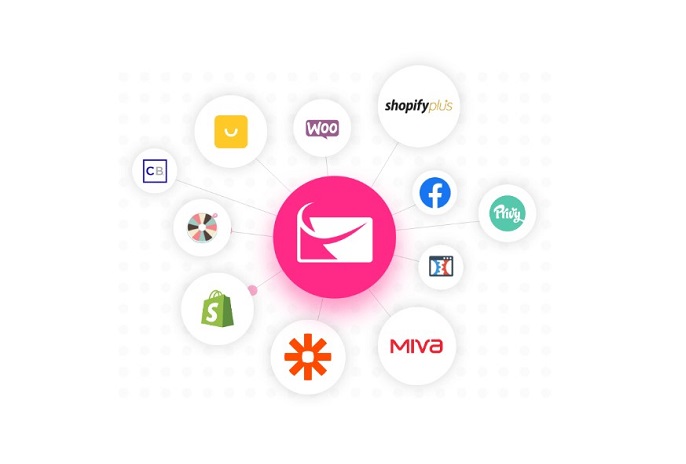 Sendlane is an intelligent marketing automation tool that lets you nurture your customers, and create personalized experiences, to help you increase your conversion rates, and maximize your ROI.
You can use Sendlane to track your contacts from the moment they visit your website, until the moment they make a purchase, allowing you to understand every step of the journey and letting you help them along the way if they need it.
It's easy to get started creating email campaigns with Sendlane, and there are no technical skills required, since there is an intuitive drag and drop page builder to use, although you can use HTML if you wish.
You can start from scratch, or choose one of the pre-tested high converting email templates provided, and adapt it to suit your branding and needs. Sendlane has machine learning capabilities that track the open rate and engagement of emails you send to your audience, so it learns the optimal time for you to send emails, ensuring a higher engagement rate over time.
One of Sendlanes best features is its advanced analytics dashboard. Don't worry, it's not complicated to use! It's actually very intuitive, so you can get started with it straight away. The dashboard shows you important metrics such as click-through and open rates, as well as more detailed data such as location, device and conversions.
This data will help you to optimize future campaigns and identify opportunities to increase your conversions and customer lifetime value.
Sendlane offers advanced marketing automation features that allow you to automatically send customers specific emails based on actions they have taken, which can improve your customer relationships and conversations, not to mention save you hours every day sending follow up emails manually.
To help you save time, you can choose from a variety of pre-built funnels, which have been pre-optimized to ensure a high conversion rate. There are funnels for all of your needs, including webinar registrations, product purchases, abandoned carts, discounts, and much more!
You can also send automatic emails anytime a customer signs up to your list, with nurture sequences to warm up you or leads and gradually nudge them towards making a purchase.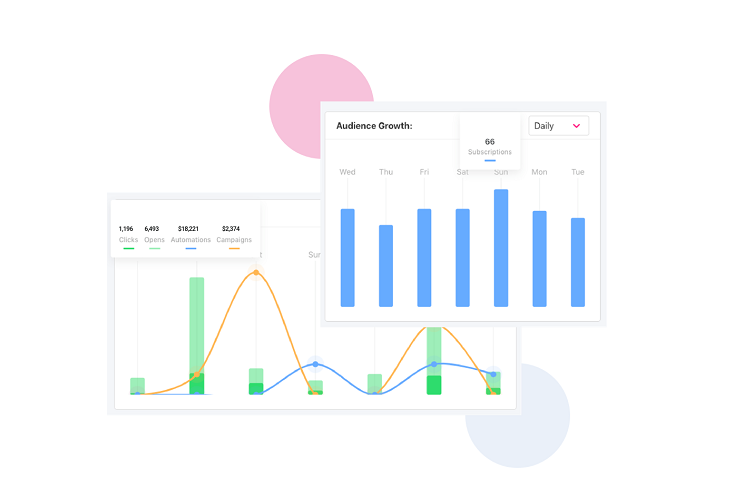 There are also automated retargeting features, allowing you to recontact a customer who has left your website without making a purchase to entice them to return and buy from you. The advanced segmentation features allow you to send each customer an email that is tailored to their demographics and behaviour, so they receive personalized emails and promotions that will appeal specifically to them.
You can also use Sendlane to send SMS messages to your customers, enabling you to reach them wherever they are, and get important messages across quickly, such as for limited time promotions and sales. Customers can be segmented and targeted in the same way as email, so you can be sure that each customer gets a message that will appeal directly to them.
To help you grow your list and increase your customer base, Sendlane has a variety of popups and forms that you can create to add to your website to collect information from your visitors and allow you to stay in touch with them. Once a customer has signed up you can trigger an automation series of email to be sent to them to nurture them and help them on their way to becoming a paying customer.
Sendlane Beacon lets you use tracking pixels to track your customer journey from the moment they land on your website to when they sign up or buy from you, allowing you to see valuable insights into the behaviour of your customers, and send them the right campaigns at the right time.
Sendlane integrates with over 400 other apps, so you can connect your favorit shopping cart, membership platform, or any other app you wish to use, and it will work seamlessly with Sendlane making your life simple.
The Main Features of Sendlane
Email marketing
Machine learning
SMS marketing
Marketing Automation
Transactional emails
Signup forms
Facebook ads
Retargeting
Multivariable segmentation
Integrations
The Benefits of Using Sendlane
Sendlane lets you manage and automate your marketing strategy
Sendlane has machine learning features that tell you exactly when your audience is most engaged and when emails are most likely to convert
You can send your customers targeted emails or SMS messages based on their behavior
You can track your exact ROI with real-time analytics
You can integrate your Sendlane with almost any other app, including Zapier, Stripe, Shopify, and hundreds more
Sendlane is intuitive and easy to use, even with no prior experience
The Downsides to Using Sendlane
Sendlane is quite expensive compared to other software offering the same features. It's also quite difficult to import your contacts if you are moving over from another platform, and they may need to be manually reviewed. However, there is 24/7 hours support to help with issues like this.
Sendinblue vs Sendlane: Marketing Platform Pricing Compared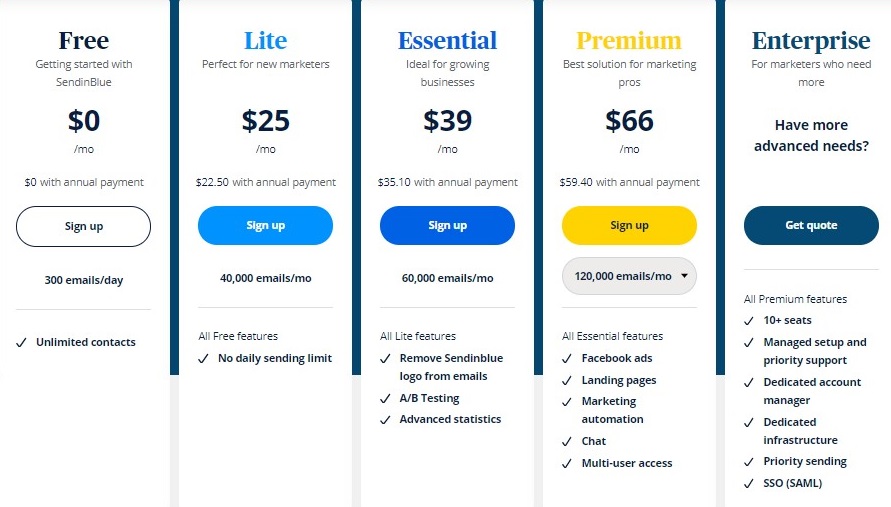 Sendinblue pricing is simple and easy to understand. It starts with a free plan which is perfect for small businesses just getting started. The free plan lets you send up to 300 emails per day, and allows you to have unlimited contacts. The first of the paid plans is the Lite plan, which costs $25/month. This plan gives you unlimited contacts, SMS marketing, A/B testing, and lets you send up to 40,000 emails per month.
The Essential plan is ideal for growing businesses and costs $39/month. This plan includes everything from the lite plan, as well as advanced statistics, no Sendinblue branding on the emails you send, and lets you send 60,000 emails each month.
The Premium plan is the most popular plan and costs $66/month. This plan includes all of the features form the Essential plan, as well as Facebook ads, landing pages, marketing automation, chat, and multi-user access.
If you would like to give Sendinblue a test drive you can try their free plan here.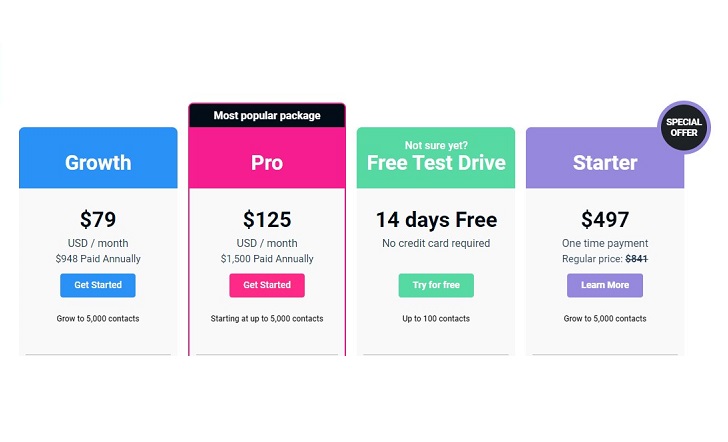 Sendlane pricing is a little more complex, as it depends on how many contacts you have. You can use their dynamic pricing calculator on their website if you would like to check the pricing for a certain amount for contacts, but as an example, we are going to look at pricing plans for 5,000 contacts.
First up is the Growth plan which costs $79/month which includes email marketing automation, cross channel marketing, automated list hygiene, real-time analytics, user segmentation, tags, custom fields, Sendlane Beacon, Powerful Email Retargeting, Machine Learning Open Predictability, ROI and Conversion Tracking, Flexible and Robust API Connections, Customer Journey Lifecycle, Pre-Built Automation Funnels, Customizable Webforms, and over 1000 integrations.
And then there's the 'Marketing Automation Pro' plan which costs $125/month, and includes everything from the Growth package, as well as SMS messaging, trigger and event-based lead capturing, trigger and event-based automation funnels, API transactional emails, Advanced pre-built automation funnels Deep data analytics, VIP migration service, and your own dedicated account manager.
There is no free plan available for Sandlane, but if you would like to give them a try, you can take advantage of their free 14 day trial with no credit card required to sign up.
Our Verdict: Sendinblue vs Sendlane – Which is better?
After looking in-depth at all of the features offered by each of these tools, as well as the pricing, we have a clear winner.
Drumroll…
The winner is Sendinblue!
This was an unusually easy choice for us, and although they are both great marketing tools, Sendinblue offers more features at a far better price.
First of all, Sendinblue offers live chat features, which Sendlane doesn't have. This is a fantastic tool for communication with your customers while they are on your website, and guiding your customers through any issues they are having can be the difference between making a sale and losing a potential customer.
Since Sendlane doesn't offer a chat feature, if you decide to use this service you will need to purchase a separate chat provider for your website. Sendinblue also offers landing pages, which is another feature that Sendlane doesn't have, and is a great addition to your suite of tools. Landing pages can help you to sell webinars, events, and even products to your customers, as well as helping you gain new customer data and grow your list.
And then we have the pricing. For a fairer comparison, we will look at the 'Premium' plan from Sendinblue and the 'Marketing Automation Pro' plan from Sendlane, as they both include all of their important features. Sendinblue comes in at just $66/month for use of all of these features, whereas Sendlane is $125/month, and that's still for only 5,000 contacts, so you can see that Sendinblue is a far better value.
Bottom Line: Sendinblue offers MORE features, for LESS MONEY, and is similarly easy to use compared to Sendlane. You can also use their service FREE here for up to 300 sends per day.
Both of these tools are powerful, and great for marketing your business, but if you're going to choose one, go for Sendinblue, for their additional features as well as the excellent value they offer.
If you want to try Sendinblue out before committing to a paid plan, head over and try their FREE plan now.
Here are some other related articles you may be interested in: