Last Updated on July 2, 2023 by Ewen Finser
If you are trying to figure out if Stripe or Chargebee is best for your business, you are in the right place.
I've struggled with figuring out which payment solution is best for our various businesses (ecommerce and digital media). While Stripe is the dominant player, it's not always the best (or most affordable with fees) option for your business.
In this comparison, I'll break down the key differences and distinctions for when Chargebee actually makes a lot of sense for certain businesses.
At a Glance Summary
Here's my high level assessment of the core trade-offs:
| Feature | Stripe | Chargebee |
| --- | --- | --- |
| Target Users | Mainly e-commerce businesses | SaaS companies managing recurring payments |
| Pricing | Uses a per-transaction pricing model | Offers various flat monthly pricing tiers |
| ACH Payments | Supported | Supported through integration with Stripe |
| Payment Platforms | Supports a wide range of payment options | Accepts over 100 currencies and 23 payment gateways |
| Business Solutions | Versatile with a rich developer toolkit | Specializes in subscription and dunning managemenyt |
| Support for International Payments | Yes, 135+ currencies | Yes, accepts over 100 currencies |
| Suitability for High Volume Businesses | Offers customized pricing for large scale businesses | Suitable for mid to large companies w/recurring sales |
| Accessibility | Requires some technical skills for advanced features | Known for easy-to-use tools |
| Availability of Funds | 7-14 Days | Up to 7 days |
What is Chargebee?
Chargebee, a software-as-a-service (SaaS) billing platform, has become an essential tool for businesses operating recurring revenue models. The platform offers a myriad of features designed to automate and manage recurring billing processes, supporting various billing models such as subscription-based and metered billing.
What Chargebee Offers
Chargebee provides a complete lifecycle management solution for subscriptions. From the initial sign-up to renewal and billing, Chargebee's suite of tools offers customizable invoices, flexible pricing options, and seamless integration with popular payment gateways and other business tools.
Primarily catering to small and medium-sized enterprises (SMEs) providing subscription-based services, Chargebee's extensive range of features simplifies the billing process.
Chargebee's Ownership and Location
Chargebee is a privately held company established in 2011 by Krish Subramanian, Rajaraman Santhanam, Saravanan KP, and Thiyagarajan Thiyagu. Headquartered in San Francisco, this Indian-origin company has been making waves in the billing platform universe since its inception.
What is Stripe?
Stripe, a well-known technology company, has made a name for itself with its online payment processing platform. Among its other offerings is Stripe Billing, a product that helps businesses manage subscriptions, generate invoices, and collect customer payments.
Stripe Billing Explained
Stripe Billing is an extension of Stripe's payment processing platform, providing businesses with tools to manage and automate their billing and subscription processes. The platform supports recurring payments, different pricing models, and operates worldwide, making it an attractive option for global businesses.
Stripe's Ownership and Location
Stripe was founded in 2010 by Irish entrepreneurs Patrick and John Collison. The company, privately owned by the Collison brothers and various investors, has grown exponentially to become a leading payment processing platform worldwide. Stripe operates dual headquarters in South San Francisco, California, USA, and Dublin, Ireland.
Comparing Chargebee and Stripe
In comparing Chargebee and Stripe Billing, we've conducted extensive research, analyzing their key features, integration options, pricing models, and customer reviews. Our aim is to provide an unbiased, informed comparison to help businesses decide which platform suits their needs best.
Chargebee vs Stripe Billing
Both Chargebee and Stripe Billing cater to businesses operating on subscription-based revenue models. However, they can also serve companies with a mix of subscription and non-subscription revenue models, including one-time payments, prepaid services, Pay-as-you-go, or metered billing.
Stripe Features
Stripe provides a versatile array of payment options, accepting various payment types such as MasterCard, Visa, American Express, Discover, and mobile wallets like Google Pay and Apple Pay. It also supports over 135 currencies, making it a suitable option for businesses operating internationally.
For tech-savvy customers, Stripe offers a rich developer toolkit, including Stripe Elements, Stripe Sources, and Stripe Connect. These tools allow users to customize their business's payment handling processes. Furthermore, Stripe integrates with several third-party services, enhancing its functionality.
Finally, Stripe offers robust customer support, available 24/7 via email, phone, and live chat. It also boasts comprehensive documentation for new developers.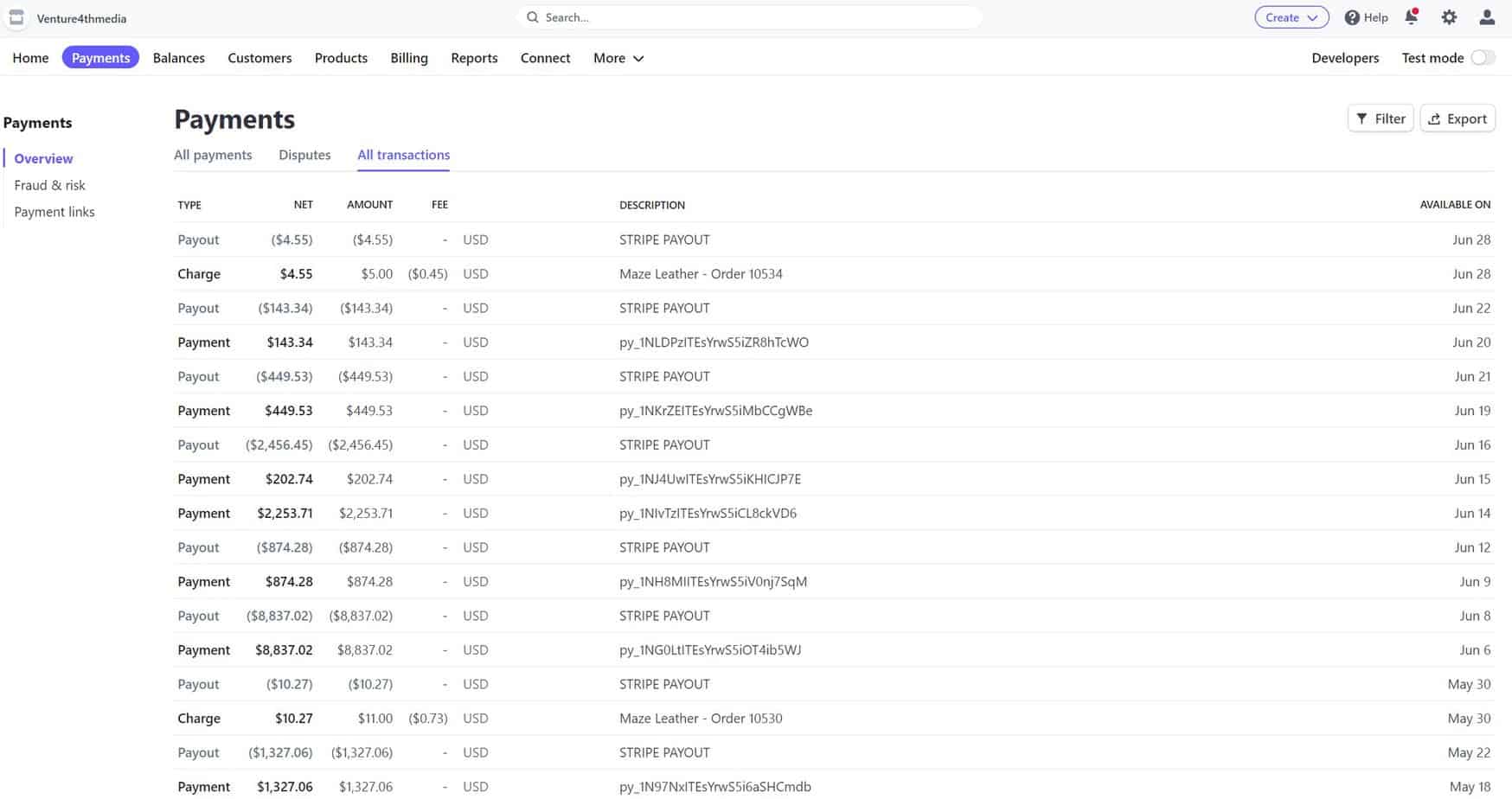 Chargebee Features
Chargebee accepts over 100 currencies and 23 payment gateways, including Stripe. It can handle various payment methods such as credit cards, ACH Direct Debit, PayPal, Apple Pay, Google Pay, Amazon Pay, and even offline payments like bank transfers and checks.
Chargebee also offers smart dunning features to prevent revenue loss due to payment failures. The platform elegantly handles chargebacks, resolving customer disputes quickly and efficiently.
Stripe vs Chargebee Pricing Structure
While both platforms offer a rich set of features, their pricing models differ significantly. Stripe uses a per-transaction pricing model, while Chargebee uses various flat monthly pricing tiers based on the business's level of revenue.
Stripe Pricing
Stripe offers two pricing models: Integrated and Customized. The Integrated option, geared towards most businesses, charges a per-transaction fee of 2.9 percent plus a flat rate of $0.30. Stripe also offers custom pricing for businesses with unique requirements, including options for volume discounts, multi-product discounts, and country-specific rates.
Chargebee Pricing
Chargebee employs a tiered pricing model, with the Rise plan ($249/month) allowing for $600,000 in annual revenue and the Scale plan ($549/month) allowing for $900,000 in annual revenue. In addition, Chargebee offers a custom pricing tier for businesses with unique needs.
Stripe vs Chargebee Fee Structures Compared
Here's a high level overview of the pricing & fees compared:
| Fee Model Component | Stripe | Chargebee |
| --- | --- | --- |
| Setup Fee | Stripe does not charge any setup fee. | Chargebee does not charge any setup fee. |
| Transaction Fee | Stripe charges a fee of 2.9% + 30¢ per successful card charge for businesses in the US. For international transactions, the fee is 3.9% + 30¢. | Chargebee offers a basic plan that's free for the first $50K in revenue. However, beyond that, they charge $299/month for their Rise plan and $599/month for their Scale plan. Transaction fees are not applicable as Chargebee is not a payment gateway. |
| Monthly Fee | Stripe does not charge any monthly fees. The cost depends on the number of transactions. | Chargebee's pricing plan starts from $299/month (Rise plan) and goes up to $599/month (Scale plan). There is also a custom pricing available for larger businesses (Enterprise plan). |
| Refund Fee | Stripe returns the entire fee for refunded transactions. | Since Chargebee is not a payment gateway, it does not process refunds. Refund fees depend on the integrated payment gateway. |
| Chargeback Fee | Stripe charges $15 for a chargeback. | Chargebee does not handle chargebacks. Chargeback fees depend on the integrated payment gateway. |
| ACH Payments Fee | Stripe charges 0.8% per ACH transaction, capped at $5. | Chargebee does not process ACH payments. The fee for ACH payments depends on the integrated payment gateway. |
| International Payments Fee | Stripe charges an additional 1% fee for international payments. | International payment fees with Chargebee are subject to the chosen payment gateway. |
Customer Feedback: Reviews and Ratings
Customer reviews and ratings provide valuable insights into the user experience of both platforms. On G2, a reputable software review site, Stripe averages 4.4 out of 5 stars, based on 88 user reviews. Meanwhile, Chargebee enjoys an average rating of 4.7 out of 5 stars, based on 403 user reviews.
Most user comments highlight Stripe's ease of use, extensive functionality, and robust customer support. However, some users have expressed dissatisfaction with the inability to accept gift cards and high transaction fees for expensive items.
On the other hand, Chargebee users laud its simple integration, subscription management features, and cost-effectiveness against building and maintaining an in-house subscription management tool. Some criticisms include the lack of customization options, unclear documentation, and slow customer support responses.
Other Stripe Alternatives
While you are looking for Stripe alternatives, it may be worth considering these other options as well:
The Final Verdict: Chargebee vs Stripe
Both Stripe and Chargebee offer robust, feature-rich platforms for managing recurring revenue processes and charges. However, the choice between the two depends on your specific business needs.
Stripe, with its wide range of payment options and rich developer toolkit, is a suitable choice for businesses with a high volume of one-time transactions.
On the other hand, Chargebee, with its focus on subscription management and recurring payments, is ideal for businesses that operate on a subscription-based revenue model.
Bottom Line: If you have a majority subscription / recurring business model, I find it hard to beat Chargebee. There's likely some technical reasons for companies to stick with Stripe, but if you don't have a large tech team (or can't get technical right now), having cheaper and easier to setup / maintain system like Chargebee is a no brainer.