Last Updated on June 1, 2023 by Ewen Finser
Choosing the best payment processor for your online business is key to ensuring your customers have a safe shopping experience with you. Our Stripe vs Moolah comparison may help you whittle down your search a little!
While Stripe and Moolah have a lot in common – they're both safe, secure payment processors offering similar benefits for your customers – they do have some differences.
How Can You Tell Which One is Best?
The bottom line upfront: We like Stripe, generally speaking. There's more support available, everything is contained in one platform, and it has a lot of payment options for customers. However, if you're running a physical business too, it's worth checking out Moolah, as the costs are a little lower.
We'll look at each one in more detail, but to start with, let's check out what makes Stripe and Moolah different from each other.
Main Differences Between Stripe vs Moolah
Here are the main features that set the two apart:
Stripe has everything included, whereas Moolah relies on integration with Authorize.net
Stripe has more in-depth reporting available, whereas Moolah's reporting again relies on Authorize.net
Stripe offers more types of payment, whereas Moolah only offers Apple Pay or credit card
Stripe's in-person payments cost extra and you have to pay for the physical card terminal, whereas Moolah is cheaper and offers the payment terminal for free
Stripe has its own mobile app, whereas Moolah doesn't
Stripe is easier to sign up for, whereas Moolah's sign-up process takes longer
Stripe's pricing can be a little unclear, whereas Moolah's pricing is very simple
Stripe is generally a little more expensive, whereas Moolah is slightly cheaper
It's hard to compare the two. On the face of it, Moolah offers hardly any extra features compared to Stripe. However, once you've taken into account the free access to Authorize.net, that changes things a little.
Generally, we think that Stripe is a bit 'neater' to use. It's easier to sign up for, everything is on the same platform, and there is a lot of flexibility and extra features that are appealing.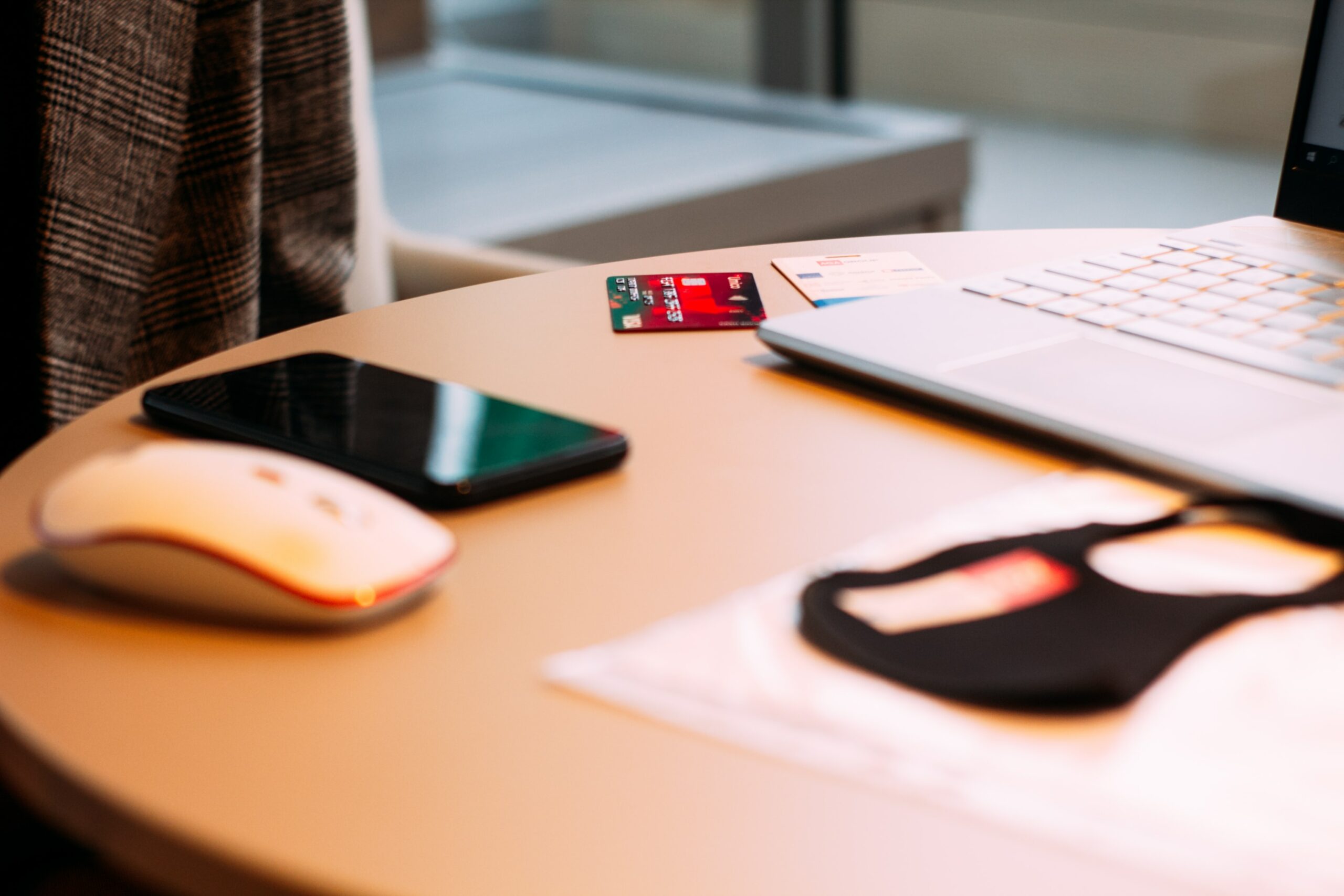 However, there are some advantages to Moolah. It's ever so slightly cheaper per transaction, and the pricing structure generally is much clearer. Plus, we think that the in-person payment processor that Moolah offers is a bit more appealing, and you won't have to pay extra for the payment terminal.
Stripe vs Moolah – the Similarities
They're similar in a few ways:
They both offer in-person and online payments
They both have helpful customer support teams
They both allow you to sell subscription-based products
They're both pretty easy to navigate
Now we'll look at them both in more detail.
What is Stripe?
Stripe is a popular payment processor that allows you to offer customers multiple payment methods. You can sell physical or virtual products, offer subscriptions, and draw in new customers with vouchers and coupons. It's a secure platform, and you can offer in-person payments at an extra cost.
What is Moolah?
Moolah is a payment processor that allows you to sell physical, virtual, and subscription-based products. It partners with Authorize.net. It has a clear and consistent pricing plan and offers a free payment terminal for in-person payments.
Stripe – the Main Features
First up, let's explore Stripe.
UX/Dashboard
Stripe has a pretty simple, stripped-back layout which is quite easy to navigate. It takes just moments to sign up, and you don't need to input any payment information, so you can test it out before you start selling.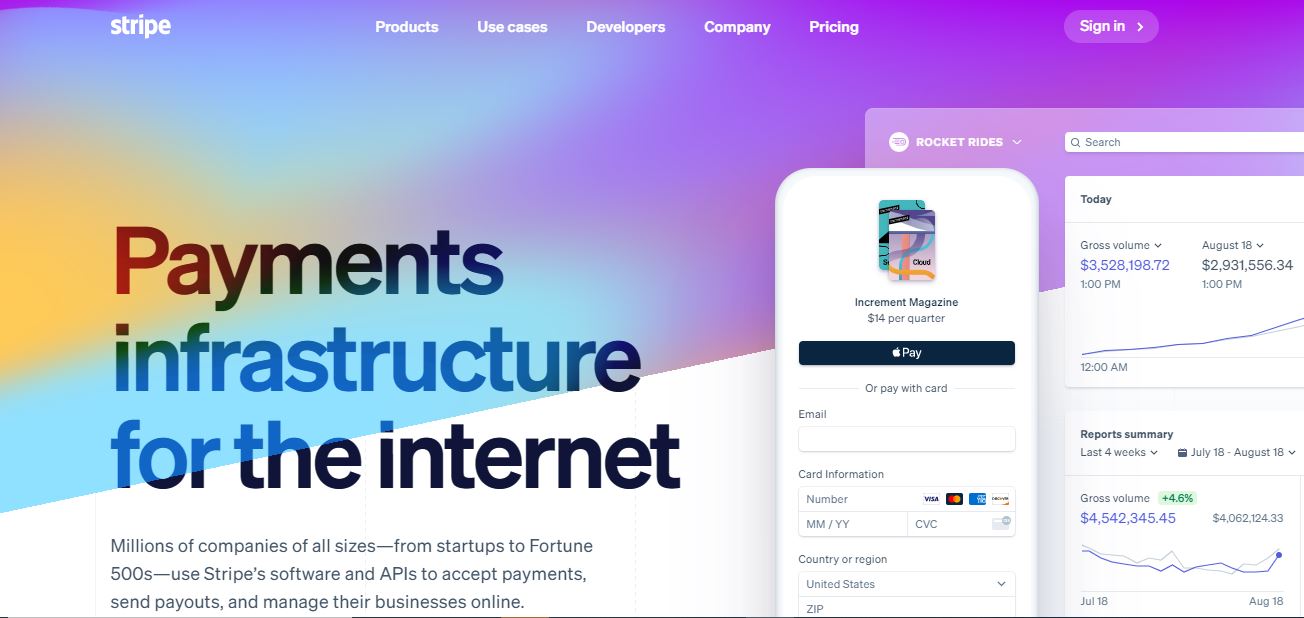 There's also a 'getting started' guide that takes you through all the steps you need to complete after sign up.
Payment Processor
Stripe is a safe payment processor that allows your customers to pay using a wide range of methods, including:
Credit/debit card
Alipay
Apple Pay
Google Pay
Microsoft Pay
WeChat Pay
Click to Pay
Bank debits and transfers
Bank redirects
Klarna
OXXO
The lack of PayPal payments is a shame, but there are plenty of choices, which is good. You can also sell in over 135 countries (but charges may occur depending on where you want to take payments from).
Stripe can automatically update expired cards, which makes things easier for both you and your customers. You can also use Stripe to provide payouts, and you can split payments, send money, and transfer funds using the platform. This is great if you use freelancers or contractors.
Billing and Accounting/Subscriptions
You can offer multiple types of subscription plans with Stripe, and these are pretty customizable. You can also create personalized email receipts, so if you want to keep in touch with loyal customers, it makes it a little easier. Branding is made a bit easier as well with customizable landing pages and invoices, which is good for consistency.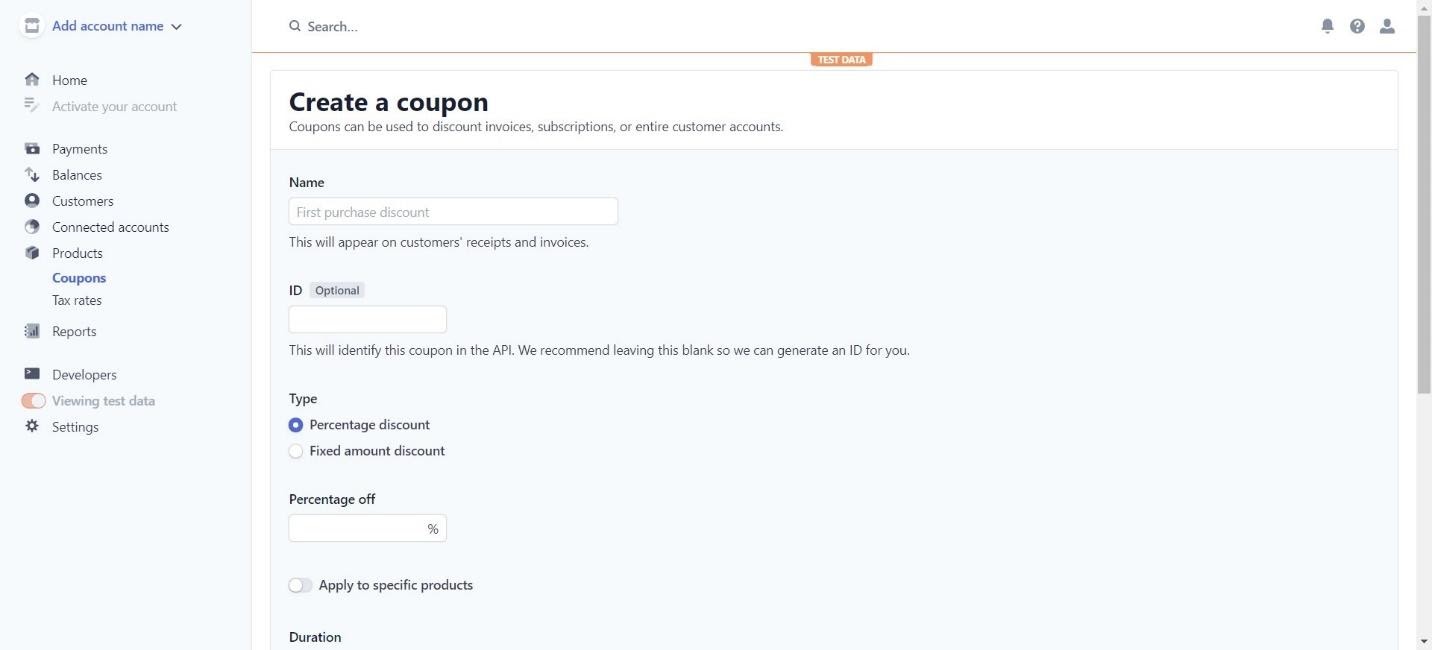 You can also offer a few extras for your customers, like free trials, coupons, and discounts. You can even create physical cards for customers (at an extra cost). Stripe is pretty flexible with programmable APIs and tools, so if you do have a developer on board, you can take advantage of this and create something that fits your business.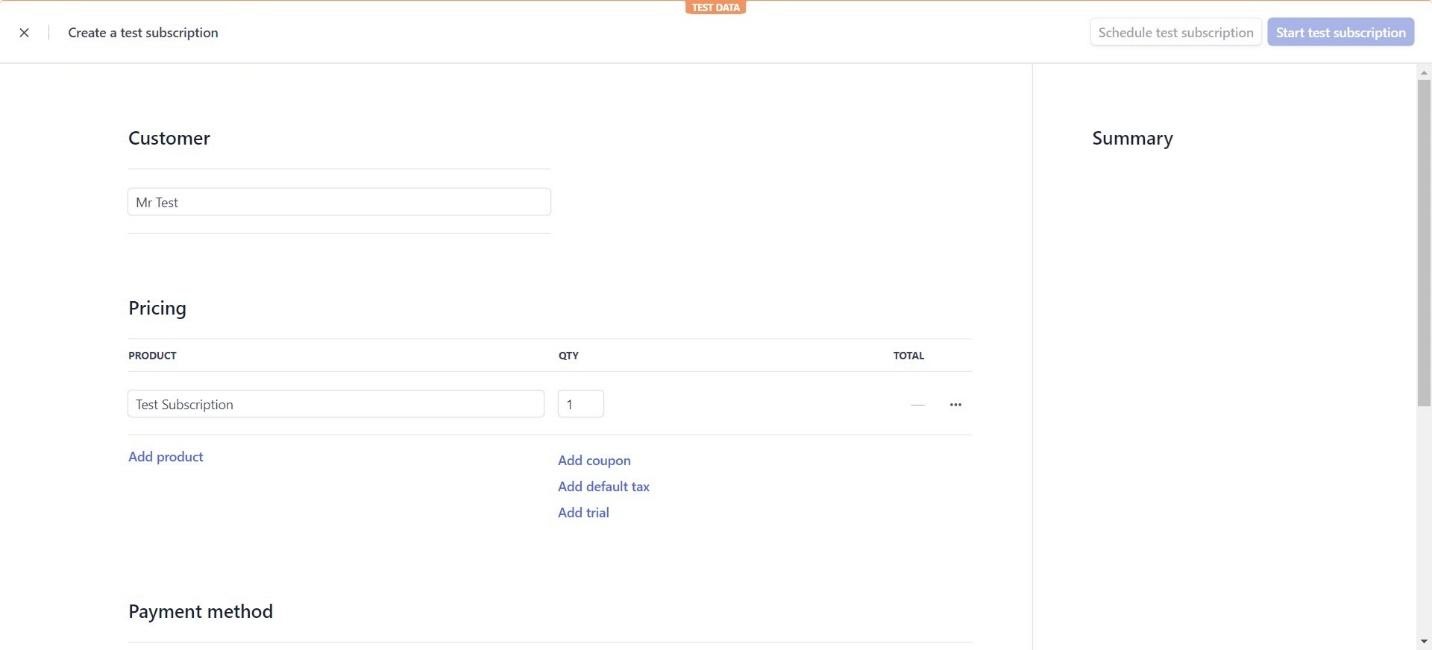 It's pretty straightforward to set up products on Stripe, which can then be linked to your subscription plans.
Security
Stripe is a secure payment processor, and they also offer a separate service called Radar. It detects and blocks fraud, using an algorithm to find new fraud patterns over time. It's great for blocking fraudulent payments without you having to worry about it, but it does come at an extra cost.
In-Person Payments
Stripe has an app, Terminal, which allows you to take in-person payments. You can easily run your eCommerce and physical businesses from the same platform, which is useful. They offer hardware too, but you have to pay for this separately. This allows you to offer chip cards and contactless payments.
Analytics/Reporting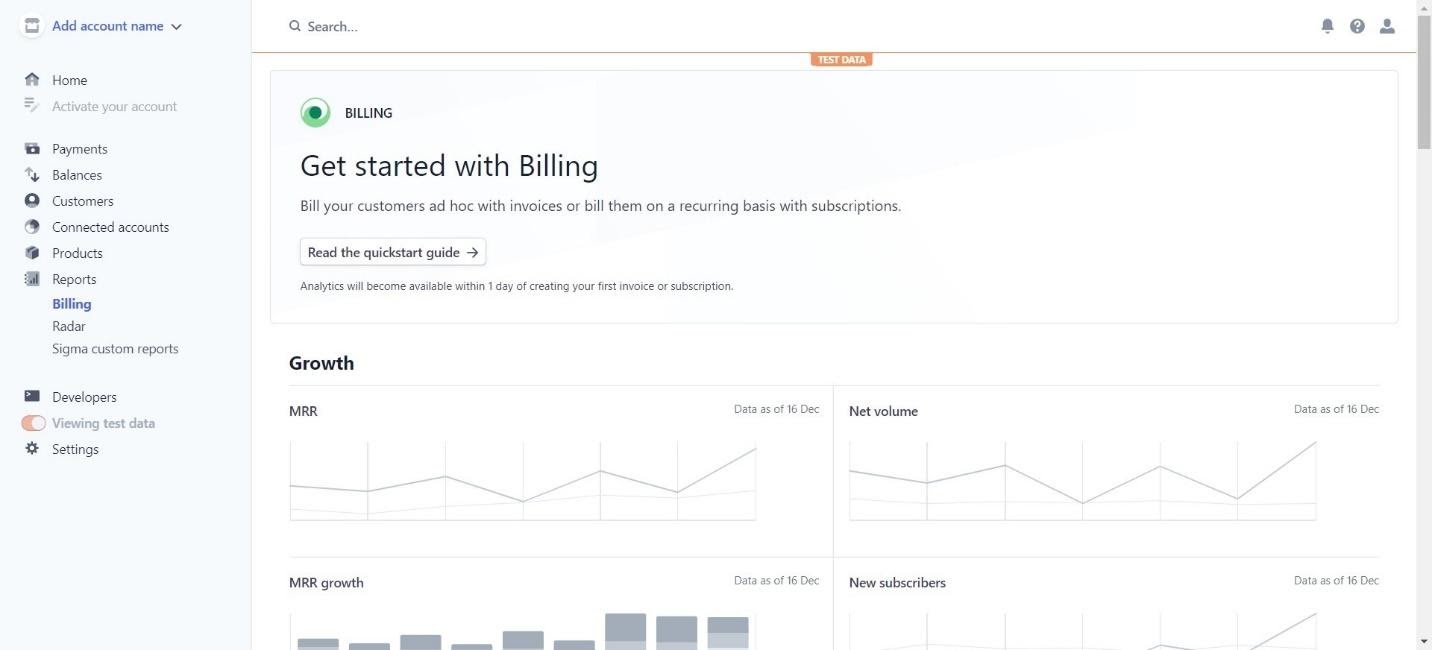 Stripe's basic plan includes some reporting, with an overview of invoices, net volume, growth, and new subscribers. If you want more in-depth reporting, you will have to sign up for Stripe Sigma. This is a powerful analytics tool, allowing you to do things like identifying the regions that give you the most revenue or find the most popular products you offer. You can create customizable reports and send them to other team members.
Mobile App
Stripe's mobile app is pretty basic. You can see your dashboard, payouts, and payments wherever you go, so it essentially allows you to keep an eye on your business while you're out and about. The app is free on iOS and Android.
Integrations
Stripe integrates with some popular eCommerce platforms, including:
Squarespace
Shopify
Magneto
WooCommerce
Moolah – the Main Features
Let's take a look at how Moolah works.
UX/Dashboard
Moolah doesn't offer a free trial, and the registration process is a little more complex than Stripe – you require more personal details, like tax codes (US) and driving license information (Canada). This means it'll take a little longer to get going than Stripe, as they can take 72 hours to approve or deny your application.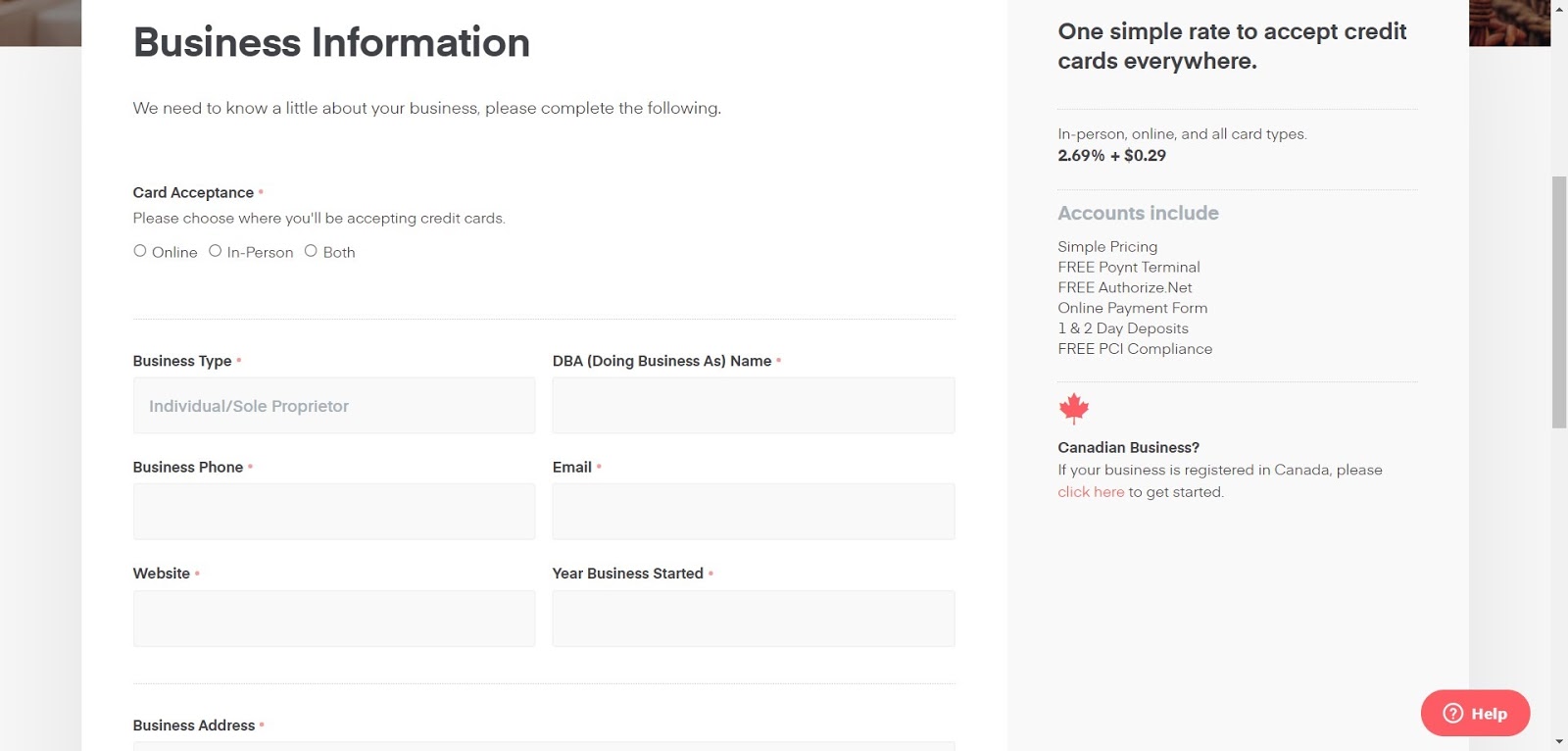 However, it's known for being user-friendly and easy to navigate. It has a pretty clean interface, and everything is well signposted.
Payment Processor
Moolah is a safe, secure payment processor. It uses Authorize.net as the payment gateway, and your customers can pay using Apple Pay or credit card. This does limit your customers a little bit, and like Stripe, not having PayPal compatibility may put a few people off.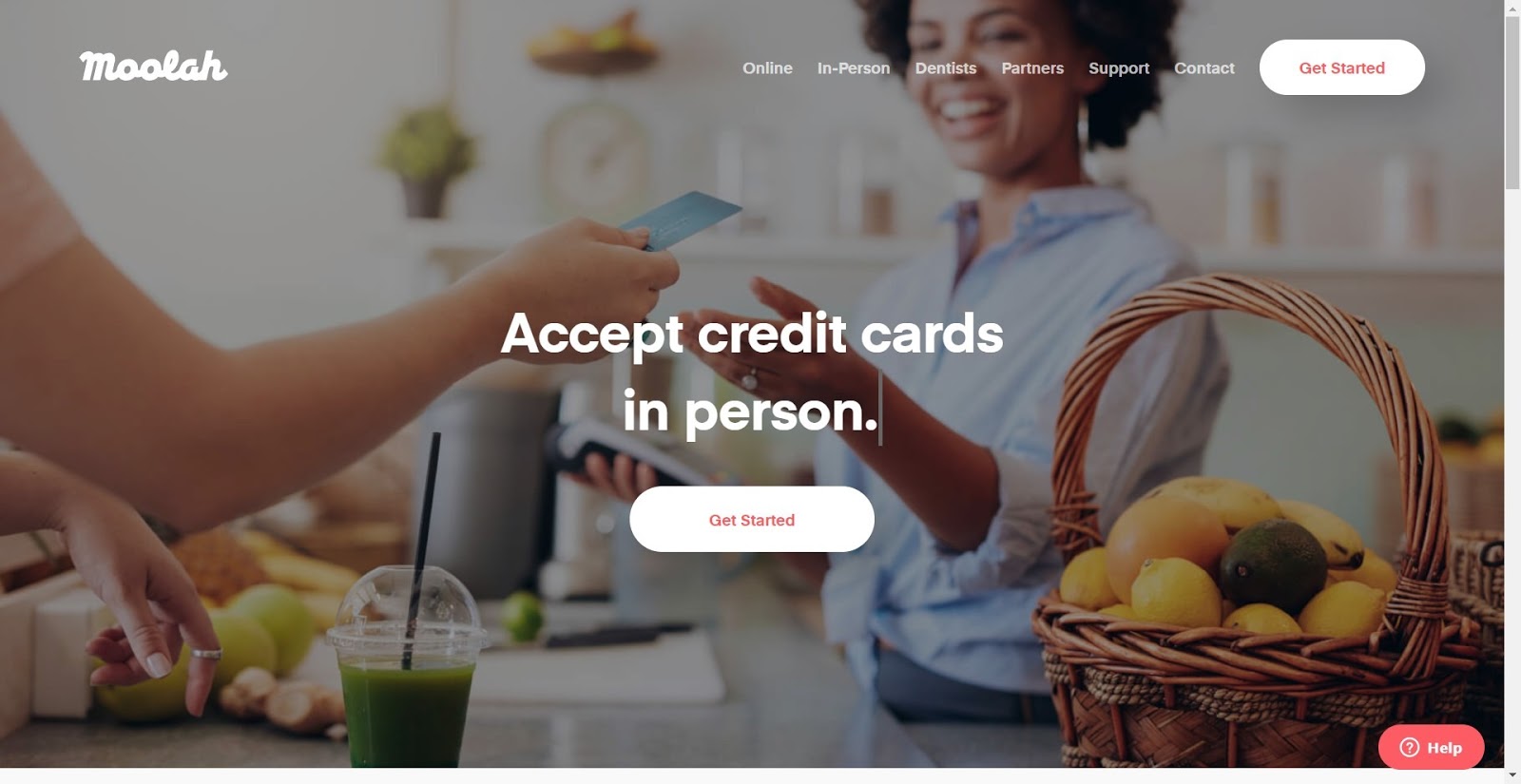 However, it's a reliable processor that works well. You can enter and upload individual or batch transactions, and you can send invoices by email in a couple of clicks.
Billing and Accounting/Subscription-Based Payments
It also offers Automated Recurring Billing, or ARB, which makes it really easy to manage subscription-based transactions or recurring payments. If you want to offer monthly payments, you can do that easily. You can also offer multiple subscription-based plans, which is ideal if you want to offer different price tiers.
Security
Moolah offers advanced fraud detection. The software looks for any suspicious activity or fraudulent payments, stopping them in their tracks. It works in a similar way to Stripe's Radar fraud prevention service.
In-Person Payments
This may not be applicable to everyone, but Moolah does offer in-person payments using their Poynt wireless smart terminal. It's a neat, modern-looking device that is very portable and easy to use. The hardware and software are included at no extra cost, which is great.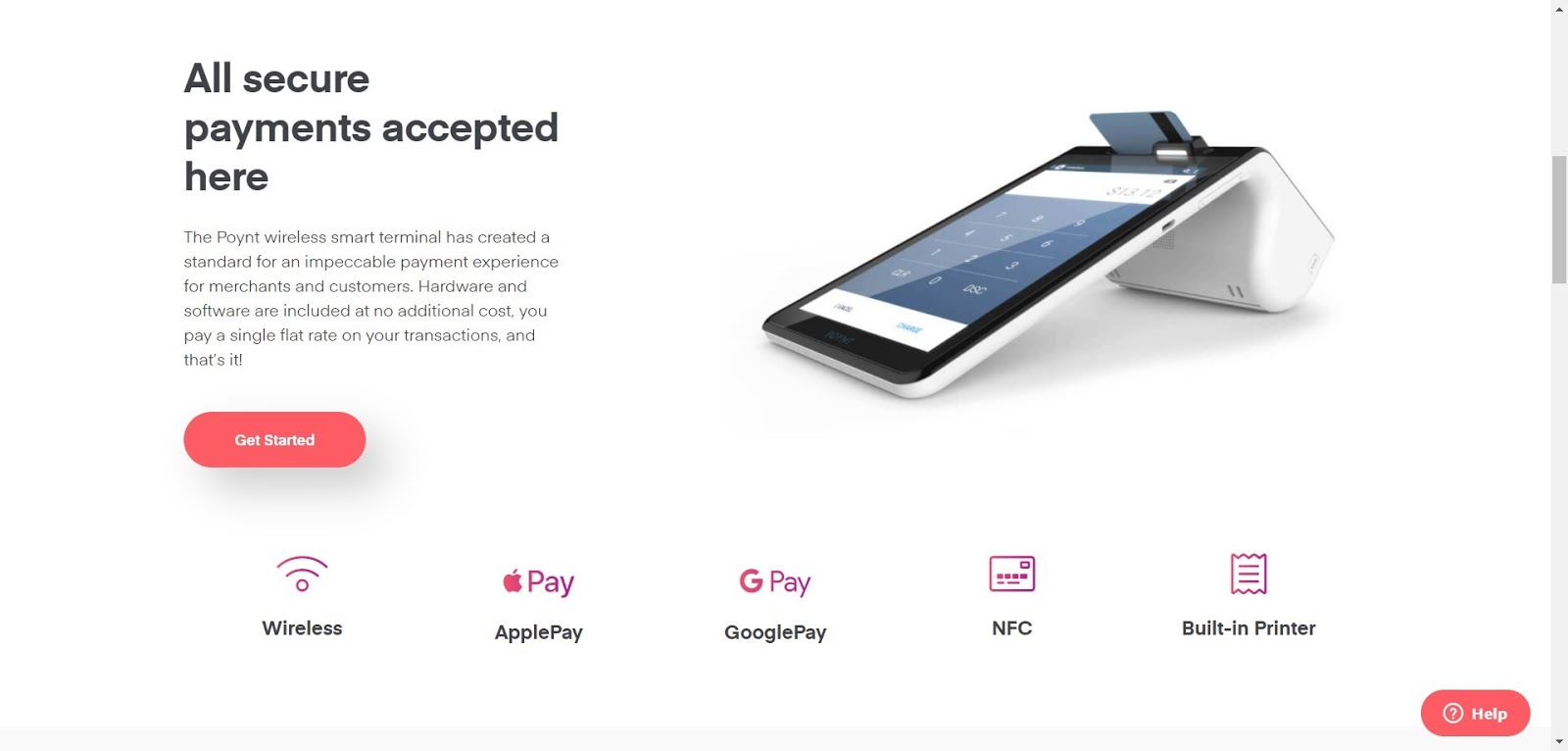 Poynt accepts Apple Pay, Google Pay, and NFC. It has some pretty neat extra features too. For example, customers can build up loyalty points, which is a great marketing tool to encourage your customers to visit your store again. It also includes a messaging system, so customers can contact your store easily as well as leaving feedback.
The Poynt system integrates with WooCommerce, which may be tempting for you if you use it for the eCommerce side of your business.
Analytics/Reporting
Moolah doesn't offer much in terms of reporting, but as it partners with Authorize.net (which is free for Moolah users), you can take advantage of some of its features. Authorize.net offers reporting and transaction history on the mobile app, so you will get some data to work with.
Mobile App
As we mentioned, Moolah doesn't have a mobile app, but you will have access to Authorize.net's app. This allows you to:
Accept payments and tips on mobile
Set sales tax rates on the go
Manage products
View transaction history
Issue refunds
Email receipts
Integrations
As well as the integration with Authorize.net, you can also integrate with:
Shopify
eBay
Wix
Magento
WordPress
Stripe vs Moolah – Support
Let's check out how they compare in terms of customer support.
Stripe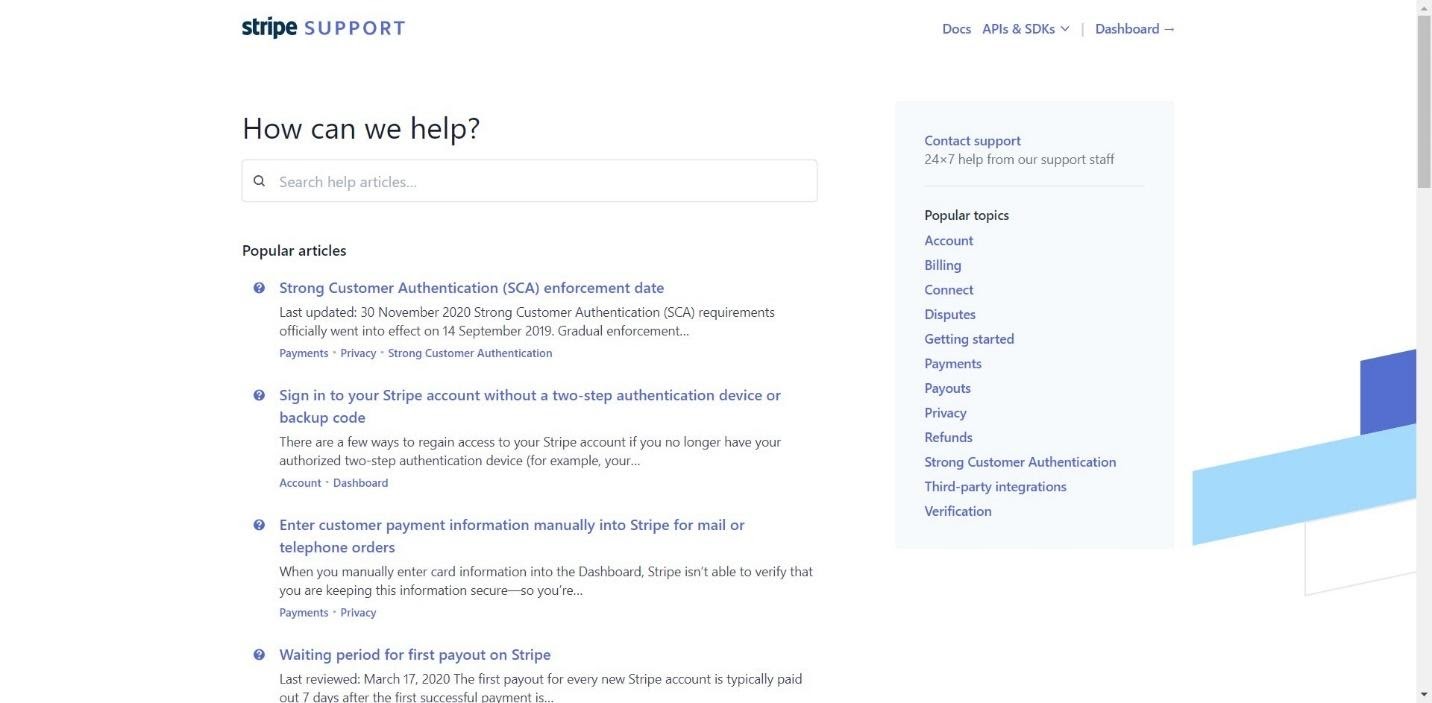 Stripe's knowledge base is pretty helpful. It has tutorials, articles, guides, and FAQs, so if you're stuck on something, chances are they've covered it here somewhere. However, if you need more support, you can contact them on live chat, email, or phone.
The customer service team is helpful and fairly quick to respond.
Moolah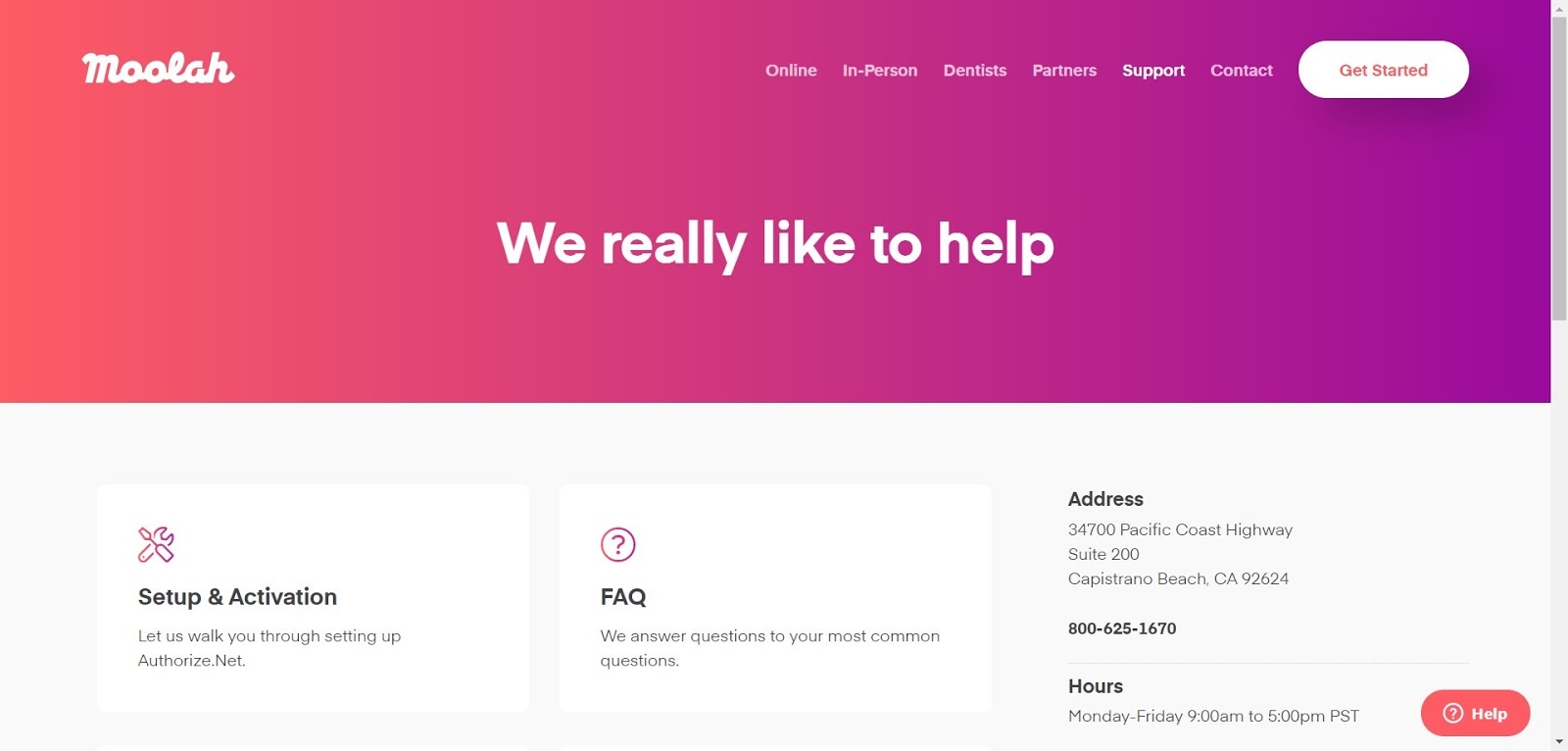 Moolah has a small knowledge base with some articles on setup and a few frequently asked questions. It doesn't have any extra information, like in-depth guides or articles.
It's pretty easy to contact them. You can call them Monday-Friday, 9 am – 6 pm PST. You can also contact them online using a ticketing system. They're pretty friendly and helpful, but as they have a smaller team, you may have to wait a little while for an online response.
Stripe vs Moolah – Pricing
The next obvious question is – how much do they both cost?
Stripe
Stripe charges 2.9% + $0.30 per transaction. This gives you access to:
Global payments
Security and compliance
Optimized checkouts
Reporting
Fast payouts
They also charge 2.7% + $0.05 per processed transaction for physical payments, and card readers are priced from $59.
Sigma, their in-depth reporting tool, has a more complex pricing strategy which you can find out more about on their Understanding Stripe Sigma Pricing page.
There may be some extra charges to keep an eye on down the road. For example, if you want to sell internationally, rates may vary depending on where you're selling. You can find out a bit more on their pricing page.
Moolah
Moolah's pricing is pretty easy to understand – it's 2.69% + $0.29 per online or in-person transaction. This includes:
Free access to Authorize.net
1 and 2-day deposits
Free Poynt terminal
Online payment form
Free PCI compliance
This makes it a little cheaper than Stripe, and it does give you access to Authorize.net too. You can find out more on their website.
Stripe vs Moolah – Pros and Cons
Before we decide which one we like the best, here's a quick summary of the best parts of each platform, as well as the features that could be improved.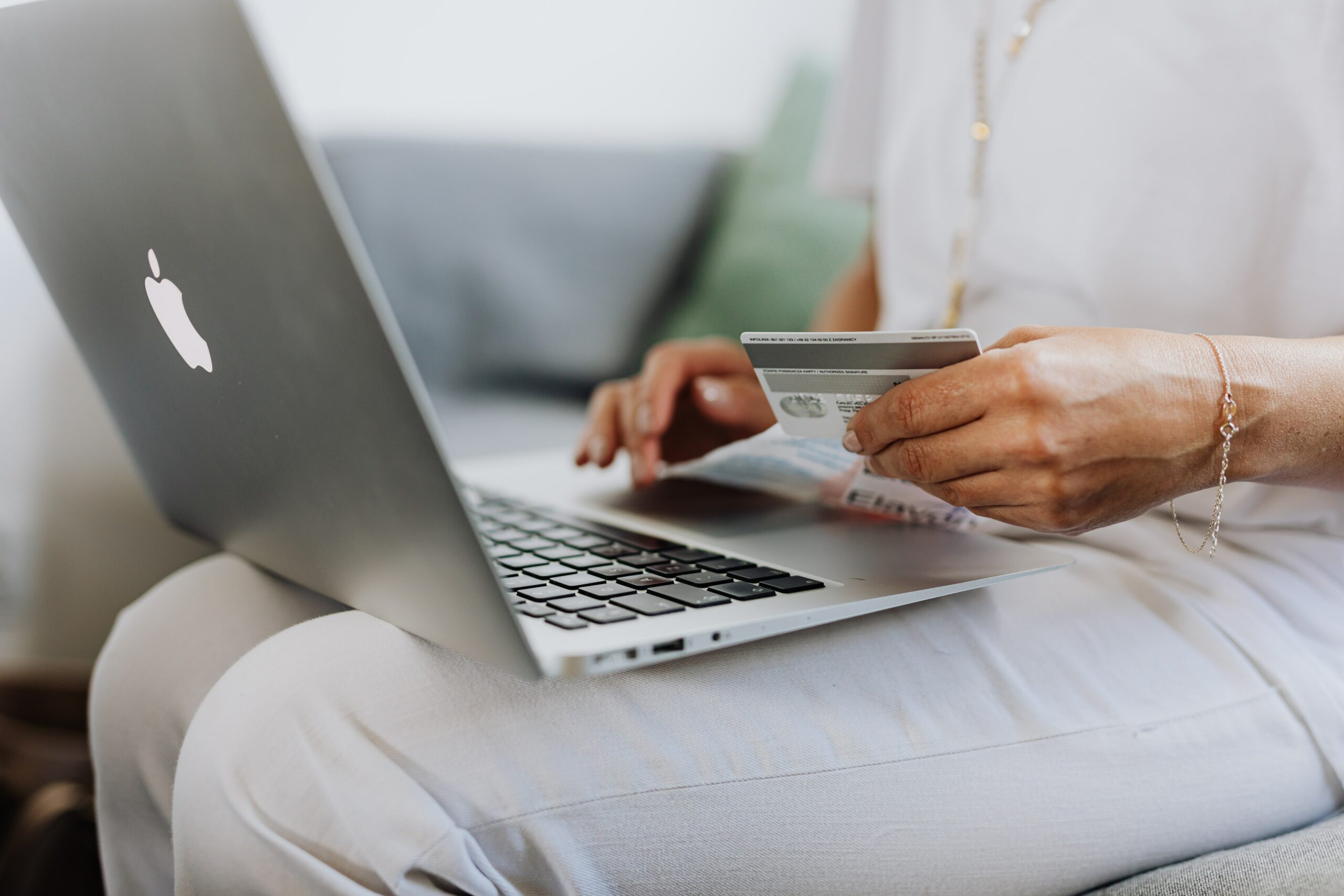 Stripe
Pros
Fast and easy to get started
Customizable
Great features for customers including coupons, discounts, and subscriptions
Reporting is pretty good, especially the Sigma feature
Cons
Some of the features are locked behind separate payment plans
Can be difficult to figure out charges in other countries
Moolah
Pros
Easy, clean navigation
Manages recurring payments and subscriptions easily
Great for in-person payments
Cons
Doesn't offer as many features as Stripe
Takes a bit longer to sign up with more steps required
No free trial/demo
Frequently Asked Questions
Before you go, here are a few of the most commonly asked questions about tripe and Moolah:
Question: Are there any alternatives to Stripe and Moolah I could try?
Answer: Yes, there are some great alternatives out there, including:
Recurly – this is a great platform specializing in subscription-based payments. You can offer customers multiple payment options, and it's very customizable. You can find out more about it in our Recurly vs Stripe comparison.
WePay – another good alternative, WePay is particularly good for crowdfunding platforms. It's ideal for larger businesses wanting to offer payment options for individual merchants. You can find out more in our WePay vs Stripe comparison.
PayPal – a giant in the payment processing world, PayPal is a secure payment processor. It's available in over 200 countries, and it suits beginners or smaller businesses. You can find out more in our Stripe vs PayPal comparison.
Question: How can I cancel my Stripe or Moolah accounts?
Answer: You can cancel by visiting the 'accounts' section of either platform.
Question: Are there any well-known businesses using Stripe or Moolah?
Answer: Stripe has some big clients, including Facebook, Amazon, Shopify, and more. Moolah doesn't advertise any big clients, so we can't make a comparison here.
To Sum Up – Which is Better: Stripe or Moolah?
If we had to pick one, we'd go for Stripe. It's so easy to sign up, and everything is in one place. Although it comes at an extra cost, you can access some detailed analytics that may be helpful, especially for larger businesses trying to keep track of everything. Plus, you can offer more payment options for customers.
If you've used either Stripe or Moolah, we'd like to hear your experiences with them in the comments!
However, where Moolah comes out on top is in physical sales. The payment terminal is free, it looks nice, and it has a few neat extra features. If you have a small business that relies on in-person payments, it's worth checking out.