Last Updated on June 1, 2023 by Ewen Finser
Looking for the best way to get paid by your clients and partners online? Today, we compare two top contenders of online billing: Bill (dot) com vs Stripe
In this article you will find:
the key differences between both services;

what to look for when comparing online billing software;

a close look at each tool's specific features;

interesting alternatives;

a clear verdict on which is best for your situation;

and more…
Key Differences
Bill.com has online billing only, whereas Stripe has online, in-person, mobile, and POS payment solutions.

Bill.com has accounts payables features, whereas Stripe has none.

Bill.com has more integrations with accounting software, whereas Stripe has more integrations with eCommerce software.

Bill.com has features to easily digitize physical bills, while Stripe has none.

Bill.com requires you to have a Bill.com account to pay partners using Bill.com directly, whereas Stripe has seamless payments.
How To Choose The Best Online Billing Software
Data access:

On one hand, you want to make sure that it's easy for you to register new data, but also that you can centralize everything in one place. How much automatic data entry does your software do? Is there cloud space in which your data can be stored? These are the questions you should ask.

Getting paid:

At the core of a billing system we find the ability to send bills and request payments. No two software are the same here, and you will have to examine specific features closely to make sure the way the tool works is relevant to your business.

Paying bills:

A good online billing system lets you send bills. A better online billing system lets you pay bills as well. While not necessary in every case, you might find it interesting to be able to centralize accounts payables and receivables all in one place. If you're looking for such features, make sure your chosen software lets you pay bills as well.

Integrations:

You're probably using more than one software in your fintech stack, so it'll pay to make sure that the tool you're going for integrates well with what you and your partners are already using.

Pricing and fees:

Different software have different ways of charging their customers. If your service is cloud-based, you can expect a subscription fee, while some others will charge you upfront, per transaction, or a mix of all of those. Look out for hidden transfer fees too.

Customer service:

Often overlooked, always important: what kind of customer support is there? Is it even free? In case of a problem, you will need to know exactly how much support you can get from the service. Some software comes with resources such as knowledge bases, blogs, and video tutorials. In most cases, you can also contact customer support directly through the mail, live chat, or phone calls.
Bill.com Key Features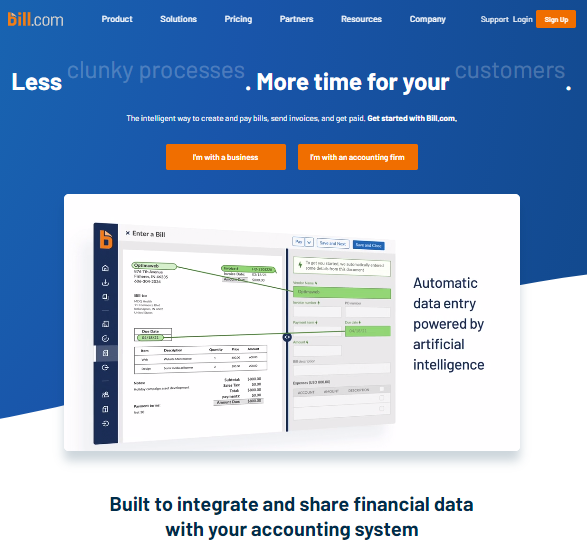 Initially designed as a very complete software to centralize all that is pre-accounting, Bill.com proposes powerful features when it comes to getting paid online.
Data access
With Bill.com you can directly snap a picture of your bills and have them automatically digitized. You can also import documents that are mailed to you and they will automatically be imported in the Bill.com software as well, as the integrated AI has proved to be very performant.
There is also a cloud system that's in place. With it, you can access data that are imported in other accounting software that you'd have linked in real-time.
Getting paid
The main advantage of Bill.com is the ability to have an overview of all money that comes in and out. With Bill.com you can easily create digital invoices, add notes and set billing automation. You can send automatic reminders and follow exactly where your money is once you're getting paid. Bill.com is an online-only solution and it's important to note that you cannot bill customers and partners in person directly.
We found it overall clunkier as a way to handle a lot of new, non-returning customers since you need to have a Bill.com account to quickly pay someone who'd send you an invoice through Bill.com. It's a more fitting solution if you deal with large orders and returning customers over for example the clientele of a retail eCommerce store. That said, being able to import digital bills, setting up automation, and adding relevant integrations somewhat offsets this downside.
Paying bills
Another strong point with Bill.com is the ability to handle your account's payables. With this software, you'll have access to a dashboard that centralizes what is owed to you, but also what you are due to pay. It also makes it easy to send payments to your partners and to set up automation for recurring payments.
Integrations
Bill.com integrates well with a large array of other accounting and pre-accounting tools. There's a two-way cloud system for all of its native integrations. It also integrates very well with the biggest accounting software available (Xero, Oracle, Sage, Quickbooks, Microsoft, etc).
In case your desired integration wouldn't be available, Bill.com proposes highly compatible templates that can be used to transfer your data between software. Bill.com also integrates well with other fintech services such as Tallie, Earth Class Mail, Tax1099.com, Hubdoc, etc.
Pricing and fees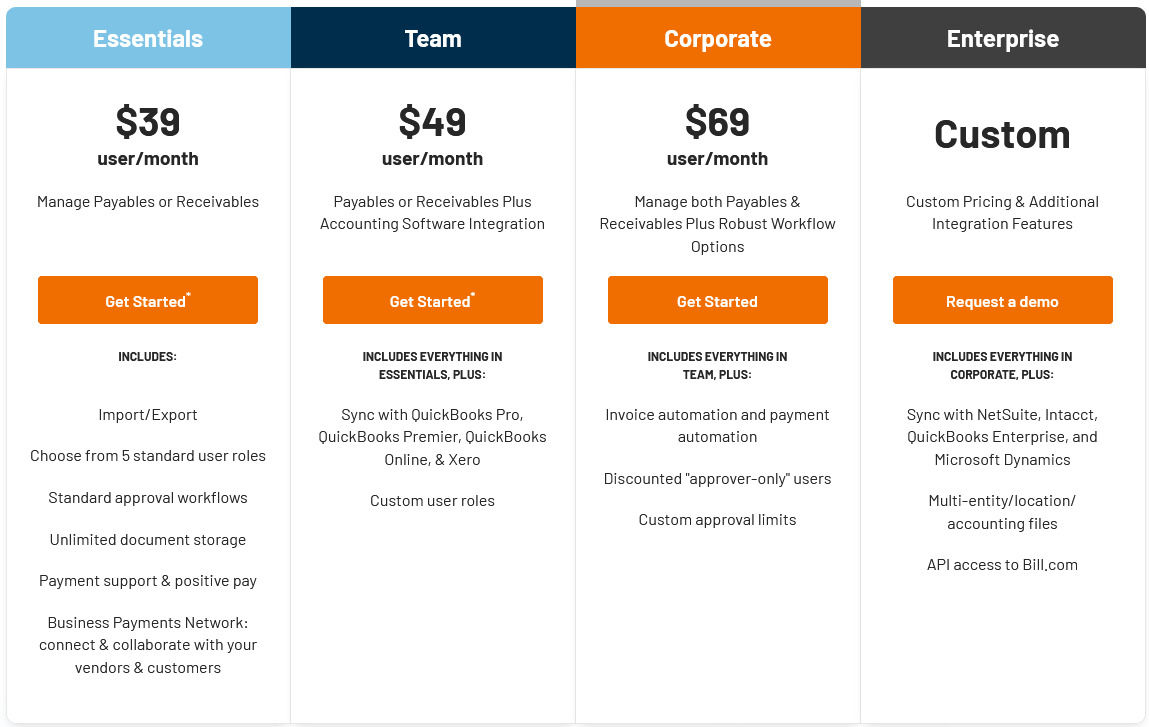 Bill.com comes with 3 subscription tiers and the possibility to get a free demo of the full version.
The service starts with the Essentials plan at $39 per month per user. You will find in this package all the essential features needed to centralize your expenses or incomes. Indeed, you will have to choose between either the accounts payables features or the accounts receivables features.
For this price, you will get for the payables features a centralized inbox, invoice data capture, 360-degree vendor info, unlimited document storage, ACH, check & international wire transfer, the standard approval policies, and up to six user roles.
For the receivables features, you will have access to important features like customized invoice templates, payment status tracking, automatic invoicing, automated email reminders, ACH and credit card payments, and auto-charge/auto-pay features. You will also be able to easily import and export your .csv data with the accounting software of your choice.
The premium plan is the Team plan and it is available at $49 per month per user. It adds on top of the Essentials plan but still limits you to either the accounts payables or receivables. You will find integrations with QuickBooks Online, QuickBooks Pro/Premier, and Xero, and over six user roles.
The most complete plan is the Corporate plan available at $69 per month per user and includes all benefits of all packages for both the accounts payables and receivables.
Note that there are also fees attached to money transfers. Here is a rundown of those fees :
The ePayment/ACH processing fee is $0.49 to send & receive

Physical mailing of checks or invoices: $1.69/check payment or invoice

Getting paid via credit card payment: Level 3 merchant fees processing rates (1.90% + $0.10).

The international wire transfer fee is $0/payment for local currencies, $9.99/payment if USD to overseas.

Vendor Direct virtual card payment: $0/payment.

Faster pay by ACH: same or next day $9.99.

Faster pay by Check costs – Overnight $19.99, two days $14.99, three days $9.99.
Customer service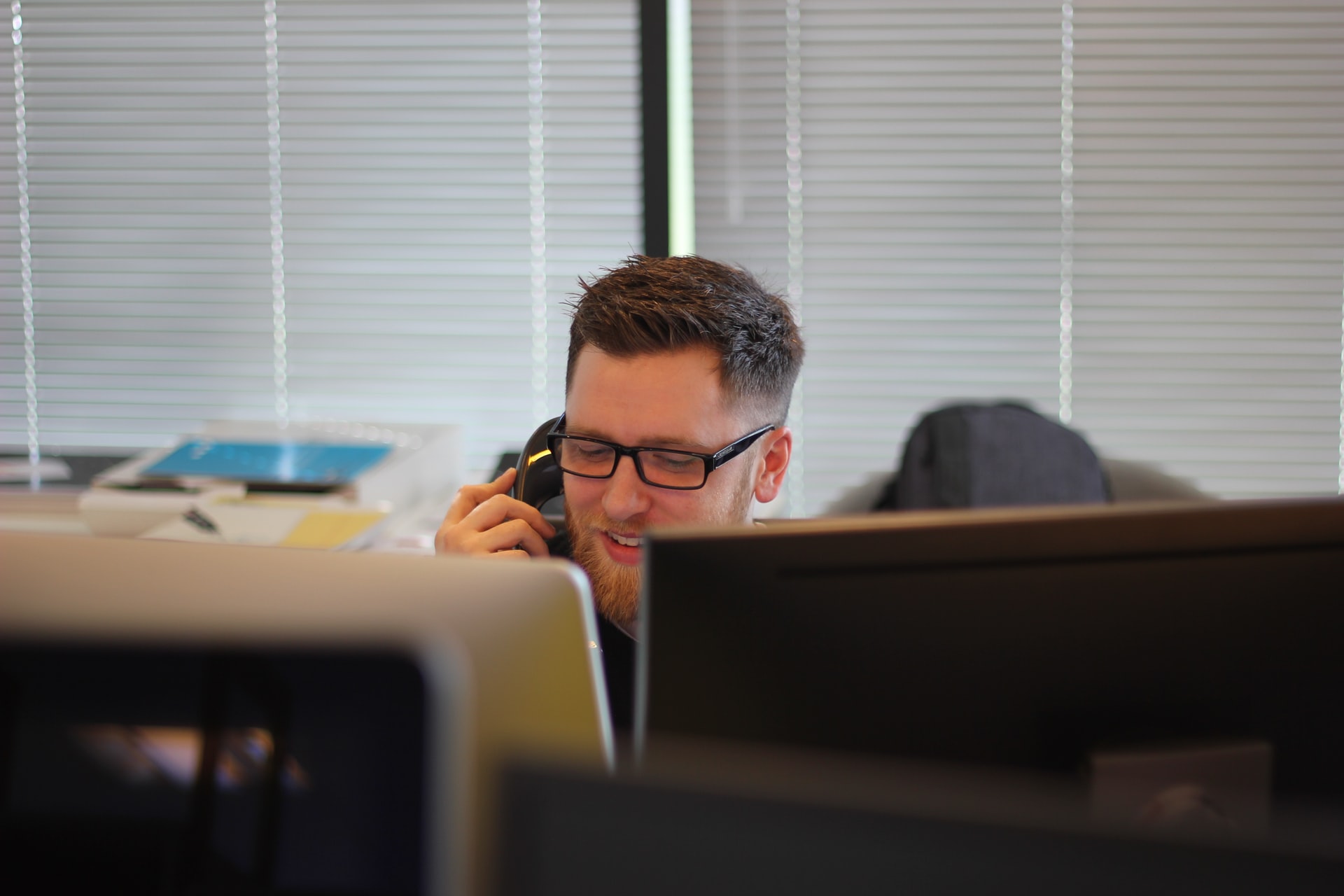 Bill.com's customer support is available during US business hours through phone calls, or anytime through email directly from your Bill.com dashboard. They also made available a full catalog of resources, tutorials, videos, and webinar recordings to teach you how to make the most out of the tool.
Pros and Cons
Pros
Centralize everything that is bill-related

Complete AP & AR

Mobile app

Digitize bills easily

High compatibility with other accounting software
Cons
A bit overkill for small businesses or individuals

Awkward to use with retail customers

No in-person billing
Stripe Key Features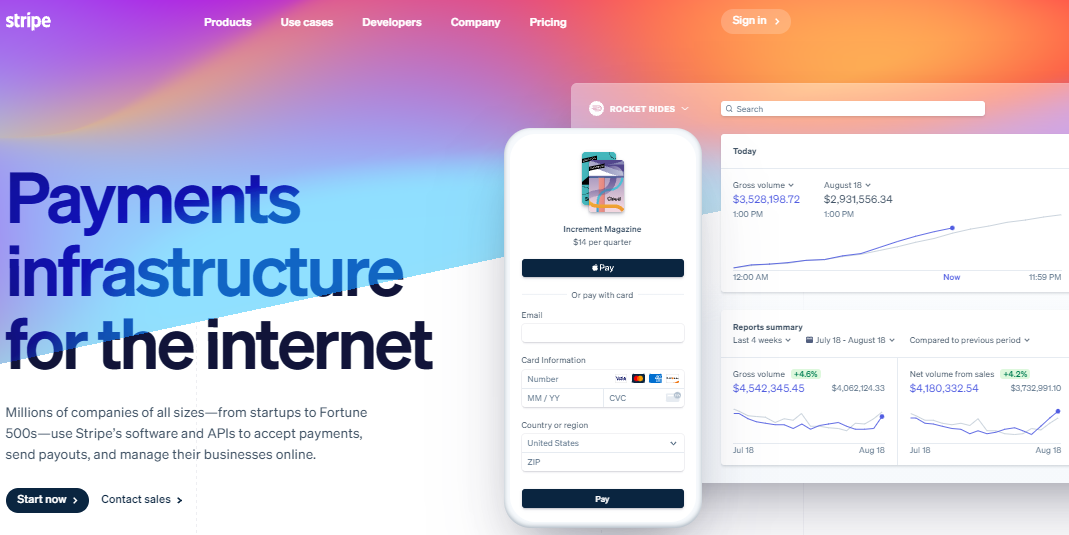 Stripe is an online payment processing platform that recently rose as a strong contender to PayPal. It allows for efficient and safe money transfers online through credit card or bank transfers.
Data access
A stripe is essentially an online software. This means you can access your data anywhere, anytime. Simply log in to your Stripe account on the website or mobile app. It is important to consider that Stripe works strictly online. If you have physical bills to send, you will have to manually input your data into the software.
Getting paid
With Stripe, you'll mainly be able to set up a check-out system to let your customers and partners pay you. Stripe offers a credit card payments processing service and a payment gateway. In other words, you'll be able to receive credit card payments but also integrate Stripe within your online sales channel. Furthermore, Stripe now supports countertop credit card terminals and POS systems. You will find it very useful as it integrates well with both retail and eCommerce sales channels.
You'll find that Stripe is extremely flexible when it comes to getting paid. You can accept online and in-person payments, set up recurring payments and invoices, save card info, set up payments for later, send invoices, set up secure invoice pages, etc.
You can also further extend how you get paid with Stripe when you pair it with one of its many available integrations.
Paying bills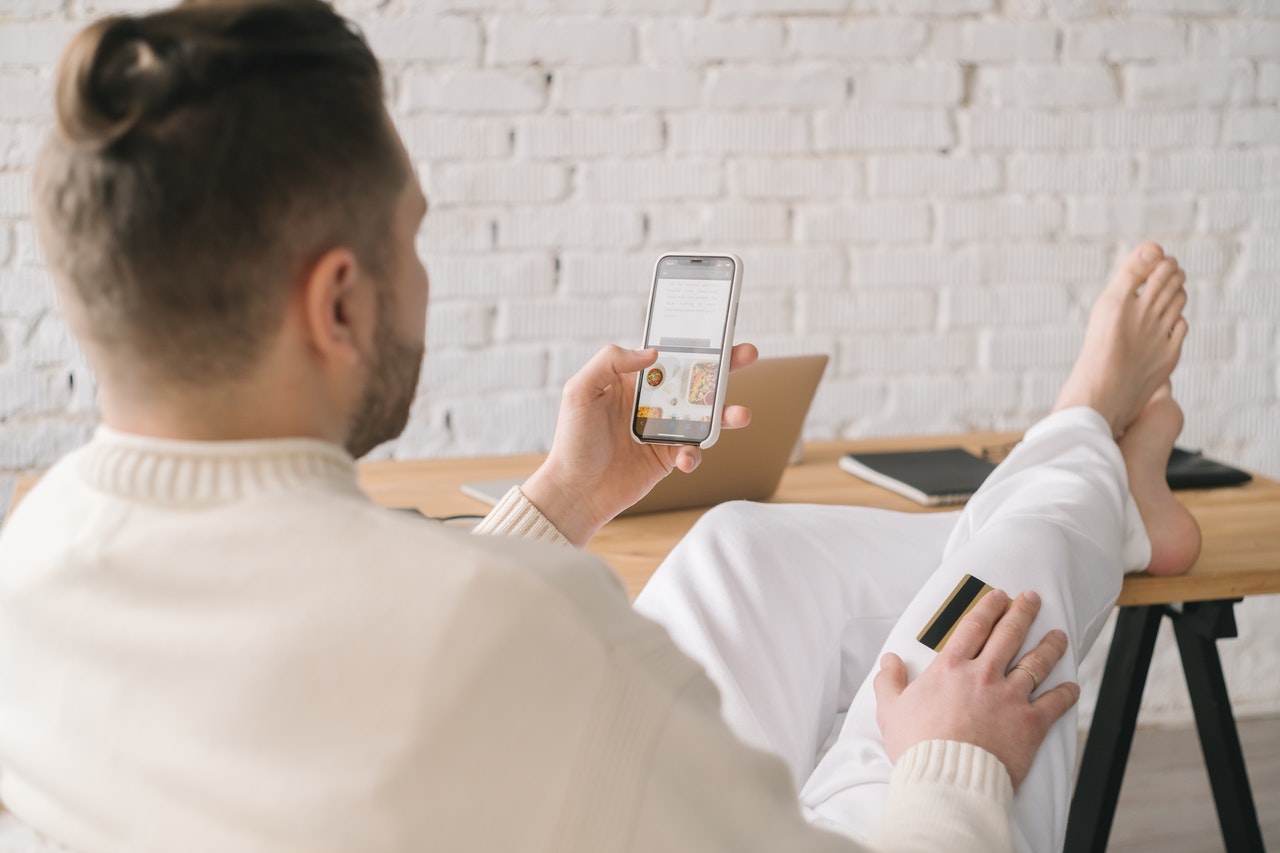 Paying bills is not the main focus with Stripe. There is no dedicated functionality when it comes to sending money to someone through Stripe. You will need your partner to send you an invoice. That said, paying a Stripe user is as easy as using any classic payment method.
It is important to mention that there is no dedicated Stripe functionality that will help you keep up with your accounts' payables. However, Stripe integrates seamlessly with many accounting software.
Integrations
A key force of Stripe is its wide range of available integrations. Stripe proposes a highly compatible API that can be integrated with many software, eCommerce platforms, and websites. It is also possible to use Stripe in your physical store. There are dozens of integrations for all of your needs and you're very likely to find that there is one between other software in your fintech stack and Stripe.
Stripe will integrate very well with the biggest eCommerce stores as a payment processing system. Among the many integrations, we find Stripe, WooCommerce, MailChimp Commerce, BigCommerce, etc. Stripe will also integrate very well with recurring billing systems with Stripe Billing, but also with other software such as Billflow, Esker, LaunchPass, WP Simple Pay, etc.
Stripe also has integrations with accounting software such as Stripe Sigma, Namu, Ramp Receipts, LessAccounting, etc. With Stripe, you can accept in-person and mobile payments through integrations such as Twilio, ChargeStripe, Nomod, Blackthorn Payments, etc.
Finally, there are nice CRM integrations with software like HubSpot, Automaily, Comity, etc.
Pricing and fees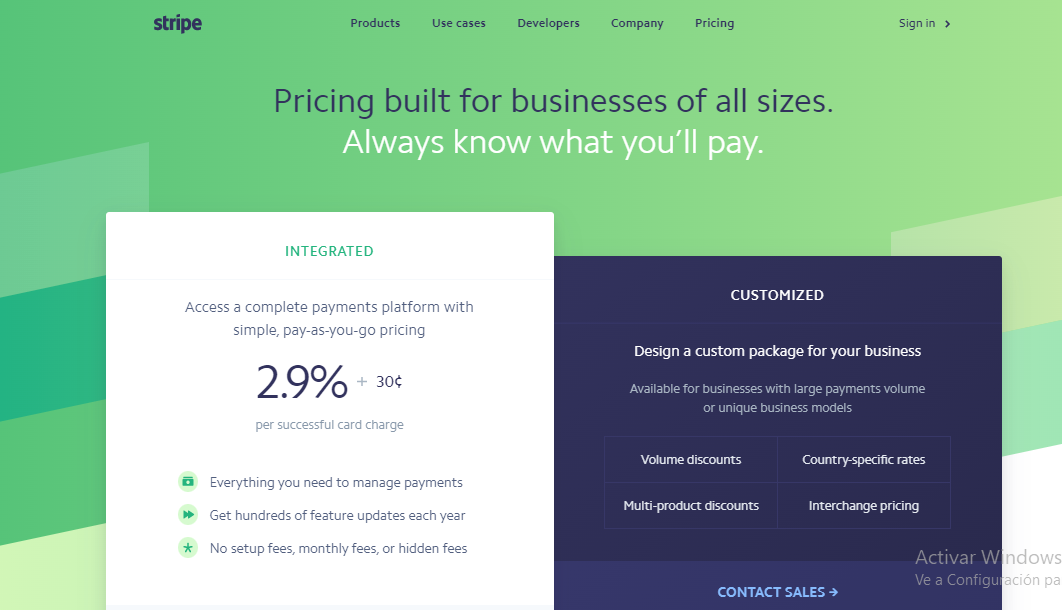 With Stripe, you'll be charged per transaction at a rate of 2.9% plus $.0.30 for online payments and 2.7% plus $0.05 for in-person payments. There are no subscription fees and you can request a call with the sales team to get a more personalized plan and quote if your business requires something different.
Customer service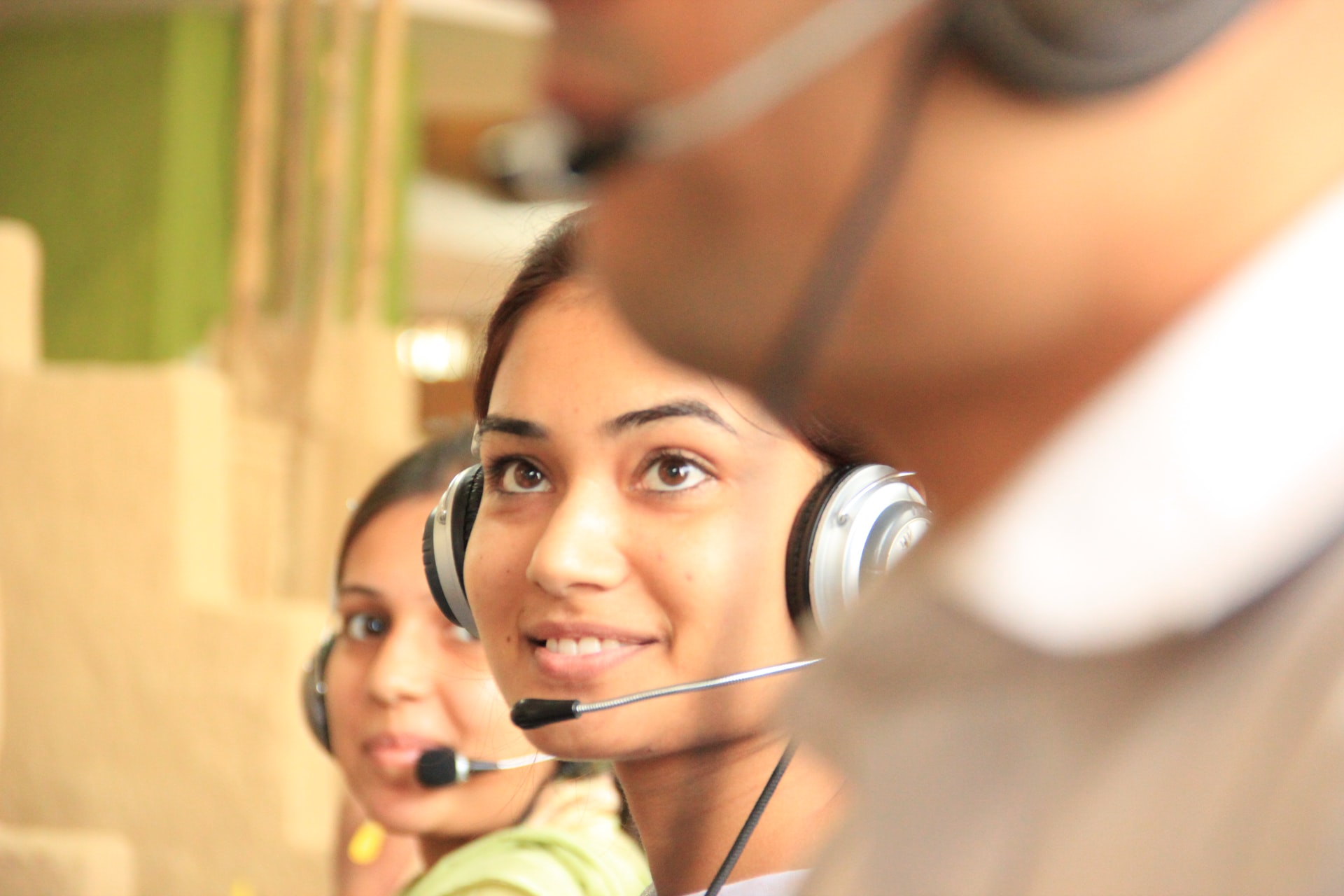 Stripe's customer service has a good reputation online. You can contact a representative through phone calls, live chat, and email 24/7. Stripe also offers free videos and documentation available online to help you make the best out of the software.
Pros and Cons
Pros
Flat, predictable rates

Mobile app

Quick onboarding process

Very flexible options to get paid

Wide range of integrations

In-person billing
Cons
No real accounts payables features

Does not handle physical bills
Price Comparison: Stripe vs Bill.com
Both software offers a way to get paid from partners and customers. That said, for Bill.com, that is not the software's sole focus and you can see it through the higher price tag. Bill.com is more of a complete pre-accounting software with various and deep features, while Stripe is more of a way to get your customers to pay you.
Getting paid with Bill.com is less expensive but the subscription price has to be taken into account. You will find Bill.com too expensive if you do not receive a lot of payments.
Recommended Alternatives To Stripe and Bill.com
PayPal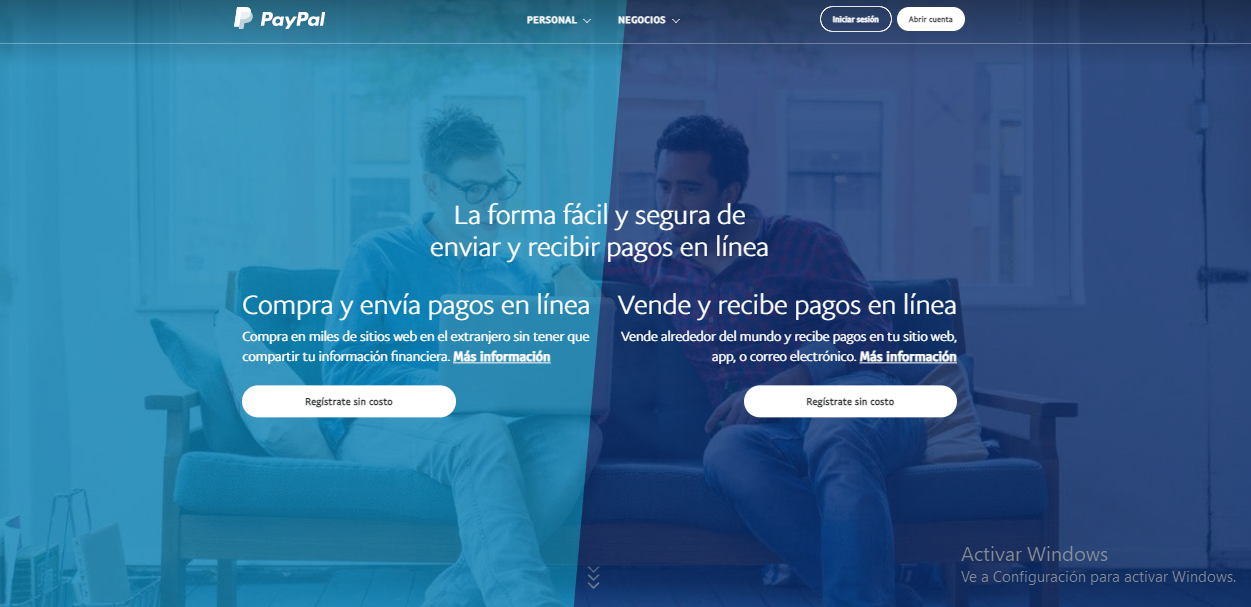 Very similar to Stripe, PayPal lets you ask and receive payments online. Both services being very popular but also serving the same purpose, you will very often have to go with one or the other depending on what is most widely used in your niche.
Venmo for Business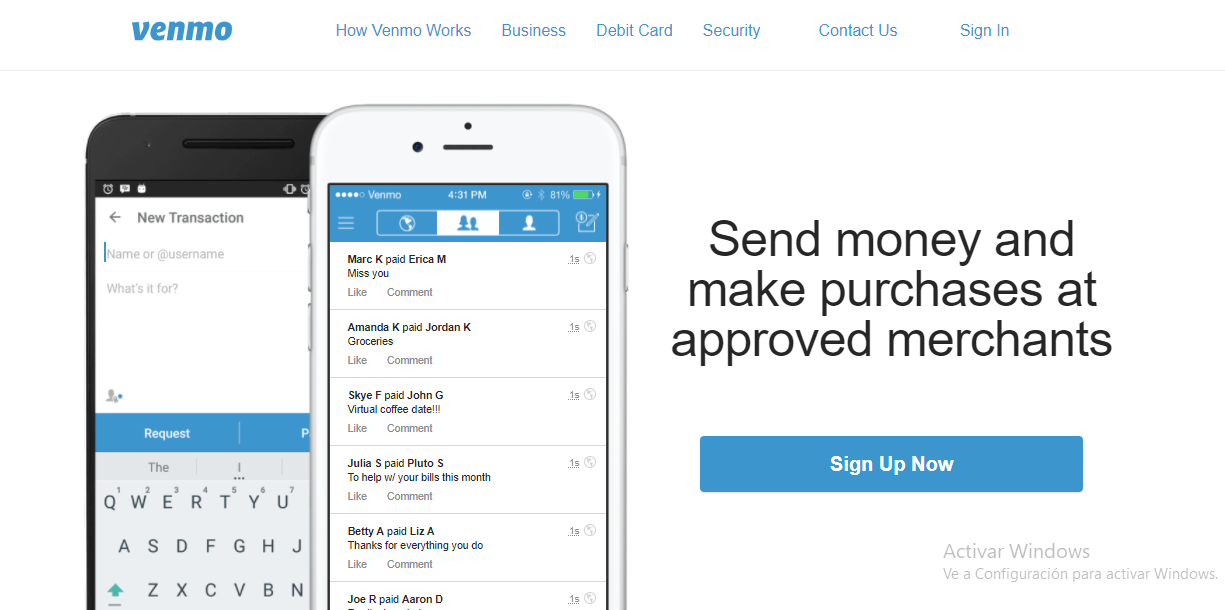 Another similar alternative to Stripe and Paypal that fulfills the same role. It lets businesses set up checkout and payment processing systems. Heavily geared towards mobile websites and apps.
Expensify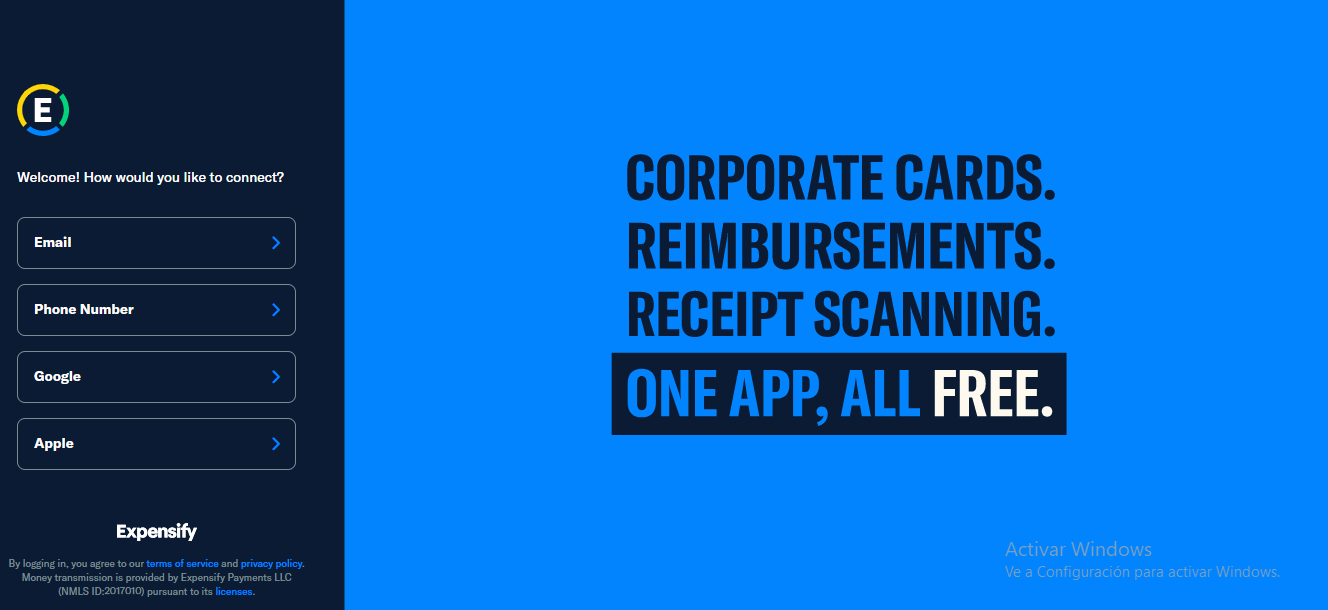 If you're looking for an on-the-go software that can be considered a nice middle ground between Stripe and Bill.com, Expensify might be the solution for you. Closer to a pre-accounting system to record your expenses, it lets you send invoices to your customers and partners, gives a company card, and also handles your accounts payables.
Bill (dot) Com vs Stripe: FAQs
Question: What exactly does Stripe do?
Answer: Stripe is an online payment processing software. In other terms, it lets you receive payments online. When you purchase something online, you have to pay for it, but you cannot give your credit card information to the seller directly. There has to be an intermediary between you and the seller's bank account to process that payment. Stripe is one such intermediary.
Question: Does Stripe integrate with Bill.com?
Answer: Stripe currently does not propose any native integration with Bill.com.
Question: Can you have a Stripe account without a business?
Answer: Yes, Stripe works with businesses of all sizes and that goes for individuals as well. When creating your Stripe account, you can select the "individual" category.
Question: Can you send a wire through Bill.com?
Answer: Yes, Bill.com lets you wire money. Alternatively, you can do ACH transfers. While wire transfers are usually quicker, ACH transfers usually include lower fees. Wire transfers also cannot be reversed in most cases, while ACH transfers offer more leeway in case of a mistake as long as the funds haven't been cleared yet.
Bill (dot) Com vs Stripe: The Bottom Line
Bill.com is a strong and very complete pre-accounting software that goes beyond getting paid. On the other hand, Stripe specializes in just that: getting paid.
To choose the best software for your specific situation, you will have to take into account a few things. Do you need a pre-accounting software that will handle receiving payments, but also paying bills and connecting with other accounting software? If that's the case, Bill.com is probably the solution for you.
If you're simply looking for quick, efficient, and flexible solutions to get paid, or if you're specifically looking to integrate an intermediary that will handle payments in-store, on your website, or as a freelancer, it makes more sense to go for Stripe.
To summarize:
If you're a business dealing with a lot of partners and bills and need complete pre-accounting software that will handle both your AR and AP, you will prefer Bill.com.
If you're looking for flexible solutions to let customers and partners pay you in person or through your website quickly and easily, you will prefer Stripe.