Last Updated on June 1, 2023 by Ewen Finser
Bill.com was founded by Jeremy Pyles in 2006 and is located in Palo Alto, CA. It is a cloud-based platform for small to medium-sized businesses allowing them to manage billing customers and receiving payments automatically. The software handles both accounts receivable and accounts payable functions. It helps businesses remove the tedious and redundant tasks of managing payments and following up on receivables so business owners can stay focussed on getting more sales and building customer relationships.
How it Works
Accounts Payable has many functions from receiving supplier invoices, managing cash flow, approval processes, submitting payments, to monitoring canceled cheques and audit preparations. There are a lot of tedious accounts payable tasks that are time-consuming. They can easily distract a business owner from staying focussed on obtaining new business or developing and maintaining customer relationships.
Bill.com automates the Account Payable process saving time managing this important task.
Setting up the Accounts Payable function in Bill.com is pretty straight forward.
A digital inbox is a set-up for your vendors to send invoices to

The invoices are automatically processed and scheduled to pay now or later

Invoices can be uploaded and paid on a snapshot of an Invoice too

Approvals steps can be customized before invoices are processed

Mobile apps allow approvers to accept or reject invoices, while away from the office

Payments can be made using ACH, cheques, virtual card, and international wire transfers

Vendors and invoices are synced with 3rd party software
Accounts Receivable is not much different than how Accounts Payable works in Bill.com. Invoices are submitted to customers via email, automatic reminders are sent out for past-due invoices, notifications are received when payment is made, and everything is synced with 3rd party software,
When you enter Bill.com you are asked for your Username and Password.
Once you log in, you are given this Overview screen. On the left is a navigation panel that consists of: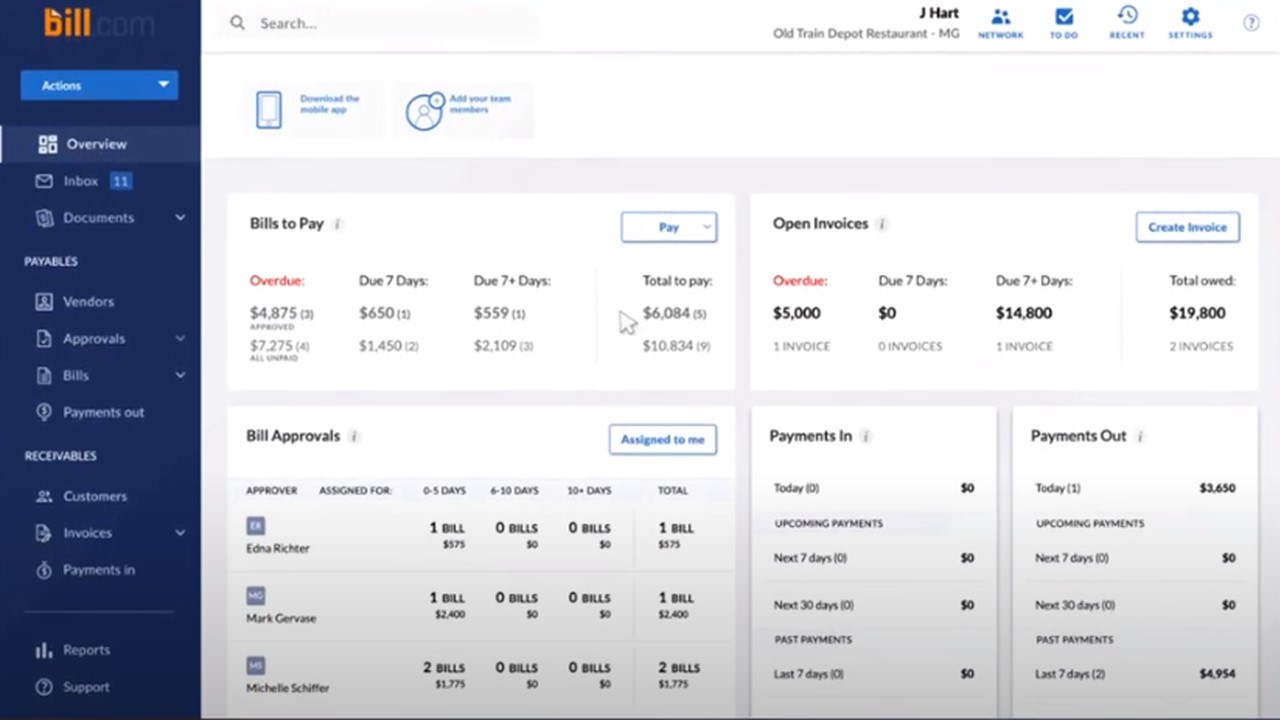 Overview
This gives you a dashboard snapshot of the accounts receivable and payable activities to-date: billing, bill approvals, open invoices, payments in, payments out
Inbox
This is where the vendor invoices are emailed to

Each business you interact with is given a unique email address for billing; for example

[email protected]

You can drag and drop a snapshot picture of an invoice with your mobile app too

Alerts can notify you that a new invoice has been received in your inbox so it can be reviewed, coding to the general ledger account, approved or denied, and scheduled for payment

Bill.com automatically syncs data every 24 hours, or you can click 'Sync Now' to obtain immediate updates
Documents
All your business invoices, contracts, spreadsheets, snapshots are stored here for easy access during audits, banking purposes, and tax time.
Payables Section
Vendors

Approvals

Shows a summary of the invoices to be paid and the approval process
Bills
Shows the bills to be paid that have been approved for payment

Bills can be paid in batches or chosen individually

Invoices are paid electronically, by cheque, or with a vendor direct, a single-use virtual card option
Payments Out
Information is stored and tracked for easy retrieval during audits

Bill.com keeps the documents, coding time stamp, approval, and cheque image once cashed by the vendor—front, back endorsement, signature, bank stamp, etc.
Receivables Section
Customers
Customer setup with contact information
Invoices
Invoices logged, ready for processing, approved, not approved to send
Payments in
Then a section for Reports, Support, and International Payments
International payments can be paid to vendors in 130 countries

Bill.com converts the currency automatically and pays the vendor in USD or their own currency, whichever is established

Currency is shown in real-time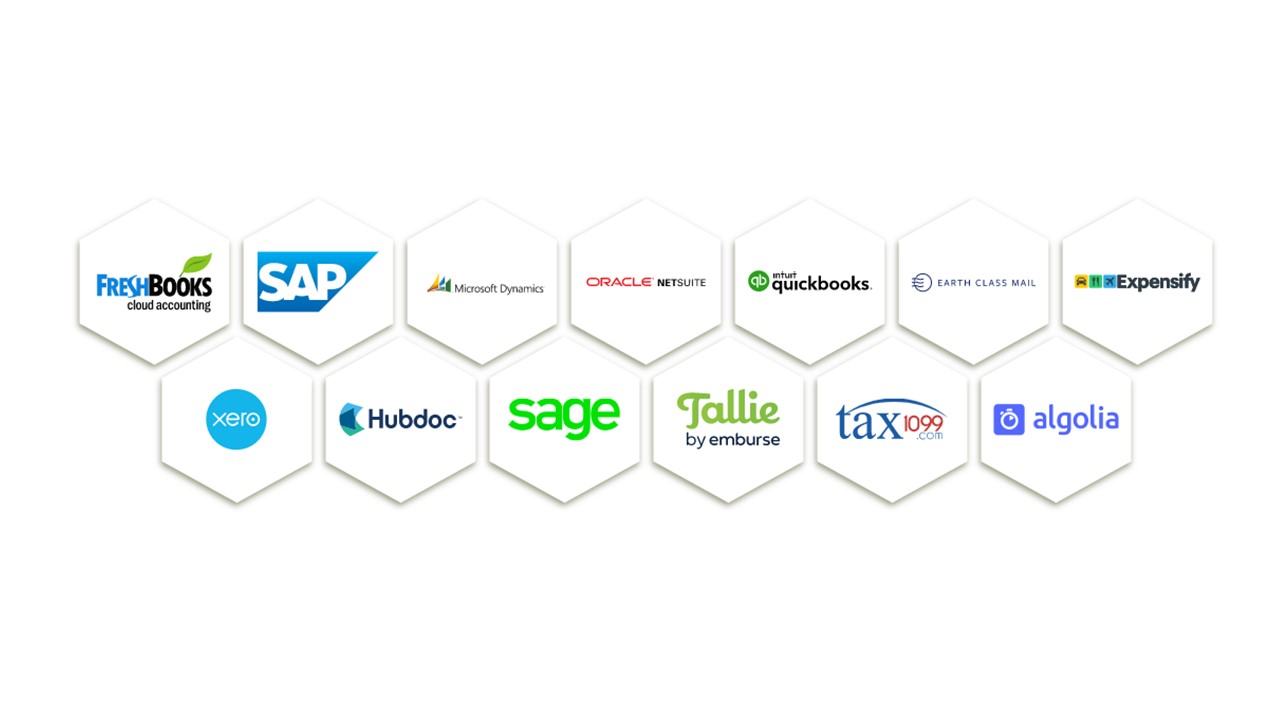 Bill.com automatic sync with:
Sage Intacct

Oracle Netsuite

Intuit Quickbooks

Expensify

Tallie

Hubdoc

Xero
Bill.com data integration with:
Microsoft Dynamics

Sage

SAP

Fresh Books
Features Include:
Smart Automatic Data Entry – helps by saving time with redundant manual data entry

Smart Detection that detects duplicate entries – helps avoid human data entry error

Cloud service – provides real-time information

Payment Flexibility – ACH, virtual cards, and more

Schedule & Record Bill Payments

Email invoices and reminders

Automated Accounts Receivable, Approval Routing Process, Accounts Payable

Fraud Protection

Payment Arrival Notification

Cash-flow review & management

Unlimited Document Storage

Email integration

Benefits
Increases efficiency and saves time by automating the redundant task

Improves payment turnaround time

Helps businesses gain more control with approved team workflow set-ups

Syncs Data with 3rd Party Software and Mobile Devices

Processes International Payments with various countries and various currencies

Audit-Ready with Automatic Payment Activities

Real-time data updates

Trusted Security with Encrypted Data using Transport Layer Security
How Much Does Bill.com Cost?
Bill.com includes 4 Payment Package Options, designed to meet your company's specific needs.

1. Essential Plan
$39 per user/ month

Includes:

Import/ Export

5 standard user role & approval workflows

Unlimited document storage

Payment support & positive pay

Business Payment Network
2. Team Plan
$49 per user/ month

Includes everything in Essentials, plus:

Sync with 3rd Party Software: QuickBooks Pro, Premier, Online, and Xero

Customer user roles
3. Corporate Plan
$69 per user/ month

Includes everything in Team, plus:

Invoice automation and payment automation

Discounted " approver-only" users

Custom approved limits
4. Enterprise Plan
Custom

Includes everything in Corporate, plus:

Sync with 3rd party software: NetSuite, Intacct, and QuickBooks Enterprises

Multi-entity/ location/ accounting files

API access to Bill.com

Import and Export with Microsoft Dynamics
Additional Transaction Fees are also charged, so be sure to read through their price plans accordingly to be sure there are no surprises on your end.
Bill.com provides a 30-day risk-free trial with no credit card required.

Deactivating a User or Cancelling Your Bill.com Account:
Right from Bill.com's website: "Your Right to Cancel. You may request to deactivate a User or cancel Your Bill.com account at any time by submitting a request through Your Bill.com account or through Our customer support portal. Bill.com reserves the right to require up to 60 days' prior notice of cancellation or User deactivation"
It is best to read thru their Terms and Conditions to understand your Rights and what Rights they exercise, before signing up to use their services.
PROS CONS
Automation for sending invoices, reminding customers
on past due invoices, receiving payments, and paying
suppliers

Pricey monthly costs that


increase yearly

Instant up-dates for business managers, banking, and


the accountants

Limited customized reports

Payment choices include ACH or manual cheques

Customer service support is poor

Syncs with 3rd Party Accounting Software and mobile
devices

Designed for small to medium-sized businesses

Not robust for Corporations
Social Media:
Bill.com can be found on the following Social Media platforms:
Facebook, Twitter, LinkedIn, Youtube, and Instagram
Mobile App:
Bill.com has an App for your Mobile Device allowing you to get paid online.
This APP allows you to get paid twice as fast.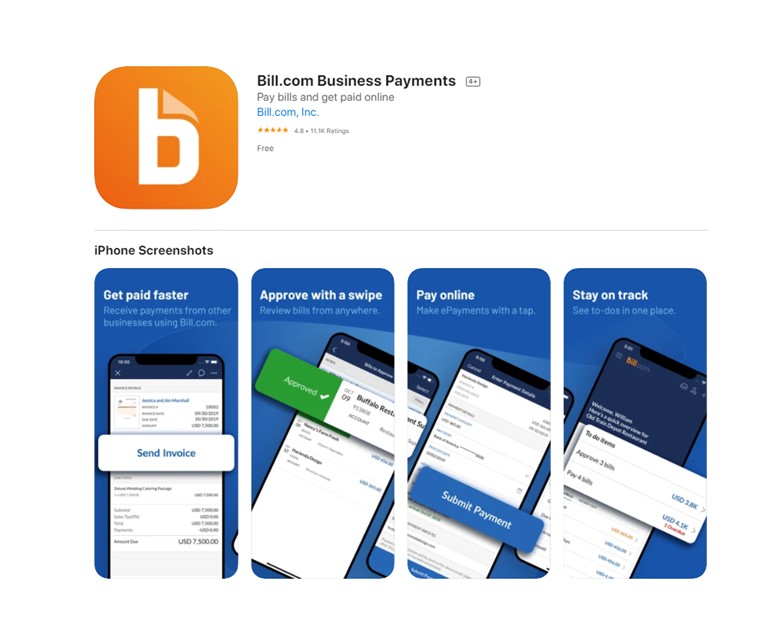 It is set up to:
Receive Payments from your customers and others and has a tracking feature to keep you informed as to when payment is expected

Approvers can remotely approve or reject a bill before it is sent

Various avenues of payment: ACH, international wiring, virtual card, or manual cheques

The status screen provides a basic overview of Open Approvals and Outstanding payments
Customer Reviews:
Software Advice gives Bill.com a rating of 4.11 stars out of 5. Most customers were satisfied. Some concerns were with customer service and price.
Merchant Maverick rates Bill.com 4 out of 5 stars.
Bill.com provides an extensive resource of

Video Tutorials:
Bill.com has Video Tutorials for the following:
Accounting Preferences

Getting Started- Approvals, InBox, Receivables, Roles & Permissions

Settings Overview

Setting Overview
Bank Account Setup
Adding a bank account by manual entry and with online banking
Bill Management
Create a bill without a document

Creating, viewing, and deleting a bill

Editing and existing bill

Entering a bill with a document and entering a new bill

Manage payment terms
Getting Paid
I was invited to get paid by a Bill.com customer

Comment to your vendor or customer from your existing account
Import Export
Introduction

Importing and Exporting Data and Best Practices
Inbox
User Management
Clerk role, Manage Users, Payer Role, Approver Role
Webinar Recordings
5 ways to Pay you Vendors

Bill Enhancements

Create & Manage Approvals

How to Add/ Verify your bank accounts

How to Connect to Your vendors via the Bill.com Network

How to Manage Documents in Bill.com

Payment Fraud Mitigation: Business Email Compromises

Sync 101: How to Sync like a Pro the new Bill.com

Understanding clearing accounts

Vendor Direct
International Payment
Adding an International Vendor

International payments

sync with Sage Intacct, Oracle NetSuite, QuickBooks for Windows/Online, Expensify, Tallie, Hubdoc
Network
Accept or Decline Network Invitations

Cancel an Invitation

Connect to a vendor via Payment Network

Find pending invitations

Locale Payment Network ID (PNI) for vendors & customers

Provide PNI to connect

Send an Invitation to a vendor with a bank account already manually added

Send an Invitation when adding or editing a vendor

Send an Invitation to multiple vendors at once

Send your Inited vendor a reminder

Track an initiation

Vendor Advanced Search

Verified national vendor ePayment Setup
Payment
Paying Bills

Payment Processing & Timing

Payment Status
Receivables
Overview and Functions

Manage sub-customers

How customers view your invoices

Enter received payments manually

Create Invoice

Communication with your customers

Send Invoices

Set-up automatic reminders
Sync with:
Oracle NetSuite- setting up

QuickBooks, Online- setting up, how the sync works, sync troubleshooting

QuickBooks Desktop – setting up

Xero – sync basics and setting up, how to sync with Xero work, sync troubleshooting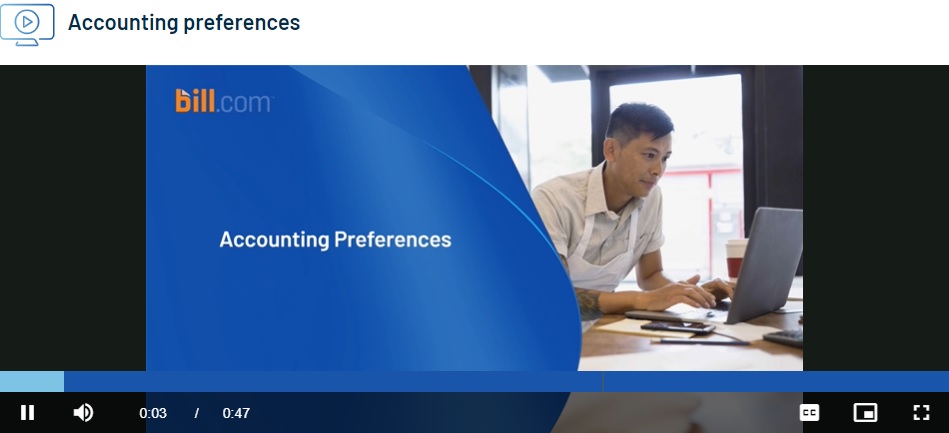 What if I have a Question or Concern with Bill.com?
Bill.com offers a few avenues of Customer Service.
You can use their Contact Us page and mail one out of two Office locations, either their headquarters in California or their Houston Office in Texas.
Palo Alto Headquarters
1800 Embarcadero Road
Palo Alto, CA 94303
Or
Houston Office
2103 CityWest Boulevard, 12th Floor
Houston, TX 77042
Or on the same page, you can send them a brief summary of which they can respond by email or phone.
They also have a support page where you can search when entering a keyword in their search bar. If you click on the Contact Us page, a pop-up box asks you to enter additional questions for more assistance.
Does Bill.com have any Youtube channels that provide visual insights into this business platform?
Yes, you can check out this Youtube channel to see How the Bill.com Intelligent Business Payments Platform Works
This Youtube channel shows you how the Accounts Receivable section works
This Youtube channel shows you the Accounts Payable features and functions
Does Bill.com offer pricing packages for Accounting firms?
Yes, the Accounting firm pricing package is $49.00/ month. You can check it out here: Bill.com for Accountants
Frequently Asked Questions:
Answer: How tu Buy?
Answer: You can click on www.bill.com to get started. Just fill in the required information in the pop-up box that appears on the screen.
Question: Does Bill.com create double-entry if I also use QuickBooks?
Answer: No, the integration between Bill.com and QuickBooks, NetSuite, Xero, and even Intacct means that any updates in one system automatically update the other. Saving time and money managing cash flow.
Question: How does Bill.com handle security?
Answer: Bill.com is designed with security that protects your money transactions, sensitive information, and privacy by enforcing the following:
– A strong password policy
– A 2-Factor Authentication
– A secure channel for sending login data over
– Timed log out for customers if inactive for a period of time
– Communicating risks of business email compromises
– Payment protections that reduce risk from check theft Bill.com applies Positive Pay de reduce the risk of check fraud; the bank matches the check issued with the check presented for payment
– Bank account information is kept private from vendors when making digital payments
– Security software that detects intrusion and prevents unauthorized use.
– Data protection includes an additional level of encryption
– Uses Transport Layer Secuirty (TLS) to protect customer data when transmitted over the internet
– Disaster recovery protection is in place to help retreive data should something catastrophic occur
– Secure Data Center is managed by a certified data center provider
– Well trained employees undergo background checks, data security, and privacy training
– Compliance Protection with SOC 1 and 2 Type II, PCI, AMI, OFAC.
Alternatives
Plooto
Plooto is an automated software that handles Accounts Payable and Accounts Receivable functions
They provide a 30-Day free trial
Pricing: $25/month, no additional user fee
Comarch
Comarch automates AP and AR e-invoice processing
No free trial
Pricing is provided upon request
Invoicera
Invoicera automates AP and AR functions
15-Day free trial
Pricing:

Business Package $25/month; 1,000 clients
Pro Package: $15/month; 100 clients
Infinite Package: $149/month; unlimited clients
Conclusion
Bill.com is a user-friendly software that automatically manages all the accounts receivable and accounts payables functions, saving businesses time and effort. It contains many advantages and a few disadvantages. It can be a pricier option than their competition when you consider how many users you need to use the system. The APP is a good feature to have for when signing authorities are out of the office, and you cannot wait for them to return to pay a bill or invoice. I recommend trying their free trial out and reviewing the library of training videos they offer to see if this software suits the needs of your business.
Further read: