Last Updated on April 22, 2023 by Ewen Finser
If you're selling online, your order fulfillment process is vital to your business' success.
Online shoppers have become so accustomed to Amazon's 2-day-delivery promises that taking any longer can seriously jeopardize your ability to compete.
The end result? Order fulfillment has to run smoothly from start to finish and boast reliable shipping to boot.
Once you're in the lucky position of orders coming in more frequently, you might find that order fulfillment is no longer something you can handle independently. This is where a shipping fulfillment partner like Deliverr comes in handy.
Deliverr promises a Prime-like, all-inclusive delivery service. By this, we mean they handle receiving orders, picking and packing products, and shipping to customers.
Don't worry; if you're unsure how any of that works, you're in the right place. In our Deliverr Review, we're looking at Deliverr's services, pricing, and processes, so you can evaluate whether they're the right choice for your business.
Let's dive in!
Who Is Deliverr?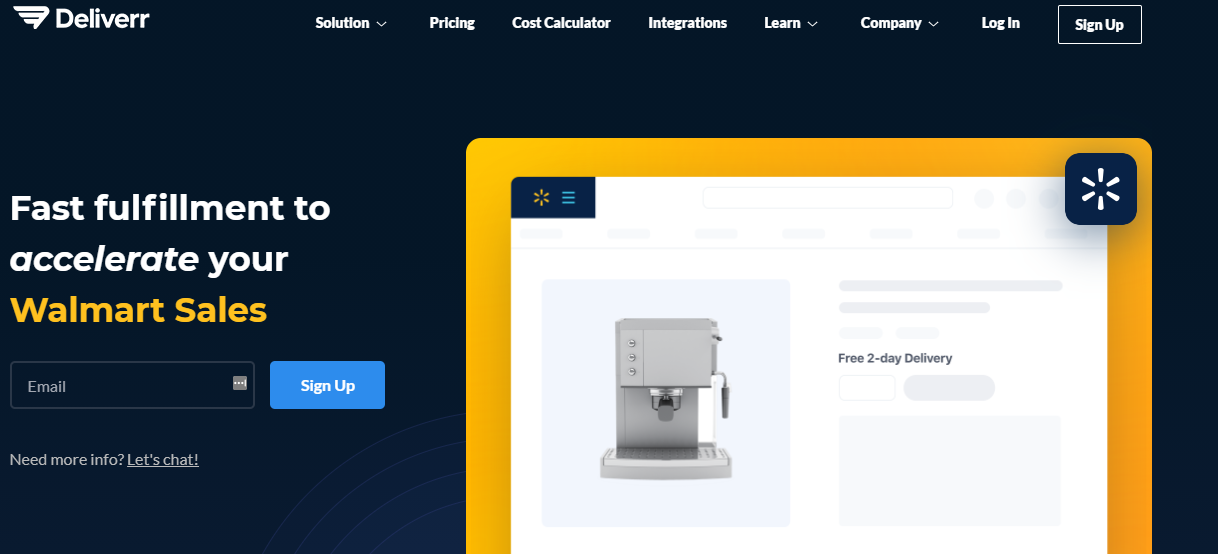 Inspired by Amazon fulfillment (FBA), Deliverr was founded in San Francisco. They do their utmost to rival the eCommerce giant where speed and price are concerned.
If you've not worked with a shipping fulfillment partner before, you might be wondering what that is. In short, service providers like Deliverr process and ship products purchased online.
Deliverr does this by renting warehouse space across the US. These are stocked with products from your inventory, the amounts of which are intelligently calculated based on what's popular in that area.
From there, Deliverr receives your customer orders and ensures the items are picked, packed, and shipped to your customer's address.
How Does Deliverr Work?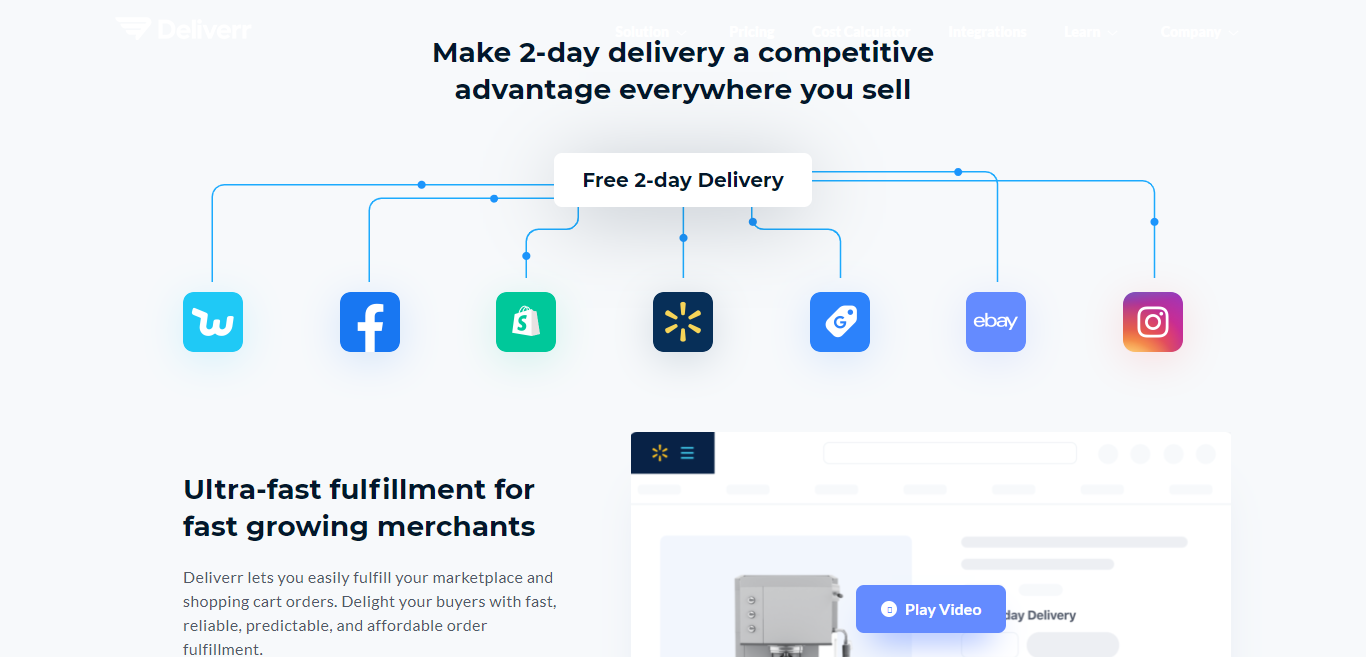 Getting started with Deliverr is easy. Just connect your eCommerce platform, online marketplace, (or wherever you're selling online) to your Deliverr account.
Then, send Deliverr over your inventory (discounted shipping rates are offered for this). On average, this process takes between four and eight days. Then, once the merchandise is stored in Deliverr's warehouses, you can activate fast-shipping tags on your sales channels and start selling!
Deliverr's Core Features and Services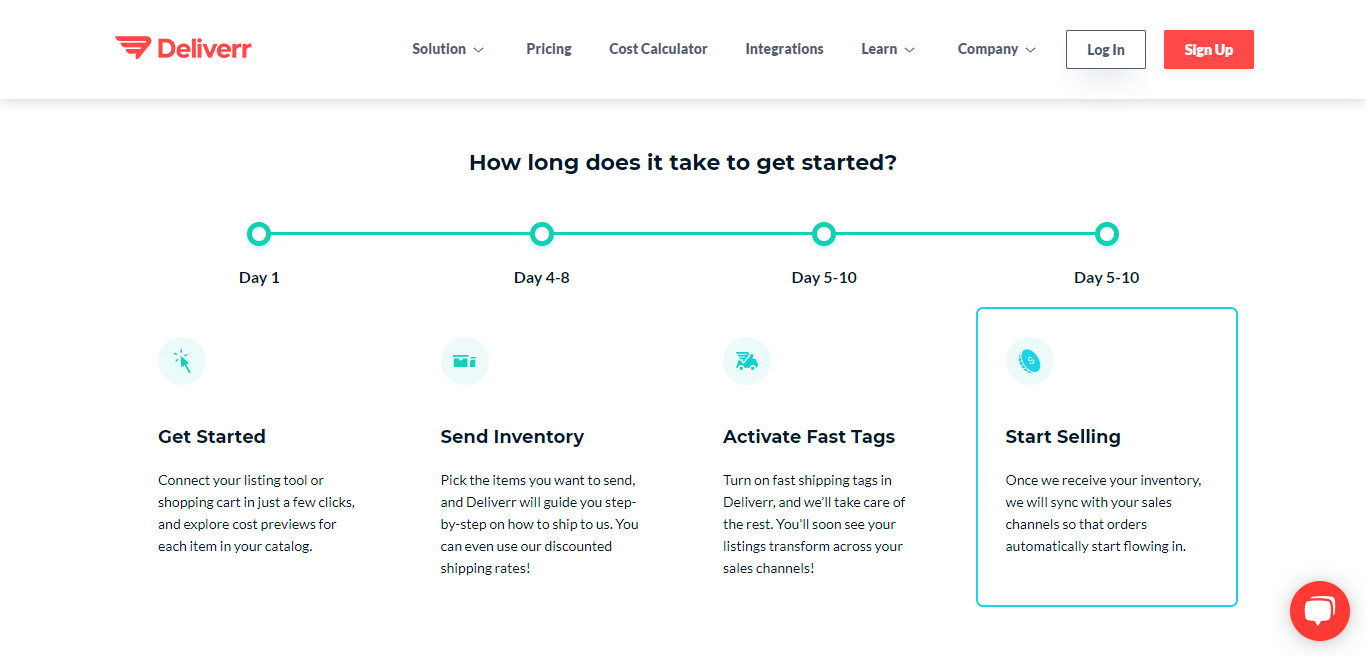 Now we've covered the basics, let's look at the details of what Deliverr has to offer. Deliverr describes its services as 'Solutions,' which are tailored to meet the needs of specific online selling platforms.
Deliverr integrates with the following:
Amazon

Wish

Walmart

Facebook

Google

Shopify

eBay

Instagram
Deliverr's pricing and services differ slightly depending on which selling platforms you focus on.
Display Fast Shipping to Boost Your Sales
Almost all sales channels enable you to wear your fast delivery times as a badge of honor – which is great for conversion rates. Deliverr's fast-shipping badges help your products stand out in spaces like 'buy box' (a feature used by both eBay and Walmart).
Alternatively, suppose you're a Shopify store owner y. In that case, you can display a free 2-day delivery badge across your entire shopping funnel. That way, buyers know from the get-go they can count on you for fast, reliable shipping. On top of that, you can customize the badge's look to reflect your brand's aesthetic.
Fast-Delivery Guarantee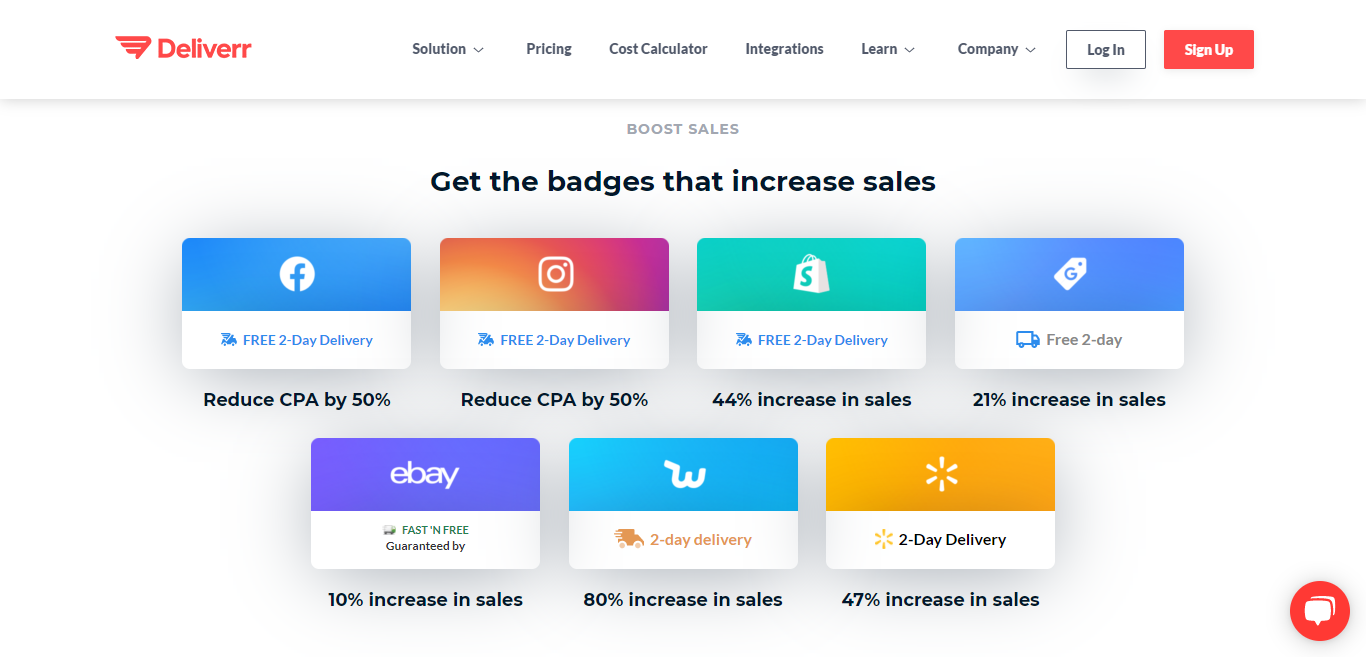 Deliverr even offers a guarantee to you and your customers. They offer $5 credit out of their own pocket if an order doesn't arrive on time. So, even if a product's late, you can rest easy knowing you can offer something in the way of compensation to your customers.
Coverage
By distributing your inventory across multiple locations throughout the US, Deliverr estimates that 95% of your customers will qualify for 2-day shipping times.
Deliverr's warehouse locations include:
Texas

Missouri

California

Ohio

Pennsylvania

New Jersey
Deliverr's warehouse partners are all vetted to ensure they can handle a minimum of 2,000 orders a day and have 15,000 square feet of available space.
Integrations
Deliverr comes with various one-click integrations, so they should seamlessly slot with your existing services and tech stack.
We've already outlined that Deliverr partners with popular marketplaces and direct sales channels like Shopify. But, as well as that, below are a few other native integrations on offer:
SellerCloud

ZenTail

Listing Mirror

Ecomdash

Linnworks

ChannelAdvisor

Sellbrite

Geekseller

Skubana

Acenda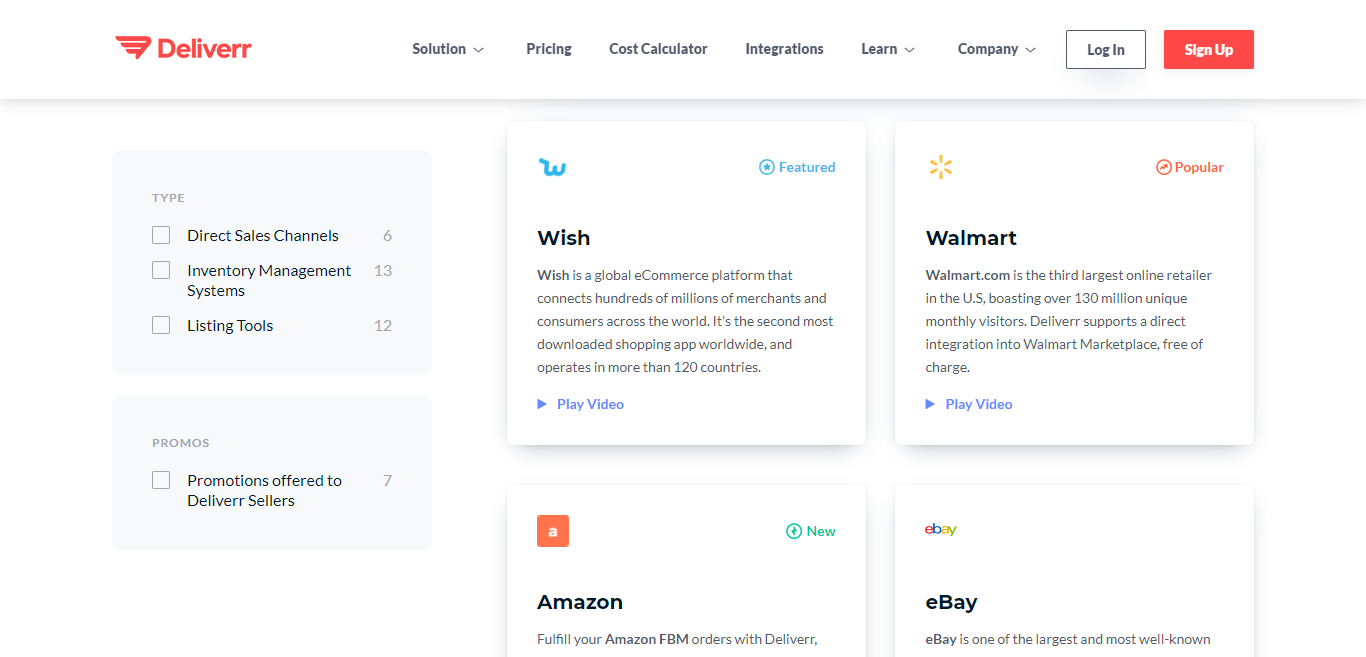 Deliverr's Pricing
Deliverr's largest selling point is its pricing, offering a simple, transparent, and affordable solution. Do they deliver on this promise? Let's find out.
Fulfillment
How much Deliverr charges to fulfill an order depends on its unit weight, measurements, and the amount of work required.
The prices below include the cost of receiving your item, handling the order, picking, boxing, and packaging the product(s), and shipping it to the specified destination.
Prices start at $3.99 per item. However, there are three levels of fulfillment you can opt for, which impact your delivery speed (and, of course, the price of fulfillment):
Standard delivery (5-7 days)

3-day delivery

2-day delivery
With regards to the price of different sizes and types of item, Deliverr showcases a few examples on its website:
Something as light as a phone case can be shipped for as little as $3.99 on standard delivery or $6.72 for Shopify 2-day delivery. Or, for something heavier like an espresso machine at 12lb, order fulfillment would cost $10.21 with standard delivery or $12.60 for Shopify 2-day.
If you want to know precisely how much your items will cost to fulfill, you'll need to get in touch with Deliverr to get a more accurate idea of the price.
Storage
Storage is the other cost you'll have to calculate. The price applies to each unit sitting in a Deliverr warehouse and is charged per cubic foot per month. There are also different rates for long-term and seasonal storage.
Prices start at $0.72 per cubic foot per month. This standard fee increases to $2.40 from October to December. Beginning in 2021, Deliverr is also charging long-term storage fees if your unit is in the inventory for more than a year. The rate for long-term storage is $6.90 per cubic foot per 30 days. The minimum rate per unit is $0.15.
For a more precise calculation, use Deliverr's cost calculator on their website. Here you can choose various sample products, paste an Amazon product link, or manually enter your product's dimensions and weight to get an estimate.
Customer Service
If you run into a problem, you can submit a ticket via Deliverr's website. Alternatively, you can browse their online help center to see how things work.
There you'll find FAQs and guides on how to get started, manage your inventory and orders, activate fast tags, and much more.
When you submit a query, it's essential to know that Deliverr then negotiates with its warehouse partners. As Deliverr frequently employs third-party services, their response times might be slower than you'd like. The lack of phone support may also be a disadvantage worth noting.
Deliverr's Pros and Cons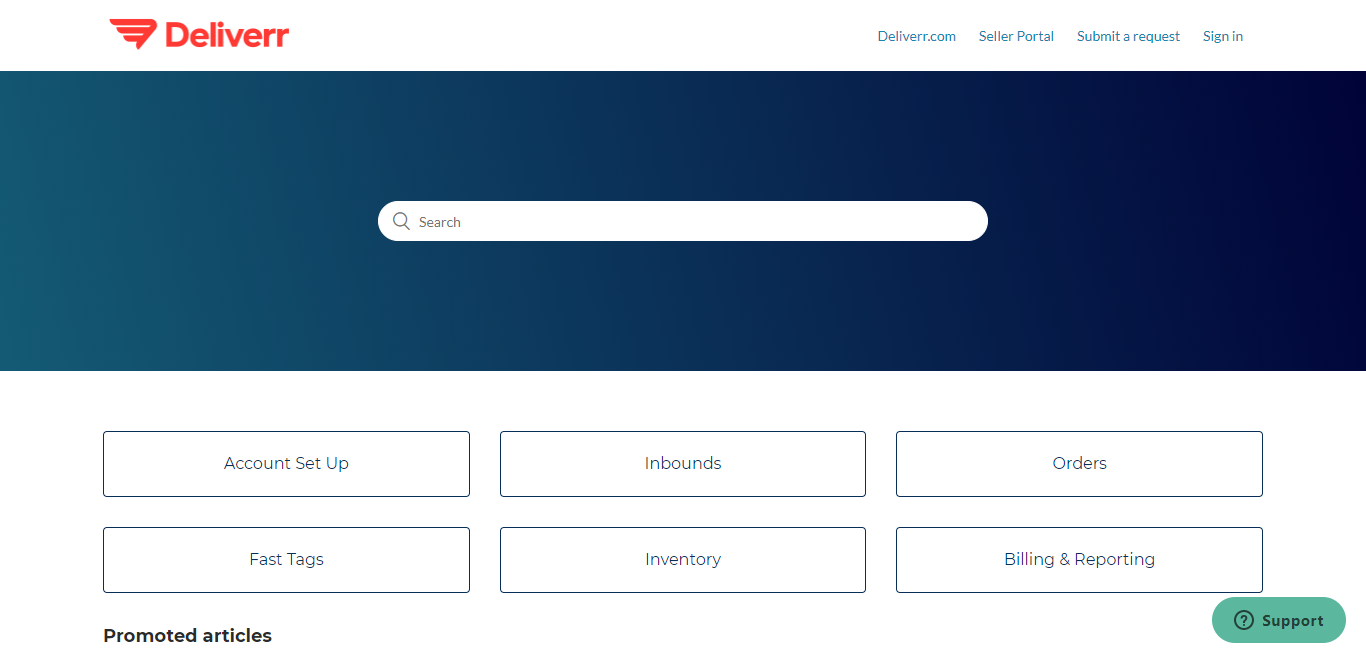 To help summarize where Deliverr shines, and conversely, where it falls flat, we've compiled a quick pro-cons list:
Pros:
Deliverr offers affordable and straightforward pricing.

Thanks to its warehouses based all around the US, 95% of your customers will enjoy 2-day shipping.

You can boost your visibility on marketplaces with fast-shipping tags.

You can integrate with all major online marketplaces and Shopify

Deliverr offers fast and reliable order fulfillment

Deliverr's algorithmic approach empowers you to allocate your inventory intelligently across their warehouse network.
Cons:
There aren't many options for branding the order fulfillment process.

Deliverr doesn't offer international order fulfillment. If you want to ship overseas, you'll need to opt for a different or additional service.

There are no live contact options, and some reviews have claimed that Deliverr's customer support team takes as long as 1-3 days to respond.

You can't create employee accounts, which makes delegation difficult. Instead, if you require joint control, you'll have to share your account with the relevant employees.

Deliverr doesn't handle or process returns for you.
Deliverr Alternatives
If Deliverr doesn't sound like the right fit for you, or you want to browse the market in more detail, you might look at some of Deliverr's competitors.
Here's just a few to kickstart your research: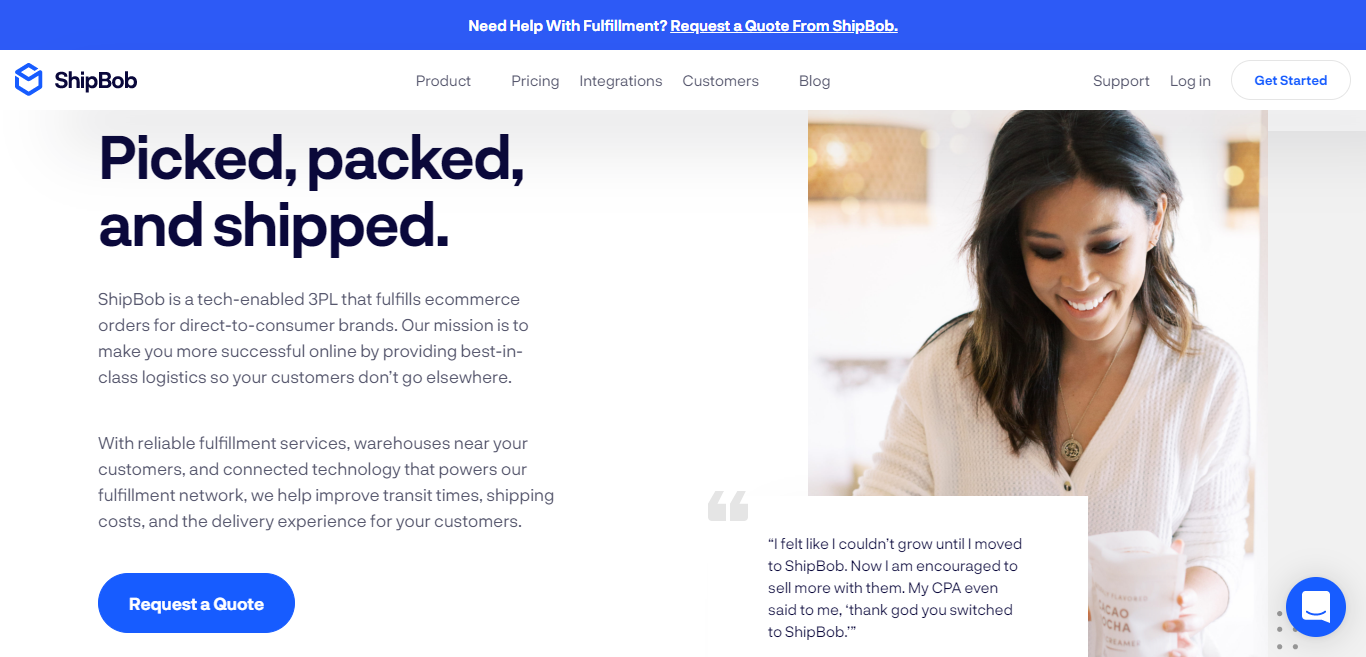 ShipBob is another order fulfillment service. However, it trends on the more expensive side but offers additional features in exchange. For one, ShipBob gives you full ownership of the fulfillment process with their best-in-class tech.
You'll receive accurate inventory information and real-time visibility of your orders. ShipBob also allows you to customize your product packaging and add marketing materials to help build your brand.
On top of that, ShipBob also offers tailored solutions to meet the exact needs of your enterprise. For instance, if you're after international fulfillment or shipping B2B orders, kitting, or items that require temperature control, ShipBob is worth considering. That said, ShipBob doesn't integrate with Wish and doesn't support Walmart 2-Day or Amazon fulfillment.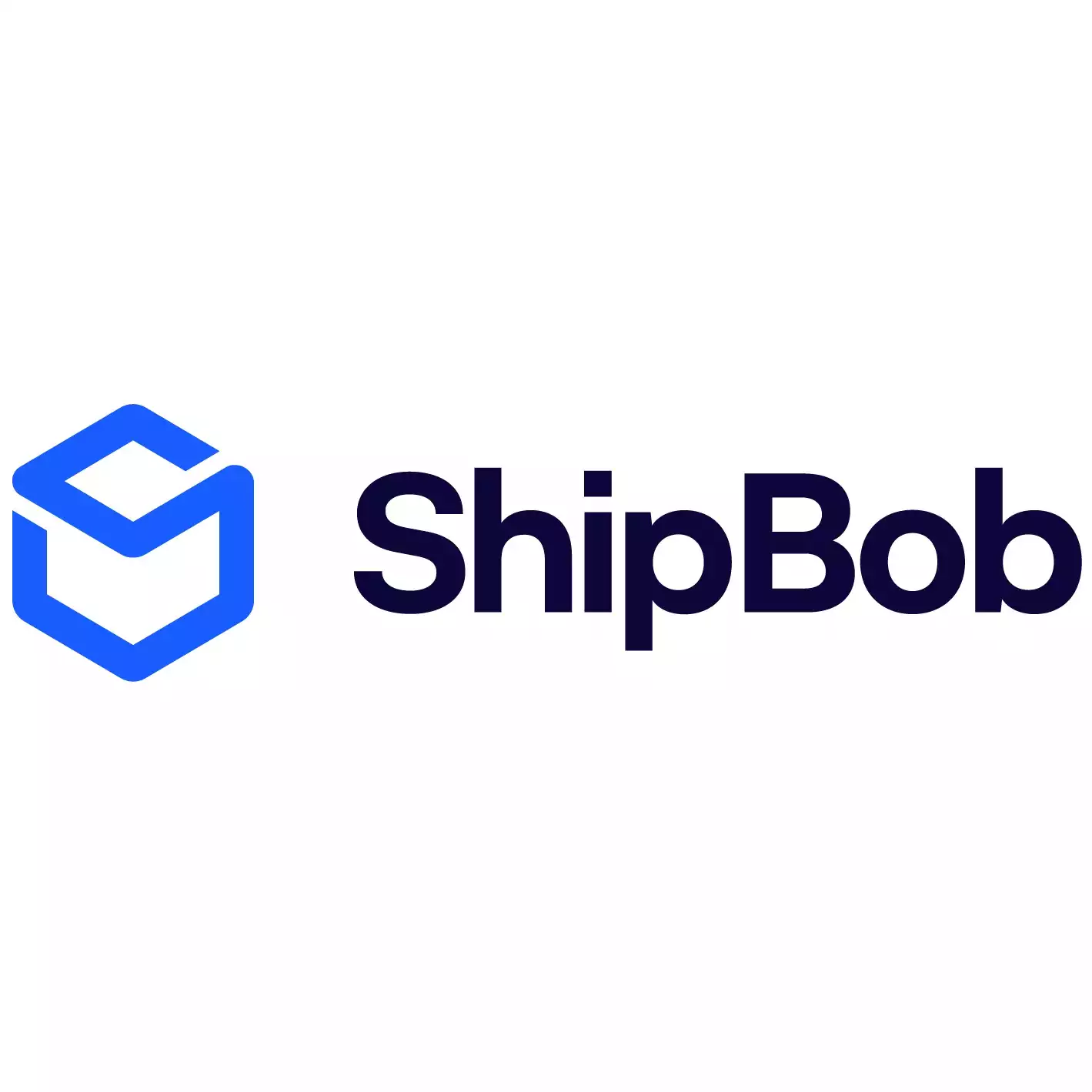 ShipBob Order Fulfillment – Get a Free Quote
Discover the power of omnichannel analytics and reporting through our dashboard, while we take care of picking, packing, and shipping for you.
Request A Quote
We earn a commission if you click this link and make a purchase at no additional cost to you.
Red Stag Fulfillment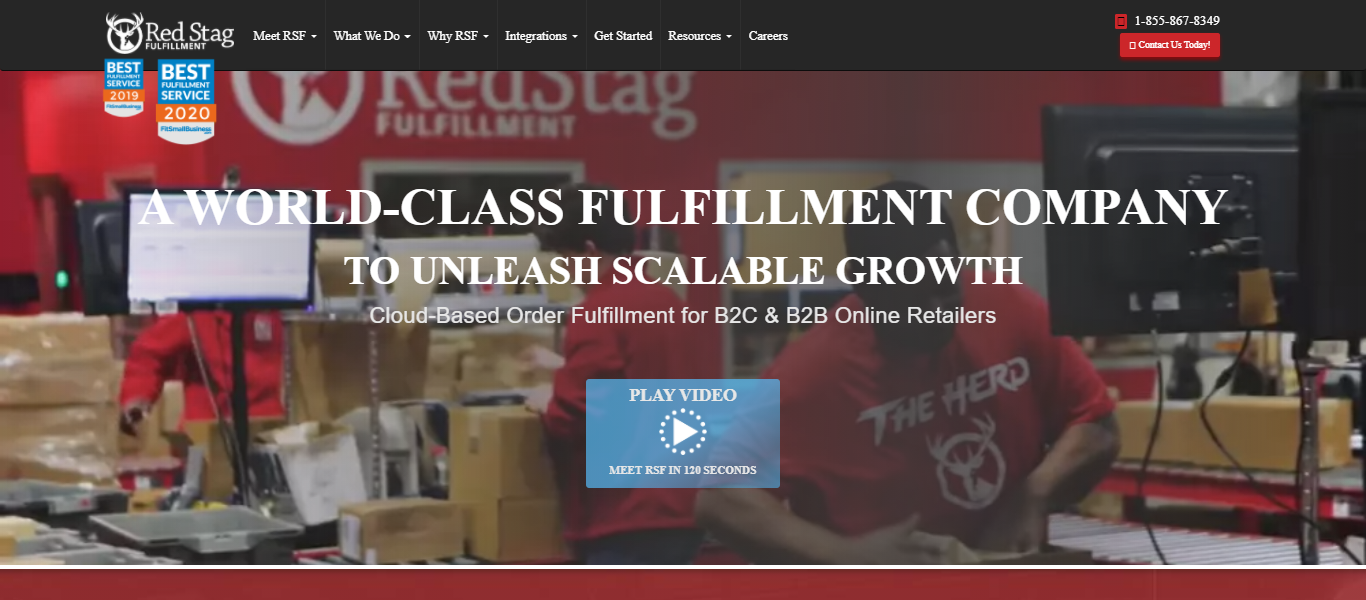 Red Stag is another shipping fulfillment partner. However, they focus on retailers that ship heavier, bulkier parcels and items that require assembly before they're sent out. This makes Red Stag a decent contender for furniture stores.
Red Stag offers same-day fulfillment and provides discounted shipping. They charge month by month and don't require long-term commitments or contracts, making this service a more flexible option.
High volume sellers won't find Red Stag fulfiallment very suitable for them, nor will international companies. Red Stag is a US-only shipment provider. Plus, it only has two warehouses in the US, so while fulfillment is fast, shipping relies entirely on your customer's proximity to these locations.
Rakuten Super Logistics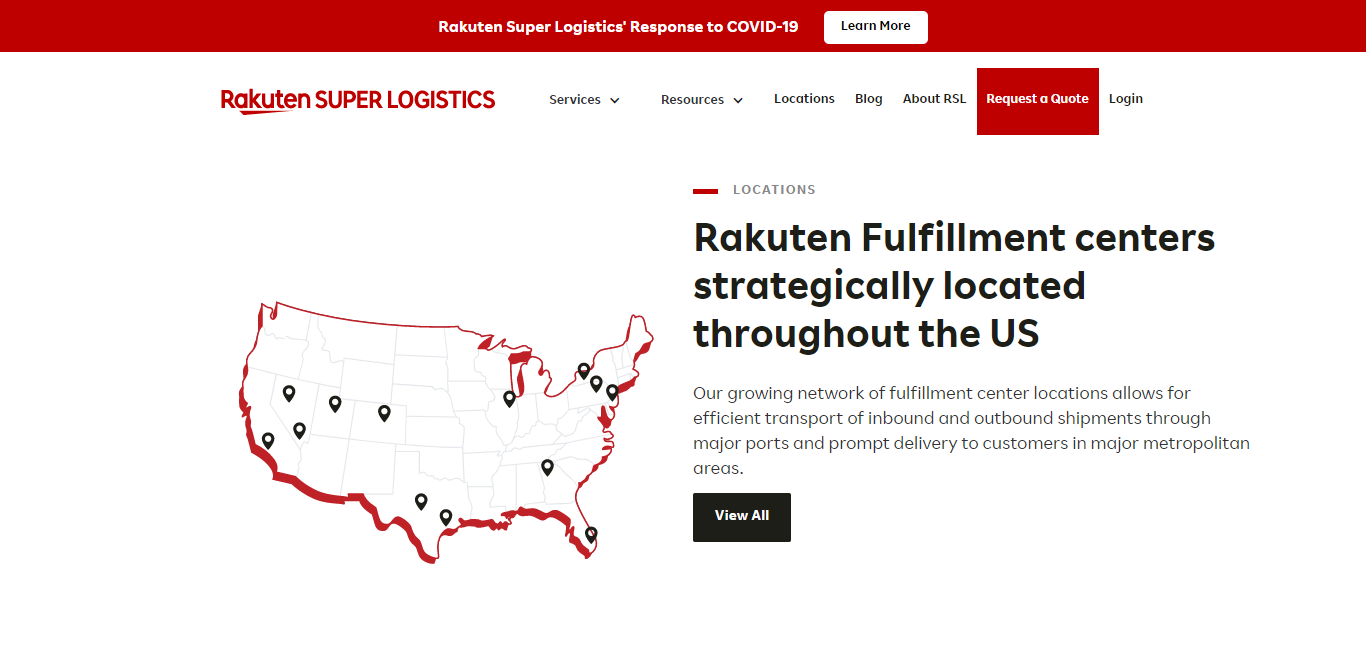 Rakuten is a standout competitor with its promise of 100% order accuracy. They make this possible by completing three separate quality checks before shipping your orders. In the unfortunate event there's an error, the order is delivered free of charge.
Rakuten also offers 1-day order fulfillment and 1-2 day delivery to over 98% of the US. On top of that, if speedy customer service is a sticking point for you, Rakuten might be a good option. It promises a response time of fewer than three hours. What's more, Rakuten also provides extra value-added services like customer loyalty programs, marketing, marketplace connection, and more.
FAQ
Last but not least, we'll round off this Deliverr review by answering some of the most commonly asked questions we hear about Deliverr:
Question: How can I see pricing for my products?

Answer: Head over to Deliverr's website. To estimate your cost, you can check the prices for various Amazon sample products that are similar to yours. Alternatively, you can manually enter the weight and dimensions of your products to get more accurate pricing. Or sign up for a free Deliverr account and easily upload your product catalog. From there, Deliverr will provide a precise cost breakdown.
Question: How can I add 2-day delivery tags to my Shopify store?

Answer: Head to the fast tags section in Deliverr and get started with your Shopify store. Install Deliverr's fast tags app on Shopify; here you'll be able to configure the badge's look.
Question: What happens if an item's to be removed or disposed of?

Answer: Deliverr charges a fee for inventory disposal and removal (which happens at the seller's request). Deliverr can either dispose of the inventory as instructed or remove all the relevant SKUs from their fulfillment centers or just from specified locations. The inventory disposal fee is $0.50 per unit, and for removal, it's $0,36 per lb per unit.
Question: Can I use Deliverr for all of my items?
Answer: It's recommended that you use Deliverr for your top-selling items only. Bear in mind long-term storage fees should a product that doesn't sell well stay in their warehouses for over a year.
Question: Does Deliverr offer value-added services?
Answer: Deliverr isn't suited to items that need assembly or other specialized processs. This is in part because their service is spread across multiple third-party warehouses.
Our Final Thoughts on Deliverr
From everything we've said in this Deliverr review, it's clear that Deliverr has its limitations. It isn't as flexible as some of its competitors and doesn't provide much in the way of value-added services.
There's no customization, and with many third-party-owned warehouses, there's less visibility over the process.
That said, Deliverr is an excellent service if you're taking care of more than one sales channel. Its wide-spread warehouse network enables fast shipping for your customers, which alongside Deliverr's fast-shipping badges, goes a long way to helping you stand out from the crowd.
Have you worked with this shipping fulfillment partner before? Let us know in the comments what your experience was like and if you'd recommend Deliverr!
Further read: