Last Updated on May 31, 2023 by Ewen Finser
If you want to take payments and send invoices, you need an excellent payment service. Melio and the payment section of Stripe, Stripe Payments, are two solid options for online businesses, but they each offer slightly different features.
I know from experience how hard it can be to manage payments and invoices, especially as your business grows. If you're buying and selling internationally, this only becomes more complicated! It's so much easier if you have a decent platform to manage many of these processes for you.
I've tested both Stripe and Melio, so you can see how they work, and I'll give you my honest opinion on their pros and cons. I'll also compare their customer support teams, integrations, and pricing plans, so you can see which works best for you.
Bottom Line Up Front: It isn't easy to directly compare the two, as they're pretty different platforms. For simple invoicing or businesses paying contractors , Melio is the more purpose built solution here. But for advanced payment integrations, I'd go for Stripe Payments in terms of power and customization,. For larger businesses, Stripe Payments will work better: it has plenty of features, like allowing split payments, offering discounts to customers, and more.
However, I think that Melio has a nicer interface and is generally easier to use. So for small businesses or solo entrepreneurs, Melio may be the better option.
Main Differences Between Melio vs Stripe Payments
The main differences between Melio vs Stripe Payments are:
Melio is a little more straightforward, with an intuitive UI, whereas Stripe Payments is a little more complex
Melio is less customizable, whereas Stripe Payments can be customized using their API tools
Melio offers fewer payment options to customers, whereas Stripe Payments allows customers to pay using a range of methods.
Melio offers workflows, allowing team members specific permissions, whereas Stripe Payments does not.
Melio doesn't offer coupons and discounts, whereas Stripe Payments does.
Melio doesn't have live chat or phone support, whereas Stripe Payments does
Melio's knowledge base is easy to navigate, whereas Stripe Payment's knowledge base is less intuitive.
Best Simple Invoicing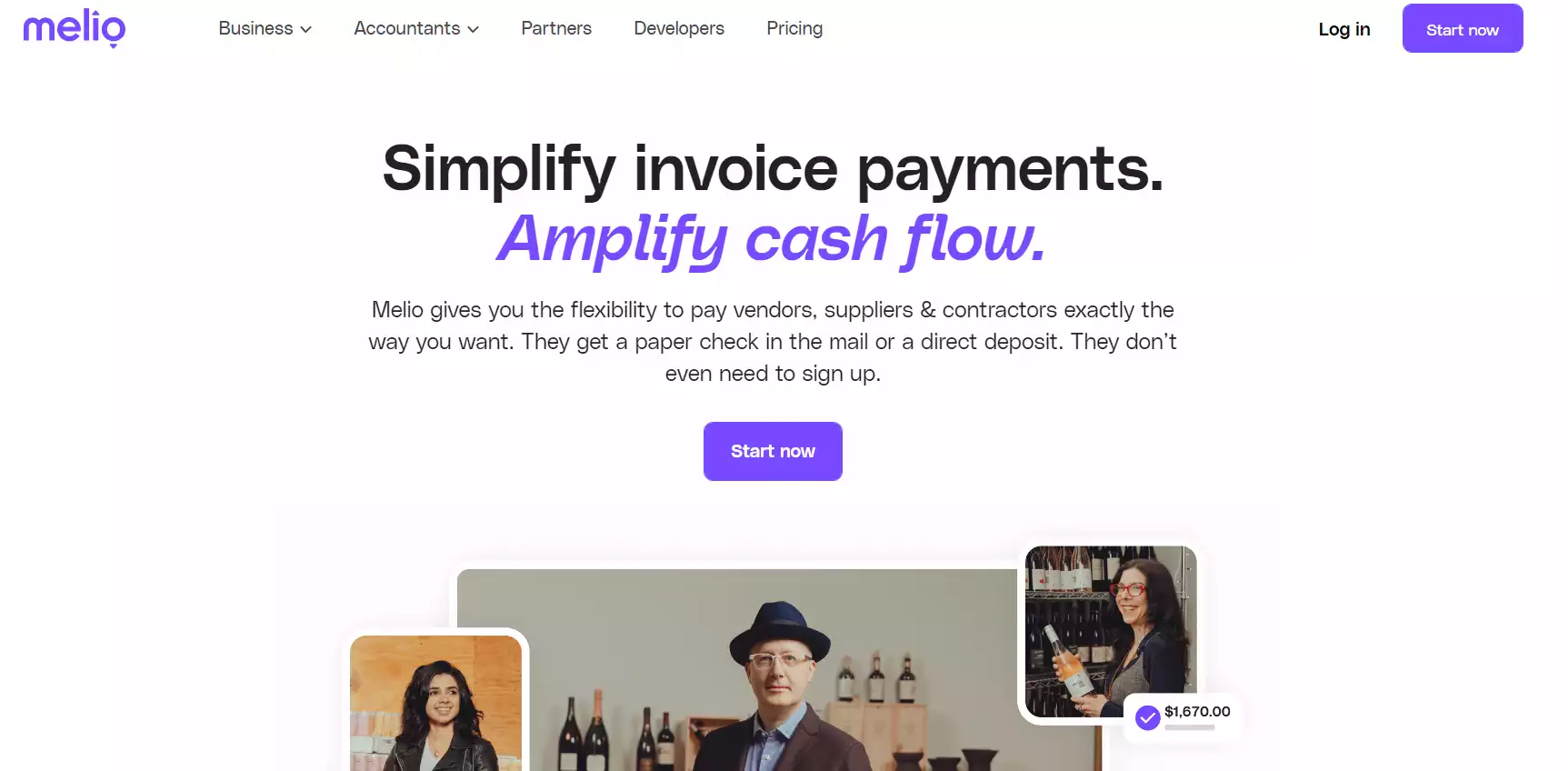 Why Go with Melio?
Melio is built for today, while most payment processors are technical, glitchy, and dated. I use Melio in my business for straightforward invoicing. No fees, no hassle.
Try it for Yourself
We earn a commission if you click this link and make a purchase at no additional cost to you.
About Melio
Melio is a bill-paying service. It allows users to send invoices, collect payments, and send payments to contractors or freelancers. It integrates easily with popular accounting services, like Quickbooks.
I'd recommend Melio for smaller businesses, especially if they want a simple, easy-to-use platform.
About Stripe Payments
Stripe Payments is the payments section of Stripe, a payment processor that allows business owners to take payments, sell physical or virtual products, and offer subscriptions. It's a customizable service and works well for larger businesses with developers on their teams.
I'd recommend Stripe for any-sized business, particularly those with a little more time to learn how to use the platform correctly.
The Main Features of Melio
First, let's check out the main features of Melio.
UX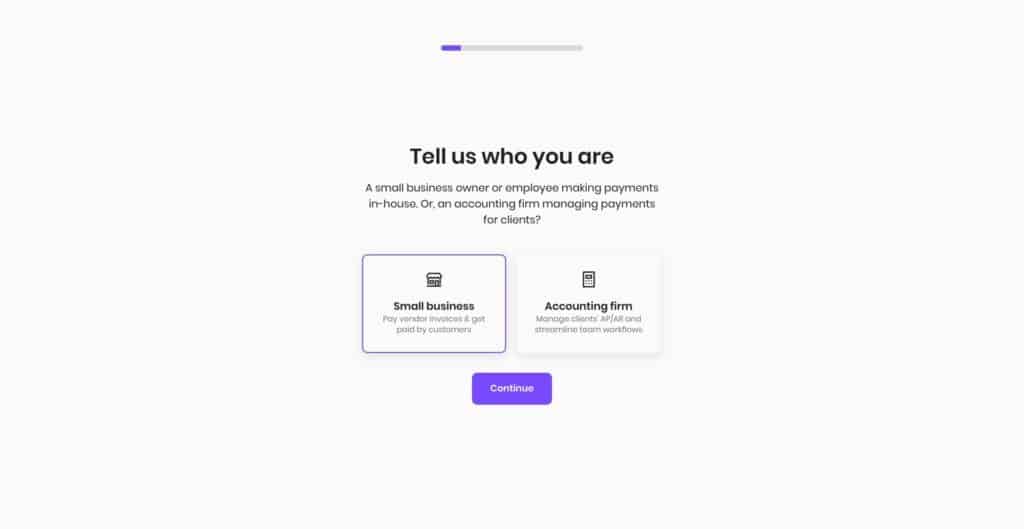 Firstly, the onboarding process with Melio is straightforward. You have to input some basic information (which type of business you have, the industry you work in, your address and phone number, and your estimated yearly merchant sales volume), and then you'll be able to get going immediately.
The dashboard is kind of plain but intuitive to navigate: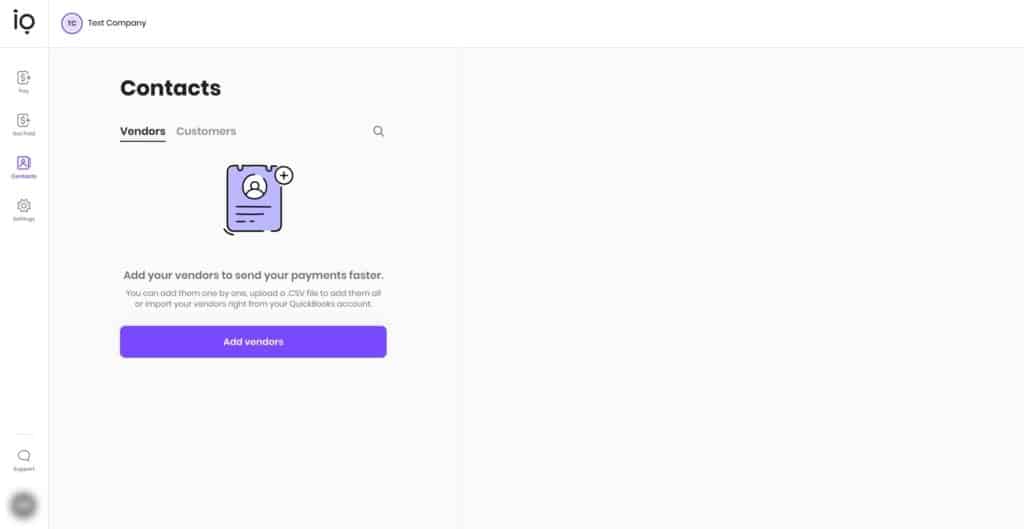 Everything you need is there, and you won't need to worry about finding your way around a cluttered, confusing interface. Overall, I liked my time with Melio, which offers a good user experience.
Payment Processing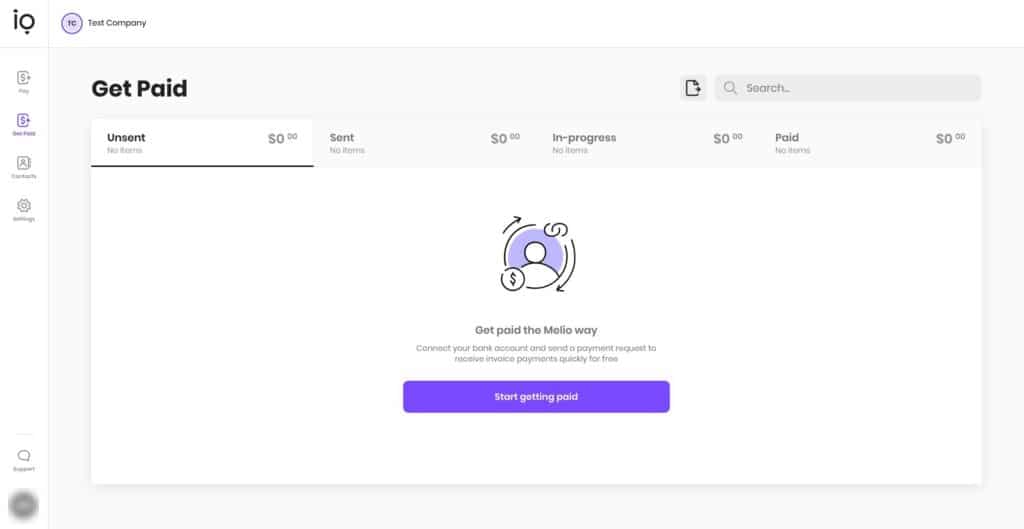 In terms of invoicing, you can integrate with your accounting software or manually add invoices. This is pretty straightforward (but we'll discuss integrations a little later). You can also send payment requests to customers with an attached invoice and a built-in 'pay now' button, making it very easy for your customers to pay.
Melio instantly matches incoming payments with their invoicing number, saving you time. This neat feature will make your life much easier, especially if you're a small business or a solo entrepreneur.
Melio takes payments via bank transfer or credit card payments. They accept American Express, Visa (but not Visa consumer credit cards), Mastercard, and Discover.
In terms of security, I feel that Melio is strong. It uses up-to-date cryptographic algorithms during payments or data transmission, and the servers are kept in PCI/SOC 1, 2, and 3 certified data centers with 24 x 7 monitoring. This means you shouldn't have to worry about stolen data during payments, and stored information is kept in a secure location.
Plus, Melio doesn't secure credit card-sensitive information on the servers. Instead, it uses a certified Level 1 PCI Compliant Service Provider card processor (the highest level of security a card processor can offer).
Making Payments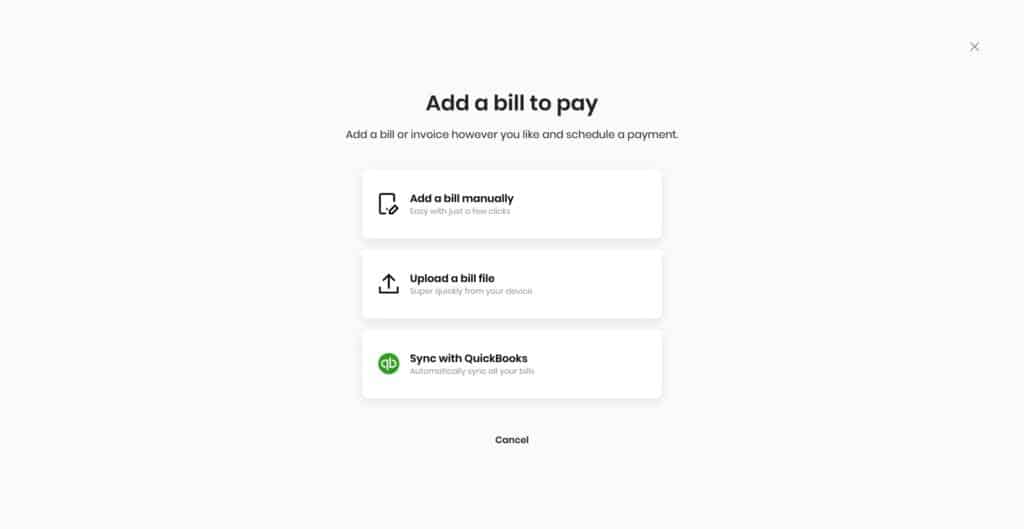 You can also make payments using Melio. If you regularly pay contractors or freelancers, this will be a lot easier to manage. You can sync with your regular accounting software or invoicing to your Pay inbox. Then, you can pay using a bank transfer or card, and the payee does not need to have a Melio account to receive the payment.
If you want to pay by check, Melio will send a check on your behalf to arrive within 5-7 business days. I like that you can manage permissions with Melio. This allows you to give access to specific team members. For example, you can assign a manager to sign off any payments made by other staff members.
Branding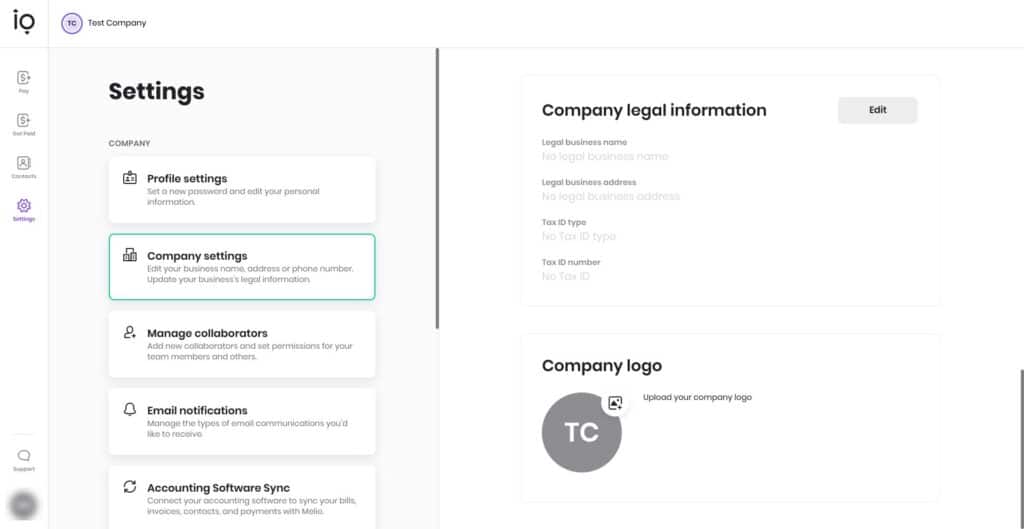 You can send branded invoices with Melio, which is great for consistency from your customer's perspective. It's a nice touch for them to see your company logo on your invoices, and it's easy to set up in the Settings section.
Workflows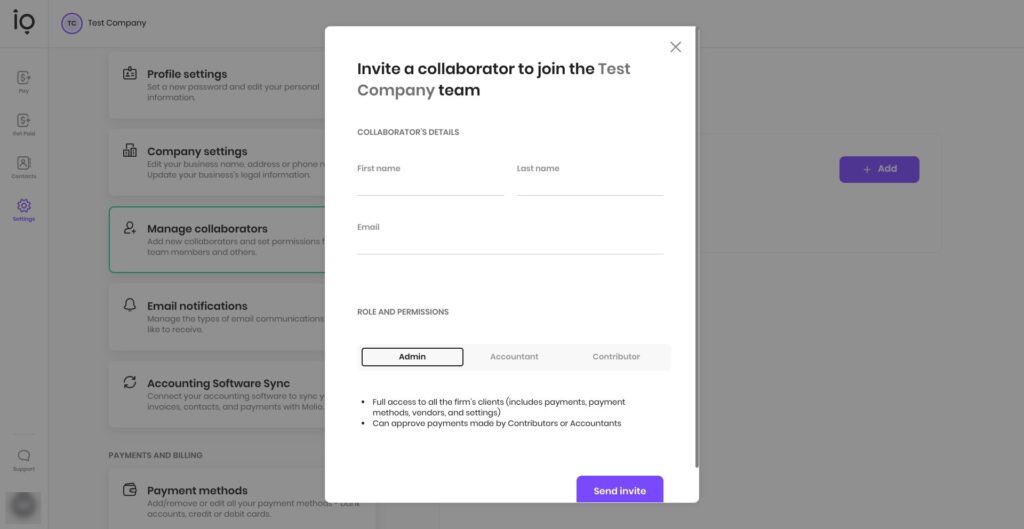 I like that you can share responsibilities using Melio. For example, you can add team members, allowing them to make payments while you still get to oversee everything. You can invite your accountant or bookkeeper to your Melio account, too. This is free to do, and you can assign their roles and review payments before they are sent.
International Payments
You can pay your international vendors from the Melio dashboard; they won't need a Melio account either. You can send bank transfers in US dollars and even send batch payments. It is worth noting that there is a flat fee of $20 per payment, no matter what the payment size. This is something to keep in mind for smaller businesses dealing with many smaller transactions.
Melio can send payments to many countries worldwide (see their complete country list for details).
Contact Management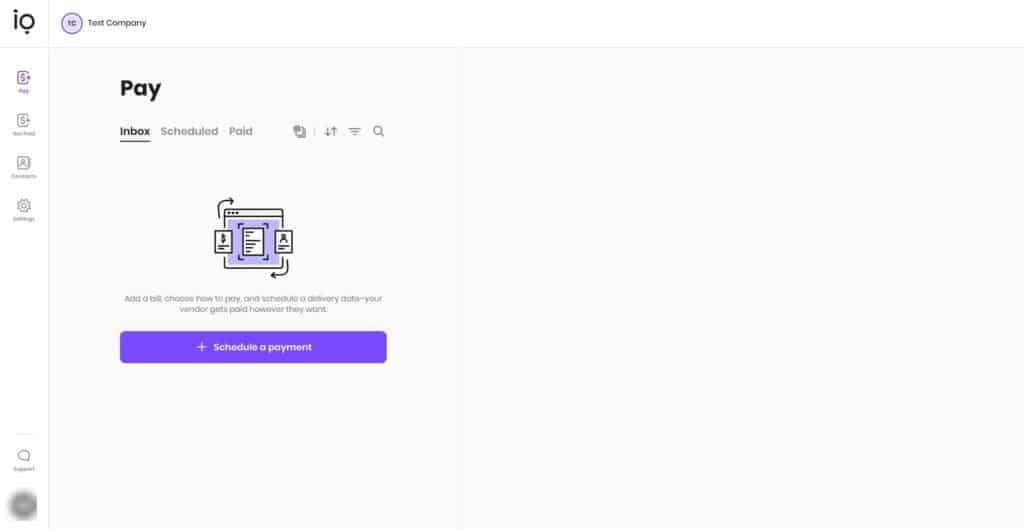 It's pretty easy to manage your contacts in Melio. You can view your vendors and customers, add new people, and import them from your accounting software. This makes it easy to find contractors, freelancers, or customers with a few clicks.
Best Simple Invoicing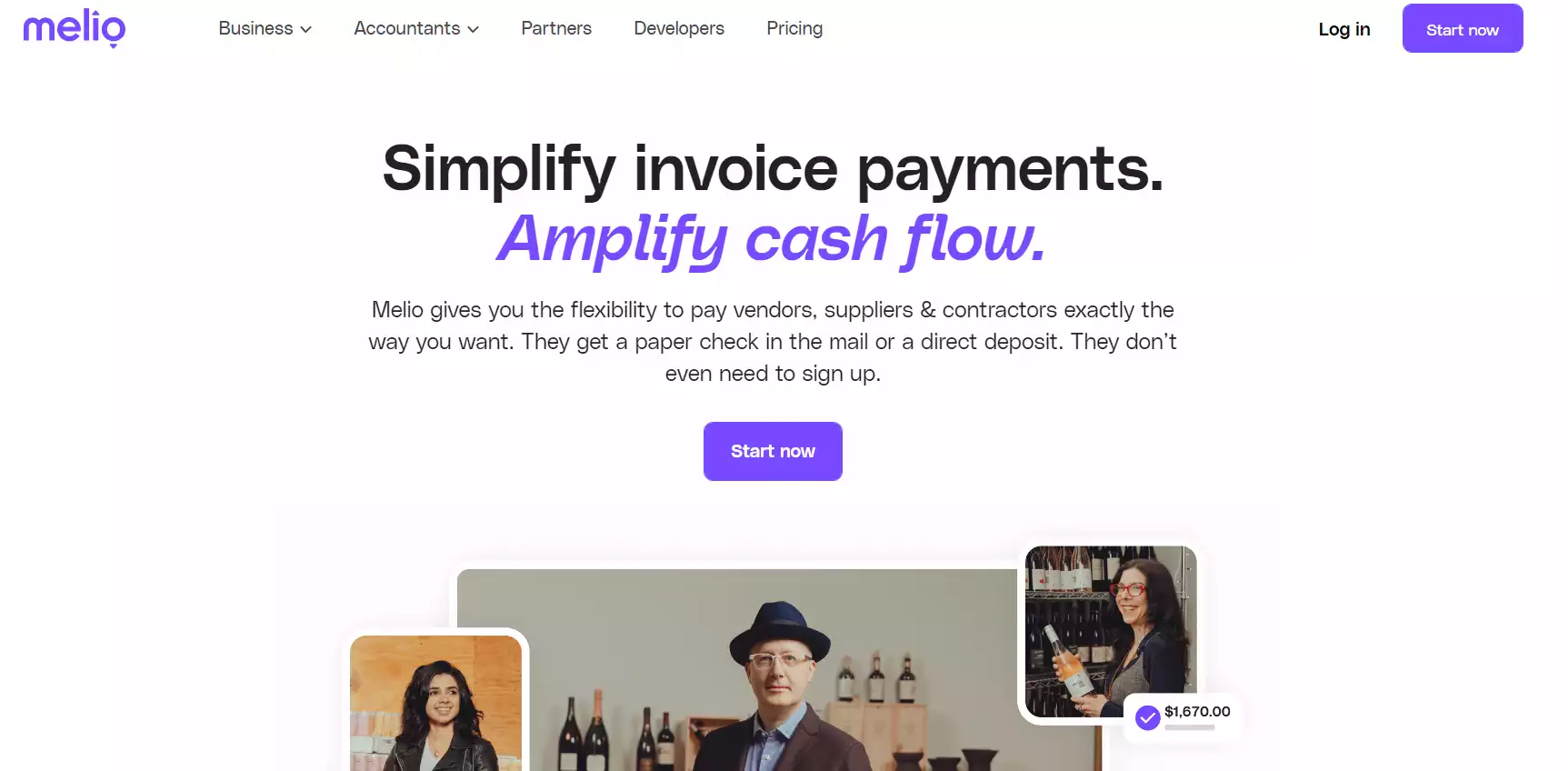 Why Go with Melio?
Melio is built for today, while most payment processors are technical, glitchy, and dated. I use Melio in my business for straightforward invoicing. No fees, no hassle.
Try it for Yourself
We earn a commission if you click this link and make a purchase at no additional cost to you.
The Main Features of Stripe Payments
Let's see how Stripe Payments compares.
UX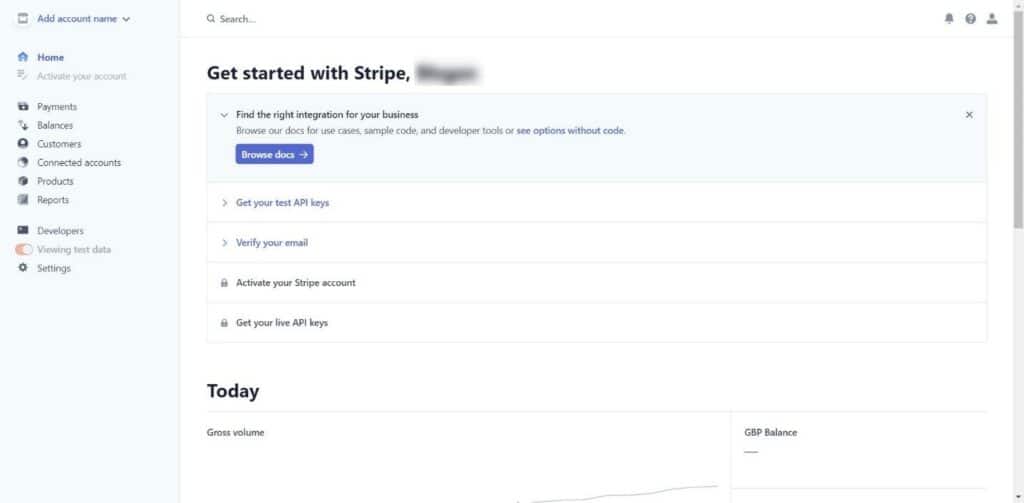 Stripe's onboarding process is pretty straightforward. You can follow a built-in Getting Started guide, which will guide you through connecting your bank account so you can take (and make) payments.
The UI is slightly more complex than Melio's, but it's still clean and easy to navigate. Overall, I think it's a pretty user-friendly platform.
Payment Processing
Stripe's payment processor is easy to set up. It allows you to take payments using a decent range of payment methods (far more than Melio, it has to be said). Customers can pay using the following ways:
Credit/debit card
Alipay
Apple Pay
Google Pay
Microsoft Pay
WeChat Pay
Click to Pay
Bank debits and transfers
Bank redirects
Klarna
OXXO
I'd prefer to see PayPal on that list, but I still think it's pretty good.
There are some neat features available on Stripe. For example, Stripe will automatically update expired cards, saving effort for you and your customers.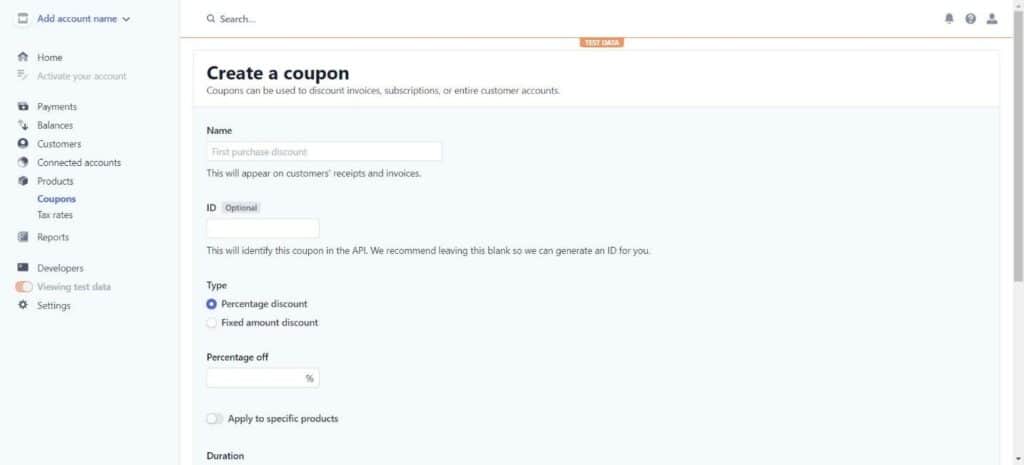 You can also create coupons for your customers. This is easy to do and is a great way to encourage new customers to make a purchase (or attract previous customers to come back again!). You can also set up free trials and discounts and even create physical cards for your customers (these come at an extra cost).
I like the flexibility of Stripe. Thanks to the programmable APIs and tools, it has more features to offer than Melio, and it's customizable if you have a developer on your team.
A quick note on security: Stripe is a certified PCI Service Provider Level 1, the highest level of certification available. They use HTTPS for secure connections, and sensitive data is encrypted, with decryption keys stored on separate machines. They also have a program that allows you to report security bugs or vulnerabilities, which is designed to reward users for spotting any security problems.
You can use no-code payment links, too. This makes life easier for both you and your customers. Stripe will generate a payment link, allowing you to sell a product, start a subscription, or collect a donation. These links are branded with your logo and brand colors; you can copy and paste this link anywhere. This means you won't have to worry about setting up a separate payment landing page.
I also love how easy it is to set up invoices. These invoices are hosted by Stripe or can be sent via PDF. They're optimized for mobile, tablet, and desktop, and you can collect payments from invoices using cards, bank transfers, and other payment methods.
Making Payments
You can use Stripe to send payouts and even split payments. This is excellent if you play freelancers or contractors, and it's easy to use. You can pay international contractors easily, too.
Branding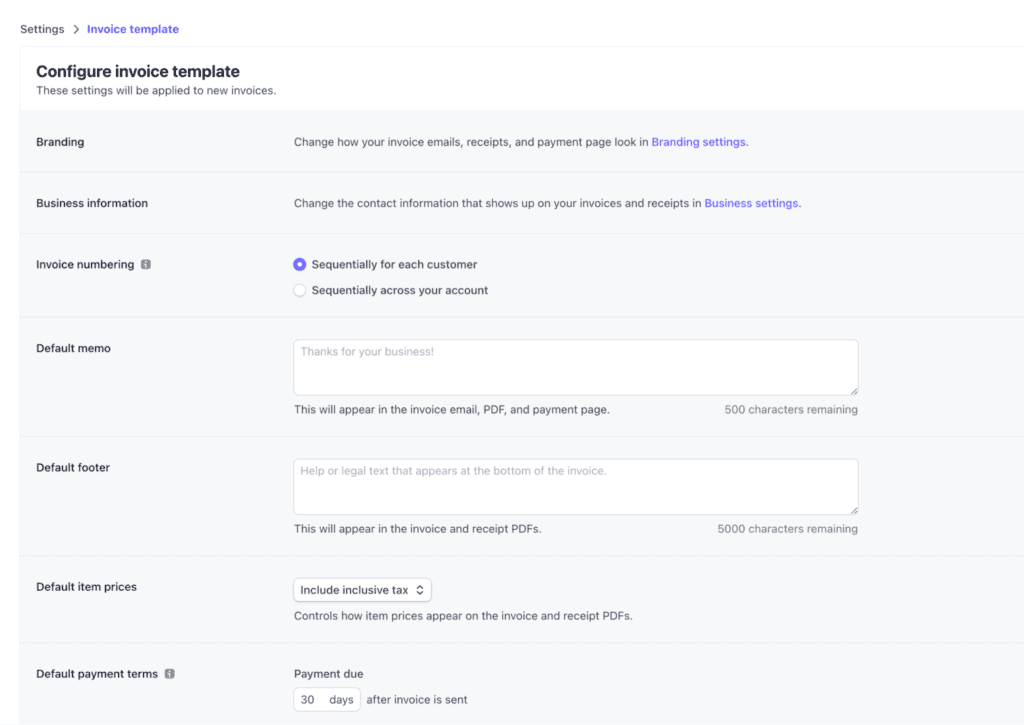 I like that you can customize your invoice and email receipts on Stripe. For example, you can upload an icon, logo, brand colors, and accent colors. This is great for building customer familiarity with your brand, and it's straightforward to do.
International Payments
You can take and send payments to over 135 countries. Charges vary depending on where you want to accept payments from, which is worth noting. We'll go into Stripe's fees in full a little later.
Melio vs. Stripe Payments – Integrations
Let's talk about integrations. Both platforms are easy to integrate with your accounting software, but which services can you use in conjunction with them?
Best Melio Integrations
Melio integrates with the following accounting software:
Quickbooks
Freshbooks
Microsoft Dynamics Business Central
Xero
Best Stripe Payments Integrations
Stripe Payments has some great integrations, including some eCommerce platforms:
Squarespace
Shopify
BigCommerce
Magneto
WooCommerce
Quickbooks
Xero
Zapier
Melio vs Stripe Payments Customer Support
When managing payments, if something goes wrong, you need quick customer support. Here's how Melio and Stripe compare.
Melio Customer Support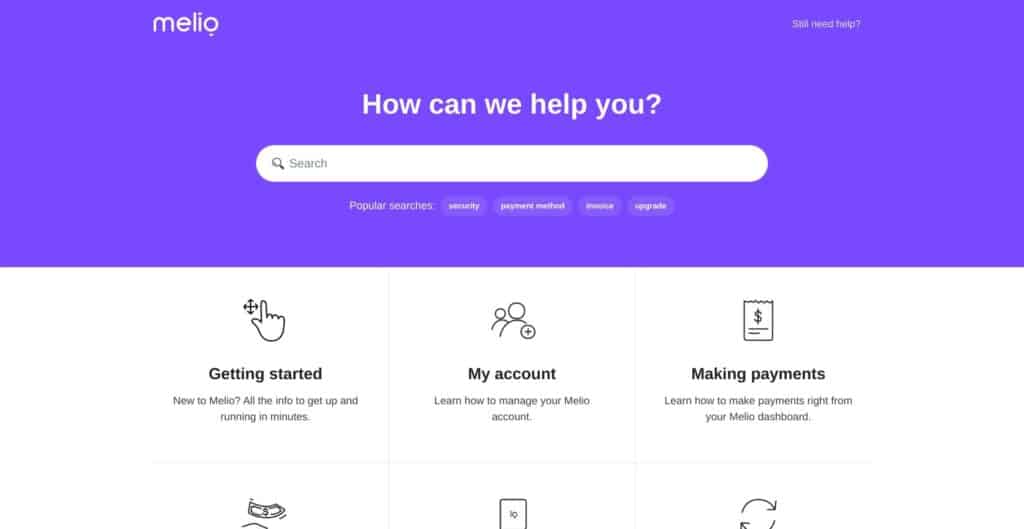 Melio has a good knowledge base. It has some information on how to get started, how to make payments, how to take payments, and how to manage your account. They also have useful guides on integrating with your accounting software.
Melio's customer support team is good. You can contact them via a ticketing system. While I always prefer having the option of phone support, Melio's team is responsive and helpful.
Does Melio Have a Customer Service Number? No Melio does not have a customer service number, you can use email support or live chat support.
Stripe Payments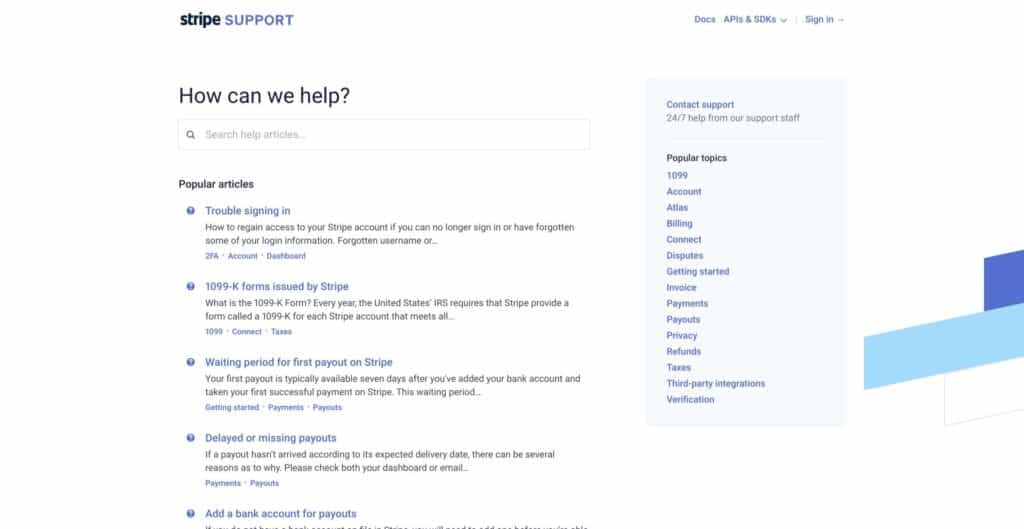 I don't love the interface of Stripe Payment's support page: it feels a little overwhelming, and it's hard to know where to start as a beginner. On the other hand, there are many articles on different aspects of the platform.
You can contact customer support by live chat, email, or phone. I like that they offer so many options here, especially if an urgent problem needs to be solved.
Melio vs Stripe Payments Pricing
So, how do Melio and Stripe Payments compare in terms of fees and pricing?
Melio Pricing
Melio doesn't have a monthly subscription cost. It's also free if you send payments via bank transfer using ACH (Automatic Clearing House).
In terms of fees, I think Melio is pretty competitive. Here's the lowdown on outgoing payments:
Bank Transfer (ACH) – Free
Paper Checks – $1.50 (first 2 checks per month are free)
Credit Card Payment – 2.9% fee
Debit Card Payment – 2.9% fee
Same-day Bank Transfer – 1% fee
Expedited Check Delivery (using FedEx) – $20
International USD Transfer – $20
Here's what incoming payments look like in terms of fees:
Receive Bank Transfer – Free
Accept Credit Card Payment – Free
Instant Payout (Same-Day Bank Transfer) – 1%
Their incoming payment rates are excellent. However, I would say that the international USD transfer cost will sting a little if you have to send multiple smaller payments overseas. You can read more on their pricing page.
Stripe Payments Pricing
Stripe Payments doesn't have monthly subscription fees. Their base charge is 2.9% + $0.30 per transaction. This gives you access to the following:
Global payments
Security and Compliance
Optimized checkouts
Reporting
Fast payouts
Some of their other tools – like Sigma, a reporting tool – have more complex pricing plans. You can find out more on their pricing page, including more detailed information about international payments.
Melio vs Stripe Payments Pros and Cons
Let's look at the best features of each service, as well as some features that could be improved.
Melio Pros
Good onboarding experience
Clean, simple interface that is easy to navigate
Very user-friendly
Can give specific team member permission to make payments
Incoming payment rates are competitive
No monthly subscription costs
Melio Cons
USD transfer fee may be too steep if you need to make small payments overseas
Stripe Payments Pros
Competitive pricing per transaction
Plenty of extra features for customers, including subscription plans, coupons, and discounts
Great integrations
Easy branding options for invoices
Great customer support team
Stripe Payments Cons
More complex than Melio
The cluttered knowledge base is not very easy to navigate
Melio & Stripe Alternatives to Try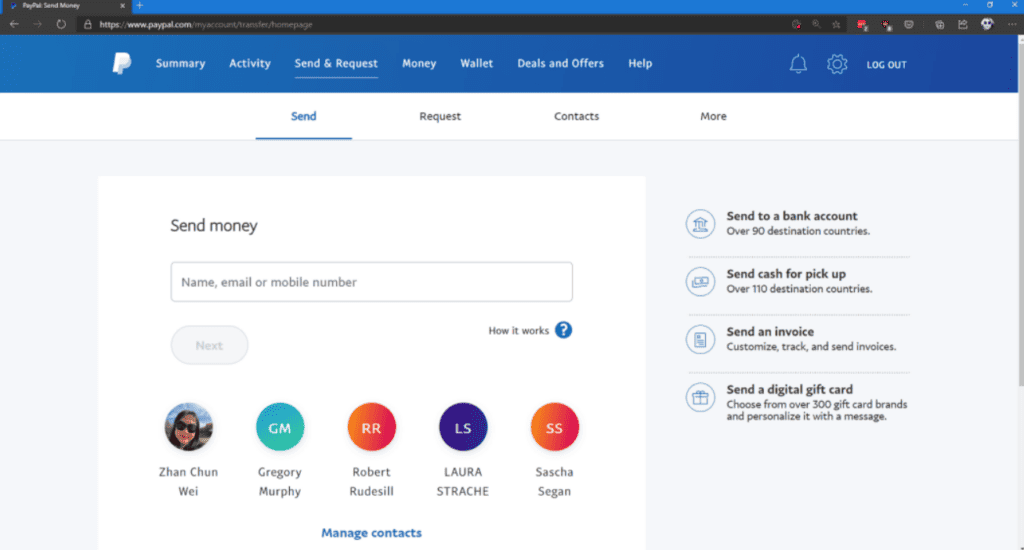 If you want to keep looking, here are some alternative payment processors and payment gateways you can try:
FAQs
Question: Which well-known businesses use Melio or Stripe Payments?
Answer: The larger company of Stripe has some big clients, including Amazon, Facebook, and Shopify. However, Melio is focused on helping small businesses, and they've assisted clients like Radical Womxn, a creative studio, and Silver Sound Studios, a sound studio based in New York City.
Question: Does Melio or Stripe Payments have mobile apps?
Answer: Stripe has a mobile app which is available for iOS and Android. It's a simple app that allows you to manage payments on the go. Melio does not have a mobile app at the time of writing.
Question: Is it easy to cancel my Melio or Stripe Payment accounts?
Answer: Yes, you can easily cancel by visiting the Accounts section on each platform. You're not tied into a monthly subscription plan, so this is easy to do.
To Sum Up …
I find it hard to choose one winner between Melio and Stripe Payments. They're both pretty different from each other! However, in terms of features and the potential it can offer, I'd go for Stripe Payments. Stripe's broader platform is robust and ideal for larger businesses. If you have a developer on your team, you'll enjoy how customizable it is. Plus, I like that they allow split payments and discounts for your customers.
Melio, however, works well for small businesses or solo entrepreneurs. I prefer the interface of Melio; it feels much more user-friendly. If you want something simple and easy to use, you'll probably prefer Melio. Just keep an eye on those $20 international payment charges!
Best Simple Invoicing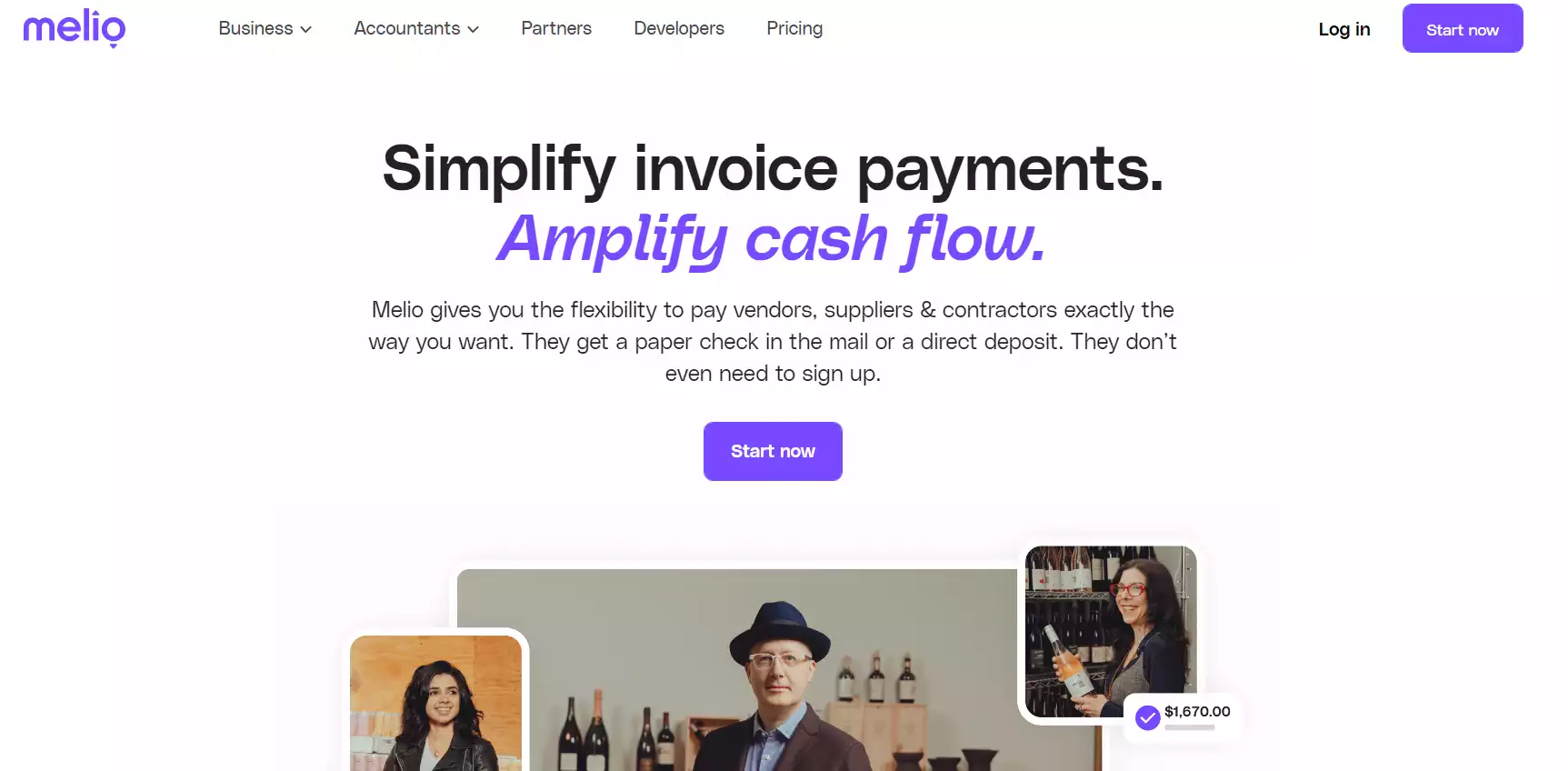 Why Go with Melio?
Melio is built for today, while most payment processors are technical, glitchy, and dated. I use Melio in my business for straightforward invoicing. No fees, no hassle.
Try it for Yourself
We earn a commission if you click this link and make a purchase at no additional cost to you.
Hopefully, this has helped you to figure out which platform works best for your business. Because neither service has monthly charges, you can sign up for free to explore each one yourself. This is worth doing, and will give you a clear idea of whether they will suit your needs!