Last Updated on June 9, 2023 by Ewen Finser
Our needs for money transfer systems have been on the rise and yet Banks have been behind the times making the process costly and timely for their customers. The founders of Wise and PayPal found it cumbersome and expensive to transfer money from one currency to another, without avoiding heavy transaction fees and without taking valuable time doing so.
They found a need that people and businesses could use, that could streamline money transfers, at less cost than what banks charged and quicker. They have their own spin on their services and therefore, each has its own strengths and weaknesses, which may make it difficult for you or your business to determine which one to use.
In this article, I will give you some insight into their main differences, similarities, features, fees, pros, and cons, and alternatives to help you understand each of them and to help you make a decision on which is the better choice for your needs.
The Main Differences Between Wise and PayPal
The main differences between Wise and PayPal are:
Wise has over 10 million users, whereas PayPal has 325 million users
Wise serves 70+ countries, whereas PayPal serves 190+ countries
Wise is currently not on the stock exchange, whereas PayPal is
Wise promotes cost savings and fee transparency, whereas PayPal does not
Wise doesn't integrate eCommerce Online payments, whereas PayPal does
Wise offers a free Master card Debit Card that can be used worldwide without high conversion fees, whereas PayPal has prepaid cards for Personal Use and debit cards for Business Use with additional fees for using abroad, currency conversation, and more.
Wise vs PayPal: Similarity
Wise and PayPal provides money transfers transactions for Personal and Small-Medium Businesses
Both are free to sign-up
Both are easy to use
Both charge fees for transactions
Both provide safe & secure money transactions
Wise vs PayPal: Overview
Wise (formerly known as Transferwise)
Wise was founded in Europe under the name Transferwise in 2011 by Taavet Hinrikus and Kristo Cayman to have a money transfer business with low cost, that is easy and fast.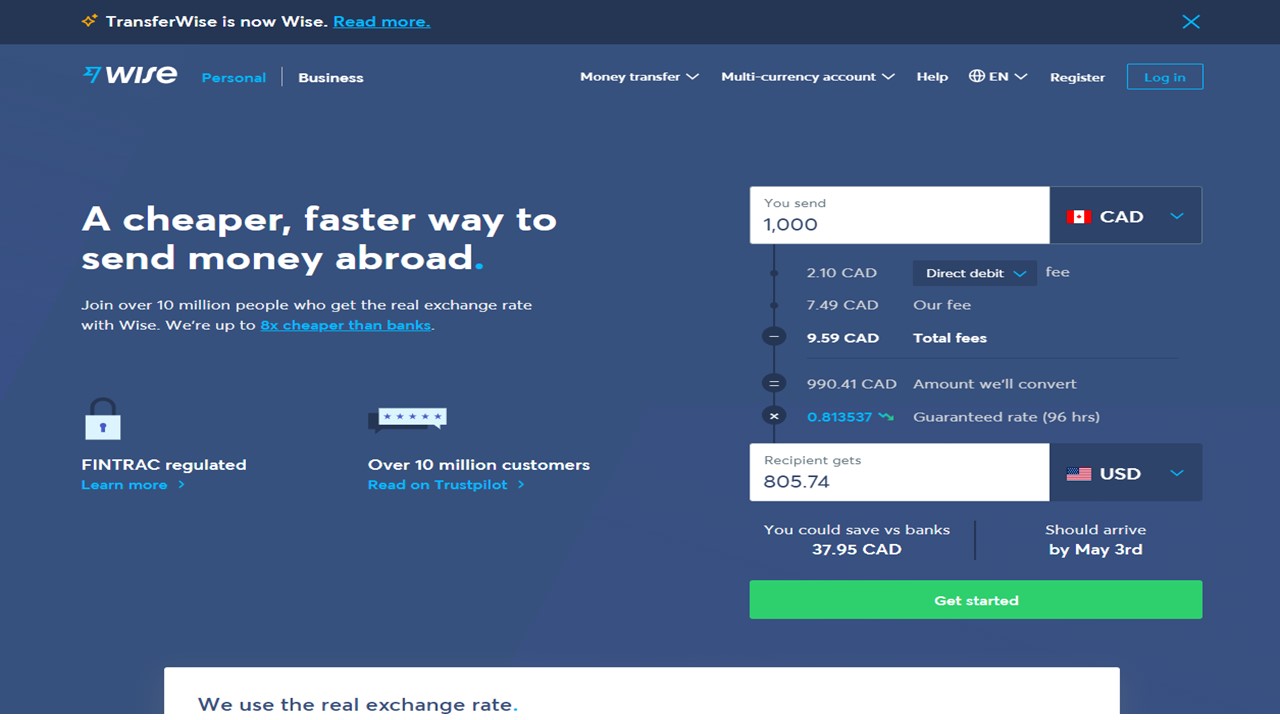 They re-branded the company on February 22, 2021, from Transferwise to Wise. They have 14 offices with over 2,400 employees. To date, Wise has over 10 million customers that transfer more than ₤4.5 billion each month, which they claim saves these customers ₤3 million in bank fees every year. They provide international money transfers with mid-market exchange rates and transparent fees to over 70 countries across the world.
In order to see how Wise works, they have a Youtube video that gives you more detail.
To sign-up for Wise, you will need to register for free on their home website: Wise.com
You are given the option to sign-up for a Personal Account or a Business Account. You can have more than one Wise account.
Your recipient does not need a Wise account to receive your money. However, you will need their IBAN which is an international identification number of their bank account, usually used for international transfer in order for Wise to transfer the money successfully.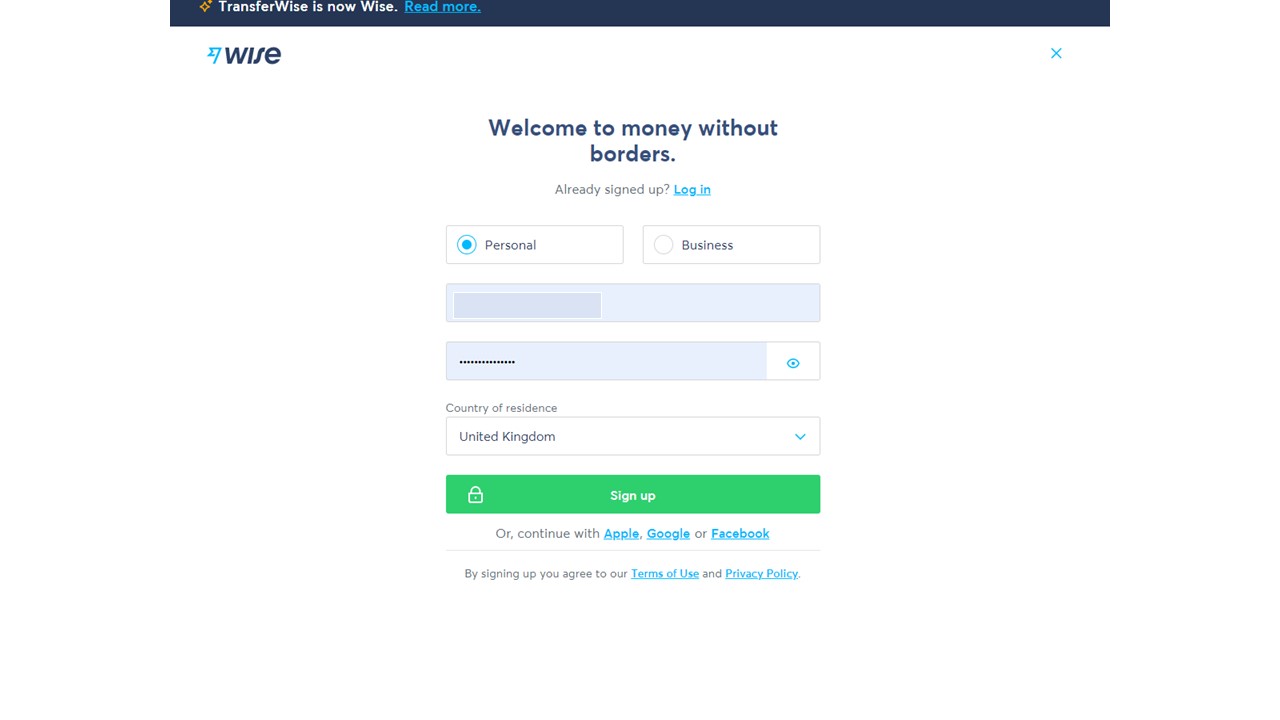 Simply follow the simple step-by-step set up until you are registered.

Navigating thru the Wise website is quite simple. The first thing you will land on is their dashboard and this is where you can send money, receive money, and get a debit card. You can see your recipients list as well. They also give you an incentive to invite 3 friends and earn up to £50 … $115 CAD.
You will need to set up your banking information in Wise so money can be transferred to and from your account accordingly.
Flexible Payment Options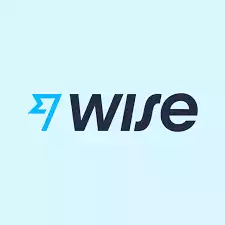 Why Go with Wise?
I don't use Wise for every single transfer, but I do use it frequently for specific contractors or vendor payments where we all want to save on fees (both currency conversion + bank fees). Wise frequently wins the cost battle.
Check Your Send Costs
We earn a commission if you click this link and make a purchase at no additional cost to you.
PayPal was founded in the USA in 1998 by Max Levchin, Peter Thiel, and Luke Nosek to provide money transfers internationally, online purchases and sales, and other transactions such as charitable donations worldwide. On January 6, 2020, PayPal acquired Honey to help their customers save money with coupons from eCommerce websites, and get rewards.
PayPal not only allows you to send and receive money, but they have other services too. You can reload prepaid phones, donate to a cause, create a money pool, send bank deposits or cash, send gifts, split a bill with family and friends, create an invoice, rent a car, buy a train ticket and book domestic flights. They also have a mobile APP has a touch-free feature so you can buy groceries and take them out.
When you sign-up for PayPal, you automatically get a PayPal Purchase Protection Plan which refunds your money should a transaction fail. Of course, there are guidelines that include proof of documentation, etc. They have guidelines here: PayPal Purchaser & Seller Protection that details the terms and conditions.
In order to see how PayPal works, they have a Youtube video that is informative.
It is very easy to sign-up for PayPal and it is Free. The only time that it costs you is when you make a transaction. I have listed the fees below in more detail.
To sign-up for PayPal, you need to click on their home website: PayPal.com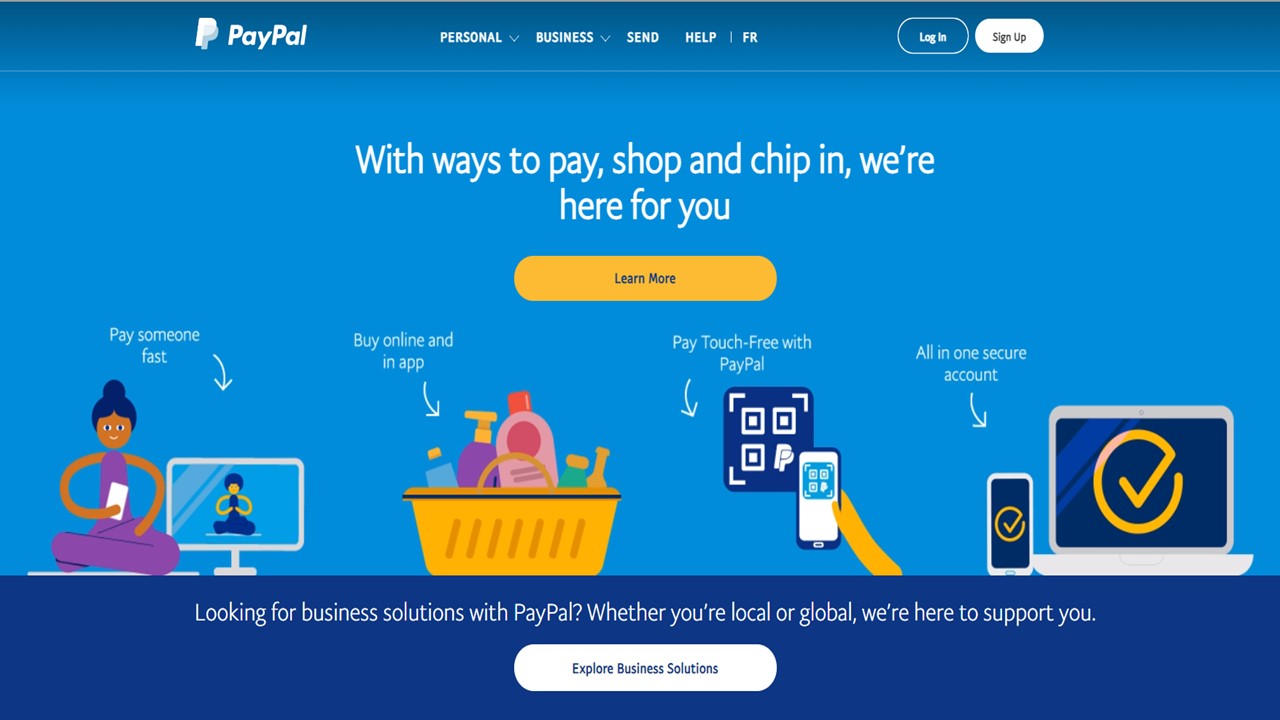 You are given the option to sign-up for a Personal Account or a Business Account. You can have more than one PayPal account. I have a personal account to transfer and receive money to & from family and friends and I have a business account to keep my business transactions separate from my personal transactions.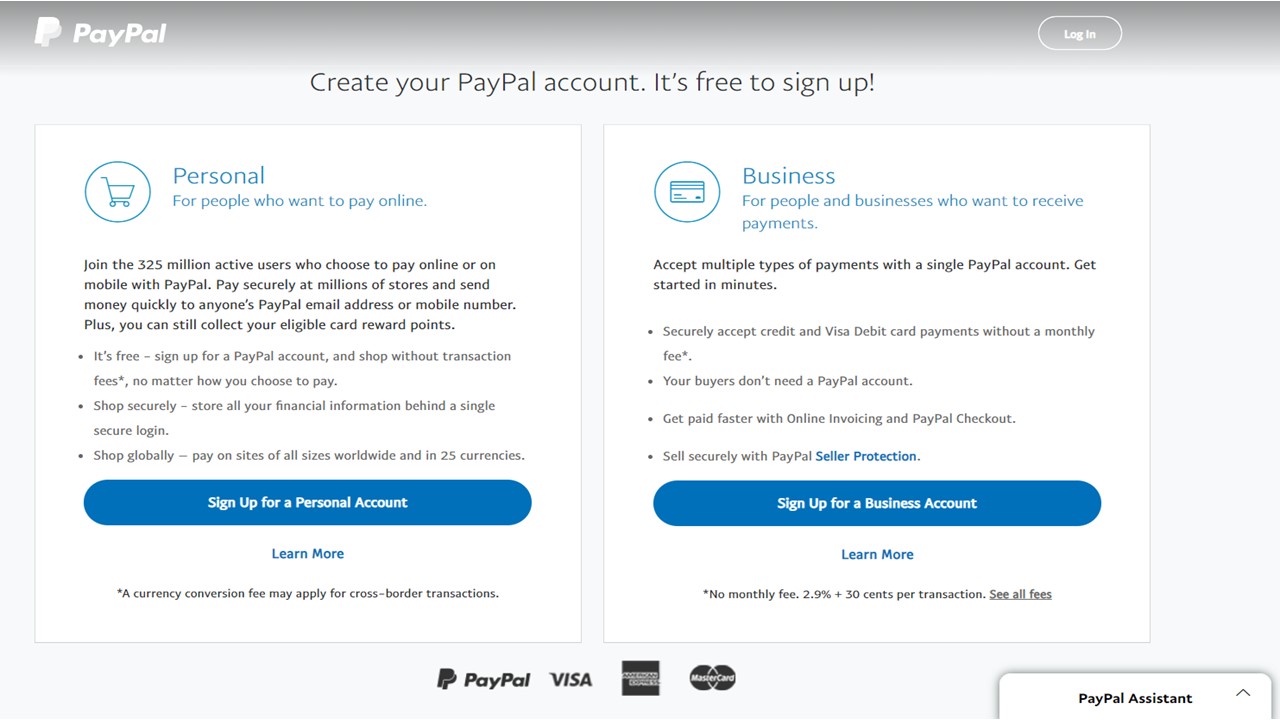 Once you choose the Personal Account or Business Account, the system will guide you through the sign-up process by asking for some personal information, like your phone number, email address, full name, and to set up a password. If you are setting up a Business account then you will be asked the name and category.
Navigating thru the PayPal site is quite easy. The first thing you will land on is their dashboard and this is where you can see your balance, transfer money from your PayPal balance to your bank, send money, request money, see who your contacts are, and what recent activity you have had, plus more.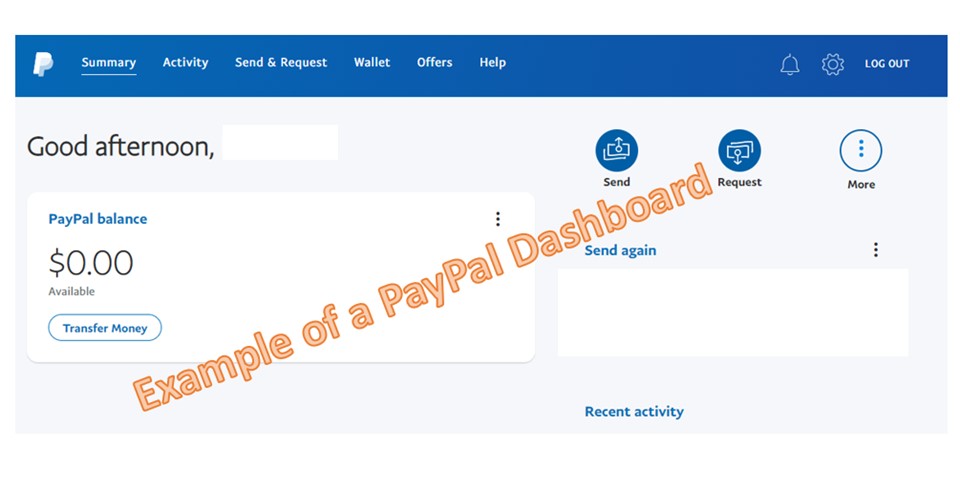 Wise vs PayPal: Features
| | |
| --- | --- |
| Wise | PayPal |
| Payments: Bank transfer, Credit Card, Debit Card | Payments: Bank transfer Credit/Debit Card, PayPal transfer |
| Receiving: Bank transfer | Receiving: Bank & PayPal Account transfer |
| Exchange calculator on their website | Accepts Online Payments |
| Simple transfers from one bank to another | Mobile Card Reader- touch-free for purchasing groceries, take-out, etc. |
| Low exchange rates for international money transfers | Enables purchases for traveling like a rental car, train tickets, and flight bookings |
| Multi-currency accounts | Online Invoicing |
| Email notification keeps you updated on transactions | Emails your recipient transactions to accept |
Wise vs PayPal: Fees
Let's compare how the money transaction would like like if you made a $500 CAD consumer transaction to the US.
Banking Transaction: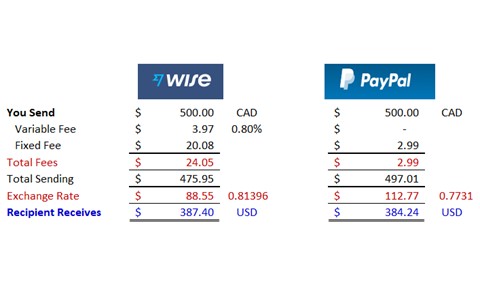 When sending an international banking transaction from CAD to the US, Wise charges $21.06 ($24.05-$2.99) more in transaction fees than PayPal, however, the exchange rate is $24.22 ($112.77-$88.55) less, for the transaction than PayPal which the recipient receives an overall $3.16 ($387.40-$384.24) USD more for this transaction from Wise than it would from PayPal.
Credit Card Transaction: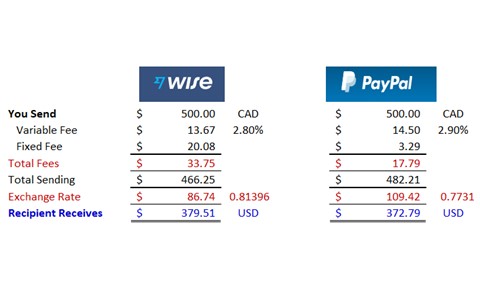 Transaction fees are jacked-up when credit cards are involved. When sending an international transaction of $500 CAD to the US, Wise's transaction fixed fees remain constant, but a 2.8% variable fee is added per dollar sent.
PayPal's fixed fee remains the same but they include an additional fixed fee for personal transactions based on the currency received…in this case an additional $0.30 is added ($2.99 + $.30) bumping the fixed fee to $3.29.
Wise charges $15.96 ($33.75-$17.79) more in total fees, however, they charge $22.68 ($109.42-$86.74) USD less in exchange than PayPal. The recipient receives an overall $6.72 ($379.51-$372.79) USD more for this transaction from Wise than it would from PayPal.
So even though Wise's transactions transparency fees are much higher than PayPal's, the exchange rate more than makes up for the difference.
Wise vs PayPal: Pros ✔ & Cons

🗴
Transactions Fees
✔ Pros: Wise is transparent with their transactions fees
12% – Office and Running Costs
14% – Operations and Customer Support Teams
18% – Margin and Growing Wise
20% – Building Products
36% – Banking Partners and Money-Moving Costs
🗴 Cons: PayPal does not provide transaction fee transparency
Even though Pros is open with their fees, it still leaves some judgment calls. The costs for these fees are hefty when compared to PayPal. How can there be such a delta gap? The categories and percentage of each still do not explain why. We don't have PayPal's breakdown so it really leaves us wondering if these charges are reasonable or not. Even if PayPal is unwilling to provide any insight, I am still liking their rates, more than Wise.
Known World-Wide
✔ Pro: PayPal has been around a long time…since 1998. They have met the needs of the customers by providing transaction services in a diversified manner. Not only can you transfer and receive money in domestic or foreign currency but you can set up PayPal purchase buttons on your eCommerce website for customers to easily buy products and services from you. You are able to donate money, pay for groceries, and so much more. Since PayPal is more diversified it makes them more attractive to Users because of the multi-purpose options they have.
🗴 Cons: Wise has fairly newer than Paypal as they were acquired in 2011. They are not as commonly known worldwide as PayPal. Their main focus is international currency transactions and that is basically where they limit themselves.
Exchange Rate
✔ Pro: Wise uses a mid-market exchange rate in their fees to you. They claim that the mid-market is a fair and real rate that they pass on to their customers. They obtain their mid-market exchange rates from 'Reuters' on 40+ currencies, which is updated n real-time when the trading market opens. You can click here to review the Rate Tracker.
🗴 Cons: PayPal receives a wholesale rate quote from their bank two times a day which is comparatively poor compared to mid-market. They add 2.5% to the retail foreign exchange rate and apply it to your transaction if there is a currency conversion. They provide a currency calculator for you to see what the rate is currently going for PayPal Currency Calculator
Bank Account
✔ Pros: PayPal has multi avenues for money transfers to occur, so your recipient does not have to have a bank account before a money transfer can occur.
🗴 Cons: Wise requires the recipient to have a Bank Account in order for a transaction to be issued. If you provide your recipient's email address to Wise, then they will contact your recipient to arrange the money transfer. There is no need for you to obtain your recipient's bank account information directly.
Wise vs Pa

yPal: Customer Service
Wise
Their website has a Help Center in which you can explore topics or you can message them. You can contact their Help Center here: Wise Help Center
PayPal
They have multiple avenues of Customer Service Support. You can contact them directly via phone, You can send them a Message, like texting. They have a Community of Online members that you can ask. There is also a link to a Resolution Center. Their website contains common issues and instructions on how to get them fixed. You can Contact their Help Center here: PayPal Help Center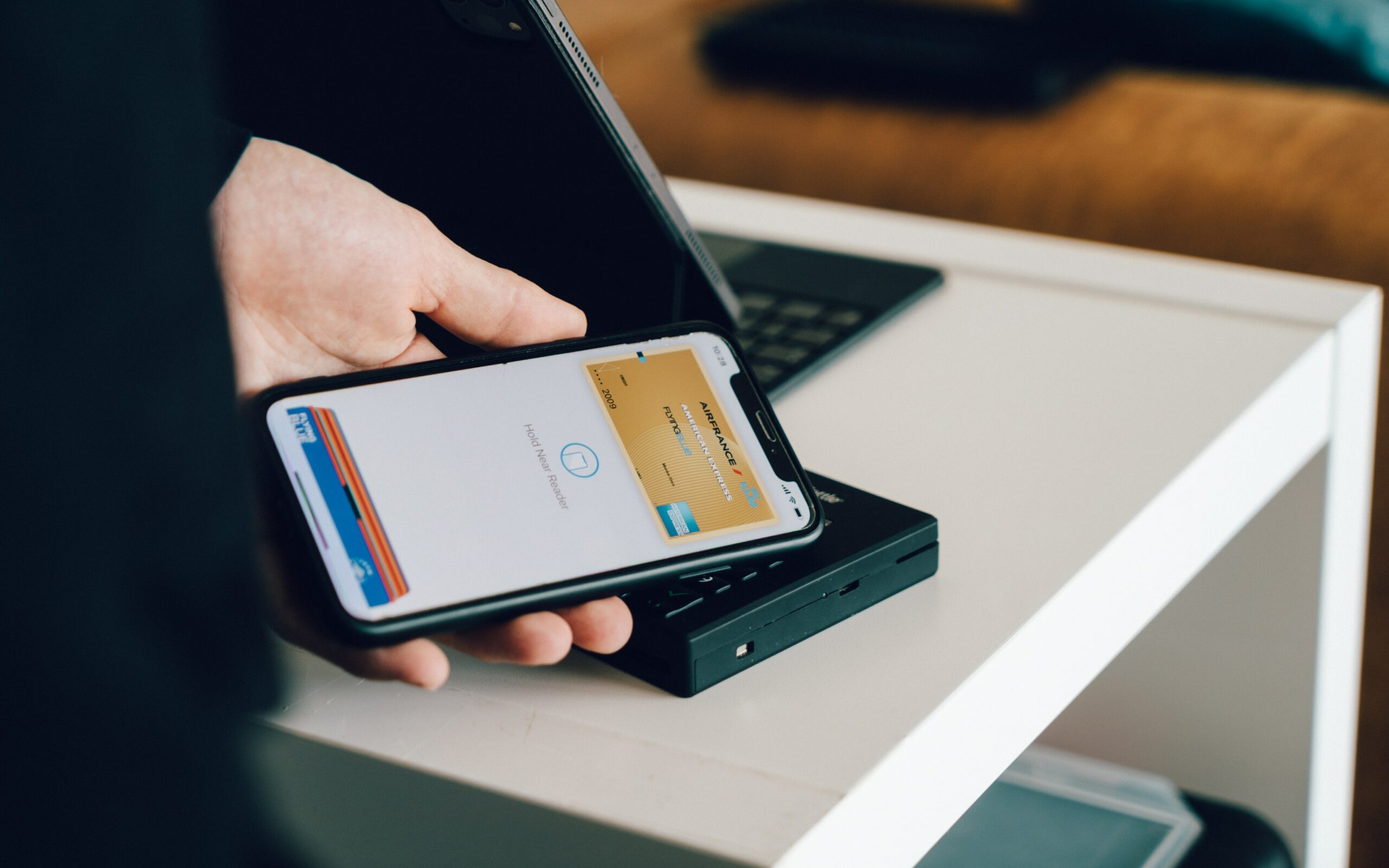 Alternatives
Both Wise and PayPal are great services for money transfers, however, they do have competition. Here is a brief list of some alternatives you can also consider before choosing a money transfer service.
Payoneer is a financial services brand that is a platform for online money transfers, digital payments, and providing customers with working capital.
Their transfer rates are higher than PayPal.

They use the mid-point of Mastercards currency conversion exchange rates
Their fees range per a variety of transactions which you can obtain details here.

N26- They are known as the world's first digital bank. It is a mobile bank to manage on the go. You can track your expenses and put money in savings. It is a free virtual debit Mastercard that can be used in stores, online, and in APPS.

They use real exchange rates provided by Mastercard, without mark-ups
They provide no-fee banking… which you can obtain details here.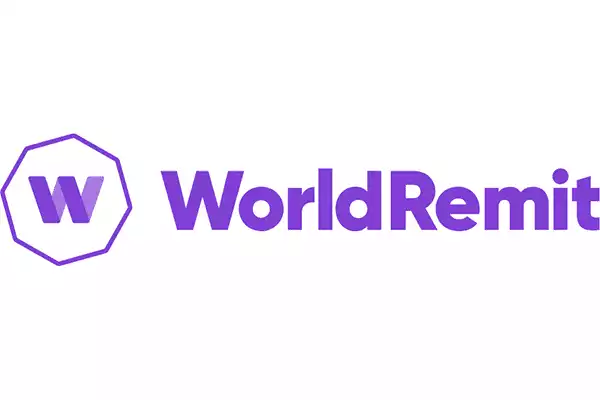 WorldRemit is a cross-border digital payments service that operates in the UK.
They provide international money transfers and remittance services.

They provide bank transfers with +10 major banks worldwide, cash pick-up, mobile money.

They state they charge a fair exchange rate & a small fee for transactions, which you review details here.
FAQ
Question: Can I send money from PayPal to Wise?
Answer: Yes. First, you need to have a registered sign-in account with both PayPal and Wise. Once done, then on your PayPal account click on 'Wallet' and Add a bank account. Then in your Wise account choose the relevant currency under 'Balances' that shows you the relevant bank details. In PayPal, the next screen suggests setting up a direct debit to the account. Just click Finish later. When prompted to add direct debit information that allows automatic fund payments with your bank account, just click Finish later.
PayPal will then send a penny transaction to you as a test to verify your bank account. A verification transaction, log in to your Wise.com account and look at incoming payments in the relevant currency.
When you have received this verification transaction, log in to your Wise.com account and look at incoming payments in the relevant currency. You will see a 4-digit code on the reference field. Use that code in PayPal to confirm your bank. This will then complete the set-up and Wise will now be added to your PayPal account.
Question: Do Wise and PayPal have an APP?
Answer: Yes, they both have APPS that you can download.
Wise APP has a 4.5-star rating out of 5 with 118K users. You can download the Wise, Ex Transferwise APP here: Wise, Ex Transferwise APP
– This APP allows you to send, spend, convert, and receive money internationally.
– PayPal's APP has a 4.2-star rating out of 5 with 15M users. You can download the PayPal App here; PayPal APP
– This APP allows you to send, request, and receive money from friends and family. You can view your account activity, choose currencies when doing worldwide transactions, and more.
Question: What is the Maximum I can transfer from Wise and PayPal?
Answer: A maximum of $1 Millon, can be transferred via Wise, depending on the currency. With PayPal, there is no limit to send from your account, once your account is verified.
Final Thoughts
I personally lean towards PayPal because I have used them for years and find them reliable. The fees I find questionable but not completely unrealistic. I would like to understand them more, for sure. The fact that you can use PayPal on your Online website or use its purchase button on someone else's website is a great perk. Their services are more diversified than Wise by providing services like donating to a cause, reloading prepaid phones, split bills with family or friends, buying groceries, and even booking domestic flights. They support their customers when fraudulent activity happens or if products are not delivered as requested. Their customer support is available 24/7 which gives me peace of mind. I might lean more towards Wise if I use multiple currency transactions as they use rates that are more favorable than PayPal. I recommend PayPal because they are more diversified, they are reliable, secure, and support customers should transactions not come to fruition.