Last Updated on June 1, 2023 by Ewen Finser
Looking for the best way to accept payments, and establish a link between your customers, their bank account and yourself? Look no further. Today we're going to examine two of the top solutions on the market right now: Plaid vs Stripe.
In this article, you'll find:
the key differences between both services;

what to look for when using a payments integration software;

a close look at each services' features;

interesting options to consider;

a clear verdict on which is best for your business;

and more…
Bottom line up front: Plaid is incredibly convenient when dealing with lots of customers, although Stripe has a lot of unique strengths too, and could be preferred by those already familiar with this service.
Main Differences Between Plaid vs Stripe
The main differences between Plaid vs Stripe are:
Plaid has fees that vary depending on your company, while Stripe has fixed fees.

Plaid is simply an API that gathers and reads financial data, while Stripe is its own financial portal.

Plaid has less control on the money flow, whereas Stripe has a lot more control.

Plaid is more focused on bank-to-bank transfer, whereas Stripe considers more alternative payment methods.

Plaid is usually embedded in an existing service to facilitate payments, whereas Stripe is a whole payment system.
How To Choose The Best Payments Integration Software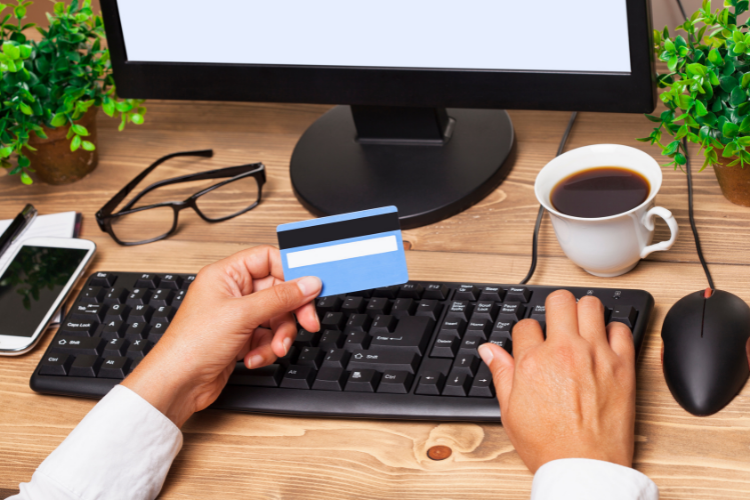 Ease of Use
It's important that the service you go for is easy for you to use, but even more for your customers.
The goal here is to make sure your customers will pay you in a way that guarantees you the least middlemen fees (avoiding banks, credit cards, and third-party fees as much as possible). Different services make this task easier in different ways.
Payment Options
The whole point of payments integration software is to make sure anyone can pay you, no matter how, as easily as possible for both parties.
Given how different each bank and their APIs are, plus how many payment methods there are nowadays, it's important to be able to accept as many different payment types as possible. Otherwise, you're going to lose a part of the market.
Safety
You want to make sure that all bank info and other sensitive data is protected from point A to Z. From authentication threats to security leaks, some services offer better guarantees than others when it comes to securing you and your client's financial information.
Integrations
Chances are you're using other services and software in your fintech stack. You want to make sure that the service you're going for plays along nicely with your other tools.
Pricing and Fees
Rarely two different services have the same price tag. Consider the cost of each option in your budgeting and see what is most relevant to your business.
Customer Service
This is especially important when it comes to financial services, you need to know how fast you can resolve issues, whenever they may arise.
Make sure the customer support is in reach at critical times and that the company is known for caring about its customers. In some cases, you'll even find free resources and tutorials on how to set up and troubleshoot, which is always appreciated.
Plaid Key Features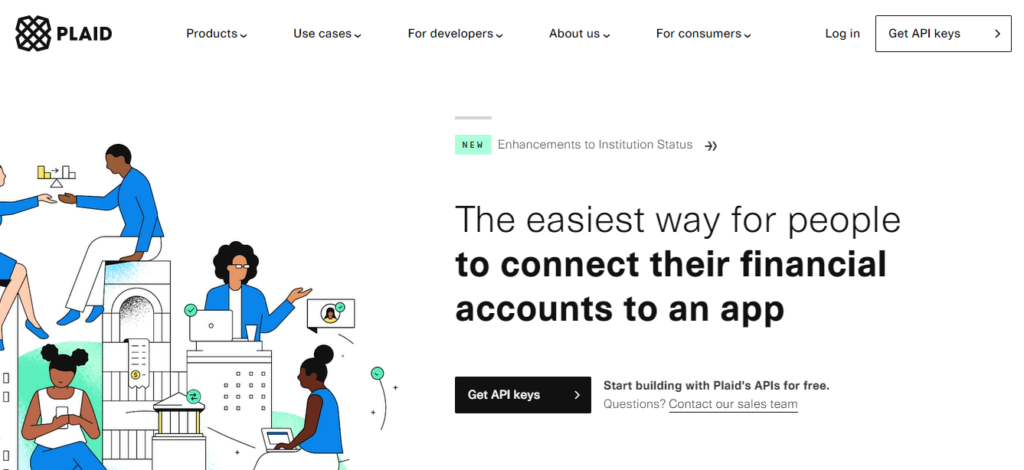 Plaid's main feature is the ability to establish a data transfer network between one's apps and users' bank accounts safely and seamlessly. In doing so, it allows for the instant verification and use of a bank account to make transfers, often for a more interesting rate.
Ease of Use
Plaid proposes a very adaptive and highly-customizable API. As such, it is clear that the service is a B2B geared towards large corporations. The service advertises itself as a payment solution for marketplaces and corporations. Naturally, your team will need to be relatively tech-savvy to set up and customize to your needs the Plaid API.
That being said, Plaid will be almost transparent to your customers once embedded into your systems. It will even make all that is payment-related smoother and safer. In that regard, it can be considered hard to set up but easy to use.
Where it really shines is in the end result; instead of having thousands of integrations with all the different banks and financial services your customers use, just use Plaid to end up with a single, unified API interface.
Payment Options
Receiving money through direct bank transfer is far less expensive than using bank cards. The problem is that this process is very cumbersome, and users will most likely prefer to go with their credit card as a result.
Plaid makes it easy and smooth to setup bank payments. It's designed to be easy and safe to use for consumers. Users only enter their online credentials and the service automatically authenticates them, and log their accounts in. What's more, in the US, Plaid can work with any ACH processor to simplify bank-to-bank transfers.
Safety
Plaid takes its customers' data safety very seriously – that is to be expected from a company that transfers financial information. The service uses advanced encryption protocols such as the Transport Layer Security (TLS) and the Advanced Encryption Standard (AES 256) when dealing with your data.
On top of that, the service follows security best practices to ensure your data stays safe:
It provides Multifactor Authentication (MFA), in case your bank or financial service doesn't offer it.

It instigated a bug bounty program to get more eyes on its security.

It promises to not sell, rent nor share your data, ever.

It also lets you control which company has access to your data, and exactly what info is shared with each service.
In essence, Plaid will allow other services to access only the relevant information, instead of handing out all of your financial information to anyone who you're having business with. We found that kind of additional security layer particularly interesting and reassuring.
Integrations
Plaid is clearly a B2B service, as a consumer you are most likely already using Plaid without knowing it. A lot of well known brands and apps are using Plaid in the back end to access your financial information securely and easily.
As for banking services Plaid works with MoneyLion, Varo, Chime, M1 Finance and more. Plaid also works with saving and investing services such as Acorns, Digit, Ellevest and Qapital. Regarding personal finance services, Plaid works with YNAB, Truebill, Albert and Pillar.
For business finances, it integrates with Stripe Payments, Bench, Expensify and Fundbox. For payments and money transfers, Plaid integrates with services like Venmo, Wise, Metal and WorldRemit. Finally, when it comes to lending, Plaid works with SoFi, Figure, Petal and Avant.
Pricing and Fees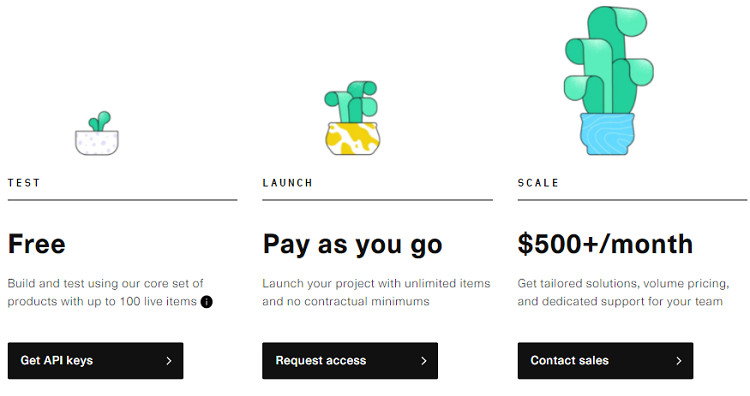 Plaid offers a free starting plan, and prices increase as you go. Plaid makes money by charging fees every time its customers use the API, and every time its customers' customers access the API as well. The service is priced exactly after quotation. In that regard, we won't be able to expand more on the actual costs of using Plaid.
That said, for consumers, Plaid is free and invisible in most cases.
Customer Service
Plaid has generally a good reputation online, that said, it is often not the first person those who encounter a problem will go to for help (since the service is usually embedded inside another service). If you still notice a problem related to the Plaid API, a form is available on their website to contact the sales team, open a customer support case or submit a developer support ticket
Pros and Cons
Pros
Highly compatible API out of the box;

ACH payments;

Simple to comprehend.
Cons
Not a large array of customizable features;

Customer service is not direct.
Stripe Key Features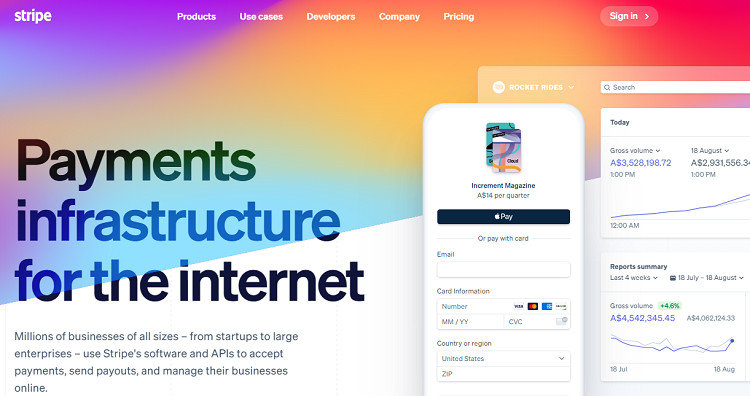 With its many financial and payment processing services, you can be sure that Stripe has you covered if you're looking for a modern way to deal with money. When it comes to your business, and especially when you want to get paid by as many people as possible, Stripe Connect is going to be the relevant branch.
Ease of Use
Stripe connect is quite easy to use in itself, even more so if you're already familiar with the Stripe dashboard. As with Plaid, setting up your API won't be a walk in the park if you're not at least a little bit of a tech guy. Once your setup is ready, things get really easy and smooth though.
The service makes it really easy to onboard new customers: the steps are well designed, clear, and available in more than 14 languages.
Payment Options
The main interest of Stripe Connect is to allow users on your marketplace or financial software to receive payments thanks to Stripe. With it, your clients and customers can be paid with over 135 currencies and through dozens of notable payment methods, anywhere in the world. Be it online, through invoices or at a physical point of sale.
With Stripe Connect you can accept payments from Credit and debit cards but also from ACH, Alipay, Apple Pay, Bacs Direct Debit, BECS Direct Debit, FPX, OXXO, SEPA Direct Debit, WeChat Pay, and more.
Furthermore, you can deal with fraud and chargebacks to some extent, and really control how the money flows within your software or marketplace, with features such as direct charges, destination charges, separate charges and transfers, top-ups, payouts, instant payouts, subscriptions, accounts debits, and more.
Safety
Stripe has been audited by a PCI-certified auditor and is certified to PCI Service Provider Level One. That is the highest available level of certification in the industry, as the service uses top security tools and practices to maintain security.
Stripe forces HTTPS for all services using TLS (SSL), including the public website and the Dashboard, so that you can browse and use the service confidently. All card numbers are encrypted at rest with AES-256 and stored in a different environment, independent from the APIs, website and dashboard.
Furthermore, Stripe partnered with HackerOne to run an ongoing bug bounty program. It is safe to say that Stripe is quite secured, and its reputation has never been slighted in that regard.
Integrations
Stripe Connect does not really integrate with banks unless you set up the APIs in a way that will do so. The main compatibility argument here is the possible integrations with everything that's Stripe-related. That's why it's great for marketplaces: most of them integrate well with Stripe, to begin with. But if you're looking for the widest range of easy integrations, it won't be your best bet.
Among the services that work best with Stripe Connect you'll find: Lyft, Twitter, DoorDash, WooCommerce, Shopify, SalesForce, GitHub, MindBody, and more.
Pricing and Fees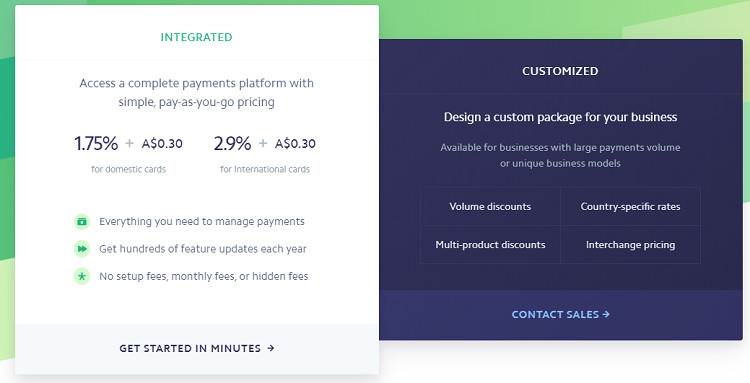 Stripe charges up to 2.9% plus $0.30 per transaction. In-person payments have a more favorable rate at 2.7% plus $0.05. You won't find any subscription fee with Stripe, whether you use the entire Stripe dashboard or just one of their services.
Stripe Connect on the other hand has you pay $2 per user account, per month, and 0.25% plus $0.25 per payout sent.
In other words, if you use Stripe Connect to allow people on your website to receive payments, you'll be charged for every person and for every transaction. Depending on the volume you're dealing with, Stripe Payment or Stripe Connect will be more relevant.
In any case, you can get in touch with the sales team for a more personalized quote depending on the type of business you're running.
Customer Service
Stripe has a good reputation online and it is a fact. In case you'd be lost, you can find free resources as they put forth a selection of videos, tutorials, documentation, and blog articles to help you make the most out of the tools. In case of need, the support is available 24/7 through phone, live chat, and email.
Pros and Cons
Pros
Flat, predictable rates;

Pretty interface;

Great for marketplaces;

ACH payments;

PoS payments.
Cons
Not the most flexible APIs.
Price Comparison: Plaid vs Stripe
Stripe Connect's prices are pretty straightforward : $2 per account per month and 0.25% plus $0.25 per payout sent. With that in mind you can determine exactly the cost of such service with the estimated number of accounts you'll have to deal with. It is difficult to compare it to Plaid since this service quotes on a case-by-case basis.
Recommended Alternatives To Plaid and Stripe
Here are some useful alternatives to the two featured software:
Payoneer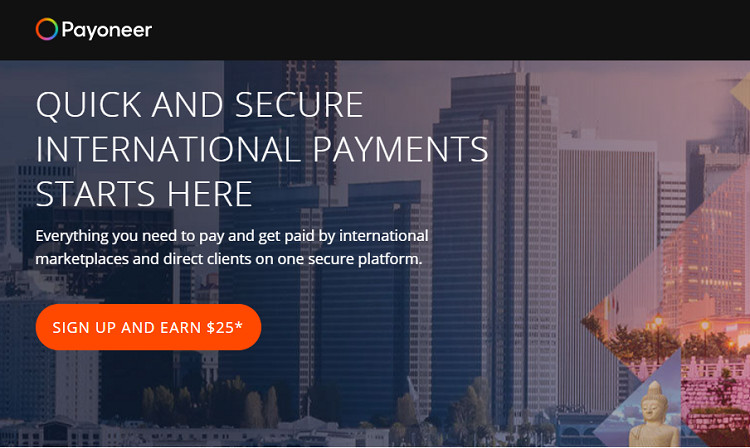 A financial service with the purpose of enabling businesses to pay and get paid domestically and internationally; it's very similar to Paypal in a sense.
Closer to Stripe Payments than to Stripe Connect, if you are not dealing with a lot of financial activity, or if you're a consumer simply looking to pay/get paid online, this might be a great bet for you.
Venmo for Business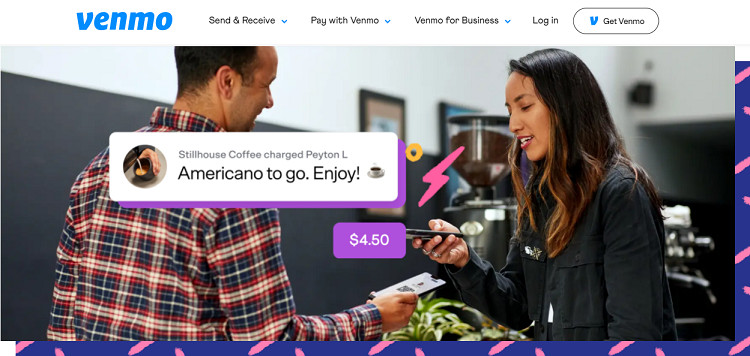 Similar to Payoneer and Stripe, it helps businesses who focus on mobile websites and apps set up checkout and automatic payment processing systems. Very simplistic compared to Stripe Connect and Plaid (Venmo actually uses Plaid) but might be for you if you need less deep features.
Nordigen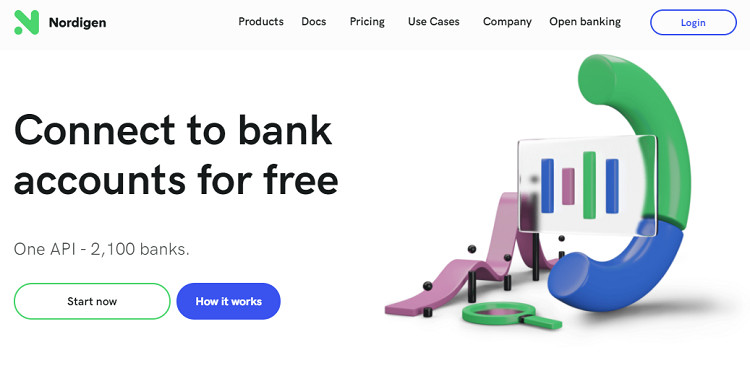 Behold Nordigen, a newer service that does exactly the same as Plaid, except that it does it for free and focuses on European banks.
It delivers access to private and business EU accounts, all in a single, easy-to-read API. Comes with a free basic plan, paid advanced plans.
FAQs
Question: What does Stripe Connect do Exactly?
Answer: Stripe Connect allows marketplace owners to set up payment options for their seller's thanks to its highly customizable API. It's more interesting than Stripe Payments when dealing with very frequent financial operations.
Question: Does Plaid integrate with Stripe Connect?
Answer: Plaid currently integrates very well with Stripe Connect. Recently, Stripe Connect and Plaid partnered to bring to the public ACH bank to bank transfers in the US, making it the cheapest way to pay online for marketplaces and service providers.
Question: Can you use Plaid as a Consumer?
Answer: Most consumers use Plaid without noticing it really. For example, whenever you're using Venmo or Wise, you're using Plaid as well. That said, Plaid caters to businesses and an individual in its personal use won't have much use in setting up Plaid payment solutions.
Question: What is Stripe Connect?
Answer: Stripe Connect is a great way to add payments to your marketplace or software platform. Thanks to its programmable APIs and included tools, it lets you build, personalize and scale end-to-end ways to get paid, from onboarding to global payouts, all in the Stripe dashboard.
Conclusion
Both services do pretty much the same thing on the surface. They make sure that you can let your customers pay you easily, in a way that saves you money. Plaid does it through a unified API that will scan major financial players APIs to bring everything in one place, Stripe Connect will allow you to set up and customize to your liking your own API(s).
With that in mind, it's easy to see that Plaid is more convenient if you're dealing with a lot of customers who do a lot of financial operations. Stripe Connect will be more useful if you're used to Stripe and if you're running a marketplace.
To summarize:
If you're setting up a marketplace and you want to manage payments for your customers who are themselves selling on a said marketplace, Stripe is your best bet.
If you're a service provider dealing with a large number of customers and very frequent transactions, Plaid will make your financial costs go down by a long-shot.
If you enjoyed this review, please consider sharing it with someone who you think would find it useful.