Last Updated on June 1, 2023 by Ewen Finser
If you're an online startup, or a brick-and-mortar shop trying to stay on top of the game, you might find legacy payment processing players too cumbersome and rigid. In today's article we compare Marqeta vs Stripe, two of the top online payment processors, to ensure you get as much control as possible over the money that goes around your business.
In this article you'll find:
what makes both services unique;

what key points to look for in an online payment processor;

a close examination of their respective features;

worthy alternatives;

a clear cut on which is the best for your situation;

and more…
Bottom Line Upfront
Stripe has a lot more to offer customers, although Marqeta might prove to be the simpler option for those who are only looking for a flexible credit card.
Main Differences Between Marqeta vs Stripe
The main differences between Marqeta vs Stripe are:
Marqeta focuses only on credit/debit cards, whereas Stripe has online, in-person, mobile and POS payment solutions.

Marqeta has deep dynamic spend control options, while Stripe does not.

Marqeta focuses on cards only, while Stripe offers way more.

Marqeta has credit and prepaid cards, while Stripe only has debit cards.
How To Choose The Best Online Payment Processor
Credit/Debit Cards
Many modern fintech SaaS companies propose their own (virtual or physical) bank cards to fluidify the process of paying for company goods or to enhance customer's loyalty. It has many added benefits, the first one being the added flexibility a non bank-issued card offers.
If you'd like to have more control over how money is handled around your business, make sure to go with the relevant card payment options.
Processing Payments
Considering the main function of an online payment processor lies in the way it sends and collects payments, you want to make sure that the service you go for processes payments in a way that is relevant to your business.
There are a lot of variables and features that come into play as to exactly how one will collect and send money. There are no two softwares that do the exact same thing, so consider features wisely.
Integrations
You definitely want to make sure that this brand new payment solution integrates well with the other tools and partners you're working with. Some softwares have specific integrations, see if it goes well with what you're currently using.
Pricing and Fees
If it makes your life easier, it most likely won't be free. Some services charge a certain amount per month, others take a percentage of every transaction. And if you request additional features you can be charged a flat fee. Make sure you understand the costs of the service you're going for.
Customer Service
Eventually, problems will arise and you need to be able to handle them swiftly. How good is the customer care team of the service you go for? In case of a problem, you need to know exactly the extent to which they can help. Some services also offer additional help in setting you up, as well as online knowledge bases with tutorials and blog articles.
Marqeta Key Features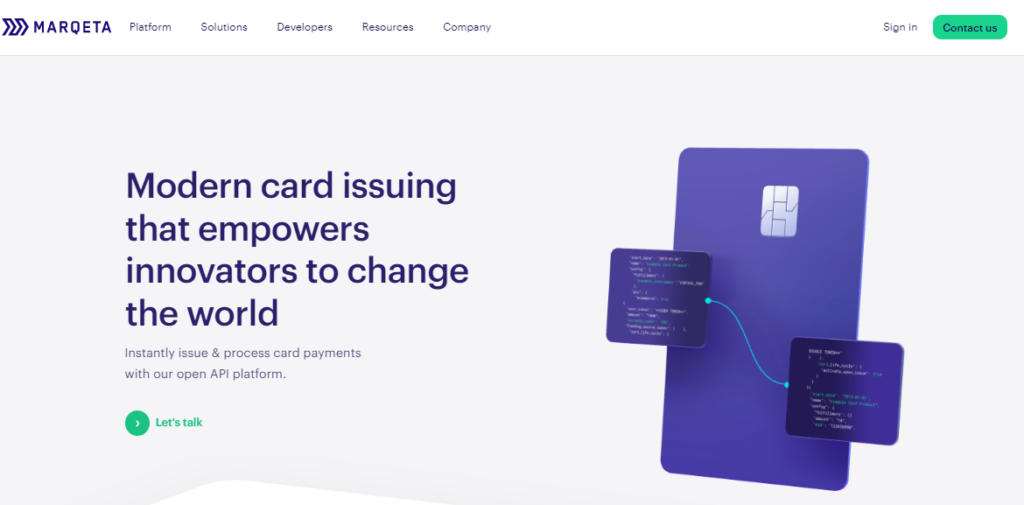 Marqeta has recently hit the public market with its modern card issuing platform. It provides tools and solutions to assist businesses and companies in building and managing payment programs. It's unique selling point is in adding a lot of control and flexibility to legacy credit and debit card solutions.
Credit/Debit cards
Probably the main common point between Stripe vs Marqeta, the cards come with a lot of interesting uses. Marqeta issues both virtual and physical cards, though the service is not a bank.
It is important to note that Marqeta is a B2B type of service, and as such, all of its service is catered to businesses who wish to smoothen how money flows internally. As a consumer, you won't make much use of Marqeta. And that's where Marqeta's features become relevant: they allow you to fine-tune in-house money flows with great control.
In essence, Marqeta will give access to the funds attached to a card only if certain conditions are met. This allows a company to make sure for example that a person who buys on behalf of the company doesn't slip their personal expenses in.
Processing Payments
Online Stripe, Marqeta does not permit payments processing outside the cards. We will then only be examining features related to the cards.
That's not a bad deal, since that's the main selling point with Marqeta. A Marqeta card does everything a legacy bank card does, but adds deeper control. There are mainly three areas that are to be talked about here : authentication, spend controls and Just-In-Time Funding.
It ensures card authentication with signature or passcode verification if the card is present. For scenarios in which the card isn't present, Marqeta provides address verification, card verification value (CVV), or 3D Secure (3DS) to verify the card holder.
Marqeta also lets you authorize transactions based on your own rules, in real time. You can limit and/or allow a lot, including : spending by merchant, merchant category, merchant group, amount, users, user group, frequency of use, time of use, start/end times, and more.
The Just-in-Time Funding feature makes sure that each card keeps a $0 balance until the transaction is approved, in real time. You can for example appoint a machine or member of your team so that they will authorize transactions in real-time. Once approved, Marqeta automatically moves funds from your funding source into the appropriate account. As simple as a regular bank card!
Integrations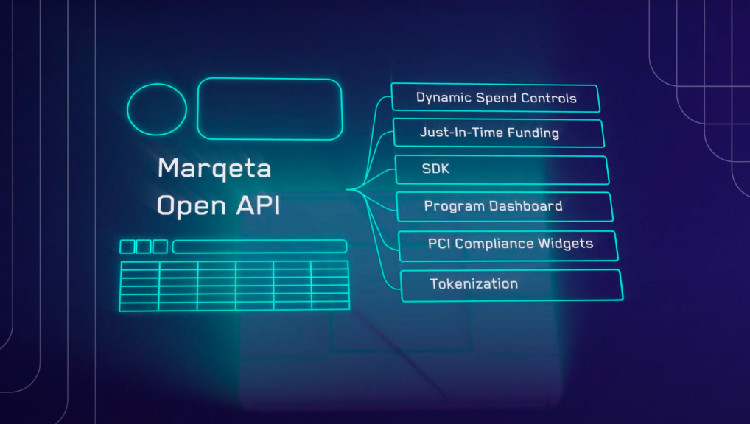 To facilitate using your Marqeta card, the service associates with banking-as-a-service, fast pay and rewards systems, spending management systems and banking softwares. Among the associated services you'll find : Treasury Prime, Productfy, Synctera, Branch, Payfare, Virtual Incentives, Divvy, Airbase, Ramp, Finastra, Tememos, Finxact, and more.
Pricing and Fees
Marqeta makes its money on a per transaction basis, similar to Visa and Mastercard. It takes 1% on every transaction that's made through a Marqeta card. For a more precise quote, interested parties will need to request a sales meeting on the Marqeta website.
Customer Service
Marqeta's customer service seems pretty opaque from the outside. The only way to get a first contact is to book a sales consultation. Once in a partnership with Marqeta, customers can expect a closer relationship.
Pros and Cons
Pros
Great flexibility and control;

Simply better than legacy bank cards;

Trusted by many successful startups;

Deals with chargebacks and fraud.
Cons
B2B only;

Revolves around modern bank cards only;

Not for you if you don't need more control over your company cards.
Stripe Key Features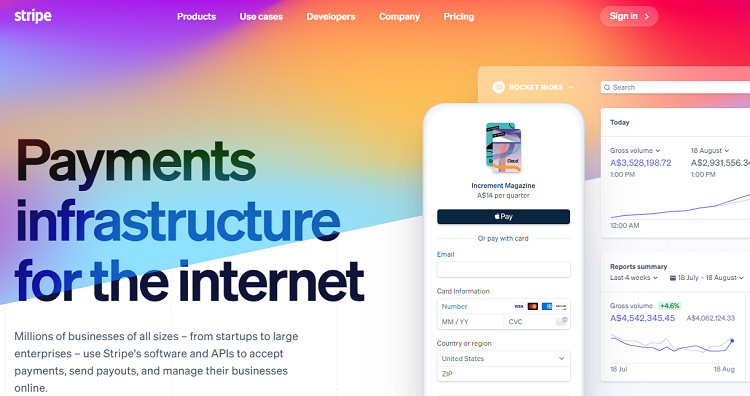 Designed mainly as a Paypal competitor in its early stages, Stripe knew how to adapt to the changing market and now proposes a myriad of additional services on top of online payment processing. If you wish to manage your money in a way that traditional banks can't, Stripe most likely has a solution for it. Today we'll be focusing on Stripe Issuing, as it's their branch of the service that compares to Marqeta.
Credit/Debit Cards
While Stripe has a scope way larger than Marqeta, it does propose modern cards too. Whether you're looking for physical or virtual cards, the Stripe API will let you create cards for your business thanks to the Stripe Issuing feature. You then can control expenses, optimize operations and even generate more revenue.
A very appreciated point is that you can brand those cards however you see fit. On top of that, they are quick to arrive: shipped within 2 days. As of now, only mentions of a Stripe debit card have been made and we cannot confirm or deny the existence of a Stripe credit card plan.
That said, Stripe Issuing is an "on invitation only" service in which a sales team reviews potential customers before offering them a deal (or not). We can only assume that this kind of plan is highly tailored to customers' needs.
Processing Payments
With Stripe cards you can authorize payments instantly and directly from your Stripe dashboard. It's free, doesn't require any commitment (outside of buying the cards beforehand) and immediate.
Those cards can be configured through the dedicated API to only allow certain kinds of payments and under specific circumstances. That's where the service aims to do what legacy cards can't, and most likely the reason why Stripe users will want to consider Stripe Issuing.
Integrations
Similar to Marqeta, Stripe cards are mainly useful for shipping and other services where one of your team members will have to handle money on behalf of the customer or company.
Naturally, Stripe Issuing integrates seamlessly with the rest of your Stripe dashboard. In itself, Stripe has an enormous range of available integrations. You can also use it in your own physical store. With its easily integrated API, you can add it to many fintech stacks. Whether you use eCommerce platforms, specific websites or other services.
The main drawback will probably be the lack of specialized integration. If you go for the Stripe card, you'll get Stripe's base integrations, no more, no less.
Pricing and Fees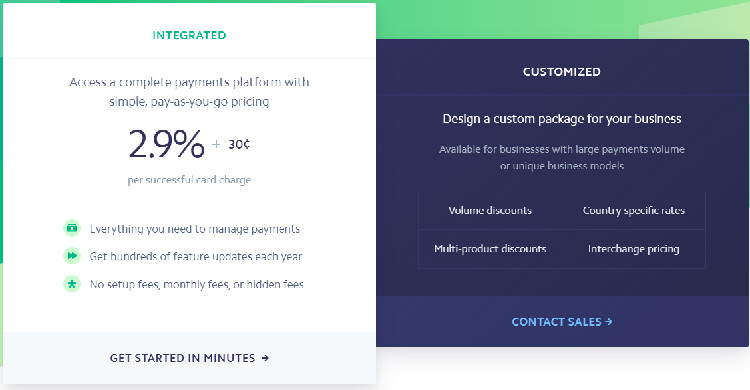 The usual Stripe fees structure is very straightforward : you'll be charged 2.9% + $0.30 per online transaction, and 2.7% plus $0.05 for in-person payments.
When it comes to Stripe cards fees in particular, it goes as such :
$3 per card

0.2% + $0.20 per transaction after the first $500,000 in card transactions

1% + $0.30 for international transactions (+1% if currency exchange is required)

$15 fee per lost card dispute
Customer Service
Stripe has a very good reputation on the web and you can get in touch with the sales team easily from the Stripe website, if you wish to start working with Stripe cards.
The customer care team is available anytime, anyday, through phone, live-chat and email. You can also find a lot of information regarding the entire catalog of Stripe's features on the Stripe blog, and through their numerous free videos and documentation.
Pros and Cons
Pros
Card branding;

Transparent fees;

Quick onboarding process;

Flexible;

More than a card issuing service.
Cons
Overkill if you just need flexible bank cards;

Fees on every transactions;

B2B "on invitation" only;

No integration outside of Stripe dashboard.
Price Comparison: Marqeta vs Stripe
Technically, you won't be paying anything for using Marqeta. There may be initial set-up costs (discussed with Marqeta's sales team) but for the rest, it will be very similar to using your good old Visa or Mastercard.
They take 1% on every transaction, but consumers do not pay directly for the charges they accrue; rather, these are paid to the issuing financial institution. In other words, your bank pays Marqeta when you make a purchase with a Marqeta card.
Stripe on the other hand, charges a certain amount on every transaction. And since something is always more expensive than nothing, Marqeta wins this round.
Recommended Alternatives To Marqeta vs Stripe
Here are some alternatives to Marqeta and Stripe that are worth a look.
Pleo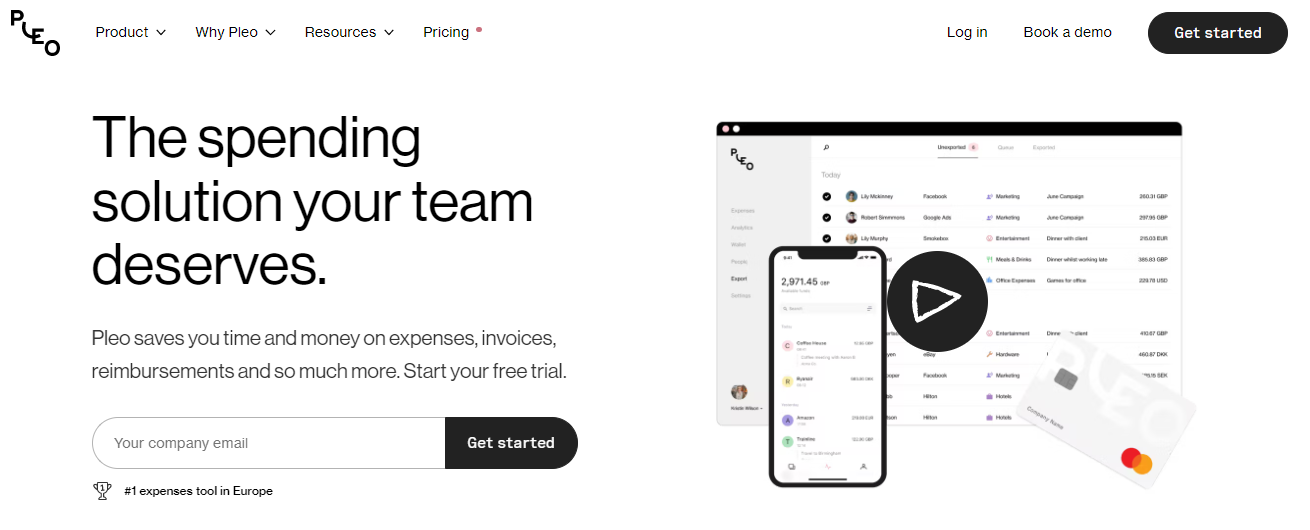 Similar to Marqeta in that it delivers payment cards mainly. The goal with Pleo is to get rid of all that annoying paperwork: receipts, taxes, cash, everything must disappear. Automate expense reports and simplify financial processes. It also integrates well with many accounting tools. Get notifications when the card is used, track expenses and order everything digitally.
Bento for Business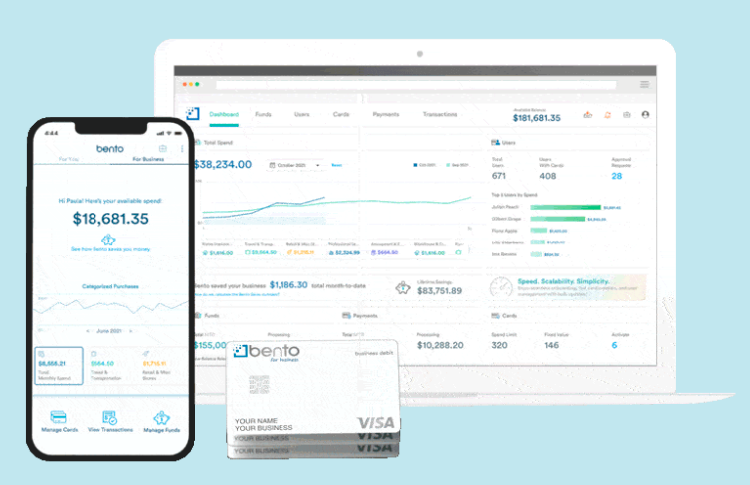 The main selling point with Bento is the ability to create custom-made, tailored business card plans. You can issue as many cards as your team needs, and customize the spend settings for each and every card. It's as deep as it can get. All transactions are recorded live, notified to you, and every receipt is stored online for added convenience.
Stampli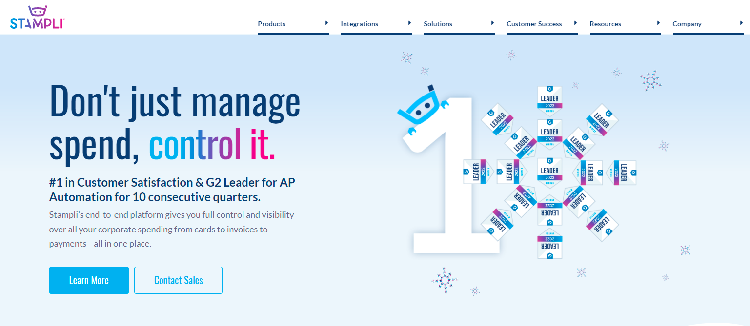 Closer to Stripe, Stampli aims to bring together all that is financial about your company. With Stampli you'll find documentation, analytics, payments, accounts payable transactions, and cards all in one place.
FAQs
Question: Does Marqeta Issue Credit Cards?
Answer: In February 2021 Marqeta partnered with Deserve to provide credit cards on top of their already available debit cards. Businesses can now get in touch with Marqeta to learn more about credit card solutions for their companies.
Question: Who are Marqeta Customers?
Answer: Marqeta works most notably with Instacar, Uber, DoorDash, HPMorgan Chase and Affirm, Square, and so on. Considering it sells payment technology that's designed to detect potentially small-time repeated frauds, its customers tend to be very large companies.
Question: How Does Marqeta Make Money?
Answer: The service gets most of its revenue from fees that occur from the usage of its cards. On every purchase using a Marqeta card, a small percentage is charged to the bank. Marqueta also earns money through a variety of related services such as fraud monitoring and tokenization.
The Bottom Line
Marqeta and Stripe are similar in the sense that both offer modern payment technology platforms and open APIs, but that's pretty much it. The two services are quite different, both in purpose and uses. In a way, Stripe does what Marqeta does, and more, much more. But Marqeta's proficiency with cards will make up for it big time if you're not looking for all the bells and whistles that come with Stripe.
Branding itself as a complete payment platform, Stripe lets you do so much: from receiving money, sending money, paying bills and taxes, handling your analytics, verifying online IDs, to making sure your carbon footprint is accounted for (yes, they have a service for that too) and more.
But if all you need is a very flexible credit card, you might be better off with the more focused Marqeta.
To summarize:
If you're already making use of Stripe services and are looking for flexible company card solutions, Stripe Issuing isn't a bad deal at all.
If you're looking for a modern, highly-personalizable way to do bank cards, Marqeta will be for you.
If you enjoyed this review, please consider sharing with someone who you think would find it useful