Last Updated on April 22, 2023 by Ewen Finser
You've been looking forward to the day that all of your hard work has paid off and your business is thriving. Now that your products are selling, you may be scrambling to speed up your order fulfillment while keeping your customers notified of order times and tracking. Even though you may try, completing this task day after day manually is not the answer.
Fortunately, there are many automated shipping software options to choose from. ShippingEasy is one of the top options for streamlining your shipping, maintaining inventory, and providing a professional shipping experience.
I will walk you through the pros and cons, features, and alternatives of ShippingEasy so you can make an informed decision based on your business's current shipping needs, level of customer service, and budget.
Our Pick
Why I Prefer ShippingEasy
FREE for less than 25 orders, then affordable FLAT RATE pricing tiers. ShippingEasy is consistently the highest rated shipping integration partner for both national and global brands if you use USPS, FedEx, or DHL. Start your Free 60-Days Trial here Today!
Get 60-Days Free NOW
We earn a commission if you click this link and make a purchase at no additional cost to you.
ShippingEasy is a cloud-based shipping solution for eCommerce businesses. Business owners choose software platforms like ShippingEasy when their volume warrants transferring from manual shipping to an automated shipping option.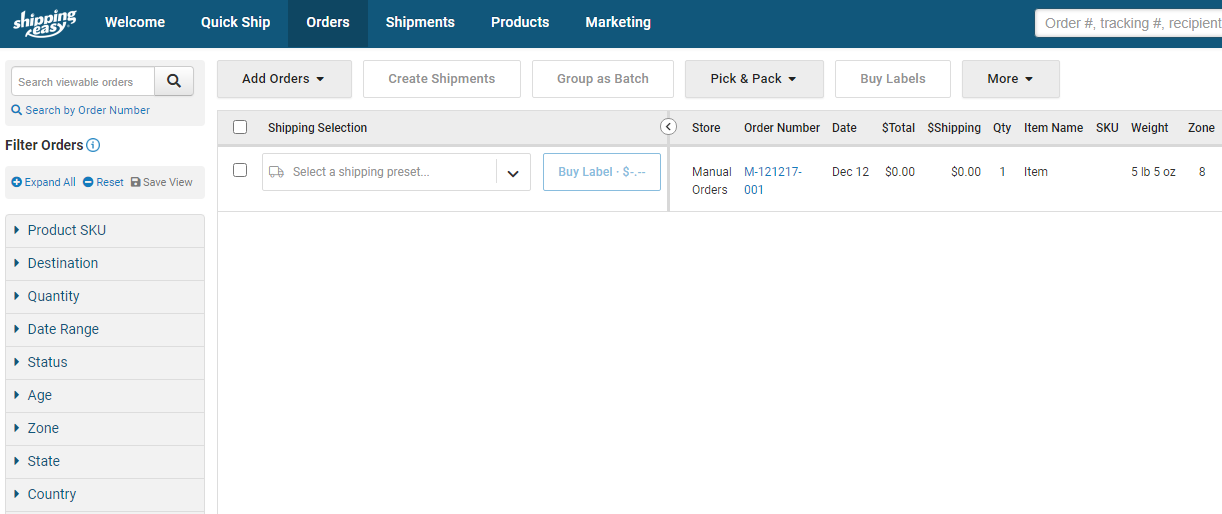 ShippingEasy provides shipping discounts from the United States Postage Service, FedEx, and UPS for shipments that originate in the United States. The platform integrates with eCommerce and Marketplace platforms such as Amazon, eBay, Etsy, and Shopify to manage inventory, batch print labels, send customers tracking status updates, and build custom email marketing campaigns.
ShippingEasy History
ShippingEasy is a wholly-owned subsidiary of Stamps.com (NASDAQ: STMP). Stamps.com acquired the shipping software in July 2016 for approximately $55 million.
As the leading provider of postage online, Stamps.com (NASDAQ: STMP) has over 700,000 users. It provides shipping solutions under the names Stamps.com, Endicia, ShipStation, ShipWorks, and ShippingEasy with over 400 integration partners.

Adding ShippingEasy to the fleet allows eCommerce sellers to download orders from eCommerce sites or Marketplaces, quickly compare the best rates, and save custom shipping preferences.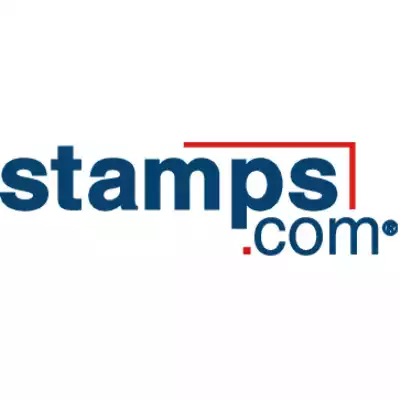 Postage on Demand | Stamps.com
Print your own postage and shipping labels in seconds. Sign Up and Get a Special Postage Offer of $100 Value at Stamps.com! Use Code STAMPS100
Get Started
We earn a commission if you click this link and make a purchase at no additional cost to you.
Pros
Award-winning customer service for paid plans (phone, email, live chat)
Easy to use
Affordable monthly plans
Over 60 integrations
Free plan with decent features
Amazon seller account integration
Orders can be split, combined, or recombined indefinitely
Customer email tracking notifications
List once on a marketplace and import listing to other selling platforms
Custom shipping presets
Automated marketing email integrations
Compare rates and discounts for major carriers (USPS, UPS, FedEx)
Cons
Only USPS is available in the free plan
Consistent syncing issues
Does not integrate with all selling platforms (i.e. Poshmark)
Website responsiveness needs to be improved
Partial shipments can glitch
CSV files can be difficult to upload
Software Requirements
ShippingEasy is a cloud-based software and currently does not have an app. You can download an app called ConnectEasy that will sync your scale and printer to ShippingEasy.
All you need to run the software is an Internet connection and web browser.
Pricing
ShippingEasy has 6 tier plans including a free plan. Paid plans include a 30-day free trial with no credit card required.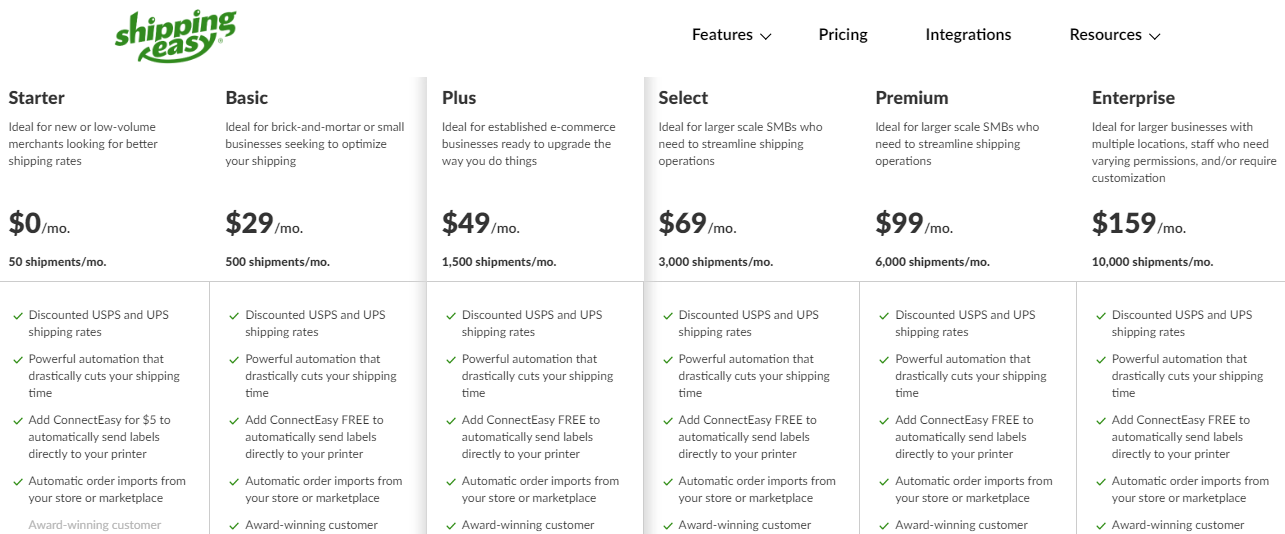 Starter Plan
Free
50 shipments per month
Discounted USPS and UPS shipping rates
Powerful automation that drastically cuts your shipping time
Add ConnectEasy for $5 to automatically send labels directly to your printer
Automatic order imports from your store or marketplace
Basic Plan
$29 per month
500 shipments per month
Starter plan plus:
Award-winning customer support via phone, email, and chat
Custom logos on labels
Robust reporting your business needs to stay on top of things
Plus Plan
$49 per month
1,500 shipments per month
Basic plan plus:
Access exclusive cubic discounts with our Flat Rate Green pricing
Select Plan
$69 per month
3,000 shipments per month
Plus plan plus:
Additional 1,500 shipments per month
Premium Plan
$99 per month
6,000 shipments per month
Select plan plus:
Additional 1,500 shipments per month
Enterprise Plan
$159 per month
10,000 shipments per month
Premium plan plus:
Unlimited users, workstations, and printers supported at no additional cost
Custom configurations from a shipping expert
Our Pick
Why I Prefer ShippingEasy
FREE for less than 25 orders, then affordable FLAT RATE pricing tiers. ShippingEasy is consistently the highest rated shipping integration partner for both national and global brands if you use USPS, FedEx, or DHL. Start your Free 60-Days Trial here Today!
Get 60-Days Free NOW
We earn a commission if you click this link and make a purchase at no additional cost to you.
Ease of Use
Like the majority of its user reviews, ShippingEasy's platform is easy to use and does not require advanced tech skills to master. The dashboard is clutter-free and offers easy to follow navigation. Helpful pop-ups provide helpful instruction when you are not sure which next step to take.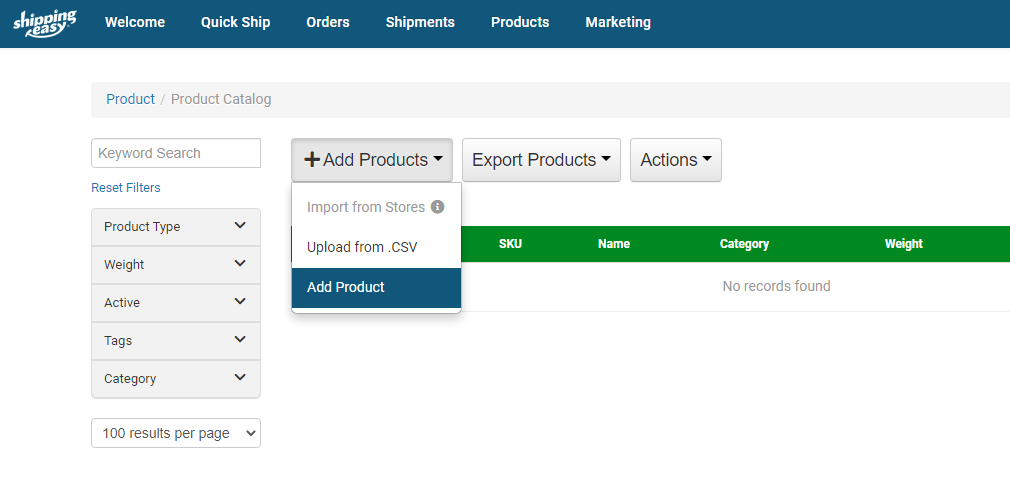 Using popular integrations like Shopify, you can sync your eCommerce orders directly to your ShippingEasy dashboard. Paid plans will have the option of comparing carriers for the best price. However, you can only browse rates one carrier at a time. It would be helpful if multi-carrier support could be viewed on one screen.
Integrations and Add-Ons
ShippingEasy has over 60 integrations in diverse categories such as accounting, API, carriers, eCommerce, inventory, marketplaces, and more.
Additional add-ons include "Customer Marketing", an email marketing solution that uses the big data from your orders and customer information to send targeted campaigns. Pricing starts at $14 for 5,000 emails per month and caps at 3,000,000 emails per month for $1,199.
Quickbooks
Webgility
Xero
Oracle
USPS
FedEx
UPS
DHL
3dcart
PayPal
Ecwid
XCart
Opencart
Stripe
Shopify
Magento
WooCommerce
AmeriCommerce
Volusion
Squarespace
Channel Advisor
Storenvy
Sears
PrestaShop
Shopodex
Spree
nopCommerce
epages
SolidCommerce
Scout
Finale Inventory
SynCommerce
Zenventory
QStock Inventory
Amazon
eBay
Etsy
Walmart
Wish
Yahoo!
Bonanza
Jane
Reverb
TopHatter
Eleventh Avenue
Jet
NewEgg
Sassy Steals
Auctiva
Powersports
GrooveBacker
Algopix
Brandable Box
Feedonomics
The ILS Company
Features
Discounted Shipping
ShippingEasy provides discounted shipping for USPS, FedEx, and UPS. After entering the necessary package information, rate options for each carrier instantly appear.
However, you can only see one carrier at a time. You must click on the different carrier tabs to see all pricing. This is a missed opportunity for ShippingEasy. You should be able to view all carrier prices in one tab and sort low to high or by shipping speed.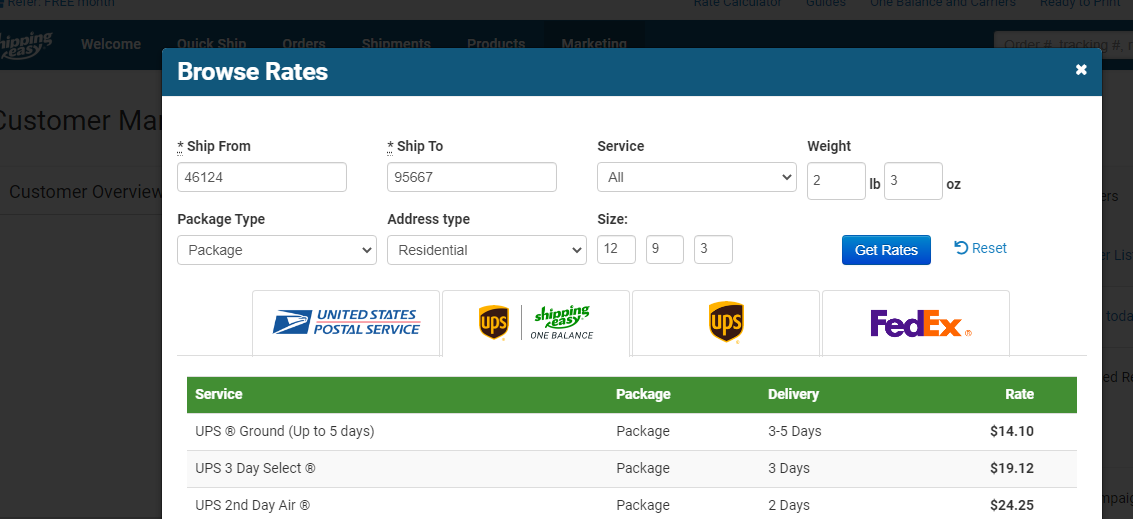 Multichannel Sync
To have a successful eCommerce business, it's important to sell on multiple sales channels. You never know when a platform will get acquired or even disappear so having a broad online presence is best for business longevity. Selling on multiple channels can also broaden your customer base and keep current customers engaged.
With ShippingEasy you can manage orders from all of your sales channels in one place. Use CSV files to bulk upload orders.
Order Management
No matter if you have a few orders or a few hundred, you can easily process and print batch shipping labels. Plus, the platform's order management benefits don't end there, it also offers the following:
The ability to upload manual orders, not from an eCommerce store or Marketplace
Filter orders by region, international, or orders that are awaiting payment
Sort by column in ascending or descending order
Advanced search for locating one specific order
Order summaries to determine if you want to batch with similar orders
Item level detail for multiple product orders
Shopify Seller Tools
An all-in-one solution for shipping through Shopify. ShippingEasy claims you can increase your monthly sales by over $2,000 on average. They offer a demo to view the benefits. Targeted email marketing segments customers and features abandoned cart support.
Shopify owners benefit from guaranteed lowest shipping rates including USPS commercial rates, 62% off UPS rates, and ShippingEasy exclusive Flat Rate Green shipping rates.
Amazon Seller Tools
Similar to Shopify seller tools, ShippingEasy has specific features for Amazon sellers too. Amazon sellers can utilize cubic pricing for qualifying packages and receive the same guaranteed rates as Shopify sellers.
ShippingEasy can send automated review requests so your Amazon product can climb the ranks even faster. Plus, customers will appreciate the professional follow up that comes complete with your own branding.
ShippingEasy Inventory Management
This add-on is great for companies that need supplier support and bill tracking. Easily assign products to suppliers and use the dashboard to create purchase orders (POs).
Use the platform to set low stock alerts so you can stay ahead of the curve. Easily manage all product inventory across multiple sales channels in real-time.
Please note as of July 2020, ShippingEasy is no longer offering this service to new customers. Existing customers can still take advantage of this benefit.
Returns
Automate the return process with a single click. You will only get charged if the return label is scanned. Discounted rates and real-time tracking for all return labels.
Reports
Since shipping is a large cost for most businesses, knowing your customer shipping needs is key. ShippingEasy has data reports for destinations, services, product sales, customers, and more.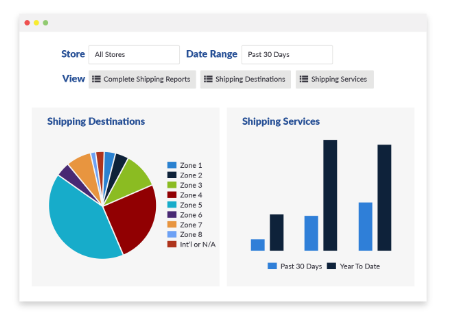 Shipping Workflow
One major advantage of ShippingEasy is the ability to download orders directly from multiple eCommerce and Marketplace platforms in real-time. After they can be seen in ShippingEasy, filter orders to your liking. Plus, you can sort, combine, split, and re-combine orders as needed. Upload CSV files for batch shipping or manually create a single label.
Not only does ShippingEasy print labels, but it also supports packing slips, picklists, and custom forms for international shipments. Create custom shipping rules for specific products to reduce data entry.
Amazon Alexa Skill
Use your voice-enabled Amazon Alexa to print labels, packing slips, and ship orders in 3 easy steps.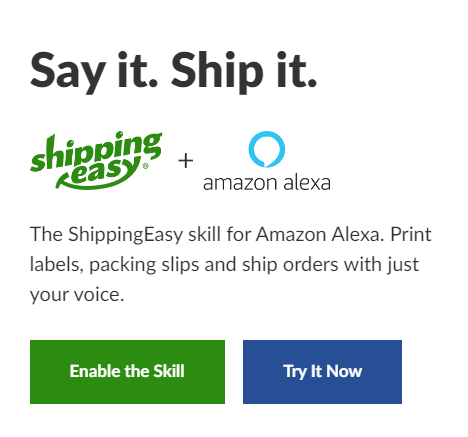 1. Enable the ShippingEasy Skill
Open the Amazon Alexa app or find the ShippingEasy skill within the Amazon website. Select "Skills" and search for ShippingEasy. Then choose "Enable".
2. Link Your ShippingEasy Account
Enter the username and password you set up for ShippingEasy. Then click "Authorize" to move on to step 3.
3. Start Using Voice Commands
You can begin using simple commands by speaking them directly to Alexa. Try "Buy and print a label," "What's my last order?" or "How many orders do I have?"
Connect Easy
ConnectEasy is an app that works in conjunction with ShippingEasy. It can directly print labels, packing slips, and pick lists directly from the app to your printer. The advantage of this app is not dealing with PDF label pages that have to be printed manually.
ConnectEasy will also integrate with your USB scale. Simply plug in the USB scale to your computer, and when ConnectEasy recognizes your device it can automatically update the weight field when creating labels within the app.
ConnectEasy costs an additional $5 per month and is available for both Mac and Windows.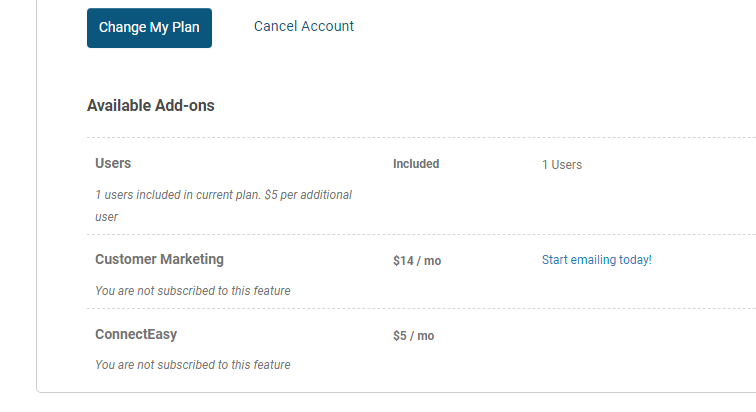 Customer Marketing

ShippingEasy provides a Customer Marketing add-on ($14 per month) that collects data and can segment your customer base. Easily build customized email campaigns that notify customers of new products, garner reviews, and target specific segments to encourage repeat sales.
The platform features both manual and automated email campaigns with a library of pre-built templates in a variety of options such as review requests, cart abandonment, newsletters, product recommendations, and more. A drag and drop template editor helps you make changes with ease. Sign-up forms accelerate your email list growth which helps increase the analytic data gathered by ShippingEasy.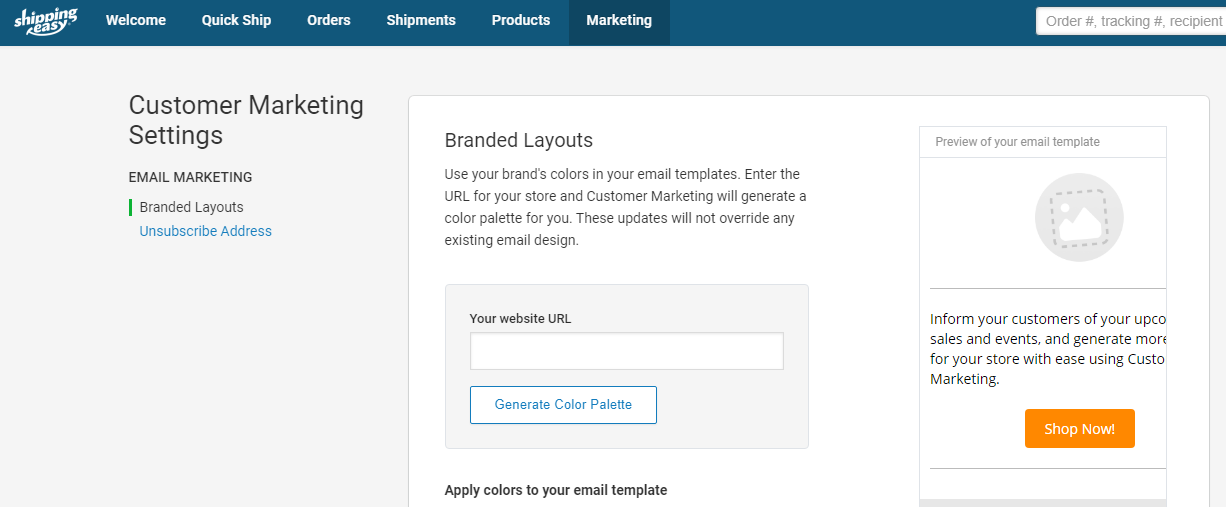 Customer Service and Technical Support
ShippingEasy provides award-winning customer service to all paid tier customers. You can contact ShippingEasy in 3 easy ways, phone (855.202.2275), email (help[at]shippingeasy.com, and live chat.
While most companies charge for this level of customer service, ShippingEasy provides it for free. Plus, even live chat offers real humans, not generalized answer chatbots.
The platform also provides helpful tools and resources to get the most out of the software. Tools like a USPS savings calculator and rates by plan type help you estimate your costs. How-to guides, company blog, and request forms further supplement the platform's documentation.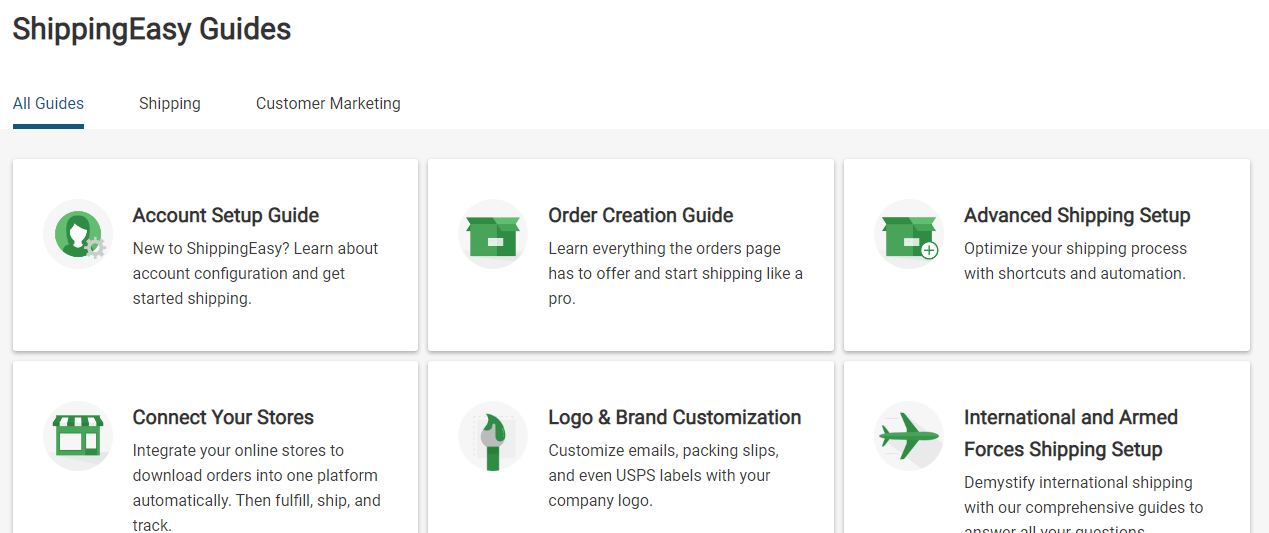 Security
ShippingEasy provides responsible security measures for its users. While it takes your privacy seriously, the platform reminds users that no method of Internet transmission or electronic storage is 100% safe.
ShippingEasy supports the following security measures:
Security procedures and practices are consistently reviewed and updated
Comply with applicable laws and security standards
Sensitive personal information is always transmitted securely
Staff is trained in security measures
Limited staff have access to personal information
Cardholder information is handled in compliance with the Payment Card Industry's Data Security Standards
Compliance with the E.U. – U.S. Privacy Shield Framework
Alternatives
Shippo

American founded Shippo provides multi-carrier shipping software for eCommerce businesses and online marketplaces through their API and online platform.
Pros
Free version
Free trial
Multi-store management
Returns management
Major eCommerce and Marketplace integrations
Cons
No inventory management
No CRM
No email marketing
No PayPal integration
Easyship

Easyship was created in Hong Kong in 2014. The online platform provides discounted shipping, label printing, and integrations featuring multi-courier shipping for your eCommerce business.
Pros
24/7 customer support
Warehouse management
BigCommerce integration
Magento integration
Zapier integration
Cons
No PayPal integration
No QuickBooks integration
No online training
Multiorders

Multiorders is an all-in-one eCommerce management software. The platform supports multi-channel selling, order fulfillment, inventory tracking, and shipping solutions for small to large businesses.
Pros
24/7 customer service
Free trial
Kitting
Warehouse management
Amazon support
Mailchimp support
Cons
No PayPal integration
No Walmart integration

ShipStation helps you automate your shipping by featuring multi-carrier support, discounted shipping rates, batch shipping, order fulfillment, and management.
Pros
Supports all devices
Free trial
Order fulfillment
Order management
Amazon seller tools
Forecasting
Warehouse management
Cons
No product identification
No supplier management
No warehouse management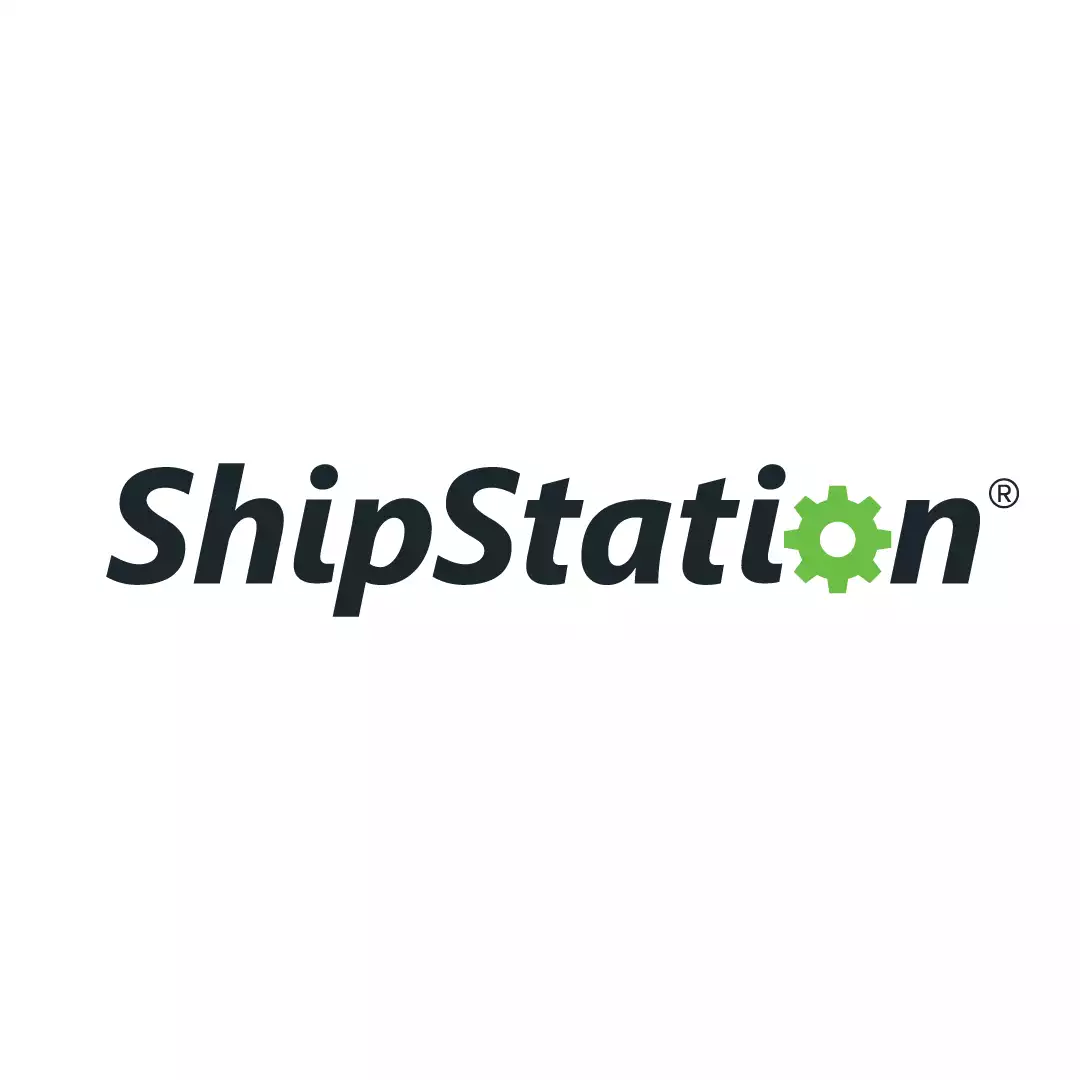 ShipStation Stands Out
BOTH of these services are good options, but ShipStation stands out as slightly better with a mobile app, better carrier integrations, more international connections, and better data reports and exports.
Start your free ShipStation extended 60-day free trial. Use code: dm60. No credit card required. Create your account today!
Go with ShipStation
We earn a commission if you click this link and make a purchase at no additional cost to you.

ShipBob provides powerful logistics so you can offer your eCommerce customers same-day fulfillment across the globe. The platform can help you automate shipping processes, use custom packaging, and take advantage of
2-day shipping options.
Pros
24/7 customer service
Free version
Free trial
Forecasting
Kitting
Warehouse management
Cons
No supplier management
No PayPal integration
No Walmart integration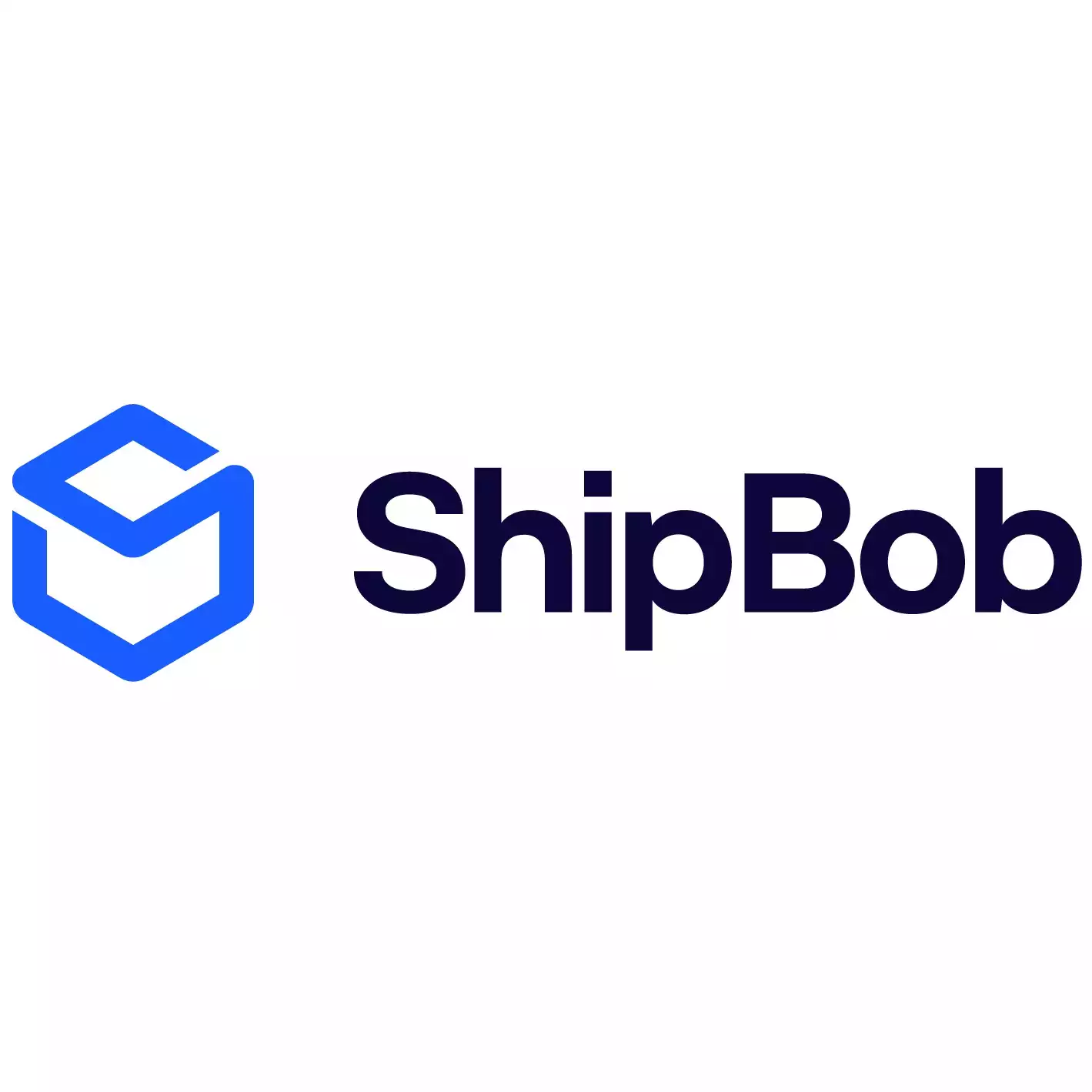 ShipBob Order Fulfillment – Get a Free Quote
Discover the power of omnichannel analytics and reporting through our dashboard, while we take care of picking, packing, and shipping for you.
Request A Quote
We earn a commission if you click this link and make a purchase at no additional cost to you.
FAQs
How much is ShipStation per month?
ShipStation does not have a free version. The platform does offer a 30-day free trial (no credit card required).
After the free trial is over, you can subscribe to ShipStation starting at $9.00 per month (Starter tier). The Starter tier offers 50 shipments per month, 1 user, branded labels and packing slips, and email and community forum support.
Is shippo any good?
Shippo has a user-friendly dashboard and integrates with popular eCommerce and Marketplace sites like Shopify, BigCommerce, Magento, Wix, WooCommerce, Amazon, eBay, and more. The platform has a "Pay As You Go" free plan so you don't have to commit to a paid plan. Shippo can also scale to your custom business needs.
Can I use shippo for personal use?
Yes. You don't have to own a business to use Shippo. Anyone who ships regularly (personal shipping or business shipping) can join the platform.
Is shippo cheaper than USPS?
Shippo provides cheaper rates than USPS retail rates to save your eCommerce business money. Generally, Shippo will save you 8 – 14 percent on priority flat rate costs.
What companies use Shippo?
Notable companies that use Shippo include GoDaddy.com, Mercari, Sellbrite, and Weebly.
Final Thoughts About ShippingEasy
Automated shipping is not for the faint of heart. There can be glitches, complicated address issues, and for small to medium-sized businesses a wrench in your profits.
While ShippingEasy has its drawbacks, the ShippingEasy team is actively rolling out improvements. And the affordable monthly fee is worth the investment for shipping discounts, powerful eCommerce syncing, and professional customer service (email, phone, and live chat).
Our Pick
Why I Prefer ShippingEasy
FREE for less than 25 orders, then affordable FLAT RATE pricing tiers. ShippingEasy is consistently the highest rated shipping integration partner for both national and global brands if you use USPS, FedEx, or DHL. Start your Free 60-Days Trial here Today!
Get 60-Days Free NOW
We earn a commission if you click this link and make a purchase at no additional cost to you.
Further read: