Last Updated on May 16, 2022 by DMEditor
The e-commerce industry is projected to hit a market volume of $4.15 trillion by 2025. Growing at a CAGR of 11.35%, it only means that online retail sales are on a steady incline. With that comes the need for businesses to provide shipping solutions that are efficient, cost-effective, and customer-friendly.
ShippingEasy vs Pirate Ship are two of the most popular shipping software available. Both platforms have features that facilitate order fulfillment and shipping. Some of these features include label creation, order tracking, and discount rates for shipping. However, they also have differences that set them apart.
In this article, we'll compare ShippingEasy vs Pirate Ship, and discuss the features of each platform. We'll also analyze how they differ in pricing, customer service, ease of use, integrations, etc.
Bottom Line Up Front
The difference between ShippingEasy and Pirate Ship is that ShippingEasy focuses on providing sophisticated and advanced shipping solutions at a professional level, whereas Pirate Ship focuses on providing easy-to-use shipping software at a low price point.
Both platforms have their pros and cons, but ShippingEasy has more features, better integrations, customer service, and automation capabilities.
Our Pick
Main Differences Between ShippingEasy vs Pirate Ship
The main differences between ShippingEasy vs Pirate Ship are:
ShippingEasy has more features, including additional customer marketing tools and Seller tools for Shopify and Amazon, whereas Pirate Ship has more simplified features.

Users have to pay a monthly fee starting at $5 for the starter plan to use ShippingEasy, whereas Pirate Ship is 100% free to use with no markups or minimums.

ShippingEasy offers an open API to facilitate custom integrations, whereas Pirate Ship doesn't have an open API.

ShippingEasy is a multicarrier solution supporting FedEx, DHL, USPS, and UPS shipping services, whereas Pirate Ship only supports USPS and UPS.
ShippingEasy Overview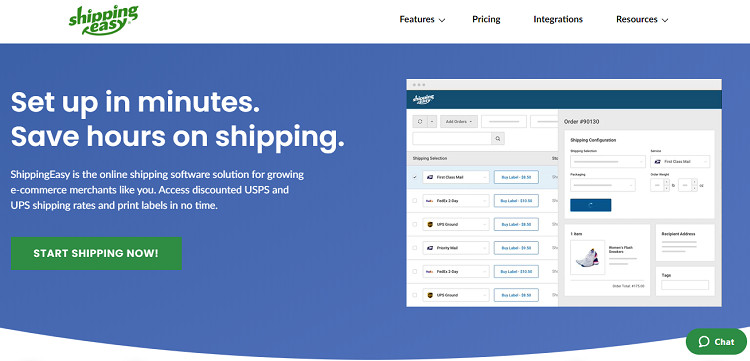 ShippingEasy is a cloud-based shipping software designed for small to mid-sized businesses. It has all the perks of a modern shipping platform, including order and inventory management, label printing, and real-time tracking.
One of the best features offered by ShippingEasy is its integration with multiple e-commerce platforms like Shopify, Amazon, and eBay. While other shipping software only provide a few integrations, ShippingEasy comes with more than 50. This integration allows you to sync orders from your e-commerce store directly to ShippingEasy.
As a multi-carrier solution, it guarantees discounted rates from USPS and UPS. It also provides a USPS Shipping Rate Calculator for customers, allowing them to find affordable shipping options for their products. It has a rich resource of support articles, definitive guides, and an up-to-date rate exchange guide for USPS, FedEx, and UPS.
Compared to other shipping software like MetaPack, it's less expensive, with the lowest plan starting at $5 per month for 50 shipments. Overall, it's one of the best shipping solutions for small businesses looking to get started with e-commerce.
ShippingEasy Features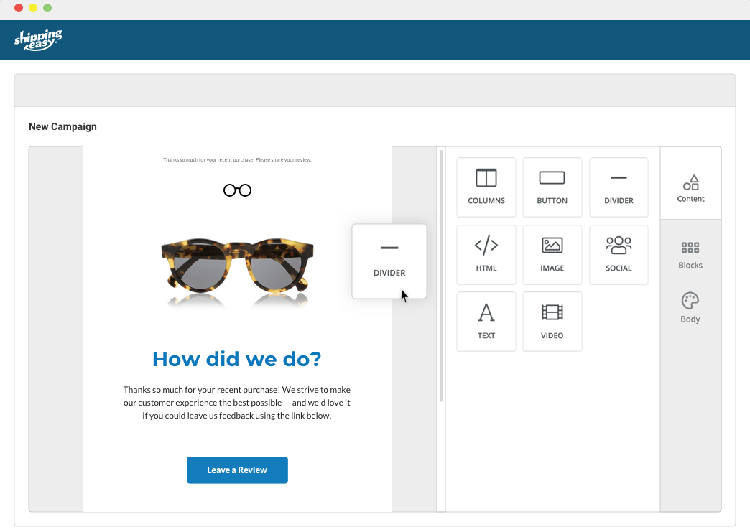 Below are features that make ShippingEasy an attractive shipping solution for businesses:
Discounted Rates
ShippingEasy understands that one of the primary concerns for businesses is to find ways to reduce shipping costs. It offers its customers access to discounted rates from major carriers like USPS and UPS to address this.
USPS Customers that ship more than $50,000 annually have access to commercial rates for all USPS services, typically the lowest available. Customers can also opt for UPS shipping, with discounts going up to 86% off Daily Rates alongside other discounts on shipping insurance and additional surcharges.
Notable are the exclusive rates that price shipments based on box size instead of weight. You can also ask for a rate comparison between carriers to determine which shipping option will be the most cost-effective.
Order Tracking
ShippingEasy instant tracking information right from the carrier's website. This way, you can determine the exact location of an order and its estimated delivery date, allowing you to better manage your inventory and customer expectations.
It displays all the shipping information for each order, including the tracking number and carrier. You can also set up notifications for missed deliveries or other issues with shipments to provide your customers with better support.
Advanced Reporting
Businesses can generate comprehensive reports on their shipping activity by customizing data fields and filters. Companies can run comprehensive reports to gain insights into their shipping costs and productivity, allowing them to make better business decisions.
Returns Management
ShippingEasy allows you to easily manage return requests and process them automatically using automation rules. Simply create a rule based on specific criteria, such as customer location or product type, and the software will automatically process the return and generate a shipping label.
Customer Marketing and Seller Tools
ShippingEasy offers a variety of marketing tools that allow businesses to improve their customer relationships and boost sales. Customers can use email marketing, feedback requests, campaign management, and interactive metrics to target offers and campaigns to their shoppers better.
Shippers can also set up seller tools such as Abandoned Cart Emails for Shopify, seamless integrations, Amazon seller tools, and Alexa for shipping. This feature differentiates ShippingEasy's service from the competition.
ShippingEasy Pros
Excellent customer support

Intuitive user interface

Generous free plan for small businesses

Seamless integration with major e-commerce platforms

Extensive feature set

Featured customer marketing tools
ShippingEasy Cons
Extensive features can be overwhelming to new users

The rules-based engine can be complex to set up
Our Pick
Pirate Ship Overview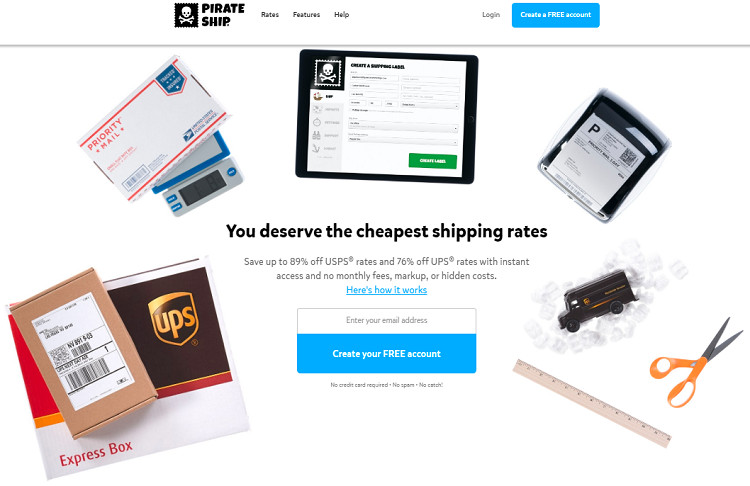 Pirate Ship is an innovative shipping solution that offers unique features and benefits. It brands itself as a free shipping software, providing the cheapest shipping rates and the most cost-effective shipping options for small businesses and entrepreneurs.
Using the platform is simple; all you have to do is sign up, measure and weigh your package, buy shipping labels, and leave the rest to USPS or UPS. In addition to the regular discounts offered by carriers, Pirate Ship offers additional discounts that can reduce your shipping costs significantly.
It provides easy integrations with multiple e-commerce platforms, including Shopify, Magento, BigCommerce, etc. This feature lets you automate your shipping processes easily without dealing with complex workflows or third-party integrations. Unfortunately, it only supports two carrier services: USPS and UPS.
Pirate Ship Features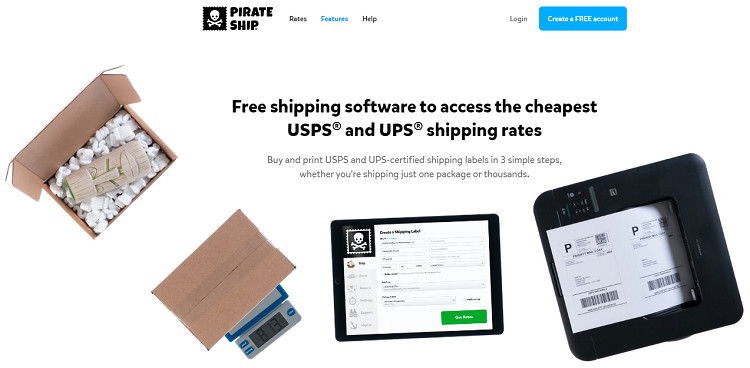 Below are features that set Pirate Ship apart from other shipping solutions:
Automated Label Printing
Pirate Ship lets users print UPS and USPS labels automatically, eliminating the need to enter shipping details for each order manually. Users can print these orders with any type of printer, including thermal, Dymo, or laser printers. Once you generate the labels, you can share them with your customers through a private link or print them out.
Tracking and Notifications
Pirate Ship provides tracking information for each order, including the tracking number and carrier. You can also set up notifications for missed deliveries, refunds, and other events. This feature allows you to keep tabs on your shipments and make sure they are delivered on time.
Shipping Reports and Receipts
Pirate Ship offers comprehensive shipping reports that provide insights into your shipping costs and productivity. You can customize these reports to show data for a specific period, carrier, or product. It extracts payment and transaction data from your e-commerce platform and analyzes it, providing metrics on orders, shipping volumes, sales revenue, etc.
Returns Management
Pirate Ship allows users to easily manage return requests and automate the processing of those requests. Users can create return labels based on predefined rules, such as customer location or product type. It also offers interactive return labels and shipment notifications that let customers know when they can expect the delivery of their returned items.
Scheduled Pickups
Pirate Ship offers scheduled pickups for UPS shipments. This feature allows you to choose a date and time for UPS to pick up your shipment. You'll need to provide the number of packages, the weight of the shipment, and the pickup address.
Discounted Shipping Rates
Pirate Ship offers discounts on shipping rates for USPS and UPS shipments. These discounts are available to all users and can substantially reduce your shipping costs. Discounts on USPS can be as high as 89%, while pre-negotiated UPS rates can save users up to 76% on their shipping costs. By using UPS Ground, it's possible to save up to 50% on Priority Shipping Mail Rates.
Pirate Ship Pros
100% free to use

Simple interface and easy to use

No monthly or annual fees

Integrates with numerous shipping carrier
Pirate Ship Cons
It only supports two shipping carrier services: USPS and UPS

It doesn't have an open API
ShippingEasy vs Pirate Ship: How Do They Compare?
When it comes to shipping software, you need to consider a few key factors: ease of use, automation, integrations, shipping rates/pricing, and features. Below we'll take a more in-depth look at how ShippingEasy and Pirate Ship compare.
1. Ease of Use
ShippingEasy is a relatively simple and user-friendly platform. The dashboard provides an intuitive interface, and all the necessary tools are clearly laid out. Its label API is straightforward to use, and it offers a wide range of integrations that allow users to automate their shipping processes. While its extensive feature set and automation capabilities make it a powerful tool, it can be complex for new users.
On the other hand, Pirate Ship is easy to use, even for those with no prior experience with shipping software. It offers an intuitive interface and a straightforward layout that makes finding the tools you need easy. Pirate Ship provides a wide range of additional features that automate the shipping process, apart from its automatic label printing, tracking, and notifications features.
Winner: Pirate Ship-I found both platforms pretty easy to use, but Pirate Ship's interface is more straightforward and user-friendly, giving it the edge.
2. Pricing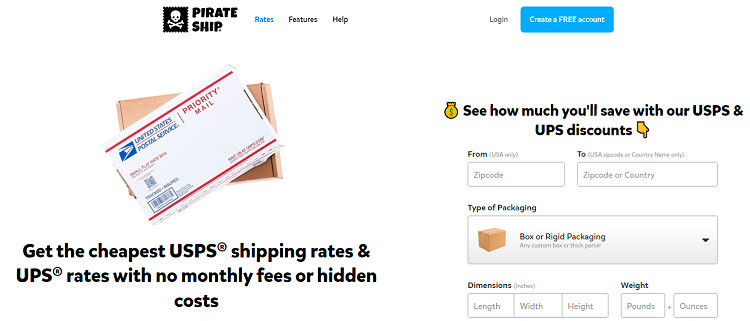 ShippingEasy features a subscription-based pricing model with six plans.
Starter

: $5/month for 50 shipments/month

Basic:

$29/month for 500 shipments/month

Plus

: $49/month for 1,500 shipments/month

Select

: $69/month for 3,000 shipments/month

Premium:

$99/month for 6,000 shipments/month

Enterprise:

$159/month for 10,000 shipments/month
It also offers a 30-day free plan for all its plans. Most people opt for the Plus Plan, which provides the most value for the price. It has all the features a small business needs to automate its shipping process and get the best shipping rates.
However, if you need to process more shipments and access more features, you can opt for the enterprise plan, allowing unlimited users and custom integrations from an expert. The Shipping easy pricing page provides more details on the features and plans available.
Pirate Ship prides itself as an affordable shipping solution for small businesses. While it doesn't charge monthly subscription fees, users must pay for label costs. Costs vary depending on the shipping carrier and the weight of the package.
Users can easily calculate their shipping costs by entering their information into Pirate Ship's cost calculator. There's also a $200 insurance charge for USPS Priority Mail International, but this isn't exempt to Pirate Ship users alone. Other than that, there are no additional fees.
Winner: Pirate Ship-Although ShippingEasy's prices are reasonable, the lack of monthly subscription fees and its flexibility in insurance charges gives Pirate Ship a substantial price advantage.
3. Integrations
ShippingEasy offers various integrations with the most popular e-commerce platforms, such as Shopify, BigCommerce, and WooCommerce. It also integrates with accounting software like QuickBooks and Xero and marketplaces like Amazon and eBay.
Other integrations include Inventory management tools and Miscellaneous software. It also comes with API access, allowing users to connect ShippingEasy to their custom-built platforms.
Pirate Ship doesn't offer as many integrations, but it does integrate with popular platforms like Shopify, WooCommerce, and BigCommerce. It doesn't limit integration with marketplace platforms, allowing users to connect their Pirate Ship account with any marketplace. Unfortunately, it doesn't have an API to allow for custom integrations.
Winner: ShippingEasy-The platform's wide range of integrations gives it a significant edge over Pirate Ship.
4. Customer Support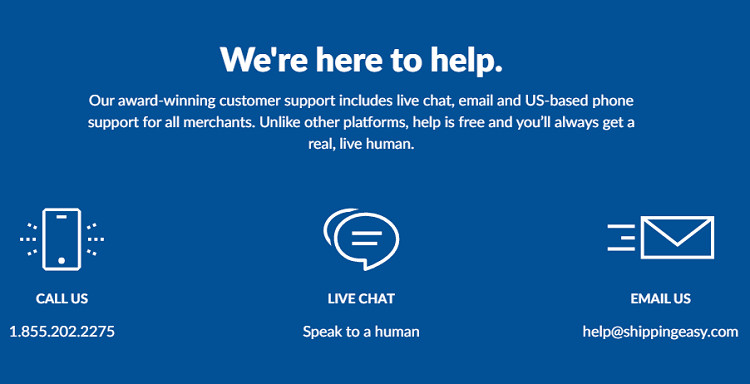 ShippingEasy customer support is one of the best in the shipping software industry. Support is available from 8:00 am to 6:00 pm CT Monday through Friday via phone, email, and live chat.
The company also has an extensive knowledge base with articles and tutorials on using the platform. While testing the platform, I found customer support responsive and helpful. The support resolved some of the issues I had within 48 hours, but some more complex issues took longer.
Pirate Ship also offers excellent customer support. While it's a small company, it makes up for it with its responsive and knowledgeable customer support team. Support is only available via chat, and email from 7:00 am to 9:00 pm PT, 8:00 am to 10:00 pm MT, 9:00 am to 11:00 pm CT, and 10:00 am to 12:00 am ET.
Winner: ShippingEasy-ShippingEasy's comprehensive customer support gives it the edge over Pirate Ship.
5. Features
ShippingEasy is packed with features to make shipping easier, such as batch shipping, order tracking, and Address Validation. The platform also offers a few unique features, such as Insurance & Fraud Protection and Returns Management.
Apart from shipping features, ShippingEasy also comes with some marketing features, such as campaign management, email marketing, and feedback requests. It also features seller tools for Shopify and Amazon. If you want to incorporate AI voice into your business, you can do so with Alexa for shipping.
Pirate Ship provides the most basic shipping features, such as order management, batch shipping, scheduled shipping, and order tracking. It also offers a few unique features, such as Automated Address Validation International shipping, and customs forms. It doesn't have marketing features, nor does it offer seller tools.
Winner: ShippingEasy-ShippingEasy's unique and comprehensive features give it the edge over Pirate Ship.
FAQs
Question: How Much does it Cost to Ship on Pirate Ship?
Answer: Shipping on Pirate Ship is an independent shipping solution that provides free shipping solutions for USPS and UPS. It doesn't charge any monthly or yearly fees, no markups, or minimums. It's 100% free, and users can pay for postage as they go.
Question: What is the Difference Between ShippingEasy and Pirate Ship?
Answer: The primary difference between ShippingEasy and Pirate Ship is that ShippingEasy is a paid shipping software while Pirate Ship is a free shipping solution. ShippingEasy is also more comprehensive, offering features such as marketing automation and seller tools that Pirate Ship doesn't have.
Question: Who Uses ShippingEasy?
Answer: Small to medium-sized businesses across a wide range of industries use ShippingEasy. Some popular users include e-commerce stores, online retailers, and logistics companies. In particular, many e-commerce sellers rely on ShippingEasy to streamline the shipping process and grow their business.
Conclusion
When comparing ShippingEasy vs. Pirate Ship, it's clear that ShippingEasy is the better option. It's a comprehensive shipping software that offers marketing automation and seller tools. While it's not free like Pirate Ship, its features are worth the price. If you're looking for a shipping solution to help you save time and grow your business, I recommend ShippingEasy.
Our Pick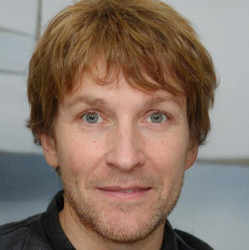 Latest posts by John Hughes
(see all)
Get 40% OFF for 3 Months