Last Updated on April 22, 2023 by Ewen Finser
Your eBay dropshipping hustle could be made into a nightmare or a dream come true, depending on your choice of shipping app. This list of the best shipping apps for eBay will make it far easier to run your eBay store with minimum hassle and maximum profits.
All you have to do is evaluate my list of top picks and choose the best shipping app for your needs. My list features the pros and cons for each of my top picks based on my own experiences testing and reviewing these apps. I've run the rule over almost a dozen shipping apps as part of my work for The Digital Merchant.
Having briefly enjoyed an eBay side hustle of my own, I know how important this decision is for you. So, let's dive straight into my list.
Bottom Line
Your choice of the best shipping app for your eBay store depends mostly on your experience level and how many items you're shipping per month.
If you're a beginner, you might appreciate the slim learning curve and generous pricing structure of ShipEngine or Shippo. If you're selling goods from multiple platforms, Shipstation is worth considering. If you're looking for a ton of advanced features, you may prefer ShippingEasy. Those who want an all-in-one app, including inventory storage, should check out ShipBob.
My Top Picks at a Glance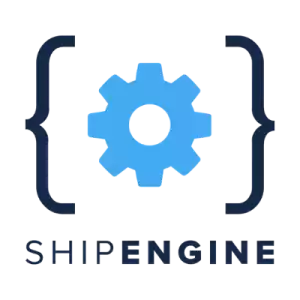 Simplify Your Shipping | ShipEngine
ShipEngine is the platform of choice for world-class shipping and logistics. Global commerce leaders trust the #1 shipping API to unlock significant time and cost savings.
Sign Up
We earn a commission if you click this link and make a purchase at no additional cost to you.
Selection Criteria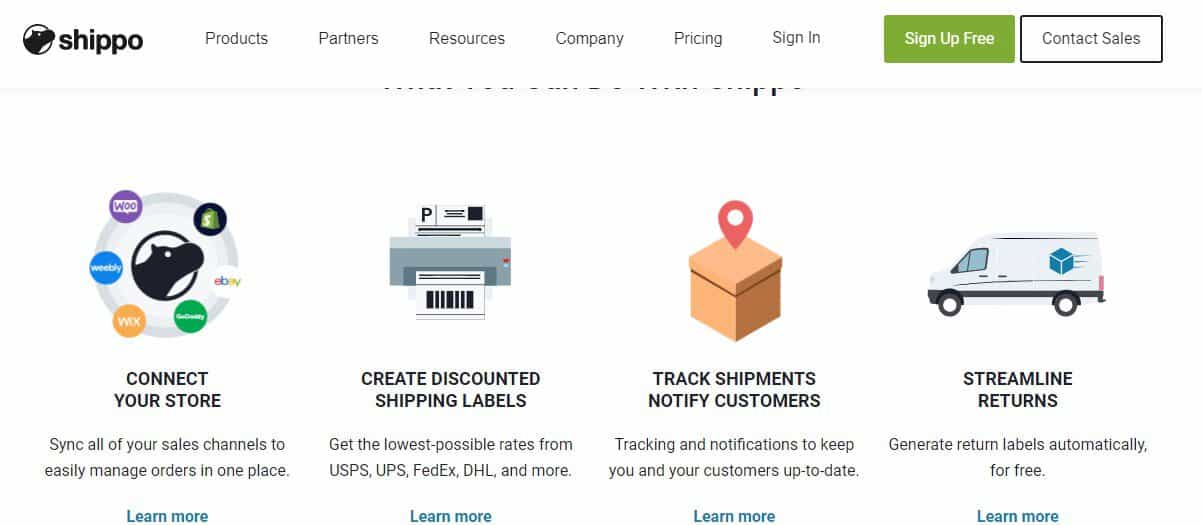 Here is a list of the features to consider when choosing the best shipping app for eBay.
Control and Tracking
It's important to consider how much control and information your shipping company will give you concerning your inventory. If you're planning to be a hands-on eBay store owner, look for a shipping company that updates you about the whereabouts of your stock throughout every step of the delivery process.
On top of that, some shipping companies will give detailed insights about your average order size, when you're likely to run out of stock, and other valuable data.
Storage and Coverage
Some shipping companies have their own storage warehouses, whereas others will link you to third-party warehouses. It's important to know where your items are being stored because this will affect the speed and the cost of delivering them.
Some shipping companies will only allow national delivery, whereas others have storage in several countries allowing for cheaper international delivery. Make sure your shipping company can easily ship your items where you want your store to deliver them.
Integrations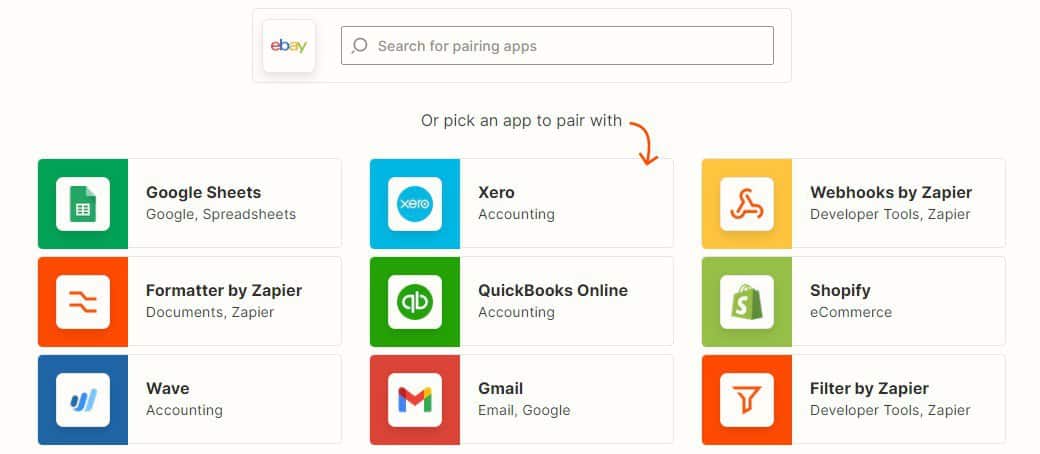 Simple integration with eBay is a must. However, the best shipping apps will be able to integrate with all your other e-commerce platforms, your inventory management software, listing tools, etc. The more integrations your shipping app has, the more seamlessly it will slot into your online business and the more time you save.
Returns
Dealing with returns was one of the most frustrating and often time-consuming aspects of my eBay side hustle. So, I'd recommend you choose a shipping app involved with the returns process. The best shipping companies will make it easy for customers to return products and even inspect returned goods on your behalf.
Pricing
It's not easy to compare the pricing of eBay shipping companies, as each company tends to have its set of charges. You could be charged per shipment or delivery. Warehouse fees might need to be considered. There's a lot to calculate.
I won't be able to recommend you the cheapest eBay shipping company in this guide, as it will depend on various elements of your unique business. Still, you'll want a delivery service that leaves as much profit for your pockets as possible.
Customer service
Dropshipping isn't as passive as all the experts make it out to be. Occasionally, you're going to encounter problems, and it'll save you a lot of stress to deal with a shipping company with a reputation for solving mishaps quickly. A shipping company's ratings for customer service are critical for you to consider, in my opinion.
The Best Shipping Apps for eBay
ShipEngine is a shipping API designed to simplify all elements of shipping. You'll be able to alter your carrier, branding, insurance, and more with this API. On top of that, you can print shipping labels, validate customer addresses and track your packages.
ShipEngine has an impressive range of carriers (including DHL, FedEx, UPS, USPS, and more) and cross-border shipping is available. You can quickly shop around for the most suitable carrier for each shipment, potentially saving you a lot of money in the long run.
You should be able to integrate ShipEngine into your eBay store (and many other eCommerce stores) relatively easily. The interface is easy to navigate, and the learning curve isn't as deep as other shipping companies. ShipEngine has a clear pricing structure on its website. Your choice of its four pricing tariffs will depend on how many monthly shipments you make. Customer service is available via live chat or email.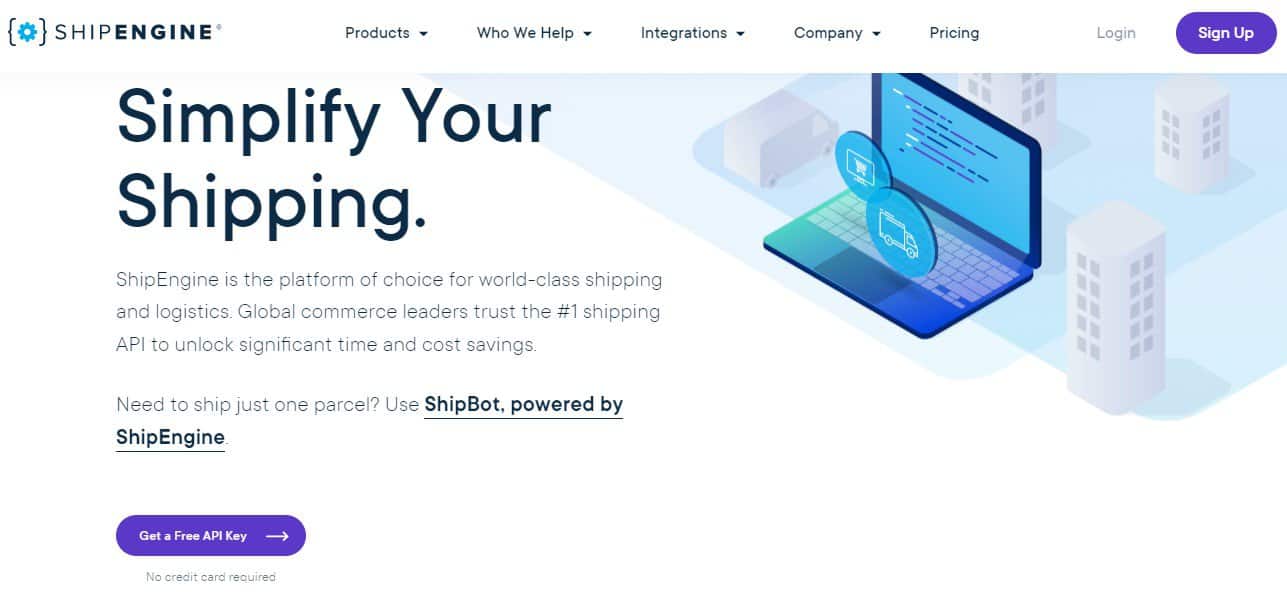 Pros
Integrates easily with eBay and other eCommerce platforms;

Its huge range of carriers allows for quick and affordable shipping;

The clear pricing structure allows you to estimate how much you'll pay per month accurately.
Cons
There is no recurring order automation available with ShipEngine;

ShipEngine isn't compatible with dropshipping software.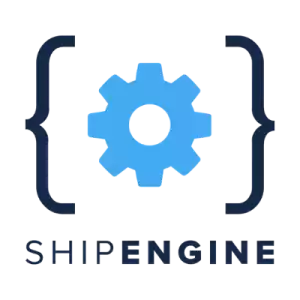 Simplify Your Shipping | ShipEngine
ShipEngine is the platform of choice for world-class shipping and logistics. Global commerce leaders trust the #1 shipping API to unlock significant time and cost savings.
Sign Up
We earn a commission if you click this link and make a purchase at no additional cost to you.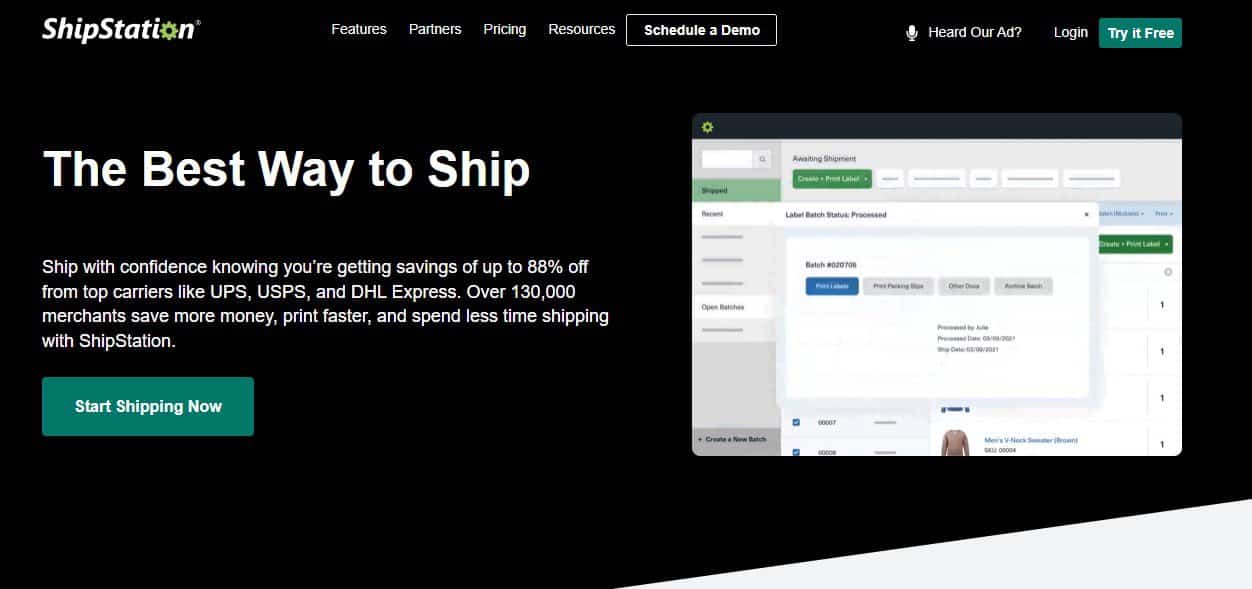 ShipStation is a cloud SaaS shipping software for eCommerce merchants.
It integrates well with eBay, although its main strength is its ability to integrate with a wide range of eCommerce platforms. If you're selling on several platforms, Shipstation is worth a look. The software will funnel all of your orders from various platforms on one easy-to-understand dashboard.
On this dashboard, you'll be able to select your carrier and choose the most cost-effective postage rates. All of the famous carriers are once again available here. You can easily track your orders and amend your branding on Shipstation.
Shipstation is nothing more than a SaaS, though. You'll still need other solutions to handle the storage of your goods.
Shipstation has six price tiers based on the number of goods you want to ship per month. There's also a 14-day free trial to see if it's suitable for your business at no financial risk.
Pros
Shipstation integrates easily with many eCommerce platforms, not just eBay;

The Shipstation dashboard is easy to understand. The learning curve isn't so steep;

You can track your package at every stage of the delivery process;

There are six simple pricing structures to choose between.
Cons
Shipstation doesn't handle returns;

There are no warehouses to handle your inventory.

ShipBob offers a robust and accomplished shipping service. As well as boasting a dashboard for tracking your orders and deliveries, it has dozens of warehouses for you to store your inventory. ShipBob has plenty of helpful e-commerce integrations. It handles your deliveries and your returns. You can amend your packaging and branding too. It's an all-in-one solution.
It has 13 warehouses in the United States, one in Canada, one in the UK, and one in Ireland. So, international shipping is available.
Pricing is a bit more complicated with ShipBob. There isn't too much pricing information on the website, as it offers quotes to customers based on their business needs. You'll have to contact ShipBob with a list of your requirements to receive a no-obligation quote.
It'll cost you more than the shipping solutions that only offer tracking software – and the learning curve is a bit steeper than these more fundamental solutions. ShipBob is arguably only for those more experienced with making sales from an eBay store.
Pros
ShipBob offers storage options, as well as software for tracking your orders;

ShipBob offers plenty of e-commerce integrations, as well as integrating well with eBay;

It has 13 warehouses in the U.S, allowing for super-fast domestic delivery;

It has three warehouses overseas, making international delivery faster and more affordable.
Cons
Pricing is complicated and unclear. You'll need to get a quote first;

The software has a steeper learning curve than other competitors.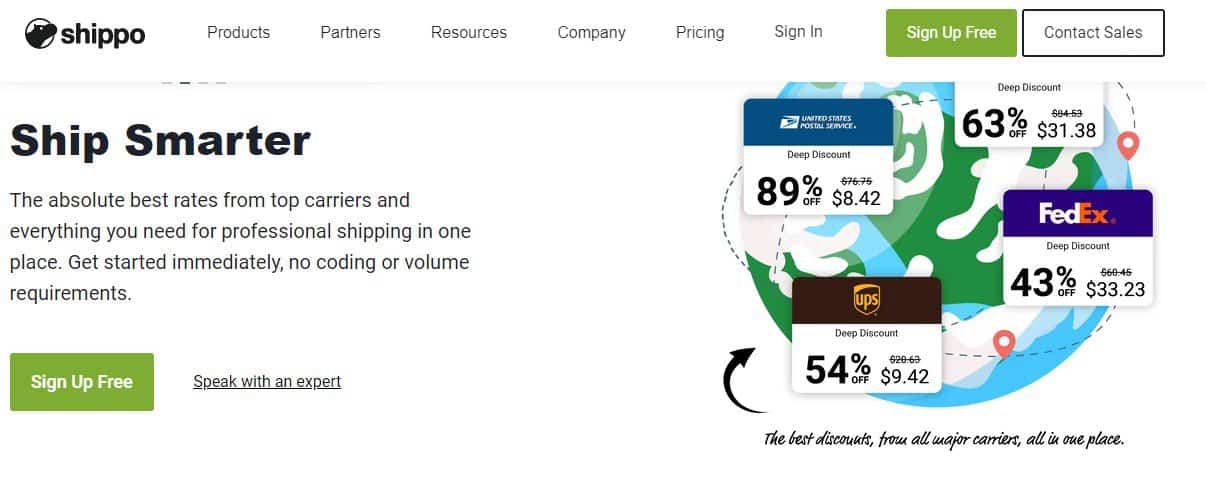 Shippo is another SaaS allowing eBay store owners to quickly and efficiently ship products to customers. Once again, it integrates with an impressive number of eCommerce stores while allowing you to amend your branding, choose your carrier and track your goods.
The element of Shippo that stands out is its pricing structure, particularly its pay-as-you-go Starter model, which would suit new online retailers perfectly. You'll pay just $0.05 per label with the Starter model and no monthly fee on top of that.
Shippo doesn't have storage and doesn't handle the return process, although it will allow you to print return labels. International shipping is available. It's rated particularly highly for customer service, which could be why it has attracted over 100,000 brands to use it as their shipping app of choice.
Pros
Shippo has a simple and affordable pricing structure, including a pay-as-you-go Starter model, which is perfect for beginners;

You can choose to pay monthly based on how many labels you need instead;

Shippo's software is easy enough to use, and its customer service is highly-rated.
Cons
Shippo doesn't have as many analytical features as its competitors;

Shippo doesn't offer storage for your inventory.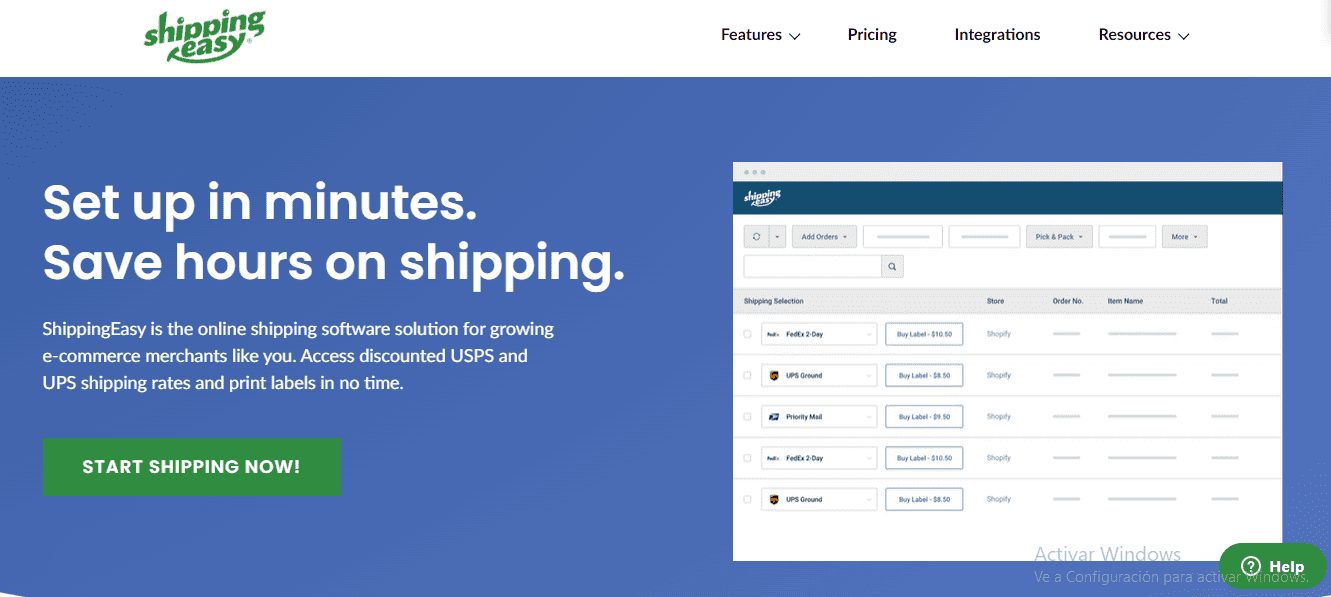 ShippingEasy is one of the more extensive shipping apps available for eBay store users. It's not particularly easy to learn, but once you get a stranglehold of this software, it should help to make shipping your eBay products almost effortless.
ShippingEasy has all the basic features of its competitors. You can track your sales and deliveries and amend your marketing. However, it also goes the extra step by offering email marketing and marketing campaign management tools. Moreover, it integrates with a broader range of products, including Amazon FBA and Alexa for shopping.
ShippingEasy has detailed analytical tools, plus award-winning customer service, available via telephone, email and live chat throughout the week.
Pros
All the features and integrations you could ever hope for;

Detailed analytical tools;

Award-winning customer service.
Cons
A steep learning curve;

It's more expensive than most of its direct competitors;

There are no warehouses to store your inventory.
FAQs
Question: Can I Do My Own Shipping On eBay?
Answer: Yes, but eventually, when you hit a high volume of sales, it's going to prove too much of a burn on your time. Shipping apps allow online store owners to outsource their shipping and save a lot of time by doing so.
Question: Can eBay Sellers Charge Whatever They Want For Shipping?
Answer: Yes. eBay is very flexible for sellers when it comes to setting shipping prices. Sellers can charge whatever they want, although they can't change the price once the item is sold.
Question: How Do I Offer Free Shipping On eBay Without Losing Money?
Answer: Some sellers will add the cost of shopping to the product's price to add an eye-catching "free shipping" deal without losing out on profits.
A free shipping deal can be used to stand out among business competitors and encourage customer loyalty.
It's possible to establish a minimum value per order to qualify for free shipping on eBay, and this can help sellers offer 'free shipping' deals even when they're selling cheaper products.
Question: What Is The Cheapest Way To Ship Items On eBay?
Answer: Using USPS delivery (in the United States) is generally recommended. However, when you're using a shipping app, you'll be able to quickly access a list of the most popular carriers and the price that each one is offering.
Question: Is It Hard To Ship For eBay?
Answer: It can certainly be time-consuming to do all your shipping manually, especially when you're selling multiple items per day. If you're planning on turning your eBay store into a legitimate side-hustle, it's worth investing in a shipping app now. This will free up the time for you to focus on growing your business (and enjoying your remaining profits).
Conclusion
I hope this guide helped you appreciate the factors that come into play when choosing the best shipping app for your eBay store. If you're still undecided on the best option for you, take comfort in the fact that all the software in this article offers free trials or cheap starter packages.
If you're a beginner who doesn't expect to sell too many items in their initial months, I recommend you try ShipEngine or Shippo. Those who are more advanced in their online retail journey will hopefully understand the benefits of choosing ShippingEasy, ShipBob, or Shipstation, having read this guide.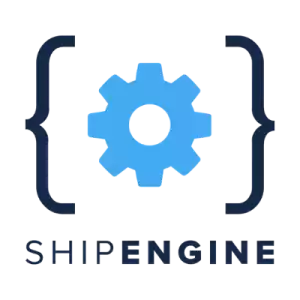 Simplify Your Shipping | ShipEngine
ShipEngine is the platform of choice for world-class shipping and logistics. Global commerce leaders trust the #1 shipping API to unlock significant time and cost savings.
Sign Up
We earn a commission if you click this link and make a purchase at no additional cost to you.