Última actualización en marzo 8, 2023 por DMEditor
"You think setting up an ecommerce business is hectic? Wait until you start handling the logistics."
Does that sound familiar?
Well, of course, we love making sales. But, a sale is technically incomplete until you eventually deliver the product to its rightful buyer in time. And that's arguably the most challenging stage for ecommerce entrepreneurs.
There are many possible complications that might develop along the way. But, sadly, customers are not patient enough to wait. 80% of them want same day shipping. As a matter of fact, 55% are even prepared to pay more for it. But, perhaps unsurprisingly, 47% of ecommerce sellers don't provide it at all.
Come to think of it, it now makes sense why 46% of online consumers abandon their carts due to shipping issues.
So, let's face it. Order fulfillment is not doing well at all. It's a pretty bad time to compromise your business with an unsuitable shipping solution.
That said, let's evaluate two of the most dominant solutions. Which one is the superior "Ship"?
Resumen de los resultados: These are both among the best solutions I've tested. That said, I recommend getting started with the slightly more affordable (and even gratis) plans on ShippingEasy here. If you are a well established mature ecommerce operation (or ship a lot internationally), I'd instead go with ShipStation here.
What Are the Main Differences Between ShipStation vs ShippingEasy
These are the main differences between ShipStation vs EnvíoFácil:
EnvíoFácil has a FREE basic version, whereas ShipStation starts at $9 per month
EnvíoFácil does not have mobile tracking, whereas ShipStation has a convenient iOS and Android app for mobile tracking
EnvíoFácil works with a wide range of domestic carriers and some international, whereas ShipStation offers slightly more package carrier E Commerce integrations including more international connections (UK, Canada, and Australia)
You've got to admit. It takes quite some confidence in a brand to name it "easy". That itself leaves almost no room for error. Either you live up to it by delivering accordingly, or critics make a meal out of your brand.
In all fairness, however, EnvíoFácil is also an admirable brand name when you come to think of it. As a consumer, you'll probably find it approachable before you even get to know what it's all about.
Now, speaking of which, EnvíoFácil is a Software-as-a-Service solution that seeks to streamline your business fulfillment operations. It achieves this by integrating with predominant ecommerce platforms, shopping carts, and marketplaces in a way that simplifies management plus tracking in real time.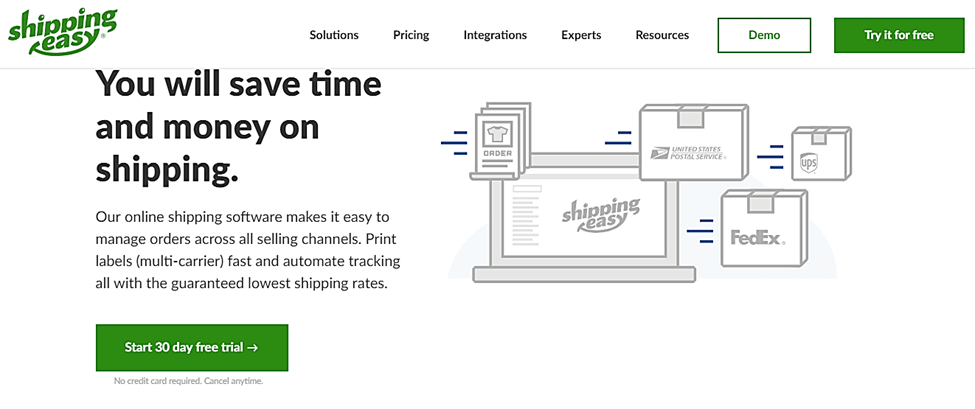 The company, which is primarily based in Austin, Texas, relies on the principle of automating the entire shipping system. Consequently, you get to enjoy not only substantial postage discounts but also real-time syncing of tracking data across all your sales channels.
That said, we'll be looking deeper into its features in a bit.
Well, here's a rather interesting fact. ShipStation is also headquartered in Austin, Texas. So, you can bet that some of its team members have had coffee with ShippingEasy's employees from time to time. And come to think of it, I guess it might explain why they share a common approach to the whole shipping thing.
Quite simply, ShipStation is also a Software-as-a-Service system built to optimize order fulfillment for ecommerce sellers. It capitalizes on its integrations with marketplace, shopping cart plus ecommerce apps to facilitate unobstructed and automated coordination of product shipments.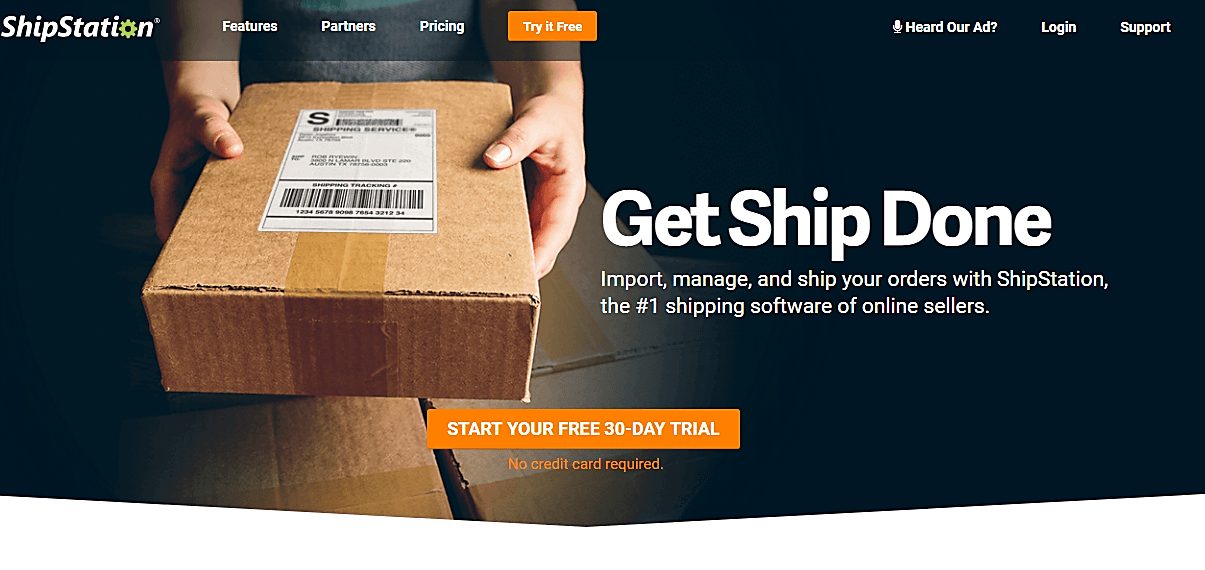 And yes. The whole process is well-synced in real time across multiple sales channels. In fact, the solution doesn't limit the number of sales channels you can add.
The most outstanding thing about ShipStation is probably the fact that it's currently one of the few shipping solutions with mobile capability. It provides you with a specialized mobile app that can track and manage your order fulfillment process on the go.
Overall Verdict
Let's be honest about this. Going by their overviews only, EnvíoFácil y ShipStation almost feel like one and the same. They are both web-based solutions developed to power the order fulfillment process for online retailers.
Through their integrations spanning across marketplaces, shopping carts, and ecommerce platforms, you can sync your entire order management across all sales channels. Consequently, they both streamline even the tracking process, allowing you to monitor overall progress in real time.
Then guess what? ShippingEasy and ShipStation generate almost the same amount of revenue. ShipStation is essentially making about 83% of what ShippingEasy is managing in a year.
Well, it probably has something to do with their identical approaches, plus working in the same Austin environment. But then again, maybe they don't share everything after all. They could be offering varying functionalities to their respective user-bases.
So, let's separate the facts from the fancy to find out what works best for you…
Features Compared
Requisitos del sistema
EnvíoFácil
ShippingEasy may be many things. But, it's certainly not one of those solutions that force you to install their app locally on your PC. Since it's web-based shipping software, the only two things you need is a web browser plus a solid internet connection.
That makes it compatible with all operating systems, as long as they come with valid browsers.
ShipStation
ShipStation is also a web-based solution. So, you don't need much here- just a standard PC running on any OS, plus a web browser, and a good internet connection.
Not bad, I admit. However, the problem with this approach is that although it's fairly convenient, you only get to use the email service at home or in your workplace. Well, unless you walk around with your laptop very often.
To address that, ShipStation introduced a mobile app version for both Android and iOS. As a result, you can now effortlessly track all your shipments and orders from a typical smartphone, iPhone or iPad.
Verdict on System Requirements
Both ShippingEasy and ShipStation have been developed to run on the web. With just a standard computer, you can use its web browser to access the two solutions over the internet.
Dicho esto, ShipStation wins this round thanks to its smartphone app. It makes it easy to follow up on fulfillments from anywhere without a PC.
Facilidad de uso
EnvíoFácil
Right from the word go, ShippingEasy makes a good attempt at living up to its name. As soon as you log into your account, you'll notice that its overall interface is amazingly simple and straightforward.
It goes without saying that it doesn't take a guru to learn the ropes in just a couple of minutes. You'll be able to find your way around quite easily, thanks to the well-structured navigation framework, plus clear shipping labels on everything.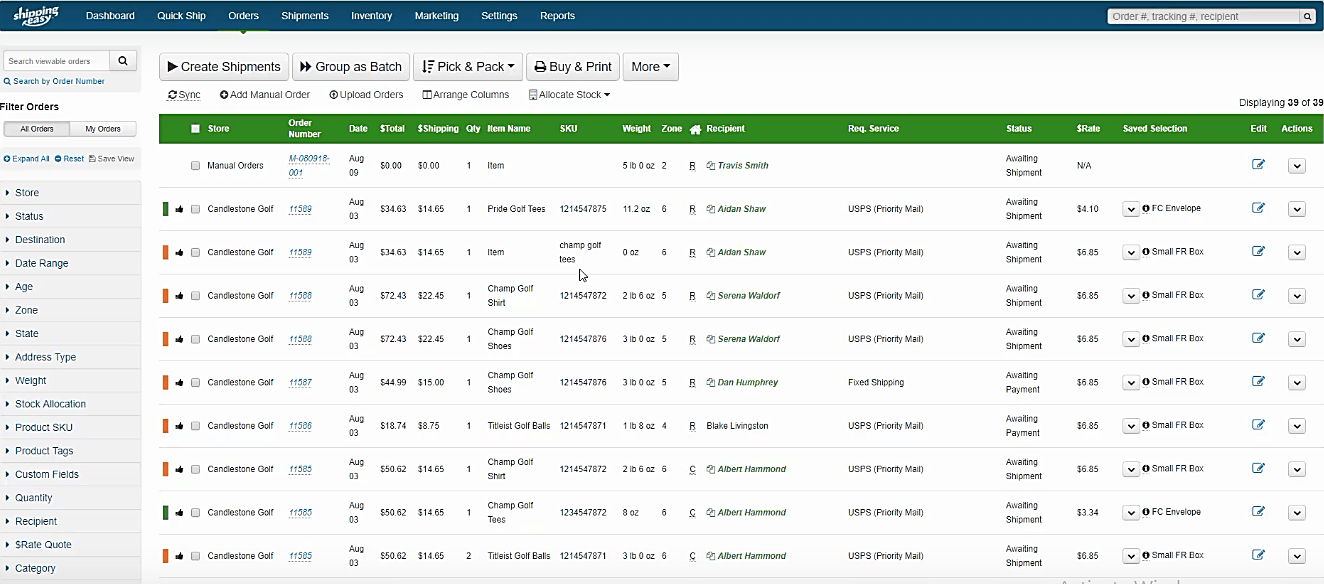 The workflow itself has been simplified accordingly to help you manage your entire fulfillment process with a few clicks.
Consider, for instance, the order importation procedure. I bet you'd probably be concerned about linking each order on your ecommerce platform account with ShippingEasy. But, here's the thing- ShippingEasy handles all that automatically.
I tried this out on my Shopify web account. I just went to the App Store, installed ShippingEasy, and voila! All my Shopify orders were immediately linked with my ShippingEasy account. It really is that straightforward.
Ok, fair enough. Then what?
Well, the subsequent order management process is also fairly simple. Just choose the orders you'd like to fulfill and click "Create Shipments". From the "Shipments" tab placed on top of the screen, you'll be able to define the corresponding parameters, including weight, packaging type, postage rate, carrier, and so forth.
When you're done with that, you can choose to buy and print the postage, or simply pay then deal with the printing at a convenient time. As a matter of fact, you can print a packing slip as well as a shipping label, or choose to produce both from the printing page.
Ultimately, you'll be done with the whole workflow of preparing to ship in just a couple of minutes. Producing physical printouts of all the labels should be good enough to set the shipping ball rolling.
And you know what? You don't have to handle this manually. The ShippingEasy platform provides a framework for configuring shipping rules to automate the fulfillment process. This should be particularly easy if you're dealing with many similar items.
Then to top it off, you also get a shipping costs calculator on your dashboard to quickly work out the cost of fulfilling various orders. This alone saves you time that would otherwise have been wasted comparing costs on carrier's platforms.
All in all, I found the entire ShippingEasy platform to be pleasantly intuitive. I never experienced any bugs or difficulties that would force me to refer to their support documentation.
ShipStation
ShipStation doesn't want you experiencing problems after signing up. It directs you to a video tutorial, which briefly walks you through the process of creating an account and subsequently linking it with third-party platforms. Just like ShippingEasy, this solution will automatically import your orders list from your shopping cart or ecommerce platform.
The interface itself is quite neat and well-organized. You should be able to get familiar with the major labels in less than five minutes.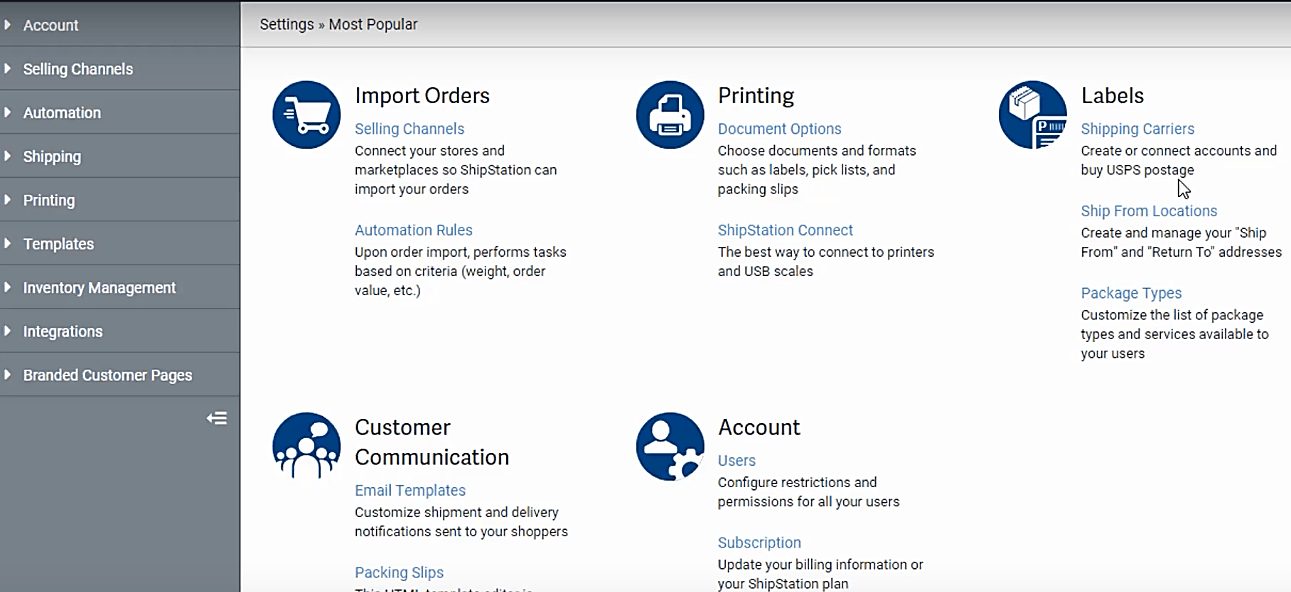 Well, if you don't find the arrangement appealing, here's something for you. Interestingly, ShipStation also comes with a feature it calls "Custom Views". It's basically intended to help users tweak the interface based on their preferences. You can take advantage of it to adjust your default landing page design, choose your menu items, adjust the overall interface size, and more.
Now that's an impressive feature for a Shipping solution. We've only seen such capabilities on graphical software and the likes. And using it is as simple as accessing the Ajustes section then going straight to the Display Options.
After restructuring your interface, you can head straight to the orders section to capitalize on ShipStation's dynamic fulfillment functionalities. It does not just import plain orders. They also come with their information, which is automatically fed into the calculator to help you establish the shipping rates based on package dimensions, shipping methods, and product weight.
But that's not all. ShipStation goes ahead to extend the automation feature capabilities to other order fulfillment functions- from processing all the way to printing labels. All you need to do is define a specific set of rules to be applied according to distinct product parameters.
Imagine, for instance, that a specific location is being served by one carrier service. You can set the system to automatically direct all affected orders to the service.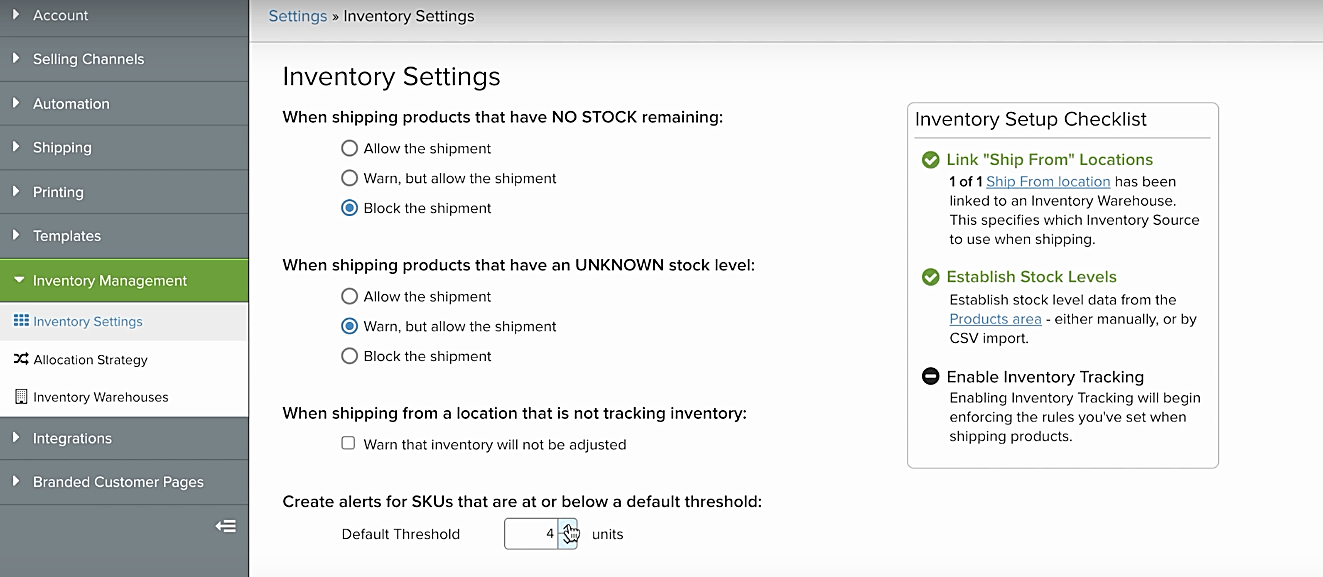 If creating automation feature rules is not your cup of tea, ShipStation is designed to offer smooth manual processing. I was able to get everything done and even print packing slips within five minutes. All the fulfillment functions are pretty basic and understandable.
But, make no mistake. Not everything is extremely simple here. There are a few advanced tools that might take you longer to get a hang of. But then again, learning about them is as simple as hovering your mouse over the blue help beacons you'll find placed throughout the interface.
Verdict on UI / UX
Evidently, ShippingEasy and ShipStation don't take chances when it comes to user-friendliness. Their interfaces, to begin with, are simple enough to be figured out in a matter of seconds. Then the order fulfillment workflow is well-streamlined to help you create orders, define their corresponding parameters, and print labels without any difficulties.
The most impressive feature here is the automation feature of both services. ShippingEasy and ShipStation will dig into your ecommerce platform to generate all the orders automatically as soon as you link them accordingly. They then go ahead to provide a system for defining automation rules based on various product parameters.
All things considered, the user-friendliness contest ends in a tie- although I'd be slightly inclined towards ShipStation because of its custom view feature.
Shipping Carrier Integrations
EnvíoFácil
Managing shipments is certainly ShippingEasy's primary objective. So, I was pleased to learn that it has partnered with a wide range of domestic and international carriers.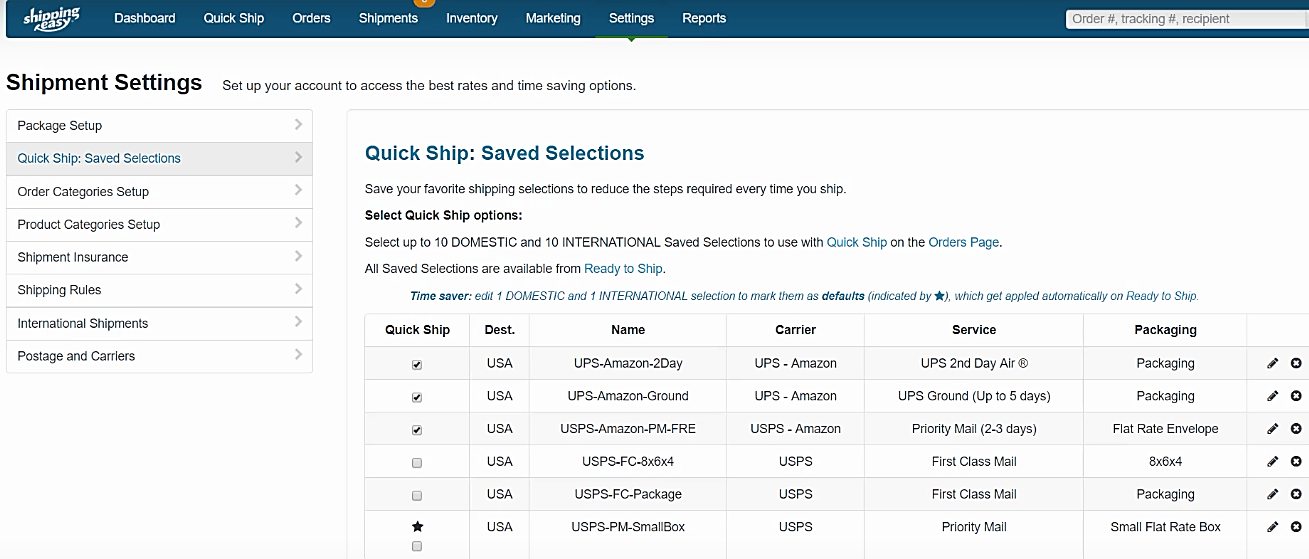 Before you even start shipping, you'll notice that your account comes with DHL Express, FedExy UPS domestic carriers by default. In addition to that, you get international consolidators like RR Donnelley, Globegisticsy APC Logística Postal to further facilitate your overseas shipments.
Unfortunately, you cannot use them right off the bat. You have to first connect the carriers with your account by clicking on the "Connect Existing Account" button positioned next to each service. The next step is configuring your carrier account, which entails entering your contact information and setting relevant shipping parameters.
Another service you'll find here by default is Endicia, which is available on each subscription plan. It's a third-party solution that essentially simplifies and enhances the shipping of parcels through USPS. It will help you save money, time, and resources if you decide to leverage its carrier partner.
Now, speaking of finance, it's worth noting that ShippingEasy will charge you the same rates you get directly from FedEx and UPS. It relies on the carrier API to generate quotes according to your parcel parameters. In case of any discrepancies, you can get in touch with carrier representatives to negotiate the rates.
Thankfully, those are not the only carriers that provide discounts. You can also secure lower rates on overseas shipments through international consolidators who work with ShippingEasy.
But, here's the kicker. You have to process at least 10 overseas shipments per day. For a small business, that might be a challenge when you're starting out.
On the flipside, however, you can cleverly take advantage of various mail classes to minimize the shipping rates. ShippingEasy provides access to a dynamic range of parcel options optimized for different types of products and varying buyer preferences.
If you're shipping an envelope weighing less than 15 ounces, for example, you can capitalize on USPS First Class Package Service to secure favorable domestic and international rates.
And if your customers need their purchases urgently, the USPS Priority Mail will deliver the shipment within 1 to 3 business days in the US, and 6-10 business days internationally.
Then get this. It's also possible to achieve same-day domestic delivery through the USPS Priority Mail Express, which additionally guarantees 3 to 5 days for international shipments.
Sadly, that will cost you more than regular shipping. No worries though- if you're looking for the cheapest USPS service, the Parcel Select Ground Service should suffice. The caveat here, however, is slow delivery speeds. In fact, it takes the longest compared to other services- an average of 2 to 8 days for domestic parcels.
And that, plus Media Mail for stationery shipments sums up the mail classes available on USPS through Endicia. Nonetheless, it's only a small fraction of what you get on EnvíoFácil. UPS, for instance, offers about a dozen more services, while FedEx almost doubles that.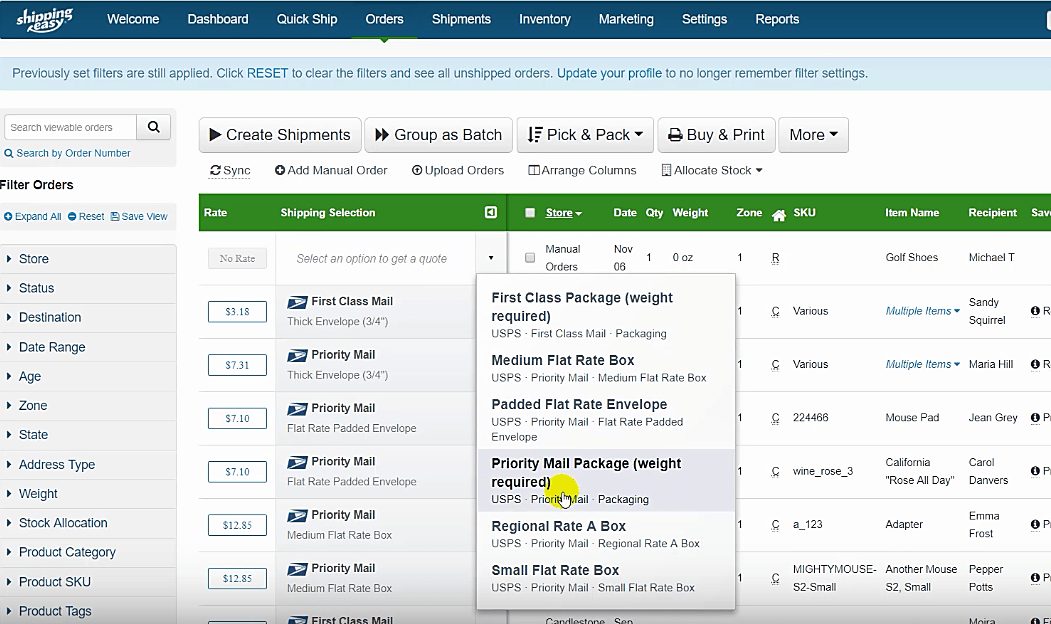 That said, here's a list of all the carriers you can add to your ShippingEasy account:
RR Donnelley Logistics
OnTrac
International Mail Service
International Bonded Couriers
Globegistics
DHL Global Mail
Asendia
APC Logística Postal
RR Donnelley
Globegistics
APC Logística Postal
USPS
UPS
FedEx
DHL Express
ShipStation
ShipStation also supports a diverse range of domestic and international carrier services to cater to possibly all types of logistical needs.
By default, you get a Sellos.com account, which is available on all subscription packages. It basically provides access to USPS for covering both domestic and international shipments.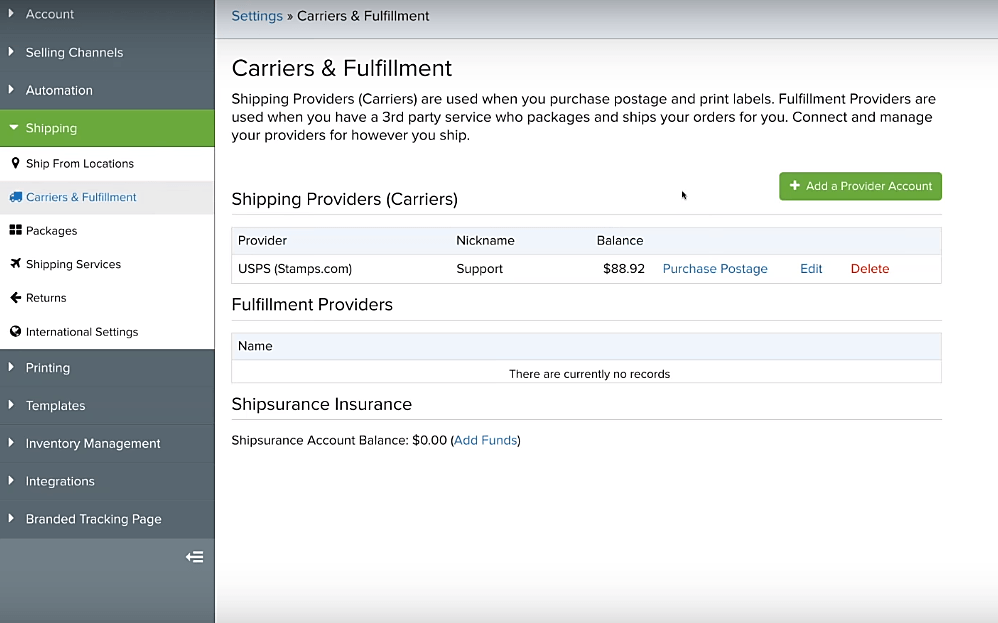 Then guess what? You also get all the USPS mail services we've seen on ShippingEasy, including the Parcel Select Ground option for large shipments up to 70 pounds.
The most dynamic set of services, however, is available on FedEx. There are about 12 different mail class options for all sorts of domestic and international parcels.
For domestic shipments sent to commercial addresses, for instance, you can choose to proceed with FedEx Ground. FedEx Home, on the other hand, delivers to residential addresses.
The best thing about FedEx's classes the wide array of delivery times. Unlike USPS, you can select even the time of the day you'd like to deliver your packages. The FedEx First Overnight service, for example, will have your domestic customers receiving their purchases the following business day in the morning.
FedEx Priority Overnight y FedEx Standard Overnight are almost similar to that, but with slight location variations. They might not fulfill the delivery in the morning, but they sure will get the job done within the next business day.
If you're comfortable extending the time to two business days, you can settle for FedEx 2Day, o FedEx 2Day A.M when you need to deliver before noon. FedEx Express Saver, on the other hand, is cheaper but takes three business days.
International parcels also go through almost similar processes as domestic shipments. The only variation is usually the type of label you print, plus additional documentation like certificates of origin, commercial invoices, and customs declarations.
Fortunately, ShipStation comes with features for creating and printing customs declarations, plus other legal forms. For packages with an international address, you can rely on ShipStation to automatically set up a customs declaration part within the order info.
When you get to the subsequent payment process, you can adjust ShipStation to buy postage automatically. This saves you the trouble of recharging your carrier service account over and over again.
Thankfully, you won't pay much. ShipStation's carrier partners offer attractive discounts based on your shipping frequency and various parcel variables.
That said, here's a list of all the carriers (multiple carriers):
Parcel Technology Solutions
LSO
Comercio electrónico de DHL
DCL Logistics
Rakuten Super Logística
Newsgistics
Access Worldwide
OnTrac
IMEX Global Solutions
FirstMile
Globegistics
APC
Ascendia USA
DHL Express UK
DHL Express Australia
DHL Express Canada
UPS Canada
UPS Australia
DHL Express
UPS UK
RR Donnelley
Fulfillment BY Amazon
Correo de Australia
Sendle
Sellos.com

Franqueo a la carta | Stamps.com

Imprima sus propias etiquetas de franqueo y envío en segundos. Regístrese y obtenga una oferta especial de franqueo por valor de $100 en Sellos.com¡! Código de uso STAMPS100

Comenzar

Ganamos una comisión si hace clic en este enlace y realiza una compra sin coste adicional para usted.

Purolator
Correo de Canadá
FedEx UK
FedEx Canada
DPD UK
Parcelforce Worldwide
Hermes UK
Royal Mail
UPS
FedEX
USPS
Verdict on Shipping Carriers
Ambos EnvíoFácil vs ShipStation are reliable in the shipping process. They have linked up with numerous reputable carrier services for domestic and international deliveries. In addition to that, you have the benefit of choosing from several mail classes based on your target delivery time and the accompanying rates. Then to top it off, the carriers offer discounted rates for both domestic and international packages.
This is one tough round, I have to admit. But, ShipStation emerges the winner by a narrow margin. It has partnered with more carrier services, some of whom provide domestic shipping services in the UK, Australia, and Canada. Not just the US.
Reporting Tools
EnvíoFácil
Although your ecommerce platform provides reports on order numbers, the end result is not adequately comprehensive. Such platforms mostly focus on customer insights.
Well, it turns out that you can count on ShippingEasy to come to the rescue. It goes beyond typical order info to provide real data on pretty much all aspects concerning order fulfillment.
For starters, you'll get inventory reports indicating your inventory status, committed products, available products, plus the affected stores. A quick scan should help you discover any low stock items.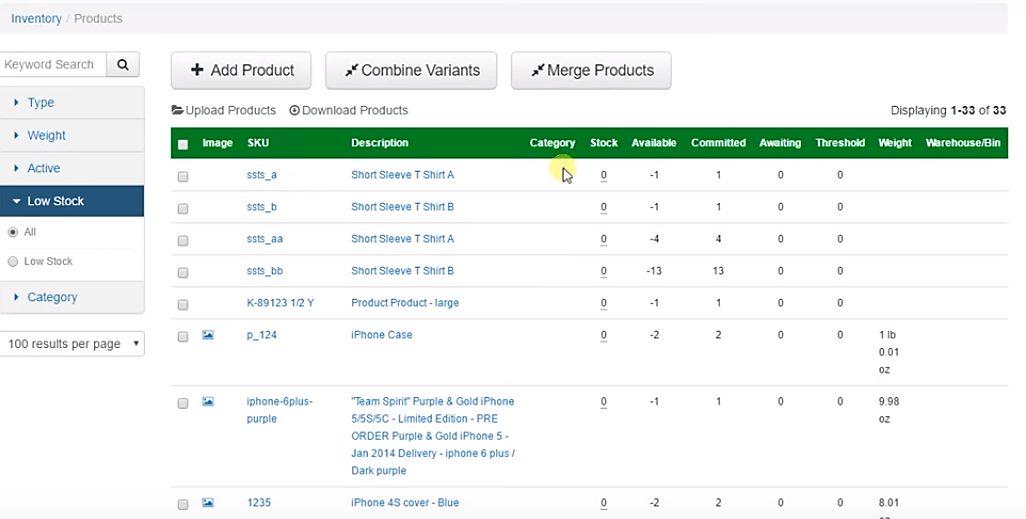 Closely tied to that are sales, velocity and forecasting reports, which use stock plus order data to derive their findings. In addition to the available stock, the reports will help you establish the number of days left to reorder a specific product, and consequently, the number of items you should acquire for restocking.
While that's quite critical, I'd say the most interesting metrics here are the projected sales numbers, which inform you about the sales volume you should possibly expect during a stock reorder period. This is calculated from past sales trends, which are also featured in the reports as units sold over a specific period. And accompanying that are sales frequency numbers.
ShippingEasy then goes deeper into the catalog to produce product reports. The consequent analytics outline your sales products along with their shipping status. You can track all the items that have been shipped or returned, plus products awaiting shipping.
And speaking of unshipped items, you can rely on ShippingEasy's order reports for more comprehensive analysis. It goes beyond just the overall numbers to generate info about domestic and international orders, including the dates involved.
All these details ultimately contribute to the ShippingEasy's conclusive shipping reports. They provide comprehensive information regarding all shipments, including creation and delivery dates, carrier services contracted, destination location, package dimensions, insurance details, cost of shipping, plus recipient address.
Then get this. In case these reports fail to meet your needs, ShippingEasy allows you to create your own custom reports.
ShipStation
ShipStation is also quite informative when it comes to reporting. Its insights extend from the inventory all the way to the final shipping process.
The inventory reports, to begin with, crunch the stock numbers quite extensively to establish not only the overall inventory status but also the corresponding stock progress. You can find out the precise items expected to run out of stock, and track the subsequent re-order threshold.
Then when it comes to sales, ShipStation avails product reports that feature details about returned products, product sales, plus the item demand summary.
This is closely accompanied by order reports, which indicate order details like item involved, the amount paid, quantity requested, date ordered, plus recipient's name and address. International sellers get supplementary data comparing various countries by their respective sales numbers.
The best reference for the consequent shipping info, however, is shipment reports. They come with the shipping manifest, shipped items, batch details, cost indicators, and shipment count by a user. You'll be able to ascertain the product parameters, amounts paid for shipping and insurance, carrier services involved, plus the final recipient address.

Now, that so far should match up to ShippingEasy's reporting features. But, here's the thing- ShipStation doesn't leave it at that. It goes ahead to provide additional accounting reports, plus hotkey and barcode scan actions reports. It also avails raw data for export and allows you to create your own custom reports.
Verdict on Reporting Tools
Both ShippingEasy and ShipStation generate detailed inventory reports, product reports, order reports, and shipping reports. They also support the creation of custom reports.
Dicho esto, ShipStation has proven to be more advanced, owing to its additional raw data exports, accounting reports, plus hotkey and barcode scan actions reports.
ShipStation vs ShippingEasy: Pricing Comparison
EnvíoFácil
Starting off here is completely free on all packages and doesn't require a credit card. Sadly, the fun only lasts for 30 days.
Here are the subsequent options:
Inicio- Gratis
Ship a maximum of 50 packages per month
500 email credits
$Pay an additional $3 for customer marketing
Básico- $29 al mes
Ship a maximum of 500 packages per month
Pay an additional $14 for inventory management
Pay an additional $9 for customer marketing
5,000 email credits
Más- $49 al mes
Ship a maximum of 1500 packages per month
Pay an additional $19 for inventory management
Pay an additional $14 for customer marketing
10,000 email credits
Seleccione- $69 al mes
Ship a maximum of 3000 packages per month
Pay an additional $29 for inventory management
Pay an additional $29 for customer marketing
25,000 email credits
Premium- $99 al mes
Ship a maximum of 6,000 packages per month
Pay an additional $49 for inventory management
Pay an additional $49 for customer marketing
50,000 email credits
Empresa- $149 al mes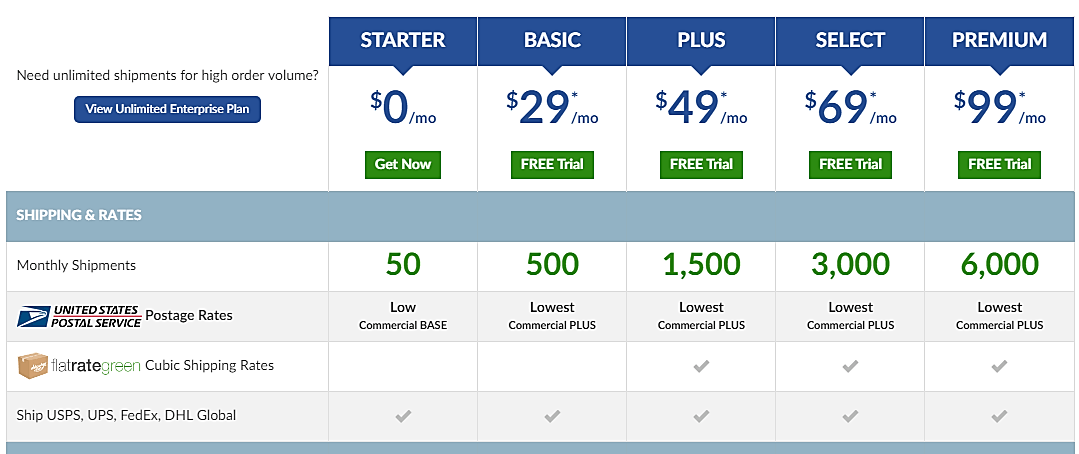 ShipStation
ShipStation also offers a 30-day free trial period. Once it lapses, you can proceed by subscribing to one of these 6 plans:
Inicio- $9 al mes
Maximum of 50 shipments per month
1 usuario
Bronce- $29 al mes
Maximum of 500 shipments per month
1 usuario
Plata- $49 al mes
Maximum of 1,500 shipments per month
2 usuarios
Oro- $69 al mes
Maximum of 3,000 shipments per month
3 usuarios
Platino- $99 al mes
Maximum of 6,000 shipments per month
5 usuarios
Empresa- $159 al mes
Unlimited shipments per month
10 usuarios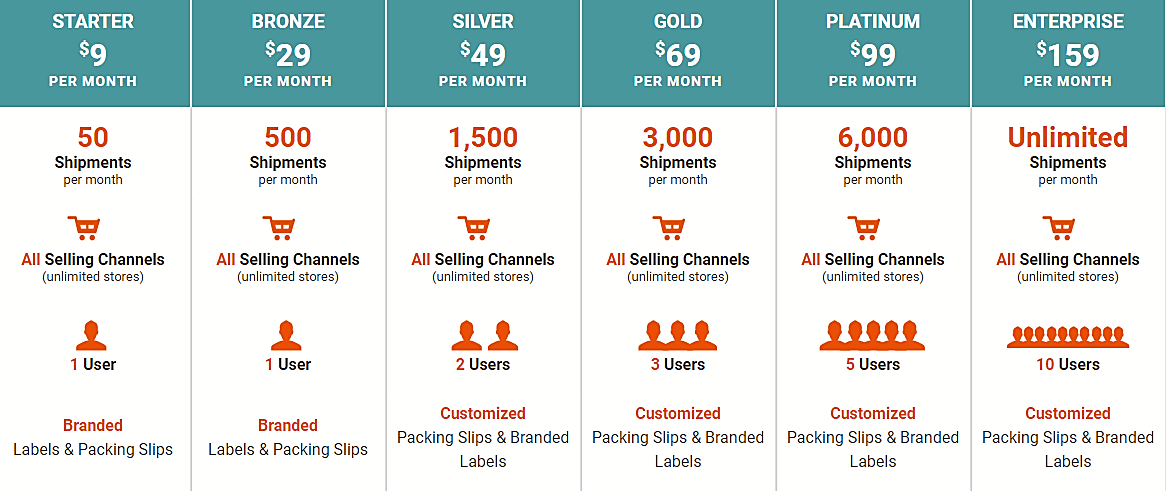 Overall Verdict on Price | ShipStation vs ShippingEasy
Prices
It's pretty obvious that ShippingEasy and ShipStation have almost similar pricing structures. The only difference being the Starter and Enterprise plans.
The pricing contest is potentially a strong tie. But, ShippingEasy has a very slight edge over ShipStation, owing to its gratis Inicio plan and the cheaper Empresa plan.
Summary | Which is Better: ShipStation vs ShippingEasy?
ShippingEasy is a SaaS service for streamlining your ecommerce fulfillment operations. It embeds with major ecommerce platforms, shopping carts, and marketplaces to simplify order tracking plus management in real-time.
ShipStation is also a SaaS solution developed to power order fulfillment for online retailers. It relies on its links with marketplace, shopping cart plus ecommerce systems to achieve streamlined coordination and automation triggers of product shipments.
Both ShippingEasy and ShipStation are built to operate on the web. You pretty much only need a web browser to use the two services over the internet.
Pero.., ShipStation gains points over ShippingEasy when it comes to overall convenience, owing to its Android and iOS smartphone apps. It facilitates fulfillment tracking on the go.
ShippingEasy and ShipStation are both user-friendly. In addition to simple interfaces, they come with a straightforward order fulfillment workflow that can create orders, define their corresponding parameters, and print labels without any problems.
ShippingEasy and ShipStation will connect to your ecommerce platform to import all your orders automatically after signing up. You can also set up various automation rules to systematically automate your fulfillment processes according to selected product criteria.
All in all, there's no clear winner when it comes to user-friendliness.
EnvíoFácil and ShipStation integrate with multiple domestic and international carrier services.
The carriers offer several mail classes to suit your preferred delivery time and the corresponding rates. And to make them more affordable, you get discounts for both domestic and international shipments.
En general, ShipStation is slightly ahead of ShippingEasy since it connects with more carrier services. Some of them even go beyond the US to offer domestic shipping services in the UK, Australia, and Canada.
Both ShippingEasy and ShipStation produce comprehensive inventory reports, product reports, order reports, and shipping reports. You can supplement that will your own custom reports.
ShipStation ultimately outdoes ShippingEasy with its extra raw data exports, accounting reports, plus hotkey and barcode scan actions reports.
EnvíoFácil y ShipStation have almost identical pricing structures.
Dicho esto, if you are just starting out, it's hard to beat the FREE plan with ShippingEasy, and the slightly more scalable pricing in general.
Resumen: These are both among the best solutions I've tested. Very comparable overall. That said, I recommend getting started with the slightly more affordable (and even gratis) plans on ShippingEasy here. If you are a well established mature ecommerce operation (or ship a lot internationally), I'd instead go with ShipStation here.
So, all things considered, which of the two do you think you'd settle for? And why?
Further Reading on Shipping App Solutions & Shipping Carrier Options: