Last Updated on November 17, 2023 by Ewen Finser
In e-commerce, having an online store is a great way to help you achieve high sales. Sites such as Amazon provide small and more significant businesses with a platform to sell their products in both wholesale and retail.
However, it can be a daunting task to try to navigate through the thousands of products listed in a category for research on how to achieve high sales.
Because of this, a tool is necessary to help you be better able to navigate through the Amazon product listings effectively and find the best results.
Sifting through listings in a category while collecting data can help sellers be more successful. Correctly identifying the tool needed for conducting the research can also ultimately determine the quality of your results.
Today, I'll take a closer look at two tools that can be used to help conduct more effective research on products on Amazon: SmartScout vs Jungle Scout.
My Bottom Line Up Front: After testing out both of these tools (and being a longtime Jungle Scout customer), here's my thinking. These are both GOOD tools, better than most I've tried. That said:
Selling via Amazon FBA? The better, more fully featured and FBA-centric Amazon tool suite is definitely Jungle Scout here. It's also the market leader, so it does have a lot of features for different use cases, it's just a matter of "is it worth the money" and can you get enough value to justify the cost. For Amazon FBA sellers, the value is clearly there.
Amazon Wholesaling or Reselling? I really like the wholesale database and competitor analysis for resellers embedded within SmartScout. If this is your primary use case, go with SmartScout here (get 25% off first 3 months with code TDM25 at checkout).
Main Differences Between SmartScout vs Jungle Scout
The main differences between SmartScout vs Jungle Scout are:
Jungle Scout requires users to pay and does not offer a free trial, whereas SmartScout does offer a free trial.
SmartScout has limited features, whereas Jungle Scout provides ample features for better results
Jungle Scout is developed for commercial use, whereas SmartScout targets small businesses.
My Recommended Buying Guidelines
As an Amazon seller, identifying the right tool to utilize for your product research is essential to ensure success. Having seen that there are a number of Amazon product research tools to use, I recommend following these guidelines.
Identify which type of research data is most important for you.

Each software as a service (SaaS) tool offers different features. For instance, some only give basic search data, while others fully analyze a product search.

Determine your budget.

If you have a small business without much capital, then a free SaaS tool can be more than sufficient. However, bigger businesses in a more competitive niche will need a paid SaaS product to attain more product search features.

Consider your product research skills.

Some software provides automated features that present a conclusive report on a niche. This means that you can find the best product with minimal research knowledge. However, you can go for cheaper software with fewer features if you can research using the traditional ways.

Perform a competitive analysis.

Is your niche

highly competitive

? Then you need to choose software that can generate data that will bring you up first in the search results. Taking note of their strengths and weaknesses will help increase your chances of success with the right tool.
These Amazon product research software often tend to seem to be working in the same way. Despite that, they still serve the same purpose of finding a product.
Nonetheless, the features offered in each software may be different. With that in mind, let's go ahead and look at SmartScout and Jungle Scout a bit more closely.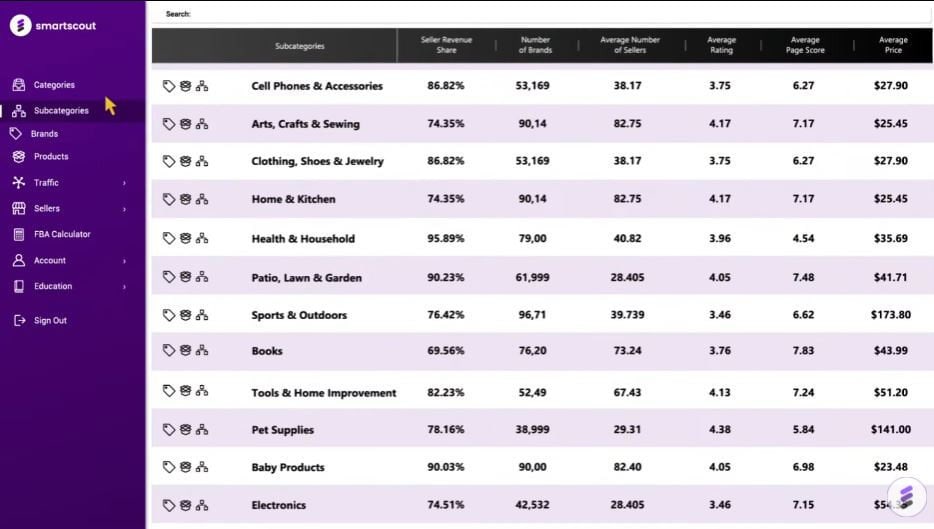 SmartScout was developed for Amazon sellers to utilize when trying to find a product to sell.
Users may use the tool to find products to buy wholesale or to help decide which product will be most profitable. Being able to choose the right product for resale is the first step to achieving financial success as a small business.
The Main Features of SmartScout
To understand SmartScout better, let's examine its features:
Sellers Map

: SmartScout gives its users an actual map to pinpoint the

locations of other sellers.

This feature is important, as it can help you determine if a location has a scarcity of a product on demand. Therefore, being aware of the sellers around your area will give you a competitive advantage.

Brand Scores:

With this feature, SmartScout can generate a list of the bestselling products and their brands. Users can sort the list to only show the brands that achieve the most sales. This is made possible by how companies are rated, using numbers to help users identify top brands in a category.

Traffic Flow Graph:

This feature helps users to determine where their

competitors' traffic

comes from. Also, it shows products that generate the most traffic. Identifying these products will ensure that more sales are attained from your other products.

UPC Scanner:

The UPC scanner helps to identify the most profitable products by breaking down their expenses and fees. This feature provides a list of products with their respective return on investment (

ROI

). Users can finally determine which products are best to invest in without much effort.

Sellers Search

: SmartScout enables its users to find other sellers on the platform and arrange them in a list. This feature could be beneficial to businesses that are offering services (such as marketing) to sellers.
The Pros of using SmartScout
Simple Interface

: The features of this software are surprisingly easy to navigate. It presents information in a simplified layout that is easy to read and comprehend.

Free Trial

: SmartScout offers its users

a free trial

, which most SaaS on Amazon does not offer. The free trial is important for businesses to help them determine whether SmartScout meets their needs before purchasing. This benefit helps businesses by helping them decide on SmartScout without spending any capital on it.

Search Subcategory

: The software gives users valuable data in each product category. Each subcategory offers information on the bestselling product, like its monthly revenue. It also gives information on the average number of sellers dealing with a specific product. The report drawn from this subcategory analysis indicates the number of products sold by sellers, too, allowing you to make a more informed decision about what products to invest in.

Competitor Strategy

: With the use of features that can observe other sellers in the market, it is easy to copy their sales and marketing strategies. This is most beneficial for new businesses that have just joined

Amazon FBA.
The Cons of using SmartScout
Limited features

: In comparison with other software, SmartScout offers the least number of features. In other words, using another software will likely yield a higher chance of success for you.

Time-consuming training:

The SmartScout interface has highlighted its features on different tabs, which can seem to be easy to use at first. However, for a new user, this could be a considerable disadvantage. The startup process is fast, though, and new users should take the time to understand how to effectively use the software.

Pricing:

For a beginner, the

pricing plans

offered by SmartScout can be quite high compared to the other similar Amazon product research tools.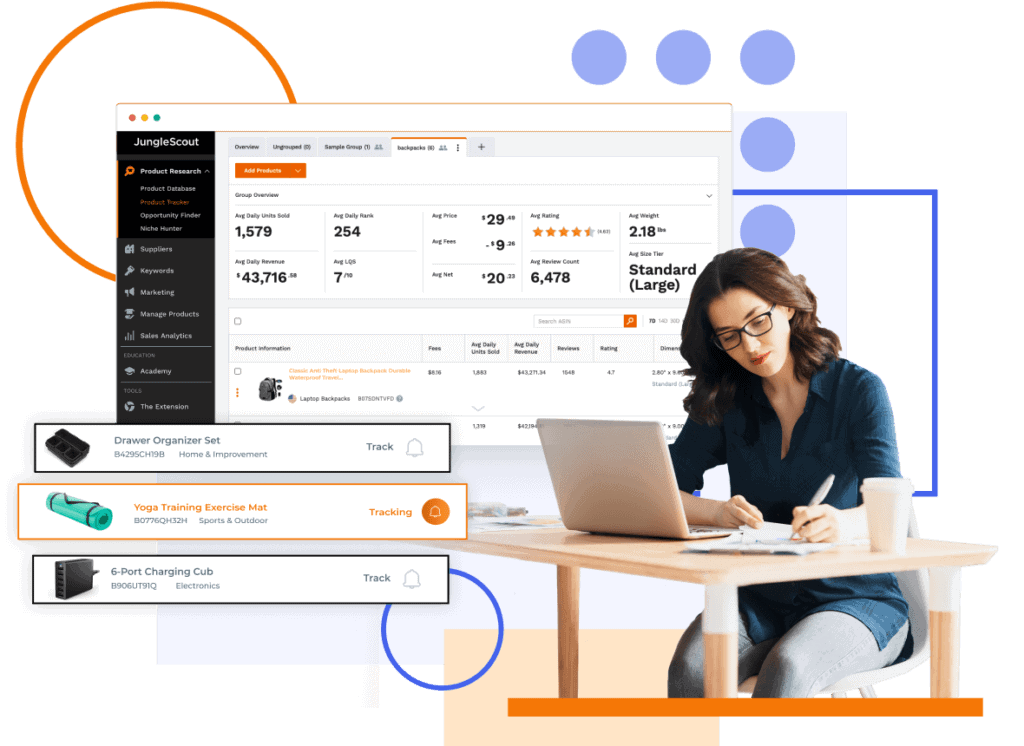 Jungle Scout is a robust system that offers plenty of features to its users.
It provides unique features for different business levels, allowing them to develop a new business, grow an existing one, and explore agency solutions on Amazon.
The research tool stands out from its competitors for its ability to accurately determine a winning product in a category.
The Main Features of Jungle Scout
Opportunity Finder:

This feature helps beginners find top products within different categories. The tool makes it possible by collecting data from various sources to determine which product category has more potential for success. A report is given that includes competition scores to help users identify categories with the least competition and the most potential for growth.

Keyword Scout

: This feature allows users identify

effective keywords

for their existing products. Jungle Scout scans through various search engines and identifies unique words that are used to look for products. This feature ensures that your product is displayed at the top of the list in a search result.

Sales Analytics:

Jungle Scout helps its users draft a financial report on their business. Users can track their Amazon current sales and historical sales to generate business and product analysis data. This data shows which product is doing well, plus those that are struggling to bring in profit.

Review Request:

Business owners can automate the review process with this feature. This means that users will not have to request reviews manually after selling products. Review automation ensures that sellers have enough reviews to attain more sales, boosting their rankings.

Product Database:

The product database includes millions of products that are currently present on Amazon. This feature uses the database to identify products that have a high demand and a good Return on Investment (ROI).
The Pros of Using Jungle Scout
Good Accuracy

: Jungle Scout utilizes statistical data from Amazon and outside sources to ensure that their research results are relevant and up-to-date.

Ease of Use

: Despite having a wide range of features, the user interface is well laid out. A new user will find it surprisingly easy to navigate through the software.

Simple Product Research

: Jungle Scout provides its users with competitive intelligence and estimations about the

projected profit margins

on products. A new user has a better chance of finding a winning product with Jungle Scout than other research tools.

Customer Support

: The support team responds to all questions and inquiries in a timely manner.
The Cons of Using Jungle Scout
No Mobile App:

Jungle Scout only offers a Chrome extension for its users. Furthermore, it's limited to PC use only.

Somewhat Unstable:

The software may sometimes freeze or become unresponsive when being used. When it does this, the platform can appear to be sluggish for several frustrating minutes.

No Free Trial:

New users are forced to have a payment plan. Because of this, you may end up paying for features that you don't need.
Other Alternatives to SmartScout and Jungle Scout
To make a better decision on which Amazon product research tool is best for your needs, you should take the time to educate yourself about other software options.
Some of this software can be equally as good and even serve the same purpose. Here are some of these options!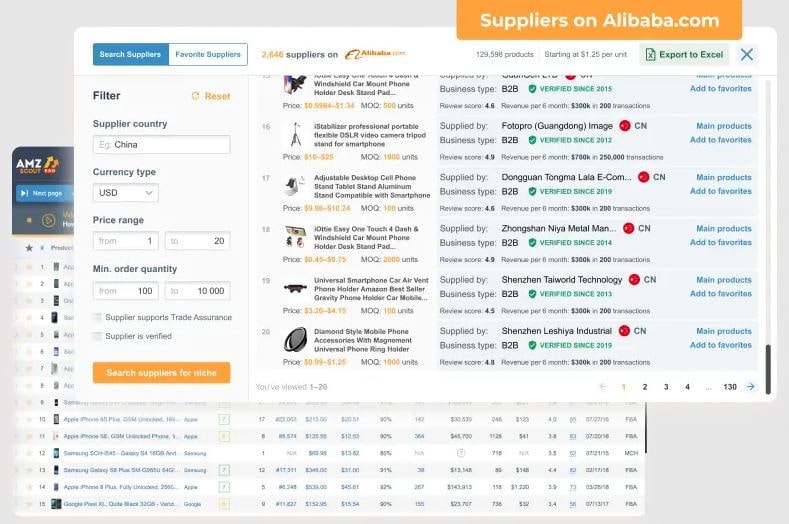 AMZscout can conduct product research and predict the most profitable product.
The tool offers sufficient information for users to manually confirm the accuracy of its predictions. Plus, it also works well with both big and small businesses in Amazon.
Further Read: AMZscout vs Jungle Scout.
Pros
Software is easy to use

Provides a free trial

Pricing is affordable
Cons
Reports and estimations are not accurate

Keyword explorer feature is slow and takes time to give results

Only offers limited features
Helium 10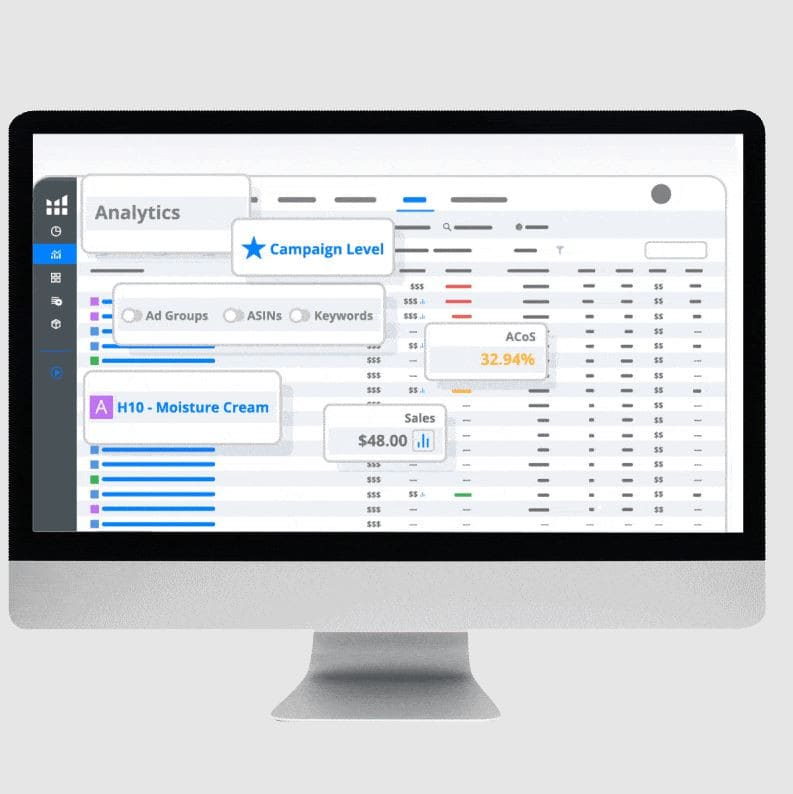 Helium 10 offers a wide range of features for users to utilize. Because it allows you to search for products with ease, it can save you both time and money. In my opinion, it stands out as the most competitive software to Jungle Scout.
Further Read: Helium 10 vs Jungle Scout and Helium 10 vs SmartScout.
Pros
Provides a mobile application

Analysis of data and niche finder is accurate

Software supports portals, so users can attach their websites to product listings

Provides training materials for new users.
Cons
Chrome extension can present wrong information

Unresponsive, poor support team

User interface is not friendly and is cumbersome to use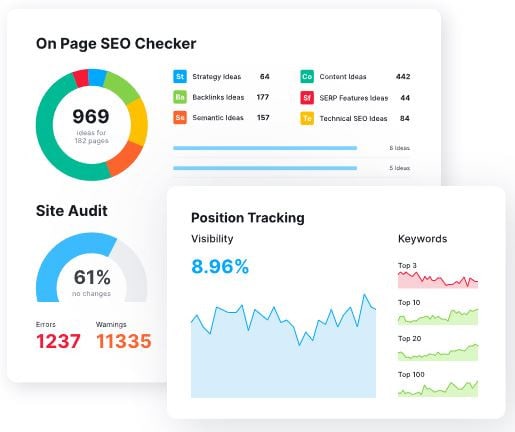 This software is best for providing keywords. SEMrush generates the most effective keywords for products to appear first in Amazon search results and recommendations.
Pros
Provides a free trial

Software gives users marketing insight

Has responsive customer support
Cons
Uses only Google to collect its data on most-used keywords

Users can only access the free trial after adding their credit card

Difficult to use on a mobile device
There are some other tools our editorial team has tested vs the market leader Jungle Scout and are worth considering AS WELL, for specific use cases.
How Use an Amazon Product Research Tool Effectively
Most of these Amazon tools can be complex and offer a wide range of unfamiliar features. To help you get the most out of a research tool, here are some guidelines you can take:
Before using the software, be sure to complete the necessary training on how to navigate through the site. That way, you can better know how to use the different features it offers.

Identify which area you need the most help in, then compare tools on which one will benefit you most.

Ensure to check the features offered for particular payment plans. In turn, you'll only wind up paying for what you need.
FAQs
SmartScout vs Jungle Scout: My Final Thoughts
The premium plans for both Jungle Scout and SmartScout have a lot of the same offered features.
Both of these platforms are strong suites and better than many of the leading competitors I've tried.
My Bottom Line Summary:
Selling via Amazon FBA? The better, more fully featured and FBA-centric Amazon tool suite is definitely Jungle Scout here. It's also the market leader, so it does have a lot of features for different use cases, it's just a matter of "is it worth the money" and can you get enough value to justify the cost. For Amazon FBA sellers, the value is clearly there.
Amazon Wholesaling or Reselling? I really like the wholesale database and competitor analysis for resellers embedded within SmartScout. If this is your primary use case, go with SmartScout here.