Last Updated on November 9, 2023 by Ewen Finser
In our Helium 10 vs Jungle Scout review, we'll be looking at the two platforms in detail, to help you decide which one you'd prefer.
We know that understanding and selling to customers on your Amazon account is essential – whether you want to sell directly on their account or through your blog. With so many PEO providers out there, it can be challenging to know the right one to choose.
Helium 10 vs Jungle Scout – Main Differences
The main differences between Helium 10 vs Jungle Scout are:
Helium 10 offers a wider variety of features, whereas Jungle Scout seems basic in comparison.
Helium 10 has a free trial with all features, whereas Jungle Scout has no free option and asks you to pay for its Chrome extension.
Helium 10 takes months to understand, whereas Jungle Scout is easier to comprehend.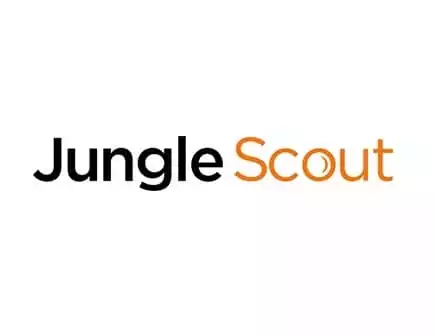 Why Go with Jungle Scout?
Jungle Scout is a great option for both beginners and advanced Amazon sellers. It's user-friendly and has great resources like the Jungle Scout Academy, where you can learn how to get the most out of the software and grow your business.
Try Junglescout first
We earn a commission if you click this link and make a purchase at no additional cost to you.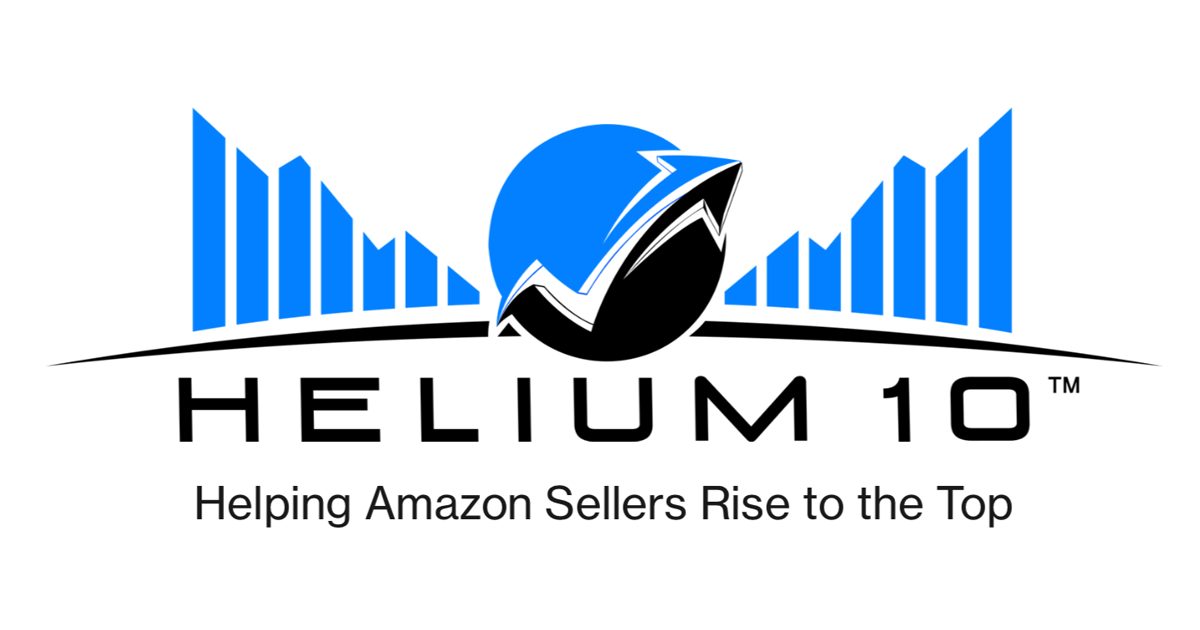 Founded in 2016, Helium 10 is an all-in-one suite of software tools for Amazon sellers. Helium 10 was named after the programs 10 separate tools that help to sell products (they have since added 10 more).
Helium 10 – the Main Features
Organizes keywords into a master keyword spreadsheet
Analyses competitors most profitable keywords
Helps to build intelligent launch strategies
Black Box extension finds brilliant product ideas
Listing optimization for all indexed listings
Calculates which keywords provide maximum revenue
Backend keywords including misspellings for more clicks
Cerebro
Heliums first extension, Cerebro, reverse searches your competitors and finds the keywords they used to generate sales. Cerebro will then estimate the keywords opportunity, search volume, best ad placements, competing products, and the average position rank for a keyword. These keywords and their averages are run over 8 days, so the information is always current.
Magnet
Related to the keyword searching process, Magnet also finds long-tail keywords. It provides a master worksheet of all the recommended keywords (could be hundreds or thousands) and picks the ones most relevant to your product. This master keyword list will help you rank better on Google Adsense and Google Trends.
Misspellinator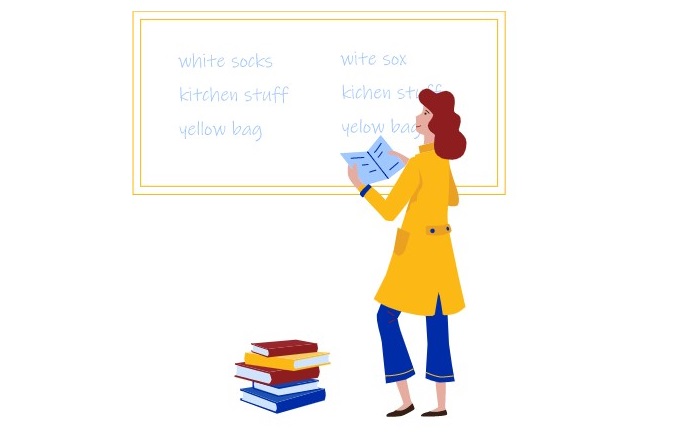 After you have a master keywords list, plug them into the Misspellinator, and it will generate the most common misspellings of your keywords. Amazon holds a database of words that they do and don't autocorrect, and many users don't correct their spelling before they hit send. This way, your customers will find your product even with an incorrect word.
Frankenstein
After you add your misspellings to the list, Frankenstein will remove repeat keywords, so you have more room for new ones. Amazon allows a 250 character space for keywords. Sellers who want to use the maximum amount of space provided will eliminate all unnecessary clutter and add the most relevant keywords – this is where Scribbles comes in.
Scribbles
Scribbles ensure you don't leave important keywords out of your product listing by implementing a color scheme. Red has the highest search volume, while black has the least. Scribbles is especially helpful for blog content because you can use them to link to your product listing via a link and well-placed keywords.
Black Box
Many Amazon sellers try to keep to a brand, or a set of products to drive more people into their buyers' profile. Black Box is a tool that helps find products in high demand with low competition, similar to yours. Use filters to determine the category, monthly revenue, price, review count, review rating, and keywords to find more products for your store.
Keyword Tracker
The Keyword Tracker tool looks after keyword positions relative to search engines. For example, If you search a product like "Self-Help Books," you'll find the best sellers list first, and their featured authors. However, if you narrow it down to "Self-Help Books about Food Addiction," you get a completely different set of books, even though "Self-Help Book" is attached to the keyword. The Keyword Tracker narrows down the 3 – 5 keywords that are likely to showcase the product.
Refund Genie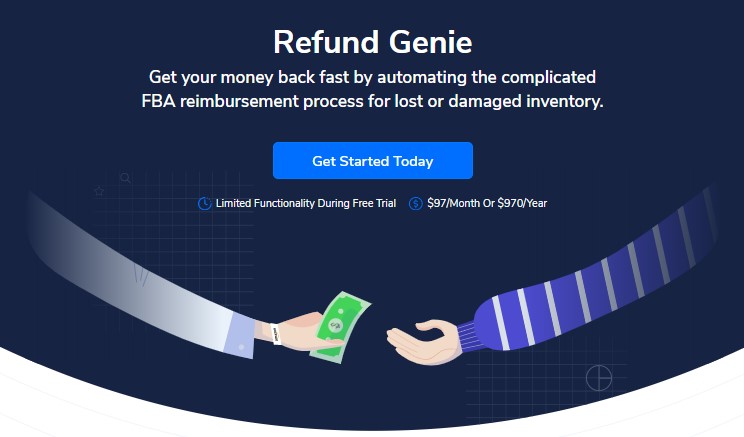 Amazons' Sellers Central is purposely cryptic, but anyone contract savvy can tell you that money is hidden in obvious places through your products. Sometimes, Amazon will lose or damage your stock, but it isn't clear how to receive compensation for this issue. Refund Genie offers a step-by-step process on how to email Amazon to collect money for the damaged products.
Inventor Protector
Bad sale calls happen all the time, but it's possible to avoid them with the right protection. For example, some Amazon sellers will create coupons or BOGO sales on products, but if the sale isn't calculated correctly, you could lose a ridiculous amount of money. Investor Protector protects your inventory against these risks and estimates how much multiple purchases will cost your company.
Hijacker Alert
"Hijackers" are listers that steal your Amazon product and post it as their own. If you have multiple products, it's challenging to keep track of all the listings that hijackers attempt to steal. Hijacker Alert finds hijackers, where you can then send them a cease and desist letter and contact Amazon support to get the listing taken off.
Trendster
One of Helium 10s most profitable and useful tools in Trendster because it shows you the sales trends related to a product your selling or wants to sell. Knowing the pattern for a product can help you determine if it will be profitable, and for how long. Trendster also gives information about the products rank on Amazon.
Profits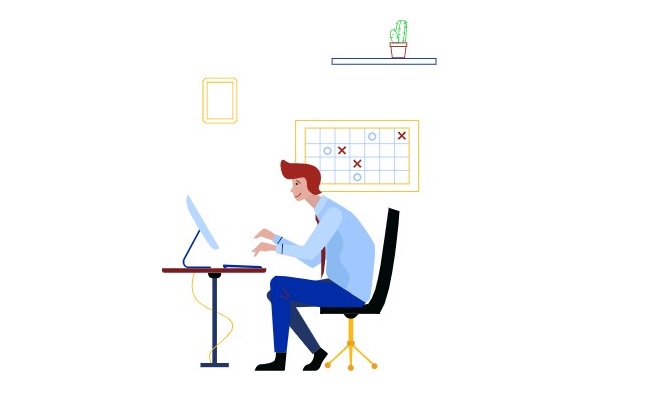 Everyone wants to know the potential profit of an item, and Profits shows you just that. Profits use positive and negative data to give you an overview of your finances across all of your products. You'll see the revenue from sales, net profits, and easily see how much money to spend on each item for advertisements to make it more profitable in the future.
Follow-Up
Sellers sometimes forget how valuable their customers are to their business. However, staying in touch with your customers can keep them happy and potentially lead to more sales. Follow-Up notifies you when a customer performs a specific action, like an order. Follow-Up will send a confirmation email after purchase or send a reminder if an item stays in their cart.
Portals
One of Helium 10's new tools, Portals, sends your customers that extra little nudge needed to purchase your product. Portals drive external traffic to your product pages using landing pages designed to convert. Not only does it help your customers find you from the Amazon website, but it also turns them into social media followers.
Market Tracker
Understanding your competition can help your business flourish because it enables you to understand the current market. Keeping tabs on your competitors can also help you find your target audience, and guide you through the products they are likely to buy. Market Tracker has a secondary feature of tracking keywords. Remember: keywords are important!
Index Checker
Want to know if the product you're launching is indexed with your target keywords? That's what Index Checker is for. This easy-to-use add-on searches whether or not keywords are in the backend and are indexed with your product. If you want to check in on your competitors, you can check whether their keywords are ranked or not in the backend.
Price
Helium 10 has an easy-to-understand pricing system. Customers have stated that the higher tiers eventually pay for themselves due to the high amount of sales they make. The most common plan is the Platinum Plan for new sellers:
Free Plan: $0/mo for 30 day
Limited access to Helium 10 suite
Access to Frankenstein, Scribbles, and Profits
50,000-lifetime emails for Follow-up
Single-user access
Platinum Plan: $97/mo
Index Checker: 150 uses/mo
Keyword Tracker: 2,500 keywords/mo
Alerts: 300 ASIN/mo
Follow-up: 5,000 emails/mo
Freedom Ticket Amazon Training ($997 value)
Diamond Plan: $197/mo
Multi-user login
Index Checker: 300 uses/mo
Keyword Tracker: 5,00 keywords/mo
Alerts: 600 ASIN/mo
Follow-up: 15,000 emails/mo
Elite Plan: $397/mo
Highest-tier
Quarterly in-person Workshops
Live Monthly training
Access to Facebook Group
Chrome Extension
Any Helium 10 plan comes with the Chrome extension and is made up of its Product Research Tool, Inventory Level, Review Downloader, and ASIN Grabber. The Chrome Extension lets you do Product Research with the push of a button and generates the competitor's listing every month. Using all of the above information, you can tweak your strategy to improve your results. By no means do you need to use the Chrome Extension, as it's similar to the desktop version. However, it's a decent add-on that compliments the product.
Helium 10 vs Jungle Scout : Helium Pros and Cons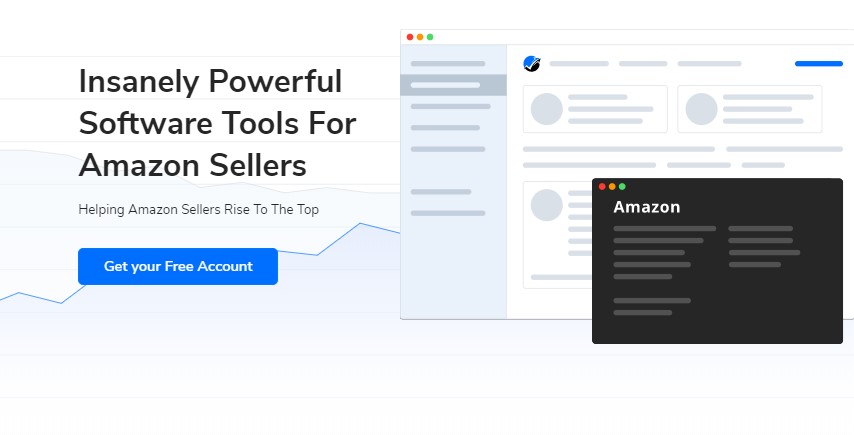 Here's what we like and dislike about the platform.
Pros
Included Chrome extension
The free plan offers many of their 13 tools
Gives you everything you need to sell on Amazon in one place
Incredibly accurate when comparing sales of previous months
Offers a Refund Tool and Listing Optimizer
Cons
Expensive
Difficult interface
Lack of feedback management tool
Helium 10 vs Jungle Scout: What is Jungle Scout?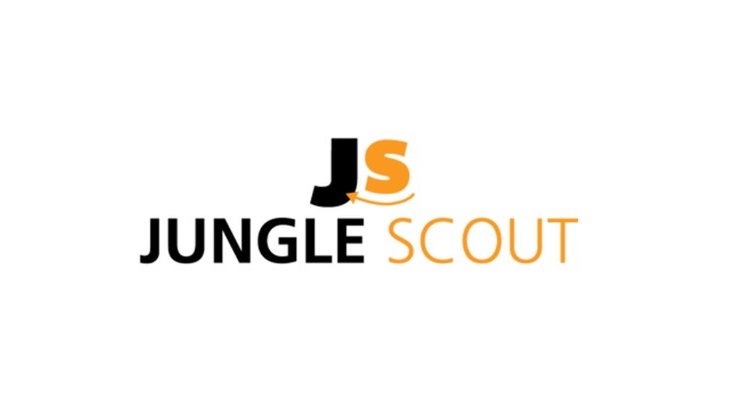 Founded in 2014 by Greg Mercer, this Amazon research tool helps you to estimate sales, spy on competitors, research keywords and enables you to find the best products on one dashboard.
Jungle Scout – the Main Features
Helps determine a winning product
Niche Hunter looks at product categories to determine profitability
Track sales history of an Amazon product
A comprehensive Product Database
Analyzes popular keywords for SEO
Scores keywords by a ranking from 1-100 based on difficulty
Keyword relevancy score for superior ranking
Niche Hunter
Jungle Scouts' Niche Hunter lets you identify profitable niche ideas, products, and keywords based on multiple parameters. Niche Hunter looks at a product category, and its competition on a score of 1 to 10, with 1 being the least competitive. Then, Amazon SEO provides a listing rank, which is how likely your product will appear in searches. Finally, the product's average price and an opportunity score based on all the mentioned factors will estimate your chance of selling.
You can set these parameters, and Niche Hunter uses an algorithm to list the best niches and keywords for your product. This helps you understand your niche before you start spending money and time marketing.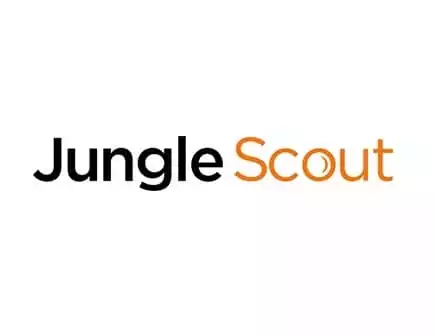 Why Go with Jungle Scout?
Jungle Scout is a great option for both beginners and advanced Amazon sellers. It's user-friendly and has great resources like the Jungle Scout Academy, where you can learn how to get the most out of the software and grow your business.
Try Junglescout first
We earn a commission if you click this link and make a purchase at no additional cost to you.
Product Tracker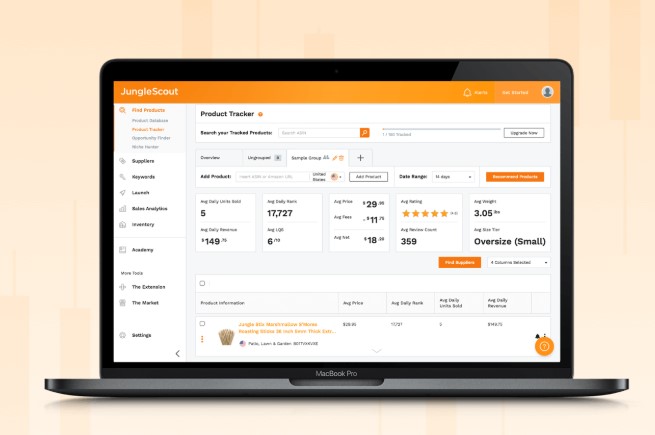 Product Tracker lets you see a product's sales history, including its rating, average price, weight, fees, and sales trends. Having a real-time snapshot of a product's sales history is helpful because you can judge the potential of the next big fad. Using this feature is a safer, more data-driven approach to research instead of rolling the dice.
Product Database
Jungle Scout gives you access to a Product Database of over 70 million products in the Amazon catalog. For those looking for a quick overview, use filters for the most common criteria (low-competition/high-demand), so you don't become overwhelmed. There's a ton of useful information on this database, including a profit calculator, product ranking, and it's popularity on an international marketplace.
Keyword Scout
Keyword research is vital to your success as a marketer and seller. Making sure other people can see your product when searching for it can separate you from different merchants. With Keyword Scout, the research is done for you. Knowing which keywords to use can help you run better ads and write relevant blog articles. Without this research, you're essentially flushing a bunch of money down the toilet.
Keyword Scout lets you know which niche keywords Amazon users search for, their demand, and their relevancy. With these keywords in place, you can determine your budget for PPC campaigns and rank faster. Jungle Scouts' version of Keyword Scout shows both the demand within the community and the sellers in the company.
Ranking and Keyword Difficulty
After you implement the keyword on Keyword Scout, the program will present a score from 1-100 that represents how difficult the term is to rank. For example, a keyword like "Black Adidas Shoes with Gold Accents" will rank lower than "Adidas shoes."
Relevancy Score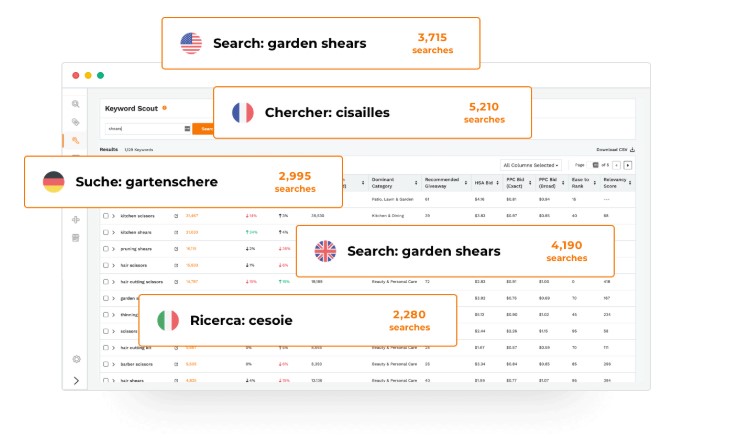 The relevancy score is only necessary if you're not familiar with your niche, but it can help your product rank better on search engines. For example, if you're selling Adidas shoe, a keyword such as "Nikes Sweatpants" won't be relevant enough.
Pricing
Jungle Scouts pricing has multiple options, including a web app, combo packages, and extensions. Jungle Scout monthly starts at $49/mo and 39/mo a year, while the extension will cost $39/mo and $19/mo a year. If you buy both the Jungle Scout minimum and the package, you save at $69/mo or $49/mo for a year. It sounds simple, but there's a catch.
Jungle Scouts' pricing methods vary depending on how much you sell, but the payment for the extension doesn't change:
$501 – $2,000 Monthly Sales: $89/mo or $59/mo a year
$2,001 – $5,000 Monthly Sales: $119/mo or $79/mo a year
$5,0001 – $10,000 Monthly Sales: $219/mo or $139/mo a year
$10,001 + $Monthly Sales: $419/mo or $259/mo a year
Helium 10 vs Jungle Scout: Jungle Scout Pros and Cons
Pros
Cheaper overall
In-depth keyword search software
Tracks sales on all Amazon products
Helpful Product Database to compare sellers
Easy to understand interface
Cons
Need to pay extra for the Chrome extension
Confusing payment system
Fewer features than Helium 10
FAQs About Helium 10 vs Jungle Scout
Is Jungle Scout free?
While Jungle Scout doesn't offer a free trial, they do offer a 14-day money-back guarantee. If you decide that the product isn't the right fit for you and your business within 14 days, they will guarantee a refund – no questions asked.
Is Jungle Scout owned by Amazon?
No. Jungle Scout was founded in 2015 by Greg Mercher as a solution to selling great products on Amazon. Today, Jungle Scout provides a suite of Amazon seller tools for everything from finding a product to sourcing a supplier to launching and optimizing a product listing. They also have some of the highest customer ratings of any B2B product.
What is Helium 10 used for?
Helium 10 is an insanely powerful SEO, product research, and business management tool used for Amazon sellers. It lets you optimize listings, validate product ideas, and find the best keywords possible. With all of these features combined, you can manage every facet of your business from one place.
Who owns Helium 10?
Helium 10 founder Manny Coats and co-founder Guillermo Puyol had a dream that seemed impossible at first – to help new Amazon sellers rank high on the website. With over 20 integrated tools, the two Helium 10 owners and their team have created a company that uses keyword research and financial analysis to empower entrepreneurs, partners, and Fortune 500 companies.
Helium 10 vs. Jungle Scout: Final Verdict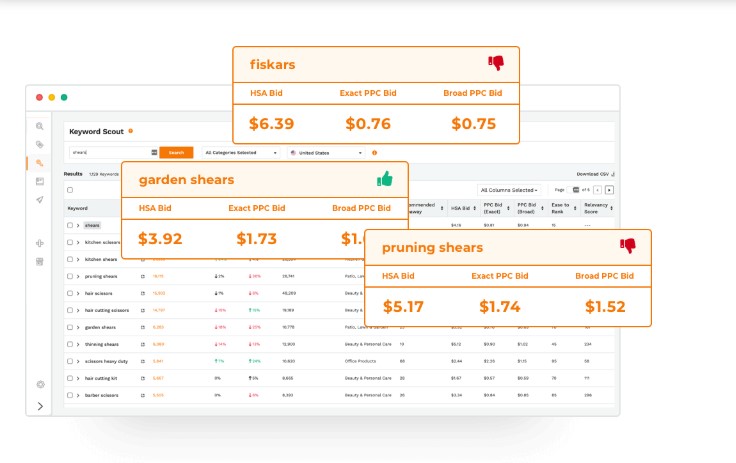 Sales Estimation Accuracy
Based on multiple experiments and customer reviews, Jungle Scout is better at estimating the actual sales of a product compared to Helium 10. Jungle Scout averages a 90% accuracy and above, while Helium averages 88%. Although this percentage is slim, Jungle Scout wins for better estimation and potential sales of your product.
Features
Jungle Scout and Helium 10 have similar features. They both share 7 features in common: Chrome Extention (though Jungle Scout is a paid add-on), Product Database, Sales Dashboard, Keyword Tracker, Keyword Research Tool, and Follow-up Emails. However, Jungle Scout has a Supplier Database and a Giveaway Platform. Helium 10, on the other hand, offers Competitor Keyword Spy, Refund Toll, and Listing Optimizer.
Overall, Helium 10 offers more features for a lower price and markets itself as an all-in-one solution. Unless you desperately need a Giveaway Platform, Helium 10 has our vote if you can get over their learning curve.
Pricing
Helium 10s lowest plan is expensive at almost $100 a month. Although you get more features, they may not be as relevant to you as Jungle Scouts $70 a month. Jungle Scout is definitely cheaper; however, Helium 10 has an option to pick and choose, which could make it more affordable. However, Jungle Scout gives you the biggest bang for your buck.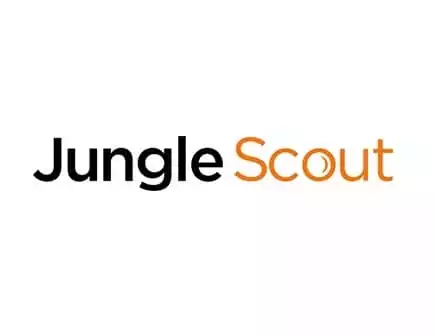 Why Go with Jungle Scout?
Jungle Scout is a great option for both beginners and advanced Amazon sellers. It's user-friendly and has great resources like the Jungle Scout Academy, where you can learn how to get the most out of the software and grow your business.
Try Junglescout first
We earn a commission if you click this link and make a purchase at no additional cost to you.
Helium 10 vs Jungle Scout: Which One is the Winner?
Both platforms have their strengths. However, we do have a clear winner here. For us, Jungle Scout is a more user-friendly platform and allows you to sell and promote all of your products on Amazon without reading a 200-page manual.
Although Helium 10 has a large number of features and better automation, you can still achieve a lot with Jungle Scout, and the good it can do to your business makes it our top choice today.
Recommended Reads: