Last Updated on April 22, 2023 by Ewen Finser
This Jungle Scout review will provide readers with a clear buying decision for your e-commerce business.
Selling on Amazon can be difficult, but selling on Amazon with a bad product finder/research tool is nearly impossible nowadays. With so many products, competition and data to sift through, it doesn't pay to have an unreliable tool.
That's why I've been tasked with writing this review. My goal is to help you find out as much as possible about this SaaS so that you can make an informed buying decision that will provide a positive return on your marketing investment.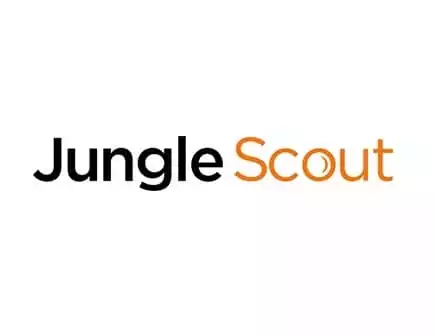 Why Go with Jungle Scout?
Jungle Scout is a great option for both beginners and advanced Amazon sellers. It's user-friendly and has great resources like the Jungle Scout Academy, where you can learn how to get the most out of the software and grow your business.
Try Junglescout first
We earn a commission if you click this link and make a purchase at no additional cost to you.
Amazon has over 2 million active sellers worldwide, so for anyone looking to find winning products to sell by FBA or even drop ship, well, the competition will be fierce. And Amazon's highly competitive nature is visible within the stats – only 10% of Amazon's active merchants were able to achieve revenues in excess of $100,000 last year.
Long story short, Amazon is a competitive marketplace. So I hope that this Jungle Scout review will put you well on your way to joining that elusive 10% of Amazon vendors.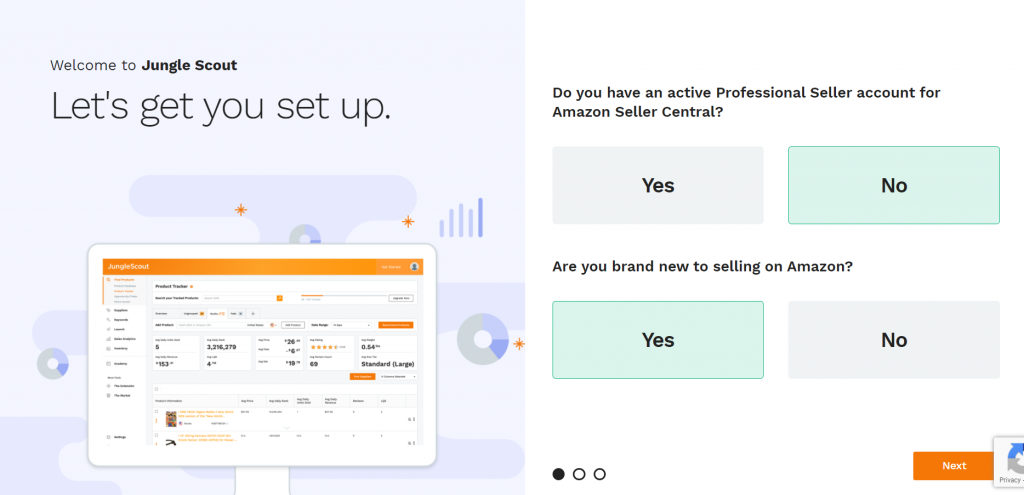 What to Look for in an Amazon Product Finder and Research Tool
The best Amazon product research tools possess some vital components.
Keywords tracking and analytics tools for SEO listings
Sales analytics
Metrics that help gauge product potential
Ability to track and compare Amazon Products by ASINs
Supplier database to verify sellers and perform competitor research
Real-time data analytics
An intuitive UI (User Intuitive) Note: this will depend on the person)
Ability to track and reorder inventory
Dashboards containing financial metrics that are clutter-free and understandable
Helpful support documentation, insightful resources and satisfying customer service
An extension that lets drop shippers and FBA vendors view additional product information products directly on Amazon
Features that benefit marketing, sales and advertising
This section will aim to cover some of the best Jungle Scout selling and research features.
Jungle Scout Review – Product Research
Extension
This Amazon product finder's extension for Google Chrome and Safari Firefox makes it easy to find products that are likely to sell.
The extension lets FBA sellers evaluate opportunities and decide how profitable products might be long-term while browsing Amazon's catalog.
The tool lets you view products' financial metrics such as average monthly revenues, daily sales, and a product's rank in terms of sales. You can also weigh a product's demand against how competitive it is to sell using the "Opportunity Score", something I really like.
Finally, I love how you can encourage eWOM and, not to mention, social proof your Amazon store using the extension. This feat can be achieved by requesting product reviews when managing orders within "Seller Central".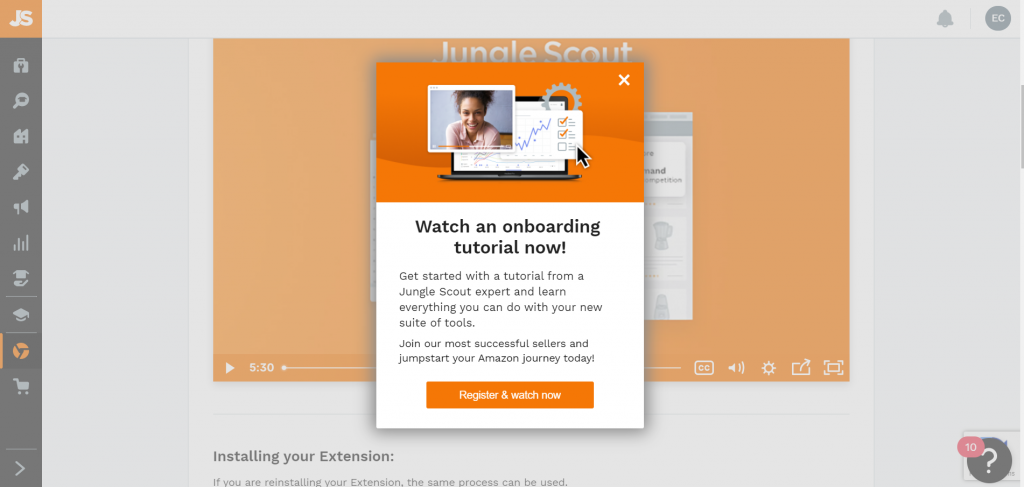 Product Tracker
The amazon product finder also boasts a product tracker. This useful feature essentially increases the visibility of the products you wish to monitor within one centralized system. You can keep an eye on how your products are performing over time using features such as real-time sales as well as observe important metrics.
Some of the metrics contained within the product tracker include units sold, average daily revenue and average review count. Further, I like how I can check real-time data regarding up to 1,000 products as far back as 6 months.
But, I just have to point out that these figures are much lower on Jungle Scout's lower tiered pricing plans.
Jungle Scout Review | Here's an illustration:
Basic ($349 Annually) – Products Tracked: 3 – Data History Viewable Over One Month
Suite ($589 Annually) – Products Tracked: 150 – Data History Viewable Over Three Months
Professional ($999 Annually) – Products Tracked: 1,000 – Data History Viewable Over Six Months
Product Database
This catalog lets you sift through 470 million+ products that have been exported from Amazon. For anyone wondering how to find a profitable Amazon product, the database is an invaluable resource.
I think that the database's strength lies in its ability to aid users in generating product ideas. The ability to search by criteria makes narrowing down your search for that ideal product much more straightforward. For example, you can search for products with high demand and revenues but are being poorly marketed. It's just a nice tool for finding products that fit nicely into your business model.
Jungle Scout's FBA calculator is another feature that I believe is useful. The calculator lets you factor in the cost of your FBA business while also assessing the return on your proposed investment.
Jungle Scout's Niche Hunter
This functionality is sure to come in handy when you're creating an FBA niche site. I like the simple but detailed UX when selecting the niche you want to track. There's a wide range of categories along with data filtering options such as:
Keywords to include and exclude
Opportunity score
Competitiveness
Units sold
Price
The niche hunter also updates in real-time and lets you see the keywords and so on being used by the top competitors within the niche you're tracking. Jungle Scout themselves have a great niche hunter tutorial worth checking out – just click HERE.
Keyword Scout
Jungle Scout's keyword scout is an excellent tool when it comes to optimizing your listings for search. It's essential to the keyword rank tracker, which is discussed down below.
This tool enables you to create a keyword strategy based on competitor keyword data. I like how the tool provides so many data points via reverse searching ASINs to find SEO and SEM keywords that'll make your products more likely to appear in search.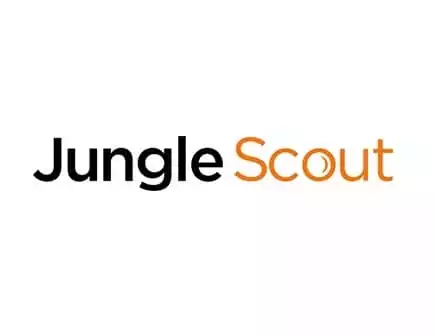 Why Go with Jungle Scout?
Jungle Scout is a great option for both beginners and advanced Amazon sellers. It's user-friendly and has great resources like the Jungle Scout Academy, where you can learn how to get the most out of the software and grow your business.
Try Junglescout first
We earn a commission if you click this link and make a purchase at no additional cost to you.
Jungle Scout Review – Selling Features

Rank Tracker
The rank tracker is what I would call an essential tool when marketing to find the right product for you. The tracker essentially enables you to track and analyze the history of keywords over time to find out how you can gain an edge over your competition.
Although it would appear to serve a product research function, the rank tracker is a selling tool. Its product research database serves to show which products are in demand by performing thorough analyses of keywords so that you can sell more on Amazon.
I like how the tool enables sellers to account for peaks and troughs in product demands over time, making it easy to select products with low seasonality, for example. Seasonal products will cause your revenue to fluctuate, which can be ok in certain instances, of course. But, for the most part, sales should be steady. So pick products that reflect that fact. Long story short, the rank tracker is a great asset that enables FBA merchants to perform keyword research to find products that'll sell consistently.
Other things worth noting:
Rank Tracker is limited to for Jungle Scout Suite users 3,500 keywords and 5,000 keywords for Professional license holders (-)
Keyword data filters available (+)
Reverse searching competitor ASINs to source high-performing keywords to find great products (+)
Keywords can be graphed and analyzed historically over a period, monitoring one or more ASINs (+)
Listing Builder
The Jungle Scout listing builder is another excellent selling feature. The builder does as it sounds real – lets you build your listing while making data-driven decisions using a proven keyword strategy. This feature is quite new to the FBA tool, but it definitely carries a lot of promise. It's also available to both "Suite" and "Professional" license holders.
Essentially, the tool enables you to optimize your listings.
I think that the Jungle Scout listing quality score is extremely useful to achieving that end. The higher your score, the more likely that your listing is to attract traffic and earn conversions.
I also like how the listing builder makes it much easier to find relevant keywords for your listing's SEO strategy. You can import existing keyword lists or create a list as you go. There are also filters that make selecting keywords based on your needs, be it to rank instantly or limit the expense of SEM.
Sales Analytics
This tab provides real-time sales data on your amazon listings so that you can make data-driven decisions toward cutting costs and increasing revenue. Essentially, this recently updated feature keeps your Amazon store profitable.
Creating a profit and loss statement is one of the best sales analytics features in my opinion. You can see how far your revenue is going with Jungle Scout, and of course, cut out some unnecessary costs. The layout makes it easy to view progress over time and spot data trends.
I also like how Jungle Scout users can look at how profitable their PPC campaigns have been. Further, the profit overview tab provides access to both current and historic company and product data metrics to understand how business activities are impacting your profit margin.
Here's a link to Jungle Scout's Amazon sales estimator (CLICK HERE)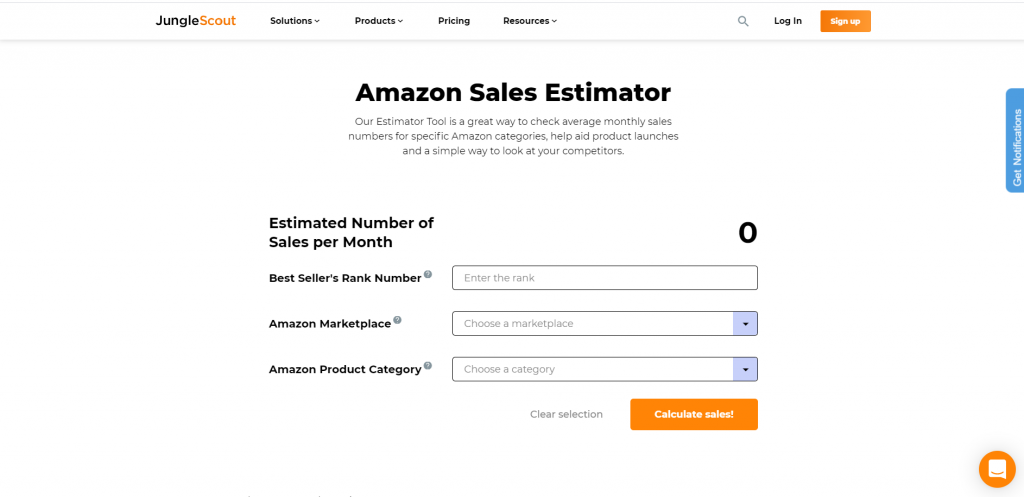 Inventory Manager
Inventory management with Jungle Scout is made easier thanks to this useful product. It provides all the data you'll need in real-time to keep your FBA store stocked up. You'll be able to view metrics such as inventory status, reorder dates and so on. You'll also have access to a financial forecasting dashboard containing what I consider to be essential metrics when predicting how sales impact profitability.
A somewhat obvious benefit is that you'll receive alerts from Jungle Scout. For example, in the "Inventory Status" column you'll see "Reorder Now" appear alerting you that stock is running low. You can't sell what you don't have, so the inventory manager is a useful feature for Amazon FBA sellers.
Supplier Database (It's also an Amazon research feature!)
Crafting your Amazon FBA business plan could benefit a lot from solid data regarding suppliers. I like how it lets you find and verify the people you're sourcing your products from using metrics such as total customers and confirmed shipments.
Jungle Scout Review – Pricing Plans
When selecting a plan with this Amazon product finder it's important to read the small print. For example, the "Basic" Jungle Scout plan only provides access to the browser extension. So if you're seeking that advanced functionality, then you need to consider Jungle Scout Suite or possibly even Professional.
Anyway, let's now take a quick look at what all these plans have to offer. You can check out Jungle Scout's pricing HERE.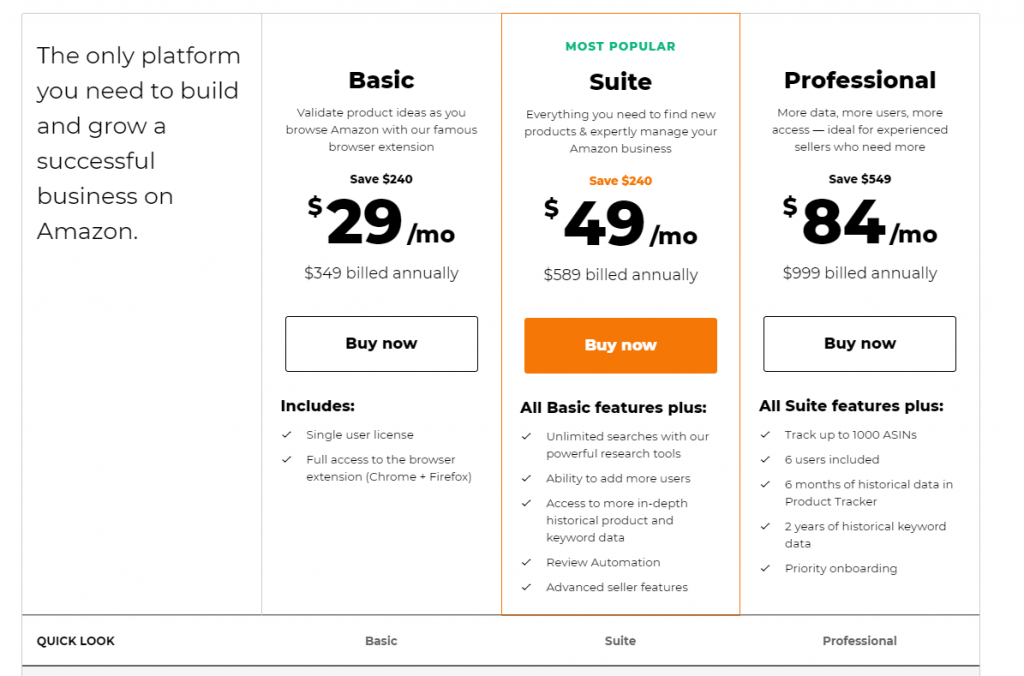 AccuSales Estimates – Industry Leading Sales Data Provider
All Jungle Scout's pricing plans contain AccuSales estimates. This data feature to me at least is extremely attractive. If you're going to be making data-driven decisions, then it makes sense to be able to trust your source.
AccusSales is Jungle Scout's Amazon sales estimation engine that was created in collaboration with data scientists. AccuSale's algorithm ensures Jungle Scout license holders receive accurate sales data. Although it's important to stress that no algorithm or tool can predict how much a product will sell perfectly.
Nonetheless, I like this feature when it comes to getting a baseline to market using.
Jungle Scout Review – Pros and Cons
Pros
Helpful and responsive support
Willing to close service delivery gaps through compensation along with corrective action
Informative free resources (Jungle Scout's: blog, tutorials, videos, etc.)
Niche hunter feature simplifies product research
Identifying winning products
Chrome extension works well
Access to a database full of useful product, competitor and keyword information.
Cons
Lower tier pricing plans offer limited functionality to the point of being useless without upgrading
Occasional performance bugs
Product research and keyword scout screens need to be zoomed in and out to navigate up and down the page
FAQs
Question: Is Jungle Scout Legit?
Answer: Jungle Scout is a legitimate tool that certainly works. However, if you're new to FBA then don't think that the Jungle Scout app alone will make you successful. That much is up to you, so do your research and be prepared and Jungle Scout is certainly a legit tool that can guide you along the way.
Question: Is there a free version of Jungle Scout?
Answer: No, there is no free version of Jungle Scout available. That's a share. But if you look at the Jungle Scout pricing plans, then you'll be able to make out that there's a 14-day money back guarantee that operates as a little loophole to a free trial.
Question: How do I install the Jungle Scout extension?
Answer: To install the Amazon research tools you'll need to subscribe to one of Jungle Scout's paid plans. Next, you must ensure to be using Google Chrome or Firefox. Otherwise, it won't work. Then, log in to the Jungle Scout web app, and select Chrome Extension using the utility navigation menu at the top of the page. Afterward, just follow the instructions. Here's a much more in-depth article dedicated entirely to showing you how to install the tool's extension.
Question: What is Amazon Jungle Scout?
Answer: Jungle Scout is an Amazon research tool containing software that lets license holders perform in-dept product research on Amazon FBA products. Essentially, Jungle Scout is a tool that helps eCommerce vendors to increase their market share within the world of FBA.
Question: Is there a free alternative to Jungle Scout?
Answer: The short answer is no. While there are no free alternatives to Jungle Scout, there are websites and functionality such as Google Trends, for example, that can be used to aid in the process of FBA. What's trending within the research engines is a good indicator of what people will be looking to buy online, so it's a useful tool. Other useful tools include:
• Camelcamelcamel
• A solid keyword finder
• Bitly
Jungle Scout Review – Buying Decision
Jungle Scout's pricing could do more in terms of providing license holders with more functionality at the stated price points. The "Basic" plan is overpriced at $349 dollars per year. While the "Suite" plan does offer a lot in terms of features, the limits placed on seats, products tracked, keyword history and are difficult to ignore. Especially when compared with the options available to "Professional" license holders.
But, if you can get over the pricing and limitations, it's definitely worth buying. Granted, Jungle Scout's functionality is probably slightly limited when compared with an alternative such as Helium 10 but it's still better priced.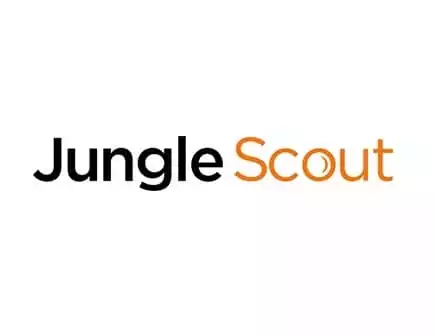 Why Go with Jungle Scout?
Jungle Scout is a great option for both beginners and advanced Amazon sellers. It's user-friendly and has great resources like the Jungle Scout Academy, where you can learn how to get the most out of the software and grow your business.
Try Junglescout first
We earn a commission if you click this link and make a purchase at no additional cost to you.
Further, JungleScout possesses some excellent features such as keyword scout and tracker, inventory manager, product tracker, review automation, and more. You can also test out the Amazon research tool using its 14-day moneyback guarantee as a free trial.
In short, JungleScout looks excellent is easy to use, and provides excellent customer support via Jungle Scout academy. The eCommerce aid also provides a host of advanced features concerning both sales and product research. Overall, a great tool worth buying despite its imperfections.
Further read: