Last Updated on May 31, 2023 by Ewen Finser
Simplifying financial operations is a critical element of success for any business. Businesses need efficient and automated solutions to make the job easier, from setting up accounts payable and receivable to tracking expenses. An integral part of this process is selecting the right financial operations software. Two popular options on the market are Melio vs Bill.com.
Both are cloud-based software that can help streamline payments, invoicing, and other finance-related tasks. Both offer similar features, including automated bill payment, accounts payable invoicing, international payments, and financial integrations. However, several differences exist between them that make one more suitable than the other depending on your needs.
This article will go into depth about the differences between Melio vs Bill.com so you can make an informed decision when selecting financial operations software. It'll also cover the pros and cons of both services and the pricing plans available.
Bottom Line Up Front
Melio and Bill.com offer businesses a great way to streamline their cash flow, automate payments and get better visibility over spending. Melio focuses more on helping small businesses manage their accounts payable with a simple, easy-to-use platform. Bill.com offers more integrations and automation for larger companies looking to process payments faster and more efficiently.
Despite being the most expensive, Bill.com is the clear winner due to its comprehensive feature set, robust customer support, and wide range of integrations.
Main Differences Between Melio vs Bill.com
The main differences between Melio vs Bill.com are:
Bill.com comes with a mobile application, whereas Melio only has its web-based version.

Bill.com has a marketplace with more software and tools that integrate with its platform, whereas Melio only integrates with QuickBooks Online and FreshBooks.

Melio is mostly free with no monthly subscription fees, whereas Bill.com charges a fee for its services and extra features.

Melio has basic A/R and A/P features, whereas Bill.com has more advanced features like automation, electronic payments, and automated reconciliation.

Bill.com has AI capabilities that ensure faster and more accurate data capture from invoices and bills, whereas Melio doesn't have any AI capabilities.
Melio Overview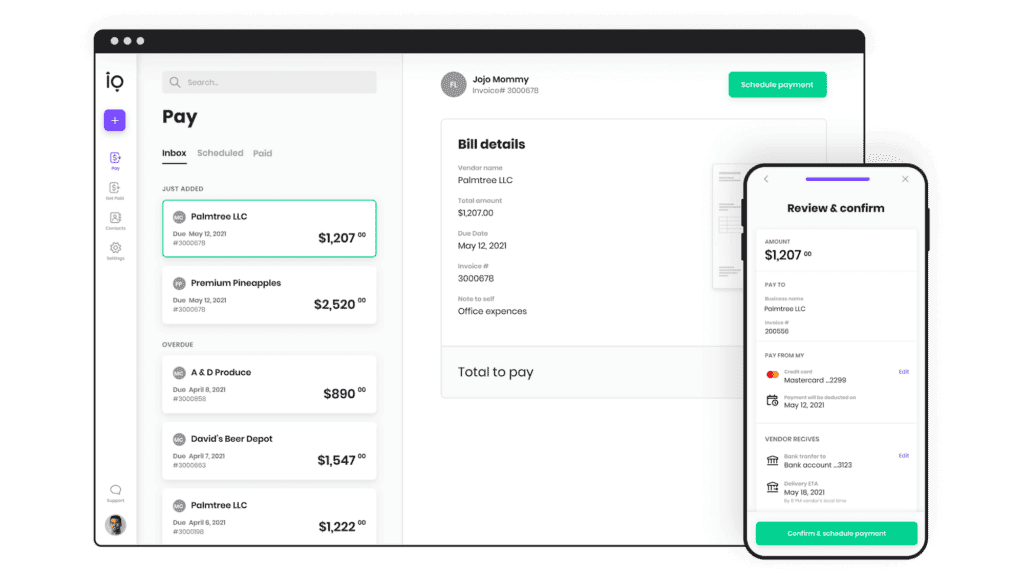 Melio is a payment and invoicing solution designed for small businesses. It's a B2B payments platform that helps automate and streamline supplier payments, invoices, and reconciliations. Through Melio, businesses can securely send payments to their suppliers, track payments and invoices in real time, and efficiently manage their accounts payable.
As a modern payment solution, it supports payments via credit card, ACH bank transfers, and checks. If the vendor only accepts checks, Melio will take the liberty and mail them on the user's behalf. Checks take 5 to 7 business days to arrive, but an expedited check service that takes three days is available for an additional fee.
Except for debit and credit card fees, same-day bank transfers, paper checks, expedited check delivery, and international transfers, all of Melio's services are free.
That's why it's an excellent solution for small businesses with limited budgets. Moreover, Melio allows users to divide a single invoice into several payments and send them on different dates. This feature helps with cash flow management and prevents users from paying a hefty invoice in one go.
Businesses can opt to send single or recurring invoices and payments and can even place suppliers in a preferred payment order. The platform's integration with QuickBooks Online, FreshBooks, and Business Central makes it even more convenient, especially for businesses that need to sync billing and payment data with their accounting system.
Melio Features
Batch payments (Lets you pay multiple bills at once)

Recurring payments

Team management workflows

1099 forms

AP sync with QuickBooks

Easy bill capture

Timeline (lifecycle tracking)
Melio Pros
Secure payment processing and invoicing.

Integrates with accounting systems

Free transactions (except for debit and credit card fees, same-day bank transfers, paper checks, expedited check delivery, and international transfers)

Accepts unlimited users on the workflow
Melio Cons
International transfers can only be in dollars

The support could be better

It's a B2B-only solution

Accounts Payable can only sync with QuickBooks Online

The A/R and A/P features aren't as sophisticated as other high-end solutions

The platform only works for users in the U.S.A

Melio doesn't have a mobile app
Bill.com Overview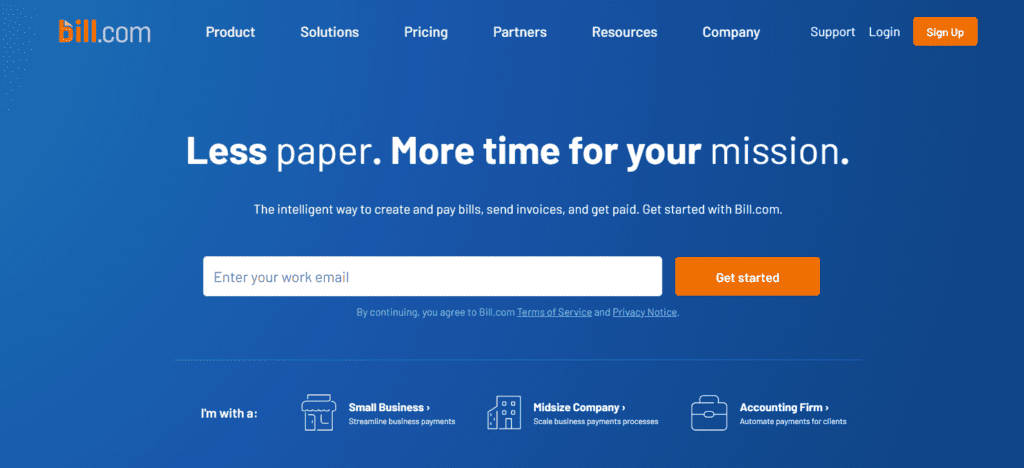 Bill.com is a leading cloud-based platform that helps businesses streamline their financial operations. It simplifies accounts payable and receivable in a single system, allowing users to create and send invoices, track payments, reconcile accounts, and more.
Bill.com gives users access to an expense management solution known as Divvy. This solution streamlines employee expenses, allowing users to set spending limits, track invoices and bills, and approve payments. Divvy also offers businesses access to credit regardless of size, enabling them to access cash when needed.
All the payment methods supported by Bill.com are secure and PCI compliant. Businesses can pay invoices via ACH, Vendor Direct (Virtual cards), Internationals wire (more than 130 countries), Bill Checks (printable and mailed), Pay Faster, and Pay by Card (debit or credit card.) You can also track your payments and manage multiple payment methods from one dashboard.
Unlike Melio, Bill.com has more integration options, including integrations with QuickBooks, Xero, Netsuite, SAP, FreshBooks, and Sage.
Through its 2-way sync, Bill.com seamlessly syncs data with your accounting software, so you don't have to enter information manually. Moreover, Bill.com comes with an app marketplace with a list of integration options aimed at helping businesses enhance their operations.
One of the most exciting features of Bill.com that isn't on other platforms is its AI-enabled business payments. Bill automates data entry simplifying A/P and A/R processes, reducing errors, and saving time. Users can upload the invoice, and the AI will populate the invoice fields automatically.
Bill.com Features
Approvals

App Marketplace

Controls

API

Mobile applications

Artificial intelligence

Invoicing
Bill.com Pros
Secure payment processing

Integrates with accounting software

Easy data entry automation with AI-enabled business payments

It comes with a mobile app for on-the-go payments

Accepts payments in more than 130 countries
Bill.com Cons
Expensive compared to other solutions

It's only available to users in the USA

Non-customized reports are hard to read

It's not a complete accounting solution
Melio vs. Bill.com: How Do They Compare?
To better compare Melio and Bill.com, it's crucial to consider their features, pricing structure, customer support, and user experience. User reviews also play an important role in making a decision.
Below is how the two platforms stack up against each other:
Features – Melio vs. Bill.com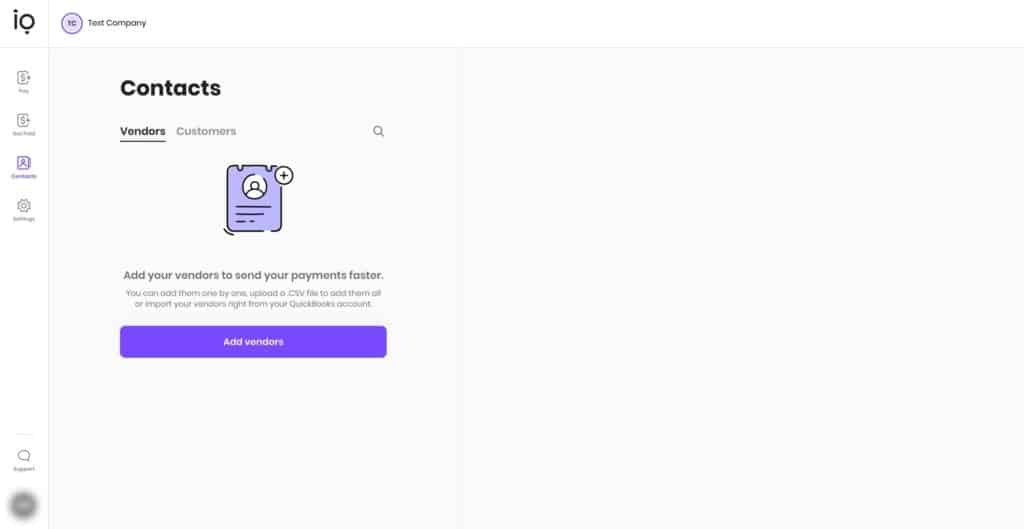 Melio and Bill.com have features that focus on different aspects of financial operations. Melio is a simpler solution that offers basic accounting features, while Bill.com has more advanced features and integrations with other systems.
Data entry:

Data entry automation is faster and more accurate on Bill.com. AI-enabled business payments help reduce manual data entry and errors. Melio doesn't have an AI-enabled feature; if you want to use it, you'll have to enter the data manually.

A/P features:

Melio offers basic A/P features like adding vendors, international payments, setting up payments, and tracking expenses. What it considers its special A/P features are Approved workflow and East bill capture. Bill.com has more features like automated bill and invoice capture, automated bill codification, and Auditor access and Auditor trail. Other basic features on Bill.com include bill payments, international payments, bill creation, and invoice creation.

A/R features:

Melio's A/R doesn't have any automation capabilities. You can send your Melio.me profile link to request payments. The platform also allows you to set up a web page to receive payments. Bill.com has automated A/R features like digital invoicing and a customer portal that you can customize to your needs.
Verdict: Bill.com has more features, offering a more complete payment solution, while Melio is simpler and more focused on basic payments. It takes the win in terms of features.
2. Pricing/Value for Money – Melio vs. Bill.com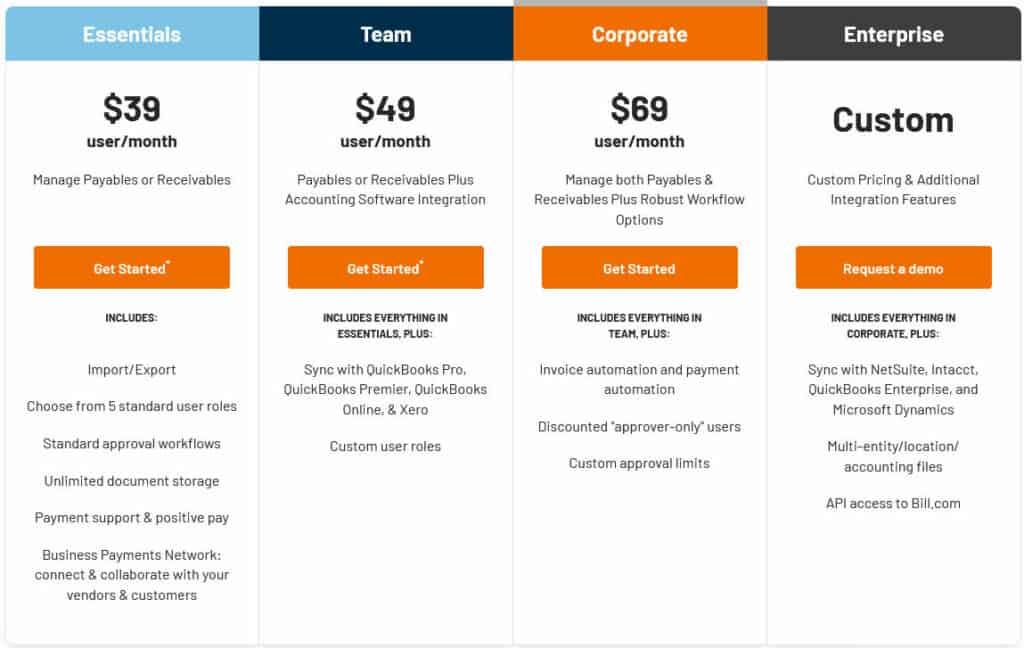 Pricing is a crucial factor to consider when choosing the right payment platform. Melio and Bill.com have different pricing structures that make them suitable for different types of businesses.
Melio's pricing is pretty straightforward. The platform doesn't charge monthly or yearly fees and has no hidden costs. Below is the pricing structure:
Credit card payment: 2.9%

Same-day bank transfer: 1%

Paper checks: $1.50

Expedited check delivery: $20

International USD transfer: $20
Most of Melio's other services, including bank transfer (ACH), are free. Moreover, the first two checks (paper checks) are free. If you are getting paid, an instant payout or same-day bank transfer will cost you 1% of the transaction. Visit the Melio pricing page for more pricing information.
Bill.com offers two pricing plans: Essentials ($40/month) and Pro ($60/month). The Essentials plan includes
Bill.com categorizes its pricing into two tiers; pricing for business and pricing for accounting firms.
For business:
Corporate plan: $79/user/month

Enterprise plan: (Request demo)
Under business, we also have transactional services that come at an extra cost:
Debit/credit card payment: 2.9%

ACH/ePayment fee: $0.49/send and receive

We mail your invoices: $1.49/invoice

Pay faster by ACH(Same or next day): $9.99

Pay faster by check: Three days ($11.99), Two days ($17.99), Overnight ($22.99)

We mail your checks: $1.69/check payment

Get paid via credit card payment: Level 3 processing rates available (Merchant Fees)

International wire transfer: $14.99
Bill.com doesn't charge any fee on Vendor Direct virtual card payment transactions. For more information on business pricing, visit the Bill.com product pricing page.
If you are an accountant, Bill.com offers special pricing for your needs.
Accountant plan: $49/month
Verdict: It's pretty clear that Melio has a more straightforward and transparent pricing structure than Bill.com. It's also cheaper for businesses that need to make payments only.
3. Customer Support
The quality and availability of service and support when using a payment platform can make or break the entire experience. The only way to reach Bill.com's customer support is through email. I tried reaching out to them with some questions, and they responded within 24 hours.
While the response was helpful, it was not as quick as I had hoped. However, it has an FAQ page that answers the most common questions about the platform.
To reach Melio's customer support, you can submit a request through an online form available on the website. However, before you can send a request, Melio will direct you to its online help center. The online help center is well-stocked with answers to many commonly asked questions, so you may not even need to reach out for help.
Verdict: Bill.com's customer support is more accessible than Melio's.
4. User Experience
Melio's interface is intuitive and easy to understand, making it a breeze for non-technical users. Its dashboard is clean and minimalistic and shows you all the information you need at a glance. Signing up is a breeze; you can start adding vendor accounts and making payments within minutes. The dashboard has all the important data on a single page, making it very easy to navigate.
Bill.com, on the other hand, Bill.com has a more complicated interface that can be intimidating for first-time users. It takes some time to get used to their dashboard, and setting up your accounts can take quite a bit of effort — even though the setup wizard does make it easier. The dashboard has some useful data, though it can be cluttered and unclear as Melio's. However, once you get used to it, the user experience is satisfactory.
Verdict: Melio wins in the user experience category, as its interface is much easier to understand and navigate. It takes less time to get up and running with Melio than Bill.com.
Melio vs Bill.com: Alternatives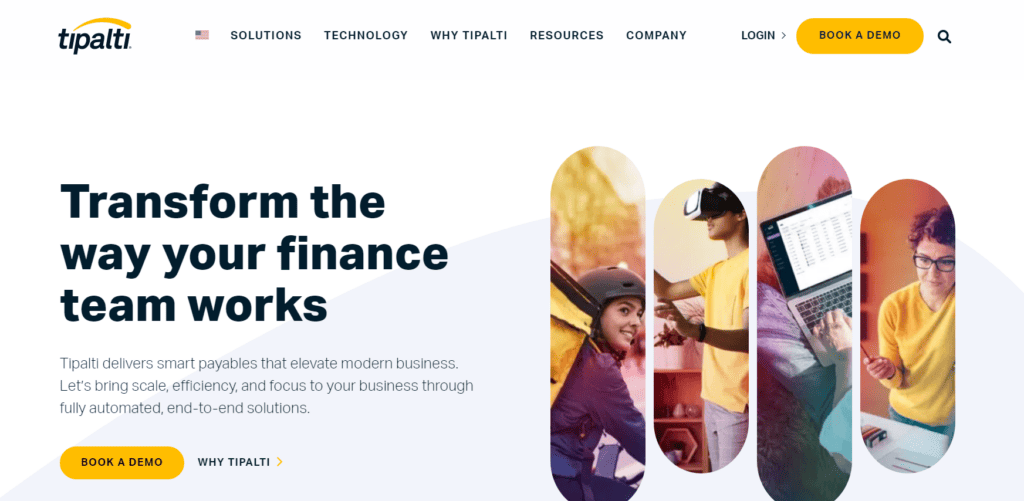 Apart from Melio and Bill.com, several other payment platforms are available. Here are some of the top alternatives to consider:
Tipalti

: A cloud-based payments platform that helps businesses manage and automate global payment operations.

QuickBooks Payments

: An integrated payments solution for QuickBooks that allows you to accept payments online, in person, or via invoice.

Plate IQ

: An AI-driven automated accounts payable software built specifically for restaurants and food service businesses.

DocuWare:

A cloud-based accounts payable automation solution that simplifies invoice processing and payments.

Plooto:

A cloud-based payments platform that helps businesses manage their accounts payable and receivables efficiently.
FAQs
Question: Is Melio the same as Bill com?
Answer: Melio isn't the same as Bill.com. While the two have some features that are similar, Bill.com offers a more comprehensive suite of services. Bill.com features automated account payable and receivable processes, real-time invoice approval with AI-powered insights, and fraud detection. Melio does not offer the same level of automation as Bill.com.
Question: Does Melio allow wire transfers?
Answer: Melio doesn't support wire transfers, but it does offer ACH payments. Businesses can also use debit cards and credit cards to make payments with Melio.
Question: Is Melio International?
Answer: Businesses can use Melio to make payments globally. However, Melio only doesn't support foreign currencies, so international payments must be made in US Dollars.
Bottom Line
From the Melio vs. Bill.com comparison, it is clear that each solution has its own strengths and weaknesses. While Melio has the advantage of being an almost free tool with less complexity, Bill.com offers a more comprehensive and integrated solution with a larger feature set.
Ultimately, the best choice depends on the size of your business and its needs. For small businesses that value simplicity, Melio may be the right fit; for larger companies needing a highly integrated system, Bill.com is likely to be the better option. I recommend using Bill.com because of its comprehensive feature set and how it can integrate with other accounting systems.