Last Updated on May 19, 2022 by DMEditor
You're ready to grow your Amazon business and become an overnight success. Maybe you won't become an overnight success, but you'll be heading in that direction when you use the right tools to help you join the ranks of people selling millions of products on Amazon.
Why do all of the work when you can allow Jungle Scout or Merchant Words to do the work for you? As we look through this Jungle Scout vs Merchant Words comparison, you'll be able to see the pros and cons of each of them. You'll also be able to figure out which one is the right option for your growing Amazon business.
Without tools like these, you may find yourself going through keywords for months without really gathering much meaningful information. The good news is that these tools aren't that expensive, and they can help you increase your FBA income if you use them correctly and take action.
Continue reading to learn more about which of these tools is the best for your e-commerce business.
Main Differences Between Jungle Scout vs Merchant Words
The main differences between Jungle Scout vs Merchant Words are:
Jungle Scout has a 7-day-money-back guarantee, whereas Merchant Words does not
Jungle Scout offers more features, whereas Merchant Words focuses on what it does well
Jungle Scout can be overwhelming, whereas Merchant Words is easy to understand—even for beginners
Jungle Scout is a suite of products, whereas Merchant Words helps Amazon sellers rank on Amazon
Jungle Scout vs Merchant Words: Jungle Scout Overview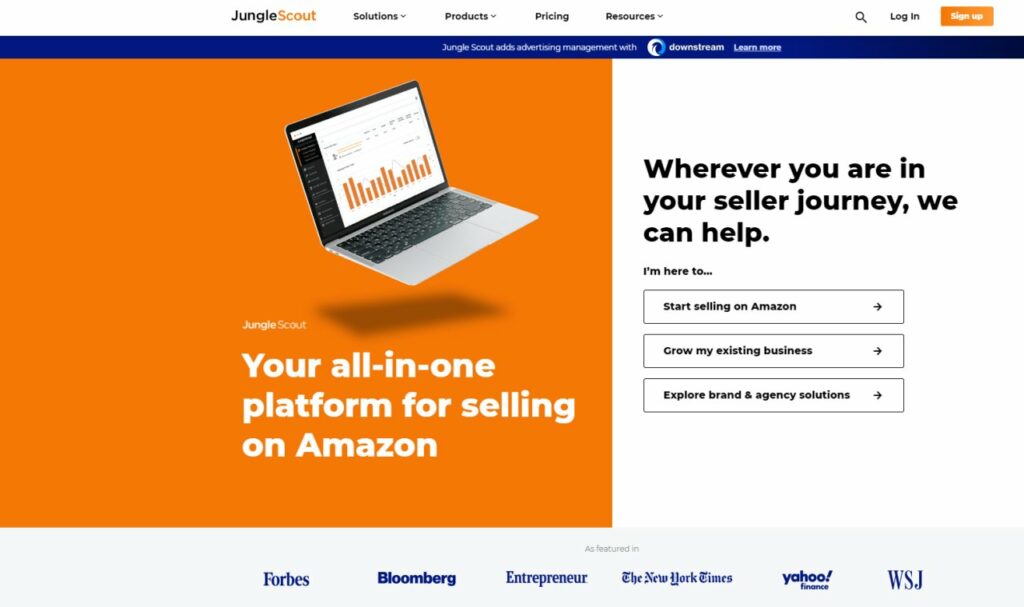 Jungle Scout started out in 2015 with a mission to provide powerful data and resources to help people grow their Amazon businesses. The founder, Greg Mercer, is an engineer turned e-commerce entrepreneur who enjoys guiding other business owners through the wild world of selling on Amazon.
Jungle Scout is a research tool for Amazon that helps you find products that people want. It helps you estimate the number of sales you can hope to get, figure out the keywords that make sense, and you can even take a look under the hood of your competition to see what they're up to.
There was a time when people selling on Amazon had to do all of their research manually, but with Jungle Scout, you don't have to worry about that anymore. A process that would have taken hours before can literally be done in a matter of minutes—or even seconds.
Jungle Scout helps you with the most important part of the process. If you don't get the research and product selection part of things right, then the rest of the work is just noise, and you're kidding yourself.
Getting Started with Jungle Scout
It's not difficult to get started with Jungle Scout, but there are quite a few features that might confuse newbies. Keep in mind that you have to be in it for the long haul when it comes to FBA, so you have plenty of time to learn the features of Jungle Scout.
Let's go ahead and look at the features that people love about Jungle Scout.
Niche Hunter
Niche Hunter is a great playground for research lovers. You can find niche ideas that will allow you to turn a profit, product ideas, and keywords that can bring in the big bucks.
With Niche Hunter, you can research by looking through categories, how competitive a niche is, how well people are optimizing their content, and how much people are selling the products for. Using all of this information, Jungle Scout gives you an "opportunity score" so you can see how likely it is that you'd be able to have success in this arena. Keep in mind that this isn't 100% error-free, and it might be more or less difficult than what the opportunity score claims.
Once you get the information, it's time to put your brain to work and see which niches you want to go after.
Product Tracker
With the product tracker, you get a behind-the-scenes look. You get to see the entire sales history of the product, which can give you clues about whether it's a good product to go after yourself or not.
Some of the things you'll see are:
Price
Inventory in stock
Bestseller rank
Units sold
Reviews
Product Database
There are over 70 million products in Jungle Scout's product database. You can easily add filters, so you don't feel overwhelmed looking at so many different products. There are some helpful tools in the product database that can help you make sure your FBA business is profitable. You can find information about product rankings, profits after fees, and more about international marketplaces.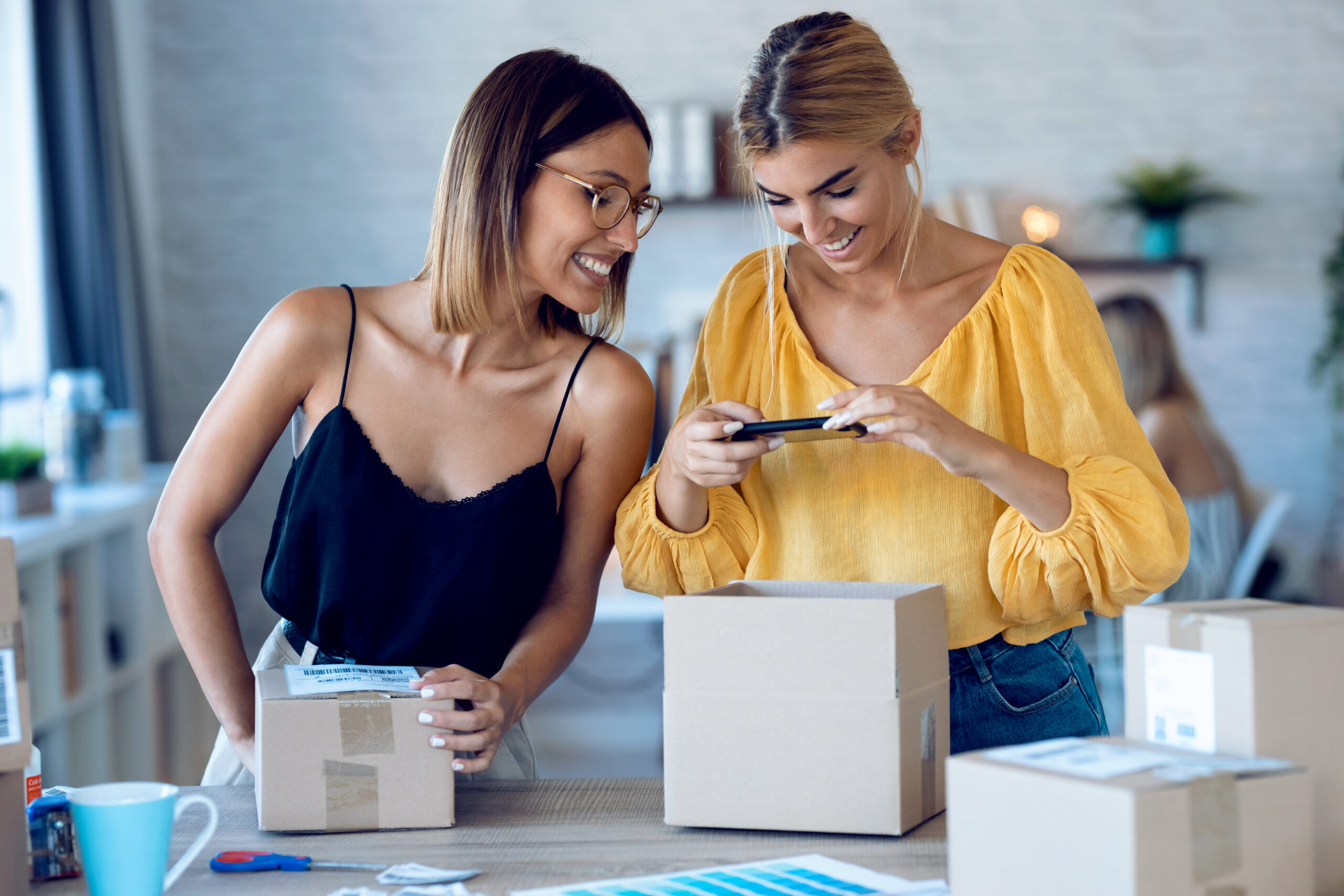 Keeping a finger on the pulse of the products out there using this database can help you no matter where you are in your business.
Keyword Scout
Choosing the wrong keyword can leave your product stuck in noman's land. Finding the right keyword—a keyword with plenty of search volume and low competition—makes all the difference.
With Keyword Scout, you can see keywords people are really using. You don't have to guess and think, "Ah, that sounds about right," because you can see the data proof.
A couple of the things you can see using Keyword Scout are:
Sales revenue
Number of sales
Not using it is like flying blind.
Support
There are some bugs that happen with Jungle Scout from time to time. Since customer support is on it and so helpful, that does make up for the annoyances every now and then.
If you're not used to using tools like this, you might find it a little daunting. However, if you're used to these types of things, the user interface is pretty good, and you can get into it without pulling too much hair out.
Pricing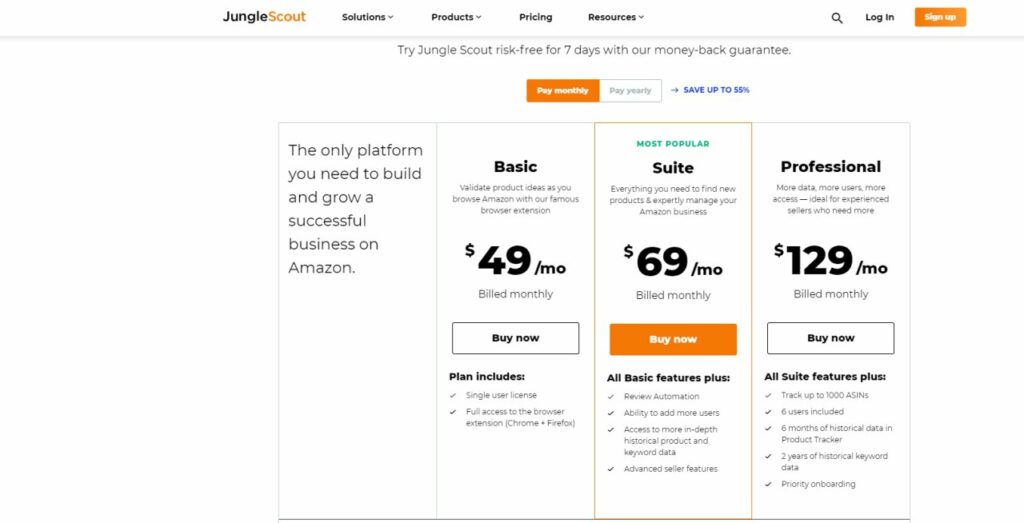 There are three different pricing plans for Jungle Scout. There's the Basic, Suite, and Professional plan.
Basic – $49 per month
Suite – $69 per month
Professional – $129 per month
With the basic plan, you get a single-user license, so that is perfect for the solo business owner on a budget. However, you won't get everything with this plan.
Some important things you miss out on with the basic plan are:
Rank tracker
Inventory manager
It's not the end of the world, but upgrading to the Suite plan is likely the best move—if you have it in your budget.
Is Jungle Scout Worth It?
If you're trying to grow an FBA business, the simple and easy answer is yes. Jungle Scout can save you an insane amount of time and help you earn big money if you use it properly.
Jungle Scout vs Merchant Words: Merchant Words Overview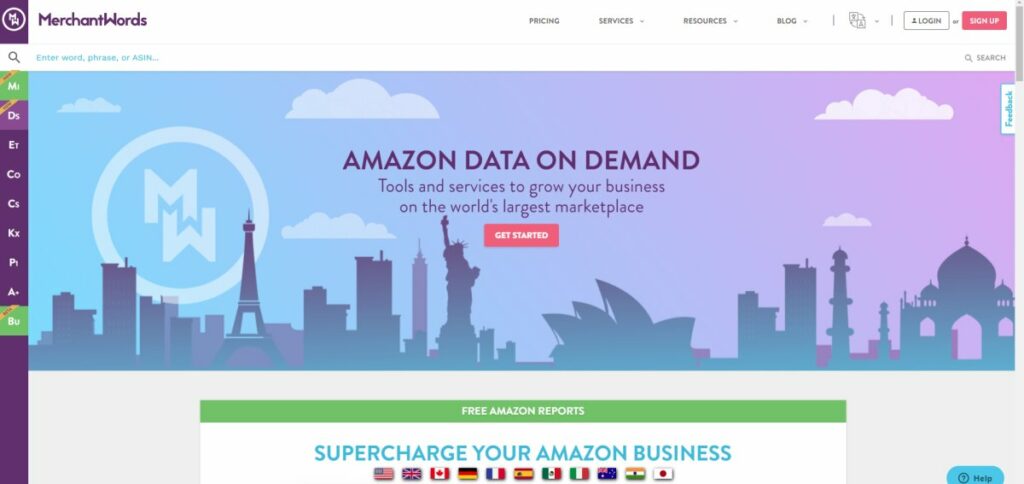 Merchant Words came into being in 2012 when George Lawrence was in a desperate spot and needed money. It was one of the first Amazon keyword tools and became available in beta form in 2013.
Over the years, they launched and continued to upgrade their offerings, but they still don't have as many features to offer as Jungle Scout. Even if Merchant Words did come first, Jungle Scout is overshadowing it. Despite that, it is still a solid tool that deserves some attention.
Getting Started with Merchant Words
Merchant Words is an easy-to-use tool that can be a good partner when you're researching products and keywords. It's easy to understand the results you get back when you make a search, and it is perfect for bulk research if you want to get through a lot quicker.
When you're in your account, all you have to do is type a search term into the box. When you do this, you'll get a list of estimates of how many times that term and terms close to it are typed into Amazon. The automatic generation of similar terms makes it a goldmine of terms.
You'll quickly have a massive amount of keywords, so breathe a sigh of relief that there is a great way to filter these results so you can get down to what you really want, which is relevant information.
Support
There are mixed reviews on their customer services, but the good news is that there aren't many bugs to worry about.
When you go to the Merchant Words website, you'll find it has an attractive design, and it's easy to figure out. It's much more beginner-friendly than Jungle Scout.
Pricing
Their pricing isn't too bad, but you need to pay for the platinum plan, which is the top tier if you want to get more than one seat. There are three tiers, and they are as follows.
Silver – $29 per month
Gold – $79 per month
Platinum – $149 per month
Besides the multiple seat platinum gives you, it's also great because you get unlimited keyword searches, more reports, and market insight searches.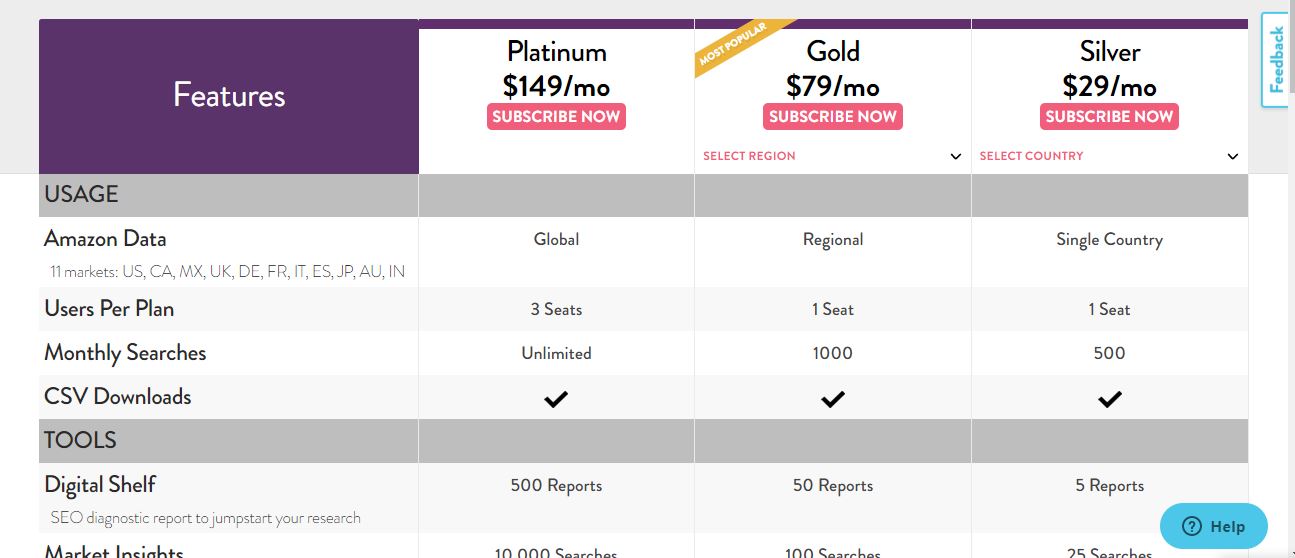 Is Merchant Words Worth It?
For what Merchant Words does, it is worth the money. It provides a lot of value when it comes to being able to research and find gaps that you can fill with your product on Amazon.
Jungle Scout vs Merchant Words Frequently Asked Questions
Question: Are Jungle Scout and Merchant Words accurate?
Answer: While they aren't 100% accurate down to the last search, they are very close to what's going on with the Amazon platform. There is always some sort of error rate with these types of tools, but they help give you a good idea of what you're working with.
Question: Is Jungle Scout or Merchant Words free?
Answer: Neither one of the programs have a free option. In fact, neither one of them even have a free trial. However, Jungle Scout does offer a 7-day money-back guarantee on their tool.
Bottom Line: Which Tool Should You Use?
If your goal is to build your Amazon business by having the best information available, you need more than your own brain. Having access to the right tools will change your business, but picking which tool is right for you makes all the difference.
In my opinion, if you are just starting out and don't need a bunch of things to confuse you, then you should look into Merchant Words and use them. On the other hand, if you want to have a lot of different tools within one sort of bucket, then Jungle Scout is the perfect option for you.
If you want to learn more about Merchant Words, you can read our Merchant Words review here.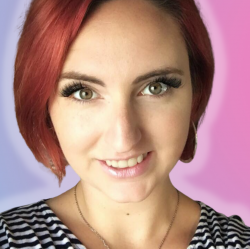 Latest posts by Jessica Lauren Vine
(see all)
Get 40% OFF for 3 Months