Last Updated on September 20, 2021 by DMEditor
Are you selling on Amazon, eBay, or both and want to be head and shoulders above the rest?
If so, you're not alone.
Fortunately, if you really want to go all out and be successful, there are product research and keyword tools that provide the info you need to maximize sales and keep up with your competitors.
Two such standout products are Terapeak vs Jungle Scout.
In light of that, we're taking our microscope to both of them. So, hopefully, by the end of this review, you'll be better positioned to decide whether either platform's right for your business.
There's tons of information to share with you, so let's make a start.
Terapeak vs Jungle Scout: Their Key Differences and Similarities at a Glance
If you're looking for a quick rundown of how these two services compare, look no further. Here are the key similarities and differences concerning Terapeak and Jungle Scout:
Terapeak vs Jungle Scout – The Differences:
Terapeak is a tool for eBay, whereas Jungle Scout is designed for Amazon sellers.

Jungle Scout offers a browser extension that allows you to source and add products to your Amazon store, whereas Terpeak doesn't provide a similar feature.

Terapeak's basic features are free to eBay seller hub users, whereas Jungle Scout's cheapest plan comes at a cost.

While Terapeak is cheaper for small to medium-sized sellers, their pricing plans geared towards larger businesses are much more expensive than Jungle Scout's.

Terapeak offers a mobile app, whereas Jungle Scout doesn't.

Jungle Scout gives you access to a trusted supplier base, making it easier to source products, whereas such a database isn't included amidst Terapeak's features.

According to reviews, Jungle Scout's analytics provide more precise and reliable insights than Terapeak's.

Terapeak has a free trial, whereas Jungle Scout only offers a 7-day money-back guarantee.
Terapeak vs Jungle Scout –

The Similarities
Now, for their similarities…
Both Terapeak and Jungle Scout are only available for their respective online marketplaces.

They both include a helpful keyword search functionality that showcases trending products.

Both enable you to identify popular product categories

Both tools are easy to use
What's Terapeak?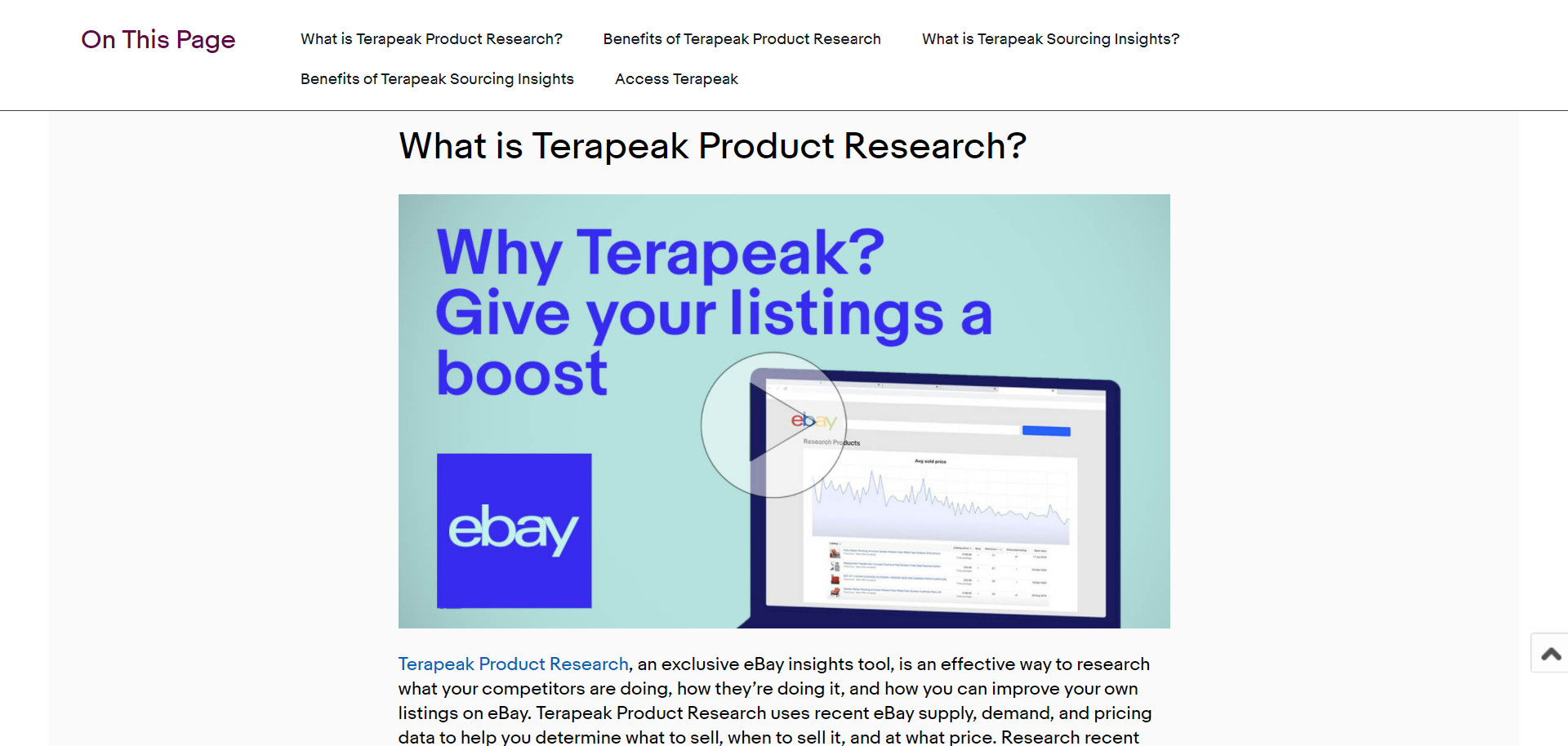 Here's a tool for anyone wanting to sell seriously on the eBay marketplace. Terapeak isn't available as a stand-alone product. Instead, it's specifically available to eBay marketplace sellers who want to up their game. You can find out how your competitors are faring, what they're doing to achieve success, and how to improve your eBay listings. Terapeak also provides users with data-driven info about the most in-demand products and price points that convert best. Users can also access historical pricing trends.
Put simply, Terapeak provides all the info you need to determine which products will sell the most when they sell best, and at what price to improve their sales figures and attract more buyers.
Terapeak is available to use on eBay on your desktop, and it can also be accessed via your mobile as a stand-alone app called Terapeak Research, which eBay acquired in 2017. In addition, eBay sellers can access Terapeak for free if they're subscribers to a Basic, Premium, Anchor, or Enterprise store subscription.
Terapeak is split into two main services:
Terapeak Product Research

Terapeak Sourcing Insights
The former is available for free to registered sellers in the eBay Seller Hub. The latter is available for free to the aforementioned eBay store subscribers.
What's Jungle Scout?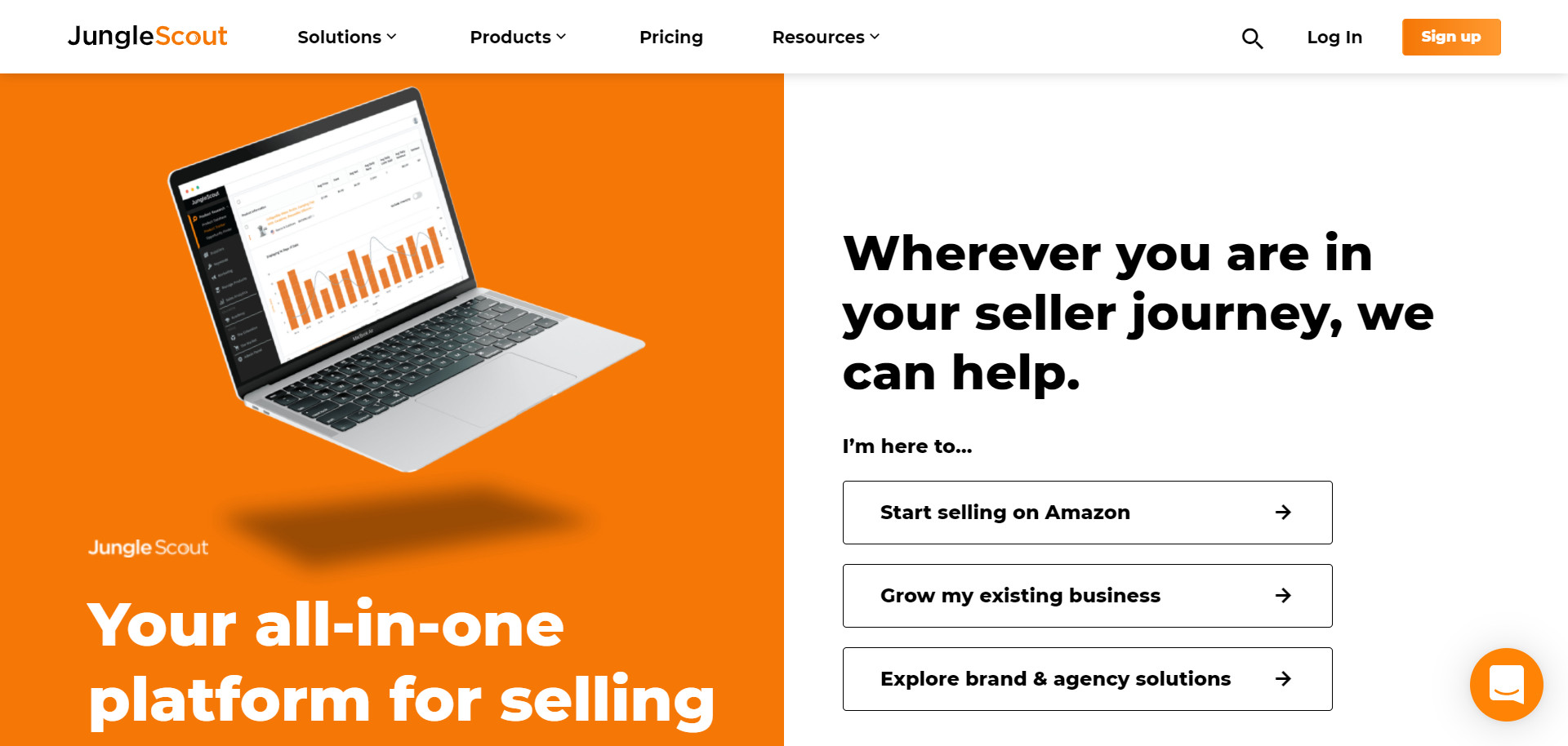 Jungle Scout is essentially a platform that provides users with the tools they need to source the best products to sell on Amazon. In addition, Jungle Scout gives users data-driven analytics about which products sell the most and over what time period. With this info to hand, you can capitalize on products that are most likely to turn a profit.
Simple, right?
It's aimed at all kinds of sellers: beginners, existing merchants, brands, and agencies.
Now we've gone over the basics, let's check out Terapeak and Jungle Scout's core features:
Terapeak's Main Features
As we've already hinted at, you need an eBay seller account to access Terapeak and its features. What's evident is that Terapeak's features have been updated of late, including a more accessible area on eBay where you can find out more information about how to sign up and use Terapeak, what Terapeak is, and a brief FAQ about the platform.
From here, we checked out some of Terapeak's most valuable features:
Product Research/Listing Optimization
Here, you can look for products that you might be interested in selling. You can filter items by category, price, condition (used or new), and so on.
When searching for a particular product, you'll populate listings that show the prices the product's selling at. You can further refine your search by time period – ranging from seven to 365 days.
This same feature provides an insight into the best-performing products, and you can receive customized and targeted insights into markets you're interested in. Just search by product or keyword and apply any appropriate Terapeak filters. These include starting price, buyer country, listing type, and time of day.

Sourcing Insights
Subscribers receive:
Real-time sales data across each eBay category

Info on top-selling items

Insights into buyer demand

Gaps in the market

How many active listings there are of products you're interested in

Search to listing ratios

Sell-through rates
You can also analyze different markets, categories, and product performance to anticipate what will sell best. For instance, you can research by product category to see which items are high in demand but have low inventory on eBay's marketplace. You can also see what's in and out of stock, so you can offer competitive options on popular items that other sellers aren't.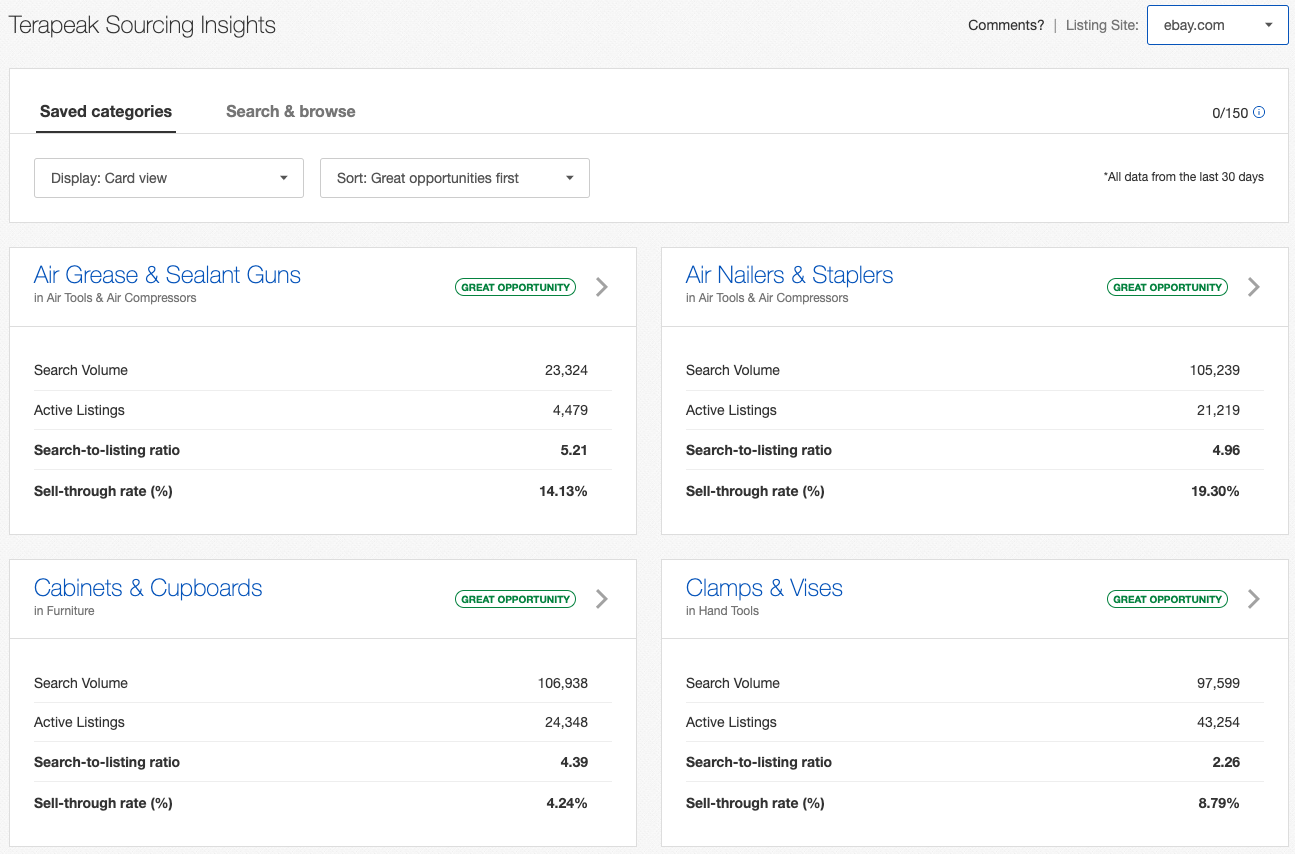 Retail Standard Optimization
Use this Terapeak feature to improve your retail standards and stay competitive. You'll have instant access to valuable metrics like the percentage of sellers offering free shipping, and the average price sellers charge for postage. You can also analyze how the top-performing listings fare in terms of shipping options and returns policies. With this info at your fingertips, you can better optimize your retail standards to outdo your rivals.
Trending Products
Terapeak reveals which products are top-performing across eBay's product categories. This includes info on the:
Number of bids on listings with the same title

The overall gross merchandise value (GMV)

Overall sales rank of a product in particular categories

Sell-through percentage for items listed
The only thing to note here is that while you might see that a product's selling well, you're not seeing if that seller is making a profit.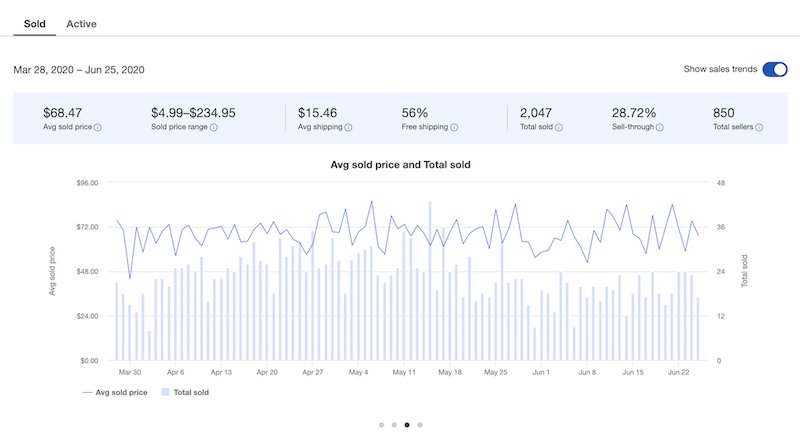 Listing Type and Duration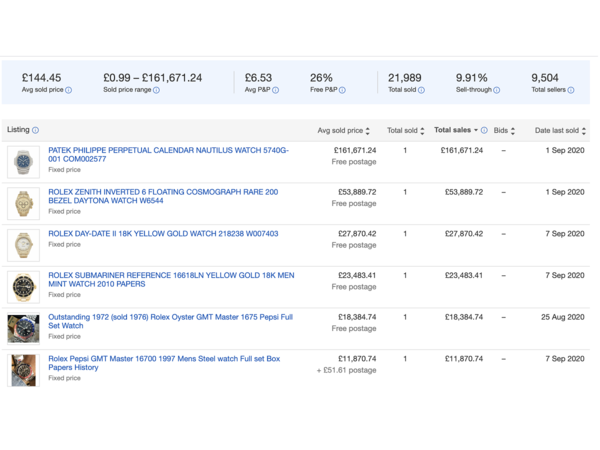 This feature lets you see if it's better to list an item as a "Buy Now" listing or as an auction. You'll also get a feel for the optimum time to list products for the best sell-through rate. Sellers who use eBay to run their business typically find that selling items at a fixed price over 30 days is the norm.
Jungle Scout's Main Features
Jungle Scout offers users an impressive list of 15 features. While we're not going to discuss all these here in this review, we'll delve into the four main ones we think are the most helpful for wannabe Amazon sellers.
Keyword Scout
Each pricing plan comes with Jungle Scout's keyword research tool. Here you can find out which keywords your competitors use most, their search volume, which keywords best describe your products, and what your customers are searching for. The latter is worth its weight in gold if you're trying to figure out what products to sell.
You can also look at historical keyword performance for up to 24 months. This comes in handy for generating a complete picture of a product's popularity, including any seasonal trends. With this data, you can then adjust your marketing and listings accordingly.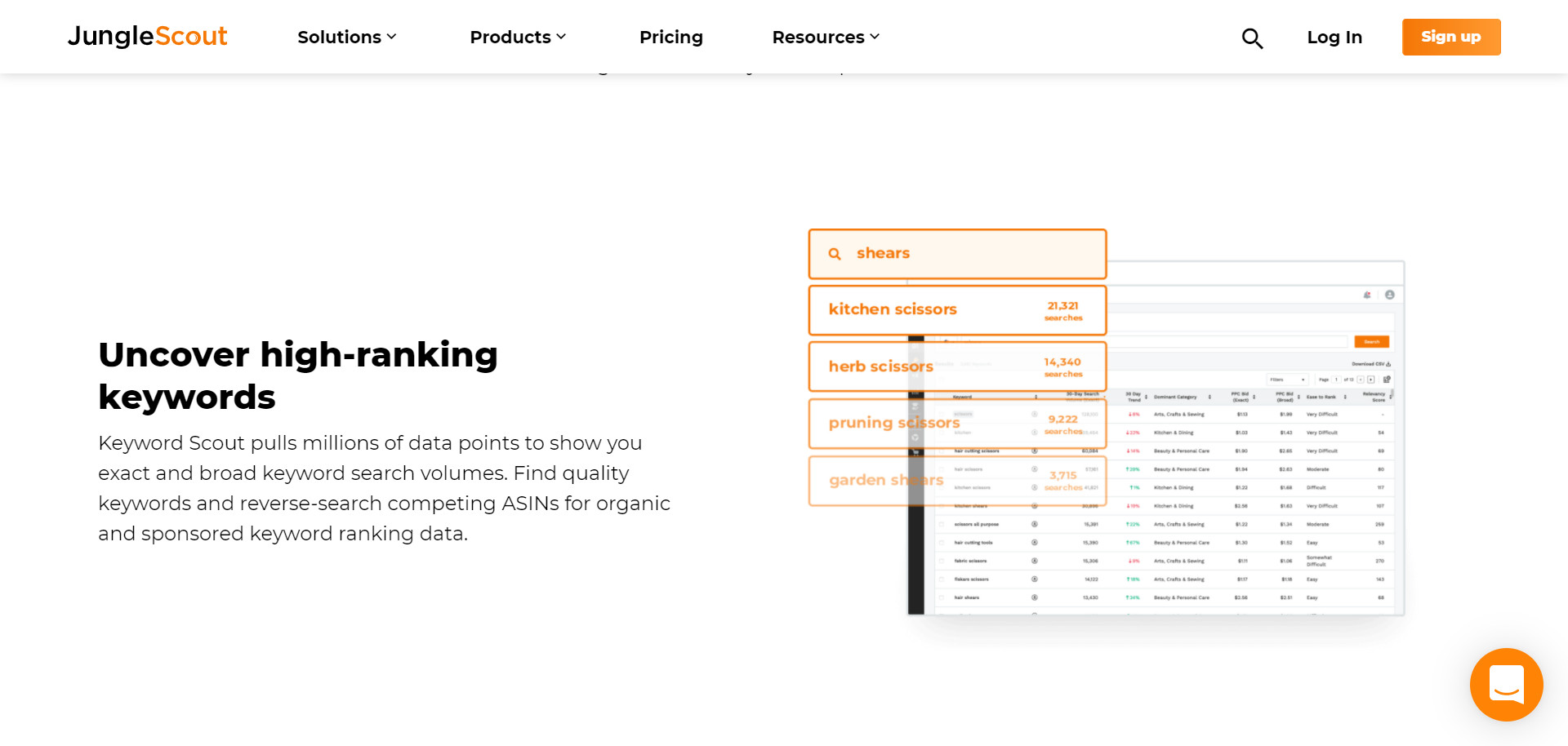 Product Database
You have access to a database with info on over 475 million products pulled straight from Amazon. Needless to say, this is amazing for product research. In addition, it's possible to filter your search by category, sales figures, competition, and rating.
Please note: Your number of searches is limited on the less expensive plans.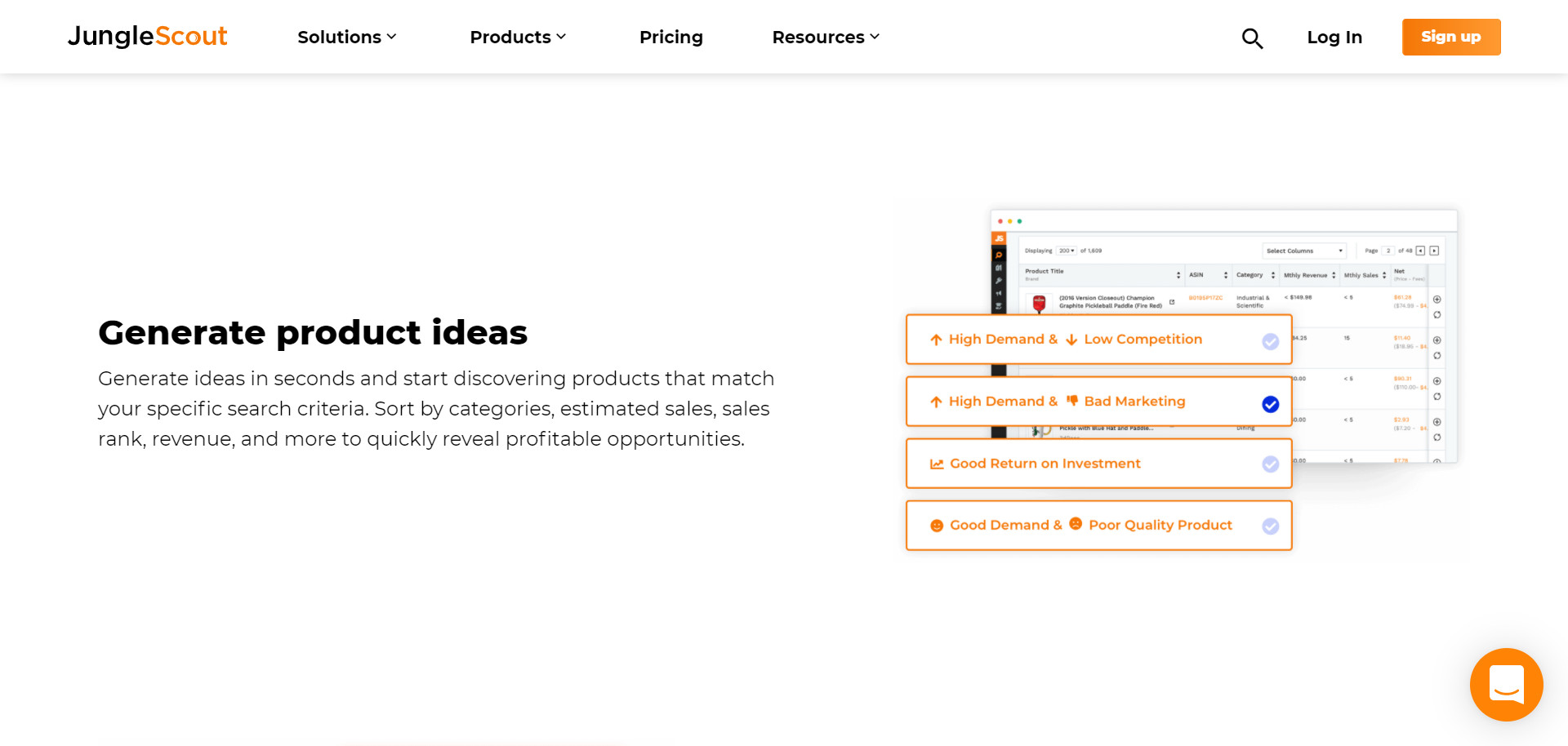 Supplier Database
Once you know which products you want to sell, head to Jungle Scout's supplier database to access good-quality products sold by reputable manufacturers located all around the world. Jungle Scout assures its customers that suppliers are validated – so fear not, you can rely on these vendors.
You can filter your search by product, Amazon's ASIN (Amazon Standard Identification Number), brand, or company. You can also find info about how many customers the supplier has.
Once you've selected your preferred suppliers, you can manage them all from one centralized place on Jungle Scout's dashboard.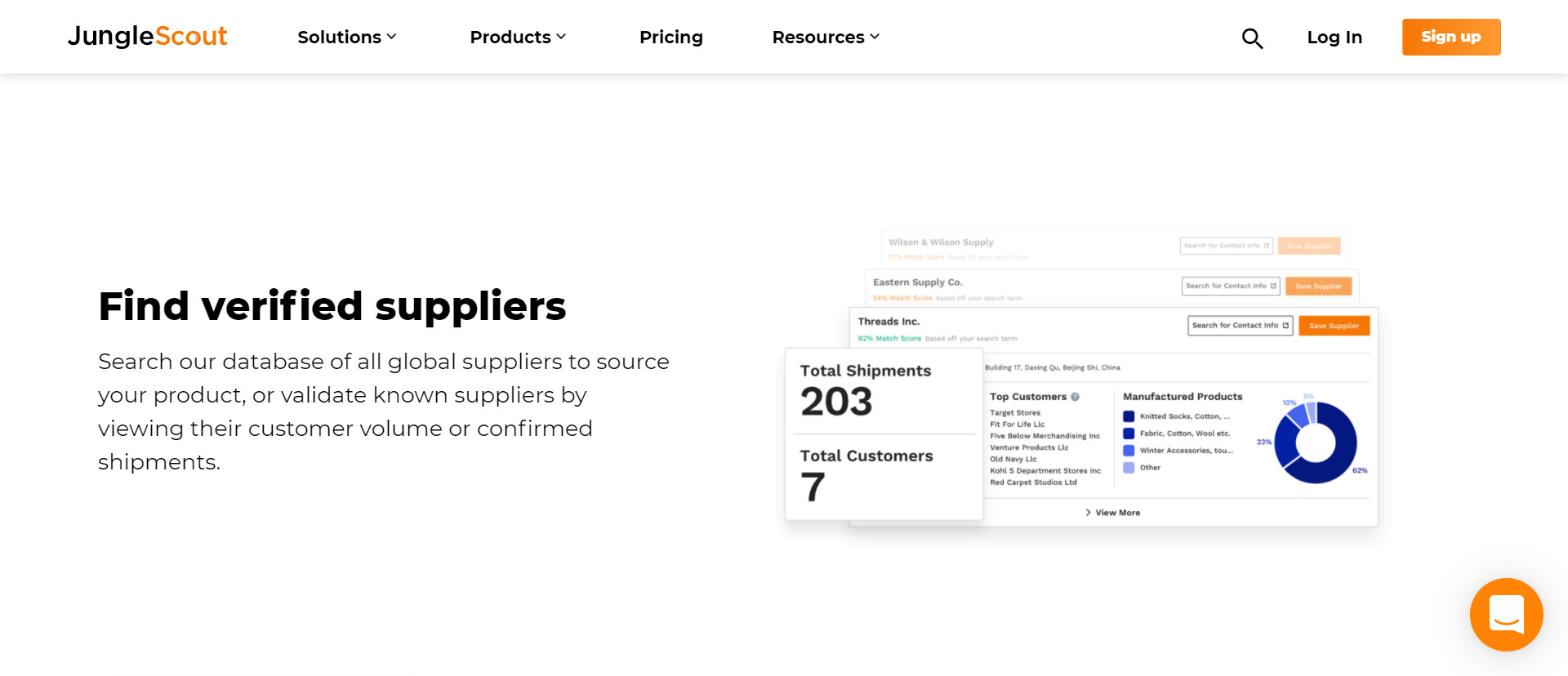 Extension
Jungle Scout's recently updated browser extension works with Firefox and Google Chrome. You can use it to find products on Amazon, Google trends, real-time sales data, historical product data, and other valuable figures concerning the products you're looking to sell.
The added attraction is that the extension easily enables you to scope out demand and competition for any Amazon product at any time. All you have to do is enable the extension when browsing Amazon. Simple, right?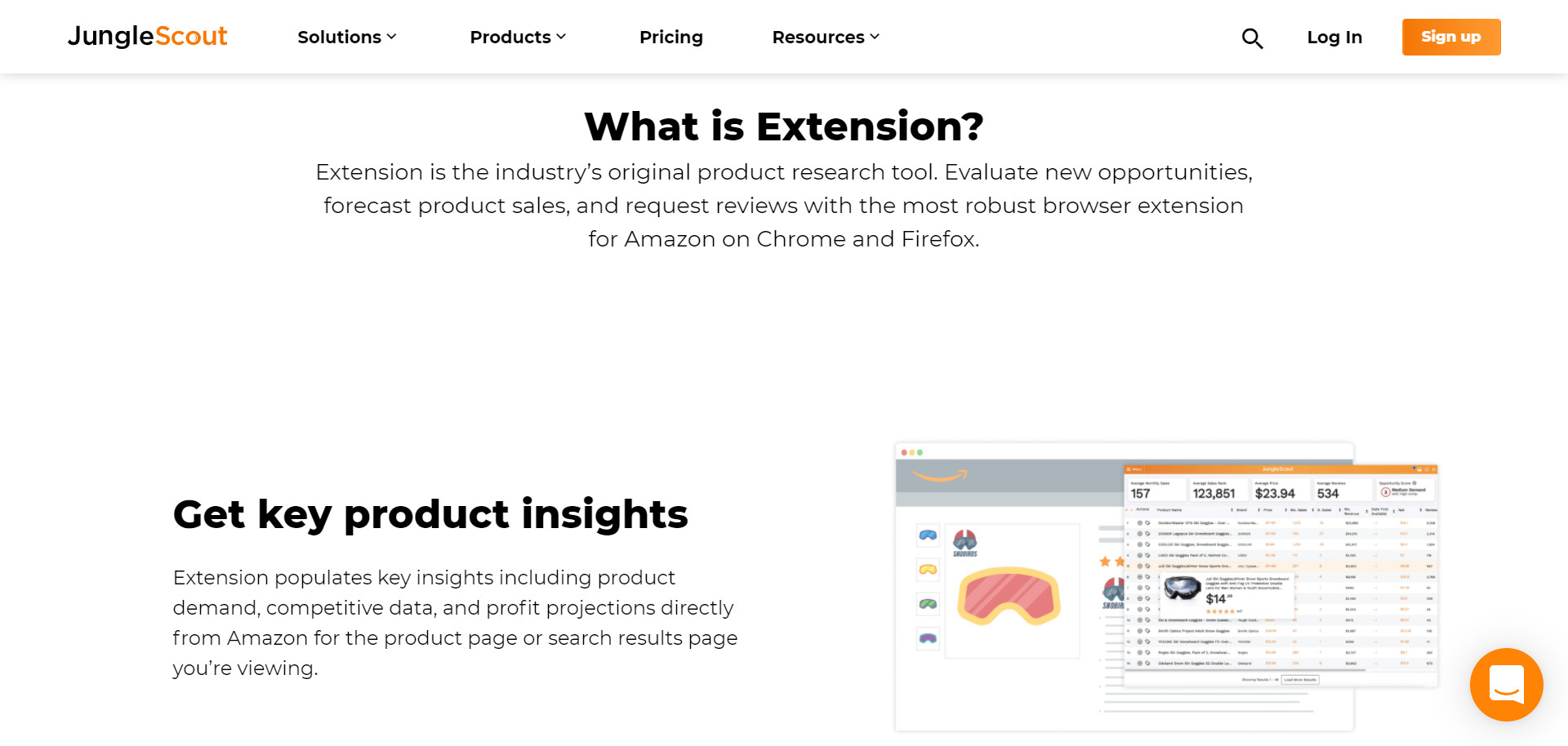 Category Trends
This feature tracks the top 100 products in any Amazon product category or subcategory. You can use this tool to identify the products garnering the best prices, ratings, and reviews across different categories. In addition, you get access to historical product data to get a better feel of the items' success rate over time.
You'll also get access to graphs that track an ASIN's historical monthly rank. You can even see how low-ranking products are doing and if they increase in popularity. Conversely, you can keep an eye on higher ranking products and whether they drop in favor.
Needless to say, all this data provides a better feel and flavor of the market, so you can strategically plan your next move.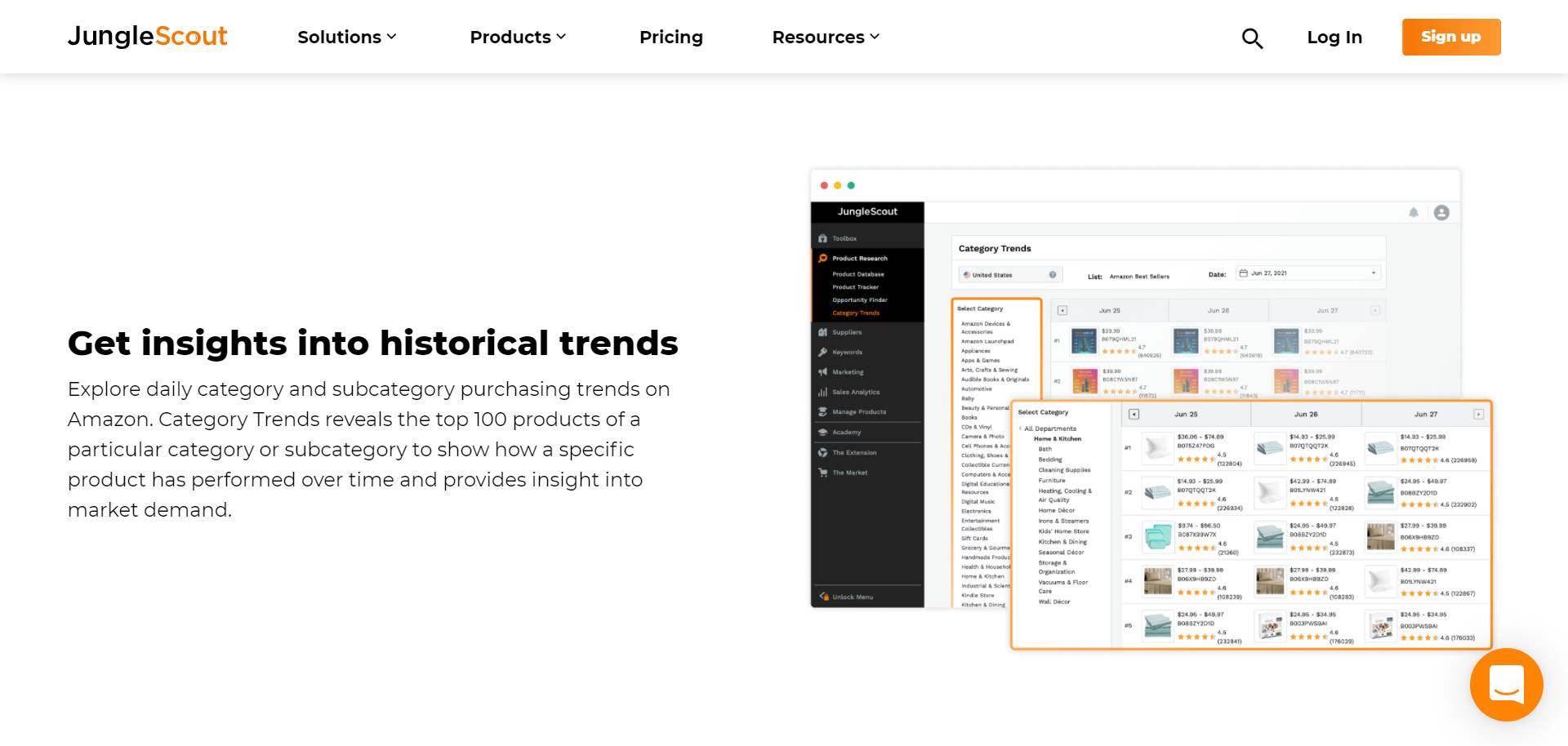 Terapeak's Pricing
As previously stated, all eBay sellers can use Terapeak to get info on what, how, and when to sell on eBay. I.e., it's free to any seller with access to the eBay Seller Hub.
Business sellers with a full-on eBay Shop get access to Terapeak sourcing insights as part of their Premium, Anchor, or Enterprise subscription plans.
Some of these pricing packages fall roughly in line with Jungle Scout's, while others are way more expensive:
Starter: $4.95

a month if you pay yearly

Basic: $21.95 a month if you pay yearly
Premium: $59.95 a month if you pay yearly
Anchor: $299.95 a month if you pay yearly
Enterprise: $2,999.95 a month if you pay yearly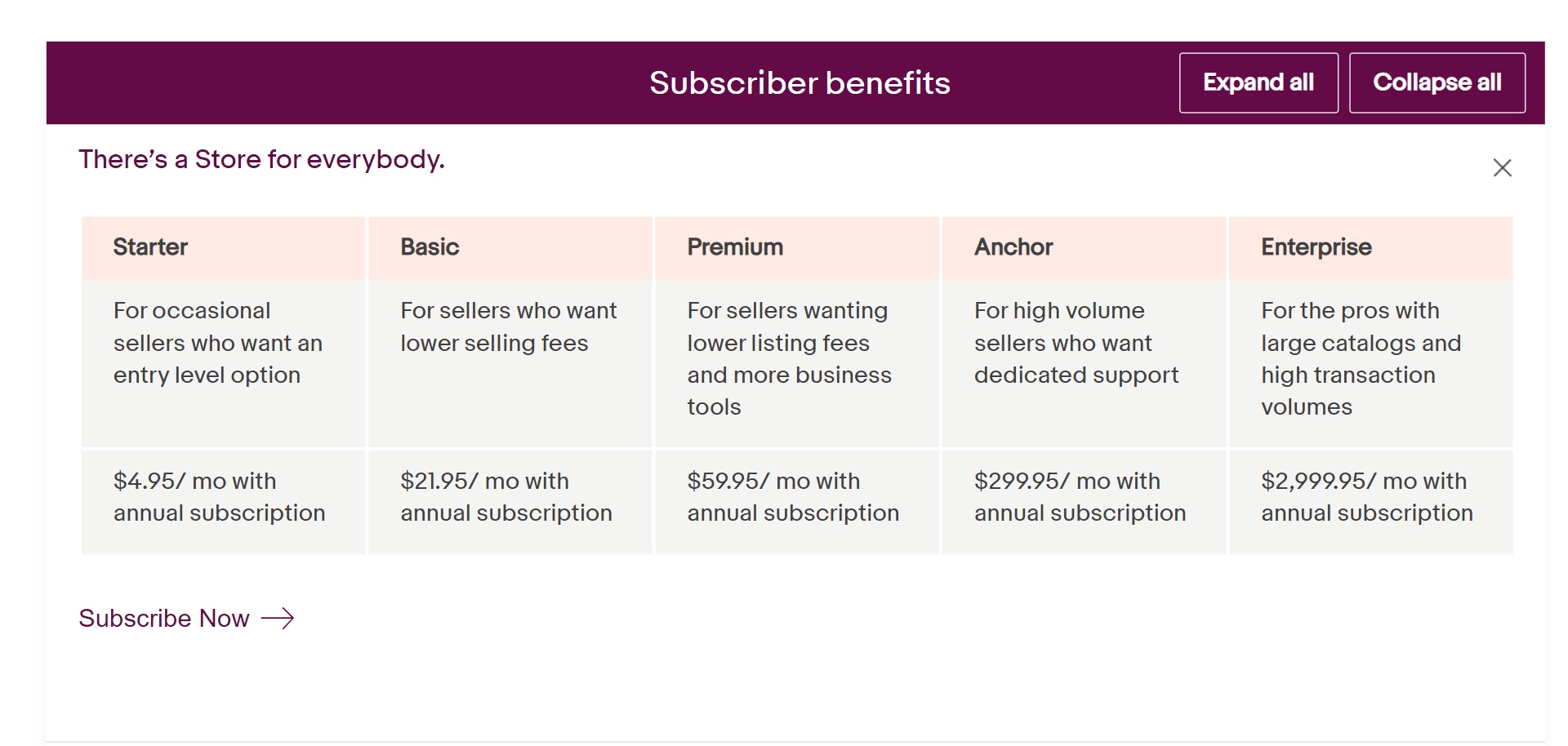 Jungle Scout's Pricing
Jungle Scout offers three pricing plans:
Basic

Suite

Professional
The Basic Plan
This is Jungle Scout's cheapest package at $29 per month.
For this, users receive:
Five product database searches

A single-user license

Five keyword searches

Access to the browser extension (Chrome and Firefox)

Five searches to find and verify suppliers

You can track up to 20 products and analyze historical product and keyword data in the past 30 days.
The Suite Plan
This package costs $49 a month, for which your get everything in the Basic plan, plus:
Unlimited product database searches

Unlimited keyword searches

Ten global marketplaces that support third-party sellers

3,500 keyword searches

You can track 150 products

Unlimited searches to find and verify suppliers

You can create and send email campaigns, up to 15,000 emails per month

Access historical product data that goes back one year

Access historical keyword data that goes back 90 days
The Professional Plan
Jungle Scout's most expensive package costs $84 a month and grants access to everything in the above two plans and:
Tracking up to 5,000 keywords and 1,000 products

You can create and send up to 100,000 emails a month

Access to historical product data that goes back two years

Access to historical keyword data that goes back two years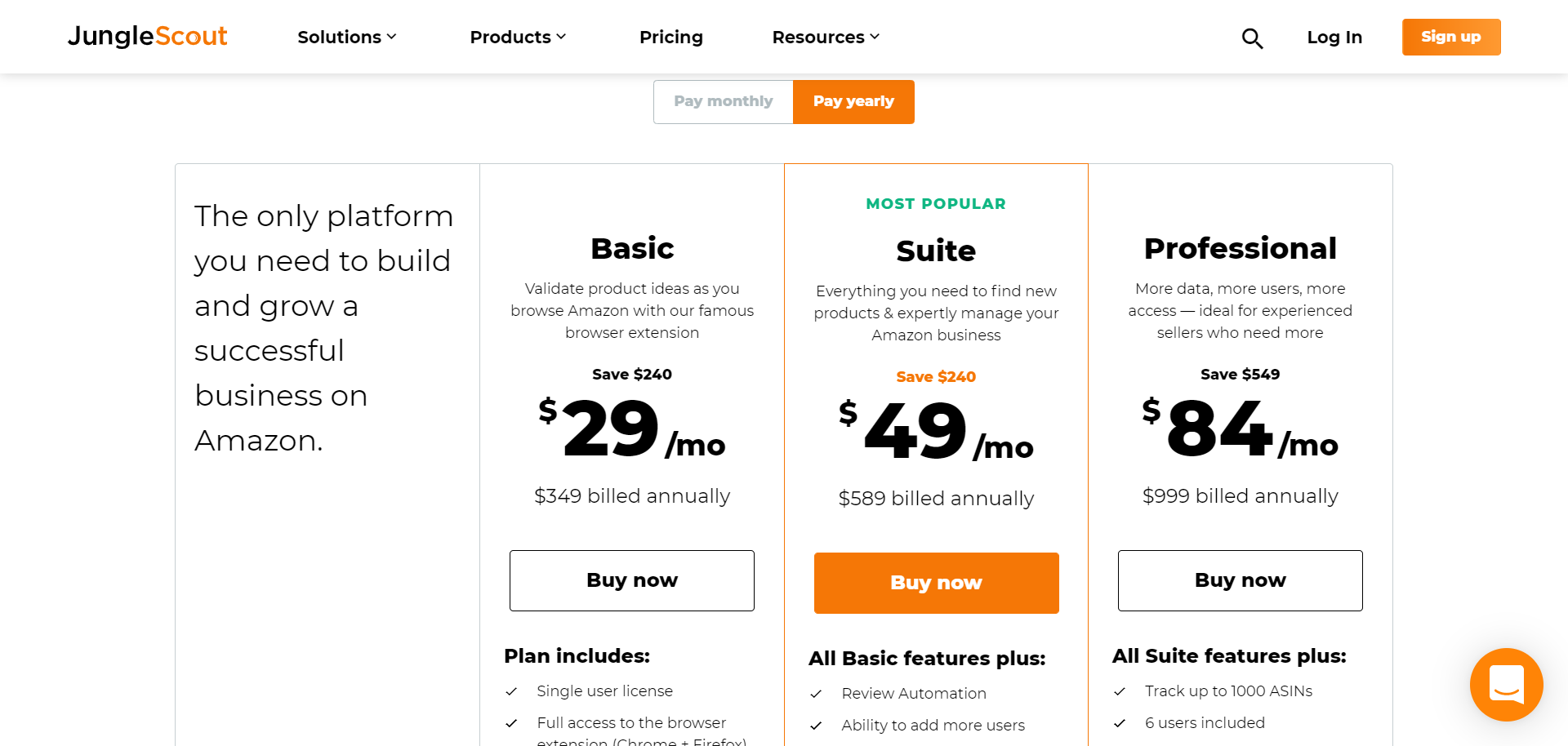 Terapeak's Pros and Cons
If you're still uncertain whether to head towards Jungle Scout or Terapeak, let's check out each of their pros and cons to help weigh things up:
Terapeak's Pros:
You get access to real-time sales data

It works well for eBay sellers

Its keyword search tool is excellent

It's easy to use

Its analytics and reporting functionality is powerful
Terapeak's Cons:
It's difficult to access info about it unless you're an eBay seller and subscriber

It appears to offer fewer features than Jungle Scout

Reviews suggest that data accuracy is low

Some users complain about poor and slow support when they submit a query or problem via Google forms

Data is skewed by sellers who price too low, start auctions at 99 cents or accept low offers.
Jungle Scout's Pros and Cons
Now, let's turn our attention to Jungle Scout's advantages and disadvantages:
Jungle Scout's Pros:
There's a 7-day money-back guarantee

It's easy to use

Jungle Scout's customer care is reportedly terrific

You get access to a good supplier database with verified suppliers

There are four price plans so you can scale your business as you sell more

Jungle Scout users report that its data is very precise
Jungle Scout's Cons:
There isn't a mobile app, so it isn't as easy to use while you're on the go

The higher plans are pretty expensive

Managing your inventory can be a little complicated, especially if you're handling lots of products simultaneously.
Terapeak vs Jungle Scout: Which is Better?
In this instance, we think that Jungle Scout is the clear winner over Terapeak for several reasons. First off, the site is transparent and easier to understand, so you know exactly what you're buying. It also has a way clearer pricing structure that's easy to navigate.
With Terapeak, you have to be a registered eBay seller to access its Product Research tool and an eBay store subscriber to access its Sourcing Insights. While it's excellent news that full-on eBay subscribers have access to the latter, we think Jungle Scout offers a larger product database, greater accuracy, and reasonable pricing plans based on online user reviews.
So, what have you decided? If you're considering going ahead with either Terapeak or Jungle Scout, let us know how you get on. Good luck!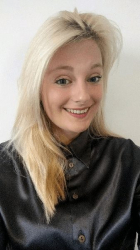 Latest posts by Rosie Greaves
(see all)
Get 40% OFF for 3 Months