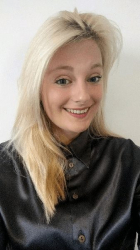 Latest posts by Rosie Greaves
(see all)
Last Updated on March 9, 2022 by DMEditor
Amazon.
It's a household name, and you don't need to be an online merchant to know that it's one of the most powerful selling tools on the web. Amazon has successfully established itself as our one-stop go-to shop for pretty much everything and anything.
With merchants, Amazon's gained a reputation for giving retailers instant credibility, helping them expand globally, and taking the hassle out of warehousing. For a fee, Amazon will store your inventory and take care of the packaging and shipping. It's a win-win.
In short, it's one of the most prominent global retailers and valuable companies to date, which leads us to the inevitable downfall: competition is fierce.
Although, in theory, you can access millions of daily customers, you're not guaranteed success. To establish yourself in this hyper-competitive market, you'll need to work hard and develop a solid marketing and sales plan. That's where product research tools like Egrow and Jungle Scout step in.
Join us as we put both platforms under the microscope to see which comes out on top:
Egrow and Jungle Scout's Main Differences and Similarities
To get us warmed up, let's take a quick look at the core similarities and differences between Egrow and Jungle Scout:
The Differences:
The Similarities:
Both Jungle Scout and Egrow provide Chrome extensions.

Both Jungle Scout and Egrow offer reverse ASIN searches. This is important if you're looking to find top keywords for competitor products.

Both Jungle Scout and Egrow offer users product databases

Both Jungle Scout and Egrow offer product trackers
What Are Product Research Tools?
If you want to make big-bucks on Amazon, you'll need to do your market research. This means that scoping out your competitors, analyzing current market trends, and tracking product insights all need to be high on your to-do list. Tools like Egrow and Jungle Scout help streamline this process for you.
Who's Egrow?
Egrow is a powerful software explicitly designed for Amazon sellers. It offers seven marketing tools to help you find top-selling Amazon products and valuable keywords. This includes insightful sales data displayed in easy-to-read charts and graphs.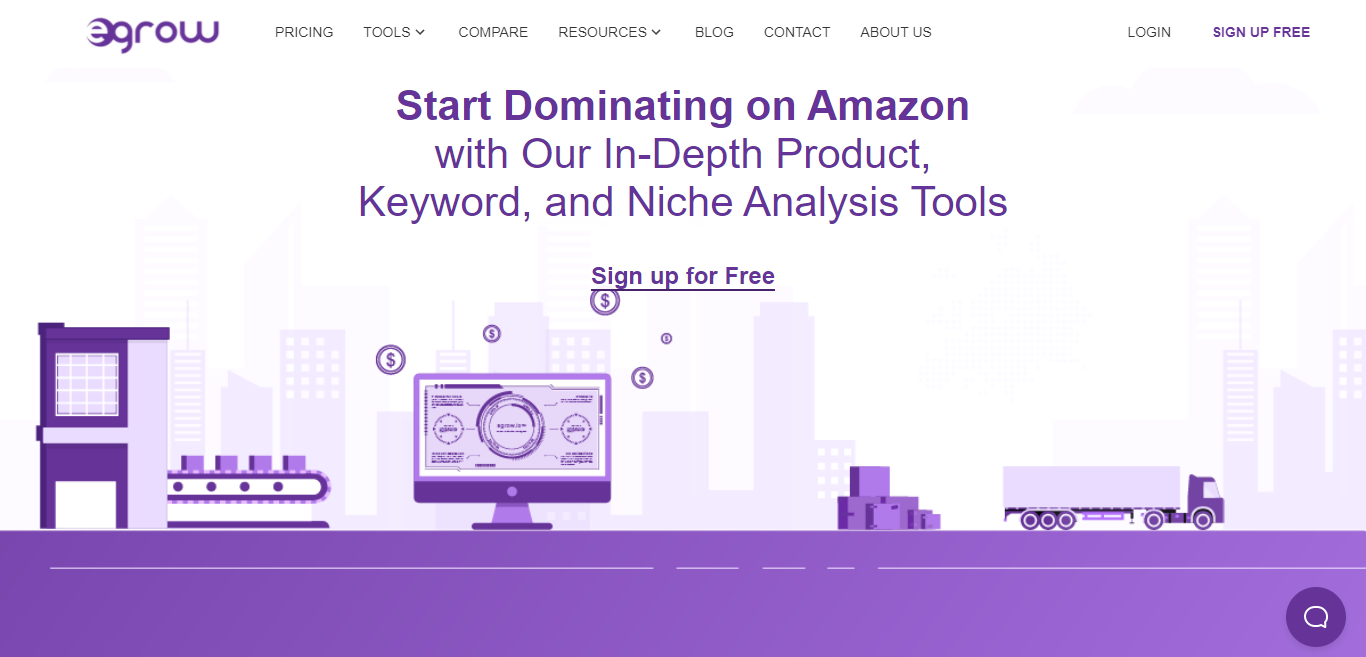 Who's Jungle Scout?
Jungle scout uses a range of resources to help online merchants grow successful businesses on Amazon. The tool can help you find top products, estimate sales, research keywords, and keep track of your competitors' performance.
You also have access to features that enable you to build marketing campaigns; for example, you can create and send email campaigns containing up to 15,000 emails per month. Like Egrow, you can do all this from one easy-to-use dashboard.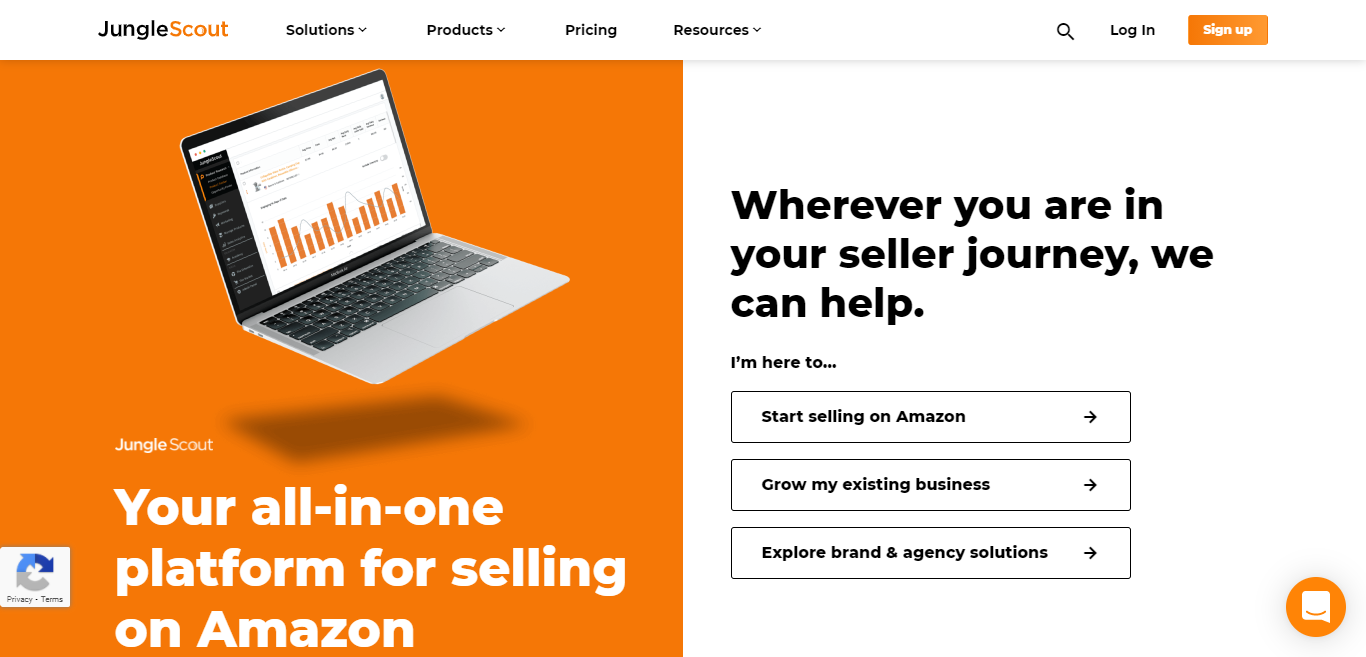 Jungle Scout's Main Features
Now that we've covered the basics, let's take a look at the core features offered by both platforms, starting with Jungle Scout:
Keyword Scout
This is Jungle Scout's own keyword research tool, and it's included in all their subscription plans. This tool provides direct insights into which keywords are popular with competitors, keyword volume, and suggested PPC bids. On top of that, you also get an estimate of how easy it is to rank for specific keywords and how many daily promotional giveaways you'll need to move higher up the ranks.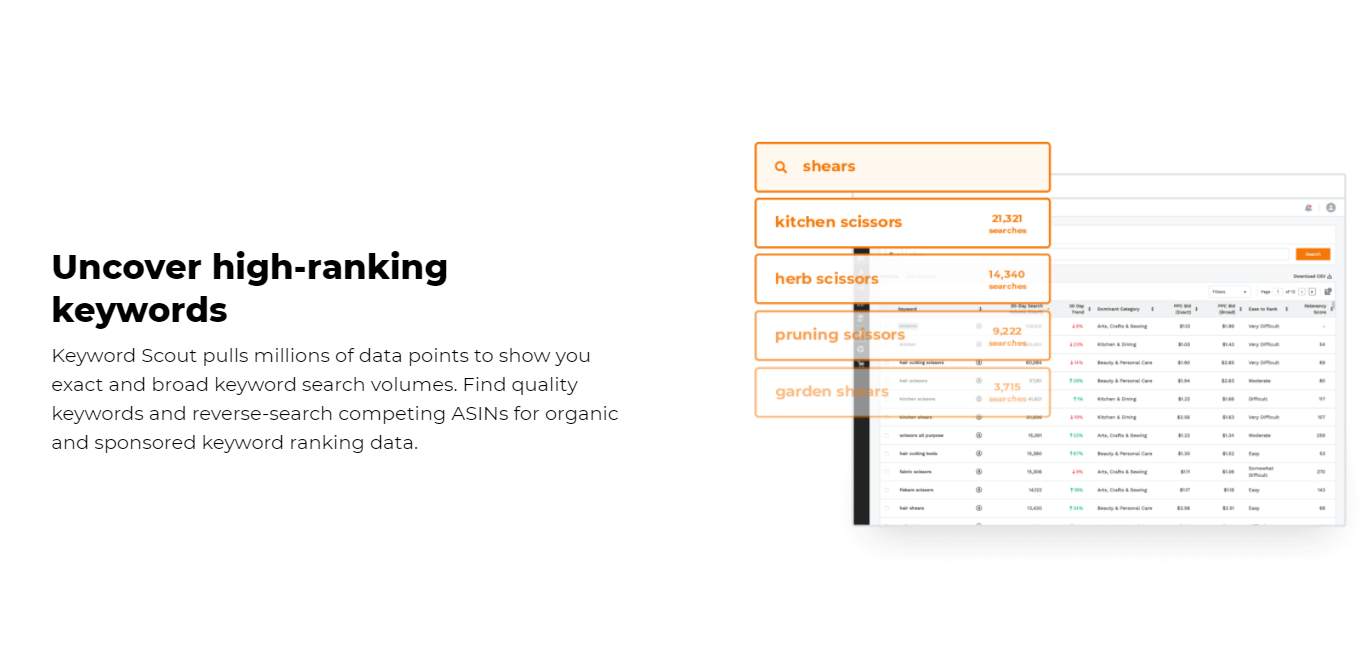 View Historical Search Volume
You can analyze keyword performance over the past two years and access monthly and quarterly trend data. This info paints a clearer picture of the popularity of products, services, brands, keywords, etc., over time. With this info to hand, you're better positioned to optimize your campaigns and product listings accordingly.
Product Database
Jungle Scout boasts a vast product database sourced directly from Amazon's catalog, consisting of over 70 million products. In addition, there's a range of pre-set filters available to help you navigate potential products, including sales rank, revenue, and estimated sales. With their Basic plan, you can only perform five searches to find and verify suppliers.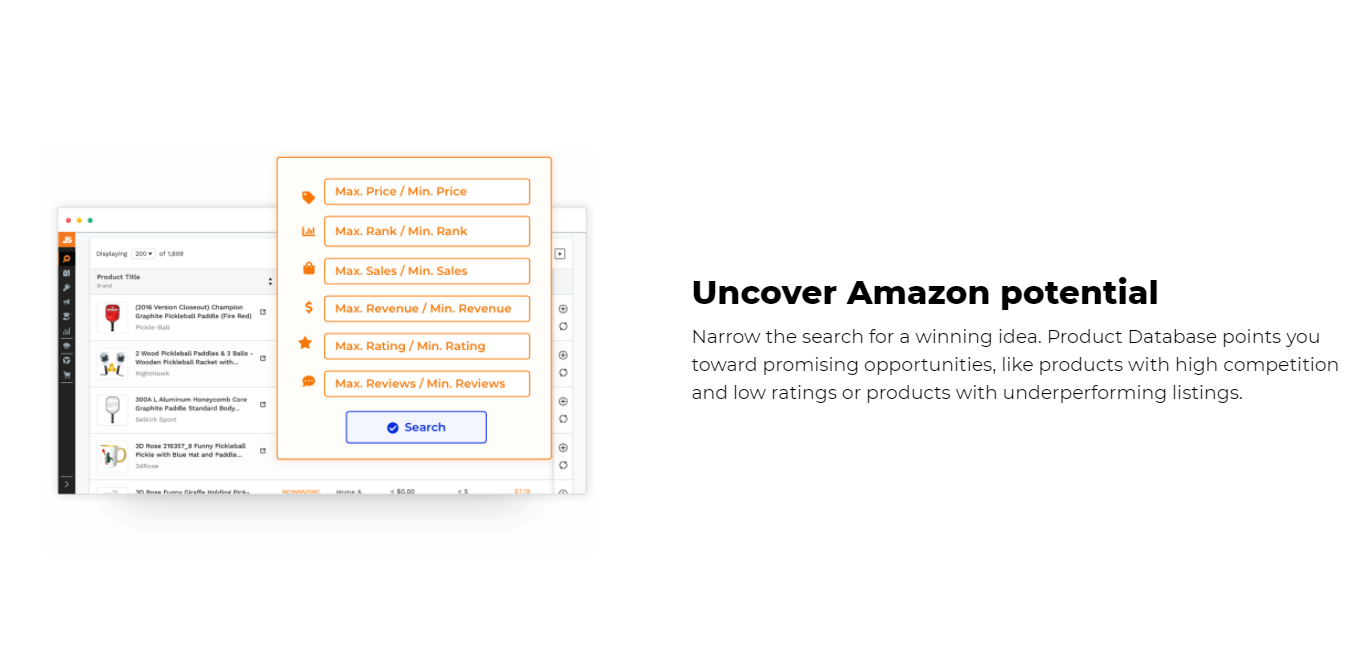 Opportunity Finder
This functionality recently merged with Jungle Scout's 'Niche Finder'. This tool provides in-depth analytics to help you decide which market segment to pursue, depending on its profitability.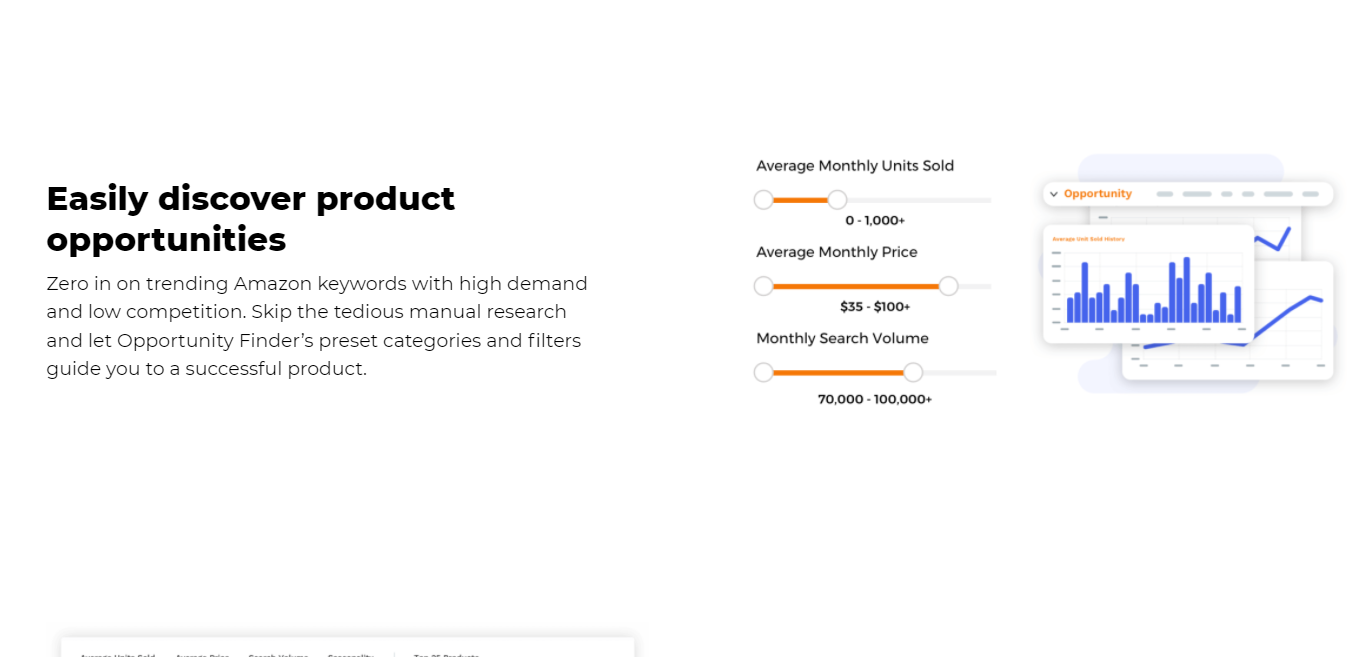 Sales Analytics
Tracking sales is the pillar of success for any eCommerce business. Jungle Scout's sales analytics tool allows you to do this in real-time. You can view metrics such as individual performance rates and periods where sales peaked. By keeping an eye on your own sales trends, you'll find it easier to adjust your marketing strategies accordingly to capitalize on your most profitable seasons.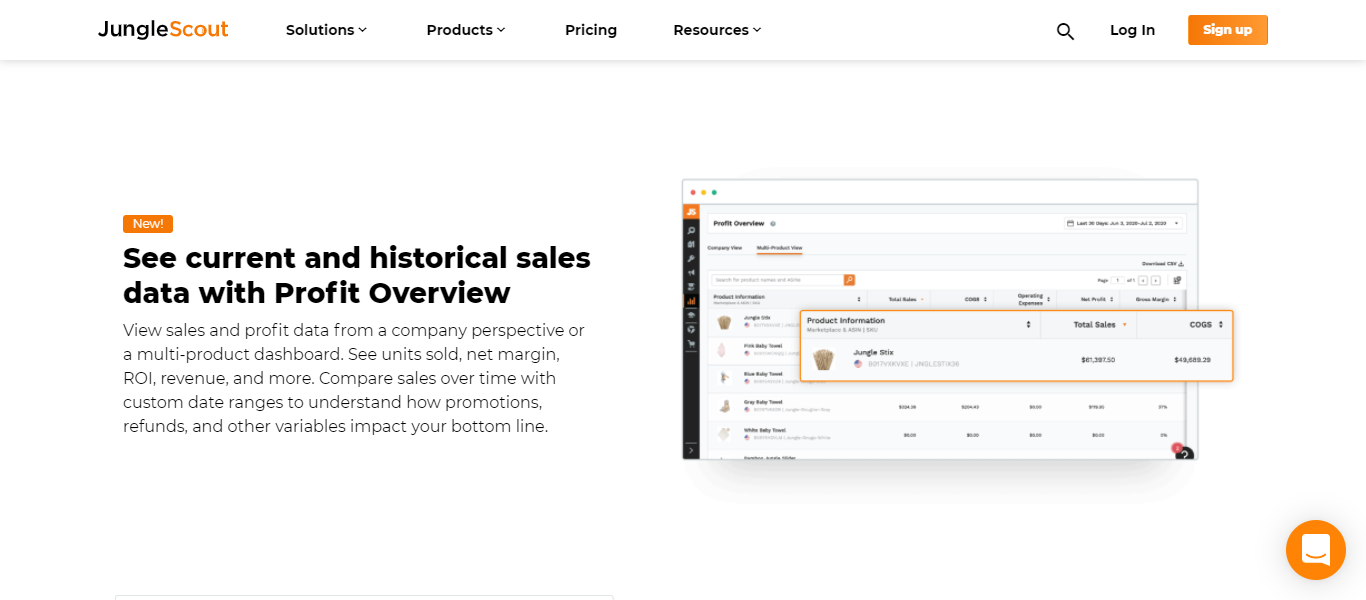 Inventory Manager
With this tool, you can predict the amount of stock you'll need and estimate the best dates to order it.
The inventory manager also provides access to your Amazon FBA inventory in real-time – so, rest assured, you'll never miss a beat!
The tool also provides inventory-related data like costs, profits, and details concerning your daily sales.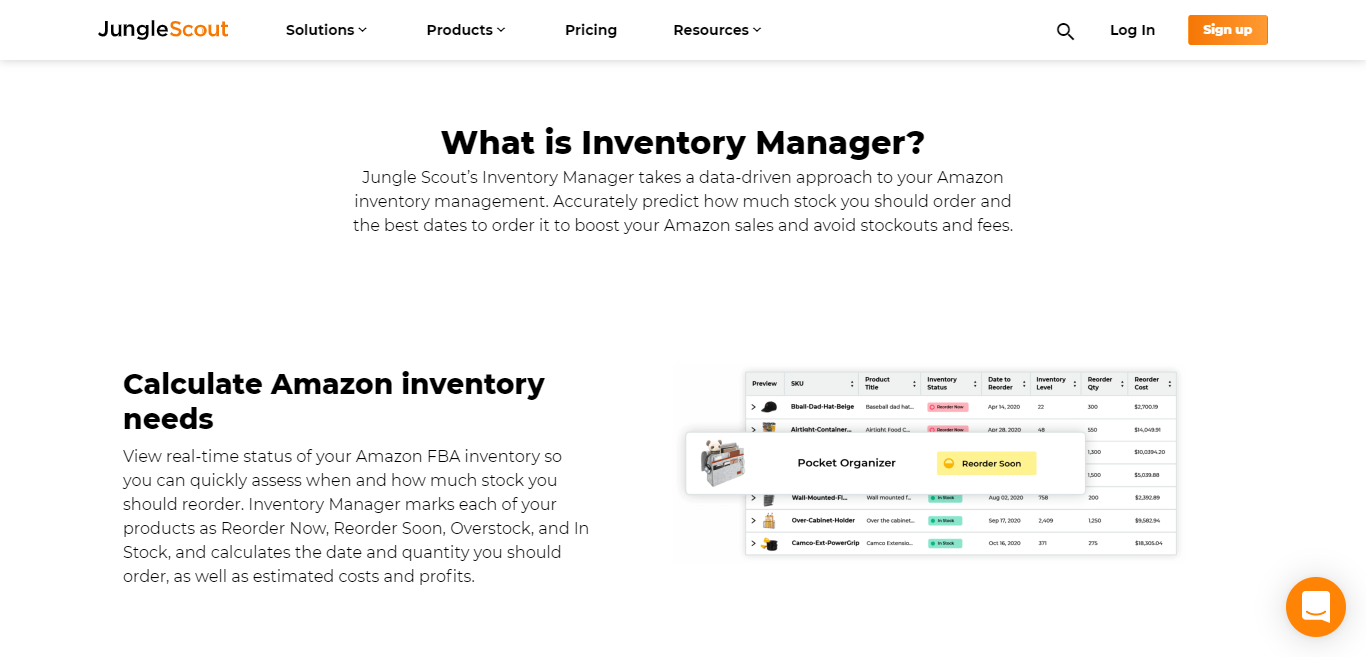 Chrome Extension
Jungle Scout's Chrome extension allows you to search for products on Amazon, providing in-depth data analysis with just a click. With this web tool, you can see Google trends, sales data, and other statistics pertaining to the products you're interested in. Just enable this extension while browsing Amazon, to receive real-time sales estimates and historical data.
This works wonders for scoping out the demand and competition for any Amazon product at any given moment, making it easier to stay ahead of your competitors. If you're not a Chrome user, you can also access this extension on Firefox.
The best bit?
You don't need Jungle Scout to use this extension. Although it works better with the complete product, you can use this extension on its own.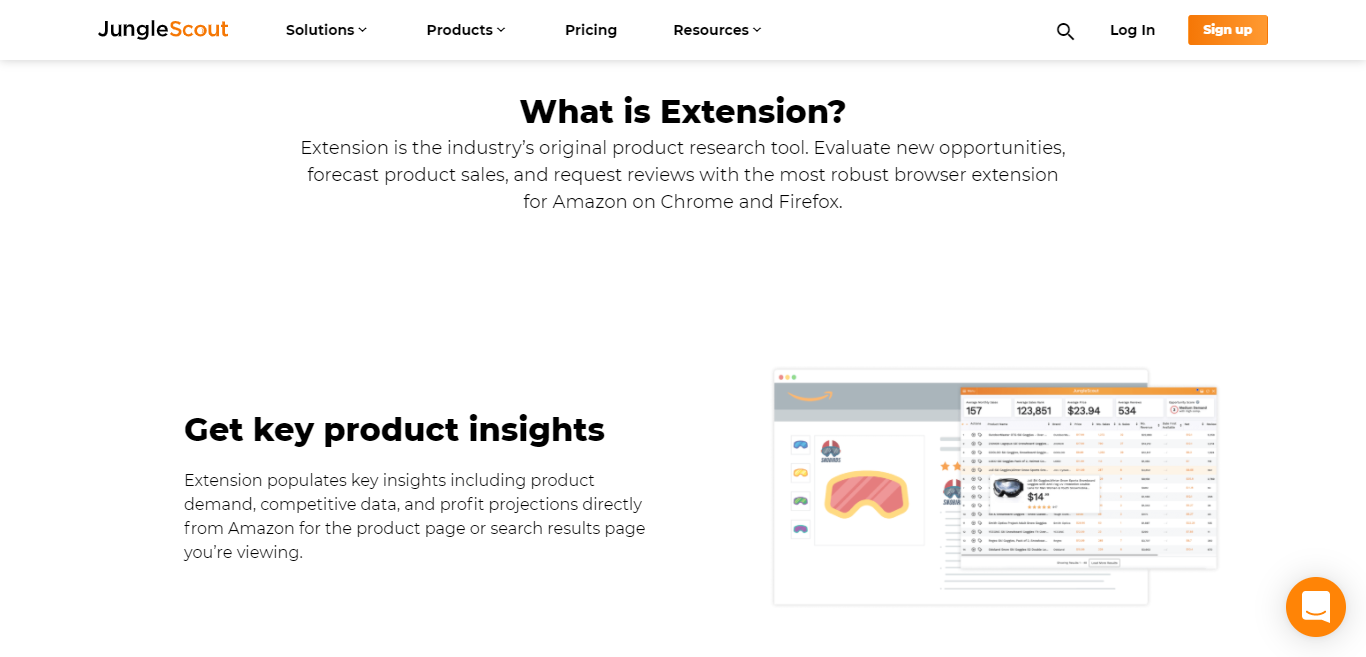 Egrow's Main Features
Now let's turn our attention to Egrow's core functionality:
Product Database
Like Jungle Scout, Egrow provides a product database comprising millions of Amazon products that you can access with just a click. Similarly, you can also apply filters to search for the highest performing products by price, net weight, product size, seller type, title, brand, and more.
Product Tracker
The product tracker provides an in-depth analysis of products. If you're looking for a product in Egrow's database, type in the ASIN or URL into the tracker and you'll find information like price, inventory, reviews, estimated sales, and best seller rank.
If you can't find the product you're looking for in Egrow's central database, add the product's ASIN to the product tracker, and you'll be presented with the relevant information within 24 hours.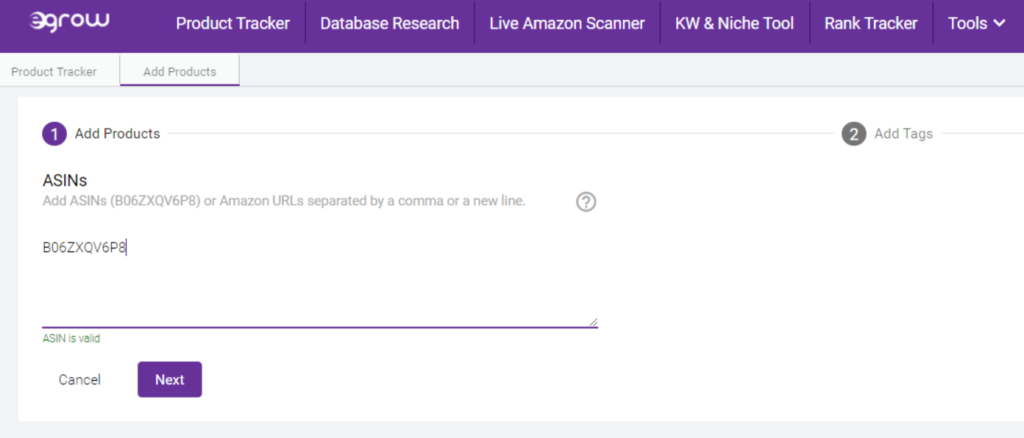 Keyword and Niche Research Tool
This tool works similarly to the product database. If you're looking to find promising niches on Amazon, or you want to generate keyword ideas for your business, choose a product category from the keyword and niche research tool and fill in the other parameters like estimated revenue and opportunity score.
You're then presented with the stats. If you've searched for a specific keyword, you'll also see info on other related key terms. In contrast, if you've used the niche research tool, you'll see more refined results for that niche including average review, opportunity score, number of reviews, and more.

Reverse ASIN Search

This tool unlocks access to competitor products by keyword. Just enter the product's ASIN or URL and you'll get a list of relevant keywords and other essential metrics including organic position, average BSR, average sales, average revenue, and more. You'll also get an insight into the product's market demand, competitors, and sales.
Rank Tracker
Add the URL or ASIN of the product you want to monitor into the search bar, add the keywords you want to track within each product category, and Egrow will automatically track them for you.
You can keep an eye on the performance of your own rankings according to your selected time period. All data is displayed in easy-to-analyze graphs so you can see at a glance info that's imperative to the direction of your selling strategies.

Live Amazon Scanner
Here, you can track best-performing products by keyword or product categories. You can be as broad or as specific as you like. For example, you could select the 'all departments' option to scan the whole of Amazon or select a few individual categories. The choice is yours!
Once you've completed your search, you're presented with a range of average values including best seller rank, price, reviews, sales, and revenue. This info is condensed into bite-sized chunks to make it easier to consume.

Jungle Scout's Pricing
Now let's get down to brass tax – how much will these platforms set you back? Let's first take a look at how much Jungle Scout costs:
There are three paid-for packages to choose from:
Basic

Suite

Professional
Below we explore each in turn:
The Basic Plan
Jungle Scout's basic package costs a reasonable $29 per month and includes:
A single-user license

Access to the browser extension (Chrome and Firefox)

Five product database searches

Five keyword searches

Five searches to find and verify suppliers

You can track up to 20 products and analyze historical product and keyword data as far as 30 days.
The Suite Plan
This package comes in at $49 a month, you get everything in the Basic package, plus:
Ten markets

Unlimited product database searches

Unlimited keyword searches

Unlimited searches to find and verify suppliers

You can track up to 3,500 keywords and 150 products

Access historical product data that goes back one year

Access historical keyword data that goes back 90 days

You can create and send email campaigns, with up to 15,000 email sends per month
The Professional Plan
This is the most expensive package, costing $84 a month. You still have access to ten markets and unlimited product database searches, keywords searches, and supplier verification searches, but on top of that, you can also:
Track up to 5,000 keywords and up to 1,000 products

Access historical product data that goes back two years

Access historical keyword data that goes back two years

100,000 email sends a month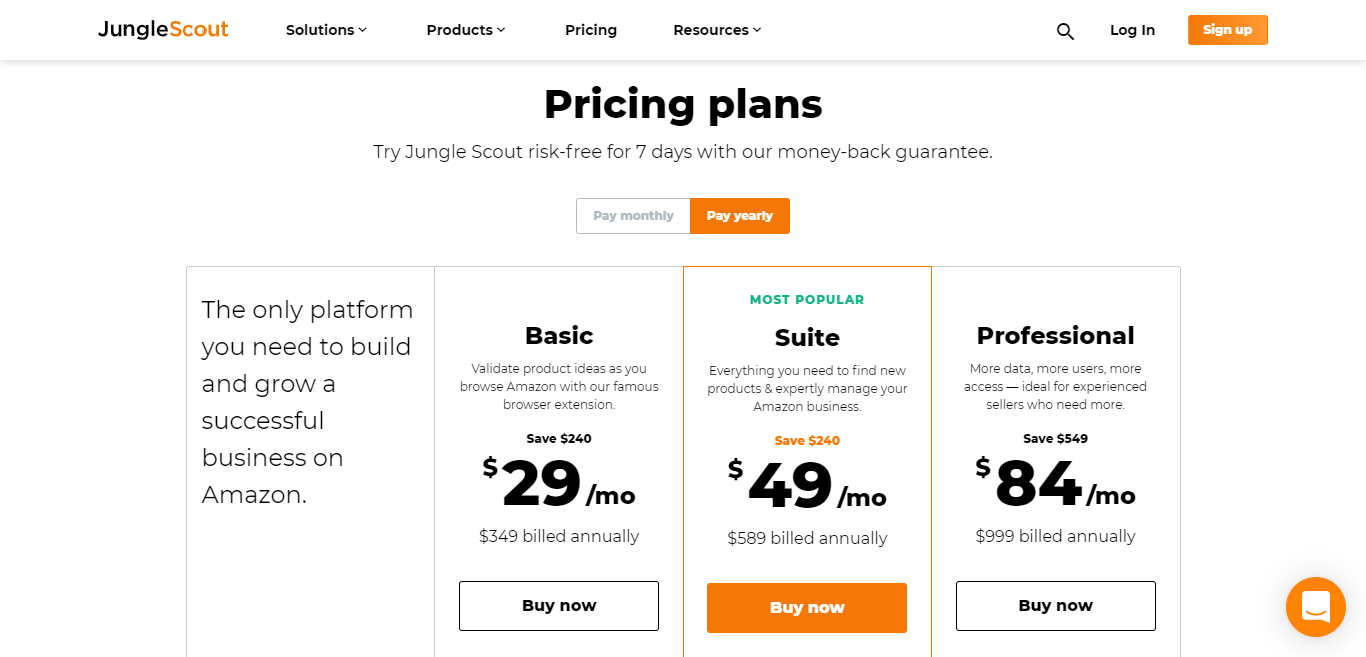 Egrow's Pricing
Unlike Jungle Scout, Egrow offers four different packages, and their basic option is entirely free.
The Basic Plan
For no cost whatsoever, this package provides access to:
A Chrome extension (up to five uses per day)

Access to nine amazon markets (or sellers)

Product research, ASIN, and keywords (but you'll only be able to see 50% of all products and keyword results)

An unlimited rank tracker: You'll receive regular and unlimited updates on the keywords you want to track

You can track a maximum of two products and five keywords

Historical data that goes back seven days
The Standard Plan
This package costs €17 a month, for which, you get everything in the Basic plan. plus:
A Chrome Extension (up to 20 uses a day)

Access to 13 markets

Unlimited product, keyword, and ASIN research

You can track up to 50 products and 50 keywords

Historical data that goes back 30 days
The Plus Plan
This is the second most expensive option offered by Egrow, and it'll cost you €21 per month. You'll get everything above, plus:
Unlimited use of the Chrome Extension

Track up to 100 products and 200 keywords per month

Historical data that goes back 90 days
The Premium Plan
This is the most expensive package, costing you €29 a month. As well as unlimited use of the chrome extension, 13 markets, historical data (90 days), endless research and unlimited use of the rank tracker, you'll also get the option to track up to 100 products and 200 keywords per month.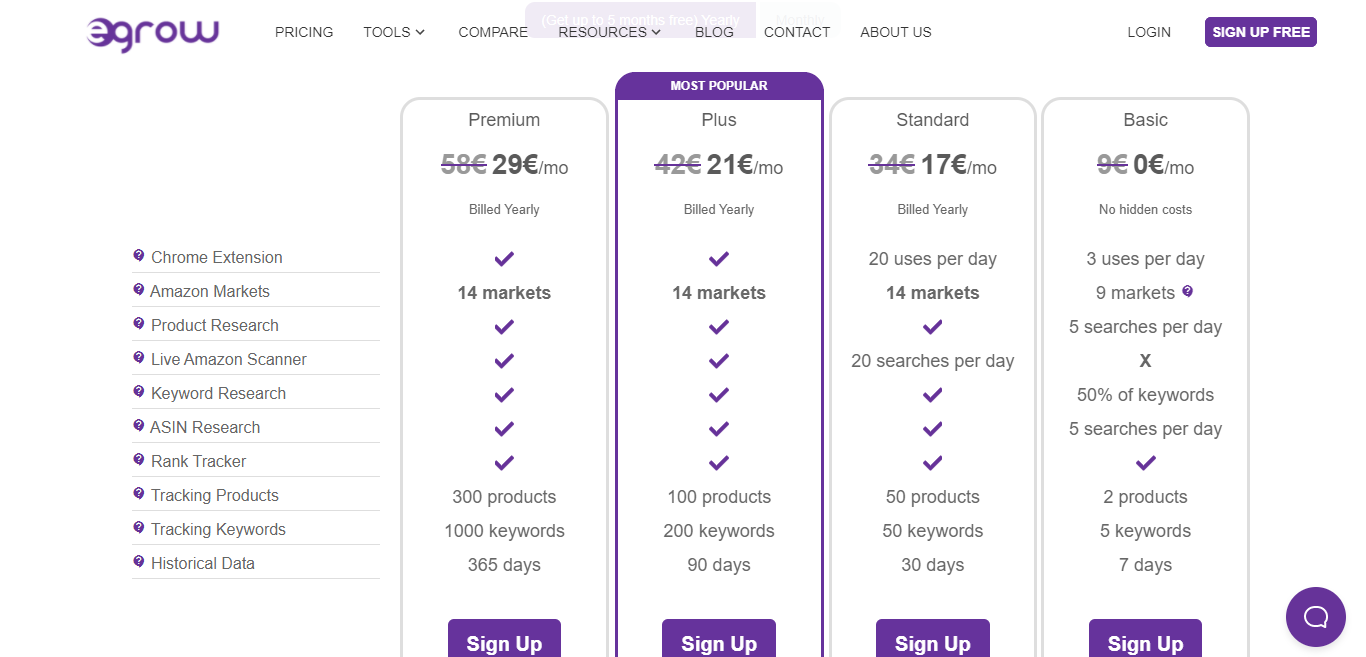 The Pros and Cons
Still unsure which product's best for you? Let's take a look at the pros and cons below:
Jungle Scout's Pros:
It's user-friendly:

Jungle Scout products are relatively easy to use, so you don't need to be a tech expert to get up and running.

Its accuracy:

Estimates and projections are incredibly precise, so you can be sure you're getting access to reliable data.

Access to top-notch customer care:

Jungle Scout ranks highly for customer satisfaction.

Access to a suppliers database:

Here you can scour through verified Amazon suppliers and find suppliers/factories for the exact products you're looking to sell – to name a few.
Jungle Scout's Cons:
There isn't a mobile app:

If you're after something you can use on the go, Jungle Scout isn't the best choice for you.

It can get costly:

Some of Jungle Scout's pricing packages are on the expensive side.

Inventory management can get complicated

: Although Jungle Scout's inventory management is excellent. Still, if you have thousands of products to manage, it can get a little tricky- especially if you're an inexperienced user. Also, Jungle Scout's filtering isn't the easiest to use when you're managing multiple products.
Egrow's Pros:
Egrow's budget-friendly:

Egrow's pricing packages are more affordable than Jungle Scout's. Plus, their Basic plan is completely free.

You get access to a few extra features

– including the live Amazon tracker, which has the ability to request data for products not in its tracker. Jungle Scout currently doesn't offer this.

You benefit from historical data

– You have access to historical data that goes back as far as 90 days.
Egrow's Cons:
Egrow isn't widely available

: For instance, it doesn't support Mexican, Japanese, or Middle Eastern marketplaces.

Egrow lacks more advanced features:

If you're a novice merchant or uncomfortable using complicated tools, then Egrow might suit you well. However, if you're a more seasoned entrepreneur seeking in-depth analytics, Jungle Scout offers more advanced features.
FAQ
Finally, let's wrap up this review by answering some of the most frequently asked questions we hear about Jungle Scout and Egrow:
Question: Do Jungle Scout and Egrow offer free trials?
Answer: Egrow offers a free trial, but Jungle Scout does not.
Question: What's the difference between Jungle Scout's Chrome extension and the web app?
Answer: The Chrome extension offers a quick overview of product information. In contrast, the web app is more robust (and slightly trickier to navigate), but it has many features that can be used for more general research.
Question: Does Jungle Scout support international marketplaces?
Answer: Some, but not all. Click here to see a list of supported countries.
Question: Are there any hidden fees in Egrow's free plan?
Answer: Nope, the free plan is completely free to register and use. No hidden fees at all.
Question: Do I need a professional Amazon seller's account to use Jungle Scout Pro?
Answer: Yes. To make use of all of the features, you'll be required to input an API key which is only available to professional seller accounts on Amazon.
Egrow vs Jungle Scout: Our Final Verdict
If you decide to use a product research tool, you'll have to do your research and sift through the vast range of competitors on the market. Here, we've picked out two top-rated tools and given you a breakdown of their key features, pricing, and pros and cons.
Still, you might decide to look elsewhere depending on your needs—however, both Jungle Scout and Egrow rate highly for customer satisfaction. Although many of their tools are similar, they each have their own unique offerings, making them suitable for most businesses.
You need to consider a range of factors before making a decision: what's your budget? How in-depth do you want your analysis to be? Are you a big business or a small business? These questions should be at the core of any decision you make, and most importantly, you should remember to do your research. You don't want to be caught out by any hidden fees or nasty surprises. That said, if you're considering either of these competitors, you can rest assured you're in safe hands.
Our Recommendation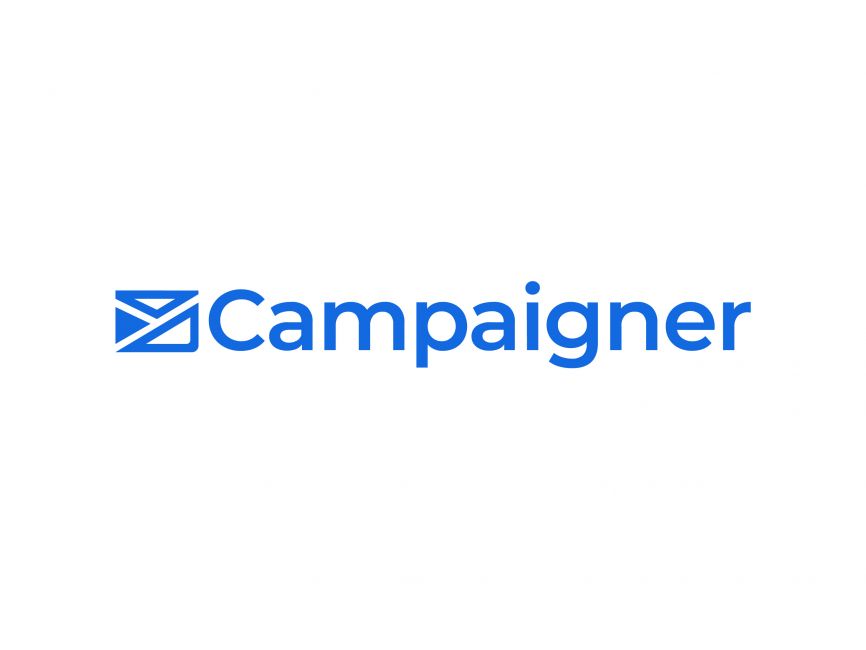 Have Your Heard of Campaigner?
Drive sales and revenue using advanced marketing automation, intuitive reporting and powerful personalization through email and SMS. Try Campaigner for free!
Start Your FREE Trial
We earn a commission if you click this link and make a purchase at no additional cost to you.