Last Updated on April 22, 2023 by Ewen Finser
In our Tactical Arbitrage vs Jungle Scout comparison, we'll be looking at two different product research tools to help you make money on FBA (Fulfilment by Amazon).
With so many sellers and products now on Amazon, it can be hard to know what will sell well and what won't. Fortunately, these software tools allow you to do your research before you invest your cash, helping you to make sure that your time and money will give you a decent return.
Both Tactical Arbitrage and Jungle Scout have a lot to offer the aspiring internet entrepreneur – but which one is better?
The bottom line is this: We think that Tactical Arbitrage has the edge. It's a more comprehensive tool with more to offer and is responding more quickly to the changing needs of the users.
In this comparison, we will be looking at the key differences and features of Tactical Arbitrage and Jungle Scout. We will explore each tool, noting their pros and cons, support, features, and pricing. We will take a look at any alternatives on the market and answer some frequently asked questions and finally, we will summarise the tools and why we think Tactical Arbitrage is the best.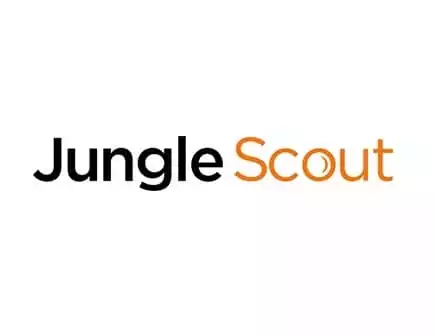 Why Go with Jungle Scout?
Jungle Scout is a great option for both beginners and advanced Amazon sellers. It's user-friendly and has great resources like the Jungle Scout Academy, where you can learn how to get the most out of the software and grow your business.
Try Junglescout first
We earn a commission if you click this link and make a purchase at no additional cost to you.
Main Differences between Tactical Arbitrage and Jungle Scout
The main differences between Tactical Arbitrage vs Jungle Scout are:
Tactical Arbitrage helps you to find and source different products that you'd be able to buy for a cheap price to sell on Amazon, whereas Jungle Scout is a tool that tells you what items are selling well on Amazon.
Tactical Arbitrage requires a connection to your Amazon Seller Account for optimal use of their features, whereas Jungle Scout does not.
Tactical Arbitrage is all based on the web, whereas Jungle Scout has the added feature of the Chrome Extension
What is Tactical Arbitrage?
Tactical Arbitrage is a cloud-based sourcing software that helps you find inexpensive items from a wide range of sources, which you can then go on to resell on Amazon.
With basic search functions, Tactical Arbitrage is an ideal beginner tool, yet it also has enough complex functions to satisfy full-time, experienced Amazon FBA sellers who are looking to increase their profit margins or find new sources for their products. Tactical Arbitrage is great for retail arbitrage, online arbitrage, Amazon flips, and wholesale scanning.
Jungle Scout is a tool to help you find products that can sell on Amazon. Established in 2014 it was one of the early tools helping people find more profitable products to sell on Amazon and taking the time-consuming pain out of manual product research.
Jungle Scout is actually a pair of related products. First is the web-based product and second is the Chrome Extension. The web-based product allows you to research and track products and keywords being used on Amazon, while the Chrome Extension gives you instant access to sales details on products that you are looking at on Amazon.
Features of Tactical Arbitrage
Online arbitrage – scan hundreds of online stores to find deals
Results filter
Wholesale sourcing
Reverse look-up
Over 1000 stores in 7 different countries.
Here's an outline of the key features of this impressive tool: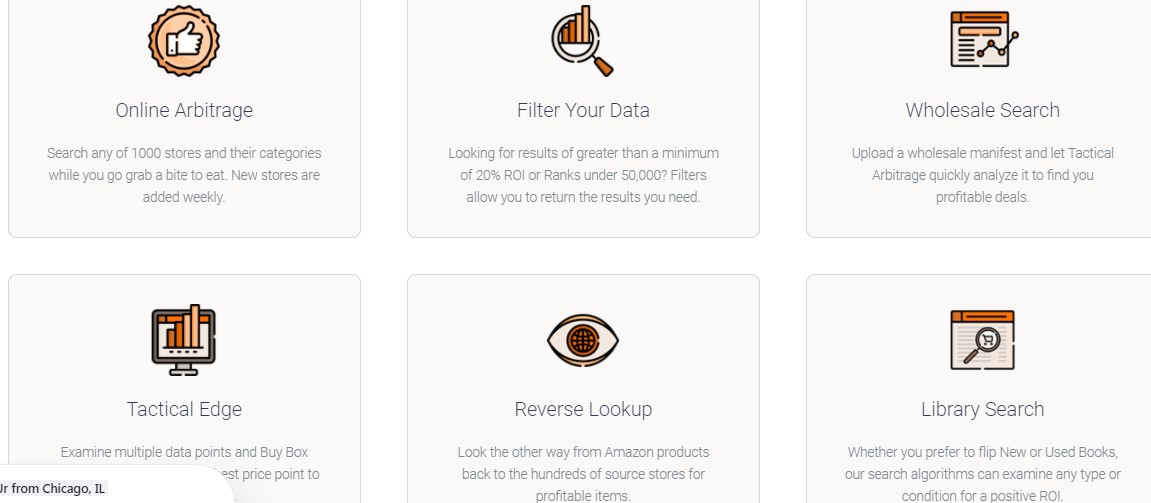 Interface and Dashboard
The Interface on Tactical Arbitrage is clean and simple. A straightforward navigation bar on the left shows you the tools and the main dashboard shows visually what searches and results you have going on.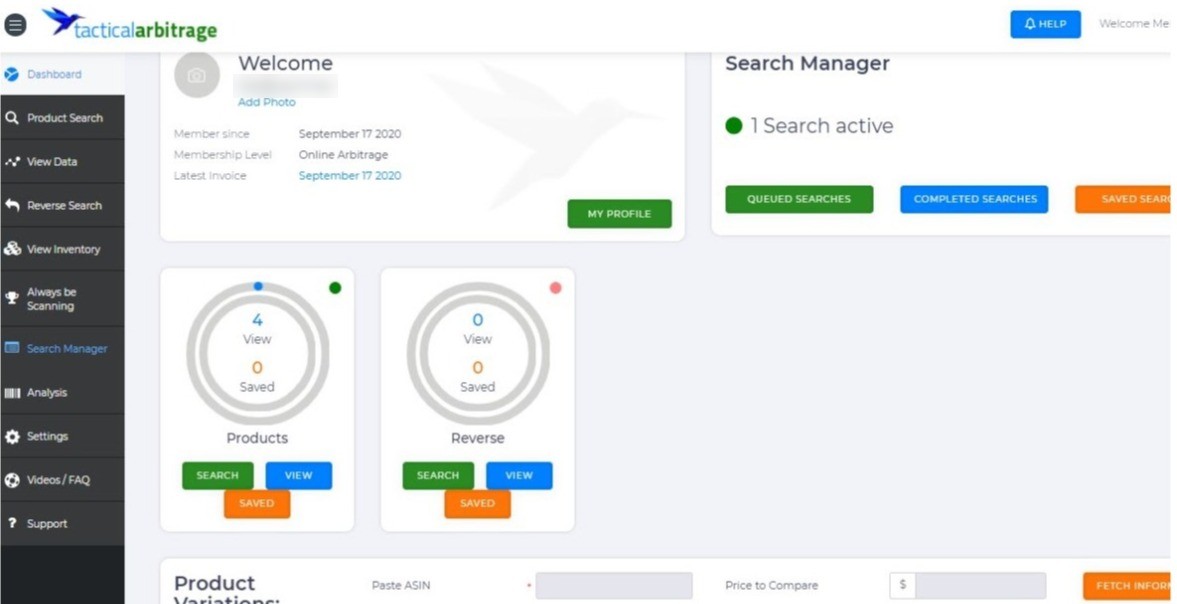 When you first sign in you need to enter your MWS Keys to synchronize all the tools with your Amazon Seller Account. While it is possible to search without these, the results will not make a lot of sense. The Settings page gives you clear instructions for how to obtain these or set up your Amazon Sellers Account if you have not already done so.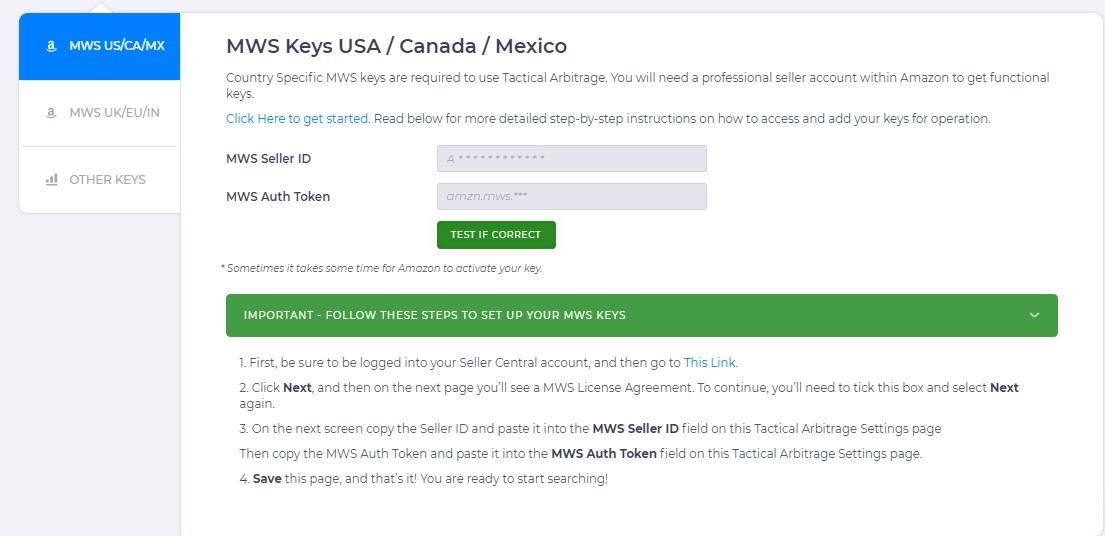 Searches
There are a number of different search options available depending on the package that you have signed up for.
In the Online Arbitrage option, which is great for those just starting out, there are two main search options. You can either use the Products Search Option to scan the internet looking for items you'd be able to sell profitably on Amazon, or you can Reverse Search where you put in the Amazon product code and the software will tell you where you can buy that product cheaply.
For the Product Search, you start by selecting the domains that you want to search. You can then apply further filters to look for particular types of products.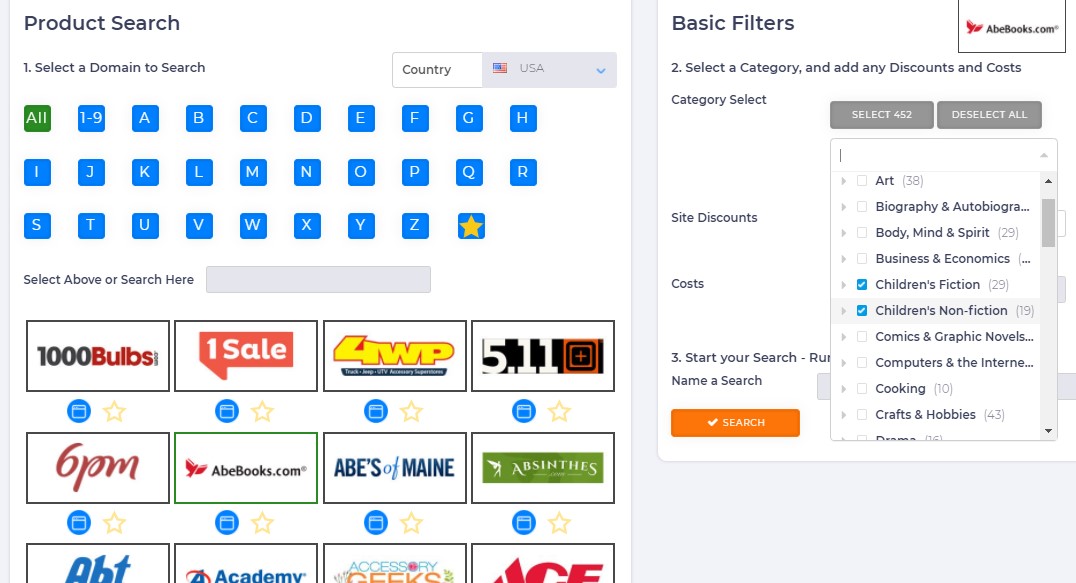 The other alternative, to reverse search, means that rather than searching for products in a particular category, you can input one particular product and Tactical Arbitrage will be able to find where you can source that product.
Once your search is underway you are able to check all the results in the Search Manager to find out where you can source the range of products you have searched for.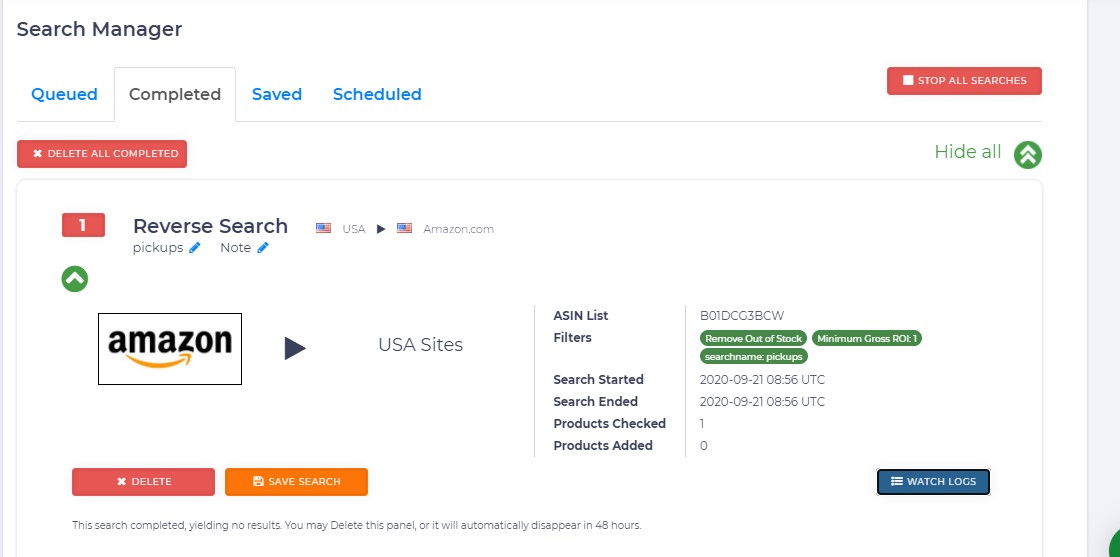 For more experienced users, you can also scan wholesaler inventories, allowing you to compare wholesale prices against Amazon prices.
One of the positive features of Tactical Arbitrage is the ability to filter the search data to really narrow down your parameters. You may choose to look only at products with an Amazon Review rating between 2 and 4 stars for example, or with a specific projected profit margin.
The search results for each product give you a lot of information. At one glance you can see the price you buy the book at and the price you sell at, as well as projected profit and return on investment. You can see how the price and sales ranking have changed over time and you can view how many sellers stock that product.


Markets
Tactical Arbitrage works for buyers based in the USA, UK, Australia, and many more, and will source from markets in India, various countries in Europe, and in the USA and Canada.
Features of Jungle Scout
Jungle scout Academy
Opportunity finder
Product database
Supplier database
Keyword scout
Listing builder
Rank tracker
Email campaigns
Inventory manager
Sales analytics
Alerts
Jungle Scout has some great tools and is a very popular tool among Amazon sellers. First, there's the web-based app which includes a tool to help you to find the perfect profitable niche keywords and products in different categories. The Product Tracker gives you a huge range of information such as sales history, average price, sales trends, and even weight!
Another great tool is the Product Database where you can filter over 70 million products to get some great ideas for profit-making. For example, you can get a list of products that sell for $500 and have a 3-star rating.
In addition, the Jungle Scout Pro Extension is the browser extension that means you can just click on it on your browser as you view a product in Amazon and it will give you all the information you could need on that particular product.
Interface and dashboard
Jungle Scout also has a clean and easy to use dashboard with a menu of key features down the left hand side.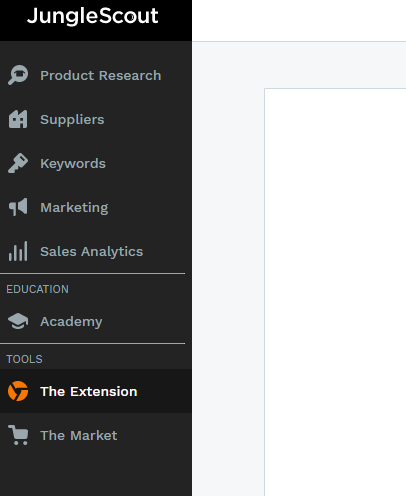 Searches
On Jungle Scout you can find information about how ratings and popularity of search terms have changed over time, so you have a good idea about trends in that particular marketplace. In addition, you can also find out how a keyword search has trended on Google so you'll know if people are looking for it and how to optimize your description.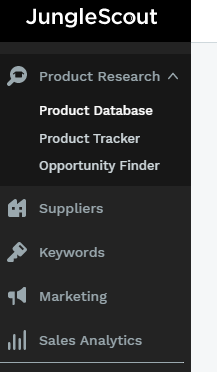 Clicking on the Product Database brings up a search where you can choose the category that you want and apply various filters to select the type of products that you want to view, for example by a number of reviews, by price, or profit margin.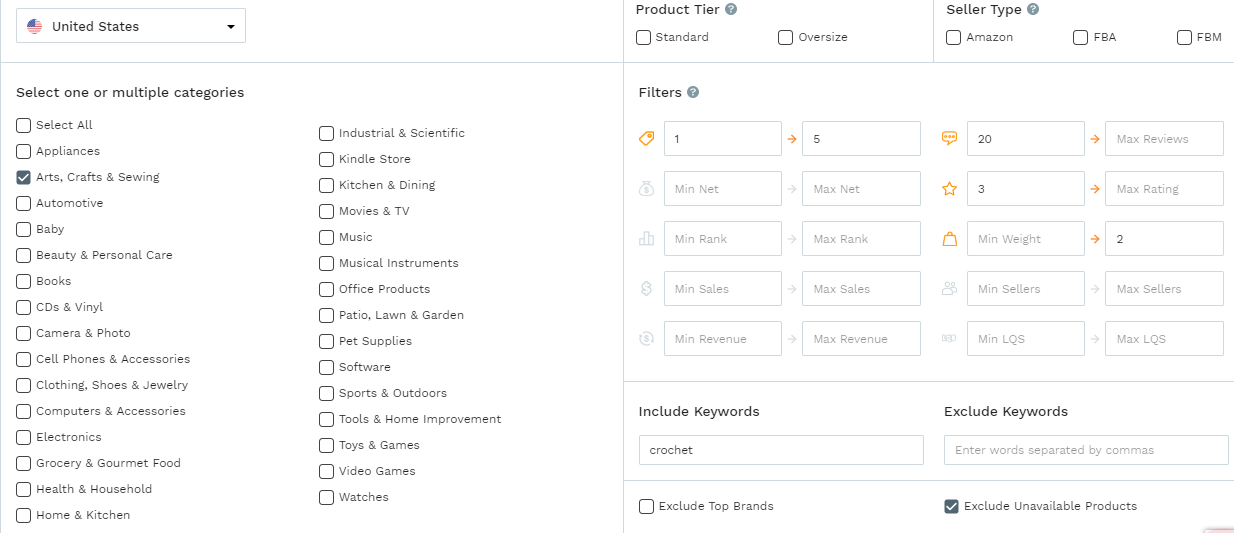 This will then display products for sale on Amazon that fit these criteria.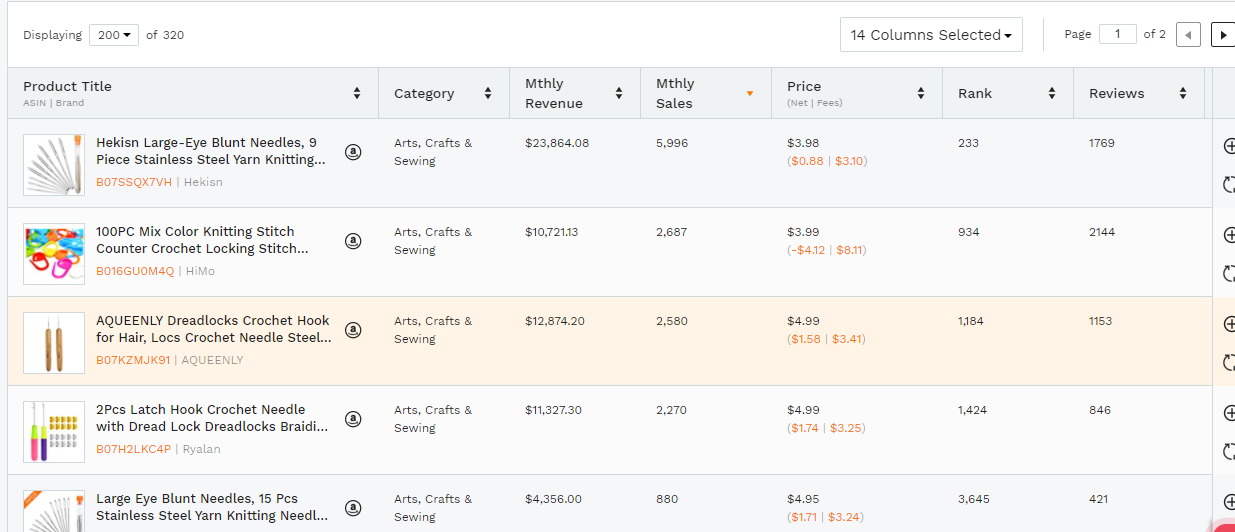 The Opportunity Finder helps you to find niches that aren't yet being exploited, put in a fairly wide search term, and it will suggest products that have great potential to do well: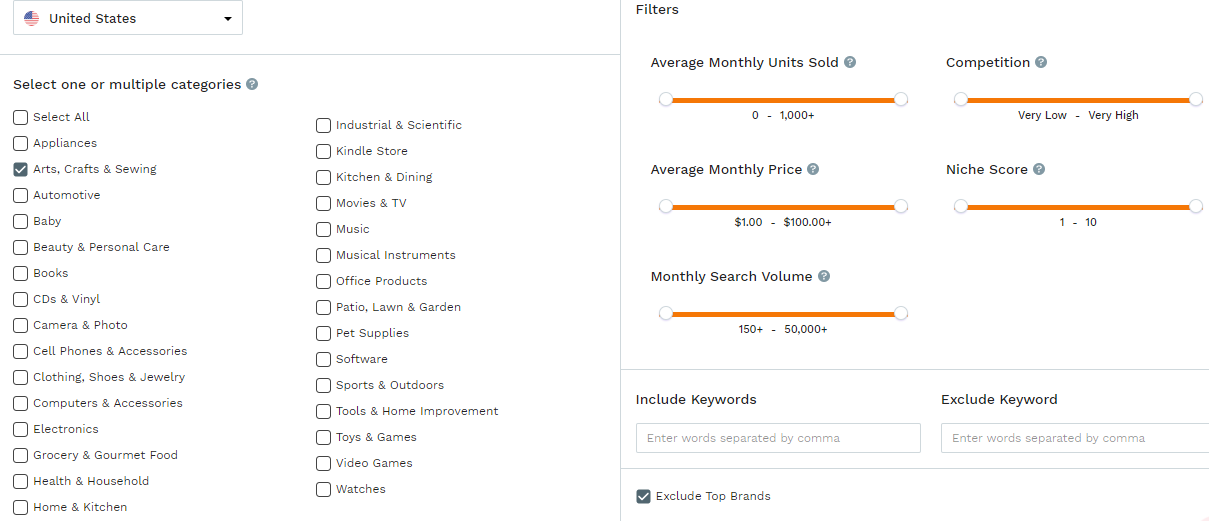 The Product Tracker allows you to track sales data for a range of products in real time. You simply select the products that you want to track – you can add them from the product tracker itself, from the Product Search or from the Chrome Extension.
The Keyword Scout allows you to research the best keywords to find what people are searching for, which means that you can stock that product and ensure that you optimize your listings appropriately.
A great feature of Jungle Scout is the Chrome Extension. This allows you to click on the Jungle Scout button on any search result on Amazon and find the demand, competition, sales estimates and profit projections. You will then get a score for the product you are interested in based on competition and demand.
You can click on your Chrome extension both from a product search on Amazon or from an individual listing. Here we see the chrome extension working from a product search for wine glasses. It tells us the product, the price, monthly and daily sales and much more information including what fees you would be charged by Amazon FBA.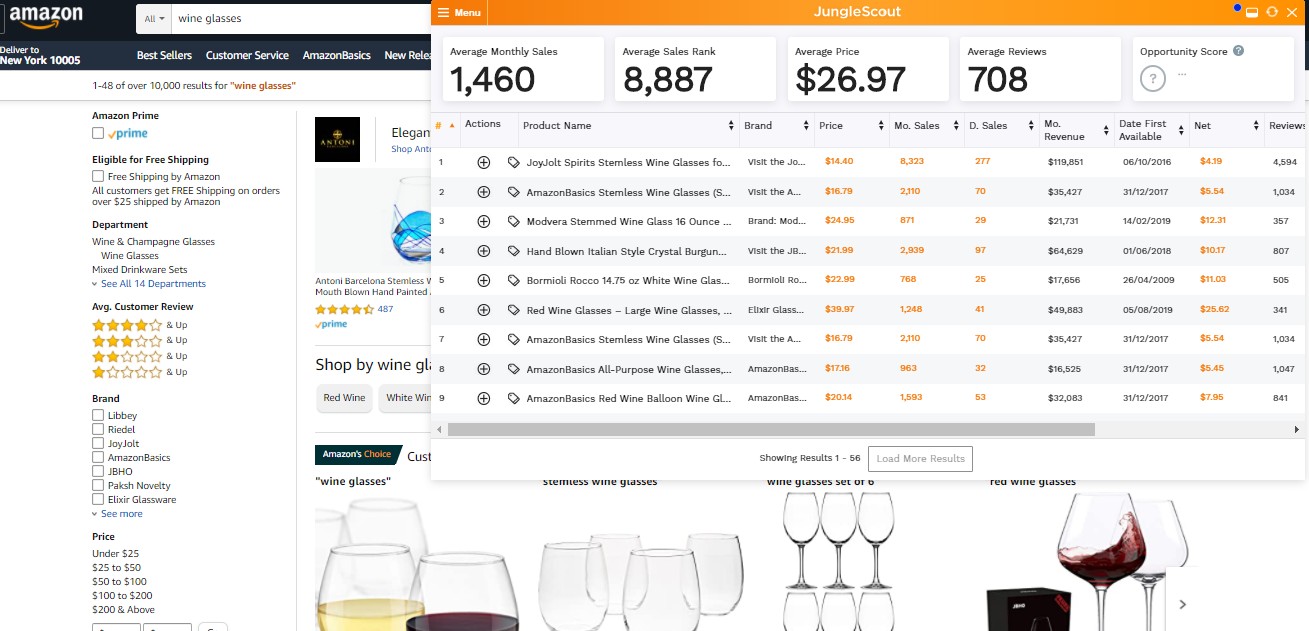 All the data in orange can be clicked on to give more information, such as historical sales figures. Clicking on the net profit brings up a profit calculator, allowing you to insert the price you are paying for an item, and to edit the price you plan to sell it for on Amazon, and then calculate the profit you could expect from it.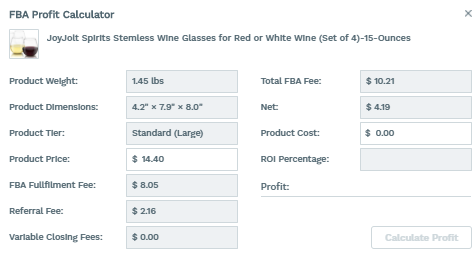 It is possible to source products using Jungle Scout, by clicking the Supplier Database. Then search by product type or by ASIN number to find suppliers who deal with that product.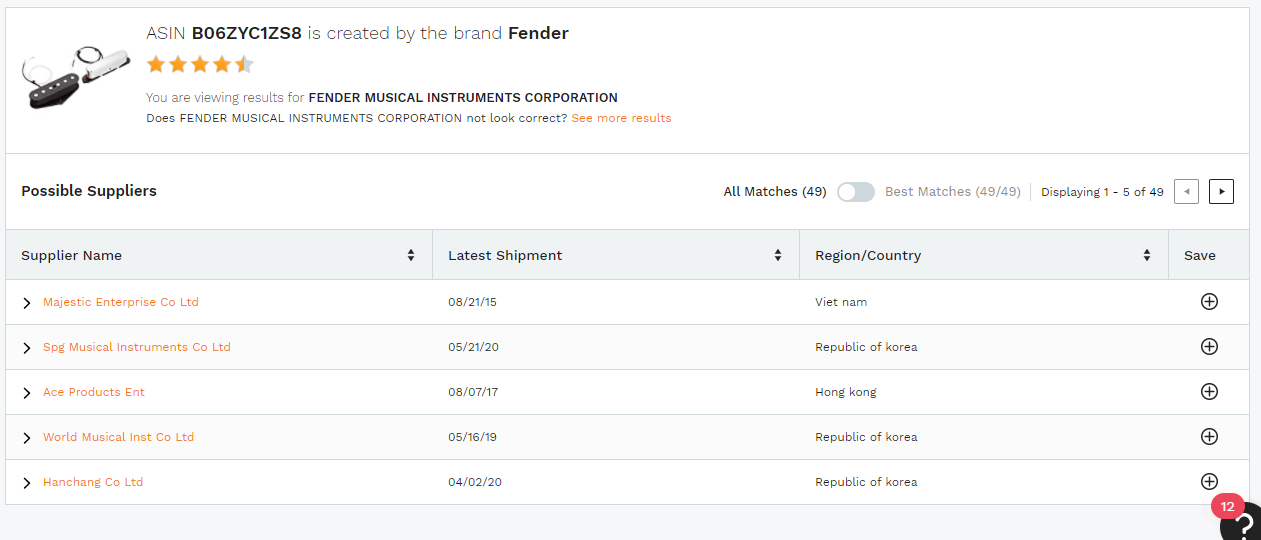 Markets
Operating in the USA, Mexico and Canada, and in most of Western Europe.
Tactical Arbitrage vs Jungle Scout – Support
Support is very high on the agenda for Alex Moss, the founder of Tactical Arbitrage. In addition to a wide range of on-site video tutorials, he is very active on the Tactical Arbitrage community Facebook group along with a busy community of users, so you'll find somebody on there to help you with most issues.
In addition, there is a support form on the website which you can use to request help on different topics.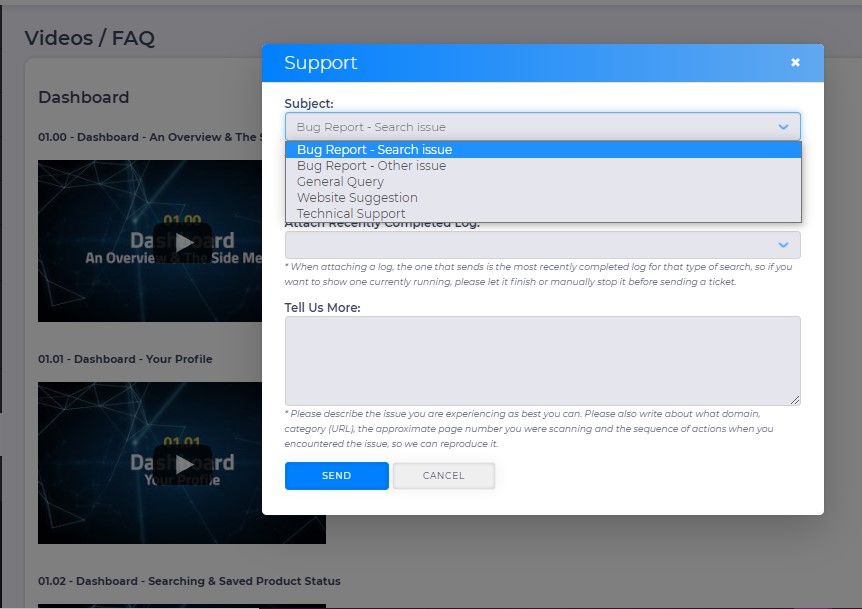 In Jungle Scout, customer service and support are also very much on the ball. Within your first half-hour of exploring the site you will be invited to take part in live training and Q&A onboarding session: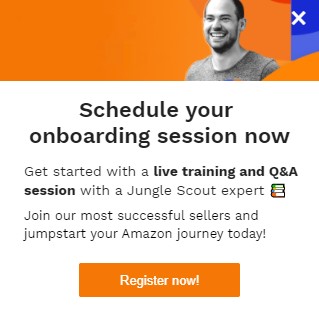 The Resource Centre provides a wide range of articles, tutorials, and training and webinars, or you can contact support to ask your question.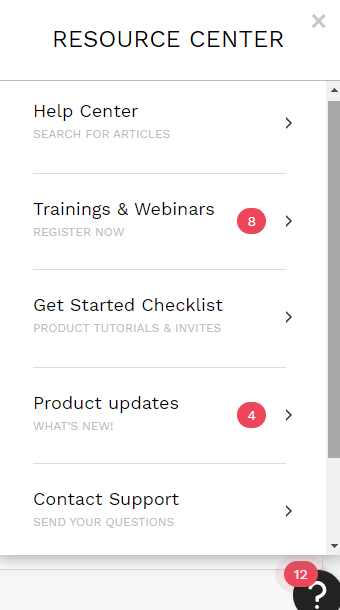 Jungle Scout also includes the Jungle Scout Academy, where you can learn all the tips of the trade. In addition, they also have the Amazon FBA Competitive Edge Facebook Group where you get access to a lot of other people using the tool.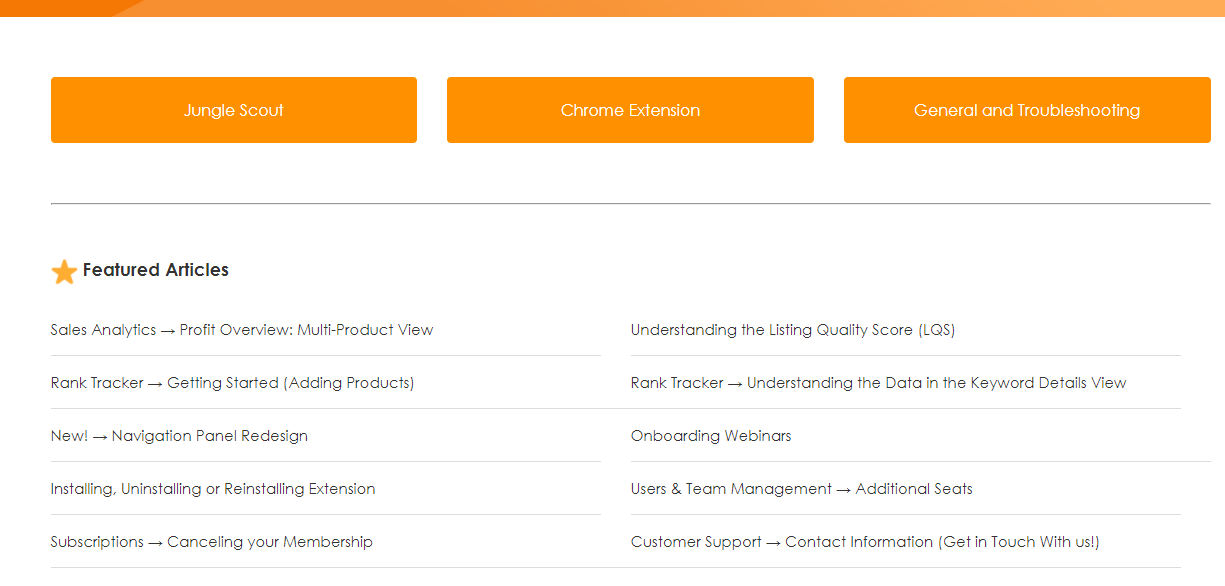 Tactical Arbitrage vs. Jungle Scout – Pros and Cons
Tactical Arbitrage Pros
Data filters to help you find exactly what you want
Text message to tell you scan is complete
Wide search area
Easy to access metrics
Great customer support and service
Tactical Arbitrage Cons
To be honest, it's been difficult to find any points against Tactical Arbitrage. The team running this tool are so responsive that if there have been any hitches, they've fixed them very quickly and the feedback across the internet is also overwhelmingly positive.
Jungle Scout Pros
Super for finding a good quality niche product
Provides the most accurate sales data from Amazon
A wide range of tools to help you identify products to sell
Great customer support and service
Jungle Scout Cons
No free trial, though they do offer a 14-day money-back guarantee.
Again, it's hard to find issues with Jungle Scout. In general, the feedback across the internet is positive and the customer service team appears to be prompt to deal with any problems.
Tactical Arbitrage vs. Jungle Scout – Pricing
Tactical Arbitrage
Tactical Arbitrage has a number of pricing plan options:
Online Arbitrage – $70 per month or $840 for the year. The key searches you would need as a beginner in Online Arbitrage with a fairly small budget. You can do Product Searches, for finding products from a range of sources to sell on Amazon, and you can Reverse Search to find where to source a product you have seen on Amazon.
Wholesale – $55 per month or $660 per year. For those with a larger budget. You can scan through Wholesaler inventories to compare their prices against selling prices on Amazon.
Online Arbitrage + Wholesale – $85 per month or $1020 per year. Both of the above.
Flip Pack – $50 per month or $600 per year. for Used and New Books.
Full Suite – $95 per month of $1140 per year. For all the options above in one big package.
Whichever option you choose, you can get a seven-day free trial before you start paying for the service. Start your free trial here.
Jungle Scout
In Jungle Scout you can choose between paying monthly or annually, though paying annually will give you a better deal.
There are three price plans, each offering you access to all the main features of the platform. The prices below reflect the annual payment plan:
Basic – costs $19 per month or $228 annually for single-user access with full access to the browser extension.
Suite package – at $49 per month, the suite package allows more users and you get access to more historical data on keywords and products.
Professional plan – costs $84 per month, for which up to 6 users can track historical data on products and keywords and you get priority on-boarding.
While Jungle Scout does not have a free trial period, it does offer a 14-day money-back guarantee on your standard plan.
If you want to check it out, find out more about their pricing and sign up here.
Are there any alternatives to Tactical Arbitrage or Jungle Scout?
As you'd expect, Tactical Arbitrage and Jungle Scout aren't the only Amazon Product Research tools available. In addition to our run-down of the top ones, you might also consider:
Helium10
Helium 10 offers a wide range of tools for Amazon FBA sellers. Not only can you search for private label products to sell, but you can also research and track keywords and optimize pay-per-click advertising. Helium 10 offers reverse searches so you can find suppliers for Amazon products, a Chrome extension to help you find out more about potential products for Amazon and tools for research into products and opportunities.
Helium 10 has some free-to-use features, but the paid subscription for the full suite will cost $73 per month. Check out our comparison of Helium 10 and Jungle Scout.
AMZ Scout
AMZScout has similar functionality to Jungle Scout including a chrome extension and the web app. AMZScout also offers webinar courses including the Step-by-Step Amazon Seller course and the Amazon Seller Masterclass course to help get you on the right track with your selling.
You can find those profitable products on Amazon and you can track products and get some great ideas using the Product database and tracker. A nice function is the keyword explorer so you can analyze the keywords your competitors are using.
AMZScout functions across the USA, Canada, and Mexico. In Europe, it covers Amazon marketplaces in the UK, Germany, France, Spain and Italy, and in Asia, it covers Amazon in India.
Cost packages are from $25 per month. Not quite as sophisticated as either Helium 10 or Jungle Scout, but if your budget is limited it may be worth a look.
Buy Bot Pro
BuyBotPro is a very interesting site with some advanced tools allowing you to find out how many rival sellers there are for a given product, what the profit might be, and how many you should buy. For sourcing arbitrage products it really will make a difference to your business.
Costing from $29.95 per month
Frequently Asked Questions About Tactical Arbitrage and Jungle Scout
How accurate is the data on Tactical Arbitrage and Jungle Scout?
Neither of these tools is completely accurate, but they are both pretty reliable. As tools to guide your decision making, they are invaluable. Jungle Scout suggests that they have a margin of error of 25%.
Do I need an Amazon seller account to use Tactical Arbitrage and Jungle Scout?
You do need a seller account to successfully search for products on Tactical Arbitrage. On Jungle Scout, however, this is not necessary, though obviously you would need one if you were going to use the information you have learned on Jungle Scout.
Can I use Tactical Arbitrage and Jungle Scout on my mobile?
Tactical Arbitrage recommends using their software using Chrome, Safari or Firefox browsers on a desktop computer or tablet for best results, and suggests that Chrome would be the most suitable browser. Jungle Scout can be viewed on any device with an internet browser and connection, but as there is so much data on the screen, it is very hard to see on a smartphone. The Chrome extension, however, is not supported on any mobile device so you would need to be using a desktop or laptop computer.
How easy is it to cancel my subscription on Tactical Arbitrage or Jungle Scout?
On Tactical Arbitrage you can simply cancel your account in your account settings or by contacting the Support Team. New customers on Jungle Scout can cancel at any time within the first 14 days and fees will be fully refunded. After this initial period, your subscription will end at the end of the billing term.
Are Tactical Arbitrage and Jungle Scout suitable for new sellers?
Tactical Arbitrage has a basic search which may be the best option for a new seller but scales all the way up with a really comprehensive suite of tools for experienced FBA sellers. Jungle Scout is ideal for beginners with comprehensive tutorials explaining all about how selling on Amazon works and taking you through the process step-by-step.
Our Verdict: Tactical Arbitrage vs. Jungle Scout
This is a bit of a tricky one because Tactical Arbitrage and Jungle Scout have slightly different functions.
Tactical Arbitrage will help you to find profitable products to sell on Amazon, but it is much more about sourcing those products in other stores so you can buy them for less and make a good profit.
Jungle Scout, on the other hand, is much more about comparing the potential profitability of different items on Amazon – and it's really the top tool on the market for doing this. It will also list suppliers who stock that product. However, it is then up to you to source the product at a good price.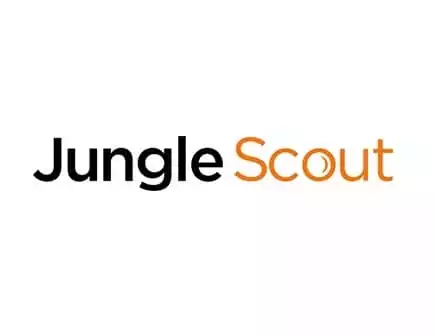 Why Go with Jungle Scout?
Jungle Scout is a great option for both beginners and advanced Amazon sellers. It's user-friendly and has great resources like the Jungle Scout Academy, where you can learn how to get the most out of the software and grow your business.
Try Junglescout first
We earn a commission if you click this link and make a purchase at no additional cost to you.
In the end, though, it came down to the way the company is responding to the market and the personal feel. We absolutely loved many of the features Jungle Scout is offering, particularly the Chrome Extension, and their customer service and support are excellent. Jungle Scout is great for sourcing products and in particular Private Label lines. It's also really good for keeping track of trends on particular products and is a super product research tool.
However, Tactical Arbitrage has the edge when it comes down to the broad functionality, the user-friendly interface, and the way that Alex Moss, the founder, interacts with his users and the agile way that his software responds to the changing needs of the Amazon FBA seller. He is personally on the Facebook community responding to queries and marketing his product and you just can't beat that personal touch.
Now that you've made your decision about which Amazon Product Research tools are going to be most helpful for you, you may be interested in how to manage your projects and keep your work flowing smoothly, as well as collaborating with any partners in your online retailing business. Our Best Project Management Tools review is a great place to start.
Further read: