Last Updated on April 22, 2023 by Ewen Finser
If you sell on Amazon, you'll need a good platform to help you research new products more effectively – our AMZScout vs JungleScout review may be able to help find the right one for you.
Both platforms will give you a lot of tools that enable sellers to find the best products and keywords. The question is, which one is better?
The bottom line up front: we think JungleScout is the best of the two, in terms of the number of tools it has to offer. We'll go into this in more detail.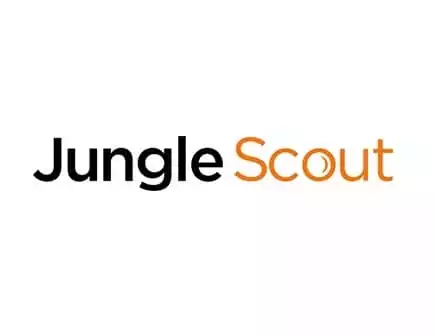 Why Go with Jungle Scout?
Jungle Scout is a great option for both beginners and advanced Amazon sellers. It's user-friendly and has great resources like the Jungle Scout Academy, where you can learn how to get the most out of the software and grow your business.
Try Junglescout first
We earn a commission if you click this link and make a purchase at no additional cost to you.
We'll be looking at the differences and similarities between the two, as well as going into each one in more depth, including their features, pricing, and pros and cons.
Let's start by looking at how they differ from each other!
AMZScout vs JungleScout – the Main Differences
Let's look at the main differences between the two:
AMZScout has a free trial, whereas JungleScout doesn't.
AMZScout's pricing can be a bit confusing, whereas JungleScout's pricing is quite clear.
AMZScout doesn't have as many features for existing sellers, whereas JungleScout has a few handy features to help optimize listings and watch competitors.
AMZScout offers three great free tools, whereas JungleScout doesn't have any free tools.
The main thing to note here is that JungleScout offers a lot more features than AMZScout for existing sellers. However, AMZScout might be more tempting to those on a lower budget, as they offer a free trial and some free tools.
The Similarities
There are a lot of similarities too:
They both offer great tutorials for new users
They both have Chrome extensions
They both offer good keyword and product tools
They both have great customer support
Let's take a look at them both in more detail.
What is AMZScout?
AMZScout is a collection of tools designed for Amazon sellers. It has keyword and product search tools, a Chrome extension for searching on Amazon, and a few free tools.
It also has some videos and webinars aimed at newer sellers.
JungleScout is a suite of tools made for Amazon sellers. It has tools aimed at first time sellers, existing sellers, and brands and agencies.
It has a good amount of resources for new users, including articles and training videos.
AMZScout – the Main Features
Let's take a look at the main features of AMZScout.
Amazon Keyword Tools
First, there's the Amazon keyword search tool. This is super easy to use and will allow you to find thousands of keywords in seconds.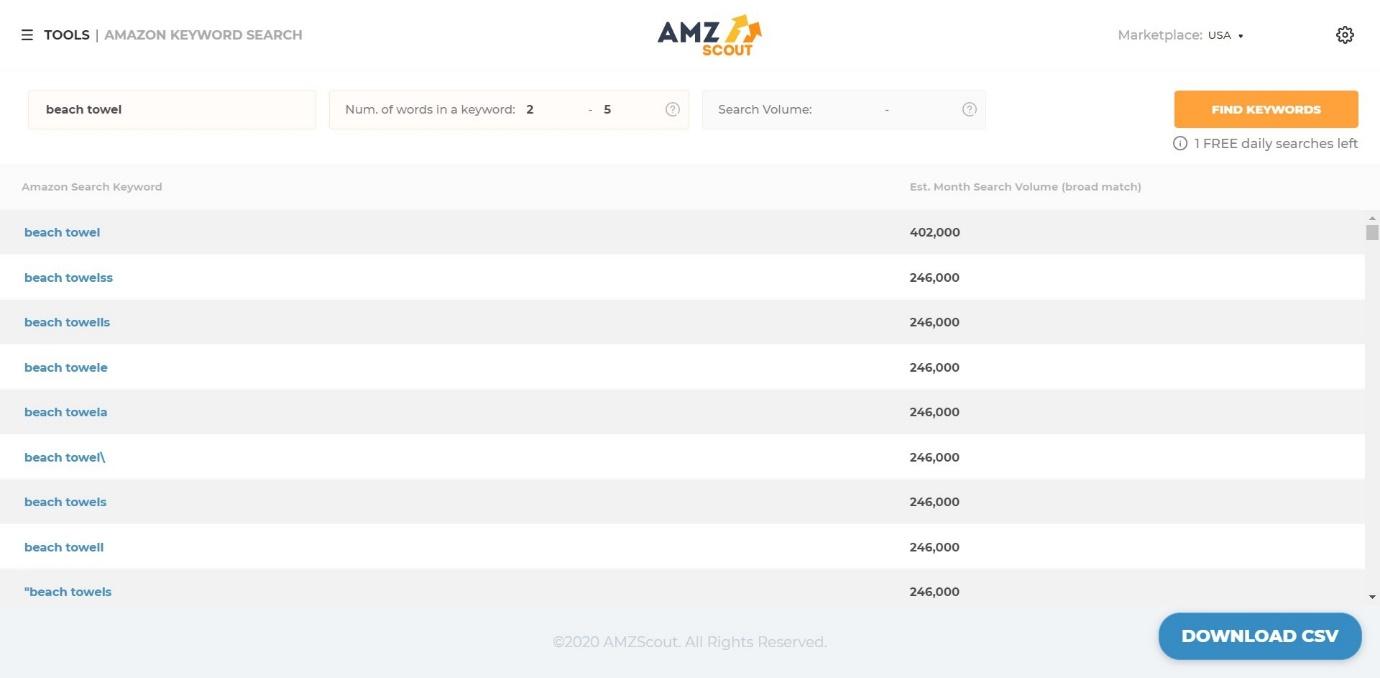 You can also download these results as a .CSV file.
The Reverse ASIN lookup is another useful tool. It allows you to type in a product's ASIN (the 8-digit code found in the URL of an Amazon product) to reverse-search for the keywords that would bring up that product. This is a useful tool if you're unsure about the best keywords to use, as you can see how other sellers use keywords to get their products at the top of the search.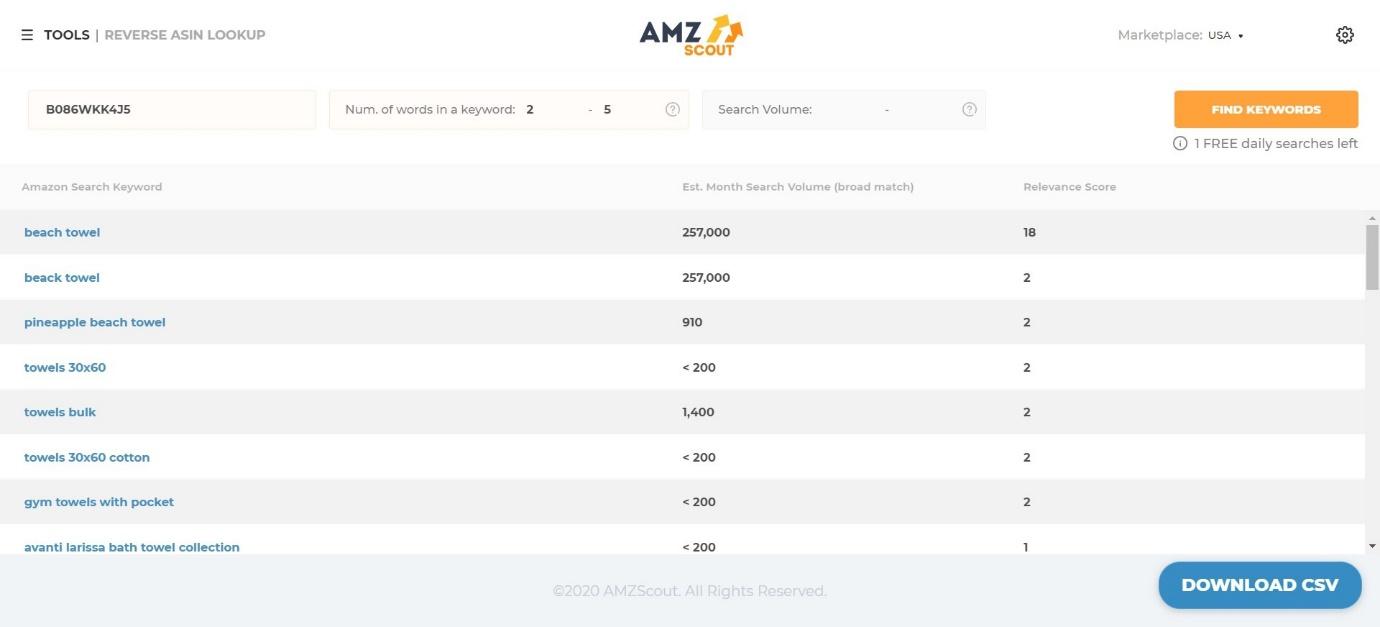 The Keyword Tracker tool is a helpful one. It allows you to add several products and select the keywords you would like to monitor.
You can choose several keywords to track for each product. Then you'll see an overview of how the keywords are performing: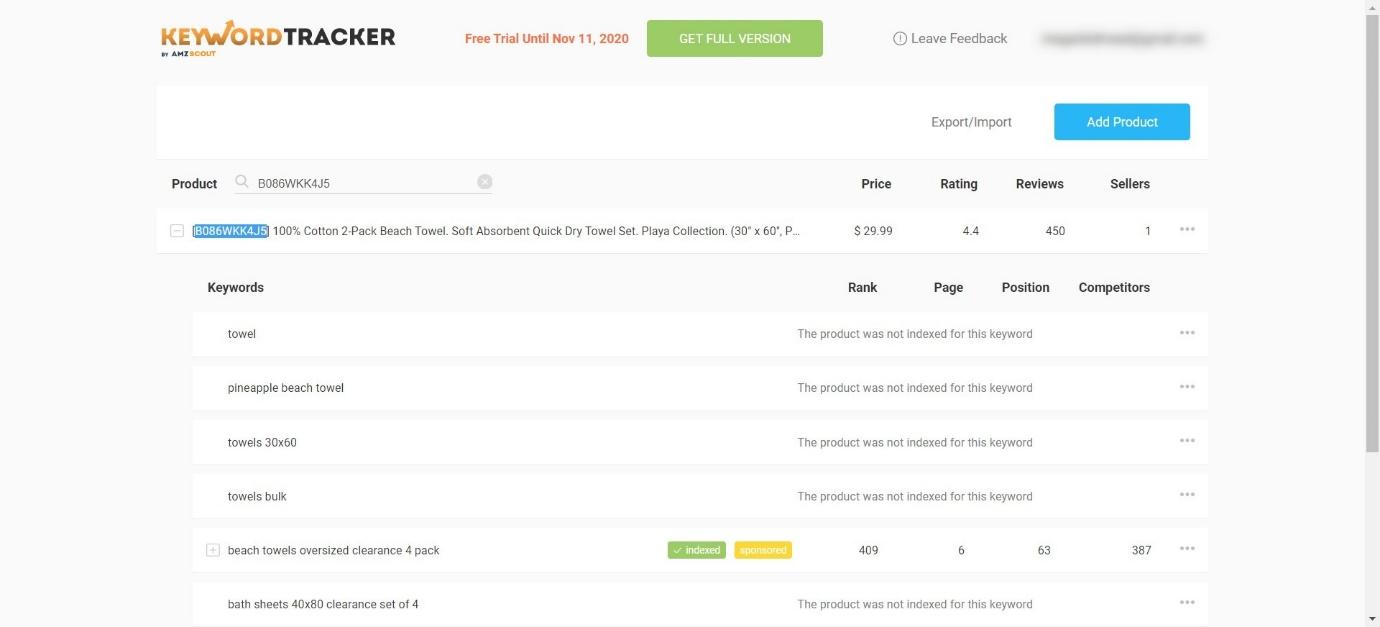 You can see the ranking, page number, position, and the number of competitors for each one. This is a great tool for keeping an eye on several products with multiple keywords, all at the same time. It will also let you know if the product is sponsored or not.
There are 44 filters to choose from when searching, which helps to narrow down what you're looking for.
Products
In terms of products, AMZScout has two main features: the product database and product tracker.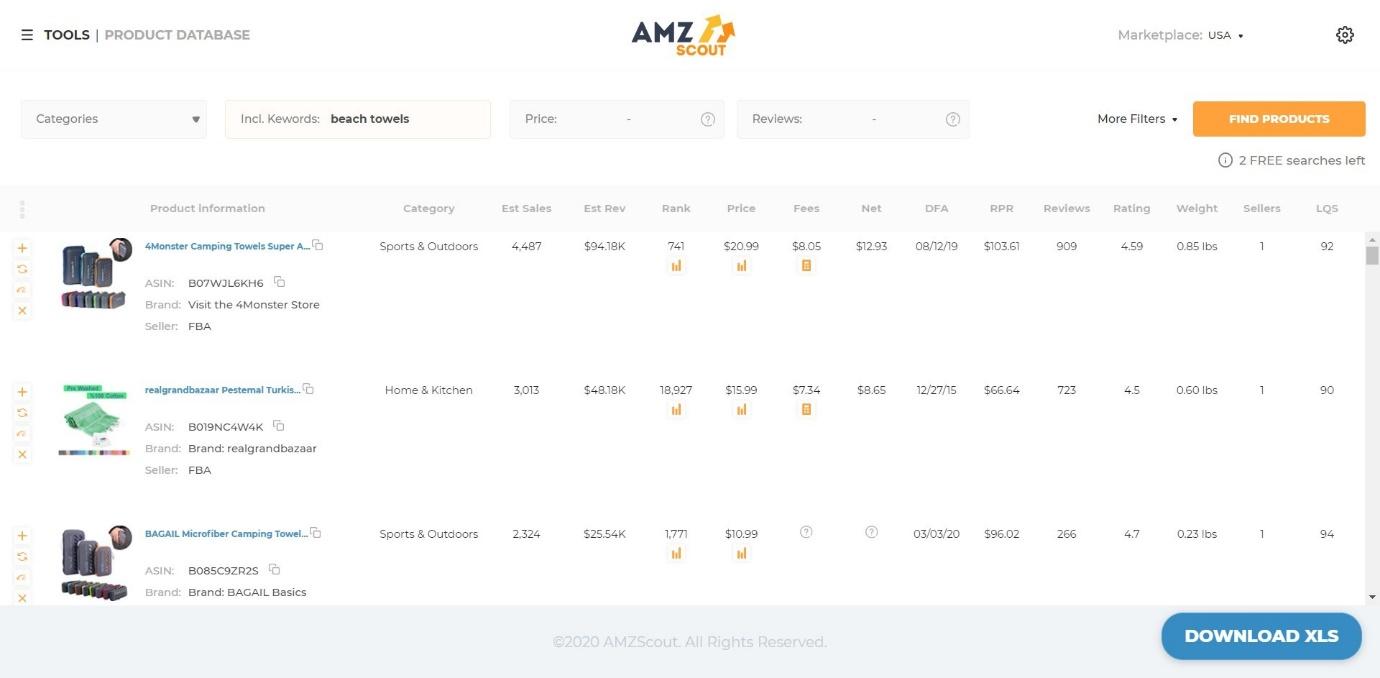 The product database is a great way to do some research in the niche you're thinking of choosing. You can see an overview of the most popular products in each niche, including their estimated sales, estimated revenue, ranking, price, fees, net price, date first added, recommended retail price, number of reviews, rating, weight, and the number of sellers.
This is helpful as it will allow you to avoid oversaturated products, or products being sold by multiple sellers.
You can easily add products you're interested in by clicking the plus sign next to them, which will add them to the product tracker.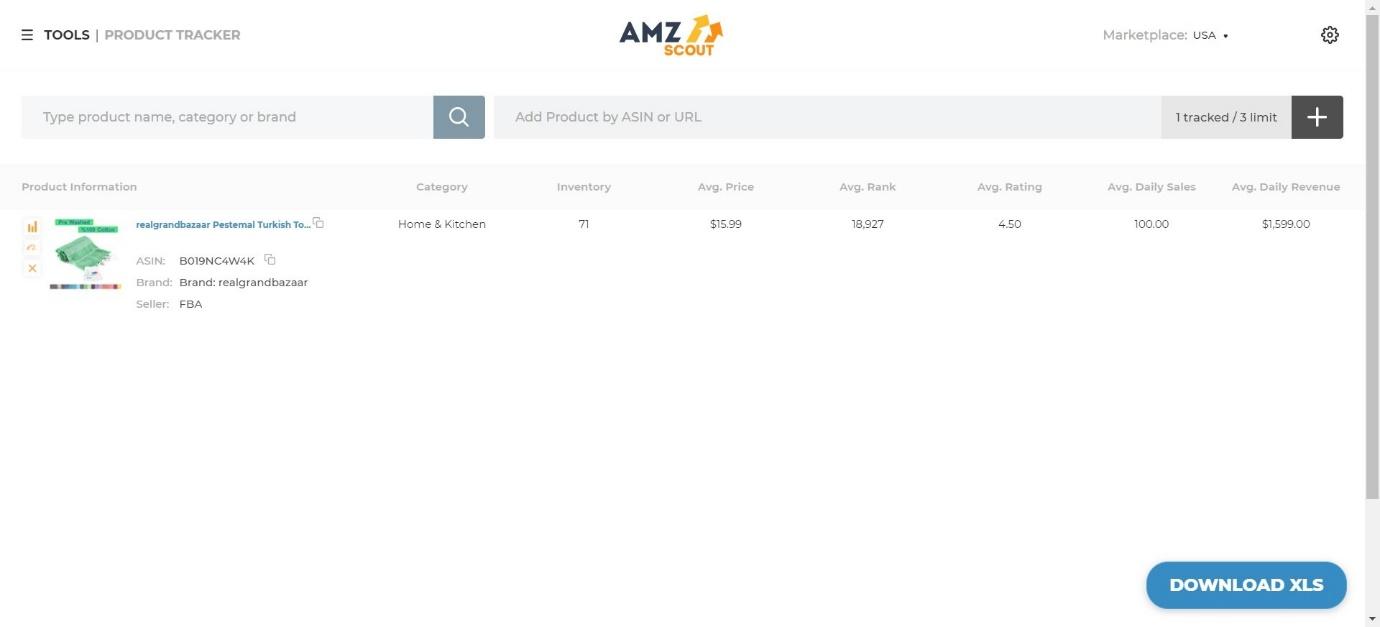 The product tracker allows you to track a number of products each day to see how well they're performing. This is great if you want to take note on how well a product is selling before investing, or if you want to keep an eye on competitor's products to see how they're doing.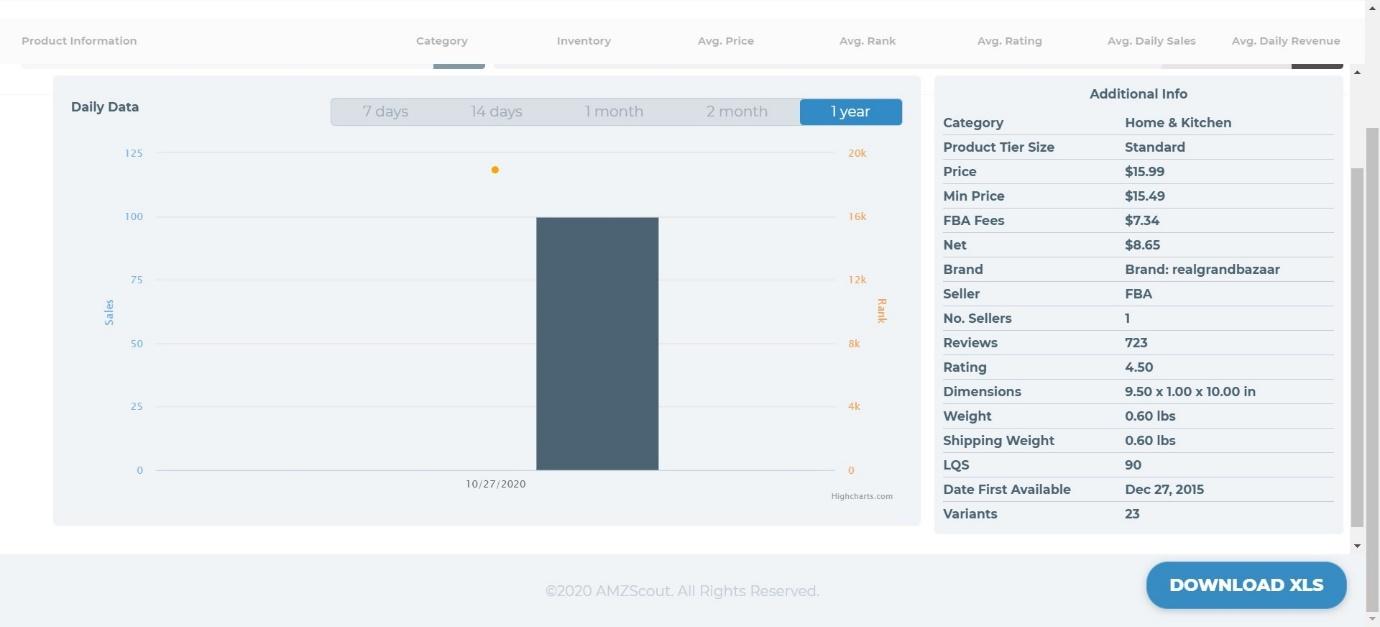 You can view data from the last 7 days, 14 days, 1 month, 2 months, or 1 year. You can also see vital product information on the right, like the price, FBA fees, net price, shipping weight, and more.
Chrome Extension
When you sign up to AMZScout and install the PRO Extension, it gives you a handy (and fast) walkthrough of how to use it on Amazon.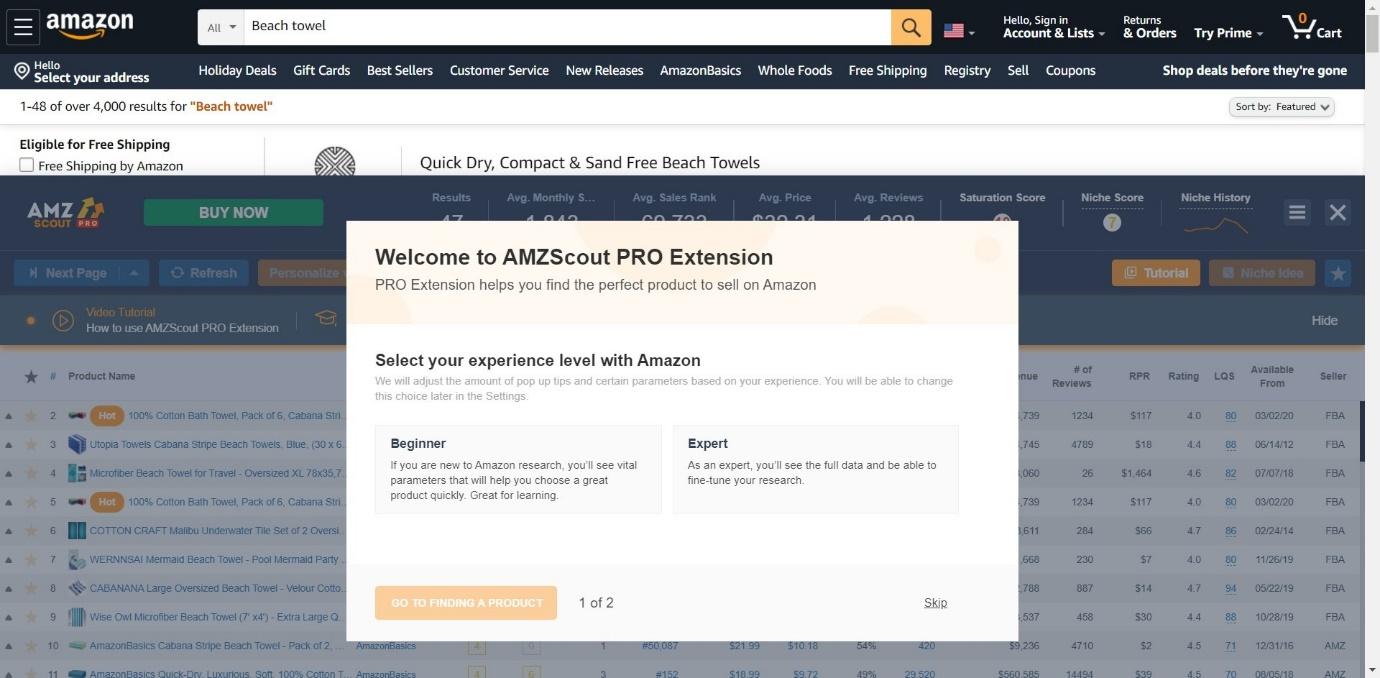 You can choose if you're a total beginner, or an expert – this helps to narrow down the support they'll offer you as you learn to use it.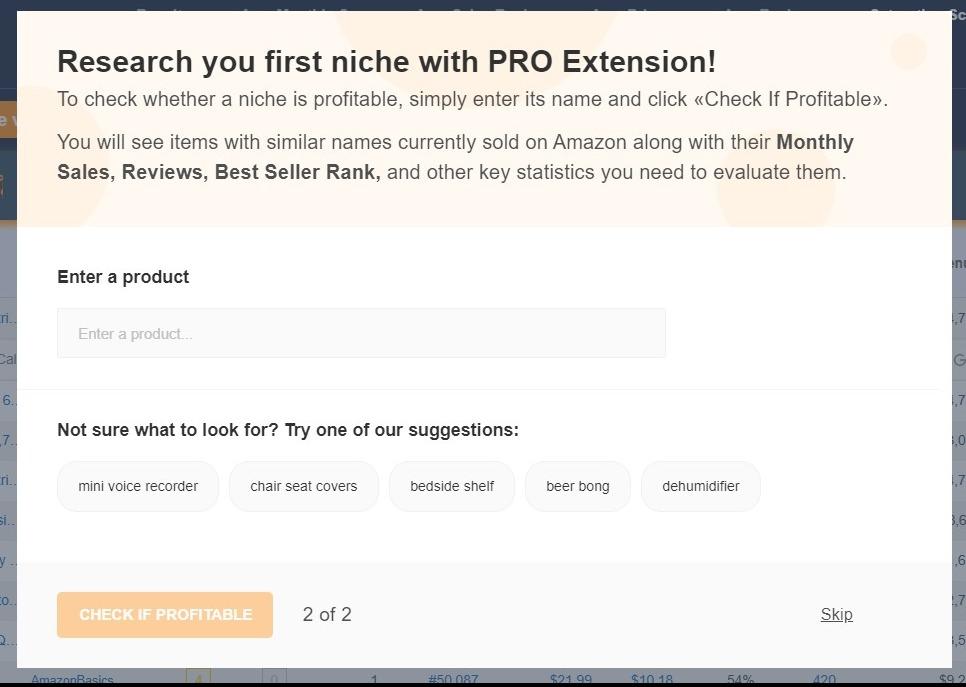 Once you've chosen a product to search for, it will give you a ton of key information without having to leave the Amazon page. You can see a list of products, their brand, category, ranking, price, and more. There's a lot of important information at the top, too – with average monthly sales and average monthly revenue for your chosen niche. You'll also get a niche score: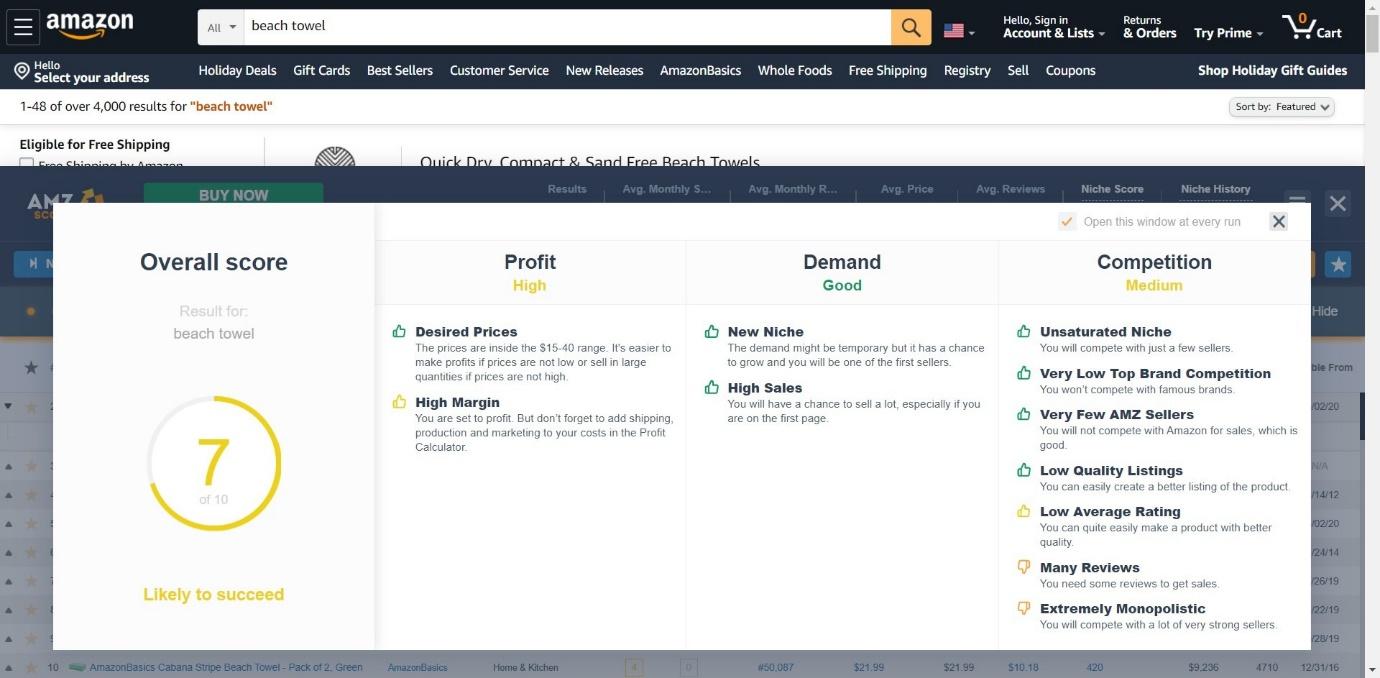 This is scored out of 10, with 7 (in our example search for beach towels) being deemed 'likely to succeed'. It will then break it down by sections – profit, demand, and competition. We can see here that the profit margins are high, and the demand is pretty good in terms of sales. The competition is medium, with some good points (the niche is unsaturated and there are few AMZ sellers to compete with), but there is a low average rating, not many reviews, and very strong sellers to compete with.
The Chrome extension has some great extra tools. You can quickly bring up some new keyword ideas by clicking 'get keyword ideas', which will bring up this window: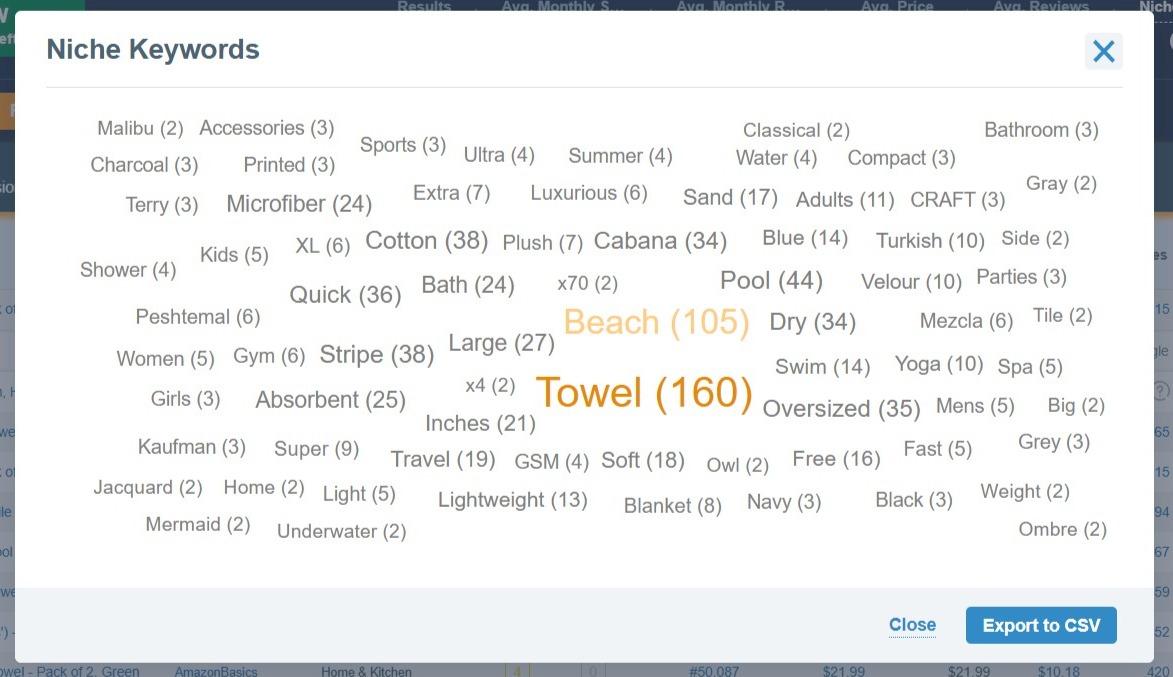 This is a quick way of grabbing new keywords if you need them quickly. They also show how your chosen search term is doing on Google Trends: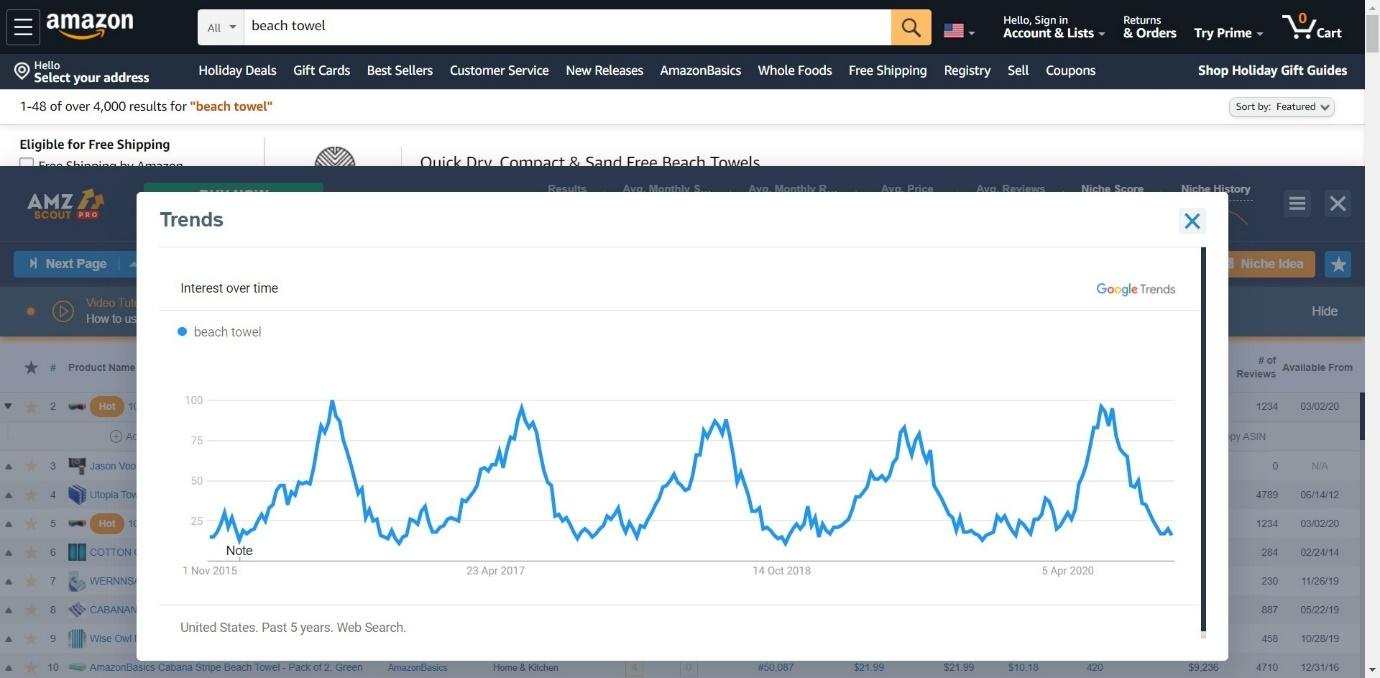 You can also click 'niche idea' which will pull up a random idea: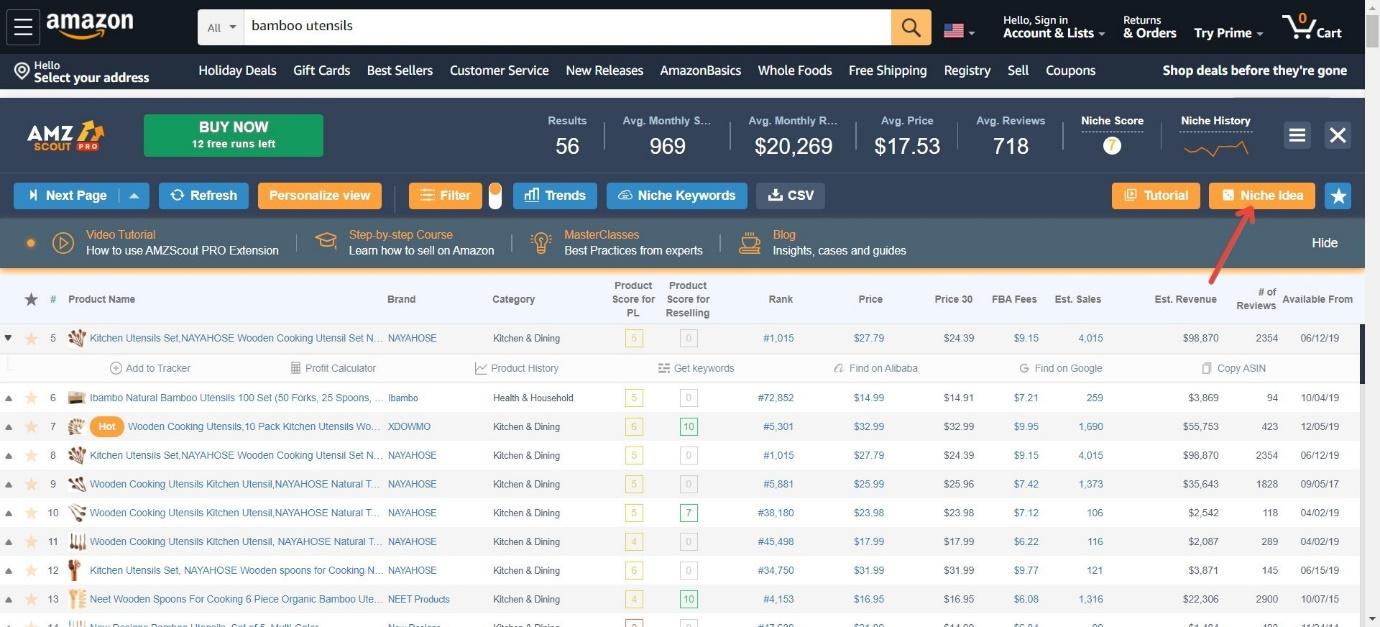 It's super easy to use. Although the web app tools are more in-depth, this is a really great (and fast) way of doing a bit of research, especially if you're trying to find a new niche or you're new to selling on Amazon.
At any point, you can click 'video tutorial', which will pull up a handy guide on how to use it.
Extra Features
AMZScout has a good amount of training tools on offer. You can access their Amazon Seller Course, which will give you a good grounding in the basics of getting started with selling on Amazon. You can also access their Amazon Seller Masterclass, which is comprised of a selection of videos by successful Amazon sellers.
They have a few tools that are free to use, including:
FBA Calculator – a Chrome extension that gives you an immediate overview of FBA fees, Sales Volume, Margins, and Revenue on each product
Stock Stats – a free tool that allows you to see inventory levels of all sellers of a product selling on Amazon
Amazon Sales Estimator – this gives you a rough estimation of how many sales per month you can expect, depending on the sales rank of each product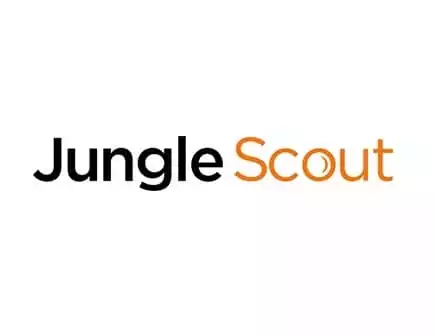 Why Go with Jungle Scout?
Jungle Scout is a great option for both beginners and advanced Amazon sellers. It's user-friendly and has great resources like the Jungle Scout Academy, where you can learn how to get the most out of the software and grow your business.
Try Junglescout first
We earn a commission if you click this link and make a purchase at no additional cost to you.
Let's have a look at JungleScout.
JungleScout has slightly different packages aimed at first time sellers, existing sellers, and brands. We'll take a look at what each package has to offer.
First Time Sellers
The Opportunity Finder tool allows you to find high-demand keywords with low competition. You can either use the sliders to narrow down searches or use their pre-set categories to help you find a successful product.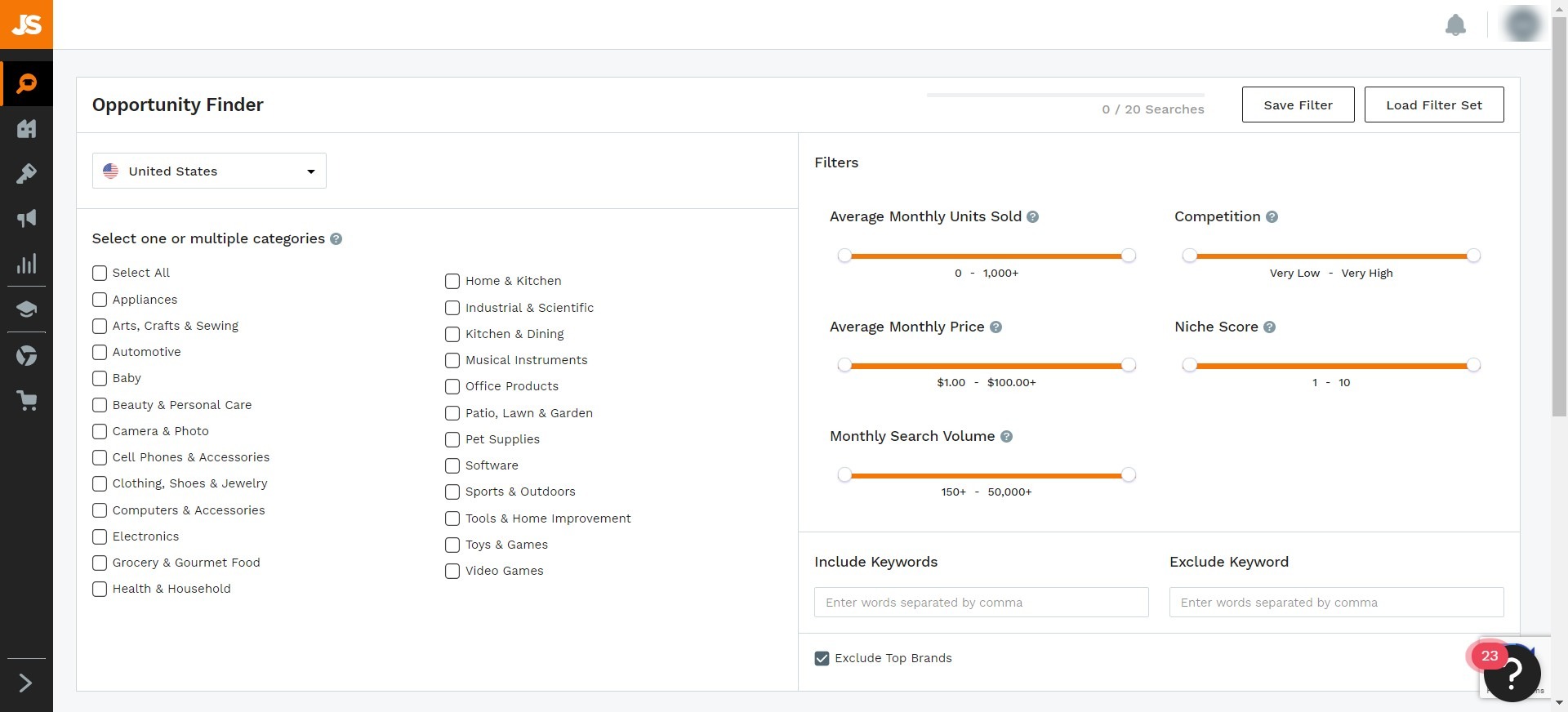 You can view how certain keywords perform over time, which is useful. This shows historical data on each keyword, including average units sold, search volume, reviews, and seasonal trends. You can also show which niches show spikes of interest at certain times using their tags. This will help you to see which products perform well at certain times, so you can plan ahead.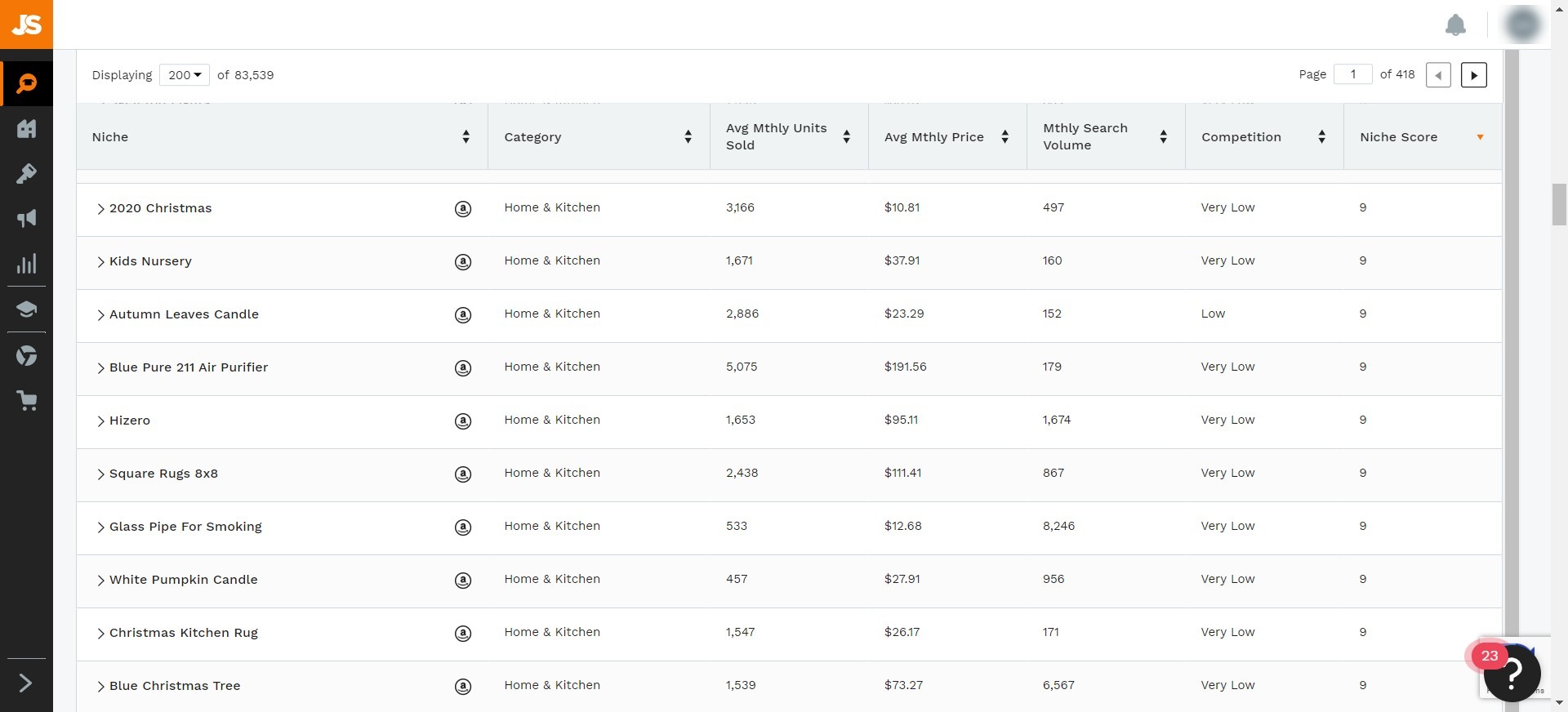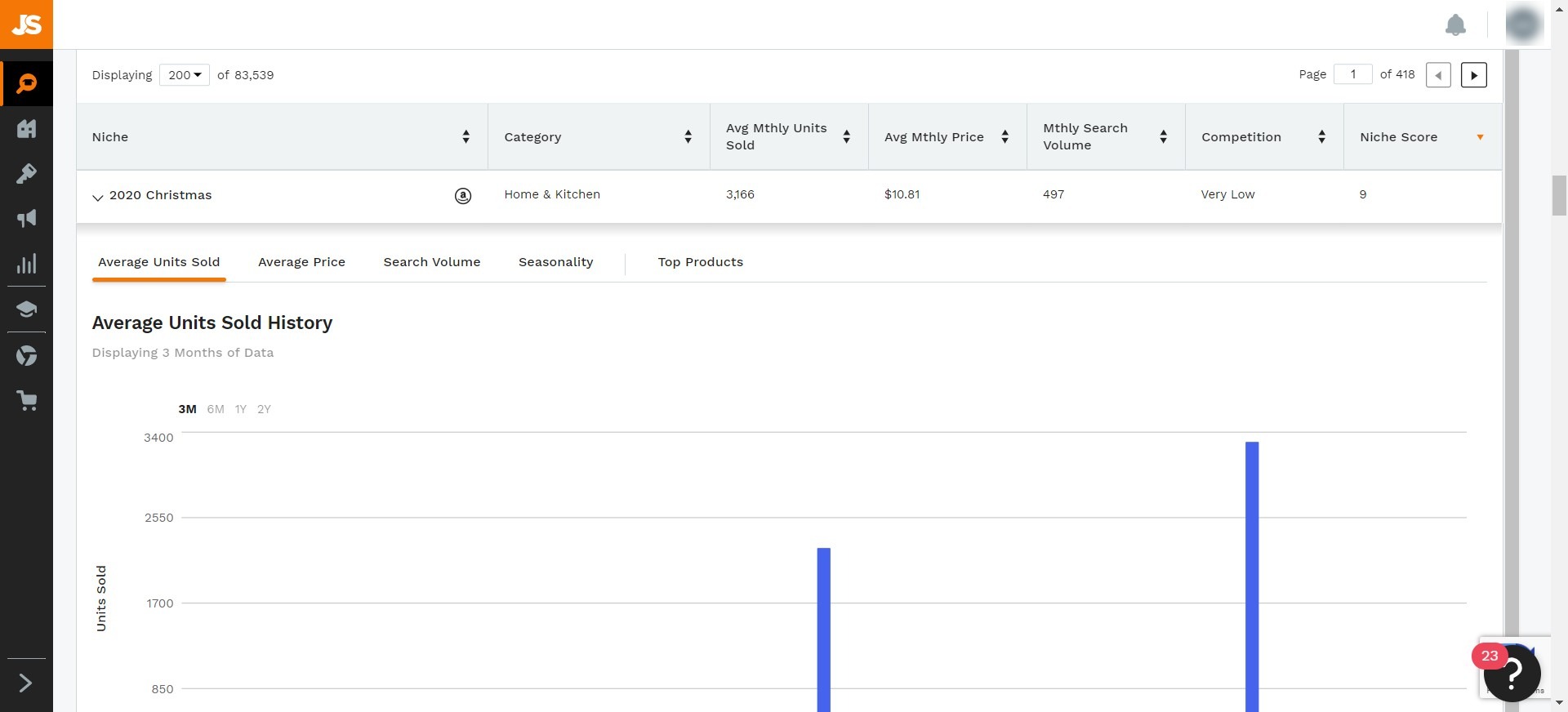 There's also the Product Tracker. You can select products or groups of products to track average sales and revenue. The interface looks a little more intuitive than the AMZScout interface – you can drag and drop the products and create groups of similar products, to help to keep your tracked products organized.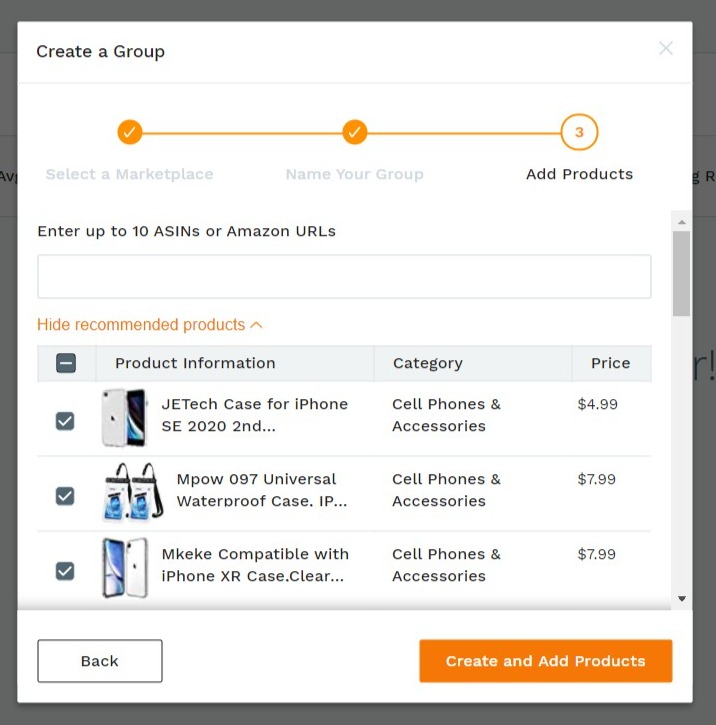 You can view a lot of information about each tracked product, like price, rank, average daily sales, units sold, and more. You can view this information in graph form for a quick visual overview.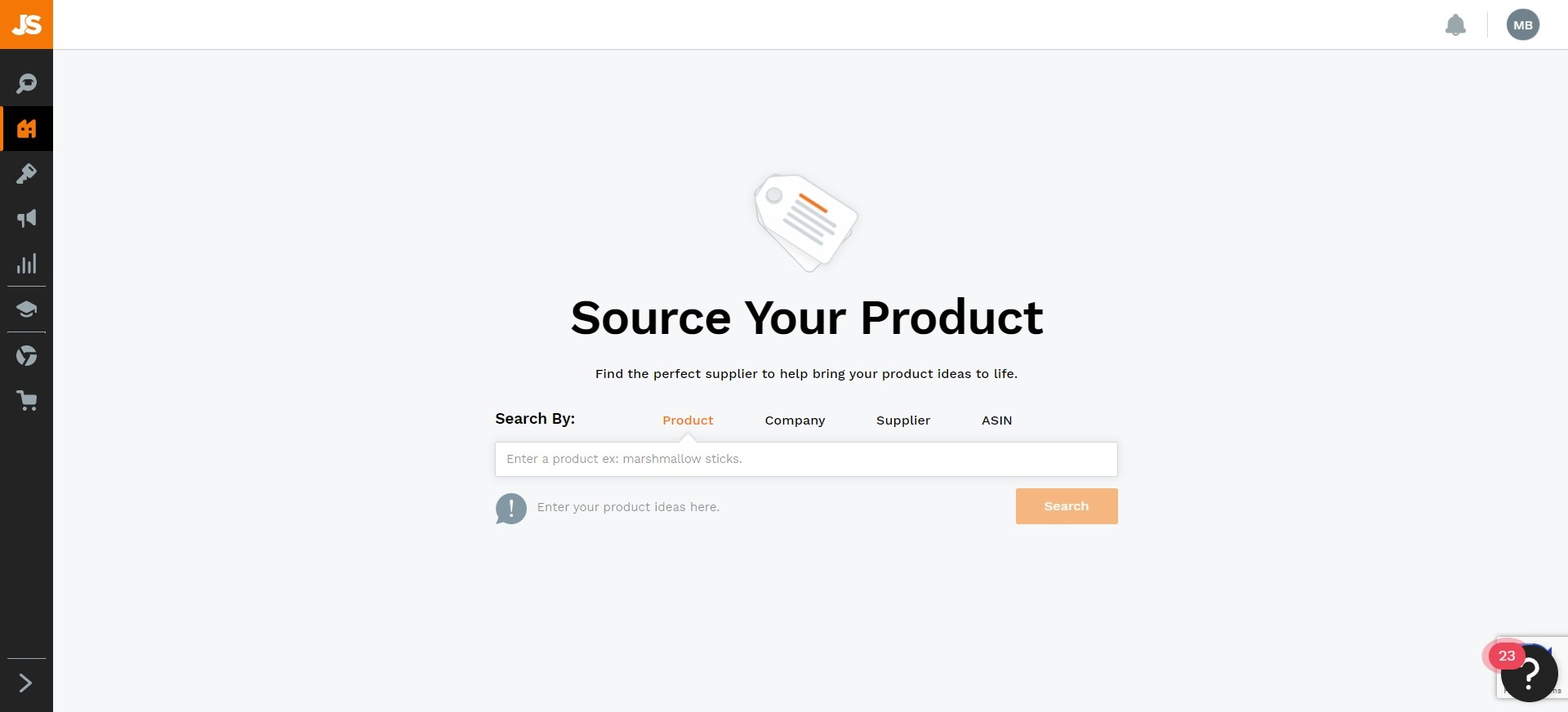 The Chrome extension is very useful. Available for Chrome or Firefox, it works in a similar way to AMZScout's Chrome extension. You can forecast product sales, view product demand and competitive data, and determine if your product idea is worth pursuing. They use their AccuSales algorithm – this analyzes over 1 billion data points each day to help you figure out if a product is going to make you money or not.
The extension will give you an Opportunity Score, which uses demand, listing quality, and competition to give you a numerical score. This is a great way of quickly ruling out niches if you have a lot of ideas and want to narrow it down.
A cool feature of the extension is the ability to send requests for product reviews from your customers. If you are an FBA seller, you can send requests to all your customers with one click, which is handy.
They also offer the Academy for first-time sellers. This is a series of videos, tutorials, and live sessions with the CEO of Jungle Scout. This is a great idea.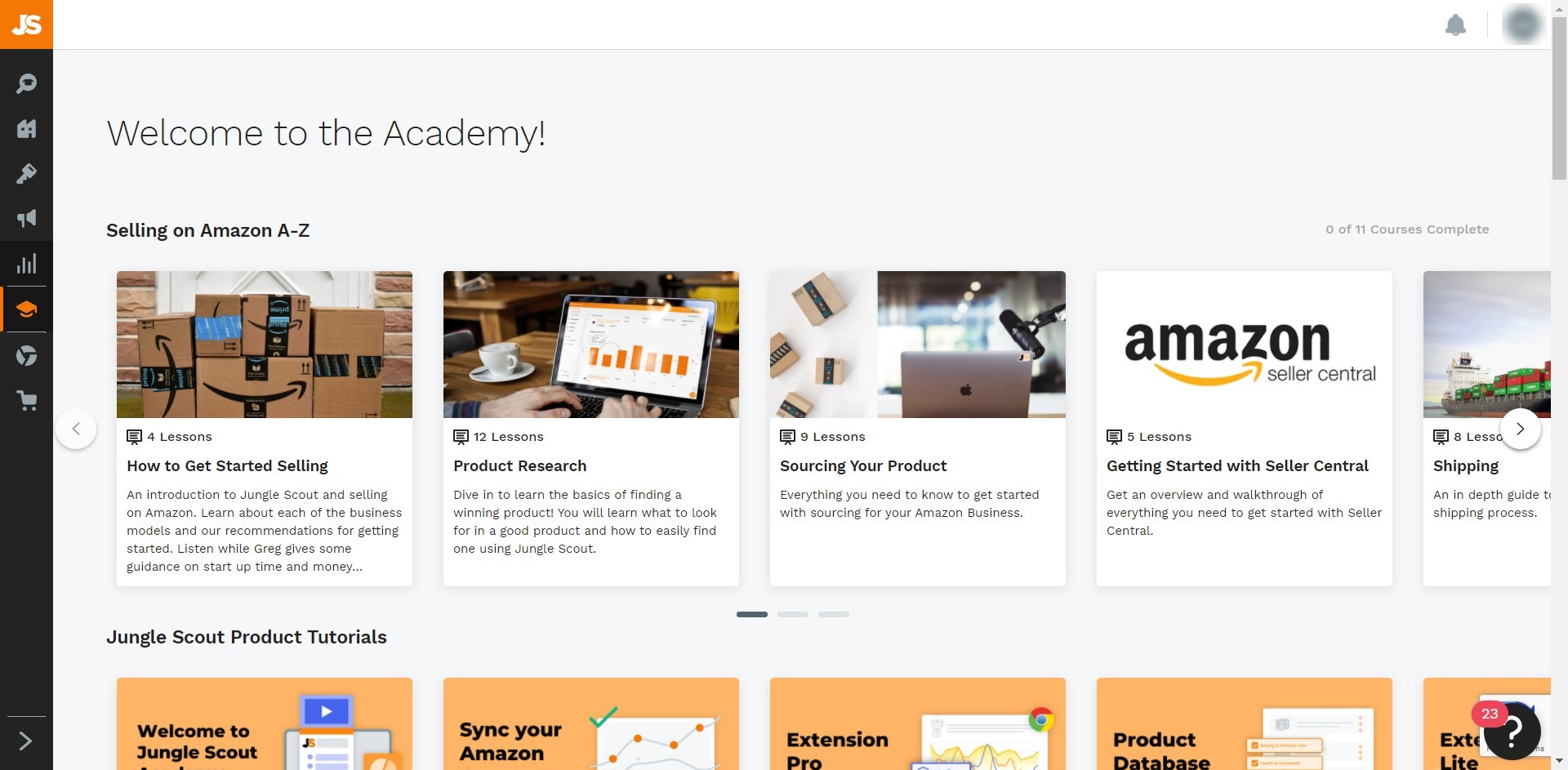 Overall, we think that the First Time Sellers package is great. It gives you everything you need to get going without feeling too overwhelming.
Existing Sellers
For existing sellers, the Keyword Scout is a useful tool. You can find new keywords by reverse searching ASINs, to find keywords that competitor's products are ranking for. Again, this shows historical search volume, so you can assess how well a competitor's product has performed over time. You can compare up to 10 ASINs in one search too.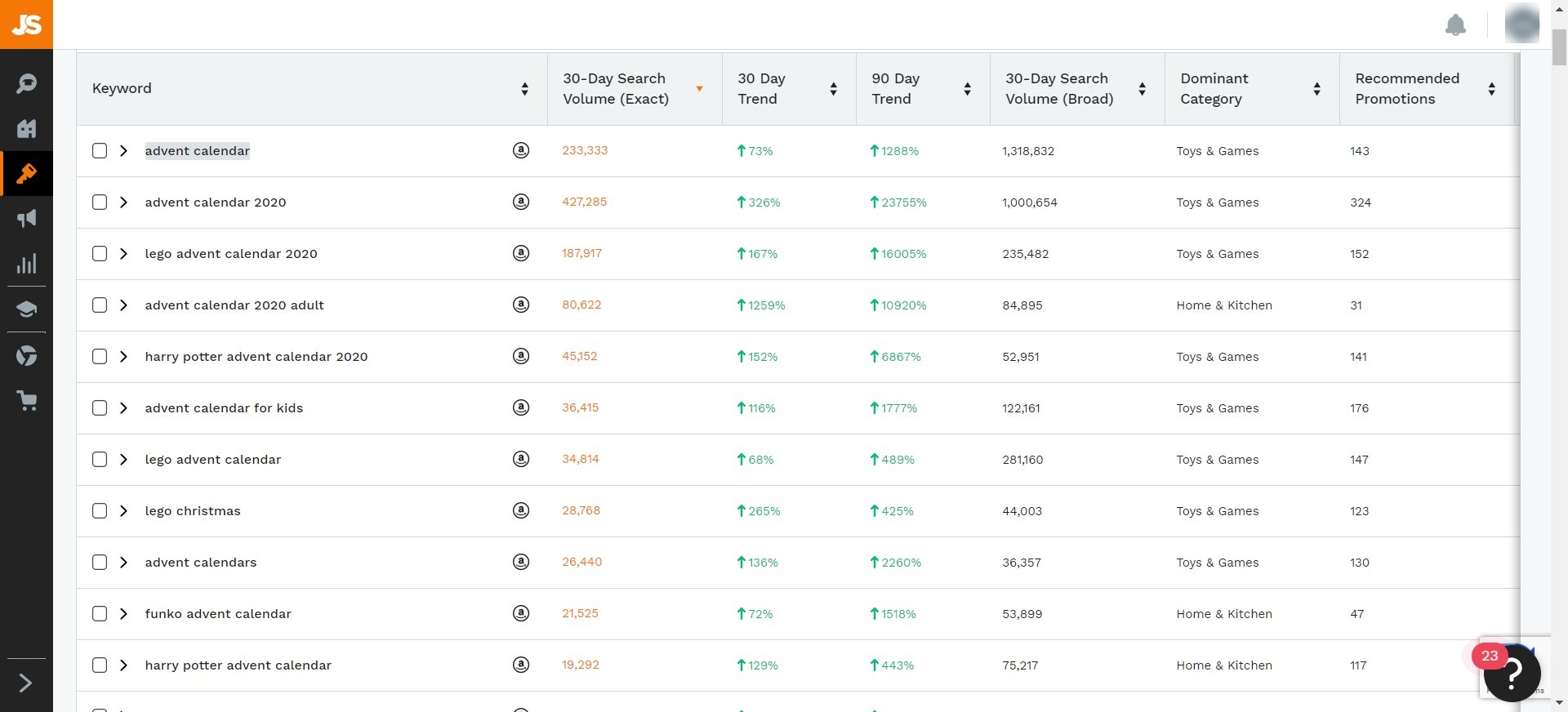 You can gain some pretty in-depth information on each keyword, including ad tracking, search volume trend, and PPC costs. You can apply advanced filters too, like organic and sponsored data, so you can look for keywords that suit your SEO strategy.

You can also use JungleScout to find reputable suppliers – just search for a certain product, and it will bring up a list of recommended suppliers with some useful information about each one.
Existing sellers also have access to the Listing Builder. This helps to optimize your listings with recommended keywords. This is a really useful tool for sellers. It will check how likely your listing is to rank and convert sales using a Listing Optimization Score (this measures product title, description, key features, keywords, and images, amongst other data points). Once you have optimized your listing, you can move it over to Seller Central with one click.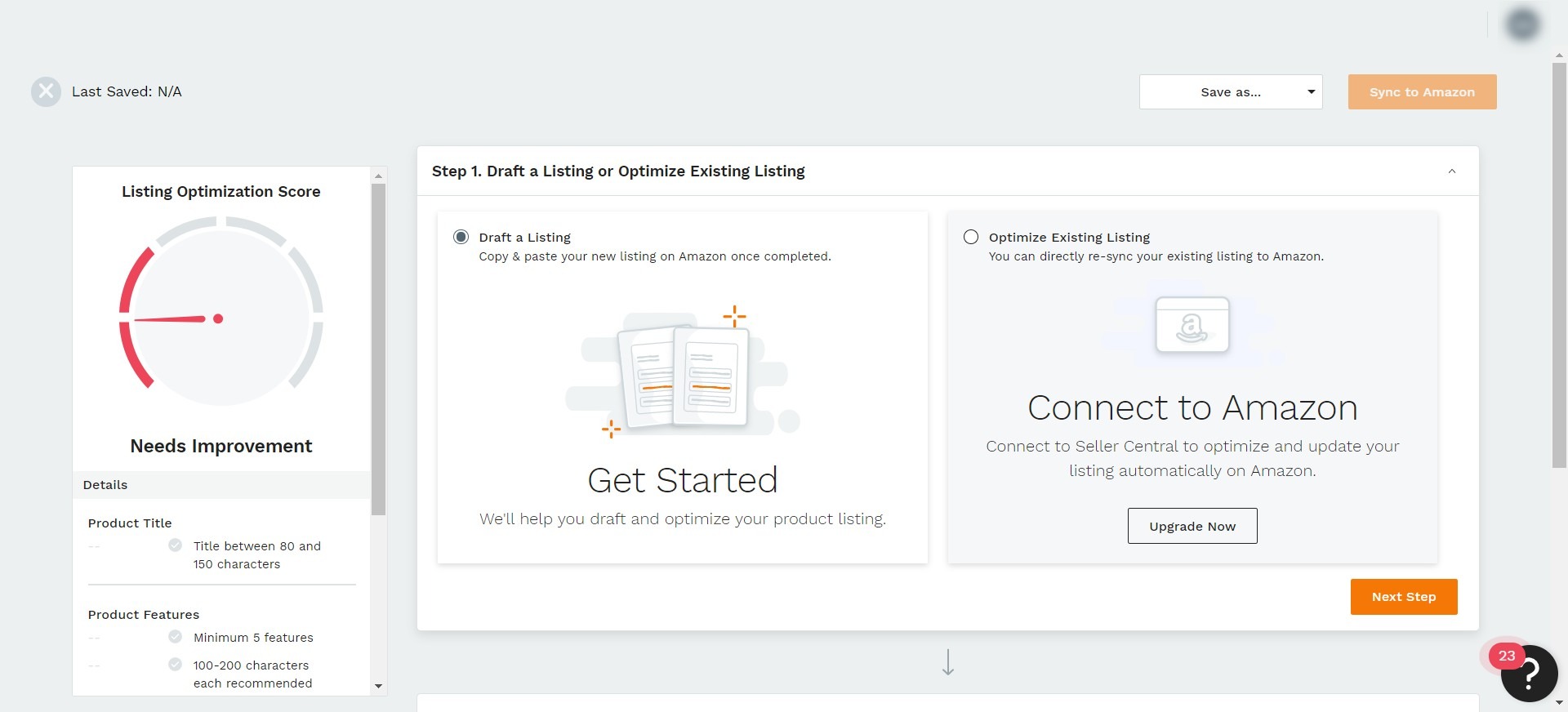 Review Automation is another great tool. This automatically sends out review requests to eligible customers without you needing to do anything.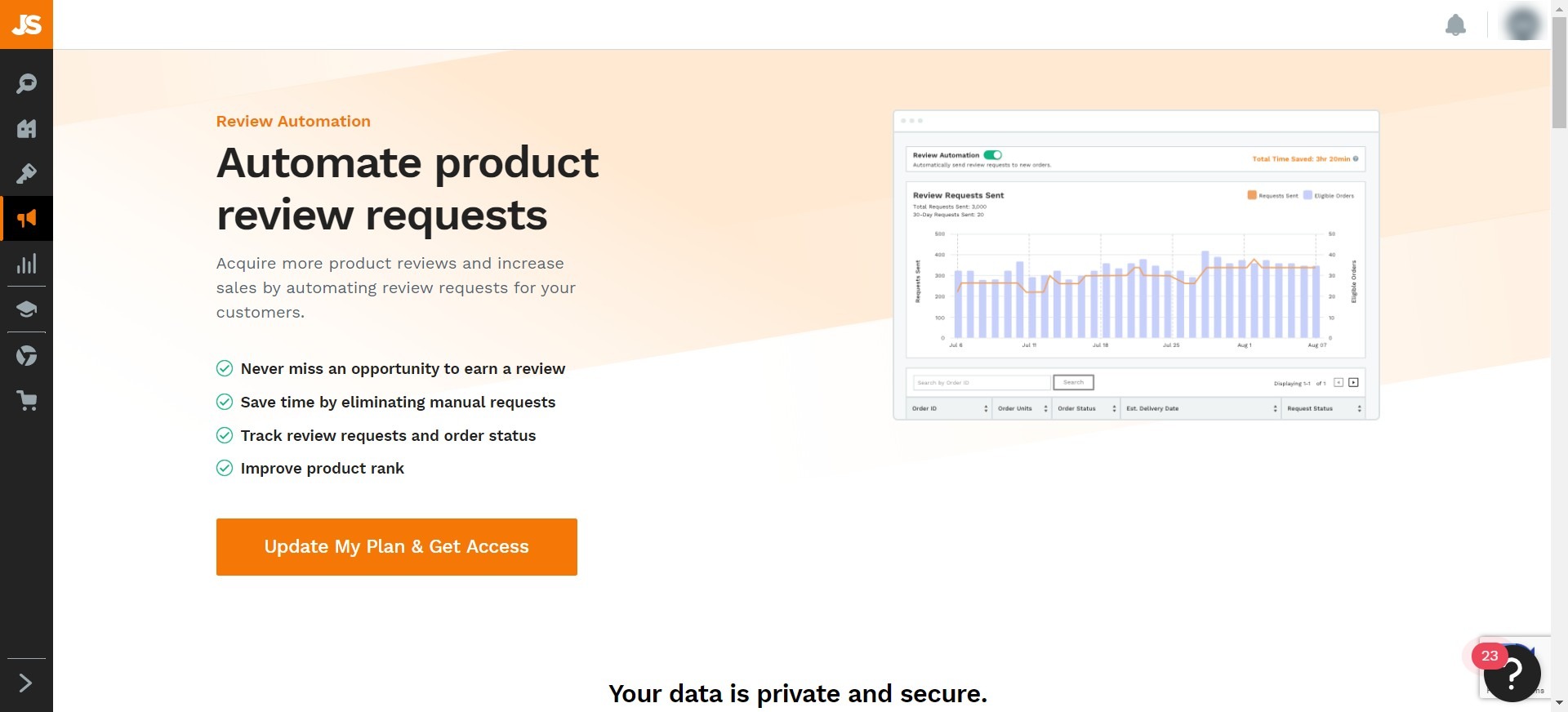 There's also the Inventory Manager – it calculates your inventory needs, based on demand forecasting technology. This takes into account revenue, cost, profit, average sales, and more – and then lets you know when you need to restock.
Finally, there is Sales Analytics. This gives you a profit and loss statement including revenue, hidden fees, operating expenses, and costs of goods sold. You can get a real overview of your progress here, and it's useful to have all these tools under one roof. You can add expenses including advertising, salaries, shipping costs, and inventory costs, so you can get an accurate picture of your profits.
Brands and Agencies
There are a few tools that brands and agencies can take advantage of. You can see market share data for any segment, see how many brands occupy that segment, and get some growth projections and competitors. You can create custom segments too, so you can closely track your competitors. You can also track how well your PPC campaigns are performing so you can adjust your strategy if it needs improvement.
Support
How do they compare in terms of support?
AMZScout
AMZScout does have some great courses included in the price of their subscriptions. These video tutorials will help you to get a grasp of selling on Amazon as well as how to use AMZScout. They have an FAQ page, which is pretty sparse but covers the most commonly asked questions.
They also have email support, and they seem to have a good reputation in terms of the speed of their responses.
JungleScout
As well as the Academy for new users, JungleScout has a library of free resources, packed with blog posts, articles, videos, and tutorials. The Help Center has frequently asked questions. You can request support via their website, and they also have a good reputation for the speed and helpfulness of their responses.
Pricing
How do they compare in terms of pricing?
AMZScout
There are three pricing plans for AMZScout Pro. All plans include the product database, profit calculator, product keywords, keyword explorer, and supplier finder.
AMZScout Basic – $29.99/month – 20 products
Starter – $39.99/month – 40 products
Business – $59.99/month- 80 products
Or, you can go for the Amazon Seller's Bundle, which will give you access to all the tools plus the Chrome extension, for $49.87/month.
The Chrome extension on its own costs $14.90 per month.
Click here to find out more about their pricing.
Jungle Scout
There are three pricing plans for Jungle Scout.
Basic – $19/month
Aimed at beginners, this includes:
Chrome extension
20 product searches
3 products to track
20 searches of the supplier database
20 keyword searches
Opportunity scoring
Accusales Estimates
Customer support
Suite – $49/month
Aimed at existing sellers, this includes everything in the Basic plan, plus:
Unlimited product searches
150 products to track
Unlimited supplier searches
Unlimited keyword searches
Rank tracking (5,000 keywords)
15,000 emails a month
600 ASIN searches
Opportunity finder
Inventory manager
Listing builder
Supplier tracker
Product promotions
Sales analytics
Professional – $109/month
This is aimed at brands and agencies. It includes everything in the Suite plan, plus:
Unlimited product tracking
Unlimited rank tracking
Unlimited emails
Unlimited ASIN searches
Priority onboarding
You can get your money back if you find it's not for you after 14 days – find out more here.
Pros and Cons
Now, let's take a look at the pros and cons of each tool.
AMZScout
Pros
Lots of filters to help narrow down your searches
The Chrome extension is beginner-friendly and easy to use
You can track several products and keywords at once
They have a few free tools to use
Cons
The website isn't the clearest to navigate initially
It's not as beginner-friendly as JungleScout
JungleScout
Pros
The tools are aimed at different levels, so it's not overwhelming for beginners
The tools aimed at existing sellers are really useful, like the Listing Builder and Inventory Manager
It has a lot of free resources for Amazon sellers
Cons
It doesn't have a free trial – if you do want to test it for 14 days you have to request to get your money back.
Alternatives to Try
If you don't want to go for AMZScout or JungleScout, you could try one of the following:
Helium10 has a lot of tools. As a result, it takes longer to learn how to use it properly. However, if you're after something in-depth, it could be worth a look. You can find out more in our Helium10 vs JungleScout comparison.
ASINspector is an affordable option that works for eBay and Shopify sellers as well as Amazon sellers. You can find out more in our ASINspector vs JungleScout comparison.
Tactical Arbitrage is great for sourcing new products. It lacks a Chrome or Firefox extension, but it's still worth investigating if you want to try it out, and it has a 7-day free trial too. You can find out more in our Tactical Arbitrage vs JungleScout comparison.
Frequently Asked Questions
Here are some of the most frequently asked questions about AMZScout and JungleScout:
Question: Does either AMZScout or JungleScout have mobile apps?
Answer: No, not at the time of writing.
Question: Can I use either AMZScout or JungleScout on eBay?
Answer: Both AMZScout and JungleScout are designed for use with Amazon.
Question: Can I share my AMZScout or JungleScout accounts with other users?
Answer: No. You pay for the number of users you need, and if you share your account details with another user, you could be removed from the platform.
Question: Is it easy to cancel AMZScout or JungleScout?
Answer: Yes, this can easily be done in your Account section.
To Sum Up – Which is Better?
We think that JungleScout has the edge over AMZScout. It's a shame that JungleScout doesn't offer a free trial (you can test it, but you'll have to email to get a refund which takes a bit more time). We also think that AMZScout has some great free tools to take advantage of – but JungleScout's features are more in-depth.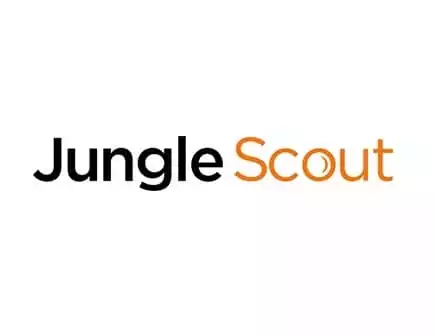 Why Go with Jungle Scout?
Jungle Scout is a great option for both beginners and advanced Amazon sellers. It's user-friendly and has great resources like the Jungle Scout Academy, where you can learn how to get the most out of the software and grow your business.
Try Junglescout first
We earn a commission if you click this link and make a purchase at no additional cost to you.
For both new sellers and existing sellers, there are a lot of tools to take advantage of, that will help you to run your business in a smarter way – which is why we recommend it.
However, AMZScout is still definitely worth checking out, especially as it has a free trial – you can give it a go yourself to see how you get on!
Further read: