Last Updated on April 22, 2023 by Ewen Finser
Do you want your piece of the Amazon pie? Looking at Zonbase vs Jungle Scout can help you figure out which software can help you find the perfect product to sell on the massive platform. Zonbase was voted #1 as a product finder, but a lot more people are familiar with Jungle Scout. Will the newcomer, Zonbase, swoop in with an upset, or will Jungle Scout hold its own?
Keep in mind that trying to figure out the best products on your own is like trying to find a needle in a haystack. Looking into Jungle Scout vs Zonbase can help you overcome the initial hurdle, so you can get to the sales goal much sooner.
Continue reading this article to find out which software would be the best to help you on your journey as an Amazon FBA seller.
Main Differences between Zonbase vs Jungle Scout
The main differences between Zonbase vs Jungle Scout are:
Zonbase is very user-friendly, whereas Jungle Scout has a lot of options and can be overwhelming
Zonbase is fairly new to the game, whereas Jungle Scout has been around for a while and is more well-known and trusted
Zonbase doesn't help you find suppliers, whereas Jungle Scout does
Zonbase is pretty inexpensive, whereas some people find Jungle Scout to be a little pricey
Zonbase has basic plans to subscribe to, whereas Jungle Scout offers basic plans as well as a startup suite and an entrepreneur suite
If you just want a basic product finder, Zonbase looks great. However, if you want a full package, Jungle Scout seems like the way to go. But don't stop now. Let's get into the nitty-gritty.
Zonbase Overview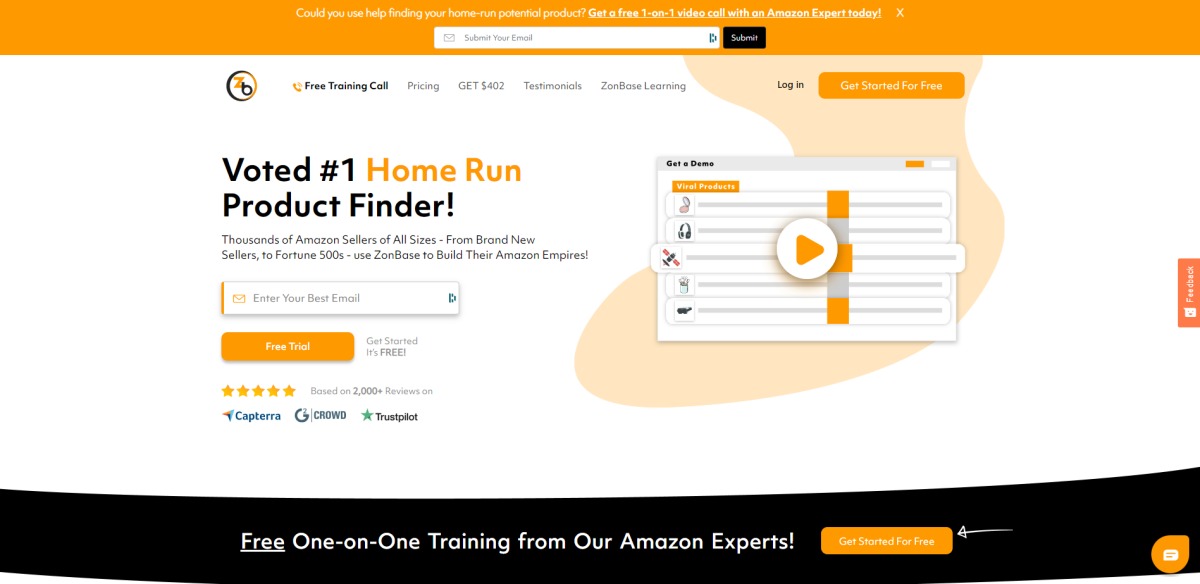 Zonbase brags about being voted as the number one home run product finder based on over 2,000 reviews from three of the biggest review sites. The company only started in 2019, but it has already gained a lot of traction and gives Jungle Scout a good bit of competition.
Zonbase's founders, Lewis Civin and Kevin David, worked in e-commerce and Amazon selling, so, naturally, they'd progress to something like Zonbase.
Kevin started out as an account in the corporate world and eventually found himself to be anything but happy with working for someone else. That's when he found Amazon FBA, launched his first product, and built a successful Amazon business.
Kevin noticed some of the major pain points for Amazon sellers like:
High-cost software
Inability to pick the right products
Lack of knowledge for how to optimize product listings
Since he saw that pain first hand and experienced much of it, he teamed up with Lewis, creating Zonbase. They made an affordable, easy-to-use software to help everyday Amazon sellers become more successful.
They didn't stop at helping sellers find great products. Zonbase is an all-in-one suite that helps users with each area needed to really see success selling on Amazon.
Zonbase Pros
Easy to use
Accurate keywords
Hot trending products
Good customer support
Zonbase Cons
Zonebase Pricing Plans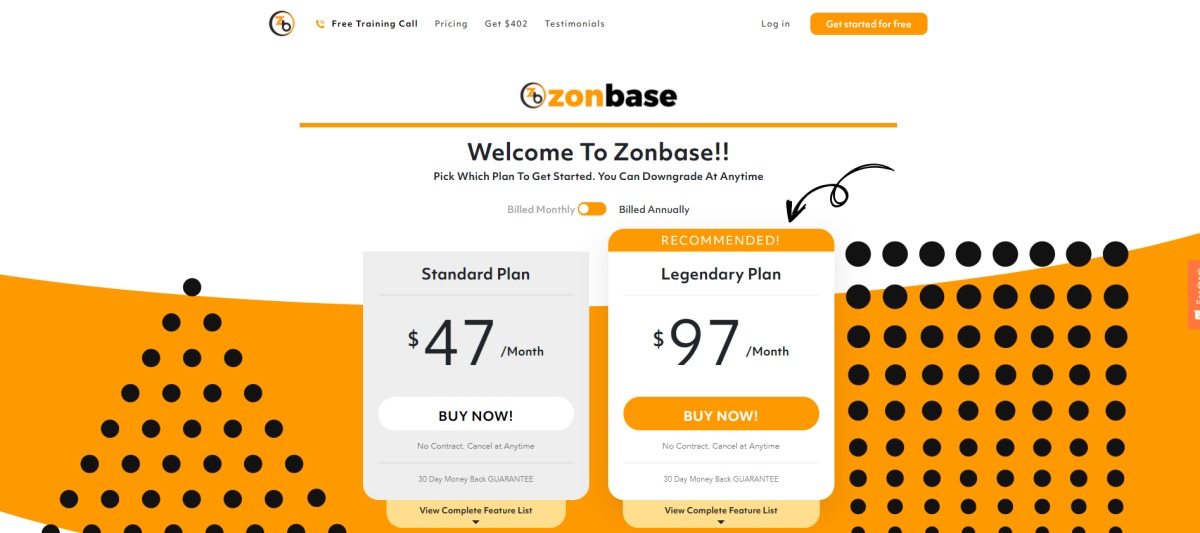 Zonbase has really good pricing when you look at comparable services.
Zonbase Standard Plan is only $47 per month if paid monthly. However, if you'd rather pay annually, you can get a discount that brings it down to $37 per month.
Zonbase Legendary Plan is only $97 per month if paid monthly. However, if you opt for the annual plan, you only pay $67 per month.
If you don't plan on doing a lot of research, you should get buy okay with the standard plan. One negative with going with the Zonbase Standard plan is that you don't get the Chrome extension. A lot of people say they couldn't live without the chrome extension, so the extra $50-$20 per month—depending on whether you choose to pay monthly or annually—is worth it.
I am always partial to buying the most feature-ridden plans since I don't like to leave anything on the table. If your budget is screaming at you, though, Zonbase Standard is still really great.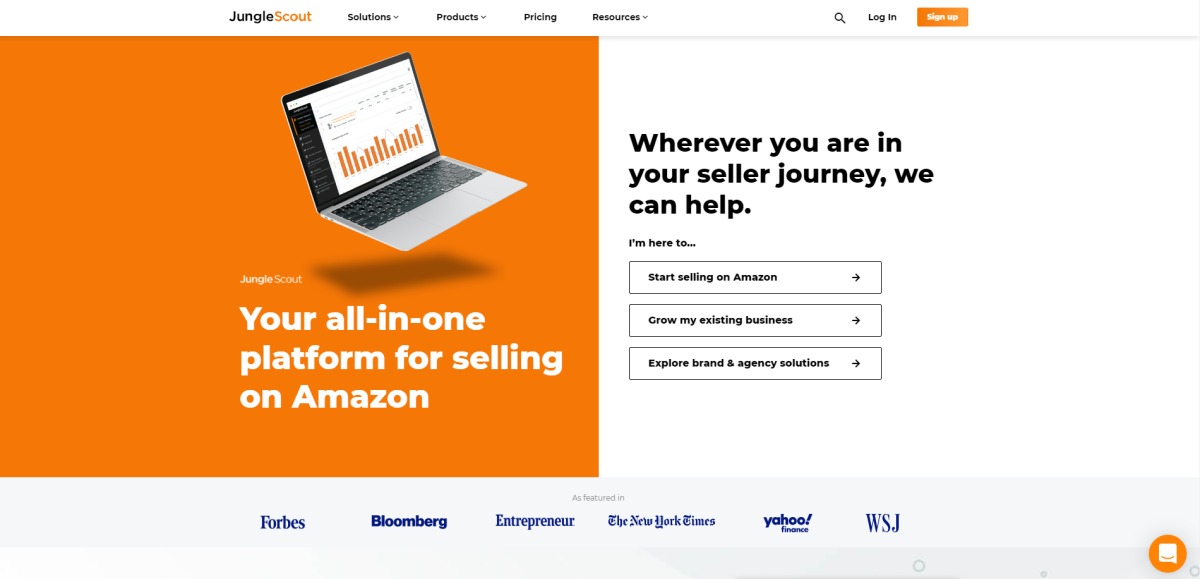 Ah, the tried and true Jungle Scout. This isn't a bad buy for those who can afford to dole out this kind of money. Jungle Scout was founded in 2015, so they were a bit ahead of Zonbase and changed Amazon sellers' lives forever with their mind-blowing tools.
Things that would have otherwise taken hours to do, they could now do with a click of a button.
Jungle Scout's mission is to give powerful data and resources to businesses and brands so they can grow successful Amazon businesses. Greg Mercer created Jungle Scout, and with his engineer's background, he was able to create something that really worked and made a difference in people's businesses.
Greg was also a seller, so he knew how challenging it was to bob and weave to avoid hits from Amazon's changing policies. Knowing these challenges personally, he created a platform that would help guide people through these interesting times to something known as Amazon selling success.
Using Jungle Scout, customers are able to start, grow, and manage their business on Amazon. From finding products to sell, soucing suppliers, optimizing listing, managing inventory, and the list goes on, Jungle Scout has it.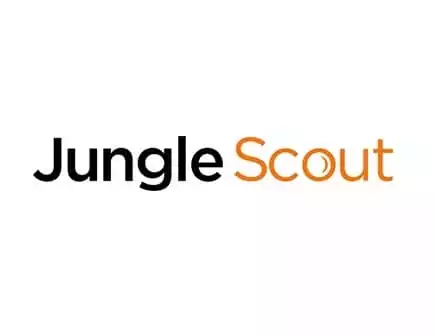 Why Go with Jungle Scout?
Jungle Scout is a great option for both beginners and advanced Amazon sellers. It's user-friendly and has great resources like the Jungle Scout Academy, where you can learn how to get the most out of the software and grow your business.
Try Junglescout first
We earn a commission if you click this link and make a purchase at no additional cost to you.
Jungle Scout Pros
All-in-one platform
Tried and true
A solid team of professionals
Jungle Scout Cons
A hefty price tag
An overwhelming amount of tools
Jungle Scout Pricing Plans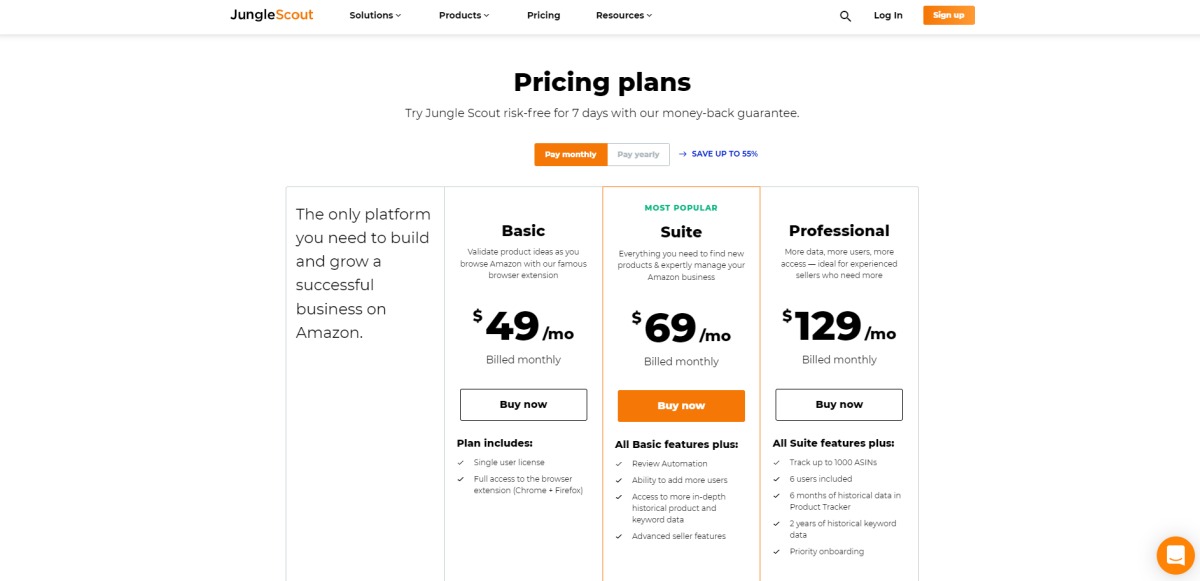 Here are those "high" prices we spoke about earlier. Honestly, it's not that bad when you think about how much you get out of Jungle Scout for any given plan.
Unlike Zonbase, Jungle Scout's basic plan makes its famous browser extension available to its customers.
Jungle Scout's basic pricing plan is $49 per month and gives access to one user and full access to the browser extension for both Chrome and Firefox. Those of you that want to pay annually can get the basic plan for only $29 per month.
Jungle Scout's suite pricing plan is $69 per month and gives access to everything in basic plus more features, but if you pay annually, you can get it for $49 per month.
Jungle Scout's professional pricing plan is $129 per month and gives access to everything in the suite plan as well as more fancy features, but if you pay annually, you can get it for $84 per month.
As you can see, there are many options, and the price isn't as bad as some people act like it is. However, if you're on a tight budget, it can feel like a lot more money than you want to spend.
How Much Money Can You Make on Amazon FBA?
As with any other business, the income you can make greatly varies. You might have seen videos from people making six figures per month, but for every one of those people, there are a thousand more who can't figure out how to make their first dollar on the platform.
Some people have won big using Amazon FBA, but it does take a lot of time and dedication to growing your business. You have to be ready to put in hours to learn about the business to get the results you want.
Alternatives to Zonbase and Jungle Scout
If Zonbase nor Jungle Scout sounds like a good option for you, they aren't the only players in the game. There are some other solid companies that can help you as you search for the perfect products to sell on Amazon.
Viral Launch is a good platform that gives Amazon sellers tools to scale their business. It's easy to use and only costs $25 per month.
Keyword Inspector shows you real-time data on other Amazon sellers. You can see how many sellers are in your area and view their revenue as well as other helpful things. For $9.99 per month, it's not a bad tool to have in your tool belt.
AMZ Blast helps you check out your current competition. Their product research tools give you important information so you can easily check product rank and much more. This is the perfect tool for people who speak Hindi, but it is also available in English.
FAQs
Question: Is it worth my time to learn Amazon FBA?
Answer: Learning Amazon FBA might take a while to get the hang of, but you can make a good amount of money if you learn it.
Question: Does Zonbase have a free trial?
Answer. No. Zonbase does not have a free trial. However, they do have a 30-day money-back guarantee.
Question: Does Jungle Scout have a free trial?
Answer: No. Not only do they not have a free trial, but they only have a 7-day money-back guarantee.
Zonbase vs Jungle Scout – Final Words
Now that you've seen the good and the not-so-good about both Zonbase and Jungle Scout, I'm going to tell you what I think.
Both of these products are very strong and are helpful. However, if you're on a tight budget, going with Zonbase's lowest plan is a no-brainer. Even without the price point to consider, I really like Zonbase. It's easy to use and doesn't have too much to confuse you.
Once you start using it, it is easy to fall into good habits that will help you grow your Amazon business.
If you still need more help, we've got plenty of other information to help you. Check out our Best Jungle Scout Alternatives article.