Last Updated on April 22, 2023 by Ewen Finser
"What am I going to sell?" That has got to be the most important question before you start selling on the Amazon platform.
Why?
For starters- although Amazon hosts about 244 million to 340 million active consumer accounts, it turns out that the corresponding buying patterns are not evenly distributed between all the products.
In 2017 alone, buyers spent $118.57 billion on various products- consequently marking a 25.2% growth rate from $94.67 billion the previous year. That's an admittedly large amount to spend money on in just 12 months.
But, let's face it. Not everyone among the 1.7 million sellers who had listed their products was able to generate substantial profit from that. In fact, a large chunk of the sales went to a relatively small fraction of the sellers.
While there are multiple factors that increasingly contribute to this trend, the product choice is undeniably where it all begins. What you choose to sell principally determines your success potential over the long haul.
If your items are seemingly a bit too specialized, for instance, you might not be able to net enough buyers to support your business. And the same applies to categories that are exceedingly filled with low-priced competitors from common sourcing points. You risk getting lost within the product search results without ample product search terms.
To put this into perspective, consider this- 18% of the Amazon top sellers in 2017 dealt in electronics, then 15% sold products within the clothing, shoes and jewelry category. Home and kitchen, on the other hand, was the primary focus among 13% of the top sellers, while 11% of them did health and household.
Interesting, right? So, what do you do to join this pack and stay ahead of the game?
If you're here, then you've probably heard about Jungle Scout software (or Keyword Scout) before. It's one of the product research tools in the market built to help sellers find the most ideal stuff to list on Amazon.
Basically, it combs through details like the number of reviews, seller ranks, plus other critical parameters to inform you about the predicted sales numbers (Jungle Scout sales estimator) of a specified profitable products, and consequently rank it by its relative success potential.
Best Jungle Scout Competitors & Alternatives
These are the best Jungle Scout alternatives:
Bottom Line Up Front: Here's my high level decision matrix on the top Jungle Scout competitor choices…
Viral Launch is probably the single largest Amazon software competitor to Jungle Scout and the "elephant in the room".
Viral Launch's database has a log of over 350 million Amazon products, which set's it apart even from Jungle Scout. Viral Launch definitely has the deepest analytics database and market intellegince suite for the Amazon marketplace.
It's actually my preferred Amazon research tool compared to Viral Launch even.
Core Viral Launch Features
Product Discovery: This unique tool tab allows you to manipulate dozens of data factors to find product openings in the market, using sophisticated algorithms, historical sales date, and real-time information.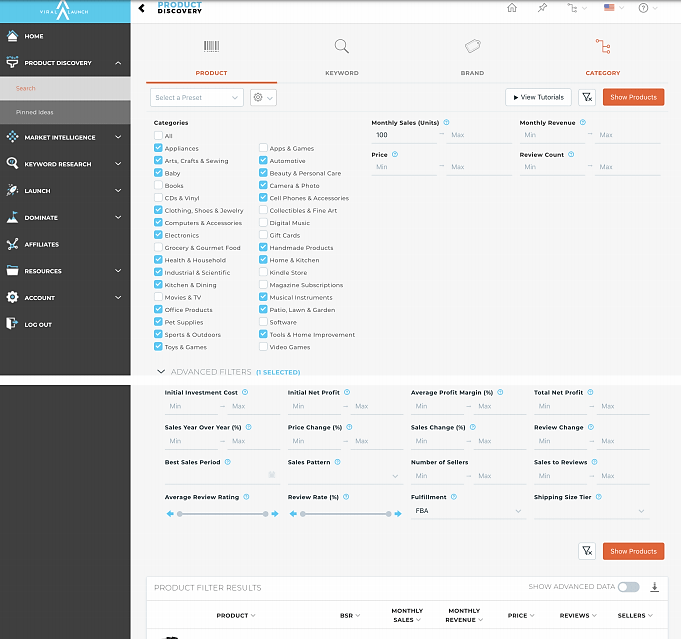 Market Intelligence: Want to know if a market is healthy? Shrinking? Market Intelligence does niche level analysis so you aren't always looking for a needle in a haystack.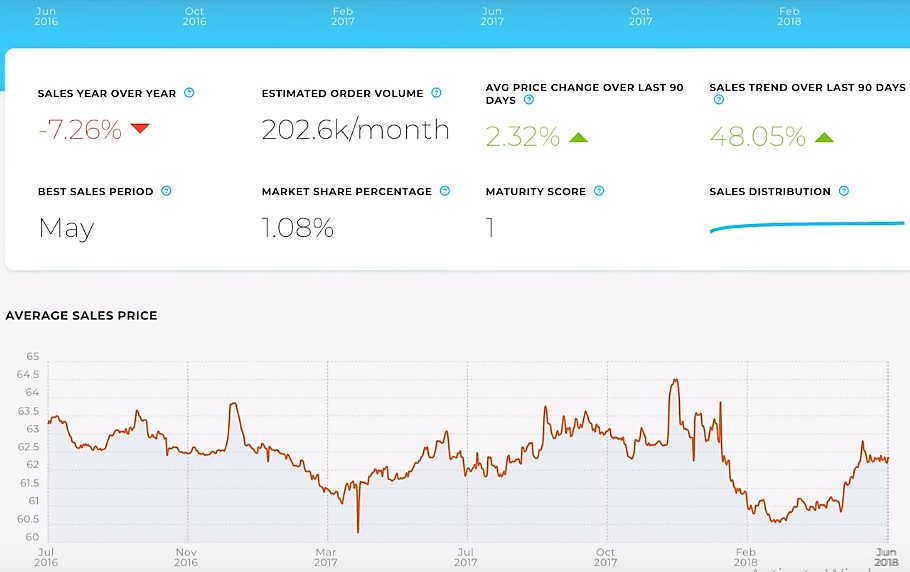 Advanced Keyword Research: Available above the basic tier, Viral Launch offers some of the best pure keyword research capability that I've personally tested.

Unlike Jungle Scout, Viral Launch also includes a Chrome app (similar to Jungle Scout's Chrome Extension) BUT standard in their pricing plans (although this does make it more expensive than Jungle Scout). See the pricing plan below for the full details: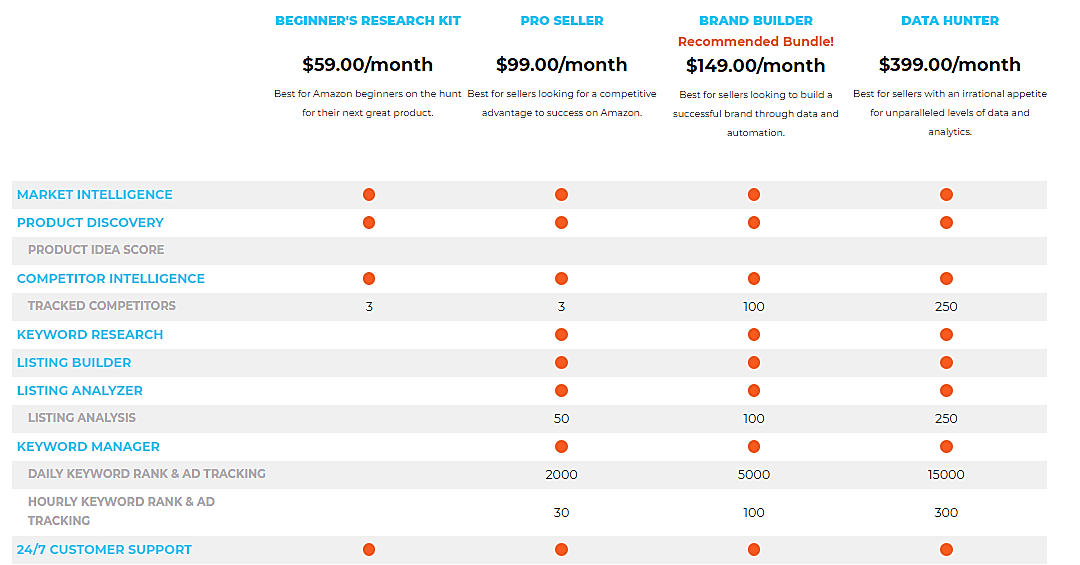 Helium 10 is a powerful suite of software tools for Amazon sellers, designed to help them find the most profitable product groups to sell on Amazon. It provides you with everything you need to research and find the best products to sell, optimize your listings, product tracker, find suppliers (supplier database and product database), understand your profits, and even help protect you from scammers.
Helium 10 Main Features
Product Research
Browser Extension
Product Listing Optimizer
Reverse ASIN Search
Inventory Reimbursement Finder
Inventory Protector
Trendster – Trends Finder
Amazon Seller Training
Keyword Processor
Keyword Index Checker
Product Rank Tracking
Listing Monitoring and Alerts
Financial Analytics Dashboard
Email Automation Tool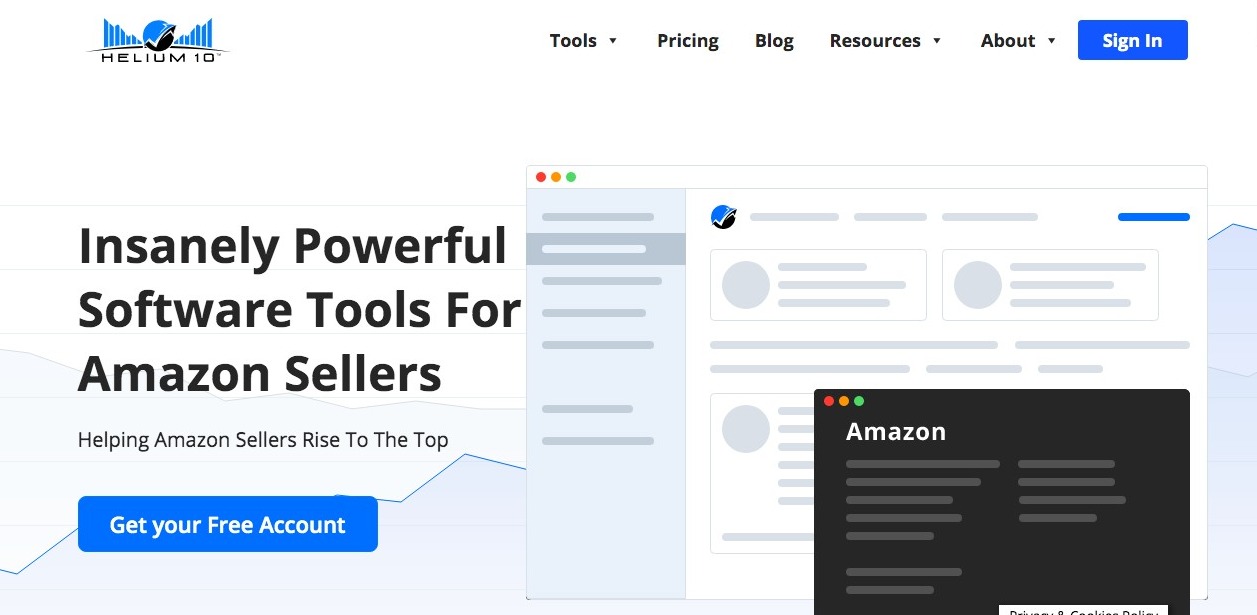 The free plan includes 30 days use of the Trendster, Frankenstein, Scribbles, and Profits tools. It also includes 20 uses of Black Box, 2 uses per day of Magnet and Cerebro, 6 uses of the Index Checker, up to 20 tracked keywords, and 50 uses of the Xray tool.
The Platinum Plan includes the 'Freedom Ticket' Amazon training, as well as unlimited use of Black Box, Trendster, Magnet, Cerebro, Frankenstien, Scribbles, Inventory Protector, Refund Genie, Xray, and Profits. It also includes 150 uses per month of the Index Checker, 2,500 tracked keywords, up to 300 ASINs and 5,000 follow up emails per month.
The Diamond Plan includes everything from the Platinum plan, as well as 300 uses per month of the Index Checker, 5000 tracked keywords, up to 600 ASINs and 15,000 follow up emails per month.
The Elite Plan includes everything from the Diamond and Platinum plans, as well as 500 uses per month of the Index Checker, 5000 tracked keywords, up to 1,000 ASINs and 50,000 follow up emails per month.
Compare Helium 10 Pricing Plans
If you're looking for a Jungle Scout alternative that looks, feels, and even smells like Jungle Scout, AMZScout should be a strong contender. The two share quite a number of features across nine web marketplaces- US, Germany, Italy, France, India, Spain, the UK, Mexico, and Canada.
First off, AMZ Scout is available in the two versions you'll find on Jungle Scout- a web app plus a Chrome extension. Then it goes ahead to provide four additional tools for free:
Amazon to eBay Price Comparator
Amazon Inventory Spy
FBA Fee Calculator
Sales Estimator
All in all, the web app should be your principal focus because it offers all the Amazon seller metrics you won't see on any of the other tools. However, if you'd prefer a much simpler interface and navigation process, I'd advise you to go for the Chrome extension.
That said, two of the most basic functions on AMZ Scout are product research searches and tracking. You'll be able to sort through Amazon's database using variables like year, month, week, day, and more- to discover what's selling best during various selected seasons or holidays.
And in case you'd like to find out the precise sales numbers, AMZScout's estimated sales feature will sort you out. You can even narrow down to a specific period of time to make a more informed decision about the corresponding opportunities.
Other than that, AMZ Scout provides a Product Listing Quality Score (LQS) Amazon seller feature just like Jungle Scout. But, from my experience, I'd say the former slightly outshines the latter in this. It combines parameters like whether the seller is FBA (FBA seller label) or not, ratings, number of reviews, the number of product images, product description, bullets count, brand, name length, and much more- to rate products on a scale of 1 to 100.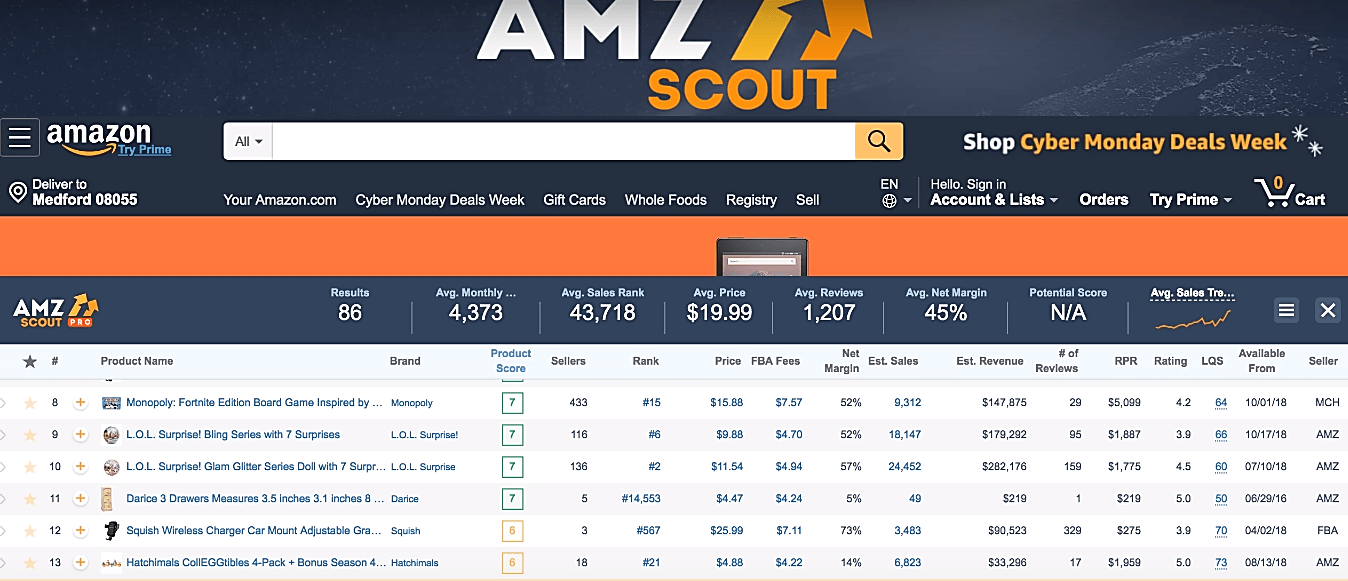 One particularly interesting thing here is that AMZScout is useful even after you've already selected your products during the Amazon product research phase. It has extended its features beyond Jungle Scout's zone into the territory of AMZ Tracker-to provide extra analysis capabilities to better manage existing products and launch new ones.
Its keyword research tool, for instance, is quite handy at helping users organize their product descriptions. Strategically leveraging it will progressively boost your product's ranking in Amazon's search results (and expected organic traffic).
Closely related to that is competition analysis, which is also available on AMZScout. You can add your rival's products to the product tracker to check on their regular monthly sales. The subsequent findings will then help you structure your strategies to undercut their pricing.
And while you're at it, you might need a cheaper supplier to further position yourself competitively. Fortunately, AMZScout also comes with the ability to generate info about prospective suppliers. Reviewing and comparing the data will help you settle on the most suitable candidates. This is a great way to find ideal private label products as well.
That aside, this software also scores some additional points off Jungle Scout when it comes to pricing. But only by a slight margin. After a 7-day free trial period, you'll end up paying $29.99 per month for the Basic Plan, $39.99 for the Start Plan, or $59.99 for the Business Plan.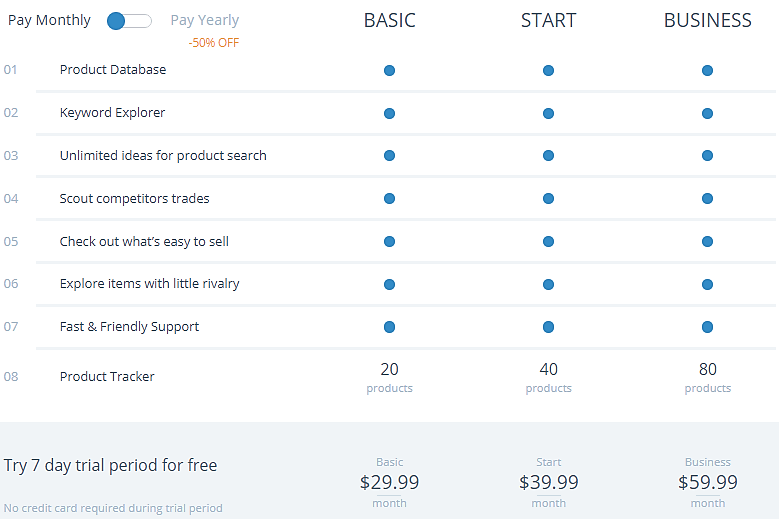 Well, come to think of it, Jungle Scout doesn't take that lying down. It fights back through a faster Chrome extension and a better-organized interface. It will take you longer to learn the ropes on AMZScout.
If you're not happy paying for Jungle Scout's Chrome extension, here's a free alternative- the Scope Chrome extension. And yes, it's capable of accurate product research tool and sales estimation.
But, here's the kicker. You'll be out of luck if you're thinking about adopting this tool for any of the secondary Amazon marketplaces. It turns out that Scope supports only the US site, Amazon.com.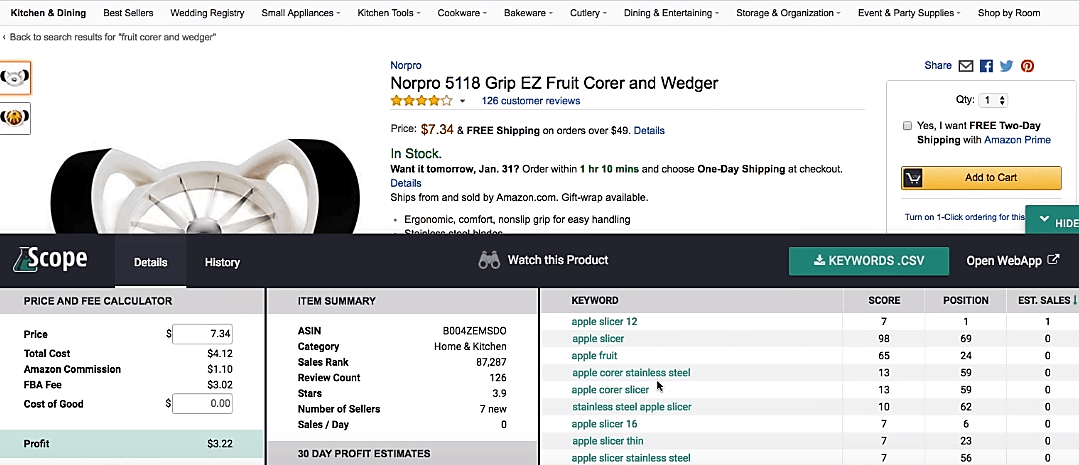 Now, if you need extra web functionalities like product rank tracking, you'll have to switch to the Scope web app. It can monitor historical fluctuations in reviews, sales, and price (spotting price arbitrage opportunity, too), plus the Best Sellers Rank for pretty much any Amazon product.
Then in addition to the sales numbers, you'll be able to see the corresponding revenue estimates. This will help you assess the level of income your opponents generate from various products.
Although you can also take advantage of that to predict what you stand to earn, Scope provides an extra profit calculator just in case you'd prefer more accuracy. It combines a number of factors to critically analyze a product's potential ROI before doing product launches.
But before all that, you have to establish your selected products of interest. And this is precisely where you capitalize on the web app's advanced product research tool capability. It uses parameters like sales rank, rating, price, and reviews to comb through the database for suitable products.
Sadly, that's all the filters you get. There are quite limited, I admit. Especially when you compare them to Jungle Scout's extensive research criteria- it even supports stuff like the number of sellers and estimated sales.
Now, interestingly, Scope makes up for that with a rather robust set of keyword features. At the very top is the keyword generator, which conducts a reverse ASIN lookup to produce a complete list of keywords your chosen product is ranking for. You'll then be able to combine data on CPC bid ranges plus search volumes to enhance your listings and PPC ads.
As a matter of fact, Scopes makes things much easier for you by assigning each keyword an appropriate score. This is derived from a specialized proprietary algorithm that analyzes keyword strength based on price and sales rank histories.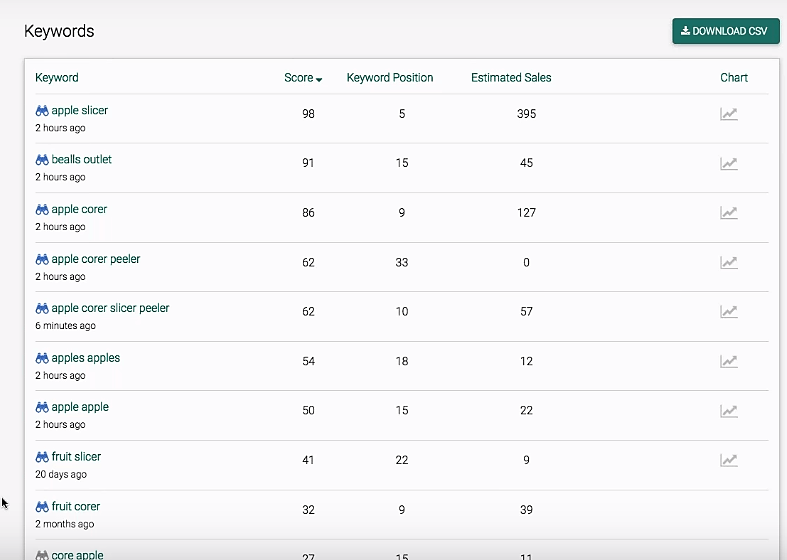 You can then organize them accordingly using watch lists, which also come in handy when you want to keep a close eye on various products. And to monitor the keywords, you could capitalize on Scope's keyword position tracker- which keeps tabs on the performance of selected keywords.
Well, unlike the Chrome extension, these web app features don't come free at all. However, at just $32.50 per month for the Essentials Plan and $57.50 per month for the Startup Plan, you bet it's cheaper than Jungle Scout.
Unfortunately, Scope doesn't offer a free trial on its web app. But, at least you get a 7-day money back guarantee period.
View the Latest Scope Prices and Promos
AMZ Tracker is renowned for its 360-degree seller strategy. It's basically a systematic framework that combines reconnaissance, defensive, and offensive-optimized provisions to empower FBA sellers by helping them boost their customer service quality, overall efficiency, plus page and product rankings.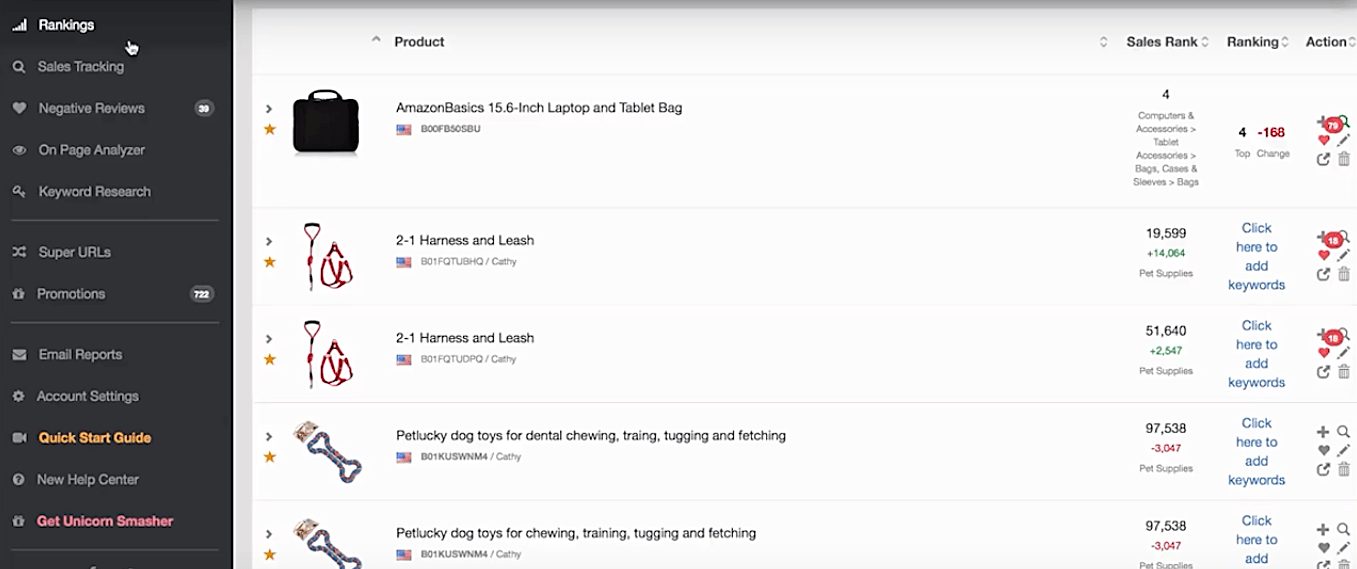 Reconnaissance, to begin with, seeks to facilitate you with features for keeping tabs on relevant trends to maintain a constant competitive advantage or to spot new opportunity paths.
One of the features you'll find here is Product Tracking, which comes with numerous sales metrics to weigh your products' performances against your competitors'. And speaking of which, you also get Competitor Analysis- a feature that will help you go even deeper into your rivals' worlds. You'll be able to track their respective tactics and corresponding sales performance.
The defensive side, on the other hand, is meant to help you fight back against potentially harmful elements. For example- in case you're worried about your rivals' dirty tricks, AMZ Tracker will use its Hijack Alerts feature to notify you as soon as someone attempts to hijack your listing.
Apart from that, you'll also face a threat from your own customers in form of negative reviews that some of them might drop on your products. In the event of such an occurrence, the Negative Review Notifications feature will immediately alert you. You'll then be able to respond accordingly in time to avert a possible disaster.
That said, the main focus of AMZ Tracker is seemingly its offensive capabilities. This is where you find tools for optimizing your product pages to attract new customers.
The DeepWords feature combined with Keyword Ranker, for instance, will help you select appropriate keywords to rank your products well on Amazon search results. Then Conversion Rate Assessor comes in handy when you need to analyze elements influencing your conversion rates.
And to capitalize on social media traffic, AMZ Tracker employs a great tool called Super URL to direct users to your pages. Another feature you might consider leveraging is the Vipon Deals Community, which connects you with an extensive supplementary market that will even improve your Amazon rankings.
In a nutshell, therefore, AMZ Tracker is seemingly more ideal for not only spying on competitors but also tracking your own items. It's a powerful indicator of your keyword positions and Best Sellers Ranks, plus competitor strategies.
Unfortunately, that's as far as it goes. You cannot use it to discover potential products. That's a role that's better served by Jungle Scout, thanks to its superior features for in-depth product research (product research tool).
Well, if you actually intend to adopt the 360-degree features, here's more bad news. It just so happens that AMZ tracker doesn't come cheap. After a 7-day free trial, its Basic Plan will cost you $50 per month, while Professional is available for $100 per month. Upgrading past this level will push you to the God Mode package for $200 per month, or Legend for $400 per month.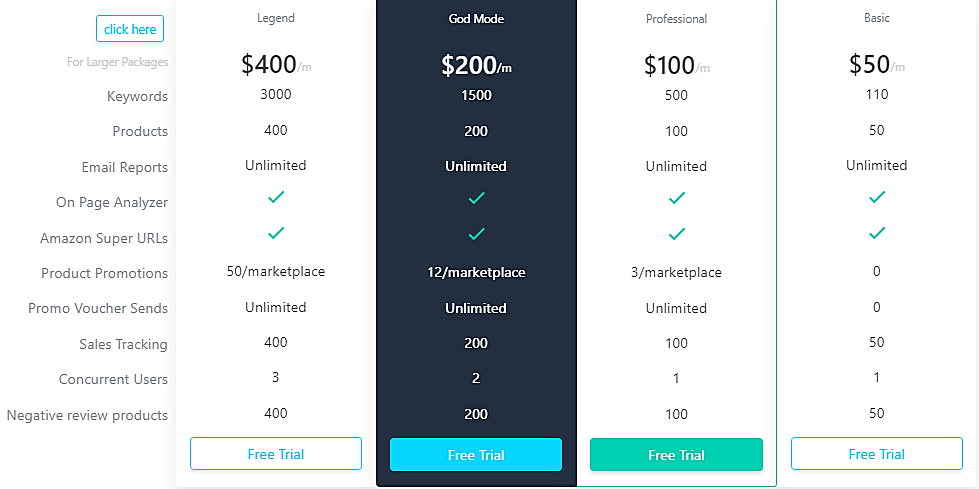 View the Latest AMZ Tracker Prices and Promos Here
Although it has only been around for slightly over a year, BigTracker is increasingly growing in popularity among Amazon sellers. It's developed to help users with competitor analysis and establishing suitable product niches. This has seen it challenge Jungle Scout in sales analysis, product database, and data accuracy.
Consider the product tracker feature, for instance. Jungle Scout essentially tracks daily progress through some columns with typical sales info embedded on a graph. BigTracker, on the other hand, goes beyond that to provide sales insights for two or more items, with over 20 different sets of supplementary email alerts.
And that's not all. It also goes ahead to follow up on product deals, reviews, plus Q&A as additional parameters to facilitate comprehensive competitor analysis, and help you make informed decisions about promising products to sell.
Then to top it off, it throws in a specialized calculator that is capable of conducting reverse profit evaluations.

When it comes to data accuracy, it's well known that Jungle Scout does its analysis based on stock numbers. And the end result is usually accurate on most occasions.
But, get this. Problems might develop from something as small as products going out of stock or inventory numbers exceeding 999, to major occurrences like significant inventory fluctuations- possibly due to restocking or shortages. Such irregularities may trigger erroneous estimations of revenue and sales.
Compare that with BigTracker, which keeps tabs on 5 product listings of each product, then cumulatively assesses them along with buy box rotation parameters every 15 to 20 minutes.
And to cope with possible inventory fluctuations, BigTracker collects sales data on a regular basis to set up corresponding sales models, which are subsequently changed every 15 days. This maintains data accuracy amidst any shifts in stock numbers.
That said, some of the exclusive features you'll find on BigTracker include;
Deals tracker for keeping tabs on competitor promotions.
Brand tracker for following up on the performance of your competitors' brands.
Amazon.com top 100 for establishing the bestselling items.
Product comparison for comparing sales metrics of two or more items you've been tracking.
Customized email alerts for notifying you accordingly.
Group settings to set up and control various managed product trackers.
Most of these features are available at a minimum price of $25 per month for the basic plan. The mid-range option provides more at $50 per month, while the most provisioned package costs $100 per month.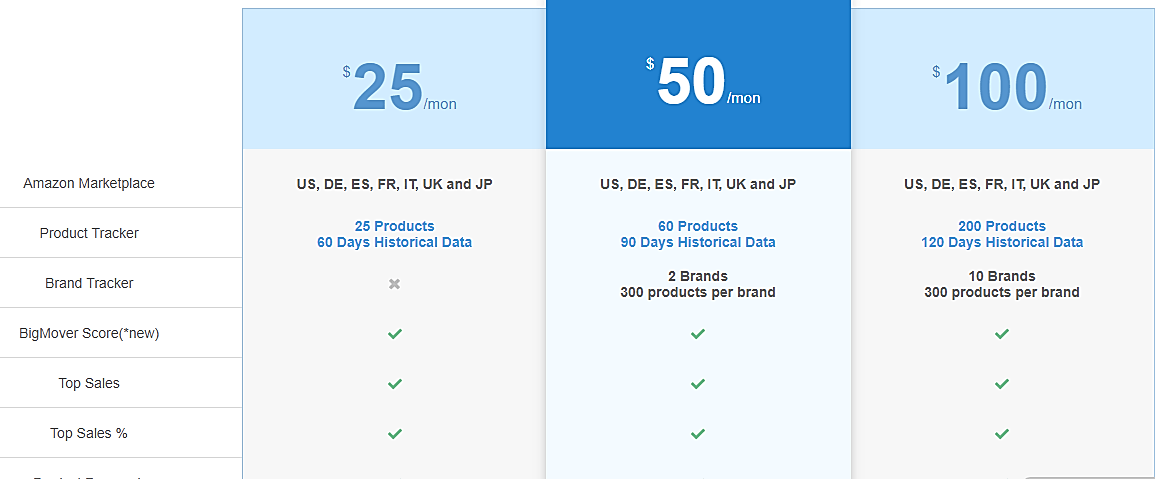 But, here's the thing. BigTracker is not superior all-around. Jungle Scout wins when it comes to the number of supported marketplaces, plus the product search filters.
While BigTracker is limited to the US, Germany, Spain, France, Italy, the UK, and Japan, Jungle Scout is available in the US, Germany, Italy, France, India, Spain, the UK, Mexico, plus Canada marketplaces.
In each of these areas, Jungle Scout employs additional product filters like listing quality, net, and weight- all of which are unavailable on BigTracker. Then it subsequently runs them through its algorithm to derive potential profit indicators and which potential product options could be profitable.
Combined, these and many other features make Jungle Scout the better option when you need to discover suitable products. BigTracker, on the hand, is perfect for competitor analysis and establishing ideal product niche.
View the Latest BigTracker Prices and Promos
According to its developers, Amachete was born because Jungle Scout cannot do the following:
Notify you about your product reviews
Support all international Amazon marketplaces
Determine the amount of money Amazon owes you
Monitor product sales from your phone
Rank all the product factors accurately
Scan for hijackers
Consequently, they came up with three principal versions. The Amachete Chrome extension, for starters, is optimized for product research as you browse through Amazon.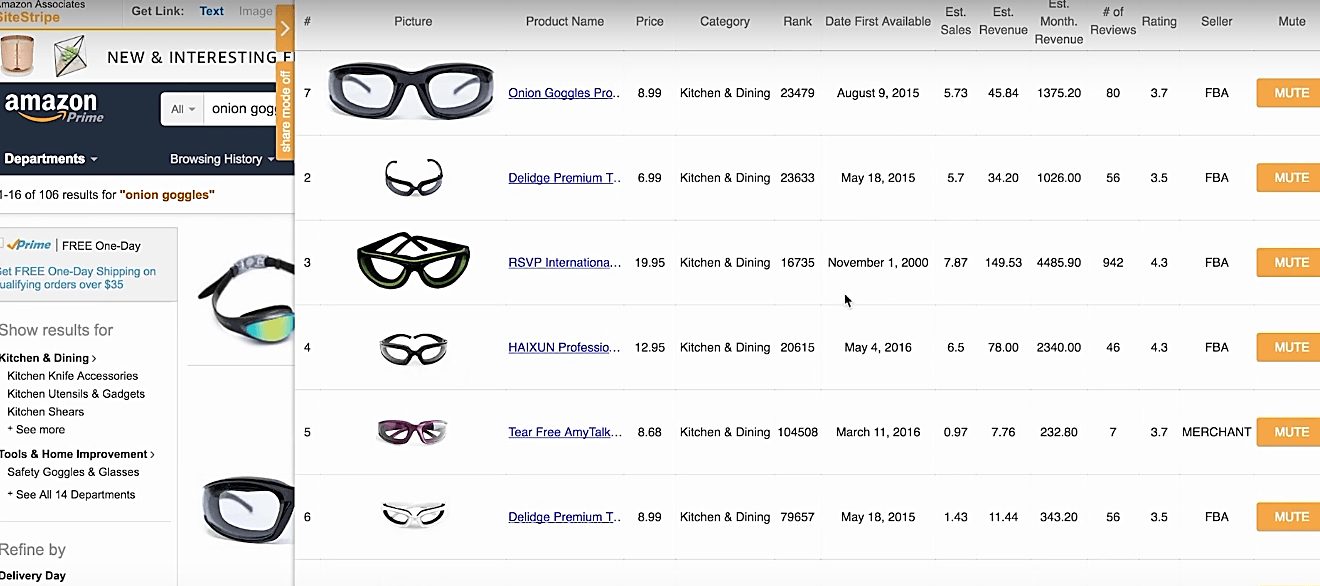 Its web app, on the other hand, comes with competitor analysis, inventory tracking, email automation, product research, sales estimation, sales tracking, plus hijack detection functionalities.
Then finally, you get an iOS mobile app for keeping tabs on sales and products.
One outstanding thing that Amachete can admittedly boast of is supporting ten Amazon marketplaces- the US, Germany, Italy, France, India, Spain, the UK, Mexico, Japan, and Canada. That alone makes it an ideal Jungle Scout alternative for sellers based in Japan.
In addition to that, Amachete has set up a pretty accurate sales estimator. You can establish the potential revenue you stand to make from a selected product right off the bat.
And you know what? The team at Amachete seemingly noticed that Amazon product ranks are extremely volatile, considering one purchase is enough to trigger a drastic shift in BSR. I've actually seen items moving through thousands of positions in an instant, consequently compromising daily rank reports.
So, to minimize the error margin, Amachete's developers built the system to generate multiple reports every day. As a result, you can now track the performance of various products on an hourly basis. Even better, the framework combines all this data to assess average daily or weekly product ranks. And that's how you'll be able to estimate a product's actual market demand.
Unfortunately, the corresponding product research feature is not as robust. It's fairly basic, with limited parameters that cannot match up to what you get on Jungle Scout. I was surprised to find out that it doesn't even generate critical details like the number of sellers for each product.
But then again, I was able to assess what other sellers were up to through Amachete's competitor analysis tools. The system helps you analyze the ranks, dates of listing, average rating, number of reviews, and the prices of multiple rival products at a go.
And in case any of your opponents try to sabotage your business, you can rely on Amachete to warn you accordingly. It consistently monitors your listings to pick up even the slightest hijacking attempt. As a result, you'll be notified in good time to deter one before it escalates further to affect your sales.
And speaking of notifications, it turns out that Amachete also comes with an integrated global email system. You can use it to send automated customer emails to trigger positive product reviews. This strategy alone could substantially boost your overall ranking on Amazon's search results.
Fair enough. So, how much will this cost you?
Well, it just so happens that Amachete is currently in the Beta phase. After a 10-day free trial period, you can subscribe to the cheapest Professional Plan at $30 per month. If you need to upgrade from three to five marketplaces, The Globe Plan will cost you $52.50 per month. All the 10 marketplace databases can only be accessed after subscribing to The Empire, which is the most advanced package. It's priced at $75 per month.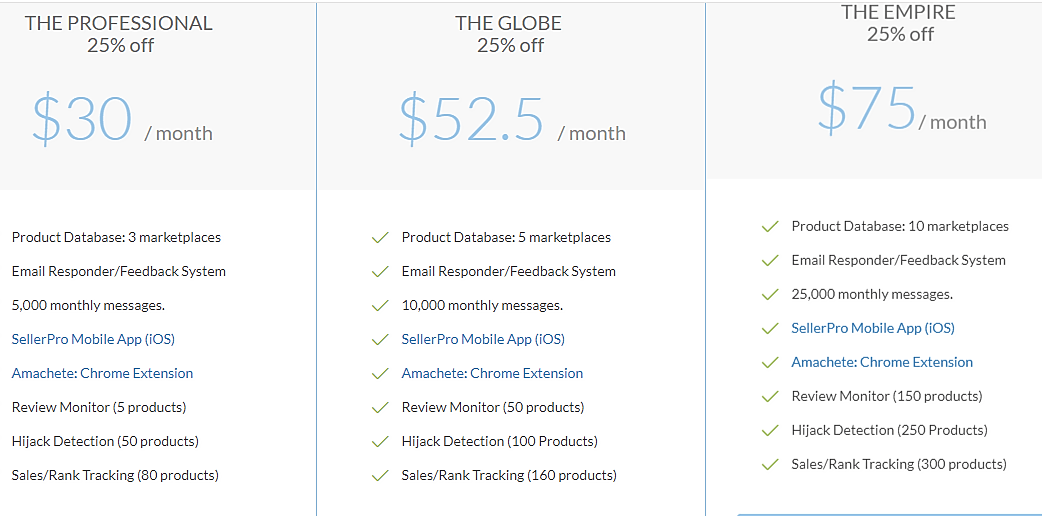 Then get this. An active subscription avails all Amachete versions- Chrome extension, web app, and mobile app.
So far, they are two versions of Jungle Scout- the web app and the browser extension. They pretty much use the same concept but are used to achieve different results.
Jungle Scout Chrome Extension
The Chrome extension attaches itself to your browser then runs when you access Amazon. This Jungle Scout extension is engineered to swiftly collect market intelligence data from a specific page then inform you about a product's review count, estimated sales, price, etc- for help you compare your choices.
In essence, you begin with products before generating their respective metrics. After opening a search page on Amazon, you'll be able to assess the number of sales each product is attracting. That makes it suitable when you have an idea about what you want to deal in.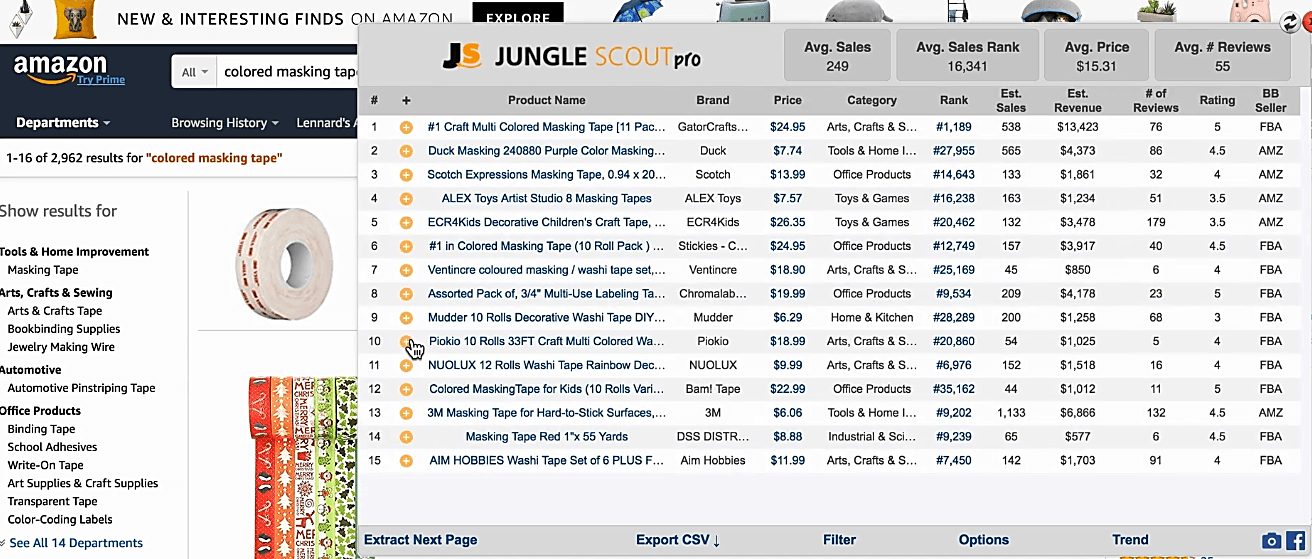 If you're looking to sell men's shoes, for example, you can leverage the Jungle Scout Chrome extension to determine the best performing shoes plus their corresponding demand (high demand, low demand, etc…).
Jungle Scout Web App
The web app, on the other hand, helps you filter through Amazon's product database using parameters like sales, price, category, and much more. The primary goal here is establishing promising products that are seemingly concealed within Amazon's extensive inventory.
Unlike the Chrome extension, you'll begin with a set of criteria. Then ultimately, you'll end up with high margin product ideas plus the ability to spy on your competitors' activities over a prolonged period of time.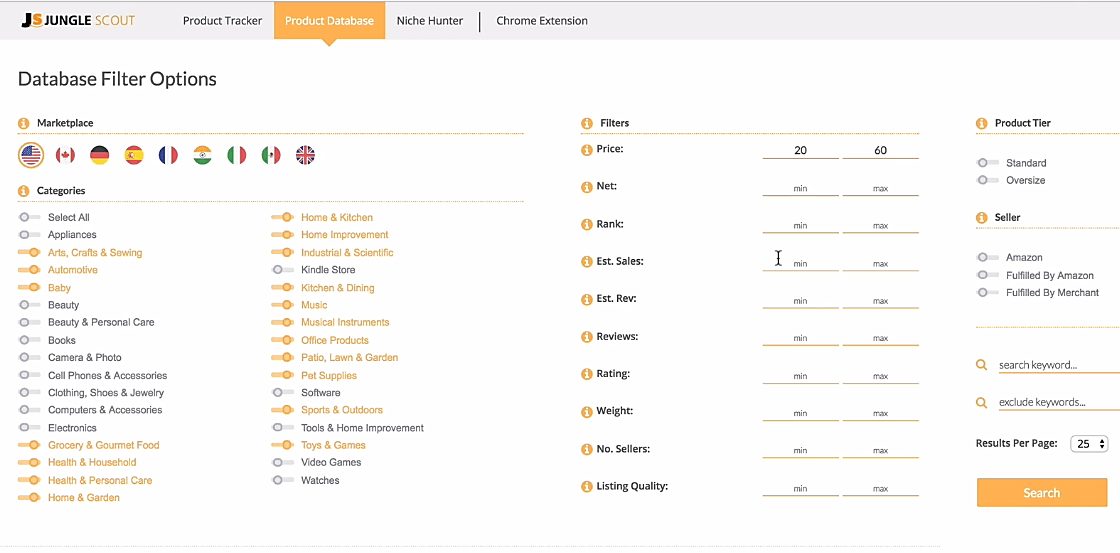 Now…
Quite a solid set of tools, you've got to admit. That's why Jungle Scout has managed to attract about 100,000 customers since 2014.
On the flip side, however, it just so happens that in addition to its multiple impressive features, the solution comes with a fair amount of drawbacks as a Jungle Scout alternative (pros and cons).
Jungle Scout Drawbacks
One thing you might notice is that Jungle Scout will only feature ideas from items that are already being sold on Amazon. As a result, you might not be able to come up with something unique beyond the website. You're essentially stuck with Amazon's oversaturated product options with minimal profit margins.
Secondly, the accuracy of its sales estimate is questionable. I've picked up errors on a few occasions, some of which missed the mark by a substantial margin (it wasn't the cash cow I expected). Subsequently, I was forced to change my approach by switching to its product tracker to determine the precise sales volume.
Then there's the issue with pricing plans. At $39 to $99 per month for the web app, and $97 or $197 one-off payment for the Chrome extension, some users have argued that Jungle Scout might be a bit high-priced for its features.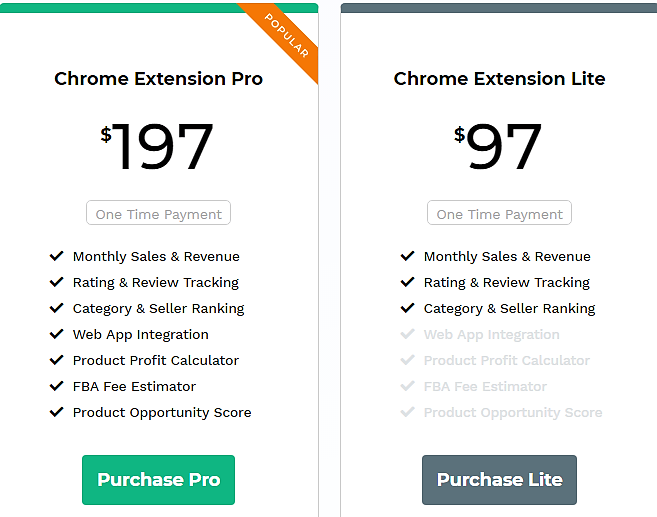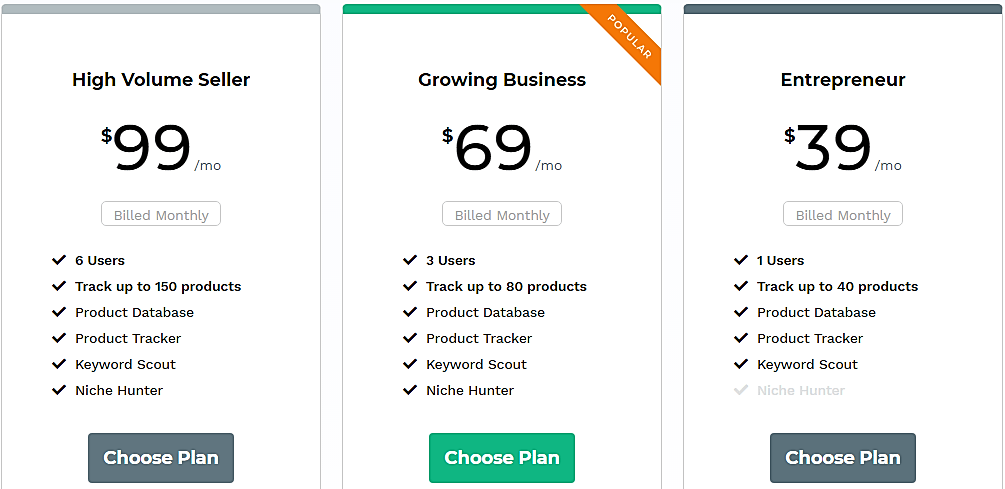 I'll tell you what though. How about we explore the best Jungle Scout alternatives you can adopt for your Amazon business?
Tool
Features
Pros
Cons
Price
BigTracker
• Product tracker
• BigMovers Scoring System
• Attach Listing
• Gives input information (inventory, pricing and quantity)
• Database of 60 million listings
• Downloads sales reports
• There is not a free version
• Support is only in English
• 1st Plan – $25/m
• 2nd Plan – $50/m
• 3rd Plan – $100/m
AMZ Tracker
• Email reports for keyword ranking
• Negative reviews alerts
• Keyword tracking and research tool
• Alerts you if someone is selling the same product for a lower price
• It has an option to search for long tailored keywords
• Does competitor analysis
• You can track data of your competitor in real time
• Too many negative reviews
• Prices might be too high for some
• Many users are reporting for scam

• Legend Plan – $400/m
• God Mode Plan – $200/m
• Professional Plan – $100/m
• Basic Plan – $50/m;
AMZScout
• Amazon to Ebay comparison of products
• Easy to calculate income
• Quality of listing score for every product that you put
• Estimates sales and revenue easily
• See how much competitors are selling daily
• Keywords explorer
• Check annual sale of a product
• Easy to find suppliers
• 7 days trial period might not be enough
• The least expensive plan might not reach your goals

• Per Month Plan – $44.99
• Per Year Plan – $99
• Lifetime Plan – $199
Scope
• Has a base of 10 million keywords from top selling products
• Great product researching tool
• You can investigate revenue from products
• Export a list of keywords and save it for later
• Instant rank of keywords
• It can generate keywords based on one you put
• You can see what competitor's are selling
• Might be costly for a startup
• Currently it is available for US market only
• Customer support needs to improve

• Essential Plan – $32.50/m
• Startup Plan – $57.50/m
Amachete
• Daily sale estimates are accurate
• Access from Multiple Devices
• Analyzes competitors and helps you avoid same strategies
• Profit estimations
• Ranks hourly not just daily
• Global feedback and email system
• Not Available Everywhere
• Expensive
• The Professional Plan – $30/m
• The Globe Plan – $52.5/m
• The Empire – $75/m
Frequently Asked Questions
Who owns Viral lLaunch?
Viral Launch is a software and consulting company. The owner of the Viral Launch online business is Casey Gauss, a 24-year-old CEO and founder of this leading company on the Amazon marketplace.
What information can I see about my competitors with AMZ Tracker?
AMZ Tracker can help your online business by taking a glimpse of your competition performance. Some of the things that AMZ can show you the performance of a product with the ranking tool, how many units have they sold of that product, and some of the negatives reviews from their customers.
Does Helium 10 have an app?
Yes! The Helium 10 services, offers a Mobile app to keep you updated about your product data as well as your Profits and Alerts so you dont miss any news about your online business.
Summary of the Best Alternatives to Jungle Scout
Jungle Scout Chrome extension integrates with the browser to assess data from a selected Amazon page, then display a product's review count, estimated sales, price, etc.- for comparative purposes. It requires a one-off payment of $97 or $197.
Jungle Scout web app crawls through Amazon's product database using criteria like sales, price, category, etc- to discover potentially profitable products. Its subscription plans cost $39, $69, and $99 per month.
BigTracker offers features for competitor analysis and establishing suitable product niches (niche products), with superior sales analysis, product database, and data accuracy.
Its subscription plans cost $25, $50, and $100 per month (if you want the pro version).
Jungle Scout is more suitable when you need to find the best possible products. BigTracker, on the hand, is optimized for competitor analysis and establishing perfect product niches.
AMZ Tracker powers a 360-degree seller strategy, which entails reconnaissance, defensive, and offensive-optimized tools- to enhance service quality, overall efficiency, plus page and product rankings.
Its subscription plans cost $50, $100, $200, and $400 per month.
AMZ Tracker is built for keeping tabs on competitors and tracking your own products. Then Jungle Scout, on the other hand, offers a wide range of features for detailed product research.
In addition to a web app and a Chrome extension, AMZScout provides Amazon to eBay Price Comparator, Amazon Inventory Spy, FBA Fee Calculator, Sales Estimator free tools across nine marketplaces- US, Germany, Italy, France, India, Spain, the UK, Mexico, and Canada.
AMZScout's Listing Quality Score (LQS) feature provides more parameters than Jungle Scout's.
AMZScout goes beyond Jungle Scout's features to offer keyword research, keyword opportunity scoring, and competitor analysis functionalities.
Jungle Scout has a faster Chrome extension and a cleaner interface.
AMZScout's plans cost $29.99, $39.99, and $59.99 per month.
Scope provides a free Chrome extension for product research and sales estimation.
The extension is open to only the US marketplace.
Scope's web app provides advanced product research, product tracking, sales and revenue estimation, a profit calculator, a keyword generator, a keyword position tracker, plus keyword scout and product watch lists.
Jungle Scout comes with more product research filters.
The keyword generator does a reverse ASIN lookup to yield product keywords along with their respective CPC bid ranges, search volume, plus overall scores.
The Scope web app will cost you $32.50 or $57.50 per month.
The Amachete Chrome extension offers typical Amazon product research.
Amachete web app provides competitor analysis, inventory tracking, email automation, product research, sales estimation, sales tracking, plus hijack detection functionalities.
Amachete iOS mobile app is ideal for monitoring sales and products.
Amachete's product database covers ten Amazon marketplaces.
The product research feature does not provide solid criteria like Jungle Scout.
The Professional Plan costs $30 per month, The Globe Plan costs $52.50 month, The Empire Plan costs $75 per month.
Now, all things considered, what do you think you'd choose as the Jungle Scout alternative? Any specific reason?
Further Research on Amazon Tools