Last Updated on April 22, 2023 by Ewen Finser
If you're wondering what the differences are between Shipwire vs ShipStation, you've come to the right place.
Setting up an online business can get complicated, especially if you're growing quickly. Having a shipping automation platform can help you save time and money on the shipping process.
The question is, which one is better?
The bottom line upfront: We like ShipStation a little more. Though it doesn't offer warehouse fulfillment, it does offer great reporting and more options for personalized branding.
We'll be looking at each platform in detail, looking at their main features, integrations, support, pricing, and pros and cons. But if you're in a hurry, let's start with what sets them apart!
Main Differences Between Shipwire vs Shipstation
The Main Differences Between Shipwire vs Shipstation are:
Shipwire offers warehouse shipping, whereas ShipStation doesn't
Shipwire offers more services for an extra cost, like photography and subscription box kitting, whereas ShipStation doesn't offer these kinds of services
Shipwire offers branding on invoices, packaging, and packing slips, whereas ShipStation offers those and personalized tracking pages and returns portals
Shipwire's pricing isn't clear, whereas ShipStation has clear pricing plans
Shipwire doesn't have a mobile app, whereas ShipStation does
Shipwire has basic reports, whereas ShipStation's reports are a bit more in-depth
The main difference is that Shipwire has fulfillment centers, meaning they can take care of a huge chunk of the process for you – picking, packaging, and dispatching the items. Whereas ShipStation doesn't offer that.
ShipStation offers more in terms of consistent branding for your business and a mobile app, which Shipwire lacks.
It's difficult to compare them in terms of pricing because Shipwire's pricing depends upon your individual needs.
The Similarities
There are a few similarities too:
Both offer customized packing slips and invoices
Both allow you to import products in bulk or individually
Both automatically calculate which shipping carrier is the cheapest option for you
Both allow you to search through products easily
Both allow you to send reports by email
Both have integrations with many popular eCommerce platforms
Now, let's take a look at them both in more detail.
What is Shipwire?
Shipwire is a shipping and fulfillment platform for retailers. It takes care of order fulfillment, inventory management, supply chain processing, and more. They integrate with over 100 eCommerce platforms.
It's aimed at any-sized retailer wanting to make the shipping and fulfillment process easier.
What is ShipStation?
ShipStation is a shipping platform. It allows users to manage orders, print shipping labels, and manage returns. It integrates with many types of platforms.
It's suited for small-to-medium sized businesses wanting to make the shipping process easier.
Shipwire – the Main Features
Onboarding and Dashboard
Signing up with Shipwire is simple. You can choose to connect your payment capturing methods now or do it at a later time. Shipwire gives you the option of transferring your products over in bulk or uploading them one at a time.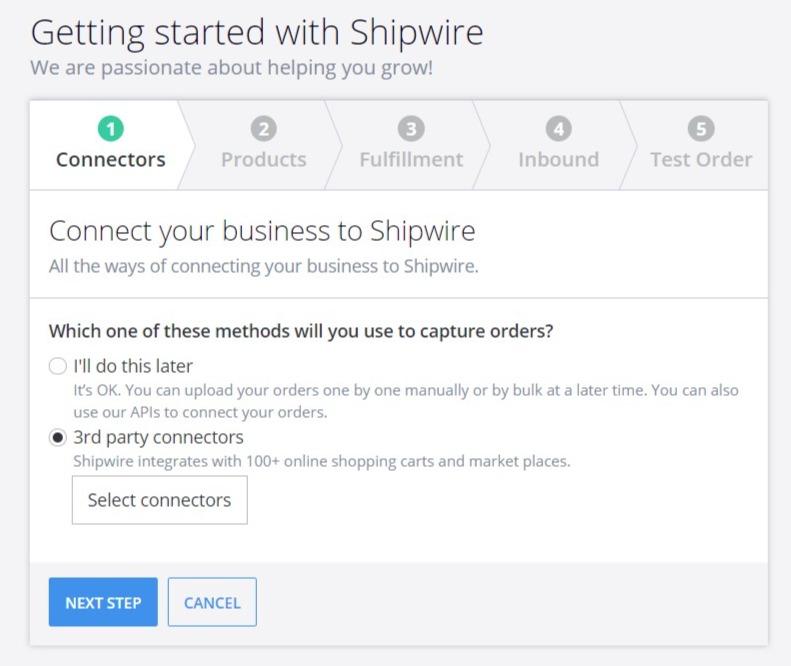 Once you have done this, it will give you a list of tasks to complete to get going.
The dashboard is pretty intuitive, and there is a helpful reminder of the three tasks to complete at the top of the screen. You can see your orders at a glance, which is helpful.
Shipwire will find a warehouse closest to you and will sometimes split inventory between warehouses depending on what suits you. You can check the 'warehouse overview' to see a breakdown of each warehouse, including orders received, pending, and processing.
You can choose to subscribe to recurring business reports and have them emailed to your team. You can also choose to run a returns audit whenever you want, so you can check that all is well with your refunds and exchanges.
The platform itself is easy to navigate, with everything clearly signposted.
Products and Inventory
Shipwire has over 154 fulfillment centers in over 45 countries. You can choose which warehouse you'd like to keep your inventory in. You can ship products to them directly or send products to them from your supplier.
Whenever you send new products to their warehouses, you'll have to notify them. This is done using the 'Send inventory' section, as seen below.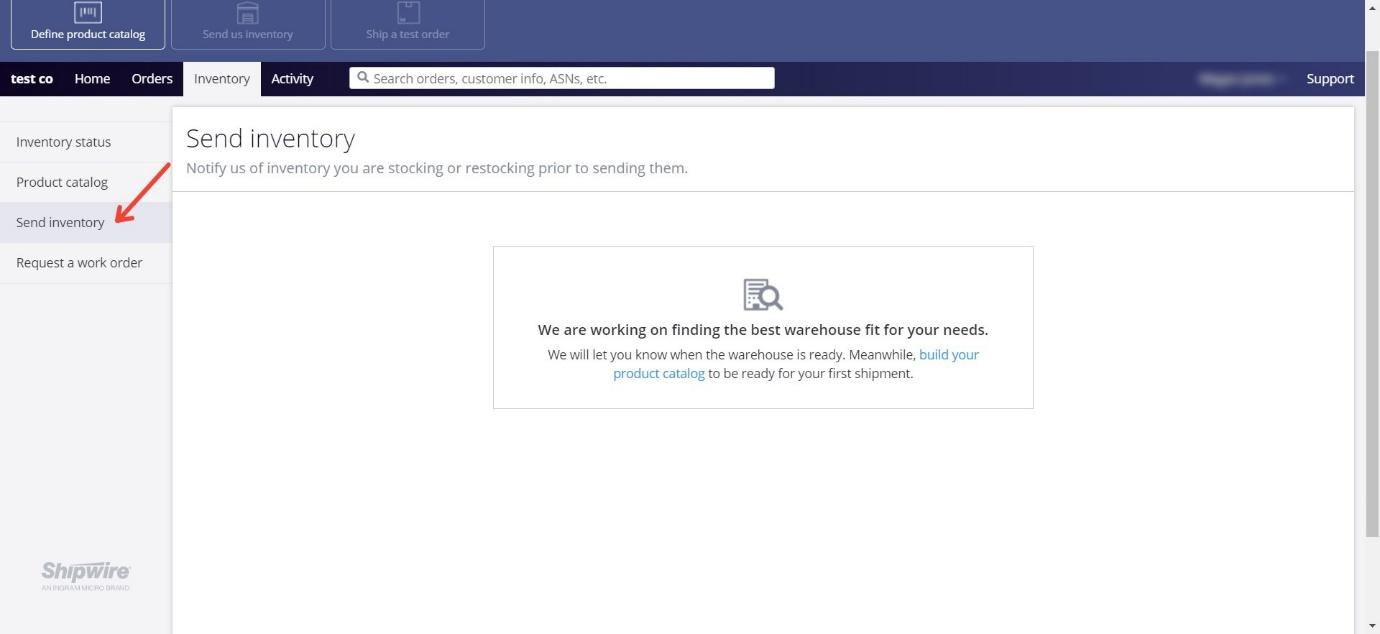 As a side note, they do offer some solutions for dropshippers, including managed integrations and a SaaS order management platform.
As we mentioned earlier, the product catalog can be transferred in bulk using a spreadsheet template or uploaded one at a time. Products can be searched by SKU or description, so it's simple to find a particular product if you need to.
Shipwire requires you to order a test product to your own home. This is so you can see what your customers will experience for yourself, and they make it really easy to do this.
Once you've sent inventory to Shipwire, you can click the 'ship a test order' button, which will remain at the top of the page until you have done it.
Shipping
Shipwire offers same-day order processing. They guarantee that if the order is sent to the warehouse before the standard cut-off, it will be shipped on the same day.
They have a range of postal options to choose from, including regional, national, and international postal solutions, depending on where you want to ship to. They have something called 'intelligent carrier optimization,' which means they'll automatically choose the most cost and time-effective shipping solution.
You can set up how you want the delivery payment to work. You can choose to charge customers or absorb the cost of any order.
Customers across North America and Europe will have their products shipped in two days, using Ingram Micro's fulfillment centers.
They're also efficient at dealing with refunds. The return shipping optimization will calculate which is the most cost-effective method of shipping for returns, taking the hassle out of the process for you and saving you money in the long run.
Customization
What about branding and customization?
You can have custom branding on your packing lists, invoices, and labels, as well as packaging. You can choose to insert samples or brochures into your parcels, too. So, if you want to offer your customers a coupon to draw them back to purchase again, Shipwire will make sure your orders contain the right communications. They also offer to relabel and repack services.
Other Services
There are a few extras that Shipwire can provide. These include:
Tamper seal labeling and ticketing
Bundle packaging
Subscription box kitting
Product inspections and serial scanning
Cross-dock shipments
Retail partner management
Light photography
Some of these come at an extra cost, depending on what you need.
ShipStation – the Main Features
Onboarding and Dashboard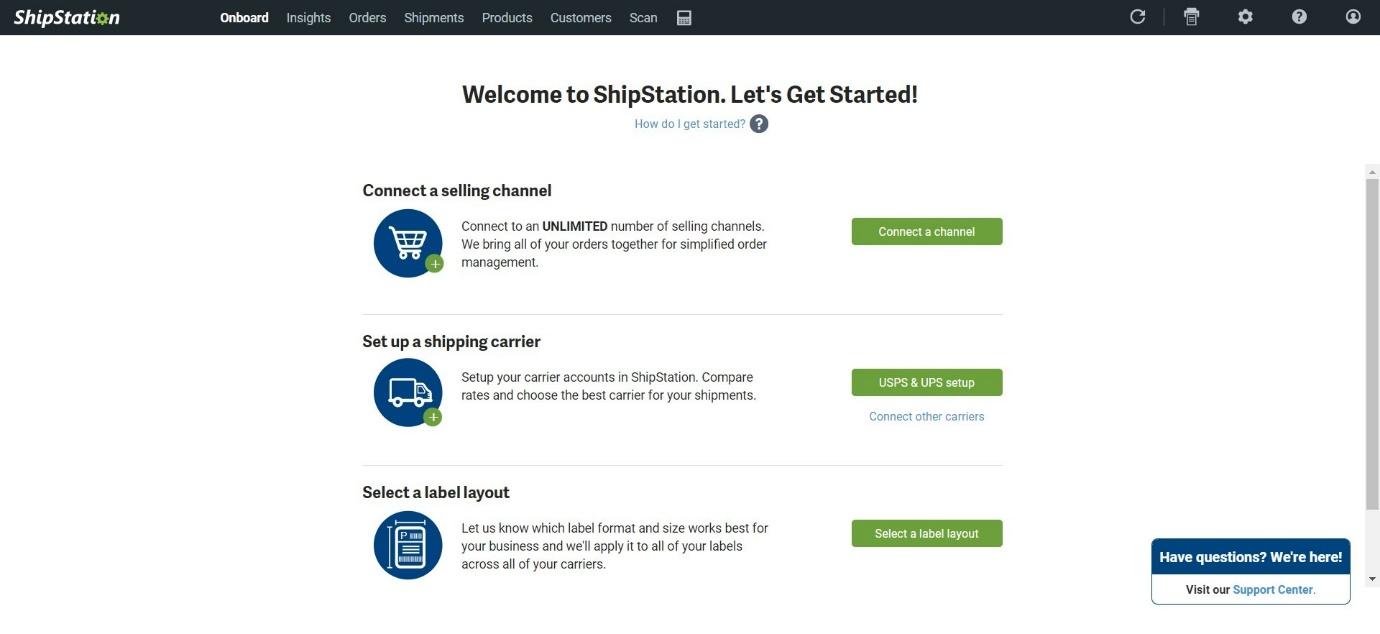 Signing up for ShipStation is pretty simple, with the onboarding process laid out clearly. You can quickly connect your selling channels, set up a shipping carrier, and select a label layout.
Once you've done this, the Insights section will show you an overview of what's going on with your orders:
You can see here your number of orders and where they are in the shipping process. You can see reports on a variety of things, including a country comparison report, item demand summary, returned products, shipping costs, low stock or out of stock reports, and an inventory status report. These insights are useful in terms of making strategic decisions about restocking.
The platform itself is easy to use, with everything clearly labeled.
Products and Inventory
You can import products in bulk using a spreadsheet or create new products one by one.
You can search through your inventory by description or SKU, so it's easy to find products.
ShipStation will alert you when stock levels fall below a certain threshold, so you'll know when it's time to reorder. Their allocation system reserves inventory for orders waiting to be dispatched, to ensure that each customer receives the item they've paid for.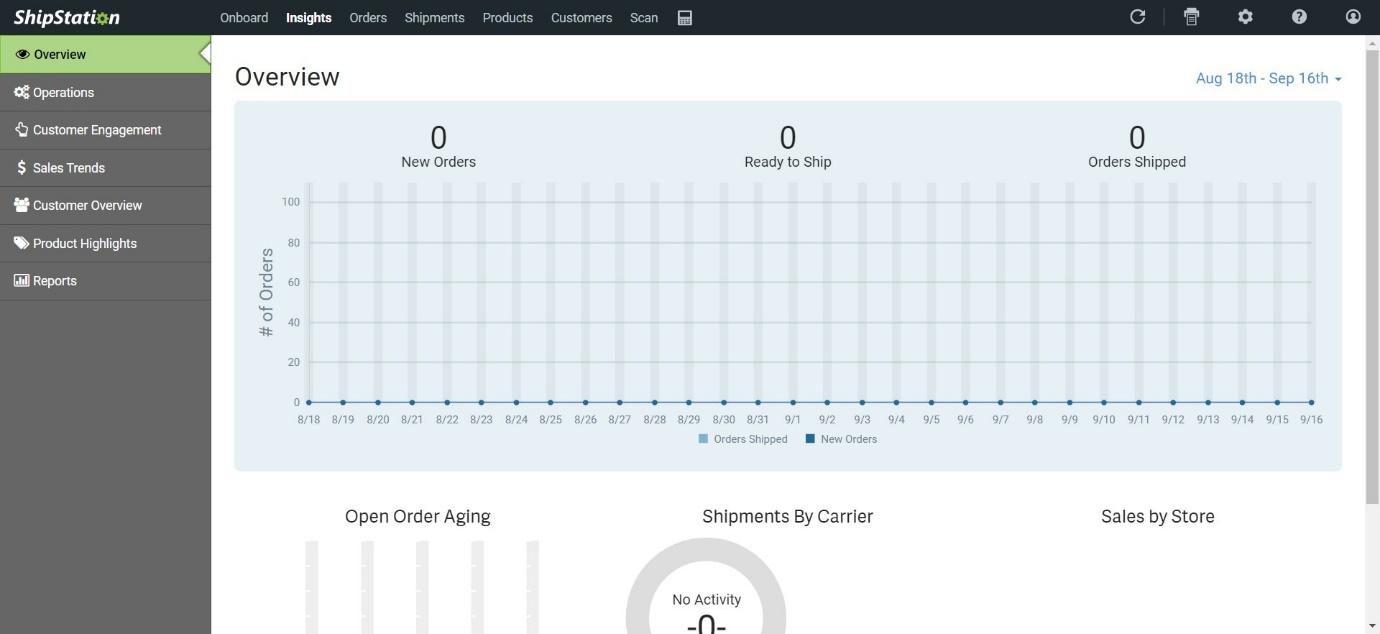 Shipping
Unlike Shipwire, they do not have their own dedicated warehouses for shipping. Instead, they rely on you sending orders yourself or using one of their recommended third-party fulfillment centers.
This is a major difference between the two platforms. In fact, ShipStation actually integrates with ShipWire, if you want to use one or their fulfillment centers.
They also integrate with Fulfillment by Amazon. Setting this up is pretty simple to do, but if you prefer having everything on one platform, you might be put off by this.
Shipping is automatically calculated for each order, depending on which carrier you'd like to use. Once you've entered the item weight and chosen carrier, it will give you the costs, and if you click accept, it will bring up a custom shipping label for you to print.
Packing slips, which are also created for you, can include a product's inventory location, which is helpful if you have inventory spread across multiple places.
Customization
The branding and customization are real strengths of ShipStation. Carrier labels, packing slips, and emails can be customized to include your own branding, and emails can include your social media links.
Customers can go to a branded tracking page to check on the status of their order, rather than the carrier's tracking page. You can also offer a unique portal for returns, and you can even add a custom note to each customer if you want.
If you want consistent branding to build a customer's familiarity and trust with you, ShipStation offers a lot of tools to help with that.
Shipwire vs ShipStation – Integrations
Shipwire
Shipwire integrates with over 100 platforms, including:
Amazon Webstore
eBay
Google Checkout
Magento (1.0 and 2.0)
Rakuten Marketplace
WooCommerce
Yahoo! Stores
Zen Cart
ShipStation
ShipStation integrates with some major eCommerce platforms, including:
Shipwire vs ShipStation – Help, and Support
Shipwire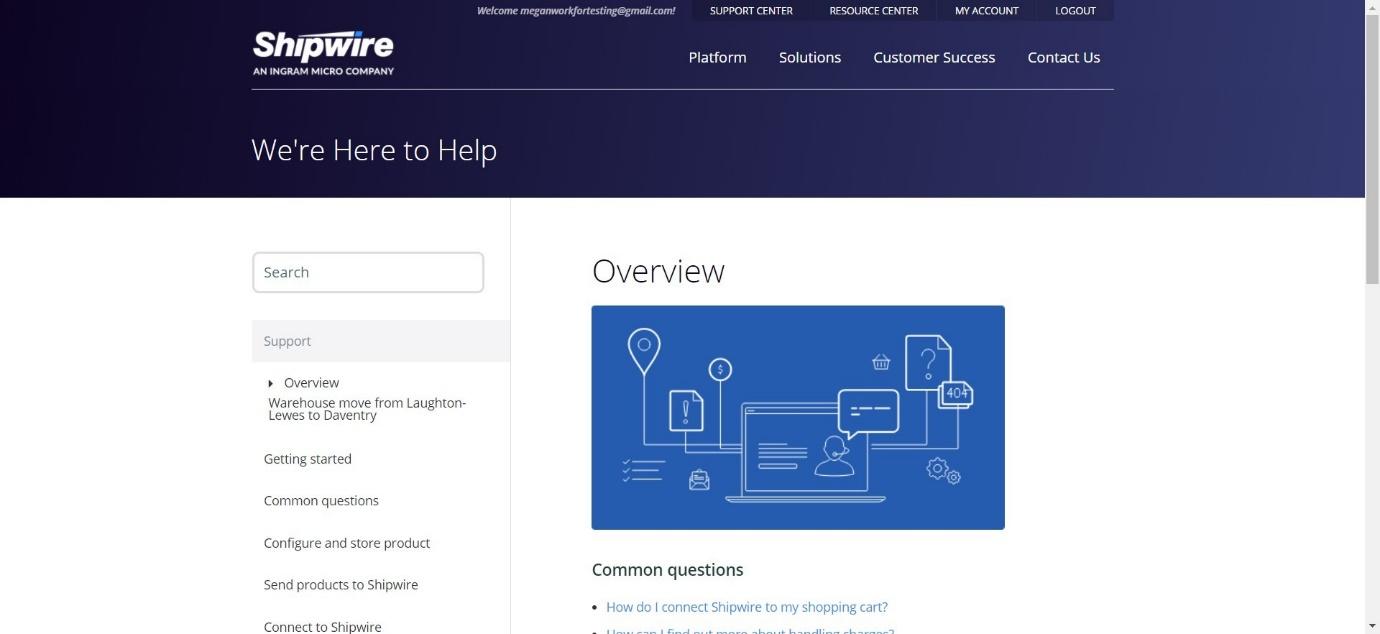 Shipwire has a support center, to help you get started. It doesn't contain a lot of information, but it does aim to answer the most common queries, especially for beginners.
You can contact Shipwire using a form on their website, or you can email them. Users report that the customer service team could be more responsive.
If you encounter a problem during a busy time (like the holiday season), chances are you could be waiting around for a while for a response. This does let the platform down, in our opinion, although Shipwire says that their customer service team is growing in response to this.
ShipStation has a helpful guide for new users, as well as a troubleshooting guide for those having specific issues with the platform.
All plans have access to the online help center and email support. Bronze plans or higher have access to online chat support, and those on the Enterprise plan will gain access to phone support.
Support, again, is not a strength of ShipStation, with some users complaining that it's difficult to get hold of them during busy periods. This is a shame because other platforms (like the ones we will recommend to check out later in the article) do manage to cope with high levels of demand and still manage to be responsive. Again, ShipStation has said that their customer service team is growing, so hopefully, this will change in the future.
Shipwire vs ShipStation – Pricing
Shipwire
It's difficult to look at pricing because there are a lot of factors involved. Shipwire uses a sliding scale based on average orders, and they calculate the cost for each organization. By looking around, we managed to find out a bit more about their fees.
They charge $2.85 for first items picked, then $0.95 for each additional pick for the first 50 orders. The next 50 orders come in at $2.25, and then $0.75 after that. Inserts (like flyers) cost $0.20 per order. That's about all the information we could find out.
Shipwire do have heavy discounts for most of the major carriers, however, so that's a plus side. However, some users found that they were taken aback by hidden costs they weren't expecting, and it's difficult to figure out if you can afford to use them without set pricing plans.
You don't have to pay to set up an account – you only start paying once you start storing or shipping products from their fulfillment centers. You can sign up here.
ShipStation
There are a few pricing plans for ShipStation:
Starter – $9 per month
This includes:
50 shipments per month
All selling channels
One user
Branded shipping and packing labels
Email and community forum support
Bronze Plan – $29 per month
This includes:
500 shipments per month
One user
Silver Plan – $49 per month
This includes:
1,500 shipments per month
Two users
Gold Plan – $69 per month
This includes:
3,000 shipments per month
Two users
Platinum Plan – $99 per month
6,000 shipments per month
Five users
Enterprise Plan – $159 per month
Unlimited shipments per month
10 users
They offer a free trial if you want to try it out before committing to using it.
Shipwire vs ShipStation – Pros and Cons
Shipwire Pros
Easy to navigate
Lots of customization in terms of packaging and marketing materials
Smart automations help you to save money on shipping and returns
Lots of integrations available
Shipwire Cons
Customer service isn't great
Pricing isn't clear, with some hidden costs along the way
ShipStation Pros
Easy to navigate
Branding and customization are great
Offers personalized portals for customers tracking their orders or submitting information for refunds
Lots of integrations available
Shipwire Cons
Customer service isn't great
Doesn't offer warehouse shipping
Shipwire vs ShipStation – Alternatives to Try
There are a few alternatives you can look at:
ShipWorks offers warehouse shipping. It also has a strong customer service team, who are quick to respond to queries. Check out our ShipWorks vs ShipStation comparison for more details.
ShipRush is another platform with great customer service. It also offers unlimited shipping labels and a 60-day free trial. You can find out more in our ShipRush vs ShipStation comparison.
Shippo is a useful service that supports multi-channel selling. It offers discounted shipping insurance too. You can find out more about it in our Shippo vs ShipStation comparison

Further read:
Frequently Asked Questions
Here are some of the most commonly asked questions about the two services.
To Sum Up …
We mentioned earlier that we like ShipStation better, and there are a few reasons for that.
Firstly, if you want shipping, packaging, and fulfillment all taken care of, you'll probably prefer Shipwire. Not having to take care of each parcel individually can save a lot of time, especially for larger businesses. So, it's worth checking out from that perspective.
However, we do prefer the customization options with ShipStation. The custom returns portal and parcel tracking pages make the shopping experience nicer for your customers. Plus, we like the amount of reports you can view, print, and email in the Insights section.
If you've used either service, we'd love to hear your views – let us know in the comments!