Last Updated on April 22, 2023 by Ewen Finser
Running an online business is hard work… and it's even more of a challenge if you're not using the right software.
This is especially true for multi-channel eCommerce store owners.
If that's you, you already know that running such an operation can be very complicated to manage. That's why it's crucial to invest in the right multi-channel inventory management software for your business.
Why? Because broadly, it provides accurate data on your stock, your orders, and your customers. Not only that, but multi-channel platforms connect with all your sales channels to ensure all your orders, customer, and inventory data is synchronized in real-time to one place.
A quick meander around Google tells us one thing: this kind of software can cost a lot. Some providers take a cut of your sales, whereas others charge high monthly fees. So, if you're an entrepreneur, a recent startup, or an SME, it can be prohibitively expensive.
That's why we're going to do the legwork for you and take a look at three of the best multi-channel inventory management software tools on the market…that won't break the bank:
There's lots to get through today, so let's get going…
Ecomdash
Ecomdash tells its customers they can "spend more time growing [their] brand instead of updating each online marketplace when a product sells. Our multi-channel inventory app does it for you."
With Ecomdash, you can connect with more than 50 online sales platforms, including Walmart, Amazon, Shopify, BigCommerce, Google Shopping, and Magento.
At the time of writing, Ecomdash has processed over $3 billion worth of sales orders and actively manages over 35 million SKUs (stock-keeping units).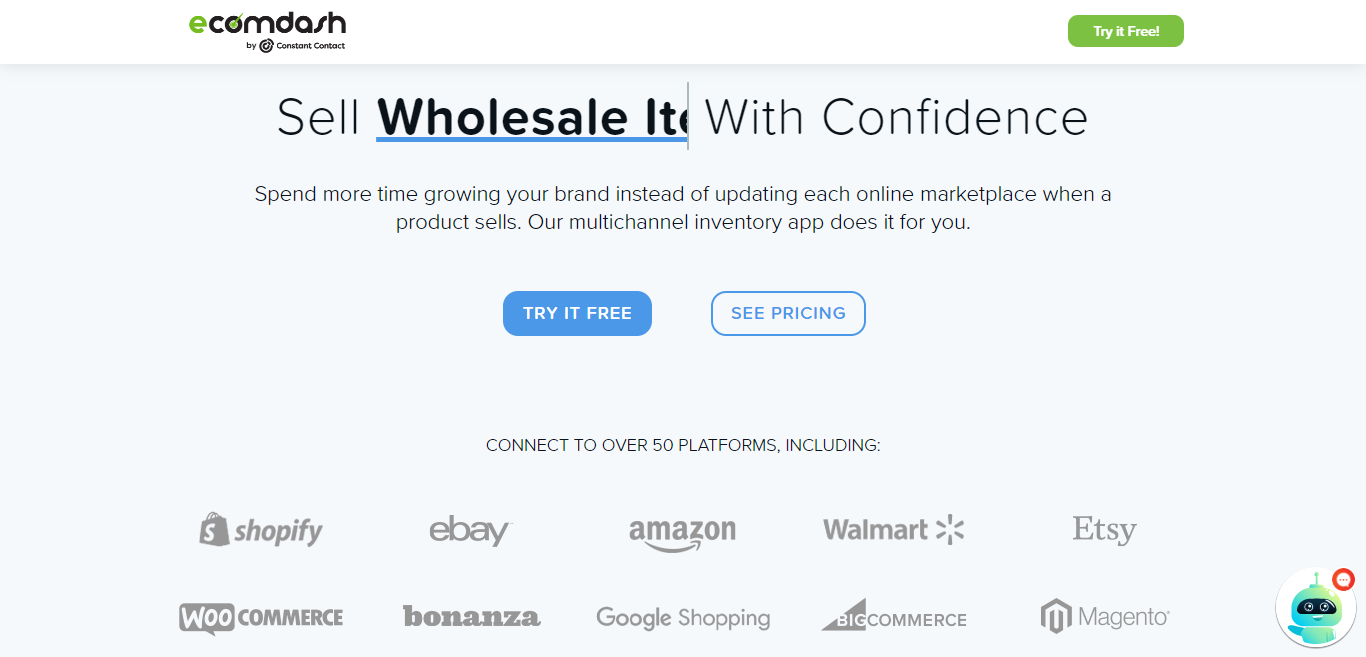 Ecomdash's Features
Ecomdash's core features include:
Inventory management

Order management

Purchase orders

Ecommerce reporting

Multi-channel listing

Dropship automations

FBA management

Ecommerce API
Ecomdash allows you to track and sync your entire product catalog across all the platforms you sell on, and all the warehouses you're using, in what it calls "near real-time." This platform operates on a 24/7 cycle, updating product quantities continuously, so rest assured, the figures you see are accurate.
You can set custom alerts when stock's low, use its unique inventory mapping system to track your products' whereabouts, and track product sales and quantities across all the platforms Ecomdash integrates with.
With this info to hand, you can reorder stock quickly, track inventory at all your stock locations, and prioritize which orders need to be fulfilled where.
You also get access to a dashboard that consolidates all your sales across the different channels you're selling from. From here, you can print off pick lists, packing slips, and shipping labels.
It's also possible to manage your settings to automatically route customer orders to your chosen dropshipping suppliers and third party order fulfillment partners. So, as soon as your customer places an order, the necessary parties can get to work fulfilling it.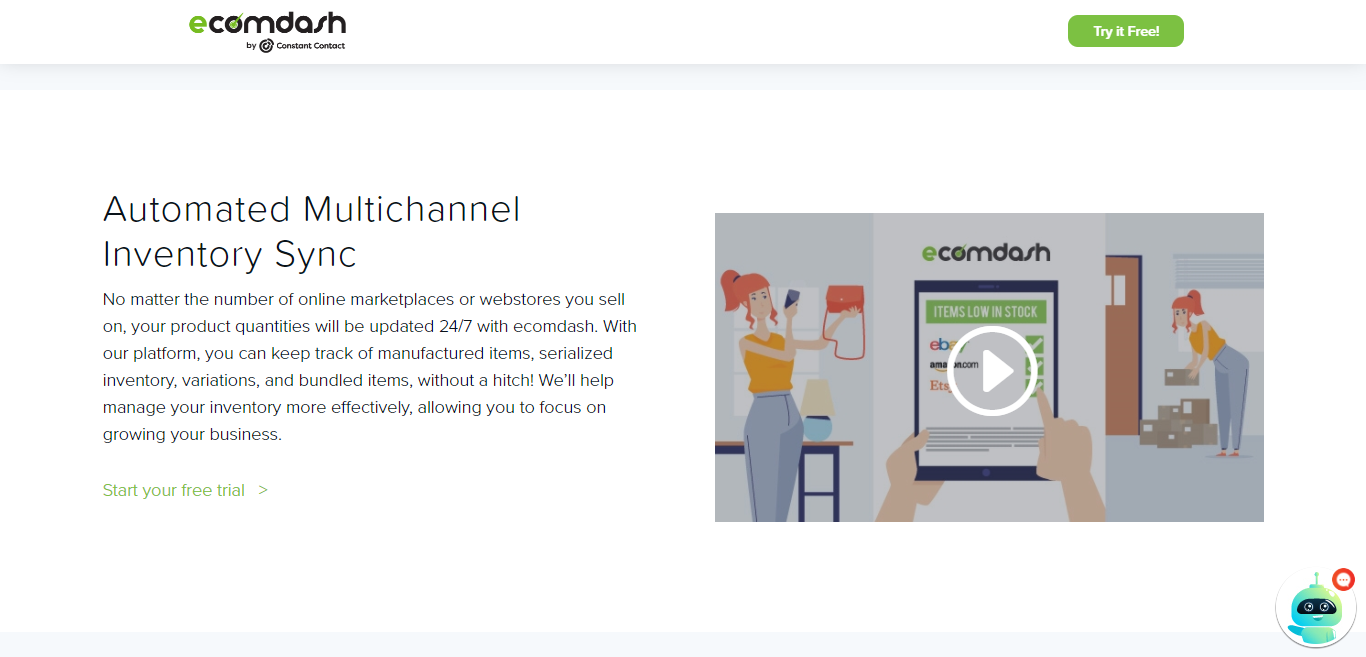 Ecomdash's Integrations
This leads us nicely onto Ecomdash's integrations, of which there are many! There are plugins available to help you handle near-on every aspect of your ecommerce store. From your digital shopping cart to inventory management and shipping arrangements….there's sure to be an app to lend a helping hand.
But, best of all, all Ecomdash integrations are included in the price you pay (more about pricing in a sec).
Ecomdash splits its integrations into the following categories:
Accounting

Apps

Listings

Marketplaces

Miscellaneous

Point of Sale

Shipping

Suppliers
Some of the more notable integrations include Amazon, Magento, WooCommerce, Shopify, DHL, Shipstation. That's as well as 17 different supplier integrations, including CWR Electronics, Inventory Source, and Home Roots.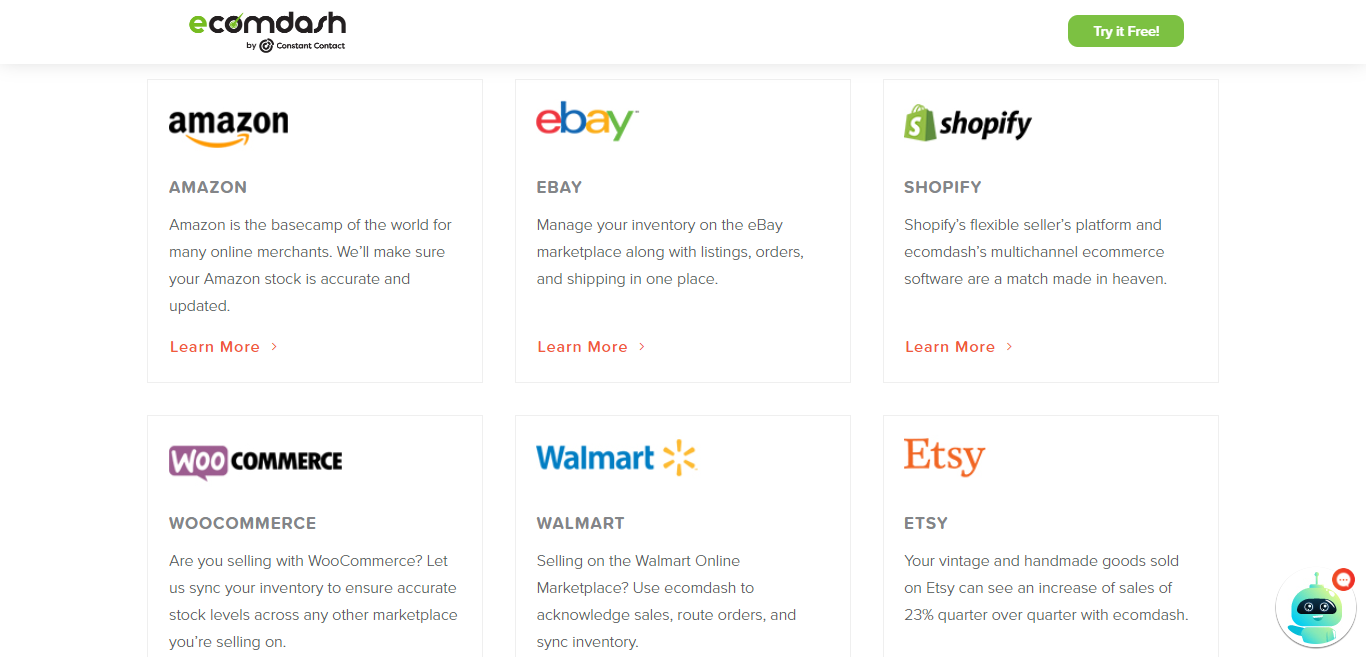 Ecomdash's Prices
The price you pay is determined by the number of sales you process each month.
There are seven payment categories in total (all of which come with a 15 day free trial with no credit card required):
1-100 sales per month

101-500 sales per month cost $90/mo or $864/year

501-1000 sales per month cost $135/mo or $1296/year

1001-3000 sales per month cost $190/mo or $1824/year

3001-6000 sales per month cost $250/mo or $2400/year

6001-10000 sales per month cost $350/mo or $3360/year

10000+ sales per month are available on a bespoke plan, so you'll have to contact Wcomdash directly for a quote.
So, for example, if you process 100 sales a month, you'd pay either $60/mo or $576/year, saving 20%. Get it?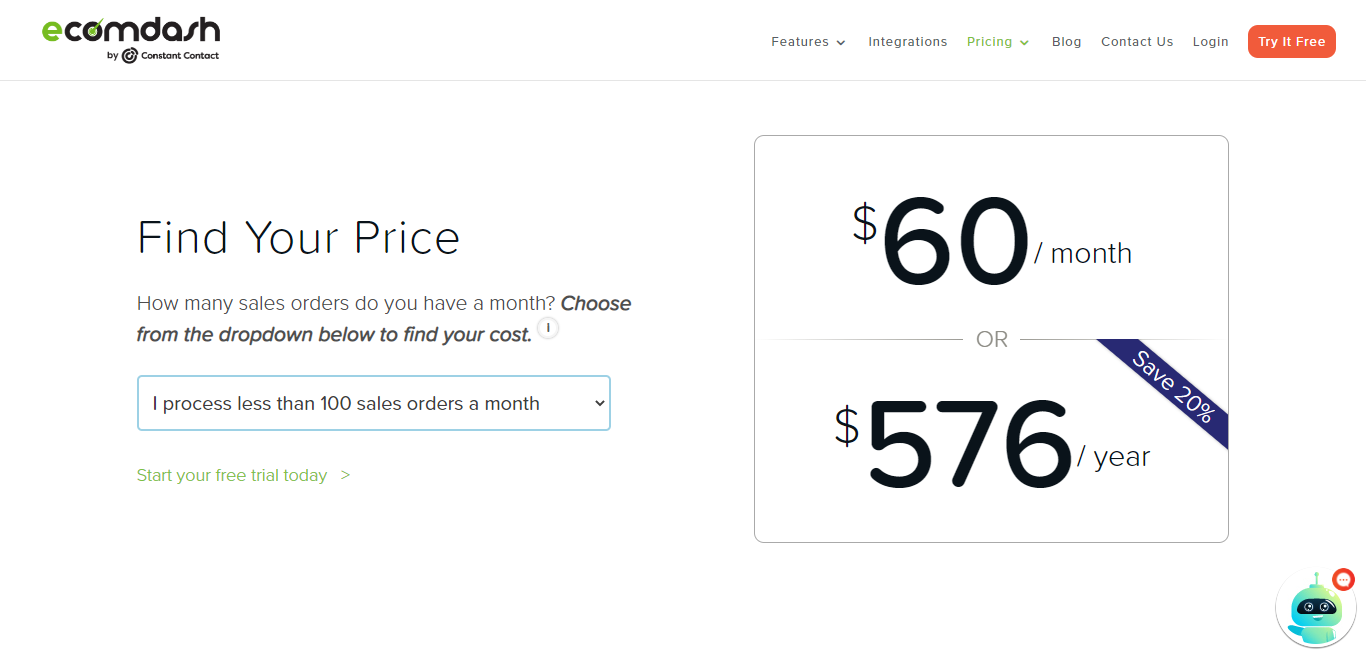 Ecomdash Pros and Cons
Let's start with the perks:
The Pros:
There's a 15-day free trial (no credit card needed).

Most features are included at each price level.

You get access to email and phone support.

Multiple integrations are included in the price.

Fees are set according to how much you sell (so you only pay for what you need)
The Cons:
Now, for the drawbacks…
Some reviewers say it takes a while to set up.

For solopreneurs or smalls businesses, this is an expensive option…even for the lowest sales figures.
Ecomdash's Customer Support
There's a helpful and well-categorized blog that offers support on the following topics: Ecommerce Trends, Ecommerce Operations, Tips to Sell More, and Ecomdash News. There are also eBooks that zone in on more specific subjects. For example, "Master the Walmart Marketplace" and How to Start a Dropshipping Business."
There's an online FAQ section that addresses common questions such as how to start up an account, demos, integrations, and pricing.
If you need to contact Ecomdash, their support hours are 8 am to 6 pm ET. There are no limitations on customer support, no matter your subscription. You can connect with the support team by generating a support ticket. Alternatively, you can reach out to the Ecomdash Community to talk with your fellow sellers.
Sellbrite
Who's Sellbrite?
Founded in 2011, its parent company is GoDaddy. Sellbrite says users can "sell everywhere that matters," describing themselves as "the easiest way for brands and retailers to list and sell their products on the world's largest online marketplaces."
According to Sellbrite, their customers see an average 300% increase in growth after just one year of using their service. Not only that, but merchants who sell on three or more sales channels sell 156% more than those just using one or two.
The company proudly showcases its five-star reviews on its homepage. Notable sites where reviewers have left glowing testimonials include WebRetailer, Capterra, Shopify, BigCommerce, and GetApp.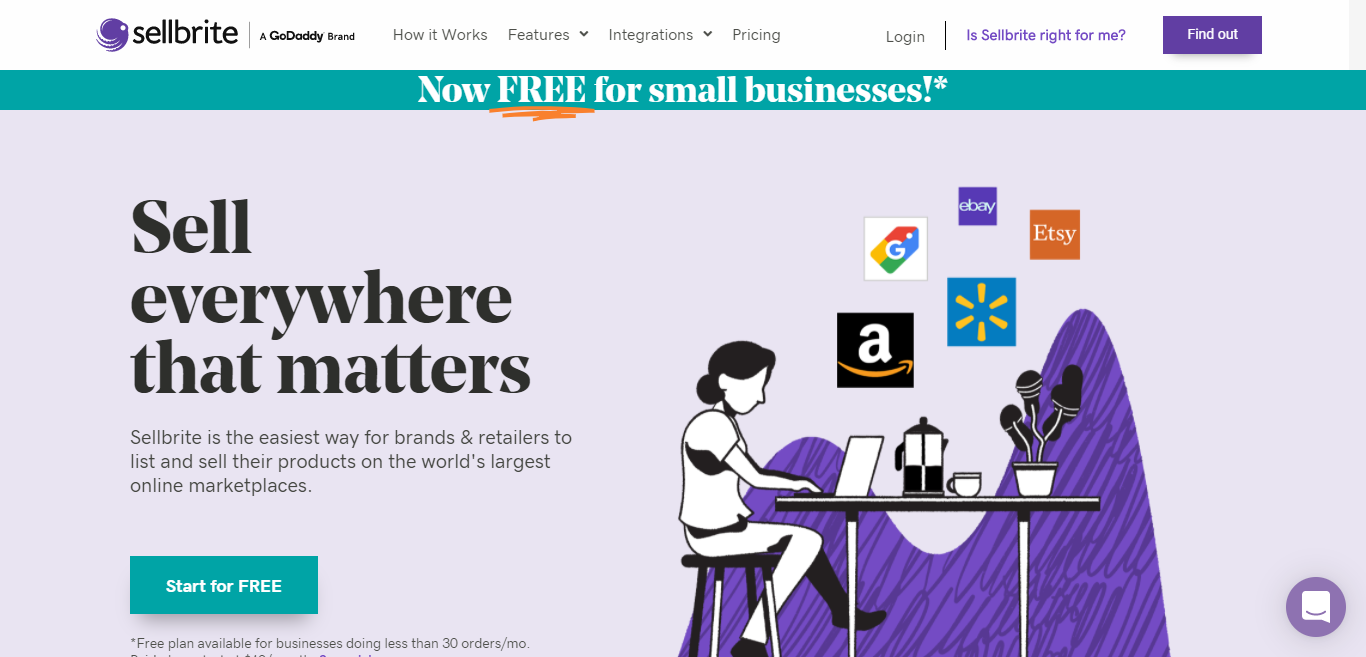 Sellbrite's Core Features
Sellbrite splits its features into three categories:
List Products

Sync Inventory

Ship Orders
Here we'll focus on Sellbrite's inventory management functionality. Sellbrite calls its inventory features: "Inventory Management Made Magic," promising customers fast inventory syncing so you can avoid overselling, running out of stock, and disappointing your customers.
Sellbrite's core inventory features are:
Its dashboard

Fulfillment by Amazon (FBA)

Its product locator
From the convenience of one centralized dashboard, you can manage your inventory across multiple listing platforms. You can see what stock's available, what's been reserved, and what stock levels you have across all your warehouses in real-time. You can modify stock levels with what they call their "Excel-like bulk editor."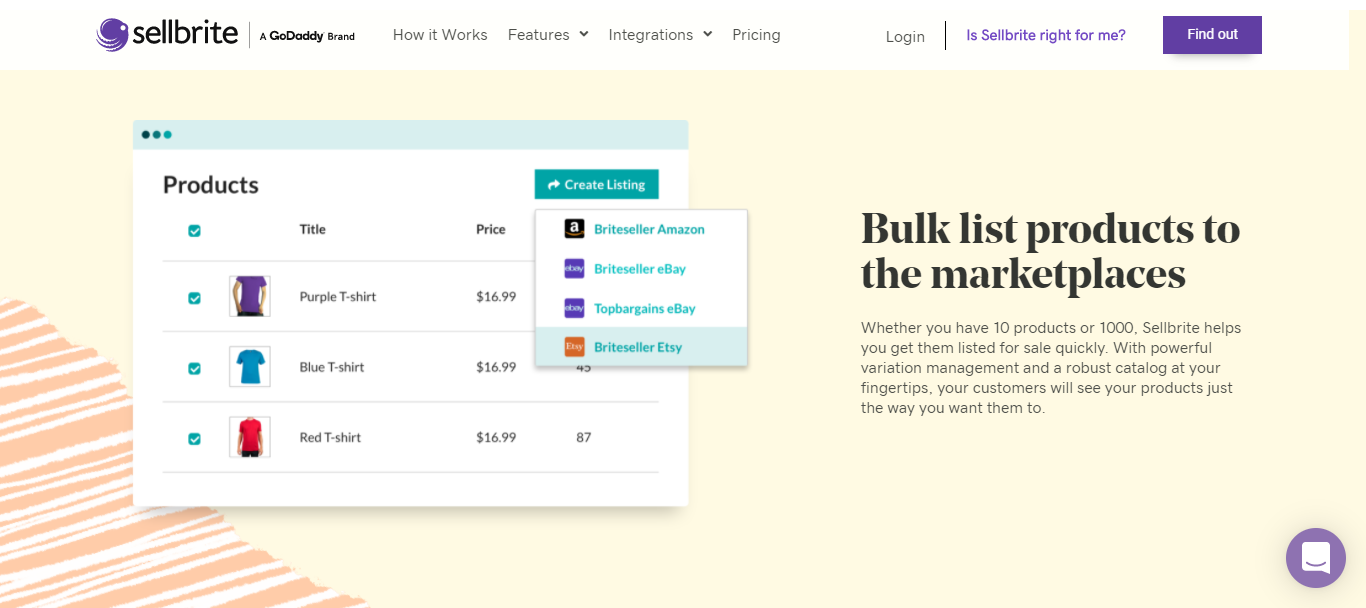 Sellbrite's FBA feature allows you to sync all your Amazon stock across all your sales channels. I.e., as soon as Amazon receives your merchandise, it appears in Sellbrite.
Lastly, Sellbrite's product locator permits you to see what stock you have where and how much, and you can customize this interface to serve your needs best.
Sellbrite's Integrations
Sellbrite splits its integrations into three categories:
Marketplaces

Shopping carts

Service Integrations
Like Ecomdash, Sellbrite integrates with all the names we're familiar with, such as Amazon, eBay, Shopify, Google, WooCommerce, BigCommerce, ShipStation, Walmart, and Sears. It doesn't, however, offer as many integrations as Ecomdash does…by a long way.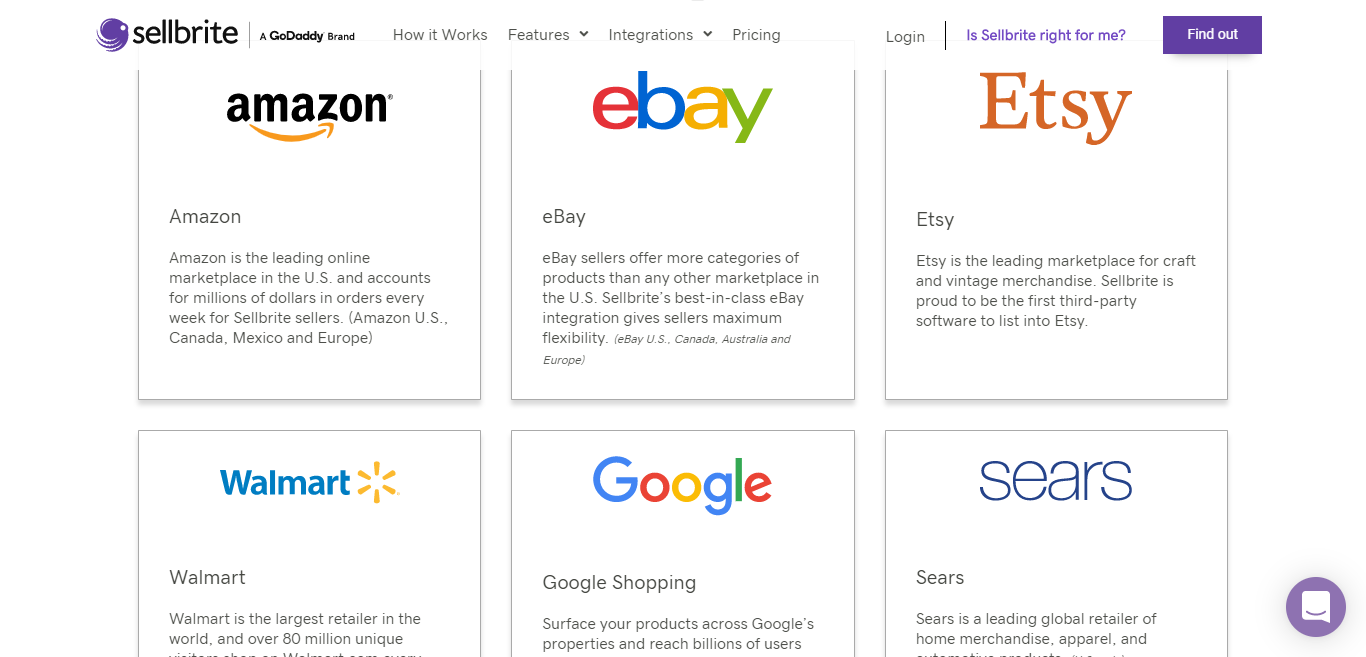 Sellbrite's Prices
There are two primary plans:
Sellbrite

Sellbrite for Shopify
The difference between them is that the latter doesn't offer the following:
FBA inventory integration

CSV inventory import/export

Print shipping labels

Multi-channel FBA integration

Shipping service integrations

App store partner integrations

API access
So, in other words, if you want to use Sellbrite with Shopify, it's going to cost you more to add the above capabilities. Setting aside the Sellbrite for Shopify offer, let's look at the Sellbrite plans in more detail.
There are four pricing tiers to choose from:
Forever Free: yes, it's free for up to 30 orders a month, but no add ons available
Pro 100: for $29/mo if you sell up to 100 orders a month, plus $19/mo extra for the FBA add on
Pro 500: for $79/mo if you sell up to 500 orders a month, plus $19/mo for the FBA add on
Pro 2K: for $179 /mo if you sell up to 2,000 orders a month, plus $19/mo for the FBA ad-on.
If you pay annually, the FBA price lowers to $16/mo, and monthly fees are lower too, being: $0, $24/mo, $66/mo, and $149/mo, respectively.
High Volume Plans are also available for sellers generation 10k worth of sales a month (or more), right up to 100K sales a month. Prices here start at $399/mo and rise to $1,699/mo, and again, you're charged $19/mo for the FBA add-on.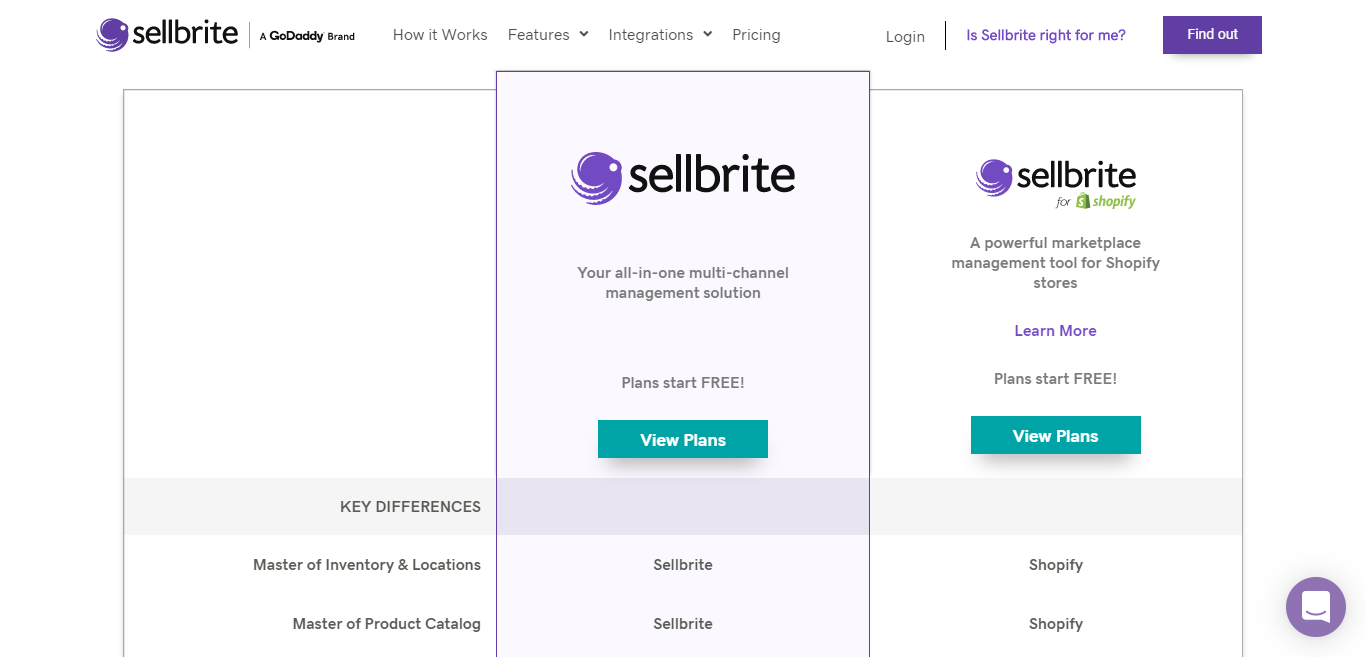 Sellbrite Pros and Cons
Let's start with the benefits:
The Pros:
Affordable monthly starting costs

There's a generous 30-day free trial

There's a free forever plan for smaller businesses/sidelines/

startups
The Cons:
Now, for the drawbacks:
You have to pay extra for the FBA add-ons

In comparison to its competitors, Sellbrite doesn't offer as many integrations

There isn't any phone support
Sellbrite's Customer Support
At first glance, Sellbrite's customer support looks promising. Their website includes webinars, training, resource guides, and a help center.
The help center, again like Ecomdash, is an online resource where you can find FAQs, articles about setting up and troubleshooting, and "how-to" guides on topics such as grouping single products into variations, reviewing your inventory transaction history, and organizing products with categories and tags.
If you need to contact customer support, you need to click on a link that takes you through to their Gmail address, but you can't phone or do instant chat. That said, Sellbrite does offer Daily Demo Webinars where you can join in and ask any questions you'd like answering!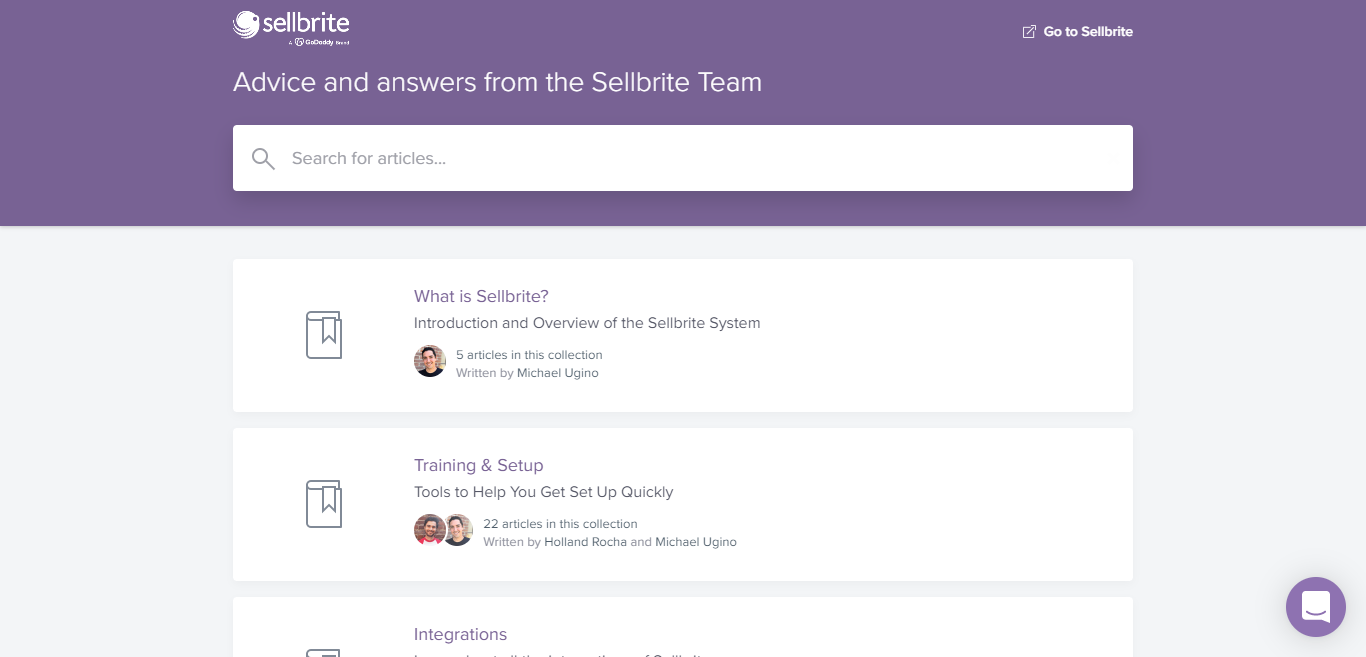 How does Sellbrite compare to other platforms:
Expandly
Who's Expandly?
Expandly advertises itself as the "easy way to stock, sell, ship, repeat." The tool enables you to manage your products and sell them through multiple sales channels in a cost-effective way.
Expandly's mission is to provide inventory management opportunities to small businesses, empowering them to sell globally. Over the years, Expandly remains committed to providing affordable pricing for small to medium-sized enterprises, despite having grown in popularity.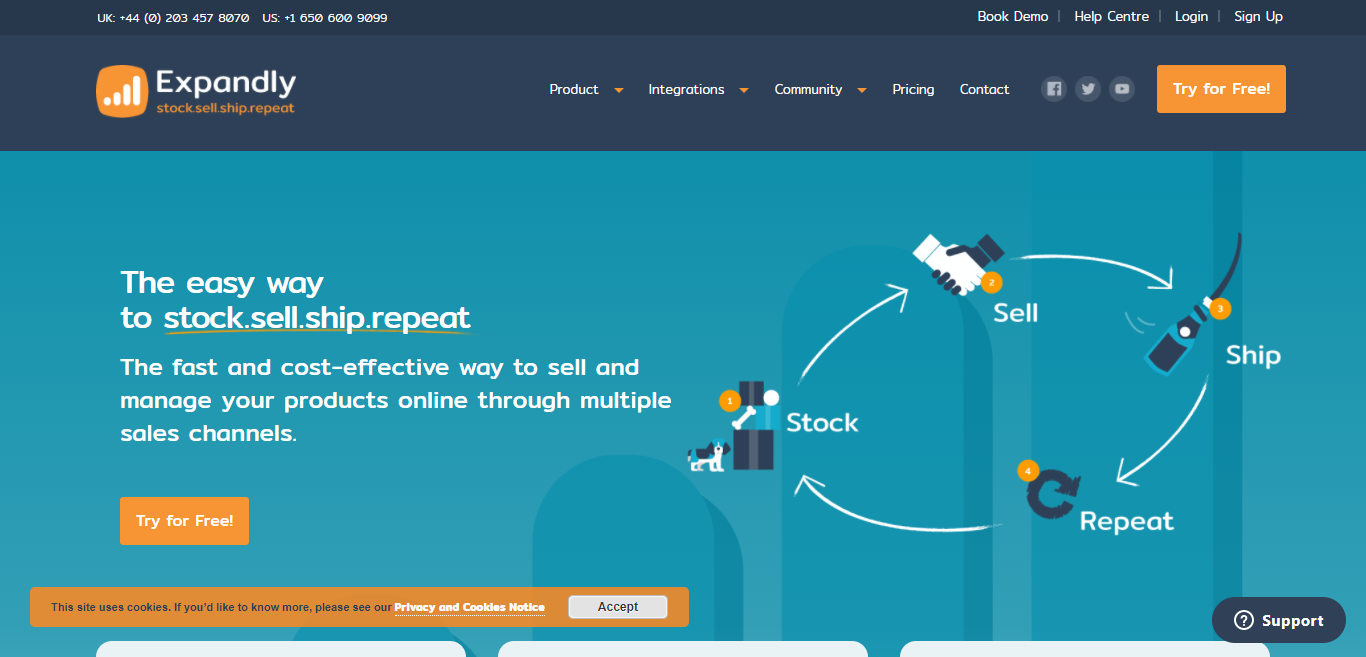 Expandly's Core Features
Expandly's most notable features include:
Listings, order, and inventory management tools

Shipping tools

Reports & accounting
You can easily upload products to multiple sales channels, including all the major online marketplaces -Expandly's bulk listings tool speeds up this process massively.
You can also view and track all your customer orders from one central dashboard. On top of that, Expandly automatically downloads orders from all your sales channels, so that you can print packing slips, pick lists, invoices, and shipping labels in bulk.
We also love that Expandly's live inventory updates across all your sales channels help prevent you from overselling.
Last but not least, you can generate reports to keep on top of all your business developments. You'll get a feel for which parts of your inventory management work for your business…and more importantly, you'll soon identify where there's room for improvement.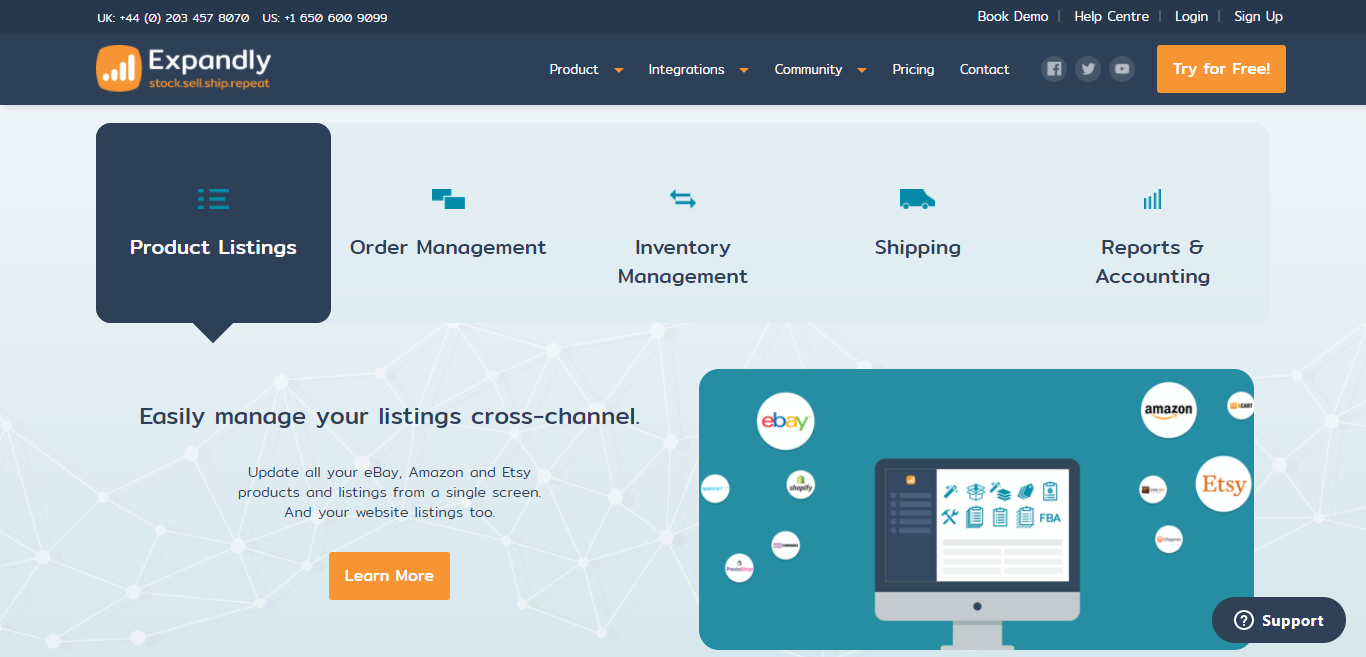 Expandly's Integrations
Expandly's integrations are split up into four categories:
Marketplaces

Shopping carts

Shipping carriers

Accounting software
You can integrate with all the major marketplaces, including Amazon, eBay, Etsy, and Wish. Their shopping cart integrations seamlessly connect with Shopify, WooCommerce, Magento, PrestaShop, and many other eCommerce platforms.
For shipping integrations, you'll find household names including UKMail, Royal Mail, UPS, FedEx, DHL, and many more.
Finally, Expandly's order import capabilities make your accounting easier with native integrations for Xero, QuickBooks, Sage, and KashFlow.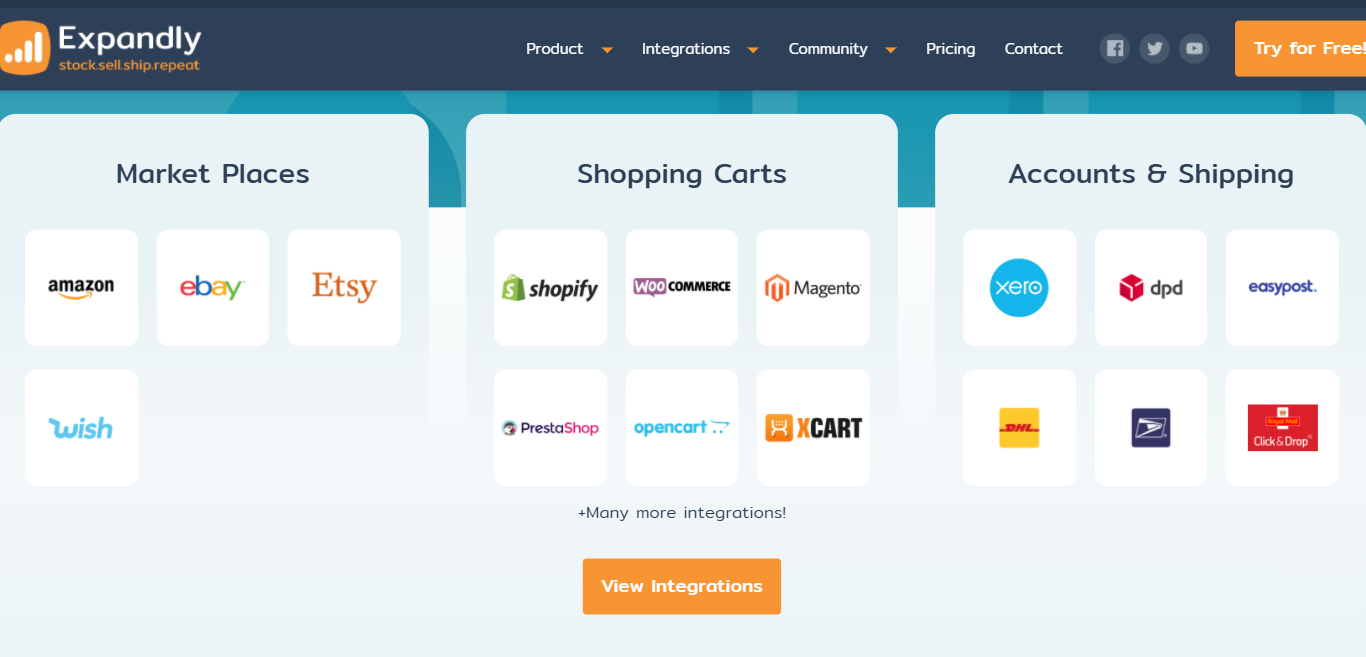 How Much Does Expandly Cost?
So let's take a look at how much this software will set you back. There are four different pricing plans based on your yearly turnover. Each package comes with limitless orders, live inventory updates, integrations, email and chat support, unlimited users, and a 14-day free trial.
The Essentials plan: $55 a month – Y

ou can integrate up to two sales channels with 5,000 SKUs. This plan is intended for businesses generating less than a 100k turnover a year.

The Standard plan: $130 a month -This unlocks access to unlimited sales channels, customizable reports, and up to 50,000 SKUs. With this plan, phone support becomes available, and Expandly will assist you with your product listings.
The Premium Plan: $325 a month – You get access to everything above, plus 100,000 SKUs, a dedicated accounts manager, and a CSV scheduler. This plan is suited to those with a turnover of anywhere between $3 million and $5 million a year.
Finally, for those making a turnover of more than five million a year, get in touch with Expandly to inquire about their Enterprise Plan. This requires a customized quote and entitles you to custom integrations and unlimited SKUs.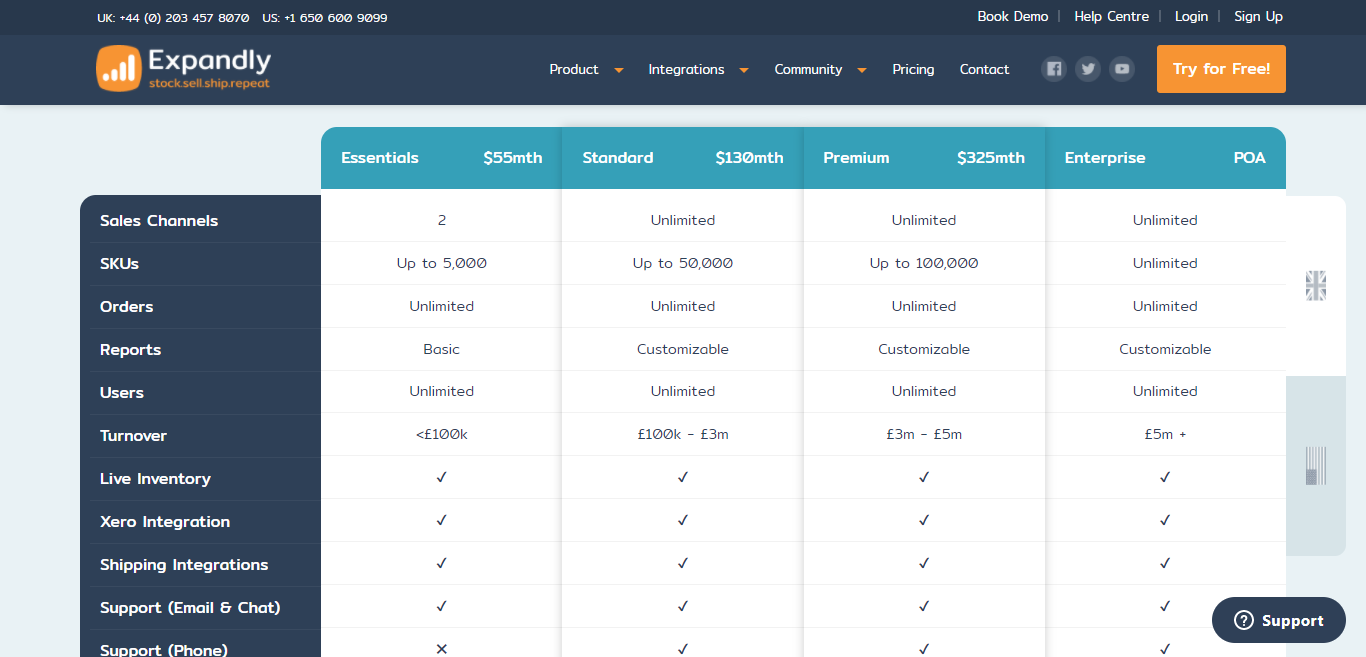 Expandly's Pros and Cons
Let's start with the benefits…
The Pros:
Expandly's pricing is reasonable.

You can manage your entire inventory from one dashboard.

Phone support is available, and customer support is described as excellent.

Expandly effectively integrates with a variety of bookkeeping tools.

There's a good number of native integrations available.

There's a free 14-day trial.
The Cons:
Product listings tools only feature on the more expensive plans.

There isn't a free plan.

Some users report occasional bugs with the software.
Expandly's Customer Service
You can get in touch with Expandly via email and live chat. As soon as you invest in the Standard Plan or higher, phone support is also unlocked if you're calling from a UK or US number.
Expandly's customer support is highly rated by its user base. You can book a demo to get a tour around Expandly to see whether its features suit the needs of your company.
Explandly's website also features an extensive help center and a long list of FAQs to answer most initial questions.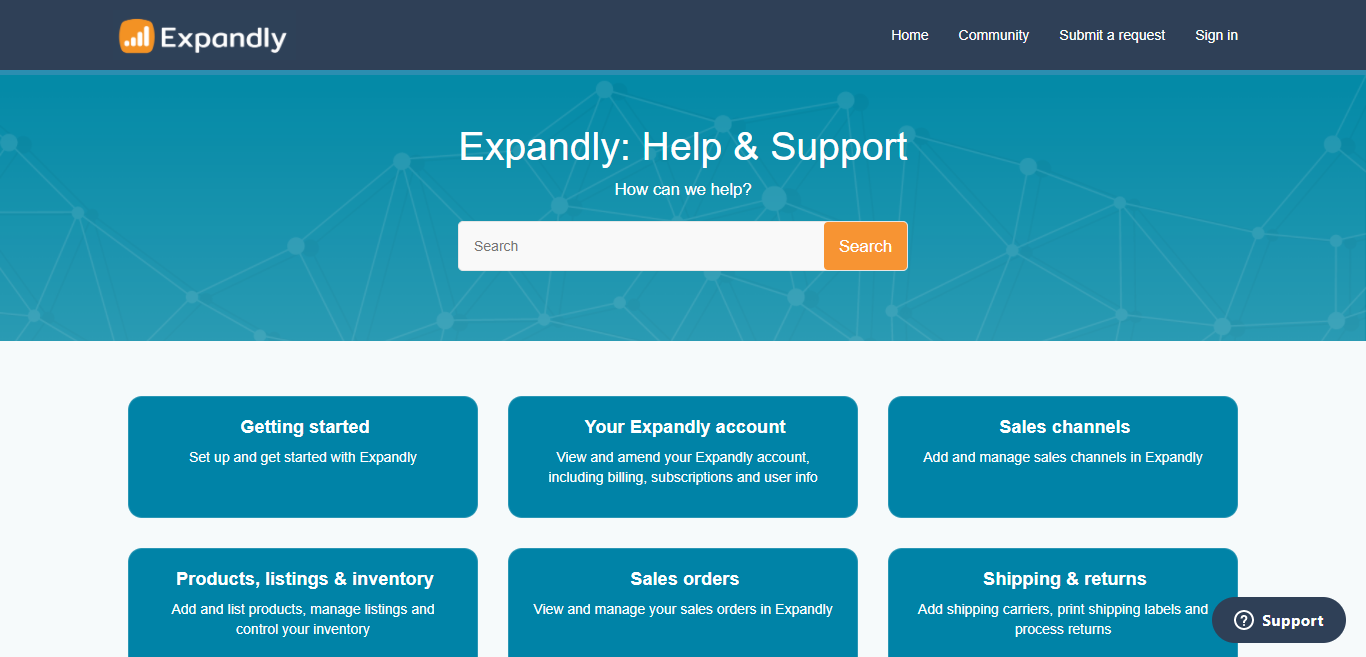 Sellware
Who's Sellware?
Sellware empowers merchants to integrate with sales channels across a variety of leading marketplaces and eCommerce platforms. It simplifies the listing process and centralizes order and inventory management, eliminating the need for multiple admin panels.
Sellware advertises itself as a developer-friendly, stress-free solution that does all the heavy lifting for you. Most notably, removing all concerns about overselling and managing multiple orders.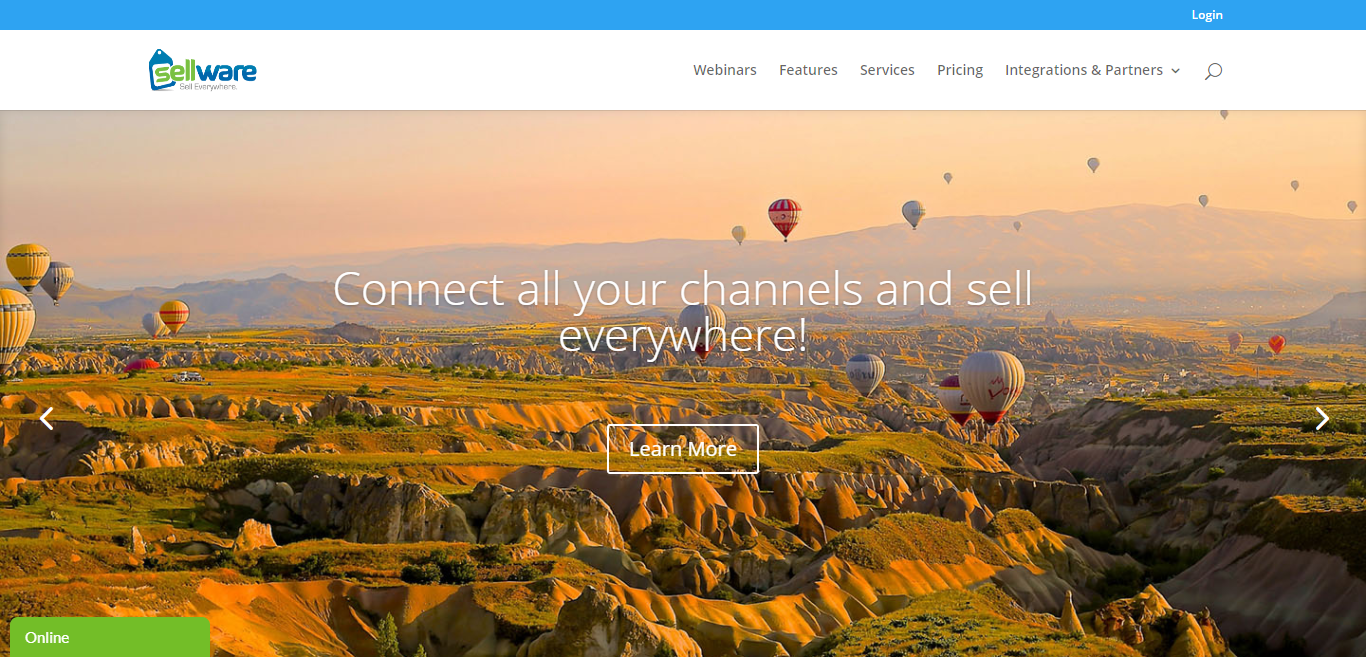 Sellware's Core Features
Here are the core features Sellware has to offer:
You can quickly connect with your online marketplace accounts and automatically list items based on rules you create
All listing formats and features for eBay, Amazon, and Walmart are supported.
You can customize titles, descriptions, pricing, and shipping terms.
You can create branded HTML templates for eBay.
You can monitor your stock levels and observe changes in near real-time.
You can also reduce the inventory that appears on marketplaces to increase the demand for your products.
View sales and activity reports, including metrics like revenue, total shipments, slow movers, top sellers, and much more
View dashboards for weekly, monthly, yearly, or custom date ranges.
It's easy to compare trends over different time periods.
You can import orders from your connected channels and bulk process them, including postage label printing.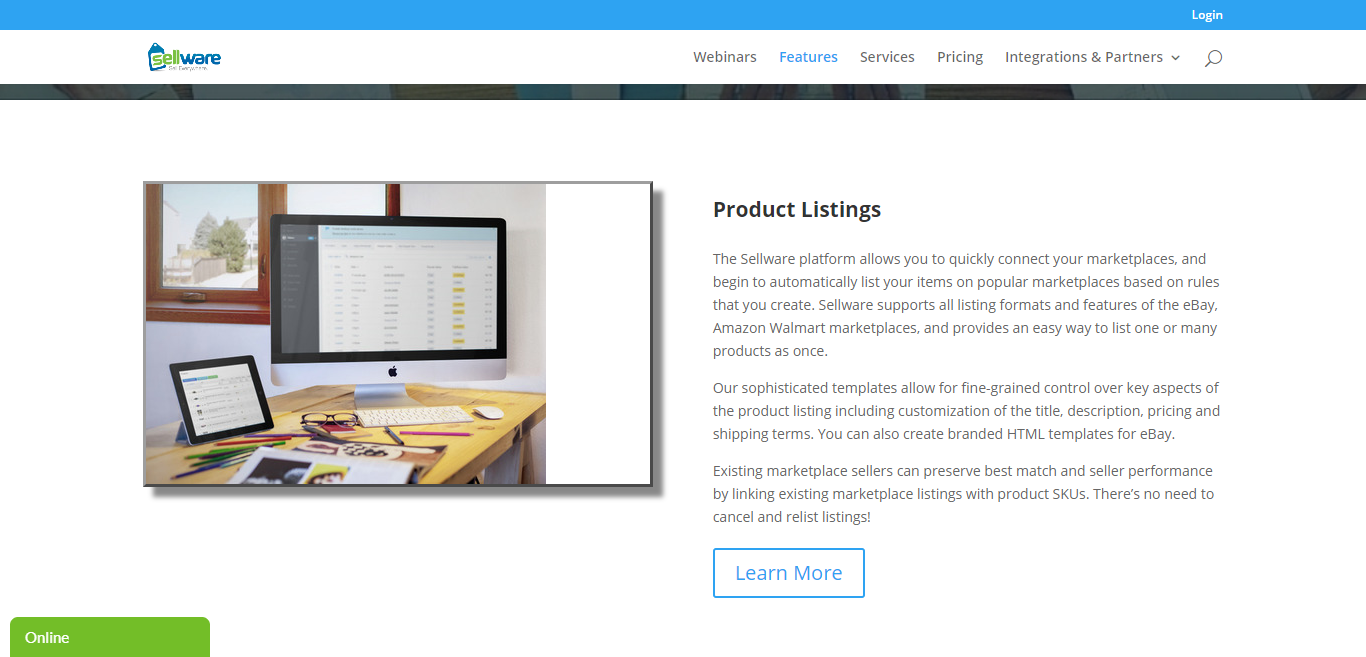 Sellware's Integrations
Sellware's integrations include all the major online marketplaces, as well as various shopping carts.
Here are some of its most notable plugins:
eBay
Magento
Shopify
Google
Amazon
Walmart
WooCommerce
Opencart
Zencart
Brightpearl
PrestaShop
Frooition
Sellware is also to connect your NetSuite to your Amazon, Walmart, and eBay marketplaces within a 30-minute screen-share session. If you're a Netsuite user, Sellware provides outstanding support to help you get this set up.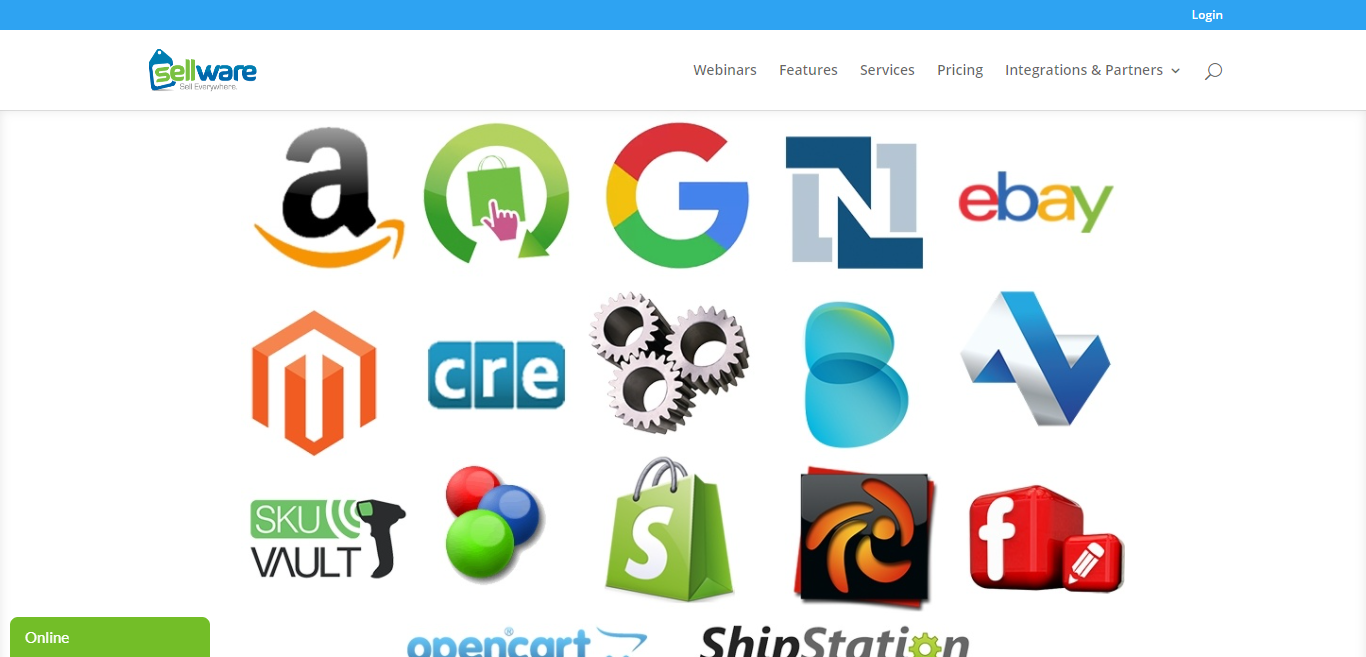 Sellware's Pricing
Sellware offers a generous 30-day free trial for you to check out its features (no credit card required!) Beyond this, there are three pricing plans.
The Standard plan will set you back $199 a month. This can handle up to 1,000 active SKUs and 250 monthly orders. Plus, you can manage up to 2,000 listings across two sales channels, and you get access to live chat and email support.
The Premier plan costs $295 a month. You get everything in the Standard plan, but this package handles 5,000 SKUs, up to 1,000 monthly orders, and 15,000 managed listings. You also get one hour of phone support included.
Their most expensive plan starts at $495 a month and is intended for enterprises. This opens up ERP and API integrations, and grants access to the developer API. You can also handle up to 10,000 SKUS, 2,500 monthly orders, and 40,000 managed listings across four sales channels.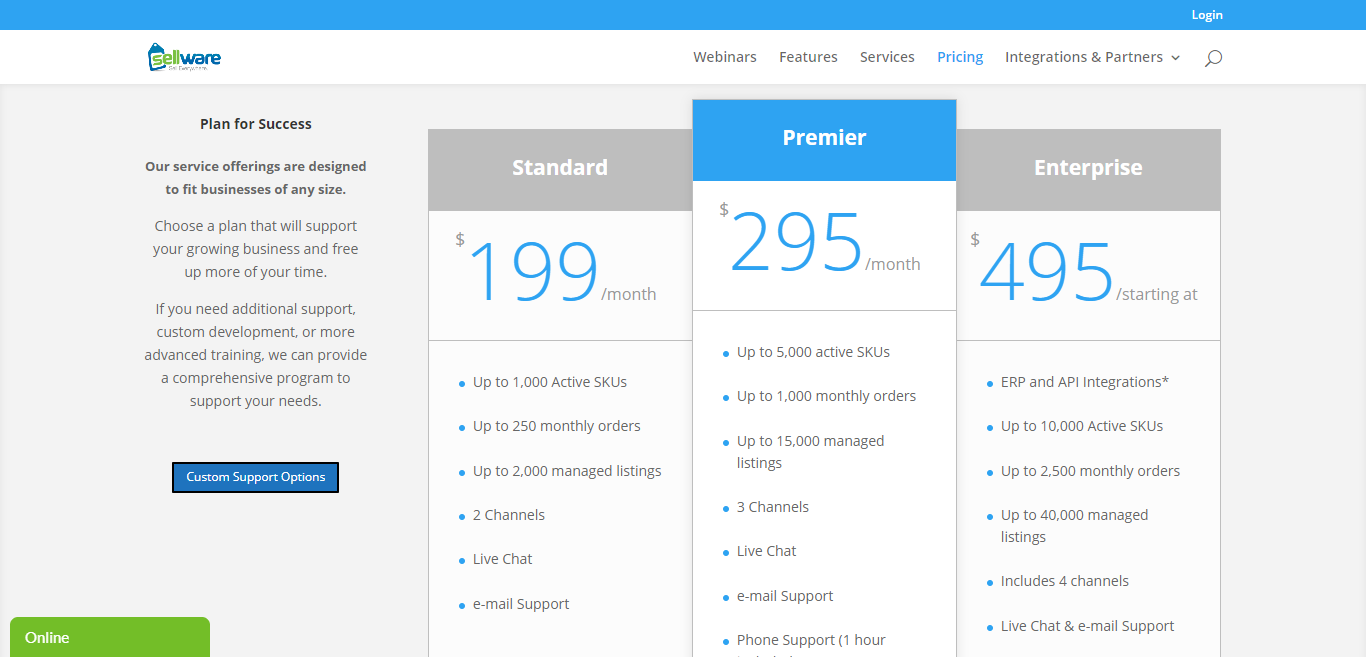 Sellware's Pros and Cons
First, let's take a look at Sellware's advantages…
The Pros:
Sellware's thirty-day free trial is twice as long as that of most multi-channel inventory software.
If you're extending from Netsuite, their integration makes this a low-cost way to develop Netsuite's ERP features.
Sellware also integrates well for existing Brightpearl users.
The Cons:
Sellware relies on other systems for some of its inventory management features. It doesn't manage its own kits, warehouse management, and purchase orders, which sometimes makes fixing issues longer and more complicated.
It's one of the more expensive options on this list.
To gain full access to phone support, you have to pay more.
The highly-priced plans have more monthly order limitations and channels than other options of similar value.
Sellware's Customer Service
All of Sellware's plans include live chat and email support. On the higher-priced tiers, phone support is included; however, this is limited to only a few hours. To gain access to more in the way of customer support, you need to purchase this separately. The hourly rate for tech support is $150 per hour, and consulting services cost $100- 200 per hour.
Although support documentation is available online, we have to admit that other tools on this list provide cheaper and more accessible customer service.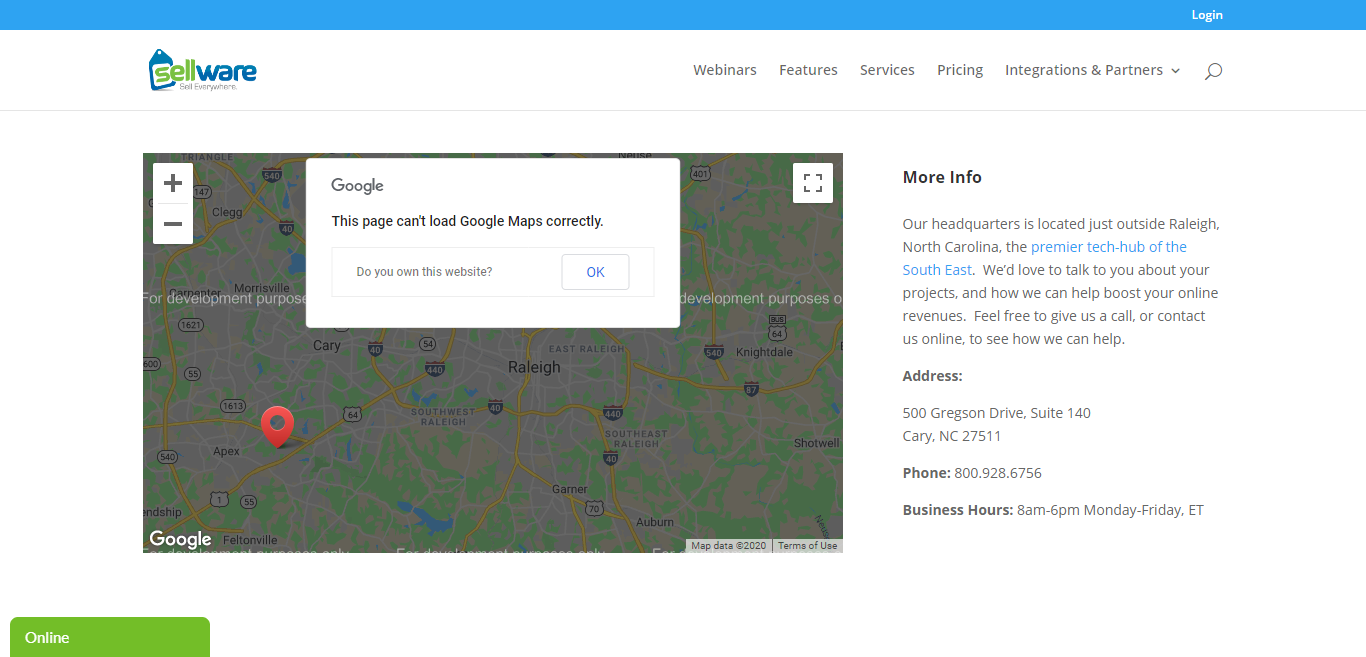 Veeqo
Who's Veeqo?
Veeqo makes multi-channel inventory management simple.
It provides everything you need to handle your inventory, shipping, and returns from the convenience of one easy-to-use software. Veeqo is already trusted by big-name retail brands such as Dove, Brompton, and Harry Potter. Impressive, right?
You can take complete control over your inventory across any number of stores, marketplaces, and warehouses. Veeqo keeps you informed with regards to stock and stops you from overselling.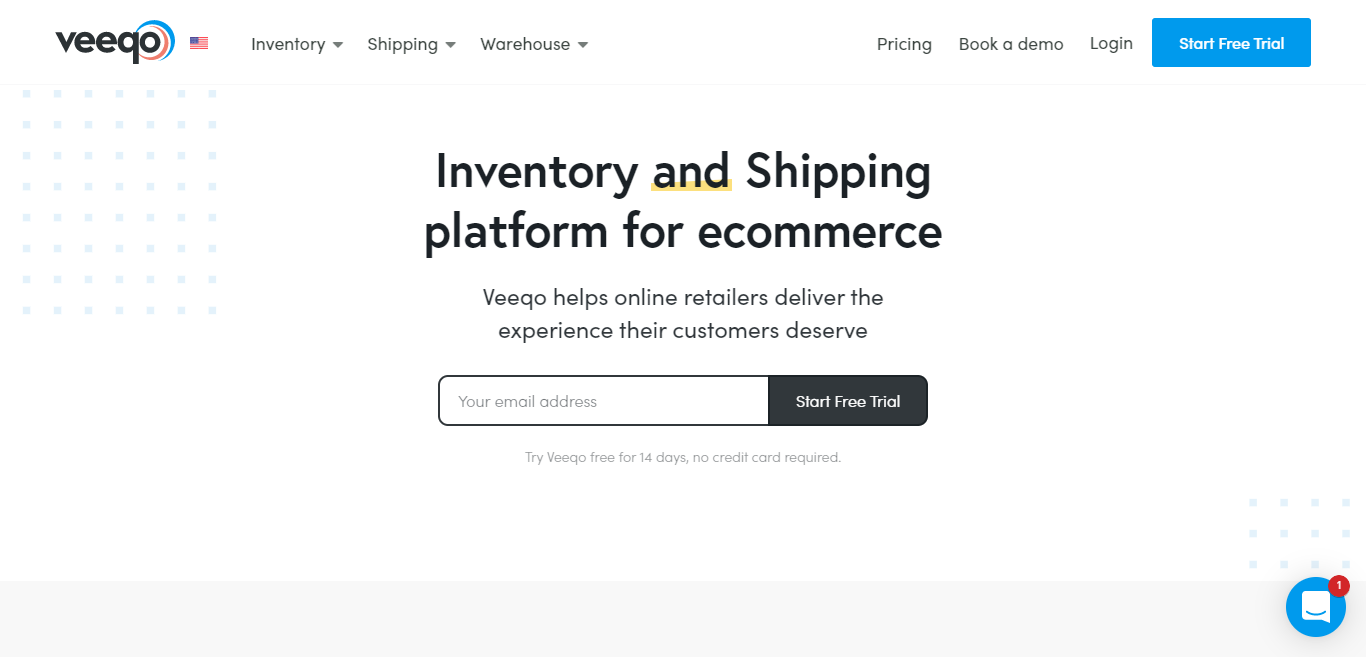 Veeqo's Core Features
Veeqo's features are split into inventory, shipping, and warehouse functionalities.
So, first off, let's take a look at its inventory features:
Inventory control
Inventory automation tools
Inventory forecasting
Inventory reporting
Product management
A smartphone app
Now, for the shipping features:
You can print shipping labels in bulk and set default printers for your labels, pick lists, and invoices. You can even activate one-click printing.
Automated shipping workflows
International shipping, with pre-filled customs forms and paperless commercial invoices
And finally, Veeqo's core warehousing features:
Suggested picking methods for optimal efficiency
Minimize travel distances
Picking lists and packing slips
You'll avoid shipping surcharges
Gain access to fast, discounted shipping
You can automate a variety of warehouse tasks for increased efficiency
It's plain to see that Veeqo is more than your average multi-channel inventory management system. It includes tons of order, shipping, and warehouse management tools. This is ideal for larger retailers that want to sell across several online and offline sales channels.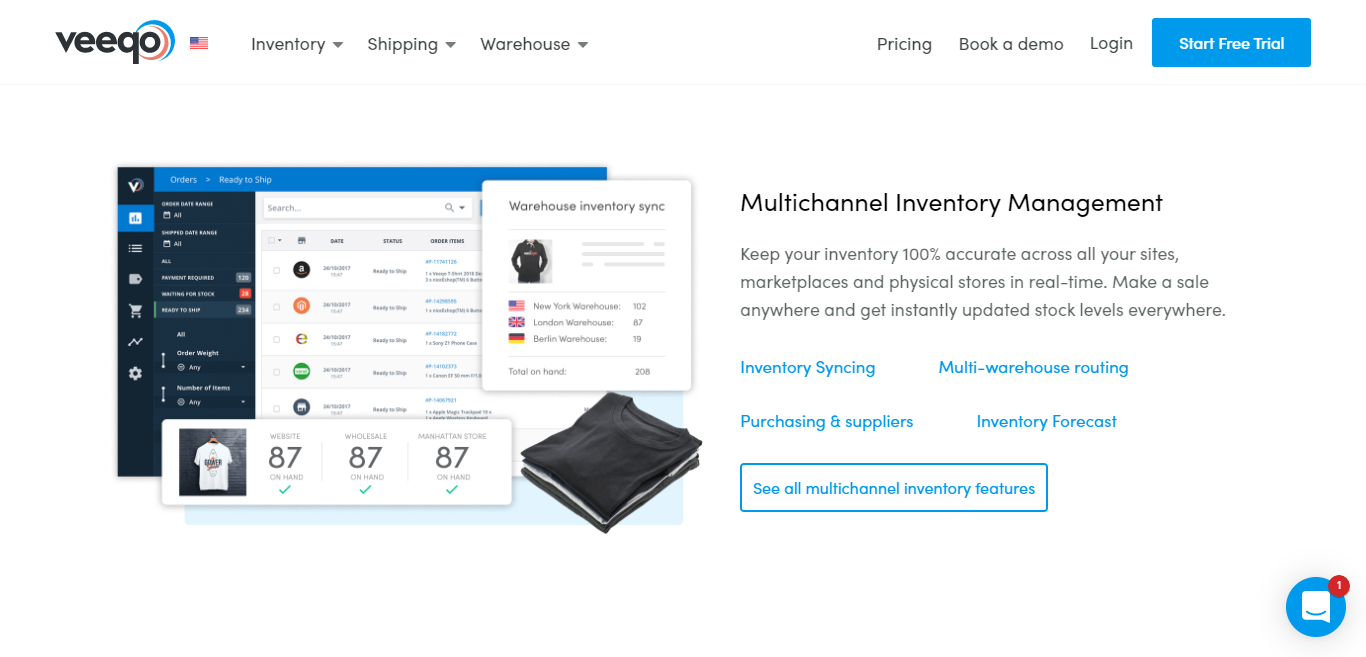 Veeqo's Integrations
You know the drill by now – of course, Veeqo integrates with all the major eCommerce platforms and marketplaces. A quick run-down includes:
Shopify
Magento
WooCommerce
Shopify Plus
Opencart
Amazon
eBay
Walmart
Rakuten
Etsy
Cdiscount
Jet
Veeqo also integrates with shipping carriers like DHL, Seller Fulfilled Prime, UPS, and many others. That's as well as Amazon FBA and Shopify POS. You'll also find accounting software like QuickBooks and Xero, as well as helpdesks like Gorgias or Freshdesk. Just to name a few!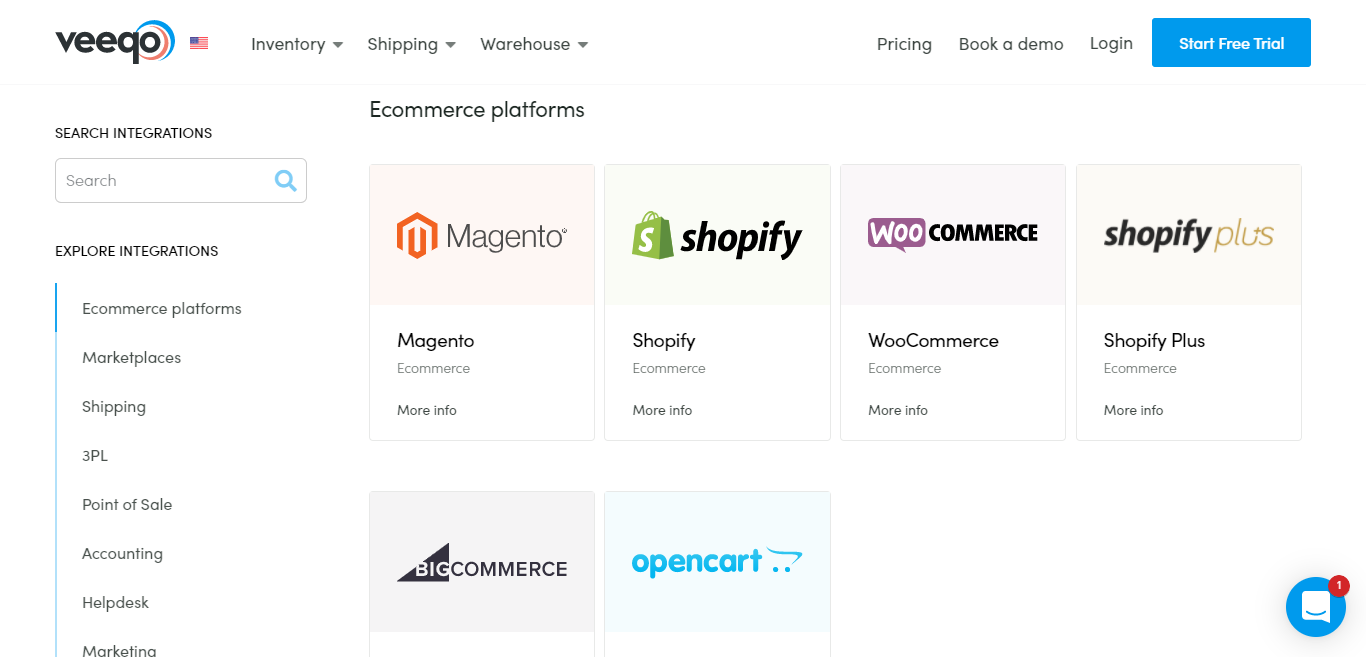 Here's How Much Veeqo Costs
Let's take a look at Veeqo's pricing. With so many features, one would assume it's one of the more expensive options. But as a matter of fact, it's one of the more affordable options…for what it offers. Plus, there's a free 14-day trial for you to take advantage of.
Veeqo's Lite plan is free for eCommerce startups. This gives you access to only one user and includes Veeqo's shipping features, but unfortunately, doesn't provide inventory management features.
The Accelerator pan for $156 a month comes with basic inventory control across over 20 sales channels. Basic warehousing features are also included alongside all Veeqo's shipping features.
For $202 a month, you'll unlock the High growth plan. This comes with intermediate inventory management features, including demand forecasting and purchasing. You can also register four users to your Veeqo account.
The Premium plan costs $260 a month, which unlocks advanced warehousing, shipping, and inventory management features.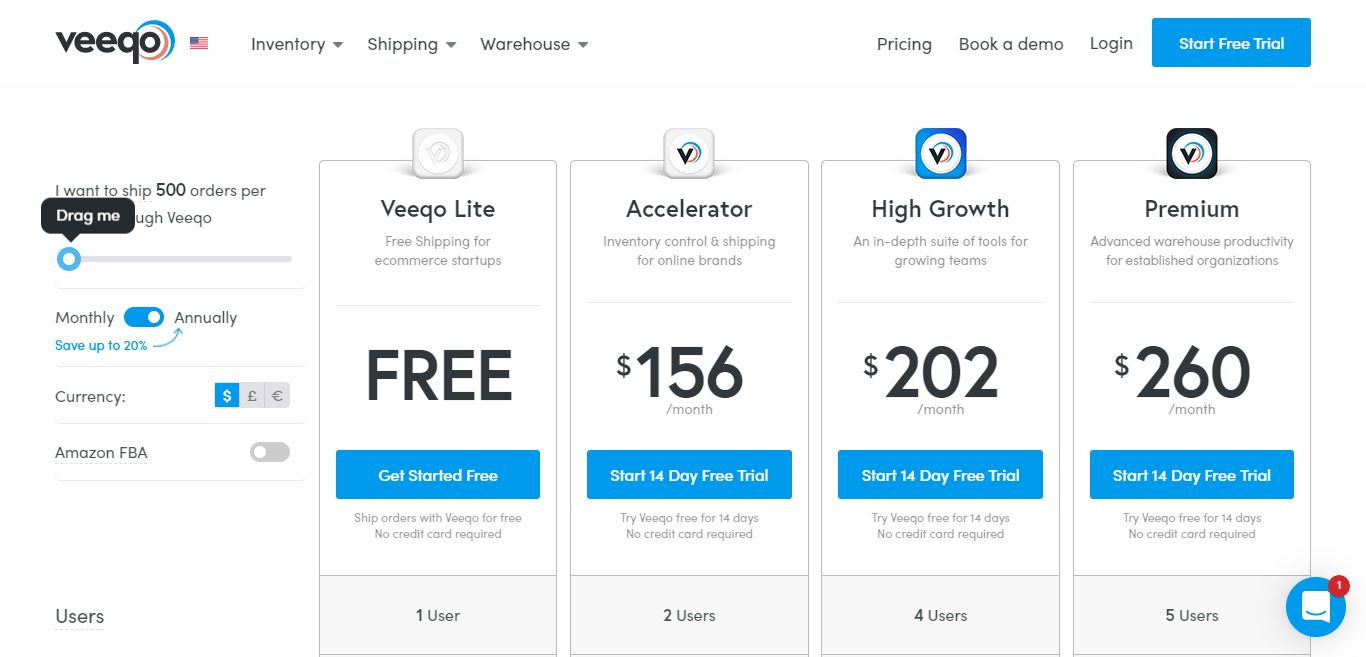 Veeqo Pros and Cons
Here's the good, the bad, and the ugly on Veeqo:
The Pros:
Veeqo is an all-in-one solution that also includes nifty shipping and warehousing options for larger retailers.
International shipping is included, making this an excellent all-round tool for global stores.
Orders and sales aren't limited.
You can sell across 20 sales channels.
You can register multiple users, which is excellent if you manage a team.
It integrates with a wide variety of tools.
The Cons:
If you're only looking for inventory management, this is one of the more expensive plans.
The free plan doesn't offer any inventory management services, and even the basic program only grants access to basic inventory features.
You're charged extra to integrate with Amazon FBA (depending on how many Amazon FBA orders you expect to process per month).
Veeqo Customer Service
Veeqo runs offices in the US and the UK and provides postal addresses for both. You can find their US and UK contact numbers on their website, as well as their support email address. Live chat is also available. All these support options are available with each of Veeqo's pricing tiers.
The Premium and Enterprise plans also include on-site training as an extra.
FAQs
We'll now round up this review by answering some of the most frequently asked questions concerning multi-channel inventory management.
How much is multi-channel inventory management software?
Prices for multi-channel inventory management software vary greatly, but we've picked some of the most affordable options. It's common for subscriptions to start from $50 a month for multi-channel solutions. Advanced features and additional capabilities can bring price ranges up to as much as $400 a month.
Is there free multi-channel inventory management software on the market?
Some inventory management tools offer a free plan. Sellbrite is one example; however, these free-forever plans are often very restrictive. Orders per month are typically severely limited, so while you can try the platform with a program like this, you'll most likely soon require an upgrade.
What's multi-channel selling?
Multi-channel selling refers to selling your products on multiple platforms. For example, you might be selling via your own website as well as through online marketplaces like Amazon or eBay.
Understandably, when you start selling on multiple channels, keeping track of your inventory becomes more difficult as orders originate from different platforms.
This is where multi-channel inventory management software comes to the rescue. Its functionality makes it easy to keep track of your stock, so you don't sell out.
Do these tools integrate with FBA (Fulfillment by Amazon?)
Many online merchants want to integrate with Amazon and use their fulfillment service to process and ship their orders. That's why so many multi-channel inventory management software integrates with FBA. However, not all of them do, so you'll need to double-check for this before committing your hard-earned cash.
Our Final Verdict
Have you spotted the best multi-channel inventory management software for you amongst these options? Ecomdash, Sellbrite, and Expandly are all affordable options best suited to smaller and medium-sized businesses.
While Sellbrite is amongst the cheapest, it limits the number of orders you can process (at least, more so than its competitors). Whereas, Expandly doesn't impose such limitations and is a good option for UK merchants due to the sheer number of UK shipping integrations on offer.
Ecomdash, too, boasts an outstanding level of functionality at its lower plans and doesn't limit how much you can sell.
We suggest you give the free trials a shot to see which multi-channel inventory management software feels right to you. Let us know in the comments below if you've found the one!
Further read: