Last Updated on April 22, 2023 by Ewen Finser
Did you know that 40% of online users have purchased products online? With e-commerce becoming more prevalent, this figure is only going to increase. That's why now is the perfect time to open up an e-commerce store.
If you're going to start selling online, you need to start your e-commerce journey the right way. Since shipping and fulfillment are major aspects of selling online, shipping and fulfillment software will greatly benefit you.
Many e-tailers choose either Ordoro or ShipStation. But which is the better platform?
While both are high-quality choices, only one can be the best. Here, we put these platforms to the test to discover the best one.
Things to Keep in Mind
Before you continue reading, here are some valuable facts about Ordoro and ShipStation:
Shipping platforms not only ease the shipping process but they can offer cost-saving benefits. For example, ShipStation offers discounted USPS rates.
If you have a thriving international customer base, make sure your shipping platform streamlines the international shipping process, too.
You'll want to ensure your shipping platform connects to different sales channels, such as Amazon.
Bottom Line Up Front Summary: Ultimately, I recommend ShipStation. The sign-up process is quick and you can use many features, even during the 30-day free trial.
The Main Difference Between Ordoro vs ShipStation
The Main Differences Between Ordoro vs ShipStation include:
Ordoro streamlines different e-commerce tasks such as inventory, ordering, and shipping management tools. ShipStation is only a shipping platform.
Ordoro only offers an app on the cloud, whereas ShipStation offers an app on iOS, Android, desktop, and the cloud
Ordoro offers barcode printing, whereas ShipStation doesn't
Ordoro has platforms integrations, whereas ShipStation has more – they also support integrations with Mailchimp and PayPal
Who Should Use These Platforms?
Since Ordoro and ShipStation are slightly different, they will attract a different audience.
Ordoro caters to online e-commerce businesses of all sizes that are looking to streamline their backend operations. ShipStation is a shipping platform that's based online. It integrates with multiple platforms, such as Amazon and eBay, catering to all types of stores.
Both platforms are ideal for e-commerce businesses of all sizes, but large enterprises may need advanced systems. ShipStation is also better for smaller e-commerce businesses where Ordoro can support small and medium e-commerce stores.
Ease of Use and User-Friendliness
Both platforms are generally easy to use, featuring a simplistic and clean design to easily navigate the system. You can also easily set up your store and start working quickly.
While ShipStation has a convenient interface, it does take some time to learn the backend. That's because this program is packed with many features and integrations. Some ecommerce sellers also report it's difficult knowing which features you need.
But once you do learn the system, you can run your store more efficiently.
Even though ShipStation has many features, they do make the platform more complex. Therefore, Ordoro wins this round.
Core Shipping Feature Comparison
Both platforms offer powerful features that will aid any e-commerce store and online retailer websites.
For the most part, both platforms offer the same or similar features. These include:
Alerts/notifications
Inventory optimization
Product identification
Multi-channel management
Reporting/analytics
Reorder management
Supplier management
Warehouse management
One platform doesn't offer the same features as the other, though.
For example, Ordoro doesn't offer manufacturing inventory management, forecasting, and retail inventory management — but ShipStation does. On the other hand, ShipStation doesn't offer kitting, but Ordoro does.
Even though both platforms offer similar features, ShipStation offers more than Ordoro. Therefore, ShipStation wins this round (better overall features).
ShipStation Features
We haven't been able to access Ordoro's product demo (we will discuss this later) but we have been able to use ShipStation's free trial. Here are the features we have been able to access.
Getting Started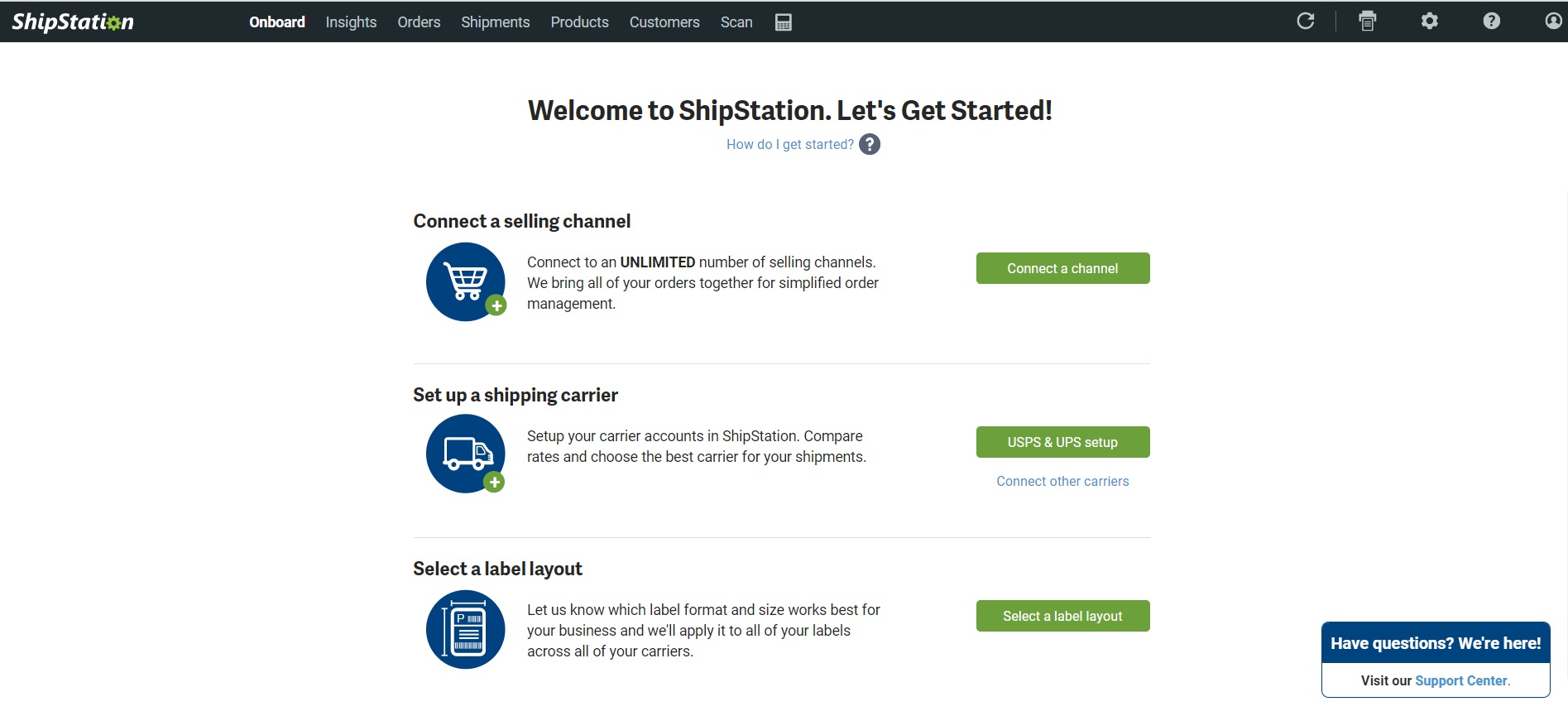 When you first log in, you're met with this screen. You can connect existing selling channels, set up shipping carrier for your ecommerce platform, and you can even select a label layout. Or, you can continue to the dashboard.
ShipStation Dashboard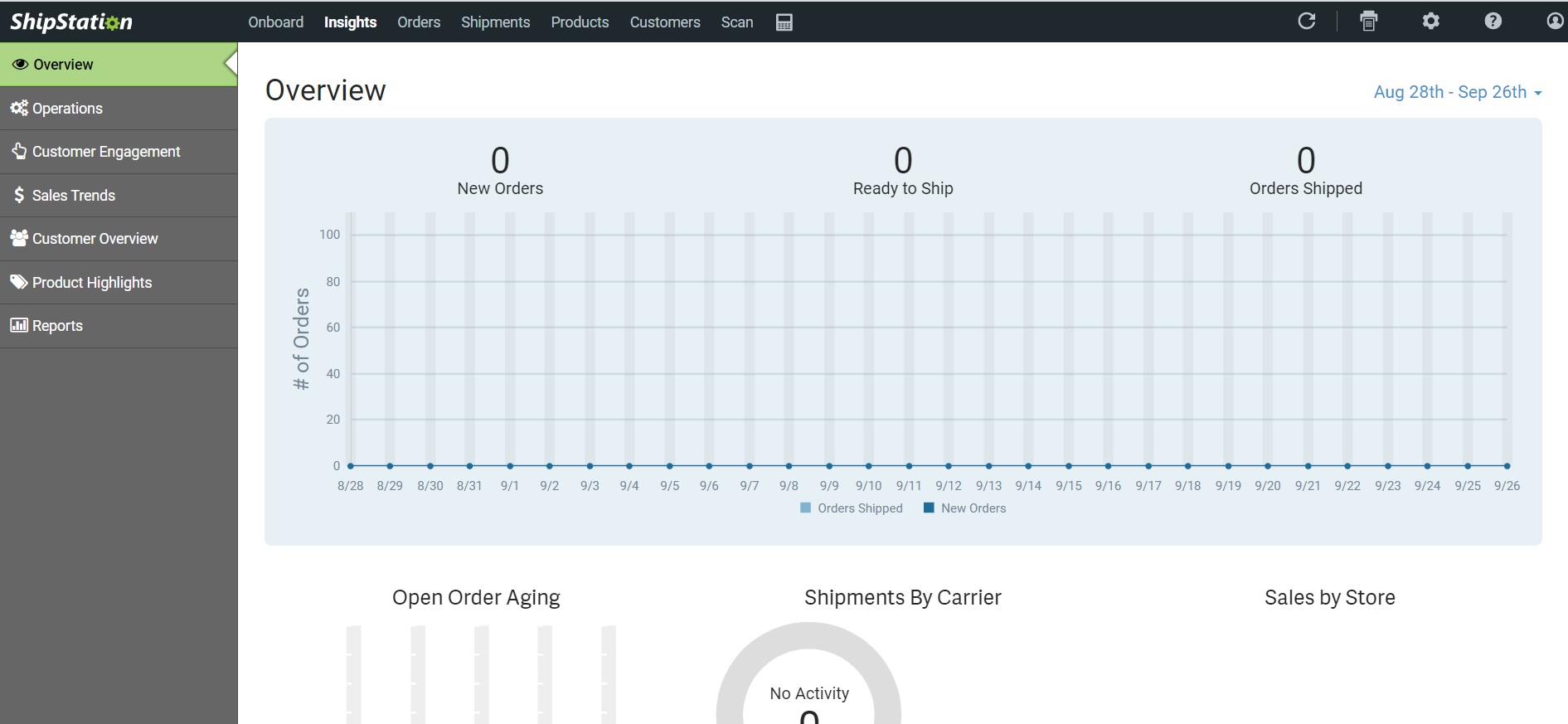 When you first sign up for ShipStation's free trial, it will take you to the dashboard. You can access everything on here. The default page you see is Overview under Insights. In this section, you can view:
New orders
Orders ready to ship
Orders already shipped
Open order aging
Shipments by carrier
Sales by store
This is some of the most essential information you'll access. But ShipStation offers even more helpful features.
Orders

At the top menu bar, you'll see the Orders section. This is where you'll handle all information about your orders. Some of the functions you can see and do include:
View open orders
Know which orders need payment
Know which orders need to be shipped
See your shipped orders
See any canceled orders
The screenshot above is on the Awaiting Shipment section. To the top left of the menu, you can see where you create and print a shipping label (or for bulk print shipping labels).
Shipments

You can also see your shipments and shipping information under the Shipments tab.
ShipStation breaks down your shipments in the following categories:
In transit
Delivered
Delivery expectations
Voided
Some additional functions you have under the Shipments section include printing shipping labels (printing labels), updating tracking, voiding shipping, and more. You'll also be able to track USPS pickups as well as pickups from other carriers in the left sidebar.
For better organization, you can separate your orders into batches. Batch shipping is where you organize large shipments into different categories. You can create and assign batches under the Batches section.
The Shipment section is also where you view returns. You have similar functions under this section. You can also see returns that are expected, received, and voided.
Another interesting aspect of ShipStation is how you can view orders for that day and see which orders are open and closed. You can view this data at the End of Day tab.
Products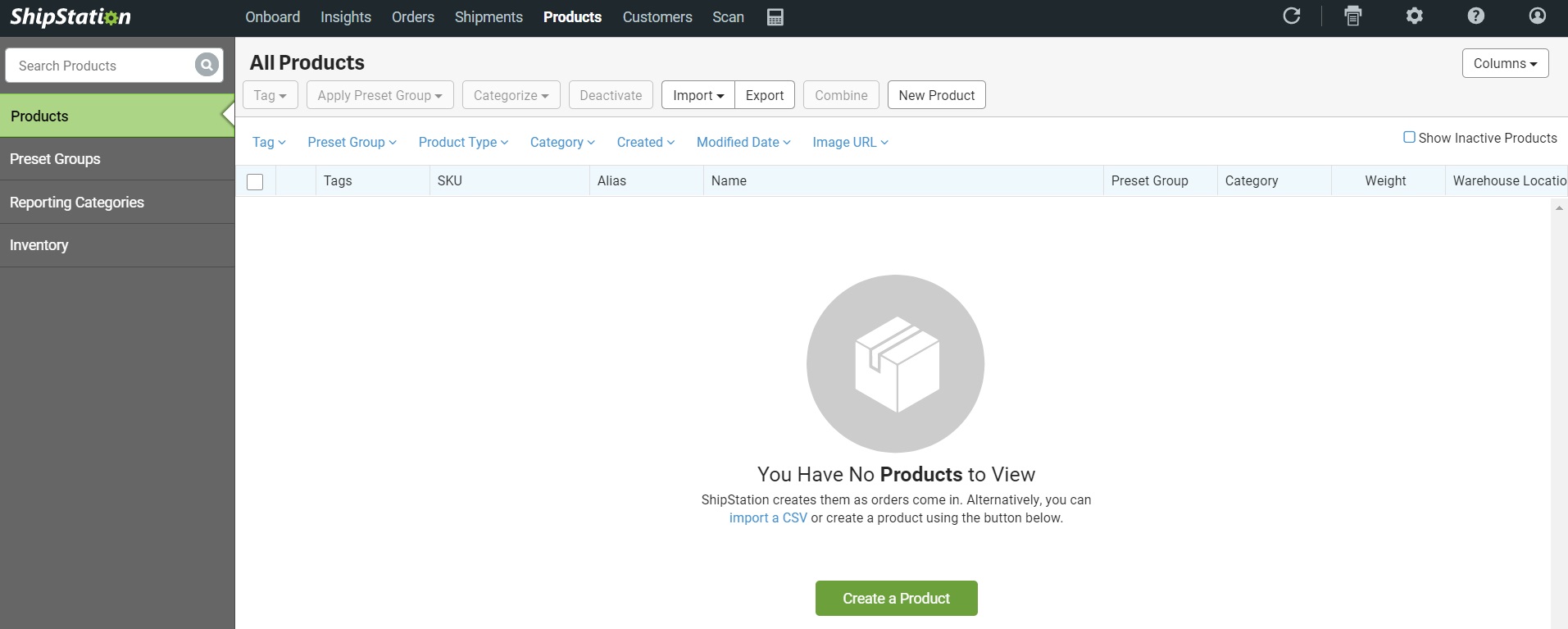 You can upload your products directly on ShipStation. You can separate your products into categories, types, and you can even upload media such as photos.
You can also import products from another source, such as from CSV imports. This section will help you stay organized and will make inventory management easier, especially if you ship in batches.
Scan Shipping Labels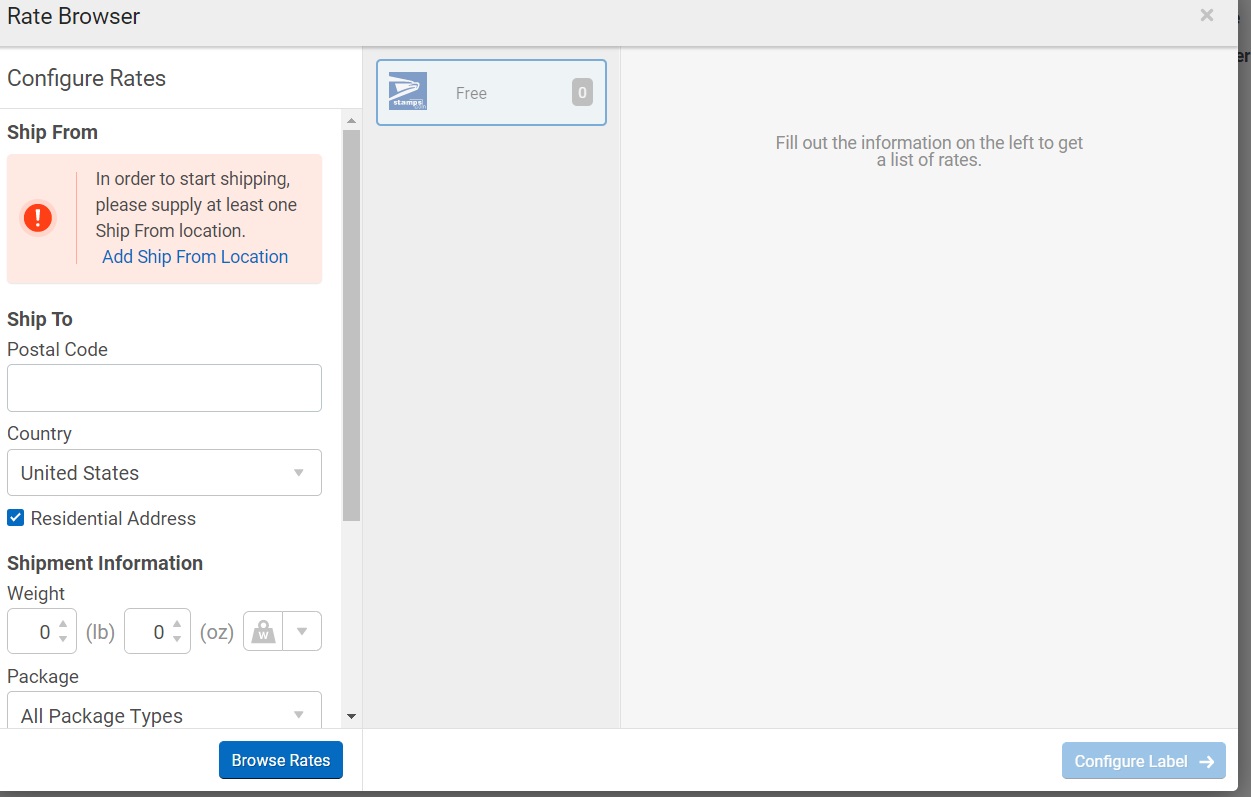 When you're ready to scan shipping labels, find the scanner icon on the right side of the top menu.
You'll also insert this information:
Country
Postal code
Shipment weight
Package size
Package type
Confirmation (if a signature is required)
Service type
At the right of this form, you'll see different shipping rates from carriers. From here, you select the best rate and configure your label.
Customer Support
We should mention we had issues with Ordoro customer support.
First, let's mention ShipStation. With ShipStation, you're assigned an account manager who can show you the ins and outs of the software.
Now, let's move onto Ordoro.
To try the software, you have to contact sales about scheduling a demo. No problem. I filled out the form and explained I'm a writer who's reviewing Ordoro. I sent the request during the weekend, thinking I'll receive a response early the following week.
In addition to customer service representatives, both platforms offer community forums where you can ask other sellers for advice. You can also view video tutorials or visit their resource center for additional help.
It's been a week that I contacted them. Still nothing. This is extremely rude and unprofessional. I can't even imagine a business, who has multiple orders they need to ship, waiting this long for a response.
Clearly, ShipStation wins this round.
Pricing
Since both platforms offer many features and shipping integration options, pricing is a little complex.
Ordoro has the easiest pricing platform, so we'll start with them first. Ordoro offers three different plans:
Express: $59/month
Pro: $499/month (though annual pricing is available)
Enterprise: contact Ordoro for a quote
Express is beneficial for companies that only want shipping. With this plan, you get automation, discounted shipping rates, barcode scanning, shipping presets, and no SFP fees. This plan also supports unlimited shipping, which even ShipStation's Enterprise plan doesn't support.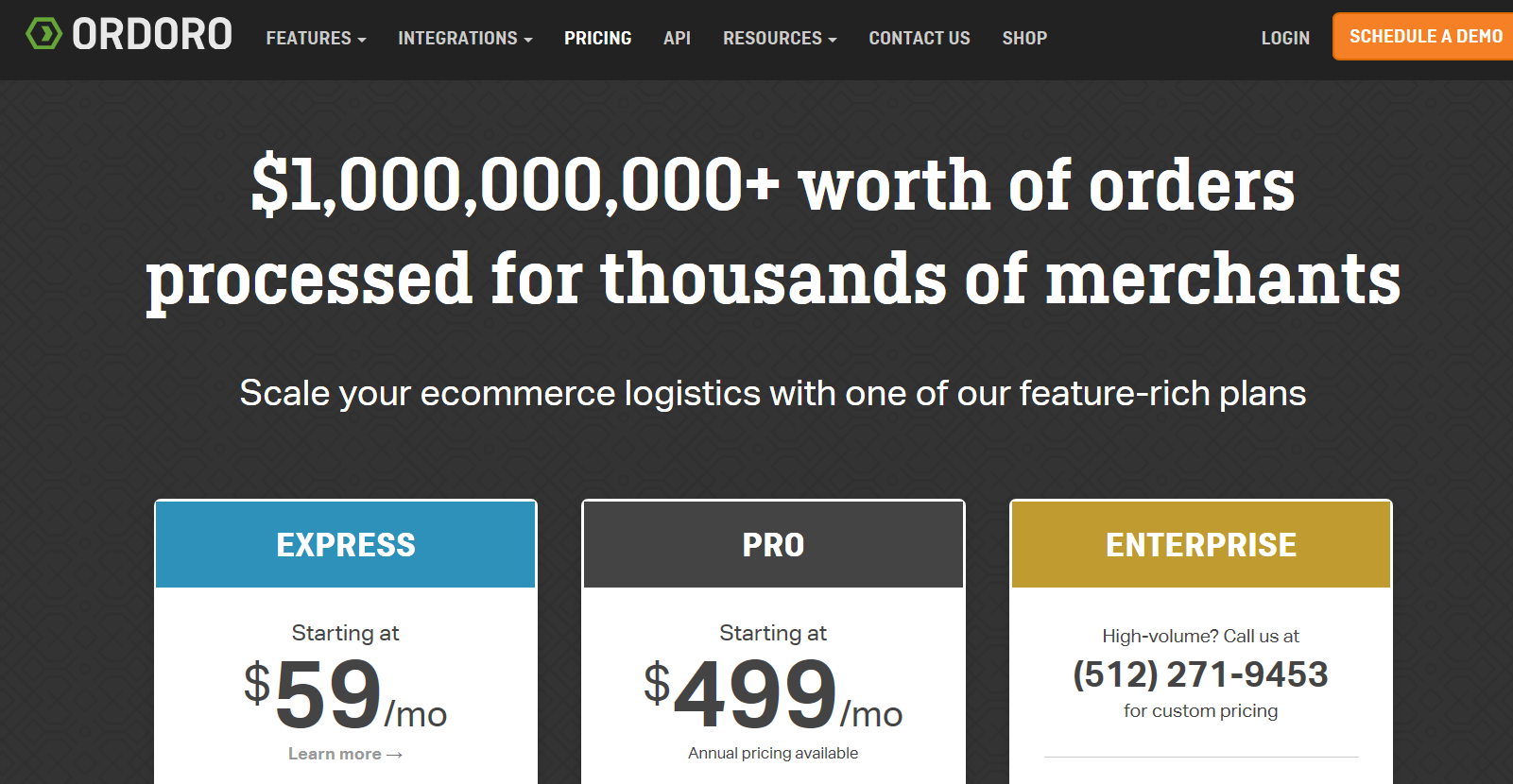 The Pro plan is for sellers that need inventory management (as well as order management and order fulfillment) as well as shipping. This includes all express features as well as kitting, dropshipping, and purchasing.
Odoro offers a free trial for both plans.
ShipStation has six pricing tiers. These are:
Starter: $9/month
Bronze: $29/month
Silver: $49/month
Gold: $69/month
Platinum: $99/month
Enterprise: $159/month
These plans differ largely by the number of shipments per month. For example, the starter plan only allows 50 shipments per month while the enterprise plan allows 10,000 shipments per month.
ShipStation states the Gold tier is the most popular. For $69/month, you get 3,000 shipments per month, custom labels and packing slips, three users, and support by email, live chat, and community form.
ShipStation also offers a 30-day free trial. And unlike Ordoro, we were able to use this free trial. ShipStation offers just about all features and functionalities on their free trial. Since we haven't been able to use Ordoro, we have no idea what their demo includes, how to use their software and other essential details that will benefit this review.
Even though Ordoro has better value, the sales team is unresponsive. I recommend customers choose ShipStation or choose another alternative if ShipStation doesn't offer everything you need.
Value for Your Money
Another way you can decide what you need is by determining the best value for your money.
Ordoro is a cost-effective solution because sellers save money, even with the Express tier. They offer discounted rates on USPS and discounted shipping insurance. They also offer ship rate comparison across multiple carriers, so you always choose the cheapest option.
Ordoro has a huge advantage over ShipStation for one reason — all plans, even the Express plan, lets you ship unlimited orders.
Sellers also don't pay additional fees with the Express option. For example, there's no barcode scanning and no Amazon SFP costs.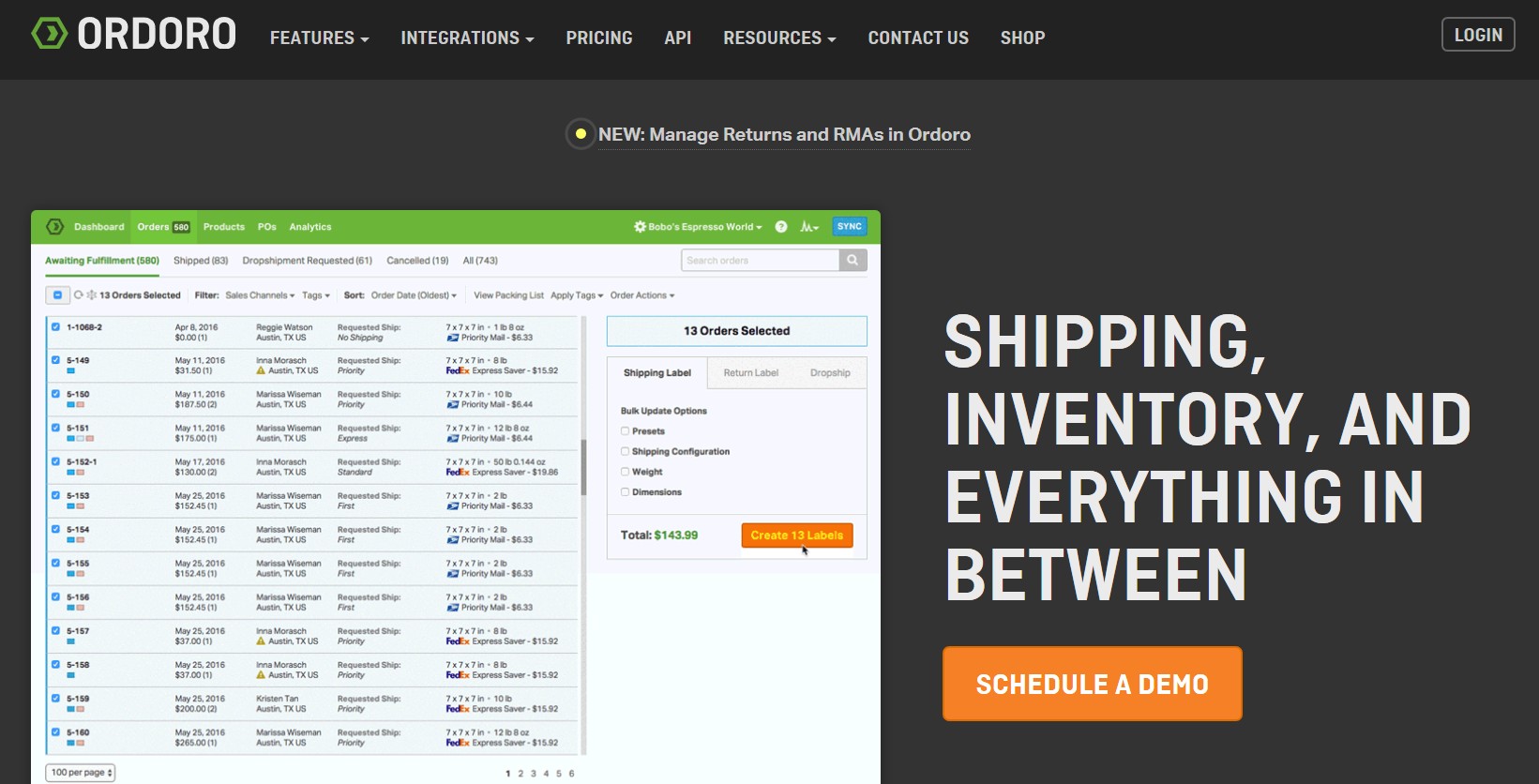 The Pro tier also offers powerful e-commerce features, such as dropshipping, at a reasonable price. Sellers can also opt for annual pricing to help them save even more.
ShipStation offers many plans, but even their entry-level plans boast some serious savings. All plans include USPS discounts and there's no additional cost to connect extra selling channels (multiple sales channels). They also don't charge anything other than the subscription, unless you want to invest in premium integrations.
Users can also access other benefits, such as printing large batches of labels.
Both platforms offer high-quality service for an affordable price, but Ordoro is the best value for your money. Their Express plan offers many of the same benefits as ShipStation's plans and you can ship an unlimited amount of products. You can also upgrade to a higher plan and access advanced services, such as dropshipping.
FAQs
Do you have more questions about Ordoro and ShipStation? Here are some common questions and answers about both platforms.
Odoro vs ShipStation: Overall Recommendation
From my research into Ordoro and customer reviews I read, I was honestly going to recommend this brand over ShipStation. Ordoro offers a great value for the features you receive and they accommodate a variety of different businesses. But I always like testing out the product before I give my official recommendation. Unfortunately, Ordoro didn't respond to my demo request.
Even if it does take some time for them to respond, I'm more concerned about the e-commerce business who needs shipping or a drop shipping solution immediately. For these businesses, time is money. Customers will become angry if their packages are late. Businesses don't have time to wait around for a demo.
Bottom Line Summary: Ultimately, I recommend ShipStation. The sign-up process is quick and you can use many features, even during the 30-day free trial.
If you need a more robust solution that ShipStation can't provide, we recommend looking for an alternative.
If you're a new seller, you should learn how to find the best e-commerce platform for your business. Click here to find out more information.
Further Reading on Shipping App Software Vendor Options & Fulfillment Service / Shipping Service Picks: