Last Updated on May 31, 2023 by Ewen Finser
Once my small freelancing business found its feet and started turning a lucrative profit, I realized I needed to sign up for a legit and tested web-based payment platform. I
I didn't want to go to the bank weekly to deposit or receive payments for my freelancing services.
And with so many online payment services available (Melio vs PayPal), I knew I had to dive in to see which one of the two was the best.
Online payments are definitely the way to go.
If you are interested in how these two web-based payment platforms stack up against each other, this PayPal vs Melio guide will help you make the better choice for you and your business.
TL;DR: For sending invoices and sending / receiving domestic (US) payments, Melio is the best option. Fewer fees and easier to use than PayPal. However, if you are sending internationally or just need an intermediary to be the tax issuing authority, PayPal is still the only option for most.
Main Differences Between Melio vs PayPal
The main differences between Melio vs PayPal are:
Melio is a web-based (free) payment system that allows you to pay via bank transfer, debit, or credit card, whereas PayPal is an e-commerce payment service that enables you to transfer and accept money without providing your financial details to your client or supplier.

Melio ranked 17th in the payment processing software category, whereas PayPal got 14th place.

Melio is only available in 70 countries, whereas PayPal is available in over 200 countries and supports over 25 currencies.

When transferring money from Melio, you should allow 1 to 3 business days for processing, whereas PayPal provides immediate access to funds. But, when transferring funds to your bank account, PayPal can take up to 4 days.

Melio is free to use, but there is a 2.9% credit card transaction fee, whereas PayPal is also free to use unless you need to do a currency conversion.

Melio integrates with QuickBooks (online accounting software) and accepts payments from credit cards or U.S. banks, whereas PayPal uses built-in integrations through POS (Point-of-Sale) for all vendor types and sizes.

Melio can be used on Windows, Linus, Android, iPhone, iPad), and Mac, whereas PayPal can only be used on Windows, Android, iPhone, iPad, Mac, and web-based internet browsers.

Melio's primary focus is on small businesses and freelancers, whereas PayPal supports small businesses, medium businesses, large enterprises, and freelancers.
Best Simple Invoicing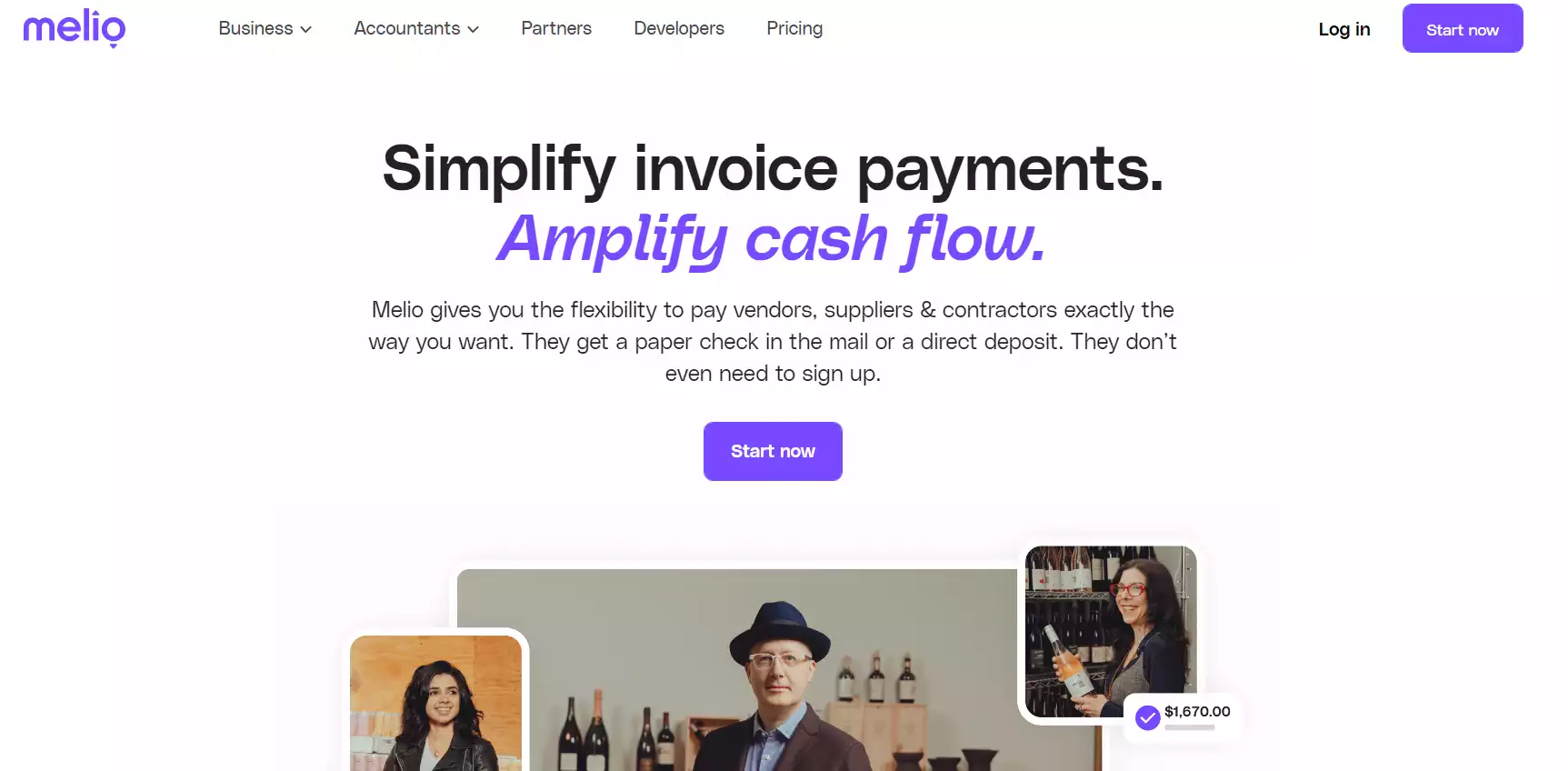 Why Go with Melio?
Melio is built for today, while most payment processors are technical, glitchy, and dated. I use Melio in my business for straightforward invoicing. No fees, no hassle.
Try it for Yourself
We earn a commission if you click this link and make a purchase at no additional cost to you.
Overview of Melio vs Paypal: Key Features, Pros, and Cons
Here's a handy overview of Melio vs. Paypal:
What Is Melio?
Melio was founded in 2018 and is a free online accounts payable solution for small businesses and freelancers. When signing up to Melio, you can choose from 2 options, Melio Business and Melio Accountant.
Melio helps you manage your online payments through bank transfers, debit, and credit cards. Melio can also send a paper check (Automated Clearing House – ACH – bank transfer) through the mail to any address you supply them with, and it'll arrive within 7 days.
Melio is all about minimizing admin and increasing cash flow. Melio's key features include:
Automated data synchronization

Automatically syncs with QuickBooks

Automatically sends out your checks on your behalf

Payment scheduling

Calendar and payment reminders

User-friendly invoicing and reporting

Manually add vendors and billing information

Upload images and documents to their platform

Centralized dashboard

Duplicate payments notification

Track payments in real-time
Did you know? You can pay vendors using a credit card, even if they don't accept card payments. So you can hold onto your cash and benefit from card rewards (#goals).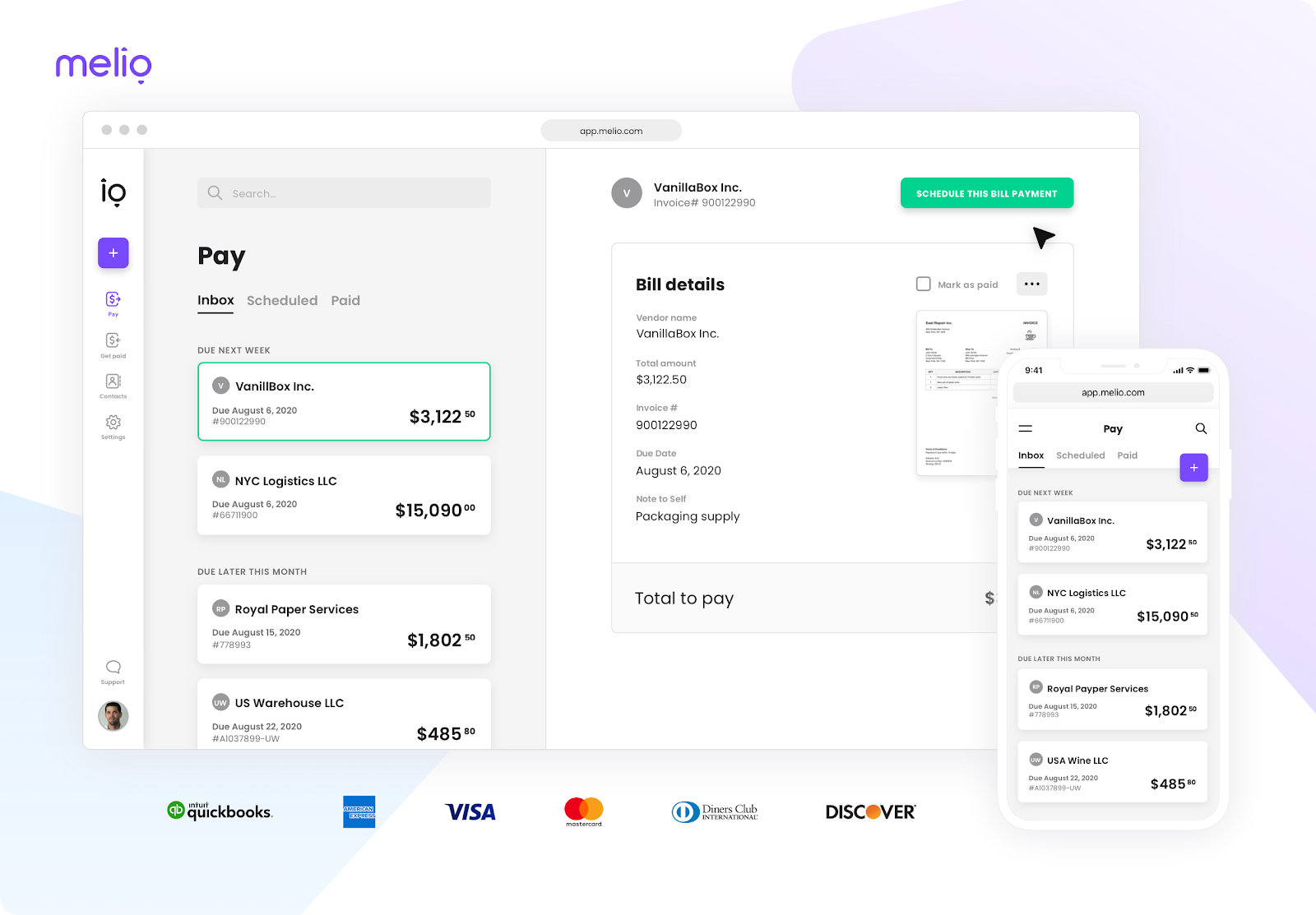 What Is PayPal?
PayPal was founded in 1998 and is an online payment system leader in the online digital payment world. PayPal boasts 429 million users (and is growing) in the second quarter of 2022.
PayPal allows you to make payments, transfers, and receive money on a safe and secure platform. One of PayPal's most attractive aspects is that you don't need to provide or share your personal financial information with anyone you accept or send money from.
Here's a quick look at some of PayPal's key features:
Online invoicing

Barcode scanning

Shopping cart function

Mobile card reader

User-friendly mobile app

Express checkout

Inventory tracking

Payment card industry (PCI) compliance prevents security breaches

"Bill me later" feature

Accept payments online
Did you know? In 2020, PayPal Honey was designed to assist users in saving money with coupons obtained from eCommerce websites.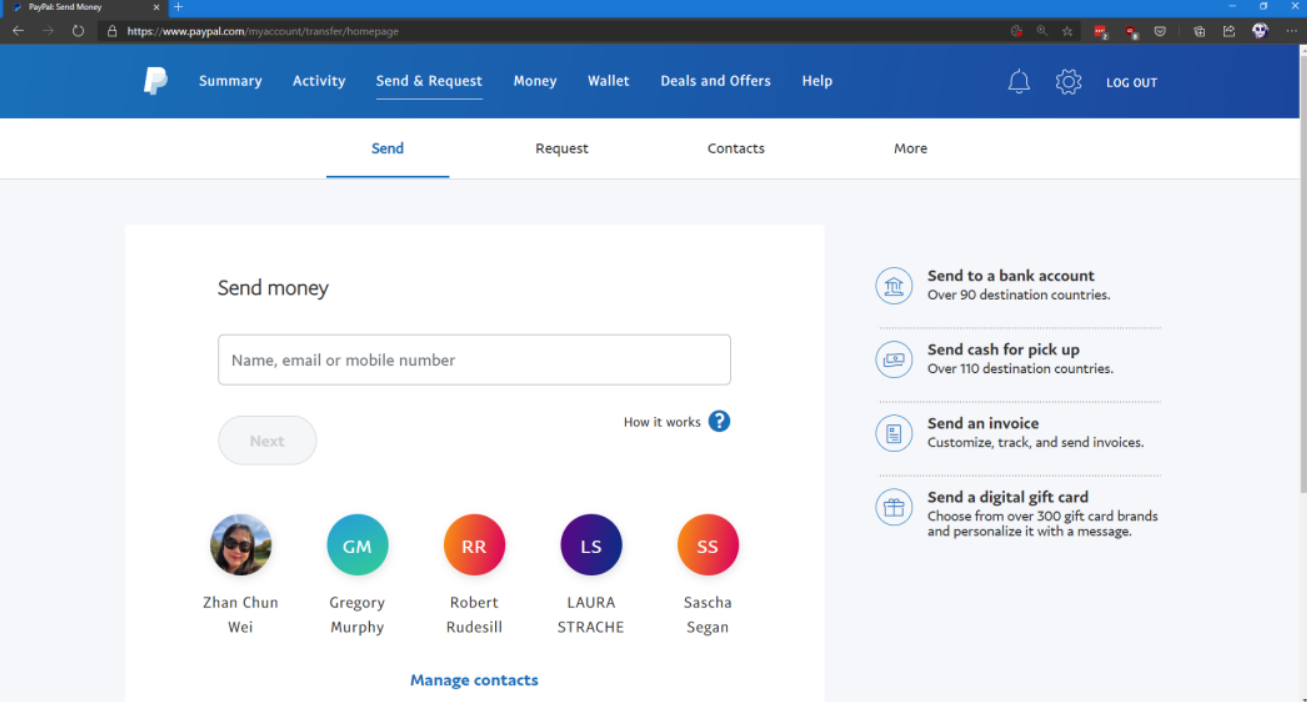 Cost: Melio vs PayPal
Melio has two service options called Melio Business and Melio Accountant. Both options have similar features, and they stay true to their word. Their service is entirely free with no monthly subscription fees.
The only fee applies when you make (or receive) payment using a credit card. This fee is minimal (only a 2.9% fee).
PayPal is free when you make a purchase or any other type of commercial transaction. If a currency conversion is involved (making payments overseas), a fee will be applied. No fees exist to create an account with PayPal, and no monthly or annual fees are applicable.
PayPal will notify you if a transaction incurs a fee. Here's a breakdown of the main fees charged by PayPal:
Receiving money from an

online

transaction incurs a conversion fee of 2.9% of the total amount, including an additional fixed fee of 30 cents (in the U.S.).

International transactions incur an additional fee of 1.5%.

Sending money to a person or business outside of the U.S. means you'll need to pay a fee of 5% (maximum fee of $4.99).
Did you know? Every second that goes by, PayPal processes more than $8,000 in payments.
Best Simple Invoicing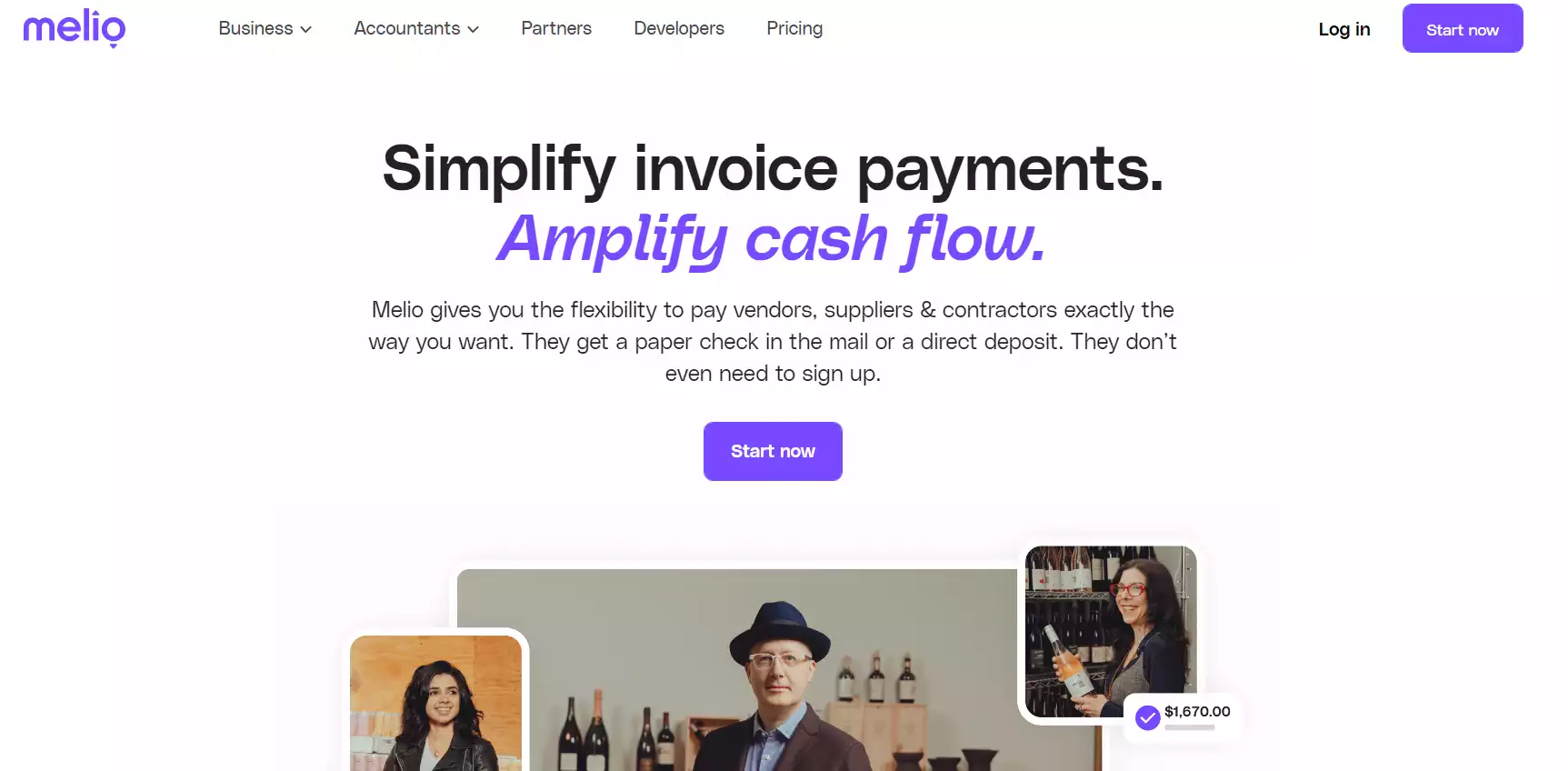 Why Go with Melio?
Melio is built for today, while most payment processors are technical, glitchy, and dated. I use Melio in my business for straightforward invoicing. No fees, no hassle.
Try it for Yourself
We earn a commission if you click this link and make a purchase at no additional cost to you.
Funds Availability and Processing: Melio vs. PayPal
Let's take a look at the funds availability and processing of Melio vs. PayPal:
Melio
Payments are done via a bank transfer (ACH) and take around 3 business days to reflect. If the transfer is over $100,000, you're looking at about 4 business days.

Payments delivered via paper check (in the mail) take around 5 to 7 business days to reflect.

Payments with a credit card via a bank transfer reflect the next day.

Payments with a credit card via paper check take around 5 to 7 days.

Payments with a credit card via American Express reflect in about 2 to 3 business days.
PayPal
PayPal works differently from Melio because you can access your funds as soon as you receive them in your PayPal account. You can then transfer the funds to your bank account (as long as it's connected to your PayPal account), send the funds to a family member, or purchase something.
This process can take 2 to 3 business days to reflect in your connected bank account. Requesting a transfer of funds adds a day to the waiting period. It's good to know that some banks allow an instant transfer to be set up. But this does come at an extra cost of 1% of the transferred amount (the cap is $10).
Invoicing and Billing: Melio vs. PayPal
Let's take a look at the invoicing and billing of Melio vs. PayPal:
Melio
Invoicing and billing through Melio is easy and pretty straightforward:
Sync with your accounting software (such as QuickBooks) to add your invoices, or manually add them (only takes a few clicks)

Send out your payment requests (you can customize and brand your payment requests). Attach your invoice and apply a built-in "pay" button.

Your customer can then hit the "pay" button.

Payment will come through with no fuss.
PayPal
Invoicing and receiving payments through PayPal is also easy. If I can give you any advice, make sure you select the right payment option, as there are different merchant fees.
Follow these simple steps to invoice and bill customers:
From your PayPal app or account, select the "Request" button.

Choose from the available options:
Enter the email or mobile number of the person paying you

Create a PayPal link (to share with the customer)

Split a bill

Create an invoice
The other person can send money by typing your email or mobile number in the "To" field.

You'll receive a payment notification via email on the PayPal app.

You can transfer the money to your bank account or leave it for other transactions.
Customer Support and Safety: Melio vs. PayPal
Let's take a look at the customer support and safety aspects of Melio vs. PayPal:
Melio
Melio provides live support for both plans (Melio Business and Melio Accountant). The Accountant Plan provides live accountants to support you with any questions or issues. Another handy way to contact Melio is to connect to their social media accounts, such as Facebook and Twitter.
Top tip: Refer to Melio's FAQ (frequently asked questions) page to find answers to common questions.
Melio prides itself on solid security measures. This web-based platform uses encryption and certified data centers with 24/7 monitoring to ensure their customers' information remains safe from hackers and fraud.
Melio uses TabaPay (a third-party credit card processor) for extra security. Trust and Evolve Bank also ensure that money and checks are delivered safely to your vendors. Each employee goes through a screening process and has to undergo security training.
PayPal
PayPal is known for its good customer service and platform safety. PayPal offers email, phone, chat support, and a help center you can contact (this isn't a 24-hour service). A community forum is also available where you can find answers and solutions to general issues. PayPal can also be contacted via social media such as Facebook, as with Melio.
Top tip: The longer you're with a provider (whether it's Melio or PayPal), the better the customer service you'll receive.
Regarding platform safety, PayPal has ensured its customers are safe from fraud and hackers. PayPal doesn't display any credit card or bank info on the platform.
Here is a list of protocols that PayPal has in place to ensure their customers feel confident and safe using their platform:
Transactions only require your username and password.

They provide Merchant Fraud Protection.

If there are issues or disputes on a transaction, they'll put a hold on the transaction until it's resolved.

Uses advanced encryption techniques to secure transactions.

24/7 monitoring of all transactions.
Top tip: Using payment platforms on public Wi-Fi is always risky. Using your Wi-Fi network at home is best to prevent fraud (although this is not very common). A credible VPN like NordVPN also helps protect your personal information.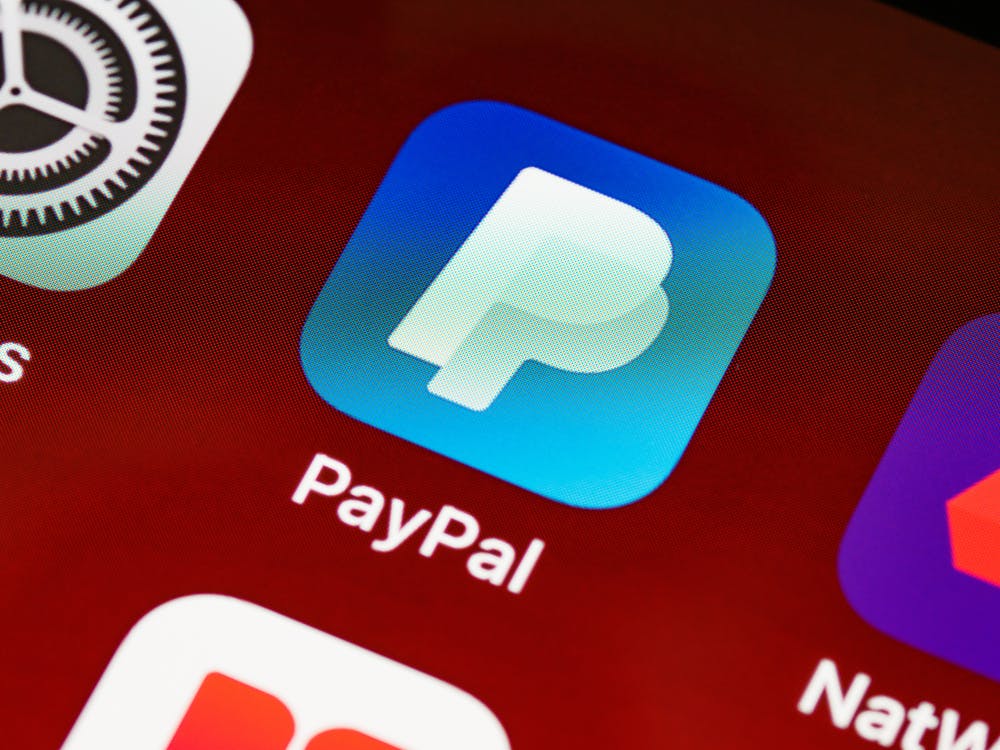 The Pros and Cons of Melio vs PayPal
After using both payment platforms, I put together some pros and cons to help you make an informed decision. Let's take a look at the pros and cons of Melio vs. PayPal:
Melio Pros
No sign-up fees or hidden subscription fees.

Access to live support via email, telephone, and social media.

There are no delivery fees for checks.

Syncs with QuickBooks.

No contracts are involved.

Unlimited management.

24/7 monitoring to prevent fraud and hackers.

Effective tool for paying invoices and receiving payments.

Payment processing is user-friendly.

Prepares and sends paper checks on your behalf (no need for printing and mailing on your side).

The web-based platform can be used on your mobile.

An easy option for customers to pay you (with debit card, credit card, and ACH bank payments).
Melio Cons
There's no vendor management.

It takes 5-7 business days for a check to be delivered.

There's no Chrome extension.

No built-in expense reporting.

You can't make payments to vendors outside of the U.S. through the platform (currently).

Melio can only integrate with QuickBooks at the moment.

If a check isn't deposited, it'll remain in the system until a Melio rep informs you.
PayPal Pros
The user-friendly interface and platform are great for beginners.

Once payment is received, you'll have access to the funds immediately.

Available in over 200 countries and supports around 25 currencies.

Diverse financing options.

There are strict security measures in place and 24/7 monitoring.

PayPal offers loans to small businesses.

Excellent merchant support features such as tax computations and record keeping.

Integrates seamlessly with most business software solutions.

"Buy now, pay later" feature.

Global payment options.

Uses multiple currencies (including crypto).

Mobile app is available.
PayPal Cons
Users have to be redirected to PayPal to complete payment. Payments can't be made directly on your website, which can seem dodgy to your customers.

Transferring funds to your connected bank account can take up to 4 working days.

A popular target for phishing scams (when fraudulent emails are sent to obtain personal information).

There are several customer service complaints. PayPal only scored

3.8 out of 5

.

A dispute can result in the freezing of your funds until the issue is resolved.

Customer support isn't available 24/7.

Several transaction fees can be confusing.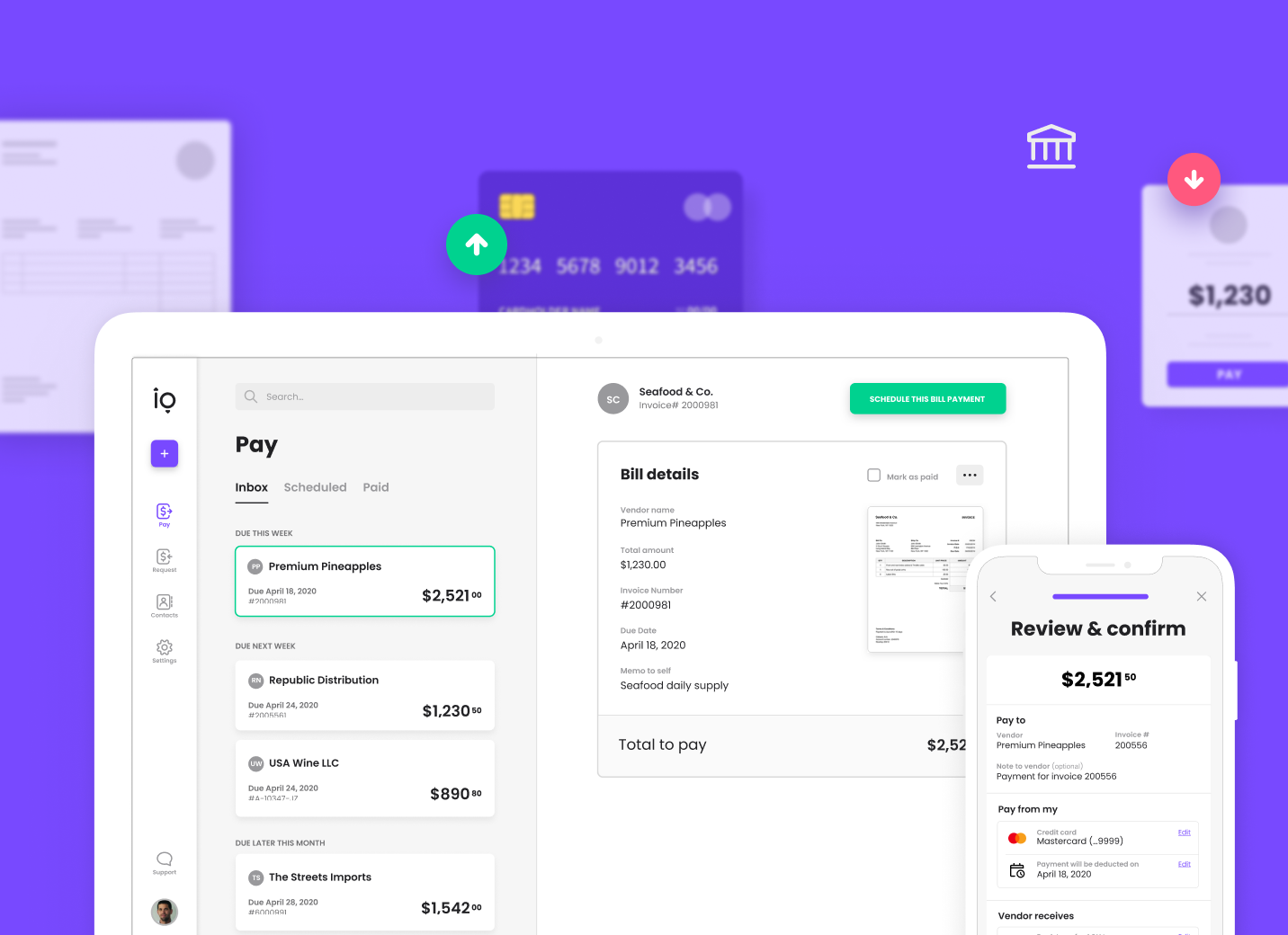 FAQs
Question: Who can use Melio?
Answer: Anyone can use Melio, whether you're a supplier, distributor, small business owner, or freelancer. Melio can be used to request and make payments domestically and internationally.
Question: What happens if a customer accepts a PayPal estimate?
Answer: Once a PayPal estimate is accepted, you'll receive an email notification. You can then convert the estimate into an invoice and send it for payment.
Question: Is PayPal safer than a bank transfer?
Answer: PayPal is safer than a bank transfer when sending payments. Unlike a bank transfer, Paypal doesn't require you to carry cash or share your financial information with them. For your protection, each transaction is encrypted and monitored 24/7.