Last Updated on June 1, 2023 by Ewen Finser
When it comes to online payments, choosing the best platform to send and receive money is an important decision – one that shouldn't be taken lightly, especially if the payment processor is being used for business purposes. The two payment processors I'm focusing on in this guide – 2checkout vs PayPal– are both reputable, secure, and easy to use, but there are also some key differences between them that you should be aware of.
So how do you know which one is best? That's where this guide comes in!
The bottom line: In my opinion, PayPal is the winner. Though 2checkout supports more currencies and provides more payment options, it's much less widely used than its competitor PayPal – and there's a reason for that.
The latter platform is easy to use, efficient, and it has the added bonus of being trusted by millions of people every day for a whole range of transactions, not just for business. There's also a basic free version which means you can essentially 'try before (or if) you buy.'
Not only that, but PayPal is also accessible almost anywhere – it has a variety of mobile apps – and its customer support is unparalleled.
Before you make a decision about which payment processor is best for you, let's cover what sets them both apart.
Or, if you want to do more general research about the different payment processors that are out there, take a look at our guide that explains how to find the best one for you.
Main Differences Between 2checkout vs PayPal
The main differences between Paypal vs 2checkout are:
2checkout does not offer a feature PayPal does, a unique 'bill me later' feature.

2checkout accepts 85 currencies in over 200 countries, whereas PayPal supports 25 currencies in over 200 countries.

2checkout does not offer an electronic signature, whereas PayPal offers that.

2checkout is only web-based, whereas PayPal has iPhone and Android apps

2checkout is primarily phone and online FAQ-based, whereas PayPal offers a variety of customer support options, including video tutorials

2checkout's services are strictly business-oriented, whereas PayPal offers services to both businesses and individuals

2checkout does not have a free plan, whereas PayPal offers a free basic service.

2checkout offers over 45 payment methods, whereas PayPal offers six payment methods.

2checkout is strictly online, whereas PayPal is able to facilitate in-person card transactions.
Though PayPal and 2checkout offer the same service on the surface – they both facilitate financial transactions – they are quite different in that 2checkout is focused on building and growing businesses. In contrast, PayPal is much more focused on becoming the general market leader for all types of online transactions.
The latter is already widely integrated with many online retailers and is recognized by many as the most trusted payment processor.
2checkout vs
PayPal
– the Similarities
Naturally, both platforms are similar in a number of important ways:
They both facilitate currency conversion transactions from a wide range of countries and in numerous currencies (for international payment reasons).

They are both easy to navigate

They are both very secure
Now we'll look at them in more detail.
What is 2checkout?
2Checkout is a monetization platform that helps businesses to grow internationally and optimize recurring revenue streams. Essentially, it allows merchants to accept payments from customers both at home and abroad.
This platform offers two flexible business models, the first being a payment service provider model and the second being a merchant of record model. In line with this, 2checkout has three different service plans.
What is PayPal?
PayPal is an American multinational payment solution company offering payment technology that allows people to buy, sell, and send money safely online. It provides an electronic alternative to other traditional methods like money orders and checks.
Thanks to its handy mobile app, PayPal allows users to receive instant spend notifications. It also offers PayPal Credit, a virtual credit card (for credit card payment) that allows you to defer payments but can only be used on websites that accept PayPal.
2checkout – the Main Features
Now let's look at 2checkout in a bit more detail.
UX/Dashboard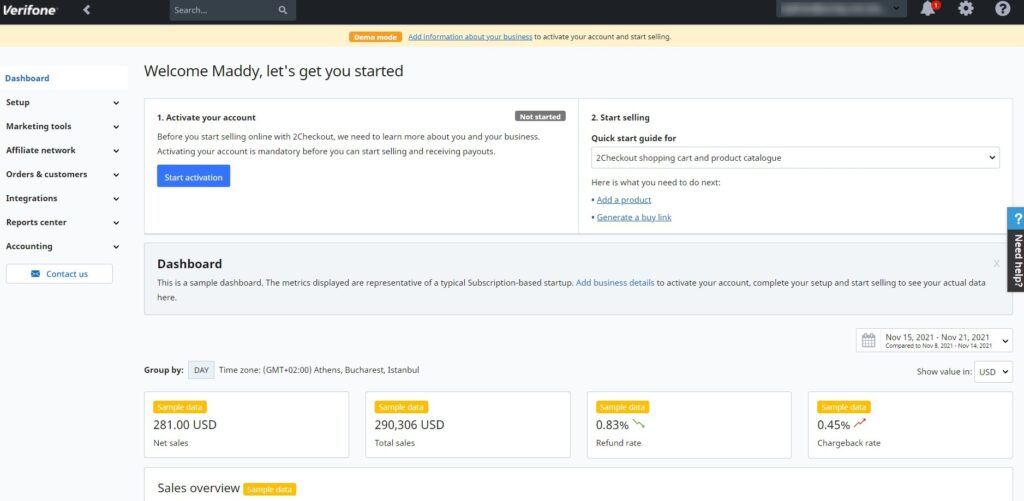 In my opinion, 2checkout's dashboard is much less user-friendly than PayPal's – it's clearly been designed with functionality for businesses in mind rather than a wide range of users. While it doesn't offer a free trial, you don't start paying until you make or participate in financial transactions, which is certainly an added bonus.
Setting up a 2checkout is a little more complicated than PayPal because it immediately requires the name of your business, and you won't see an accurate dashboard until you provide more detailed information. While 2checkout's overall user experience is a little more cluttered than that of its rival, it is still easy to find what you're looking for by using the navigation bar to the left of the dashboard.
Payment Processor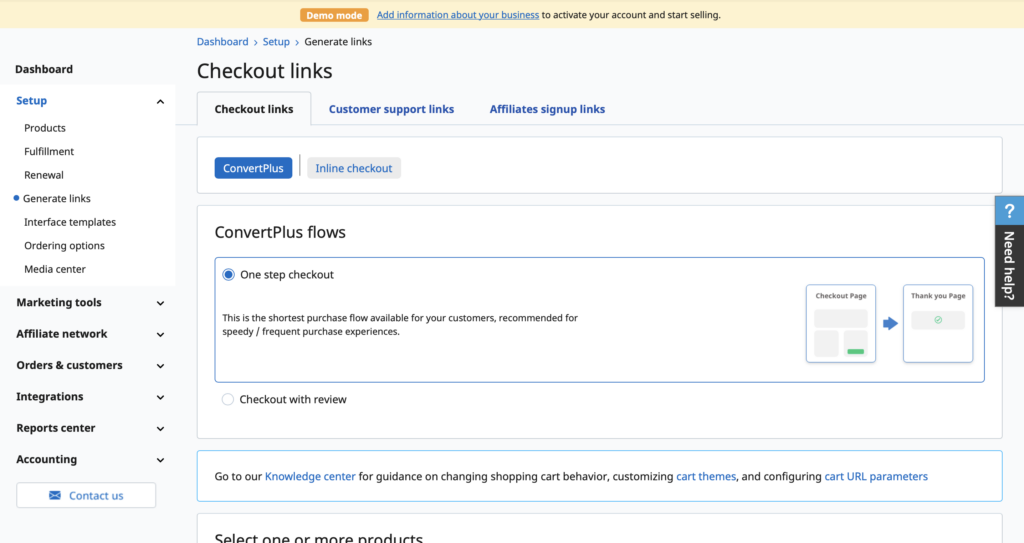 In order to facilitate payments through 2checkout, you first need to set up a checkout link or add a product. If you do the latter, you can choose the price, tax category, product code, name, and many other details. Payments can be accepted globally without any of the usual processing headaches. You can even checkout using PayPal. Plus, there's 24/7 shopper support for orders and payment, giving you peace of mind.
Essentially, 2checkout sells goods on your behalf, taking care of global payment processing, invoicing, tax management, local entities, compliance, and more.
Billing and Accounting
With 2checkout, you pay a certain fee per transaction depending on which account level you opt for 2subscribe, 2sell, or 2monetize. The cheapest option, 2sell, charges 3.5% and 0.3 EUR per successful sale. Payouts can be handled through a few different methods, such as wire transfer, ACH, PayPal, or Payoneer.
In the accounting section of the user dashboard, you can keep track of your payments history, account status, last payments, and finance activity.
Security
It's reassuring to know that 2checkout boasts a multi-tier defense strategy to identify fraudulent activity. Like PayPal, 2checkout utilizes some manual reviews, but it also has an algorithm to ensure all fraud detection mechanisms are working at their best.
2checkout is extremely safety compliant, with BBB accreditation, PCI DSS, GDPR, and SSAE 18.
In-Person Payments
Unfortunately, 2checkout does not offer the option for in-person payments, but it does accept a wide range of express checkout payment methods that are available in hundreds of countries around the world.
Analytics/Reporting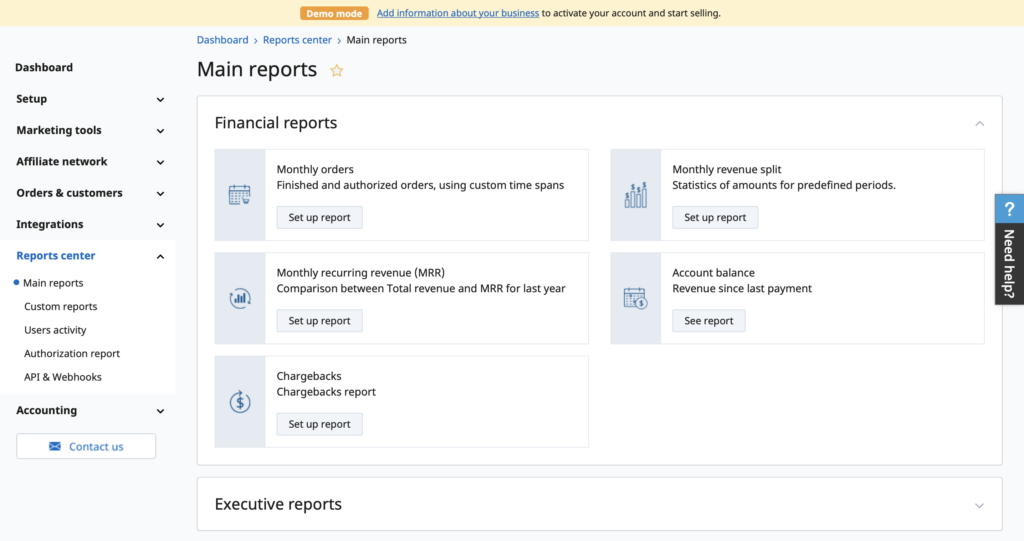 2checkout has a comprehensive reports section that gives you access to financial, executive, marketing, and subscription reports. This is extremely useful for business purposes, particularly thanks to 2checkout's marketing focus. But, unfortunately, it isn't as easy to keep track of your business on the go because the platform is available online only.
2checkout has a comprehensive reports section that gives you access to financial, executive, marketing, and subscription reports.
Mobile App
As I mentioned earlier, 2checkout doesn't offer a mobile app, which is one of its biggest downfalls. However, it can be integrated into other apps to be used by customers who are making Mobile payments.
Integrations
2checkout can be integrated with over 120 shopping carts, which is a pretty impressive figure. These include, but are not limited to:
AliDropship

Aliphia

aMember

Arastta

BillManager

Bookly
PayPal – the Main Features
Let's take a closer look at PayPal.
UX/Dashboard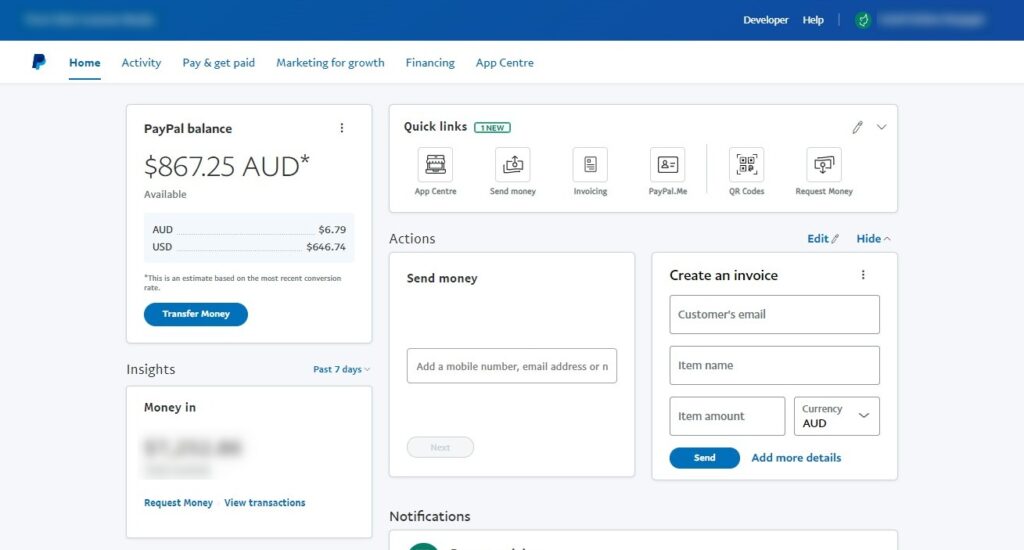 PayPal's user interface is designed to be incredibly easy to navigate. It doesn't take very long to sign up – though you'll need to verify your email address and your phone number before you can get started for security purposes – and it doesn't take long to add all the necessary details to start transacting via your account.
There's a guide to getting started with PayPal that's simple to follow, and the 'help' section of the website is crammed full of helpful information. In addition, there's a resolution center, an ask the community section, and a message center all in one place.
Payment Processor
Again, PayPal's payment processor is designed to be as simple as possible.
One of the best things about it is that it is able to eliminate the need to enter bank transfer details every time you make a transaction; you can simply use other users' PayPal email addresses to send and request money. This saves time by avoiding the use of a debit card to make a card payment.
There are multiple options, too, including:
Send to a bank account

Send cash for pick-up

Send an invoice

Send a digital gift card

Send and receive donations
There are multiple payment methods, such as PayPal balance, bank account, PayPal Credit, credit or debit cards, and rewards balance. While 2checkout offers considerably more than this, the options provided by PayPal are the most commonly used, so this shouldn't be an issue for most users.
PayPal is also available in over 200 countries and 25 currencies. One particularly good feature is the ability to choose whether to use your PayPal wallet to pay for items. You can add multiple cards, and it's easy to see your recent transactions.
Billing and Accounting/Subscriptions
PayPal allows users to easily send and receive invoices, helping small businesses to run more smoothly by spending considerably less time on monthly invoicing.
For larger businesses who pay for the premium version of PayPal, a Subscription Service is available, facilitating different plans and fee structures. In addition, customers can easily manage their subscriptions within the PayPal app.
Not only can you access reports on subscription activity to gain valuable business insights, but you can also offer free or discounted trial periods. As with all other aspects of the PayPal service, this is a quick and easy process.
Security
PayPal is one of the safest payment processors out there, offering both Buyer and Seller Protection. The former ensures that if your purchase doesn't arrive or isn't what you expected, you will be reimbursed. Every transaction is monitored and encrypted to protect users from fraud.
Seller Protection includes protected sales, proof of delivery, and resolution support.
In-Person Payments
Paypal Here is a service that allows business account holders to accept payments (or recurring payments) on a smartphone or tablet. It's a simple process – simply sign up, download the app and order your Chip and Pin card reader.
Analytics/Reporting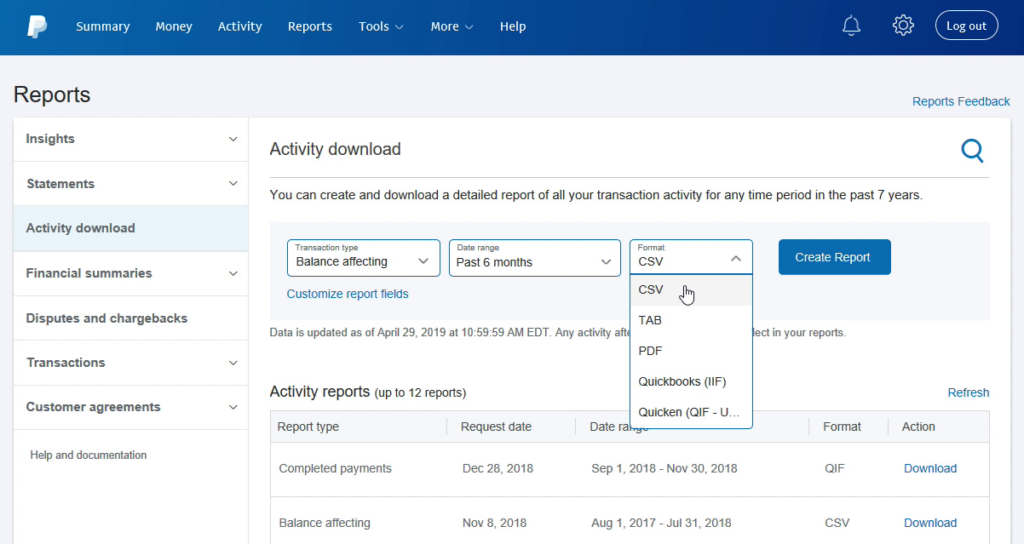 PayPal reports allow easy access to all transaction history and can be downloaded in a number of different formats, including CSV, PDF, TAB, and many others. They are all kept in one place where it's possible to access insights, past statements, disputes, and agreements.
Mobile App
PayPal's easy-to-use app is available on both iOS and Android. It allows you to send and receive money instantly no matter where you are while keeping an eye on all recent activities.
Integrations
Fortunately, PayPal can be integrated into pretty much any eCommerce website in a few simple steps. In fact, it's the most widely integrated payment processor out there, which shows just how easy this process is.
You can integrate by adding a PayPal HTML button, or you can choose to integrate the platform in a custom way.
2checkout vs
PayPal
– Support
Next, let's see how they compare in terms of the support they offer users.
2checkout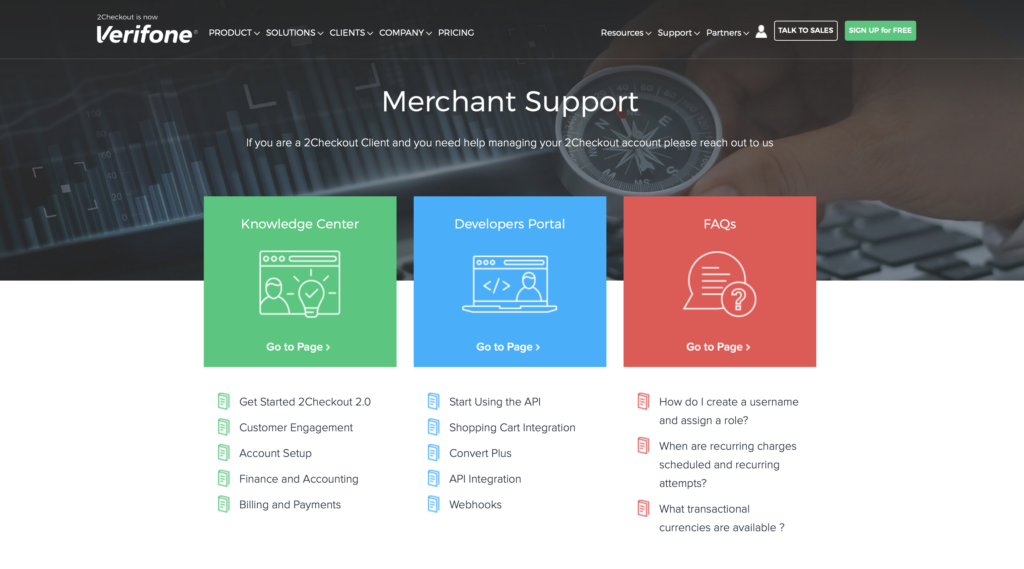 Likewise, 2checkout offers a support system for both merchants and shoppers, including a knowledge center, developers portal, and FAQs. So the two platforms are very similar in this way, though 2checkout's support is slightly less comprehensive, and their reputation for customer service is not quite as good as that of PayPal.
Unfortunately, if you need further support, you have to submit a support ticket online, and someone from customer service will get back to you. This is a less rapid process than that of PayPal.
PayPal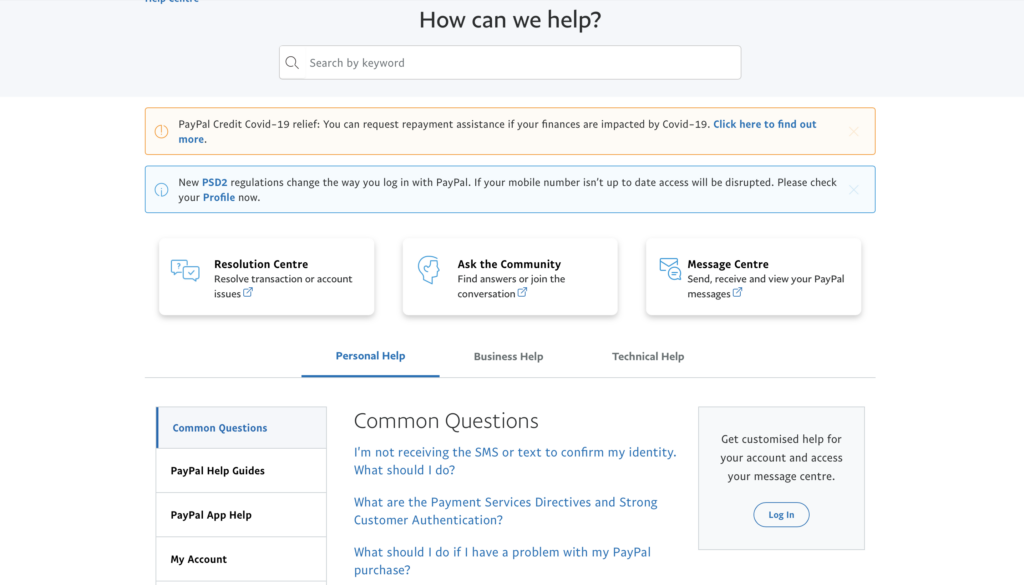 PayPal's help center is extensive, offering a variety of ways for users to find solutions to problems and answers to common questions. Chances are, if there's something you don't know, you can find the information here. There's also a handy search functionality.
Most people who use PayPal report that the customer service is excellent, with experts on hand who are quick to respond. If you can't find what you're looking for, you can call the company between 8 am-6.30 pm Monday to Sunday.
2checkout vs PayPal – Pricing
One of the most important things to consider is how the two payment processors compare when it comes to pricing.
2checkout
2checkout operates a different pricing strategy to PayPal because vendors choose a subscription that suits them.
The cheapest is called 2sell, which charges 3.5% + $0.35 per successful sale.

The most popular option is 2subscribe, which charges 4.5% + $0.45 per successful sale.

Finally, there is 2monetize, which charges 6% + $0.60 per successful sale.
PayPal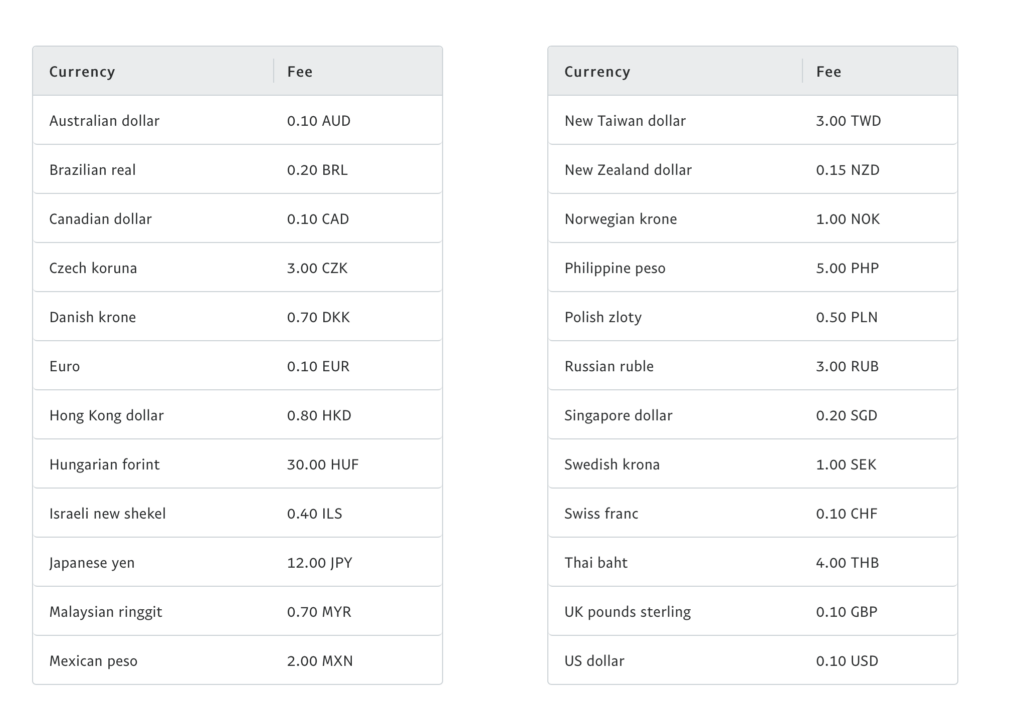 PayPal offers some of the most competitive rates out there. For example, for card payments, you pay 1.20% plus a fixed fee that varies between currencies.
For consumers who buy using PayPal, there is no fee.
PayPal vs 2checkout – Pros and Cons
Below, you can find a brief summary of the best and worst parts of each payment processor.
2checkout
Pros
Subscription plans

Available in many countries and currencies

Robust integration

Multi-tier defense strategy
2checkout
Cons
No in-person transactions

User interface less easy to use

No free transactions

No mobile app
PayPal
Pros
Processing fee rates are cheaper

Excellent customer support

Easy to use

Android and iOS apps

In-person transactions

Safely encrypted
PayPal Cons
Freezes accounts without warning

Targeted by phishing and scams

Big fees for chargebacks
FAQs
Question: Are there any Alternatives to PayPal and 2checkout I Could Try?
Answer: There are many different payment processors out there, all of which have different pros and cons! The best way to find one that works for you is to try them out.
• Stripe – This is a great platform offering payment infrastructure to many different sizes of businesses. Find out more in our Stripe vs. PayPal comparison.
• WePay – Ideal for large businesses, WeBuy is great for crowdfunding platforms, helping companies increase revenue and integrate seamlessly. More information is available in our WePay vs. Stripe comparison.
• Recurly – This platform allows users to easily manage subscriptions. To find out more, read our Recurly vs. Stripe comparison.
Question: How can I Cancel my PayPal or 2checkout Accounts?
Answer: To delete 2checkout, simply send the customer service team an email from the address registered to your account, and they will help you to close it. Closing your PayPal account is much easier. Simply navigate to "settings," then "account options," and "close account."
Question: Can you Checkout with PayPal on 2checkout, or Vice Versa?
Answer: 2checkout does allow the use of PayPal on its platform, but you can't use 2checkout on PayPal.
Question: Which is the Bigger Company, PayPal or 2checkout?
Answer: There's no doubt that PayPal is a bigger company and is far better known than 2checkout. The former has over 20 million active merchant accounts, whereas 2checkout's customer base is somewhere around 20,000.
To Sum Up – Which is Better, PayPal or 2checkout?
There are undoubtedly benefits to both PayPal and 2checkout as individual services. However, if I had to choose one, I'd go for PayPal. It has an accessible user interface whether you use it online or via a mobile app, and it also boasts much cheaper rates.
Your business is important, which is why you want it to be in safe hands – with PayPal, you can rest assured that the platform is not only ultra-secure (it's trusted by millions of businesses across the globe), but also that the customer service available to you is unparalleled.
That being said, 2checkout does function in more countries across the globe and in more currencies, as well as offering a bigger range of payment options, so it really depends on the extent of your business operations.
If you've ever used PayPal or 2checkout, let us know about your experiences with them in the comments!
Looking for more helpful tools that can help you grow your business? Take a look at the guides below.