Last Updated on April 22, 2023 by Ewen Finser
If you're selling online, you might be wondering what the best BigCommerce inventory management software is. (If you're not at this stage yet, check out our guide on the Best eCommerce Platforms – we've covered this in detail, and you can come back to find out more about inventory management later.)
Inventory management software is really useful, but there are a lot of factors involved in choosing which one you like the best (particularly as some of them are pricey to use).
So, which one do we think you should go for? We'll show you our top 5 today. Whether you're a small start-up business or a large company, you should be able to find something to suit you.
We'll tell you right off the bat that we think SKULabs is a pretty safe bet for any sized business, but they all have their own strengths. Keep reading to find out more!
We'll be looking at:
Why you need inventory management software in the first place
What features you should be looking for
Our top 5 inventory management software for BigCommerce, including their features and what sized business they suit the best
Some frequently asked questions
Which one we like the best and why
Let's start by looking at how BigCommerce inventory management software can benefit you.
Why Do You Need BigCommerce Inventory Management Software?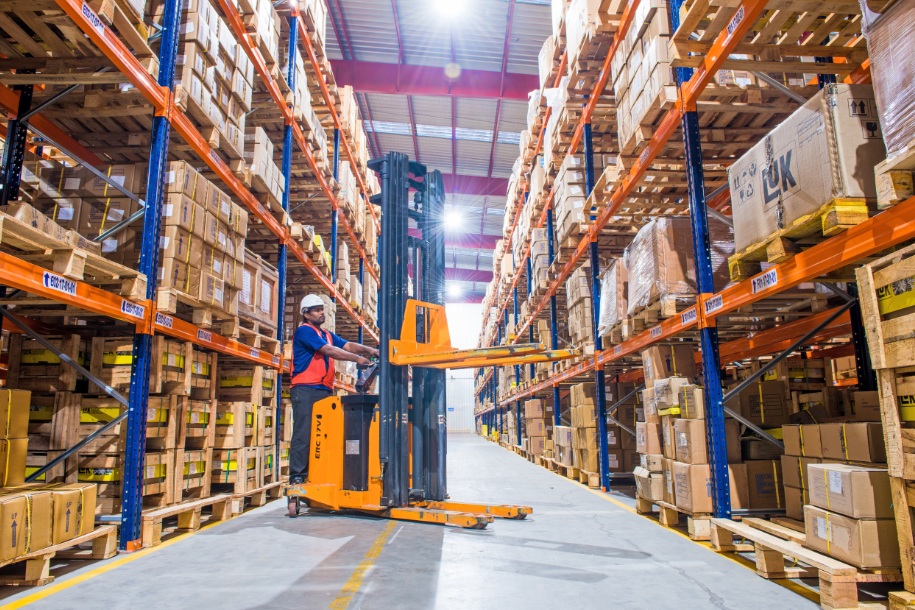 There's a lot to think about if you run an eCommerce store: finding the best social media tools, figuring out which are the best accounting tools to go for, sourcing new products, figuring out your marketing strategy, finding the best email marketing software … it goes on and on. Basically, any tools you can find to help manage tasks can help you to keep on top of things.
If you're only selling a few products, you might find it easy enough to manage your inventory by yourself. However, if you start to grow or you want to introduce new products, you might find you quickly become overwhelmed by trying to keep track of everything.
A good inventory management system takes the stress out of managing your stock. If you're selling across multiple channels – for example, your own BigCommerce store, plus eBay, Amazon, Etsy, and so on – you'll find that managing stock levels across each become quite stressful. What if you accidentally sell more products (on your product page) than you have in stock? The apps we're looking at today take the 'human error' element out of this whole process.
Plus, you may have stock in multiple warehouses for order management. This can be problematic to keep track of, but a centralized system will help you to manage this more easily.
Finally, there's shipping and fulfillment to consider. A good inventory management system (order management) will include some sort of shipping and fulfillment assistance, too. For example, you can batch-perform tasks, like printing shipping labels. If you're a small business with just a few staff members, having time-saving shortcuts like this can really help out.
You can also easily track down orders or individual products, even if they're scattered in various places. If you ever have a product recall for some reason, this is really going to make a difference in terms of how easy it is to handle.
Those are the reasons why we think it's so vital to have good inventory management software for your BigCommerce store – now let's look at the main features you should be looking for in more detail.
The Main Features to Consider
Here are a few things to look out for when you're looking for an inventory management system for the BigCommerce app:
Stock Management
You may not have a need for this, but if you do have multiple stock locations, look for inventory management software that will allow you to keep track of all of your stock and where it is kept.
There are multiple reasons why this is a helpful thing to have. Firstly, it just makes things easier in terms of offering the correct amount of stock to your customers. Secondly, it allows you to keep track of where your products are. If you need to find a certain item for whatever reason, you'll be able to figure out where it is quickly.
But where it can really help is in terms of offering faster shipping for your customer. If you've got stock in warehouses kept far apart, some inventory management systems will automatically pick the warehouse closest to your customer. This allows the item to get there more quickly and could also save you on shipping costs. Not all services offer this, so it's worth looking at this in more detail.
Some services also work for dropshipping too (if you're interested in finding out more about dropshipping, our guide to the Best Dropshipping Courses is a good resource).
Cross-Platform Selling Integration
As we mentioned earlier, selling on multiple platforms is so much easier with inventory management software. It prevents you from accidentally selling a product that you've already sold out of on another platform. It also helps you to perform tasks more quickly.
Some inventory management systems allow you to update your product descriptions, pricing, and upsells from just one dashboard integration. This will save you so much time logging in and out of eBay, Amazon, and other selling platforms just to perform the same tasks all over again.
Not all platforms offer this, so it's worth checking beforehand to make sure your chosen service integrates with the places you're selling on.
Shipping and Fulfilment (Order Management)
Inventory management software can make shipping easier for your online store.
Some inventory management systems offer discounts, thanks to partnerships with third-party shipping companies. This means you could stand to save a good bit of money. Different services have different discounts, so it's worth shopping around to see which deals suit you best.
You can also expect to be able to batch-perform shipping and fulfillment tasks. This could include mass-printing shipping labels or packing slips, marking a purchase order as dispatched, and so on. If you're a smaller team dealing with large volumes of orders, this is going to be particularly useful, as these small repetitive tasks can add up to a lot of time.
BigCommerce Merchant Reporting
Inventory management software should provide you with better reporting. This is because they allow you access to information from all your sales channels in one place. So if you're selling on multiple channels, you can view sales information without having to log into each one separately.
Having a system that syncs all your selling channel networks (marketplace) at once also makes it easier to access up-to-date information (e.g. accurate inventory levels).
Some services are better than others in this respect, with some offering insights into your best-selling products and seasonal trends. This will allow you to make smarter choices when it comes to restocking or introducing new products to your customers.
If you want even more detailed analytics, check out our guide on finding the Best Analytics Suite for possible integration.
Customer Service
Finally, you need to consider the customer service provided by your chosen service. If something does go wrong, being able to easily contact someone is going to be crucial. This is why we've made sure to look at the customer service reputation for each service we'll be showing you today.
Best BigCommerce Inventory Management Software – Our Top 5
In no particular order, here are 5 of our favorites:
Brightpearl – Best for Big Businesses and Wholesalers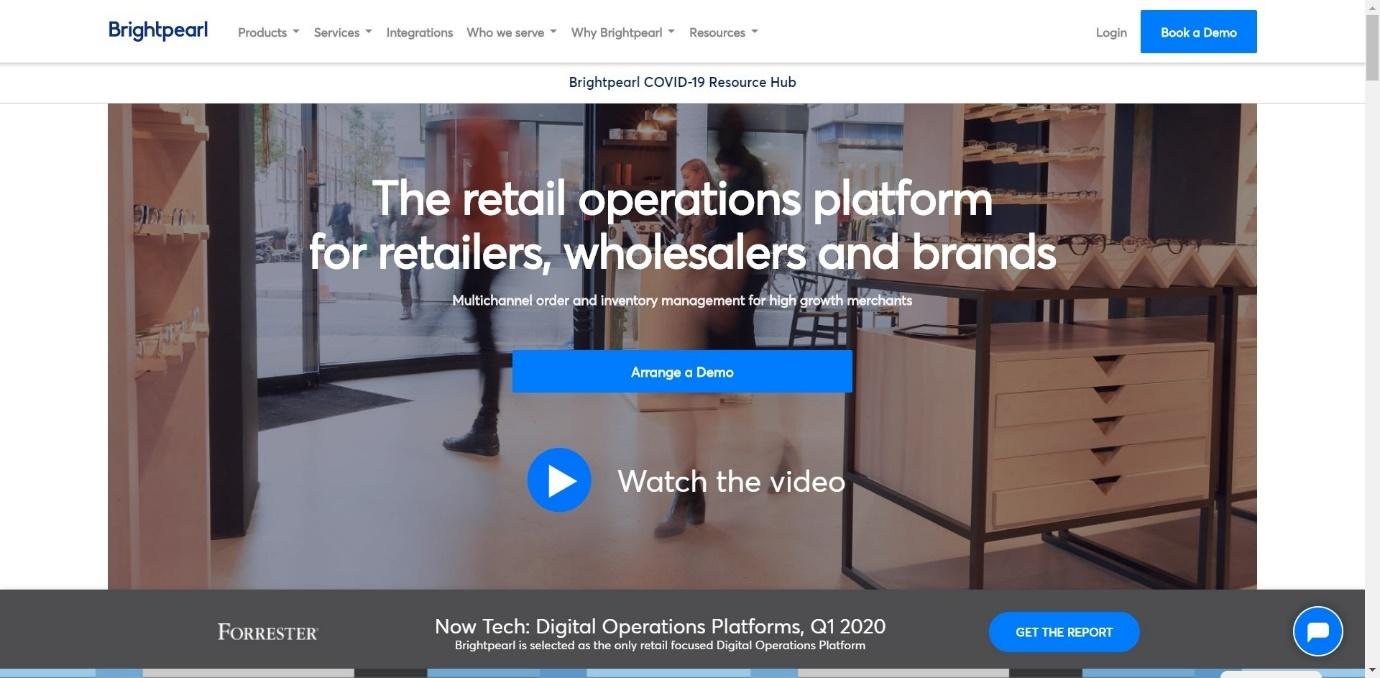 Brightpearl is a retail operations platform aimed at retailers trading at $1m or above (or retailers who are expecting to in the near future). It is built to handle a high volume of orders and can deal with wholesale orders, too. You can easily manage multiple warehouse inventories with Brightpearl. This makes it easier if you're a larger business and you have inventory scattered in different places. Again, automation makes this process much simpler.
You can also manage multiple marketplaces. If you sell online and on Amazon, for example, each channel can be connected to Brightpearl, and they will all sync up automatically. This means there won't be any awkward issues with stock running out.
It has an advanced fulfilment module, which gives you some flexibility. So, if you want to ship an order via a third-party logistics service, with regular postal service, or drop shipping, it can handle all of them easily. Automations take care of each order for you, meaning you won't have to worry about it once you've set it up.
The last key strength we want to talk about is the system for reporting. Every time you make a sale, receive stock, or make a payment, Brightpearl creates journals automatically. This allows you to access real-time reporting with in-depth, accurate data whenever you want.
It has a very good reputation when it comes to customer service, with their reps being friendly, approachable, and very helpful. They're really helpful when it comes to onboarding too, which is great.
Ultimately, Brightpearl is a great option for larger businesses – it will automate a lot of the processes that might have otherwise cost you time and money to deal with. Brightpearl offers tailored price packages depending on the needs of your company. You can find out more about their free demo here.
Pulse Commerce – Good for Quick Order Fulfilment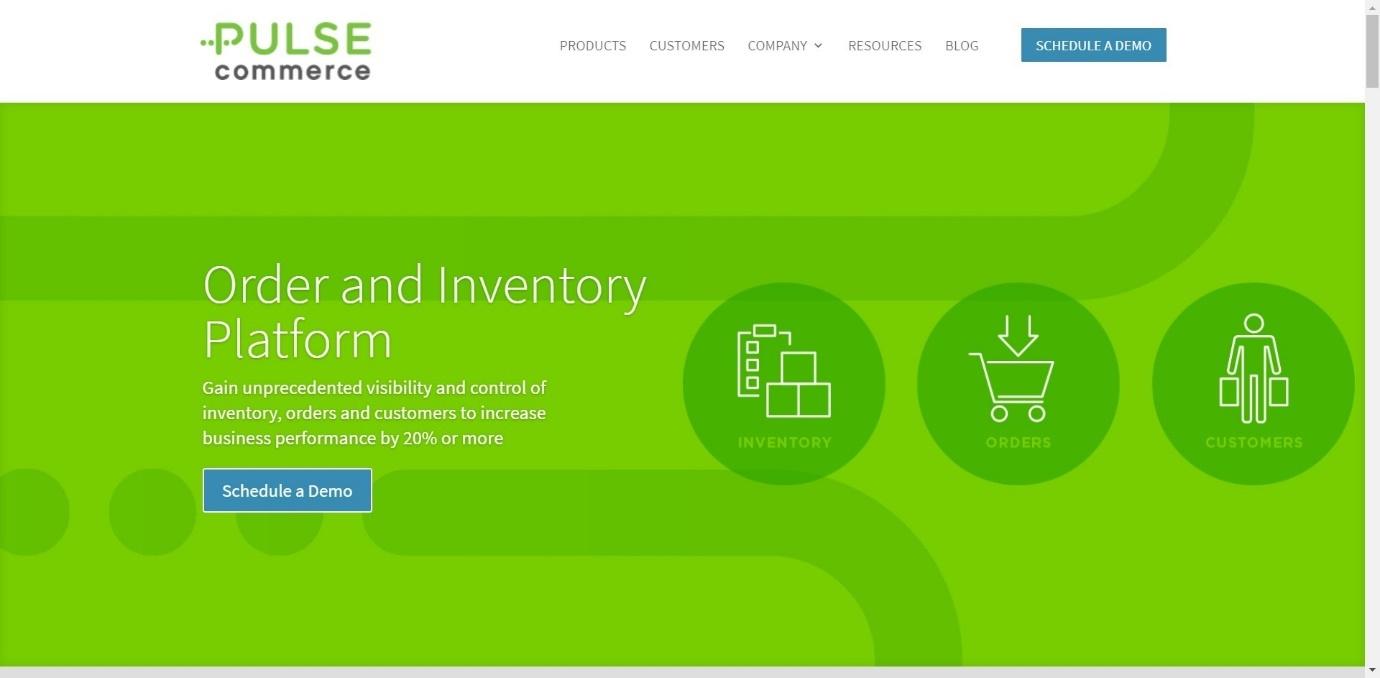 Pulse Commerce handles multi-channel retail with ease, providing a consistent service across all channels. It allows you to keep track of your inventory levels no matter how many channels you sell on, syncing stock numbers across the platform.
Intelligent automation means that, if you have more than one warehouse holding your stock (warehouse management), Pulse Commerce will optimize fulfilment based on location, margin, or fulfilment time (depending on your preference). So, once your customer places an order, their product will be shipped from the nearest warehouse to them, saving time and money on shipping costs.
Pulse Commerce advertises faster turnaround times, thanks to their automated fulfilment process. They offer fraud detection and secure payment processing when capturing sales, too. (You can find out more about this in our guide to the best payment processors.)
They also have on-demand reporting, across all sales channels. At any point, you can view up-to-date sales records, which is great. Pulse Commerce has good reviews when it comes to customer service. Their customer service reps are helpful and friendly, and they respond to queries quickly.
Essentially, it's a good inventory management system with a focus on speed and intelligent fulfilment processes – great for any-sized ecommerce business wanting to speed up certain processes. To find out about their pricing, you'll need to contact Pulse Commerce about their free demo.
Ecomdash – Good for Smaller Retailers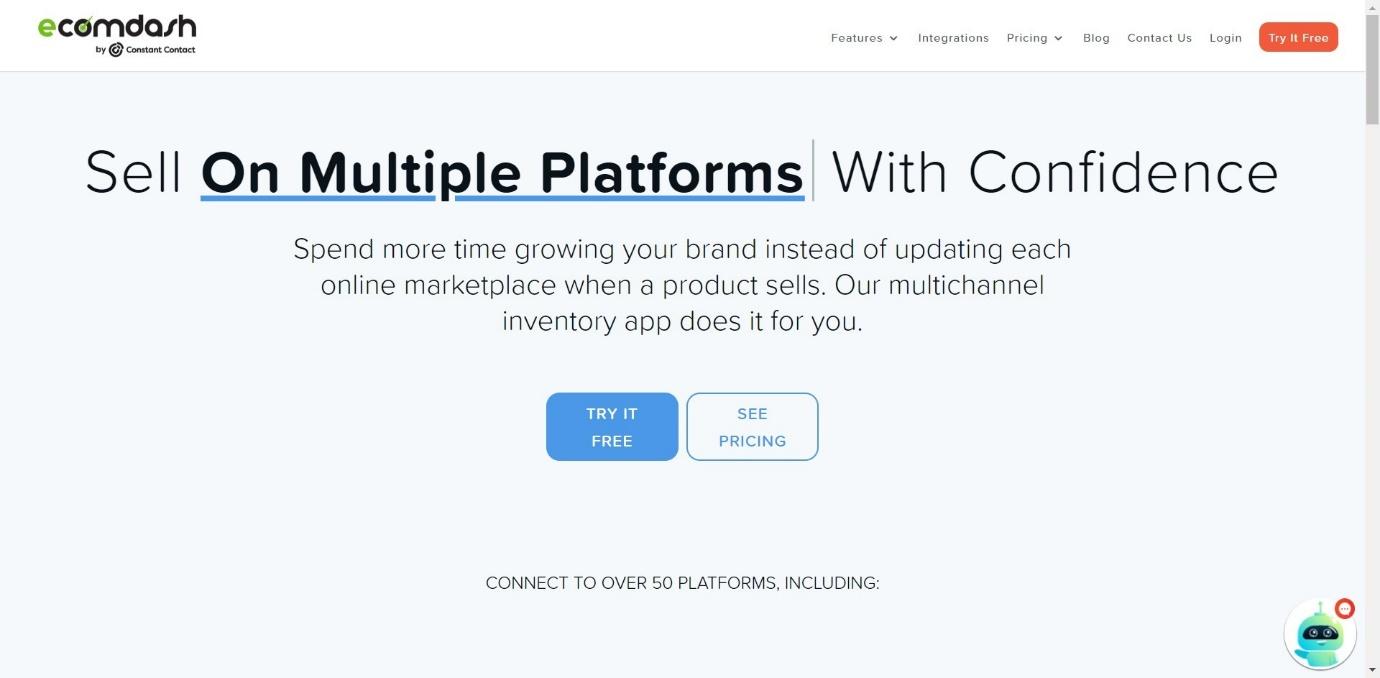 Ecomdash makes it easier to manage inventory across multiple sales channels. Product quantities are updated in real-time, so again, you won't have to worry about managing this yourself. You can keep track of manufactured items, variations, serialized inventory, and bundled items. This is all dealt with automatically.
The dashboard makes it really simple to see all of your sales channels in one go. You can also go to the dashboard to print pick lists, packing slips, and shipping labels all within one system, saving you time logging into each sales platform. It supports third-party fulfilment services and dropshipping, too. Customers will be automatically updated with their order status and tracking details. You can also gain access to discounted shipping from Endicia, Pitney Bowes, and Stamps.com.
You can perform actions in bulk (for example, mass-printing shipping labels or marking orders as shipped). This saves time, which is really useful if you're a smaller business with only a few staff members to keep on top of orders.
There are more time-saving features – you can make changes to your product titles, prices, or descriptions across all platforms, meaning you won't have to log into each sales channel to manually update them.
Ecomdash has good reviews in terms of customer service. If you need to contact them, they respond quickly. There's a lot here to make the life of a smaller retailer much easier. We think it's well worth checking out if you want to save time.
Prices start at $60 per month for retailers taking under 100 orders per month. You can find out more about their free 15-day trial here.
Linnworks – Best for Detailed Reporting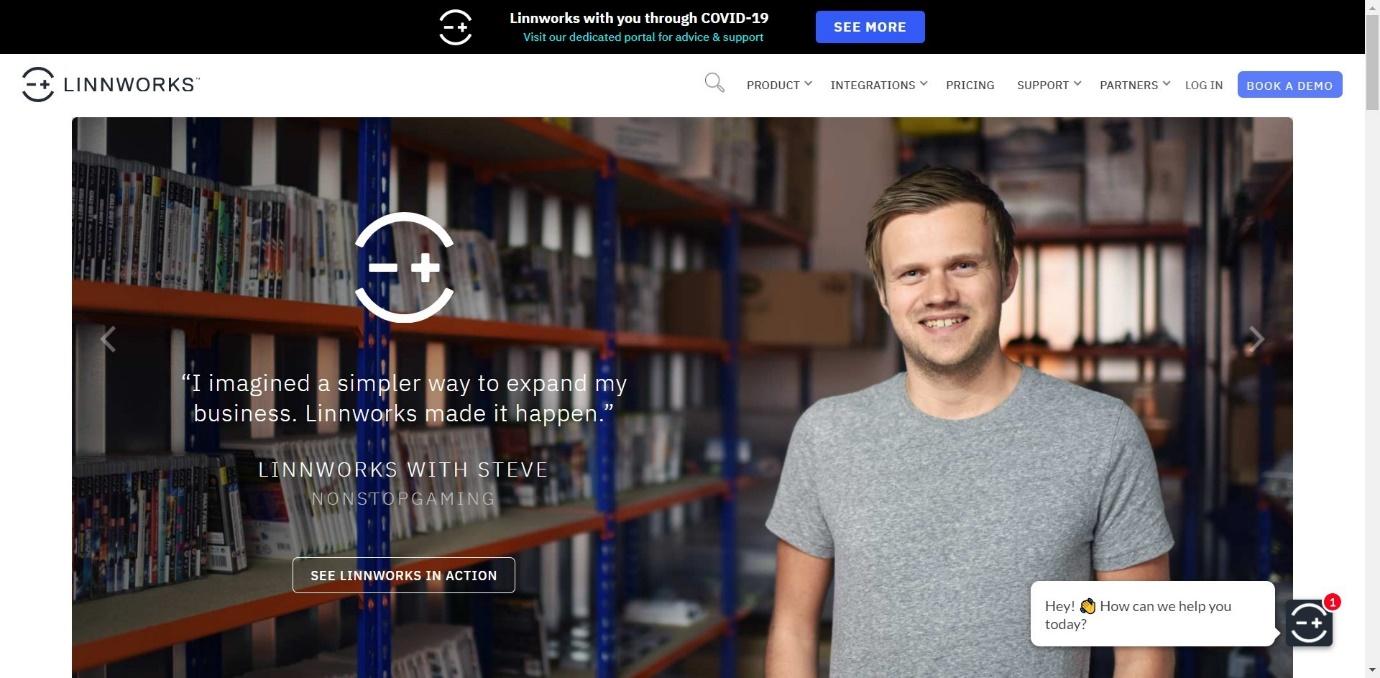 Linnworks helps you to manage multi-channel retailing with ease. Stock levels are automatically adjusted each time you make a sale, reducing your chances of overselling by mistake. You can create listings, manage orders, print invoices and generate shipping labels in bulk using their dashboard, vastly simplifying the process of selling in multiple places.
A key strength of Linnworks is the actual management of your inventory. They have a really clear system for displaying information. This means that no matter how many locations you have or how many thousands of products you have in stock, you should be able to trace where each item is quickly and easily. This is really helpful in the case of recalls (or if you just need to track down one particular item).
You can take advantage of Linnworks' partnership with various shipping services, or you can use DPD, FedEx, or Royal Mail.
Another strength is in the reporting. You can use historical sales data to identify buying patterns and seasonal trends, meaning you can anticipate stock levels and make more informed decisions. You can easily identify your best-selling products, allowing you to make strategic choices when it comes to introducing new products or restocking old ones.
You can quickly see the amount of stock you have, the value of that stock, and the amount you have sold in a certain timeframe. Having this information clearly displayed can definitely help you to be more thoughtful in the steps you take to grow your business.
What lets Linnworks down slightly is the customer service. They're not as fast to respond as the others on this list, but they're friendly and polite when they do respond. We'd recommend this for any-sized business pursuing growth, as it makes it easier to make wise decisions. Linnworks' pricing starts at $150 per month per user. You can find out more about their free demo here.
SKULabs – Good All-Rounder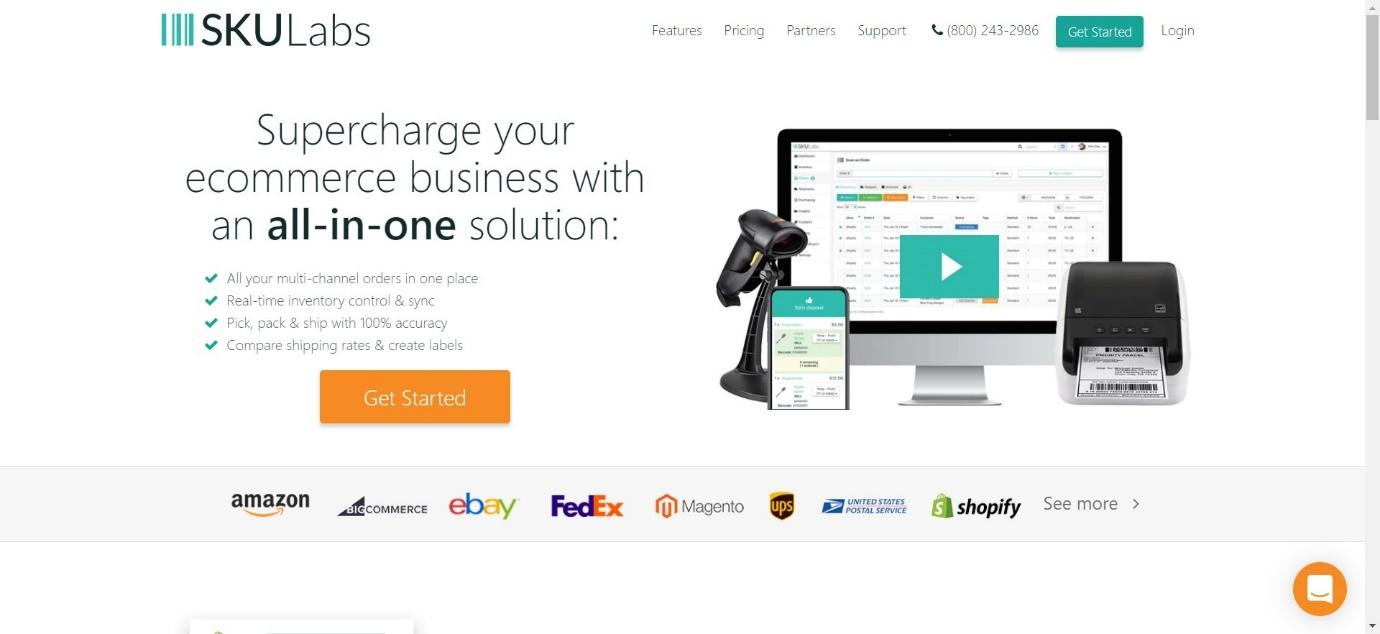 SKULabs is, again, a great choice if you want to sell across multiple platforms. You can search or scan an item to see how many units you have in stock and how many you've sold. You can also set up low-stock alerts, and your stock will automatically update across each platform you use.
You can easily see how your stock is divided between warehouses, too. They also have a handy barcode scanning feature, allowing you to track returns and location transfers more accurately.
Shipping and fulfilment are made easier with SKULabs. They integrate with USPS, FedEx, and dozens of others. This means you can easily see rates and print shipping labels. To save time, you can set up default settings for your most commonly used shipment methods. This saves you from having to re-input information about the same product time and time again. You can also bulk-perform tasks, like printing shipping labels all in one go.
Reporting is good too – you can keep track of how much your shipments cost, break down metrics by store, user, and item, and access real-time data synced across all your selling platforms. It has great customer service, too – reps respond very quickly to queries and they're friendly and helpful.
It works well for smaller as well as larger businesses, although smaller business owners might find it's priced too high for them. SKULabs starts from $450 a month – you can find out more about their pricing here.
FAQs
To Sum Up – Which One is the Best?
Which one you prefer out of the 5 we've looked at today will depend on the size of your business, and which features are important to you.
However, we really like SKULabs. It encompasses many of the features that we like to see in inventory management software, including stock control, syncing across multiple channels, and easier shipping and fulfilment. The barcode scanning could be a handy tool, too. If you've used any of these 5 or have other recommendations, we'd love to hear your comments!
Further read: