Last Updated on January 15, 2023 by DMEditor
In our comparison of MailerLite vs ActiveCampaign, we will go over some key features of both platforms, pros, and cons to help you decide which will be a better fit for your business.
The world of marketing is evolving at a fast pace. Instagram influencers and chatbots are the in thing now.
Actually, you would be forgiven for saying that the days when email marketing was king are past due. This statement, nonetheless, could not be further from the truth. Email marketing still reigns supreme when it comes to online marketing.
Indeed, data shows that consumers spend 138% more on products that have email offers. More statistics show that 80% of all retail professionals agree that email marketing is vital in developing customer retention. Furthermore, data from 44% of all retail professionals shows that social media is the only other channel that rivals email marketing in the area of customer retention.
Bottom Line: The service that's objectively better overall is definitely ActiveCampaign here. Between robust automation, CRM-lite qualities, and incredible scalability, it's the clear choice in my view. Despite the small additional cost, it's well worth it. Try it out for free here.
Main Differences Between MailerLite vs ActiveCampaign
The main differences between MailerLite and ActiveCampaign are:
ActiveCampaign provides advanced segmentation, whereas MailerLite is a more basic autoresponder
ActiveCampaign offers CRM features, whereas MailerLite is purely an email marketing tool
MailerLite is generally less expensive compared to ActiveCampaign
Email marketing platforms such as ActiveCampaign and MailerLite have, therefore become so crucial to business revenue building. Think about it, for every $1 spent in email marketing, your business gets $38 back. That is an excellent return on investment!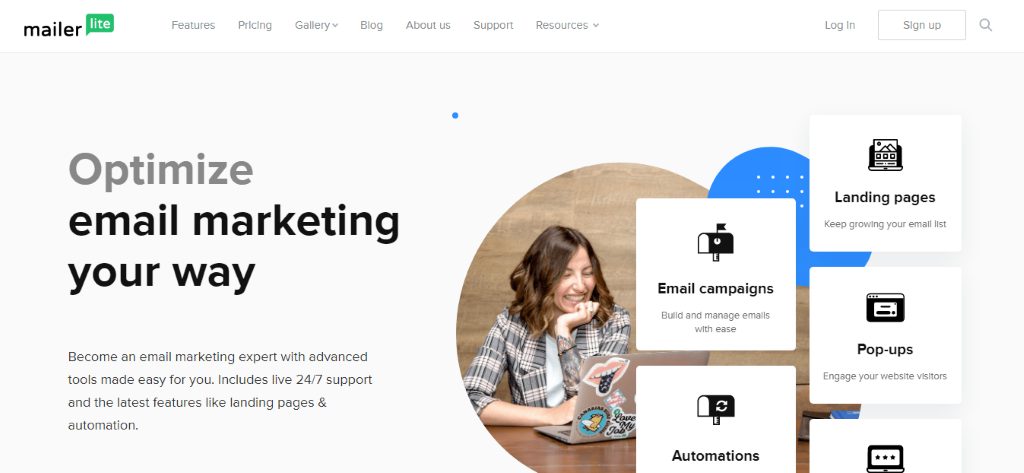 Either one of these two platforms can take your email marketing strategy to the next level. It is highly probable, however, that you are not sure which one of them is most suitable for your business. Many email-marketing features are common to both platforms.
Worry not. Our review below will guide you through each of the platform's features.
At the end of the review, you should be ready to venture into the ever-rewarding world of professional email marketing via MailerLite vs ActiveCampaign.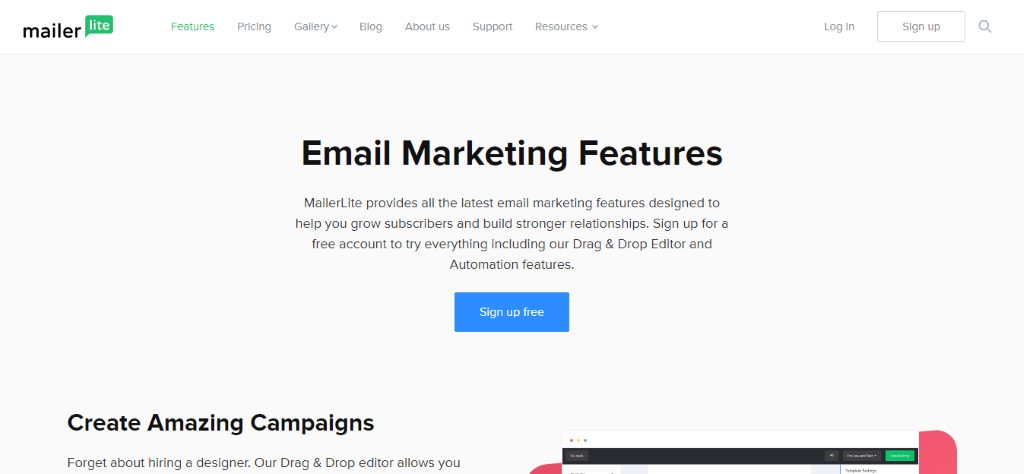 MailerLite's journey to its extensive 700,978 long customer list began in 2010. The platform's focus is to give a helping hand to startups and small businesses that require a robust email-marketing tool.
The software also has a big following when it comes to bloggers. This large community of opinion shapers is probably drawn to it due to the youthful energy its website exudes.
Its features and design have a clean, modern, and simple outgoing look, which is bound to attract that niche.
The platform is also very cost-effective, which has contributed significantly to its massive growth. It does not come as a surprise therefore, that most WordPress lead capture plugins now support MailerLite integration.
MailerLite vs ActiveCampaign: MailerLite's Major Features
Provision Of a Free Premium Features Account
A large part of the reason why marketers purchase email-marketing tools is for their automation features.
Automation enables you to create relevant, timely, yet personalized mail that targets specific customers. This feature will save you a lot of time you would have otherwise spent in targeting and segmenting your customer's email addresses.
The automation feature allows you to set up the automation once then save the settings. The tool will then keep sending out a planned email as long as the sending rules remain constant.
Due to the critical value of this feature, most email marketing platforms will charge a premium fee to allow access to funnel tagging or autoresponders. MailerLite, however, is different.
Once you have a free account set up on their website, you can go ahead and enjoy powerful automation for up 1000 subscribers on your mailing list. Moreover, that's not even the half of it.
With a free MailerLite account, you can also access the platform's landing page builder, and Facebook pages subscribe form as well. You can also access the platforms embedded and pop up / sign-up forms (single opt-in forms or double opt-in) as well as great features such as their email campaign reports and surveys data.
With the MailerLite forever free plan, you do not even need to input your credit card details on the MailerLite website. Just sign up and enjoy free email automation features for your 1000 subscribers.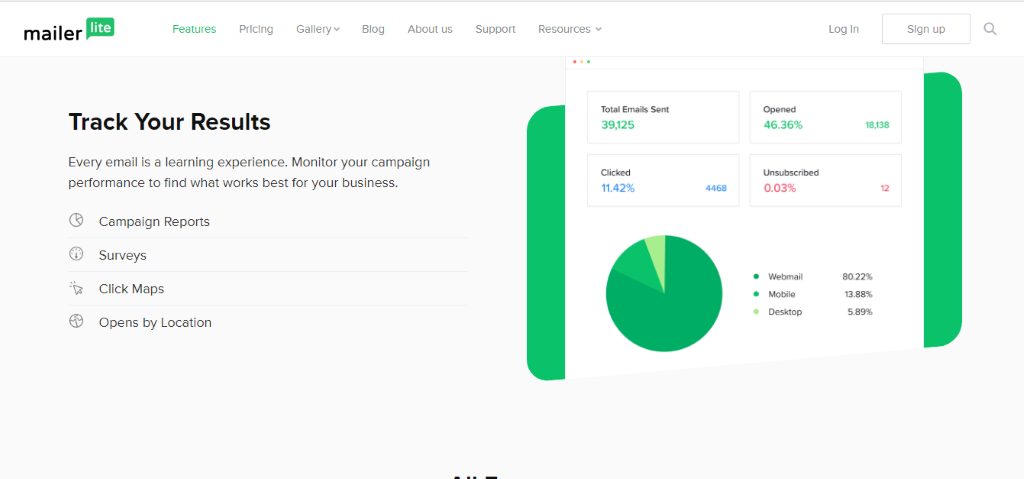 Intuitive Dashboard
As mentioned earlier, part of the attraction of the platform is its clean and neat look. Due to the use of this simple design aesthetic, the platform's dashboard is also very easy to use. Once you have signed up and logged in, you will find basic graphs that are easy to understand.
There is no excessive bloat in terms of meaningless data or apps, which is a very user-friendly feature. From the dashboard, you can access your campaign monitor or subscriber management panel, which should guide you through your sales funnels.
Email Marketing Automation
Dale Carnegie, the great lecturer, and writer said that one's name is not only the sweetest but also the most important sound you as a marketer can make in any language. People love to feel noticed.
Actually, data shows that personalized emails will receive a 41% higher click-through rates and 29% higher mail open rates than your regular emails.
A simple action such as the mention of the email receiver's name on the marketing mail sent can increase your rates of customer engagement and even email deliverability rates over an extended period of time. It, therefore, will pay more if you go the extra mile and wish your customers happy holidays, or happy birthday, instead of merely filling their accounts with emails about your products.
Nevertheless, if you have the 1000 subscribers allowed on the free plan, you will definitely forego personalized emails, if you do not have a useful automation tool.
An email automation tool makes it much easier to know when to send, who to send to, and what emails you are supposed to send. The good thing is, MailerLite's automation tools and autoresponders are free.
Scheduling as well as RSS push email features are free too. The RSS feed automation tool will deliver emails to your subscribers, every single time that you have published a new post on your blog.
The autoresponder feature, on the other hand, initiates email sending when sequences of actions take place. This includes any action on your websites, such as purchases, sign-ups, reviews, or account creation.
With MailerLite's powerful automation feature on your side, you can prepare your sales to funnel, call to actions in a flash. You can then go right ahead and leave them to generate revenue and keep your customers engaged on autopilot.
Auto Resend Features
The platform's email auto resend feature is only available in MailerLite's premium plan. It is a handy feature.
If you have for instance sent emails, and some of your subscribers have not opened them or clicked through them, this feature can selectively resend that email or a corresponding one to this segment of your subscriber list.
All you need to do is set your trigger rule, which can be activated by actions such as no action, or no click captured.
Drag and drop builder
The platform's drag and drop editor makes it very easy to build your emails. The MailerLite builders clearly thought out every feature of the editor, such that you do not need to have any knowledge of HTML or CSS to build your email templates.
If you, however, want to do some coding, you can use switch from the drag and drop builder to the editor.
Nevertheless, you can add images from the inbuilt gallery onto your templates as well as curate templates that you have designed. There is also an image editor feature to assist in the template design and customization process.
A/B Split Testing
This feature is also free on MailerLite, and with it, you can perform split test between design elements, email formats or headlines.
This will allow you to figure out quite quickly, which of your design elements or email templates has the highest conversion rates. The feature will help you to build high performing email marketing campaigns.
MailerLite vs ActiveCampaign Pricing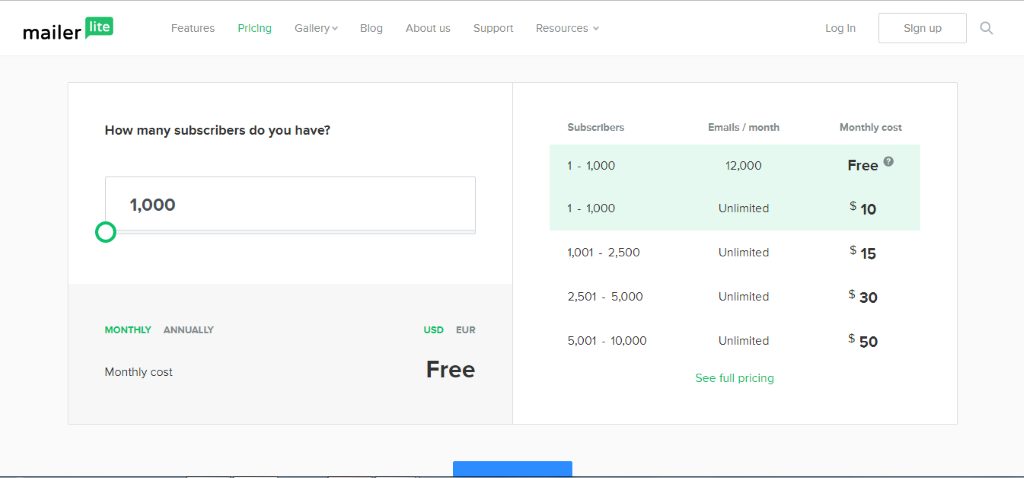 Other MailerLite features
Team management
Permission collaboration
Delivery by time zone
MailerLite Pros
Competitive pricing
Free plan with premium features
Easy to use
Powerful tracking
Great support
MailerLite Cons
Confusing and rigorous account setup and approval system
Accounts halt system if your emails have a low open rate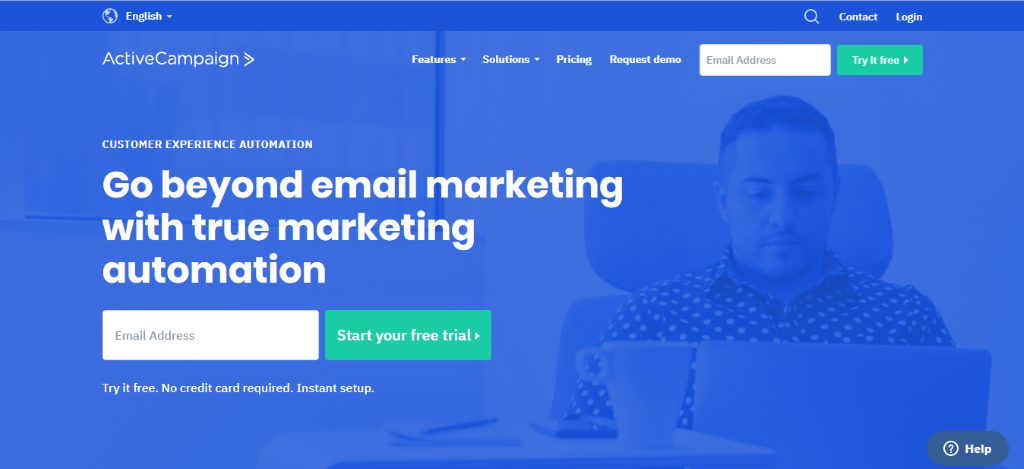 You can tell from the first glance that the ActiveCampaign marketing automation platform has a busier design flow than the MailerLite platform. In fact, the ActiveCampaign dashboard can be a tad intimidating to the first-time user. The software nonetheless is an email marketing automation champion with a robust integrations feature (beyond just Zapier integration)
The platform's primary goal is to ensure that its users get to send fewer emails yet have maximum marketing impact.
This email-marketing powerhouse has a robust customer relationship management feature with automation described as 'deals.' Using this feature, you can target your online shop's visitors with targeted messages.
Overall, this sophisticated email marketing might look a bit overwhelming at first glance. Nevertheless, its powerful automation tool makes it perfect for your business if you are looking for a platform that has thorough reporting and automation. ActiveCampaign is usable, albeit with a bit of a learning curve.
Thankfully, the software's creators have built-in it, an agile or kanban boards' type of workflow, which makes it much easier to visualize all your automation processes.
ActiveCampaign has, nonetheless, been around for quite a long while. Developed in 2003, the platform is now an intelligence-driven online marketing automation platform. It is one of the biggest names in the email-marketing arena, despite its sole focus on workflow creation and automation. Indeed, if ActiveCampaignwas summarized in one word, it would be 'automation.'
Active campaign's major features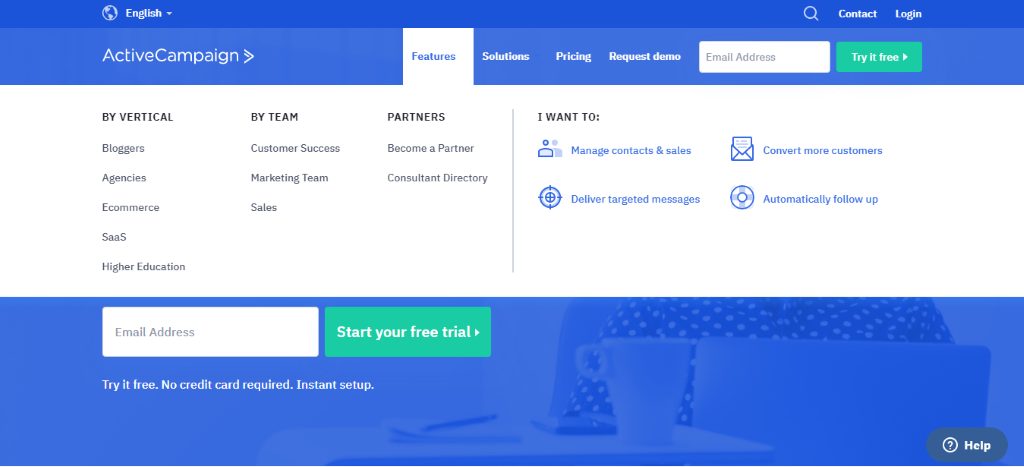 Email Marketing Software
The ActiveCampaign email-marketing feature has a fantastic visual automation builder. This tool makes it very easy for you to kick-start your automation. On it, you can use tags or lists as triggers for automation. The platform has a choice of 30 email templates to choose from for your email campaigns.
Through the visual builder, you can add a variety of styling options and customize your email templates to suit the interests of your online customers. You can, however, go beyond emails on ActiveCampaign. You can send SMSs as well as post webhooks. The visual editor not only has a useful desktop and mobile device function but a split test automation feature as well.
Marketing Automation
As mentioned, ActiveCampaign's most persuasive selling feature is its robust automation. Through its agile like processes, the software's visual workflow builder makes it very easy for you to design your own automation. Even better, is the fact that you do not have to build any of the automation by yourself.
You can directly import them into the system from a different account. If you, however, are good at automation building and you have built some that you would like to share, you can also share them from the feature's dropdown menu. The menu will give you a unique sharable URL that can be imported into another ActiveCampaign account.
Reporting
The only way that you can ensure that your email marketing campaigns are bearing fruit is to study data on the results. The reporting feature on ActiveCampaign is a very robust tool for the analysis of marketing campaigns. The feature has data not just on campaigns, but automation, goals, ideals, and contacts as well. The overview report provided will show in detail a graph of your campaign's click rates, open rates, bounces, and unsubscribes.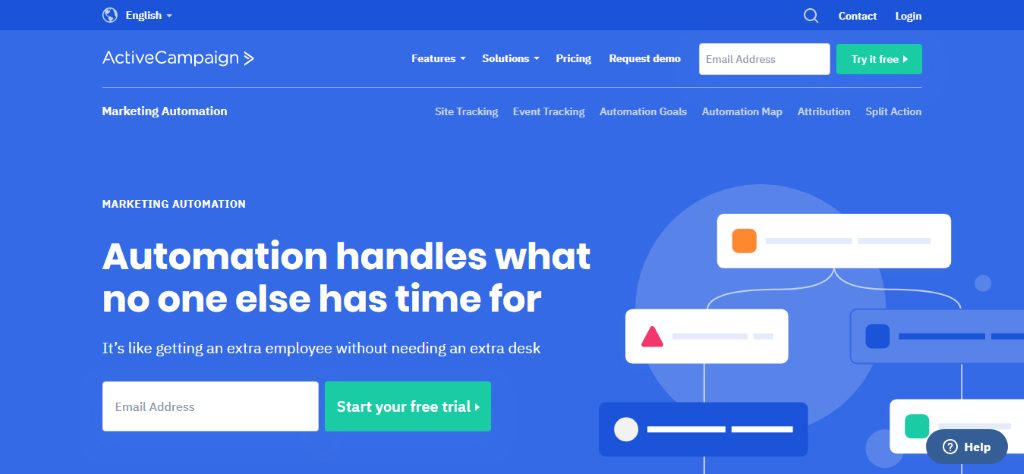 The platform's deals feature will assist you in building automation to processes and guide your leads along your sales funnel for more revenue, including advanced lead scoring. The ActiveCampaign customer relationship management tool has a drag and drop tool to assist you in building easy lead stages. You can, for instance, break a sales funnel into several visual stages.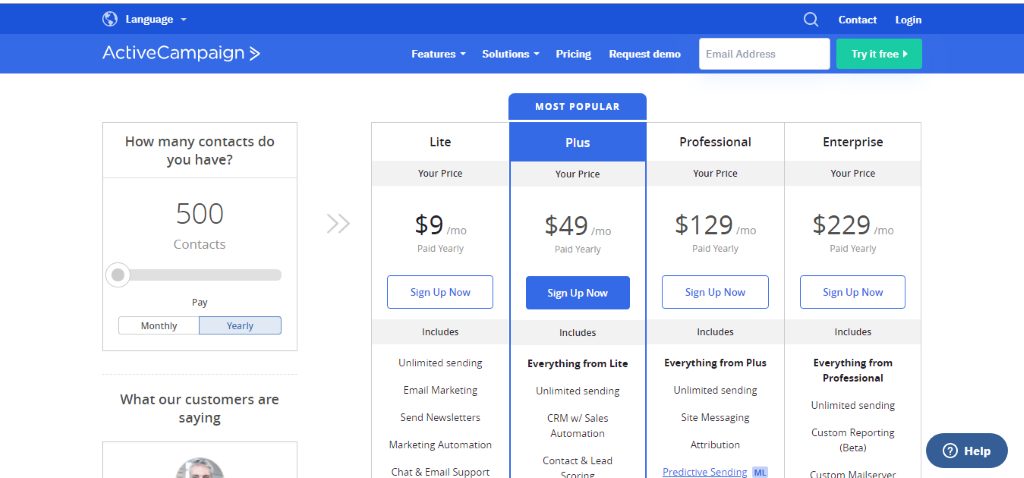 Pros
Integrates with 150 other e-commerce apps such as Facebook, Shopify, and WordPress
Has a robust list and tags management tools for segmentation
A rewarding 30% recurring commission lifetime program
Campaigns resend feature
Cons
Higher learning curve
Has no free trial
Its plans are also more expensive than MailerLite's
MailerLite vs ActiveCampaign: Marketing Software Similarities?
Both platforms are robust email marketing platforms with efficient drag and drop builders. They offer A/B testing tools as well as an email template library. MailerLite, nevertheless, has a lower learning curve and is designed for small to medium business owners.
ActiveCampaign's automation feature is perfect for larger businesses. Both are cloud-based platforms, and are well documented and designed. ActiveCampaign's design, however, is clunkier. They also support a large variety of integrations.
MailerLite vs ActiveCampaign: Which one is better?
Since both platforms support email, marketing if all comes down to features and costs. ActiveCampaign has a more robust automation tool as well as a fantastic CRM. Nevertheless, ActiveCampaign's plans do cost more. This service provider also does not have a trial or free plan, unlike MailerLite.
You, nevertheless, do not need to purchase both platforms if all you are looking for is a proficient marketing tool. However, ActiveCampaign has more features, if a feature-packed automation tool is what your business requires.
Bottom Line: The marketing service that's objectively better overall is definitely ActiveCampaign here. Between robust automation, CRM-lite qualities, and incredible scalability, it's the clear choice in my view. Despite the small additional cost, it's well worth it. Try it out for free here.
After reading our MailerLite vs ActiveCampaign comparison if you're left with wanting more alternatives here are other related articles you may be interested in: