Last Updated on July 16, 2023 by Ewen Finser
When I created my first website, I tried a couple of different email providers for a business email (I ended up sticking with Gmail).
Superhuman was one of the providers I was considering. I get so many emails from publicists, and I liked how Superhuman was fast, could withstand mass incoming emails, and overall exceeded the performance of other competitors.
But there's a reason why I didn't choose Superhuman–the price. The starter plan starts at $30/user/month. Even though it's just me owning the email, I don't want to pay $30/month when I can use Gmail for free. That's why I didn't choose Superhuman.
Even though I stuck with Gmail, I found a ton of other great competitors. Here are the best Superhuman alternatives.
Bottom Line Up Front
I recommend two Superhuman alternatives. If you want a platform that's most similar to Superhuman, I suggest Front. It reminds me of Slack on email, since it separates your emails into different channels.
You can also tag team members in different emails and collaborate as if your email were a project management platform.
If you only want certain Superhuman features, such as the organizational ones, I suggest SaneBox. SaneBox separates your emails into different folders, so you stay organized.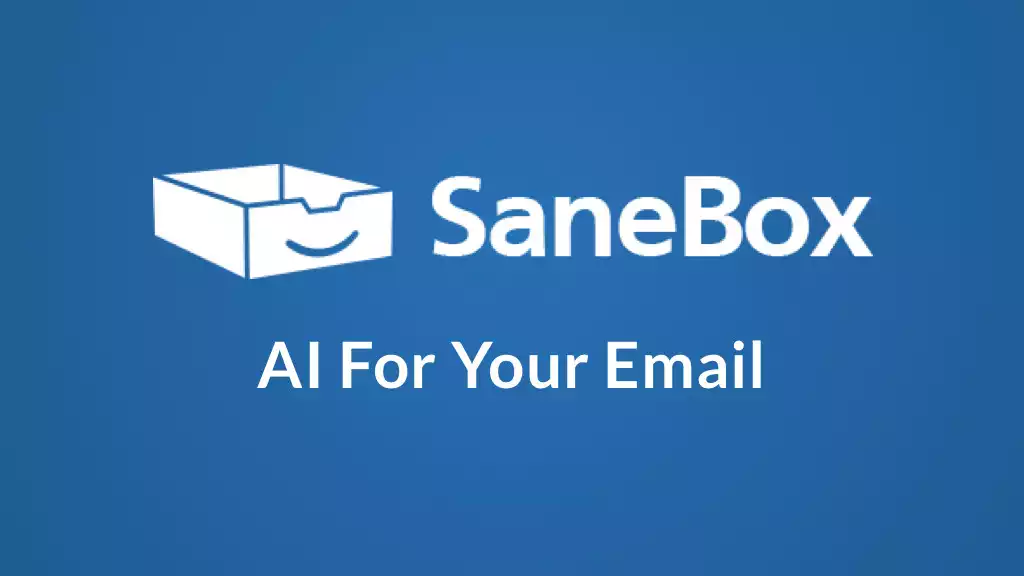 Tips When Choosing an Email Provider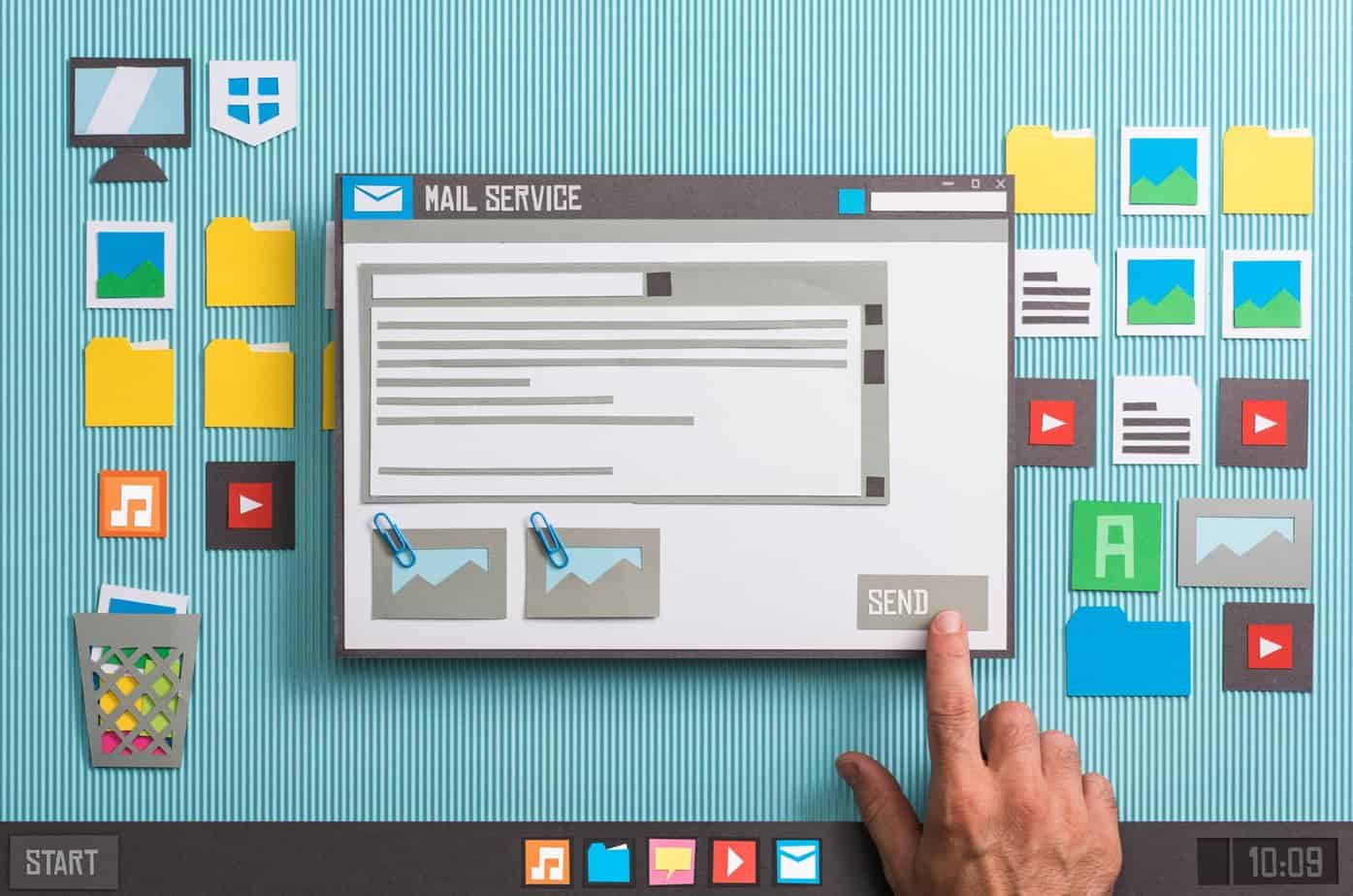 If you're like me and use email constantly, it's vital you choose the best email provider for your personal and professional life.
Here are some tips I considered when choosing an email provider.
User experience: The email provider you choose should be easy to use, efficient, fast, and user-friendly. Depending on your needs, you may need customization options and a platform that hosts an entire team. This is important since these are benefits that Superhuman boasts.
Features: Know the features you'll need before signing up for an email provider. Examples may include the average number of emails you send per day, how many contacts you can store, and how many users can be on your account.
Security and privacy: Security is vital when choosing an email provider, especially if you or your business handles sensitive data. Ensure the email provider fits any legal requirements in your niche and what they do to protect data. Privacy is also critical, and you'll want to know how the email provider handles your data.
Cost: While most email providers are free, there are ones like Superhuman that require a subscription. If you suspect you need to pay for email, budget for these costs while ensuring you find a provider that includes all the features you need.
How I Chose These Alternatives
Superhuman is packed with impressive features, but there are still plenty of good alternatives. Along with the tips I mentioned in the last section, I considered these factors when choosing these alternatives.
Options for businesses: No matter the size of your team, the email provider you choose should have features and plans specific to businesses. Superhuman offers three plans for businesses of all sizes, so I ensured these email providers all offered the same benefits. I also looked for business-specific features, such as custom domains and branded email addresses.
App and device compatibility: I'm not always on my computer, and I never want to miss getting an important email. I prefer having an email app and receiving notifications. I included email providers that have app options. Ideally, I prioritized email providers that have apps compatible with all devices. This way, you can manage your email–no matter the device you're on.
Integrations: The software you use is vital to your business, but it's also convenient to access all tools in one place. That's why I prioritized email platforms that offer integrations. Common email integrations include a calendar and project management platform.
Storage: One of the main reasons why you may want to invest in an email service provider is to have more storage. I'm someone who deletes files from my Google Drive constantly, so I understand that more storage is vital to some people and businesses. All these alternatives offer flexible plans that give you more data options.
My Favorite Superhuman Alternatives
Are you looking for a Superhuman alternative?
These email service providers offer the same solutions as Superhuman but are a better fit for different people and businesses.
Here are the Superhuman alternatives I recommend the most.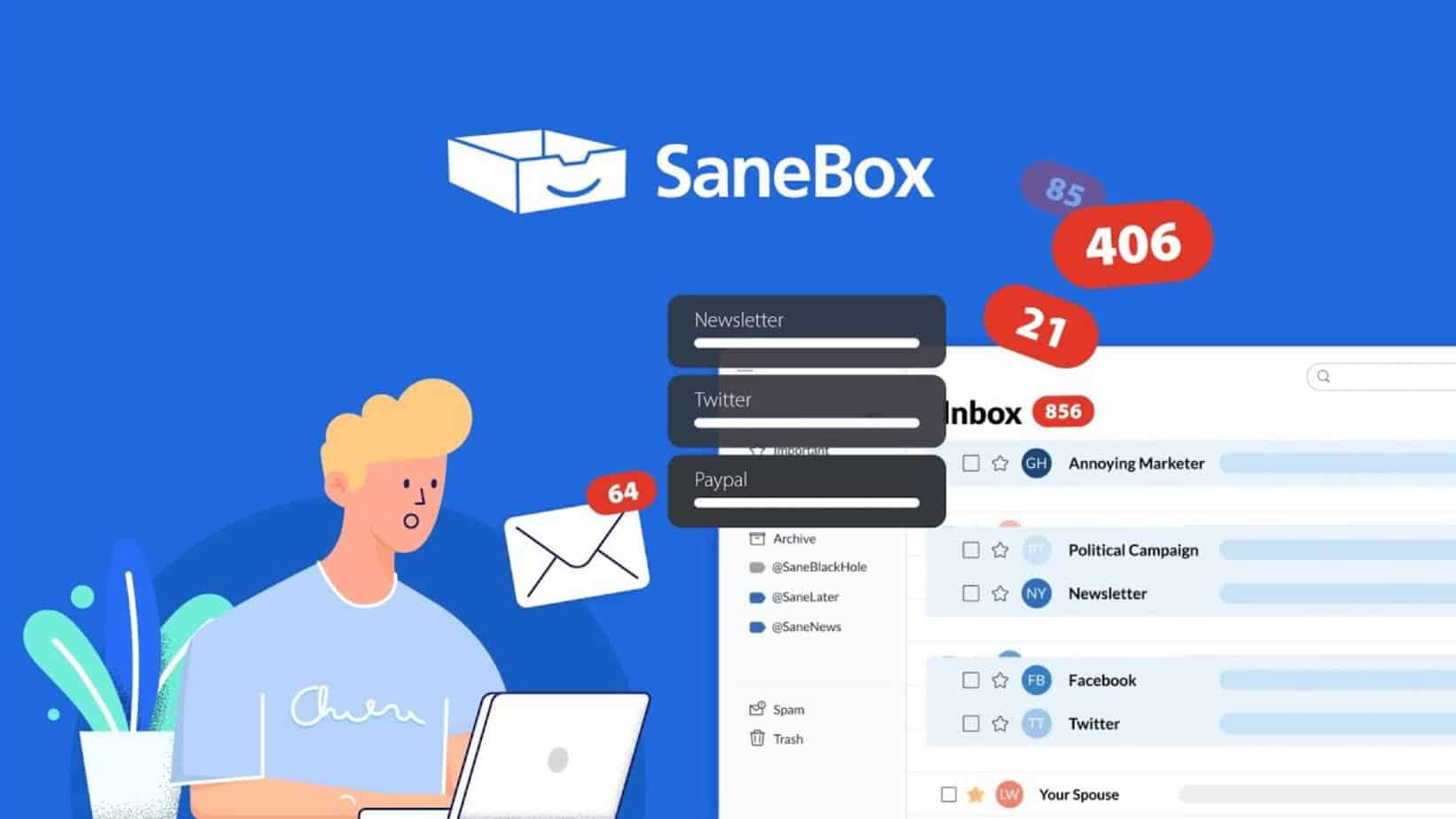 SaneBox doesn't offer the full range of features that Superhuman offers, but SaneBox is a great option if you like Superhuman's organizational and snooze features.
If you're like me and use one email address for everything, SaneBox is the solution you need.
I've been using SaneBox for about a week now, and I love it. SaneBox separates your emails into different folders, so the most important emails end up in the main part of your inbox.
I like to scan the other folders once a day, just to ensure no important emails snuck into those folders (fortunately, they haven't).
You have complete control of your emails, and you can choose which emails you want in each folder. Otherwise, there's no manual sorting on your part.
SaneBox is a little difficult for new users. I was confused by some of their terminology, specifically with the folders. Otherwise, I learned SaneBox pretty quickly.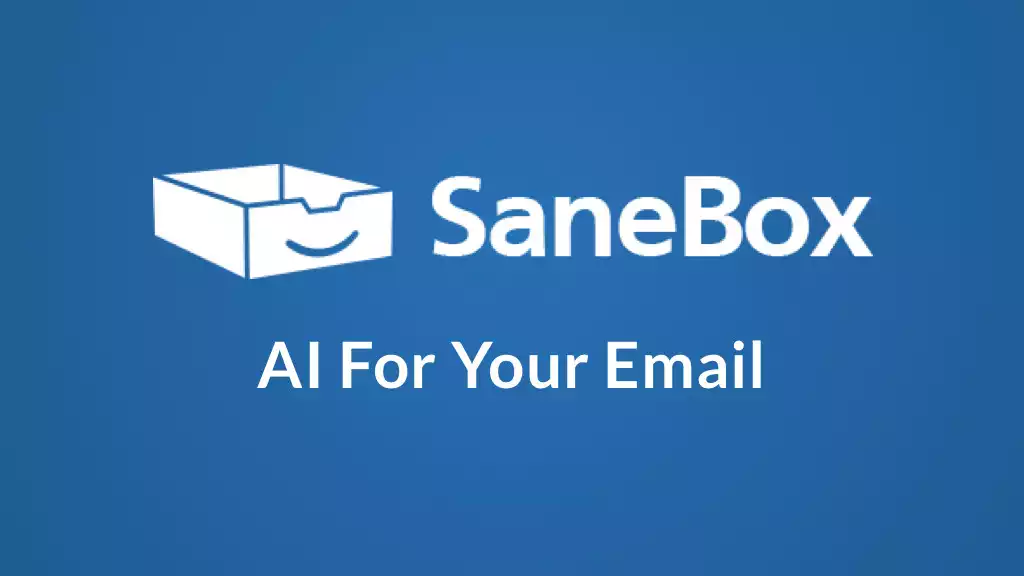 SaneBox vs Superhuman
Here's a high level summary of the most important differences to consider:
| Features | SaneBox | Superhuman |
| --- | --- | --- |
| Email Sorting | SaneBox uses AI to automatically sort your emails into different folders based on their importance. | Superhuman also sorts emails but it's more focused on speed and efficiency. |
| Training Algorithm | SaneBox allows you to train the algorithm to filter out different email addresses into specific folders. | Superhuman does not offer this feature. |
| Alerts | SaneBox allows you to set alerts for important emails. | Superhuman also offers this feature, with the addition of read receipts. |
| Control Over Emails | With SaneBox, you have full control over the emails that end up in different folders. | Superhuman offers less control over email sorting, focusing more on speed and efficiency. |
| Team Collaboration | SaneBox is more focused on individual email management. | Superhuman offers features that are beneficial for team collaboration, such as shared inboxes. |
| User Interface | SaneBox's folder terminology can be a bit confusing for new users. | Superhuman has a clean, minimalist interface that is easy to navigate. |
| Pricing | SaneBox offers a free trial and then a paid plan. | Superhuman has a flat monthly fee with no free trial. |
| Additional Features | SaneBox offers features like SaneBlackHole (for blocking unwanted emails) and SaneReminders (for follow-ups). | Superhuman offers features like instant intro (for quick introductions) and split inboxes (for managing multiple accounts). |
Pros
Automatically sorts your emails
Can train the algorithm to filter out different email addresses in specific folders
Can set alerts
Have full control over the emails that end up in different folders
Cons
Folder terminology is a little strange
SaneBox Competitors Compared
I've contrasted SaneBox with a few other popular options, worth considering: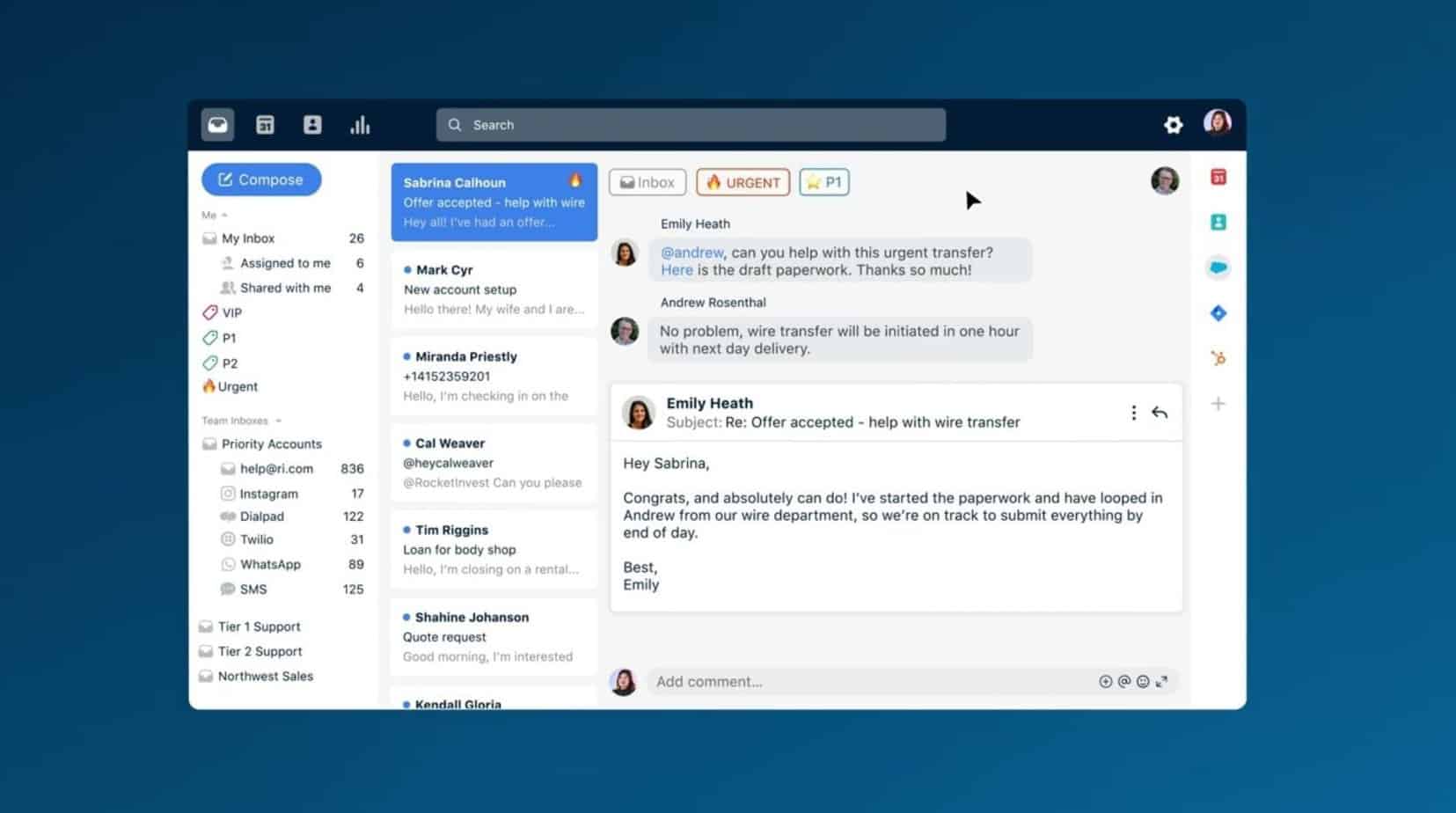 If you want an email solution for your entire team, I suggest Front the most. Front reminds me if Slack was on email–conversations look more like channels, and Front automatically aggregates and routes conversations to the correct team member. Users can tag team members in conversations and create separate comment threads.
In addition to personal messages, you can also create multi-team member conversations–no need to CC a bunch of people on one email.
From the email, you and your team can collaborate on assignments, so there's no need to keep multiple tabs open. To ensure your emails end up in the correct place, Front allows you to create custom folders and even email tags.
Another reason why Front reminds me of a chat is you can set your status, such as "available" and "snooze." Front also has an app, so you can receive email notifications on the go.
Front sounds complex, but it's actually very easy to use, and it has a sleek interface. But there are some downsides. First, it's very expensive.
They have a Starter plan for $19/seat/month, but that's made for small businesses. The next plan, Growth, starts at $59/seat/month. Front's customer service isn't the best, which is problematic if there's a technical issue.
Pros
Impressive features, a cross between Slack and project management platform for email
Can separate emails into folders and create tags
Set statuses, such as "available" and "snooze"
Can tag team members in emails
Collaborate on tasks inside the email
Personal messages and multi-member emails
Cons
Not the best support
Expensive
Gmail Native Filtering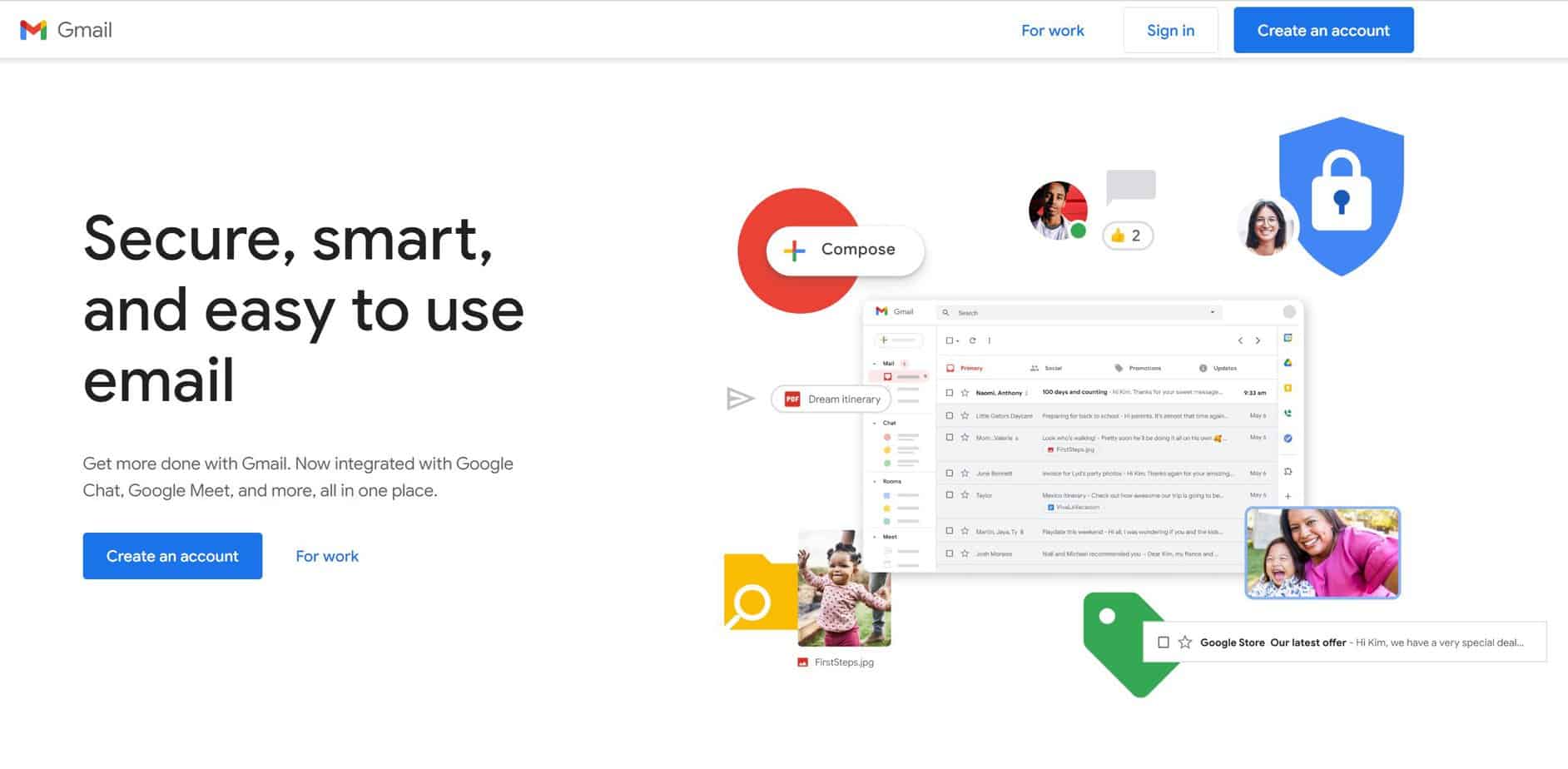 Gmail is a classic email service provider and the one I've been using for over 10 years. It's a great email management tool; Google automatically separates your emails into your main inbox, and there are social media, promotions, and spam folders.
If you use G-Suite for work, I suggest using Gmail–especially since they offer a business plan. I use Google Docs, Drive, and Sheets every day, and Gmail links to all these apps.
Google can also integrate with different apps, such as Boomerang, for more functionality. I have the Grammarly plugin for Chrome, and Grammarly will fix my spelling/grammar and give me suggestions as I'm writing my email.
I love how simple Gmail is to use. It's always really fast and auto-saves my drafts. Gmail will also send you reminders to respond to an email or will inform you if the recipient hasn't responded to one of your emails.
Of course, Gmail is far from perfect. There aren't many customization options, and Gmail doesn't boast as many features as some of these other platforms. It's user-friendly and simple, so Gmail is the best option if that's all you need in an email provider.
Pros
Fast
Intuitive and user-friendly
Connects to G-Suite
Numerous other integrations
Reminders for emails you haven't responded to or haven't received a response
Automatically separates emails into specific folders
Convenient app
Cons
Not many customizations
Doesn't have advanced features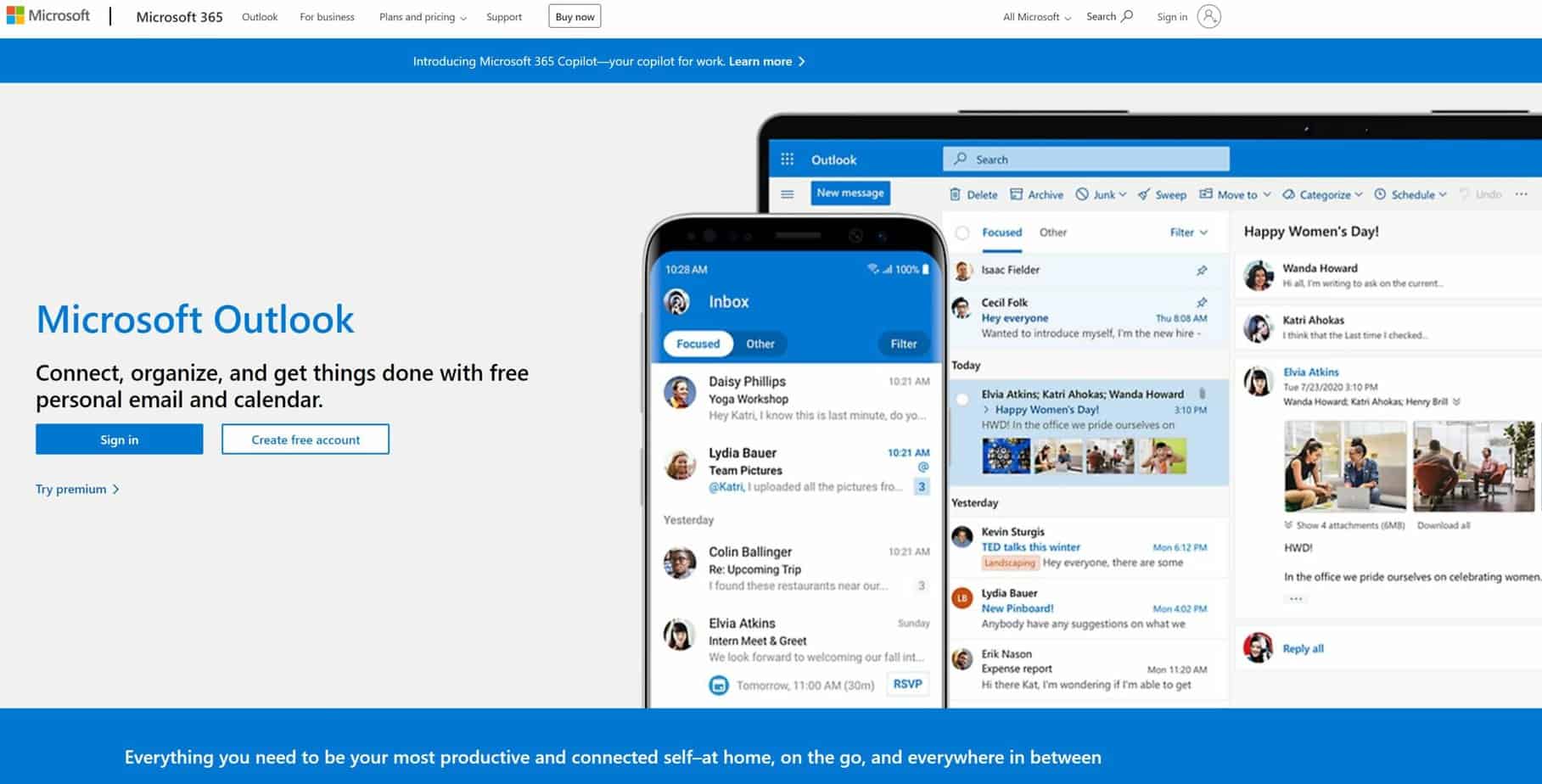 Other than Gmail, I see many of my colleagues and clients using Microsoft Outlook. I used Microsoft Outlook briefly, and I can say it's easy to navigate. It's easy to send files and attachments, perfect for when I'm sending articles to clients.
Plus, Outlook integrates with all Microsoft products. I'm especially a big fan of the built-in calendar. If you're a professional who is always scheduling calls and meetings, this feature will be one of the most important for you. The personal plan also offers 1 TB of storage, which is pretty impressive.
But there's a reason why I switched to Gmail. Outlook is pretty basic and outdated, so I don't recommend it to individuals and businesses who need a high-tech solution. There are some features in Gmail I like better, such as its draft-saving function.
Overall, I recommend Outlook if you use Microsoft products more than Google. I often use Google Docs for my writing, so Gmail is a better solution for me.
Pros
A great solution for those who use Microsoft products
1 TB storage with the personal plan
Decent safety features
Easy to use
Great business and education solutions, such as multiple email domains and group emails
Reminders, specifically for upcoming meetings and events on your calendar
Can see the status and availability of team members
Cons
Pretty basic compared to other email providers
Slow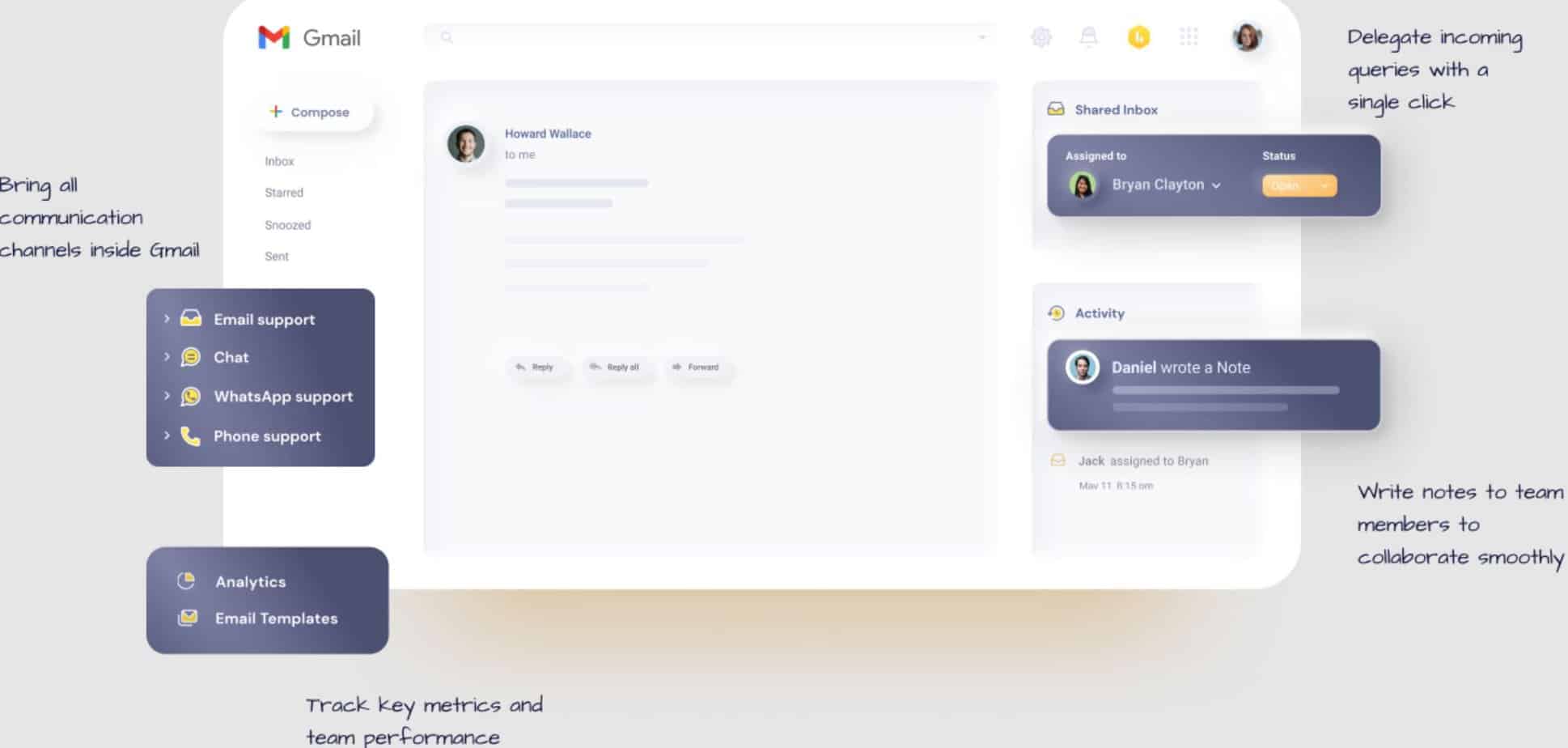 Is Gmail for business not cutting it for your team, but you still want to use Gmail? I suggest trying Hiver. Hiver connects with Gmail and introduces new functions for your business.
This includes a shared inbox for your team members, sharing templates, assigned managers, and the ability to customize your folders.
You can also tag team members in emails, assigning them emails as if Hiver were a project management platform. Whole teams can also write an email, collaborating on a written response before emails are sent.
There's also a separate comment thread your team can use, so your feedback can be separate from the email content.
Even with all these advanced features, Hiver works seamlessly and is very easy to use. And if you ever run into issues, Hiver's support team is responsive and answers questions quickly.
There are some aspects of Hiver I don't like. For example, sharing a draft can be kind of clunky. Hiver also doesn't have features that some of these other companies offer, such as email reminders. While they do release new features and updates, they do so slower than I would like.
I also don't like how they separate plans by industry. For example, I have colleagues who own writing agencies and would benefit from this platform, but Hiver doesn't offer a specialized plan for them.
That said, they are pretty affordable. For example, the Lite plan is only $15/month.
Pros
Easy to use
Simple set-up
Affordable
Integrates with Gmail
Separate email comment thread for collaboration
Cons
Lacks features that competitors have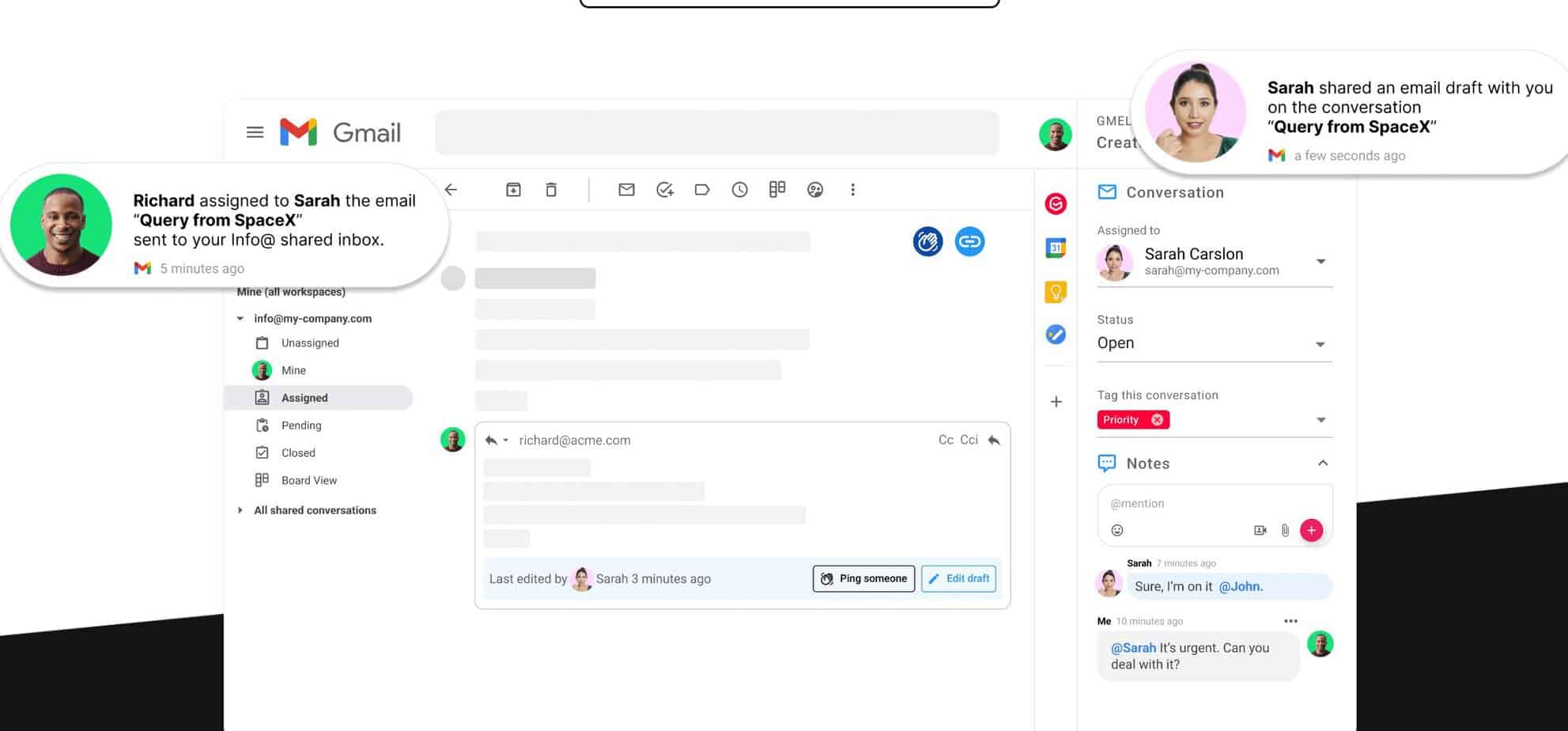 If Hiver doesn't offer some features you need, I suggest trying Gmelius. Gmelius is a powerful automation platform that integrates with Gmail.
Like Hiver, Gmelius has a shared inbox for your team, but their platform is more than that. They offer features, such as pre-built templates, to expedite the email-writing process even more.
If you don't want to share your entire inbox, you can assign emails with custom labels to attract the right team members to your email.
As with all of these platforms, Gmelius is easy to use and has many third-party integrates, such as Slack and Trello. While Gmelius offers more features than Hiver, it's still around the same price range.
There are some ways that Gmelius fails. For example, their customer service isn't as good as Hiver's.
Pros
Shared inbox
Whole team collaboration on email
Pre-built email templates
Email labels
Scheduled sending
Cons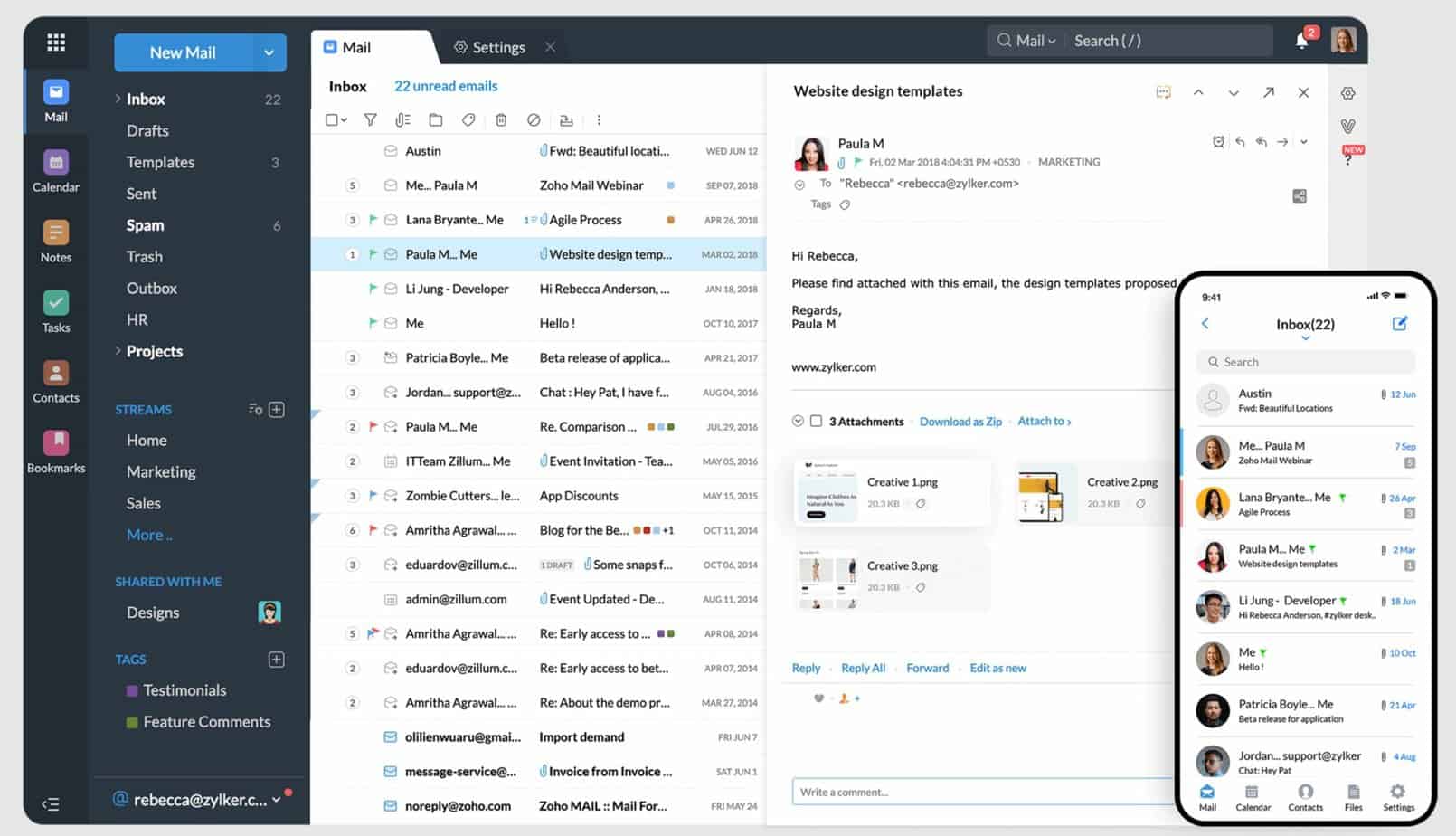 Zoho Mail is another popular business email provider. It's user-friendly and intuitive while offering some pretty impressive features.
My favorite features are the built-in calendar, notes, and tasks. I'm especially a big fan of its security features. All data is encrypted, there's two-factor authentication, spam filtering, and there are no ads, so you're guaranteed to retain privacy.
If you use any Zoho products, such as Zoho Books and Zoho CRM, Zoho Mail integrates with these tools. They offer a mobile app in case you need to access your email while on the go. You get all of these perks for an extremely low price. The Lite plan only costs $1/month, which is a serious steal.
There are some downsides. Zoho's customer service isn't as fast as some of these other competitors, which is inconvenient if you ever need quick assistance.
Pros
Serious security features
Mobile app
Efficient and easy to use
Team collaboration features
Cons
Important emails may end up in spam
Mailstrom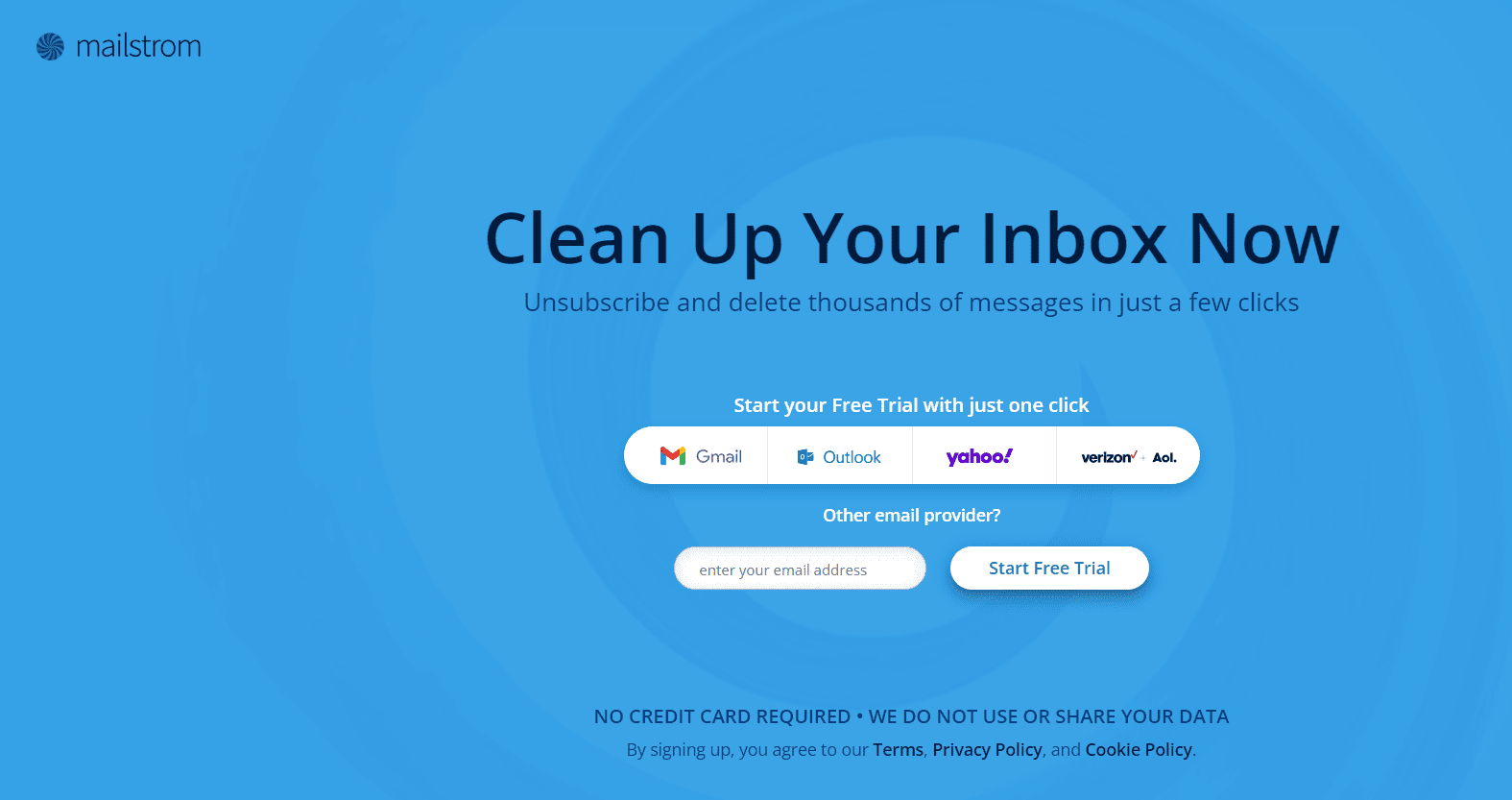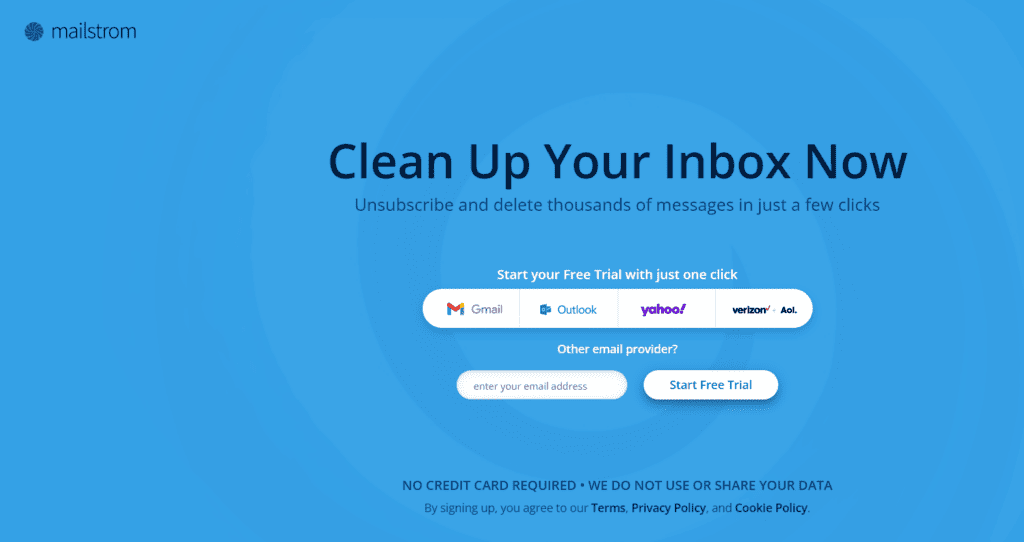 Mailstrom, as an alternative to Superhuman, provides an effective solution for managing and organizing a cluttered inbox.
Unlike Superhuman, which is designed to speed up email responses, Mailstrom takes a different approach by offering features that help users sort, categorize, and delete emails in bulk.
It's particularly useful for handling large volumes of emails, thereby reducing the stress and anxiety associated with an overflowing inbox.
Mailstrom also counts with robust filtering options to prioritize important emails, similar to other alternatives like SaneBox, Hiver, and Boomerang for Gmail.
Despite these differences, both Mailstrom and Superhuman aim to enhance the user's email experience and minimize the time spent on email management.
Pros
Efficient Email Management:
Better Bulk Actions:
Easier Unsubscribe Feature:
Better Security Features
Spam Control Features
Cons
Higher tiers can me more expensive
A bit more dated Interface
Fewer Integrations
No Mobile App
Lack of Automation compared to Superhuman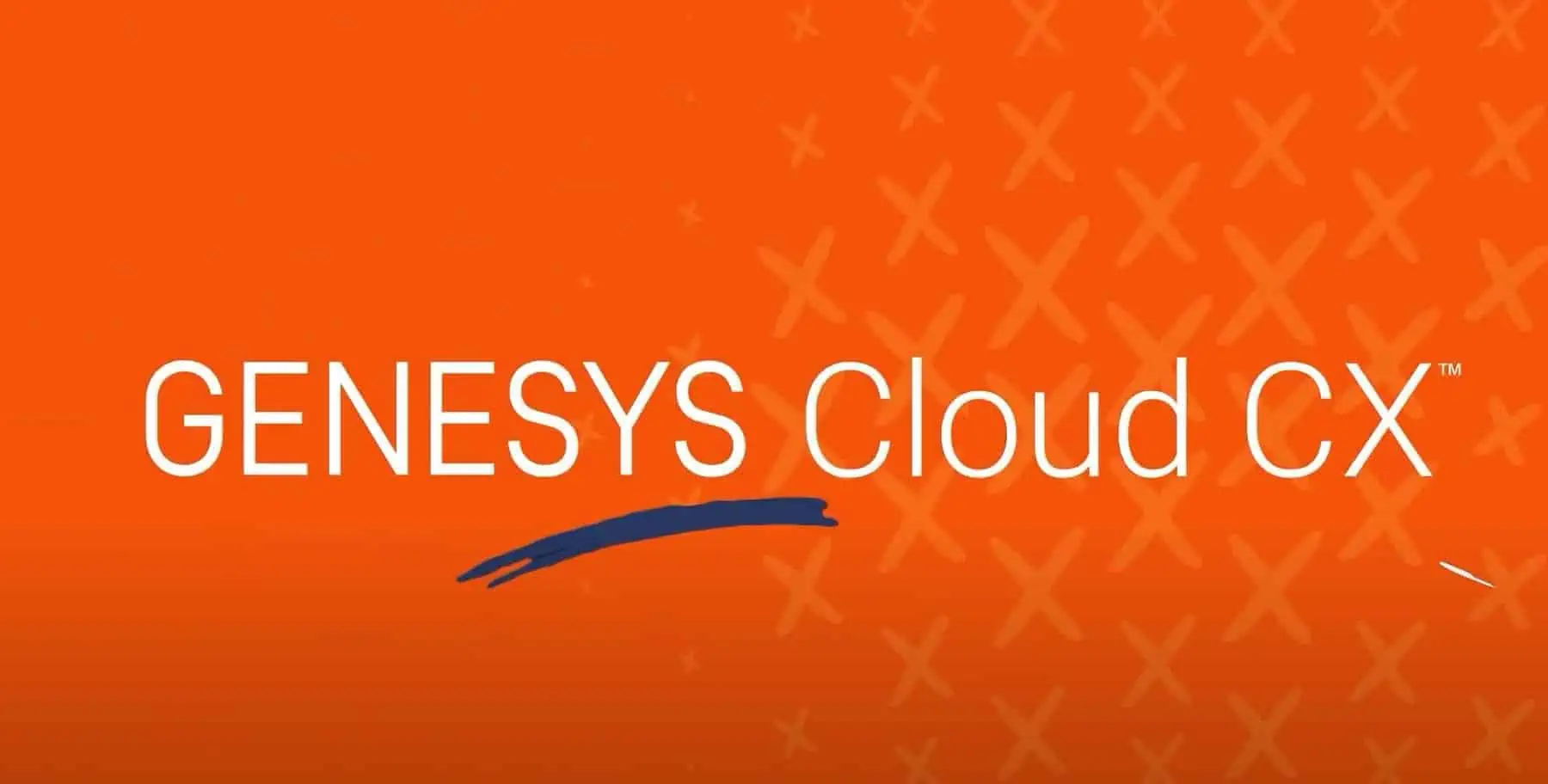 If you own an enterprise and need an advanced email solution, I suggest Genesys Cloud CX.
This is one of the most flexible email platforms, especially if you host a remote team. Features like direct chat and scrum are perfect for those who want the best of an email provider and project management system.
If you host a sales or customer service team, Genesys Cloud CX makes the support system more efficient.
Genesys Cloud CX offers an all-in-one customer contact solution, improving response rates, first-call resolution, and agent productivity. Genesys Cloud also tracks KPIs such as Performance, so management can see sales and customer service agent progress.
Plus, Genesys Cloud CX always introduces new features to enhance agent and employee communication.
This platform is very complex, which is great for enterprises that need robust features. But for SMBs, Genesys Cloud CX may be too intricate. I have issues navigating the insane features, so I don't recommend this platform unless you need it.
Pros
Omnichannel communication and customer support platform
Serious security measures
AI features
Impressive integrations
Decent user-experience
Always releasing new features
Cons
Too complex for SMBs
Extremely expensive (plans start at $75/month)
Lack of customizations
FAQs
Question: I want to try Superhuman, but am unsure about the security features. Is it safe?
Answer: Superhuman is one of the safest email providers out there. They are SOC II Type II compliant, and their Enterprise plan includes Google Advanced Protection and custom compliance.
Plus, Superhuman runs annual security audits, and they never store your data on a centralized platform–only on your device.
However, Superhuman doesn't boast the best security features. Genesys Cloud CX has the most robust security features of all the providers I mentioned. If you want a cheaper yet secure solution, I suggest choosing Zoho Mail.
Question: I use Apple devices. Does Apple offer an email platform?
Answer: Yes, and you may have an Apple email address without knowing it. Apple hosts its own email server on iCloud. Look in your Apple account and see if it's under your normal email or one hosted by iCloud.
That said, you can use nearly all these email platforms on Apple products, and most have apps that are compatible with iOS.
Question: Can I use my personal Gmail account for business purposes?
Answer: I mean, I technically do. I'm a freelance writer and host two blogs, and I'm able to talk to my clients, publicists, and different presses all on Gmail. That said, I have three different Gmail email addresses to separate my communications.
That said, there are times when I don't recommend using Gmail as your business email. An email address with a custom domain looks more professional, and that's integral if you operate a business under a trade name (one that isn't your own name).
If you have a website, most web hosts offer free email services, but that doesn't mean the email platform is good. I was using a custom domain linked to my Bluehost website, but I switched to Gmail because the Bluehost email server was so clunky and didn't offer the storage I needed.
Don't forget that Gmail offers business plans. This way, you can get a custom domain and can access more features and integrations that you can't with a personal Gmail plan.
Best Superhuman Alternatives: Bottom Line
There are two Superhuman alternatives I recommend. If you want the closest email provider to Superhuman, I suggest Front.
If you use email for business, Front will make communications so much easier. Front reminds me if Slack was on email since it has different communication channels–different from a traditional email setup. You can also tag team members in conversations and collaborate on emails.
If you only want select Superhuman features, such as separating emails into different folders, I suggest SaneBox.
SaneBox automatically separates your emails into different folders, and you can customize which emails appear in different folders. I haven't had an issue with SaneBox placing an important email in a different folder, but you can view your different folders whenever you feel it's necessary.
I also suggest considering all these Superhuman alternatives, since another provider may fit your needs better.