Last Updated on July 11, 2023 by Ewen Finser
I own three emails, but two of them receive the most spam. One is my personal email, which I use to sign up for different accounts and buy products online.
The second is my email for my music website, and I receive so many emails from publicists (many of which I don't even work with).
It's coming to the point where my email is becoming a headache, and I even considered creating a new email address.
I decided to use technology as my solution. I was on the hunt for the best email management tool, and the two best I found were SaneBox and Clean Email.
I decided to try them both out, SaneBox on my personal email and Clean Email on my music one.
In my SaneBox vs Clean Email compared guide, I will mention the pros and cons of using both and some additional alternatives I found.
Bottom Line Up Front
If you run a digital business, you are going to face a lot of emails. SaneBox is the best for keeping you organized because it can work across multiple email platforms, has smart filtering (so you don't have to manually organize), and lets you organize thousands of emails easily.
I love the sortable folder features so I can go back and read emails when I have the time, yet stay focused on the important ones I need to address right away.
If you don't need a ton of features, you can just use Clean Email; it's a basic solution that is helpful for most inboxes and for my personal inbox; this is what I'll keep using.
But if you're running a business, and need to mass delete thousands of emails and are looking for some serious help, you can't beat SaneBox's features.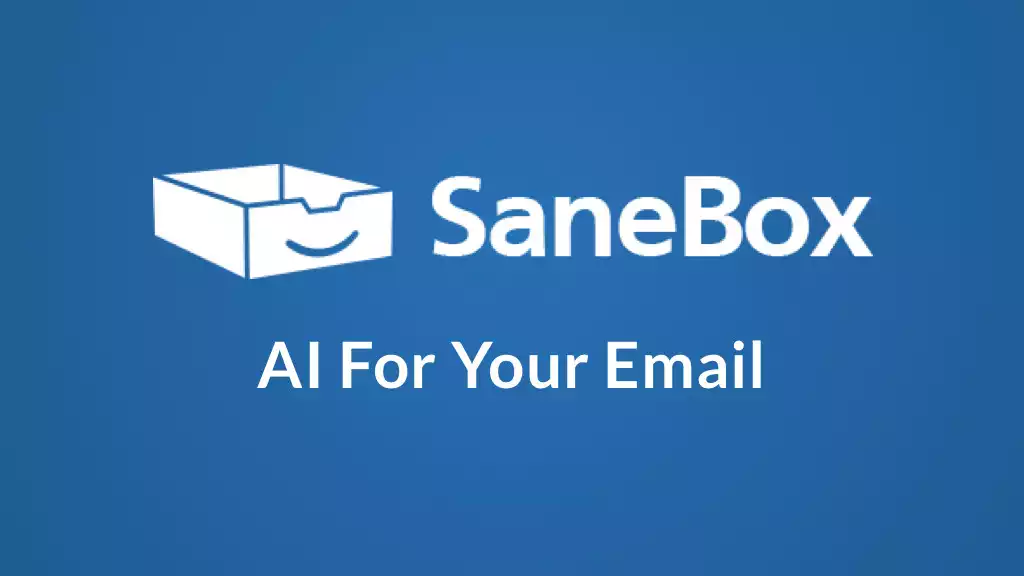 Main Differences Between SaneBox and Clean Email
SaneBox separates emails by importance, whereas Clean Email manages unread emails.
Clean Email is a better tool if you have many email subscriptions, whereas SaneBox is a better solution for separating emails into different folders.
Clean Email prioritizes privacy and security, whereas SaneBox is more of an organizational tool.
Clean Email can inform you if your email has been compromised, whereas SaneBox offers other tools, such as a calendar.
SaneBox lets you unsubscribe from emails, whereas Clean Email lets you block users.
SaneBox offers many features that Clean Email doesn't, such as integrations and email scheduling.
Clean Email offers a free plan, whereas SaneBox doesn't.
Clean Email offers multi-user capabilities, whereas SaneBox doesn't.
SaneBox is a better solution for those overloaded with emails, whereas Clean Emaiil is a better solution for those who want to manage their subscription services.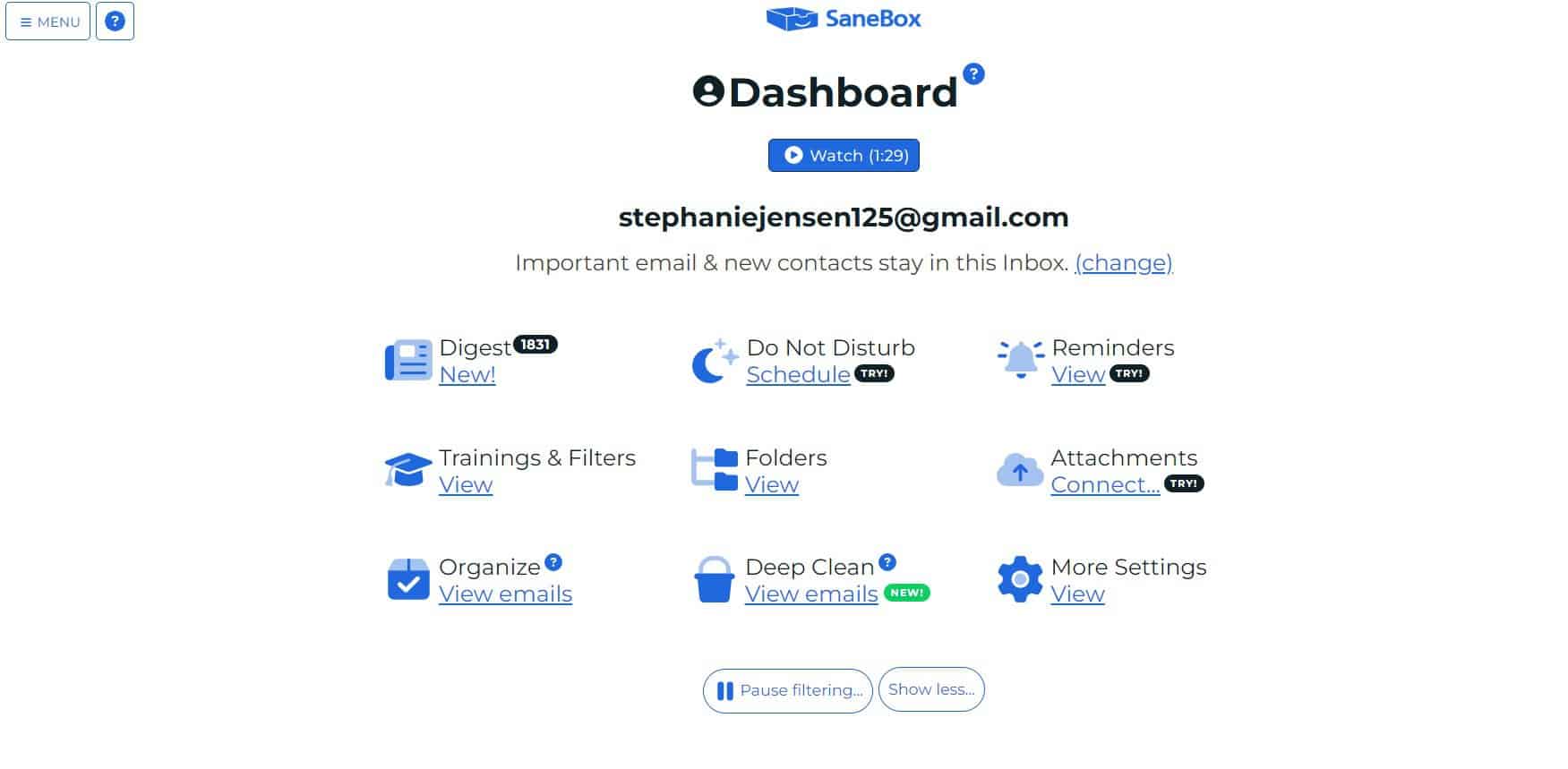 SaneBox is a SaaS application that integrates with your email, cleaning out your inbox. SaneBox lets email users take control of email organization, separating all their emails into different folders.
SaneBox auto-creates certain folders, such as SaneBlackHole and SaneLater. You can also create your own folders if you need a tailored solution.
From here, SaneBox automates the email management process. It analyzes the subject line and sender to determine which emails are important, which ones are spam, and which ones you can view later.
From here, SaneBox filters different emails into various folders, while keeping the important ones in your main inbox. You can also snooze emails and automate email attachments to a separate platform, such as Dropbox or Google Drive.
SaneBox is compatible with nearly every major email browser, such as Gmail, Outlook, Yahoo, iCloud, and more. I use Gmail and SaneBox paired with my email flawlessly.
Pros
Organizes emails into different folders
An effective algorithm, I never had an issue with an important email ending up in another folder
Includes eight different folders
Easy to use
Simple set-up
Integrates with Gmail
Option to create a folder
Cons
No free plan
Not the best customer support
Features
SaneBox's best feature is its powerful algorithm that distinguishes between important and unimportant emails. It analyzes email metadata, such as the subject line and sender, to identify which emails it should place in specific folders.
In case SaneBox mistakenly considers an important email spam, you can rescue it. This has never happened to me, but it is comforting knowing I can rescue a potentially important email.
I like how SaneBox doesn't have an interface and blends with Gmail. Under my Labels section on Gmail, I can find the different SaneBox folders, viewing them at my leisure.
SaneBox also includes many powerful features. I especially like the tracking notifications, that can inform you when someone doesn't reply to an email. Gmail also offers this feature, but I think SaneBox is more efficient. The snooze feature is also popular, which saves unimportant emails for later.
Bottom line: SaneBox uses powerful algorithms to distinguish between important and unimportant emails. It doesn't have a separate interface; rather, it blends in with Gmail. SaneBox also comes with different features, such as unread notifications and snoozing.
Security/Privacy
SaneBox is trustworthy and offers different security features. Like many email platforms, SaneBox uses OAuth 2.0, which allows a user to grant another website or app to use their information without giving away core data, such as their email password.
SaneBox also has a detailed privacy policy, where it really only monitors the emails you receive and the data from the emails. If your account is inactive after 90 days, SaneBox will remove all that data. If you decide to sign back up for SaneBox, it can regenerate that data.
Bottom line: SaneBox has OAuth 2.0, so it will deliver data to you but won't see your email password.
It also has a detailed and transparent privacy policy, where it monitors limited data and will auto-delete that data 90 days after deleting your account, though I'm unsure how it can regenerate data that's been deleted.
Cost
One of the downsides of SaneBox is the cost. Unlike Clean Email, SaneBox doesn't have a free plan. They offer a free two-week trial, but that's it.
SaneBox offers these plans:
Appetizer: 7 cents/day (equals $24/year)
Snack: $7/month
Lunch: $12/month
Dinner: $36/month
All plans offer discounts for yearly and biyearly plans, and both options include free month deals. With SaneBox's plans, you can pick the features you want, which I think is interesting. Each plan allows a specific number of features and email accounts.
This is a pro and con compared to Clean Email. As I will explain later, Clean Email offers all features in its plans, and the price only increases if you need more email accounts.
But Clean Email's email accounts jump from one email on the basic plan to five on the secondary plan.
SaneBox allows limited features, but the number of email accounts on each plan doesn't jump as much as it does for Clean Email. This makes SaneBox a friendlier option for someone like me who needs a solution for two emails. You can cancel SaneBox at any time.
Bottom line: Even though SaneBox doesn't offer a free plan, its plans are affordable, and they offer a free two-week trial. If you sign up for a yearly or biyearly plan, you get some months for free.
While SaneBox doesn't offer all features in each plan, the number of emails per plan doesn't jump as it does on Clean Email, making it a better alternative for someone like me who only has two emails.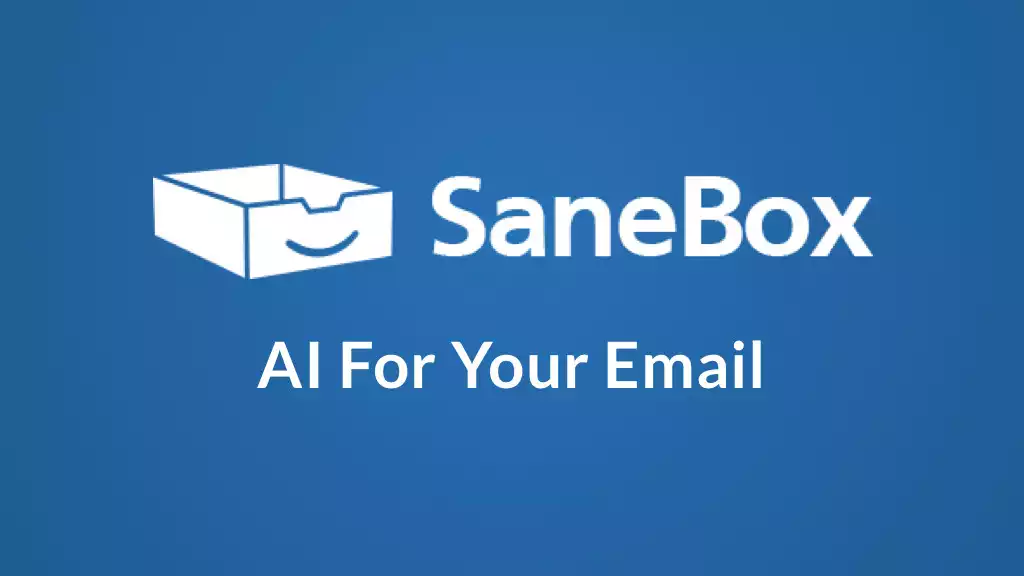 Clean Email
Clean Email is another email organization SaaS platform. It launched in 2015 and became popular due to its powerful features. Unlike SaneBox, it hosts a separate interface where users can manage their emails.
While I'm not the biggest fan of this interface (I prefer handling everything on my one email platform), I will say it's responsive and fast. Clean Email offers features that SaneBox doesn't have, such as bulk deletion and other actions.
Pros
Powerful email management interface
Bulk actions
Free plan
Clean Email automates these bulk organization functions
Cons
Doesn't offer SaneBox features I like, such as different folders
The interface isn't the best
Features
Clean Email and SaneBox have a lot of similar features. Like SaneBox, Clean Email uses powerful algorithms to separate your important emails from spam. It can be overwhelming to clean your email, but like SaneBox, Clean Email puts you in control of your email organization and offers suggestions.
Once Clean Email knows your preferences, its algorithms will analyze metadata to separate your emails into different folders.
Clean Email has a separate interface from Gmail, which took me a second to figure out. I have to be honest, I'm not a big fan of this interface.
It's difficult to navigate and can be confusing for those new to email management. But after playing around with it for a bit, I got used to the interface.
On the interface, Clean Email will suggest emails that can be moved to trash, marked as read, archived, or keep newest. It will auto-recommend a task, though you can click the arrow next to the action and choose a different one.
Clean Email is more efficient in some ways. For example, I like how I can bulk delete or move several emails at once.
You can also go to the Auto Clean folder and tell Clean Email's algorithms to repeat this action for future emails that meet those criteria. I have the free plan, so I'm only able to move 100 emails at a time. It's annoying, but not the end of the world.
Bottom line: Clean Email also separates important emails from unimportant ones, but uses a separate interface as a management system. I'm not a big fan of the interface at all, but you can bulk-move emails to trash and manage other actions.
Security/Privacy
Like SaneBox, Clean Email also uses an OAuth 2.0 authentication protocol. Clean Email also has a clear privacy policy, stating it doesn't sell, keep, or analyze data beyond its features.
They're fully compliant with Gmail's privacy policy, so you don't have to worry about your data falling into other hands.
Unlike SaneBox, once you delete your account, Clean Email deletes all your data. I'm unsure if Clean Email can regenerate your data if you sign back up again. At worst, you have to go through the same protocol again.
Bottom line: Clean Email uses the same OAith 2.0 authentication as SaneBox and other email platforms. But Clean Email will delete all data if you no longer use your services, which is safer than SaneBox holding onto your data for 90 days.
I'm unsure if Clean Email can regenerate your data if you sign back up, so that's up to you if that's a better feature or not.
Cost
I like how Clean Email offers a free plan. Given, the free plan is lacking. You can only do bulk actions for 1,000 emails at a time. I wanted to do actions for more than one thousand emails, so that's the main downside.
If you need to pay for a plan, Clean Email is more expensive than SaneBox. Clean Email's yearly plans are a little cheaper than SaneBox, but I don't think you get any months free. The prices are:
1 account: $11.09/month
5 accounts: $22.19/month
10 accounts: $33.29/month
The nice aspect of Clean Email is all features are included in every plan, the difference is the number of accounts. I wish they had more flexibility–I could use a solution for two accounts, not five. You can cancel Clean Email at any time.
Bottom line: Clean Email offers a free plan, and all features are included in every paid subscription. However, Clean Email is more expensive when paid monthly, though they're significantly cheaper when paying yearly.
Unlike SaneBox, you don't receive any months for free. I also wish they were more flexible on the number of plans you can choose. I would want a solution with two emails, not jumping from one to five.
Can You Use Both?
When I was first comparing the two platforms, one question came to mind: can I use both platforms at the same time?
Instead of trying that, I used SaneBox for my personal email and Clean Email for the one on my music website, so I could compare the two platforms separately. But this is still something that piqued my interest, and I started digging to explore my options.
From what I found, you can use both organization tools on the same email. You can use the best of both features, such as SaneBox's folders and Clean Email's bulk actions.
This will keep important emails in the main inbox folder, and you don't have to manually view each folder to ensure all emails are in the right place.
Both platforms can also use their algorithms to identify important and unimportant emails. My concern is if these algorithms will collide, potentially losing important emails.
If you're considering this option, I suggest trying the free Clean Email account and introductory SaneBox plan (UPDATE: Our readers can get $25 credit using this link). In case using both platforms doesn't work out, or you prefer one over the other, at least you didn't pay for Clean Email and you can cancel SaneBox at any time.
Alternatives
Did you realize neither SaneBox nor Clean Email is a good solution for you?
There are many email platforms that have more features and may be better options for businesses. Here are some of my favorite alternatives to both platforms.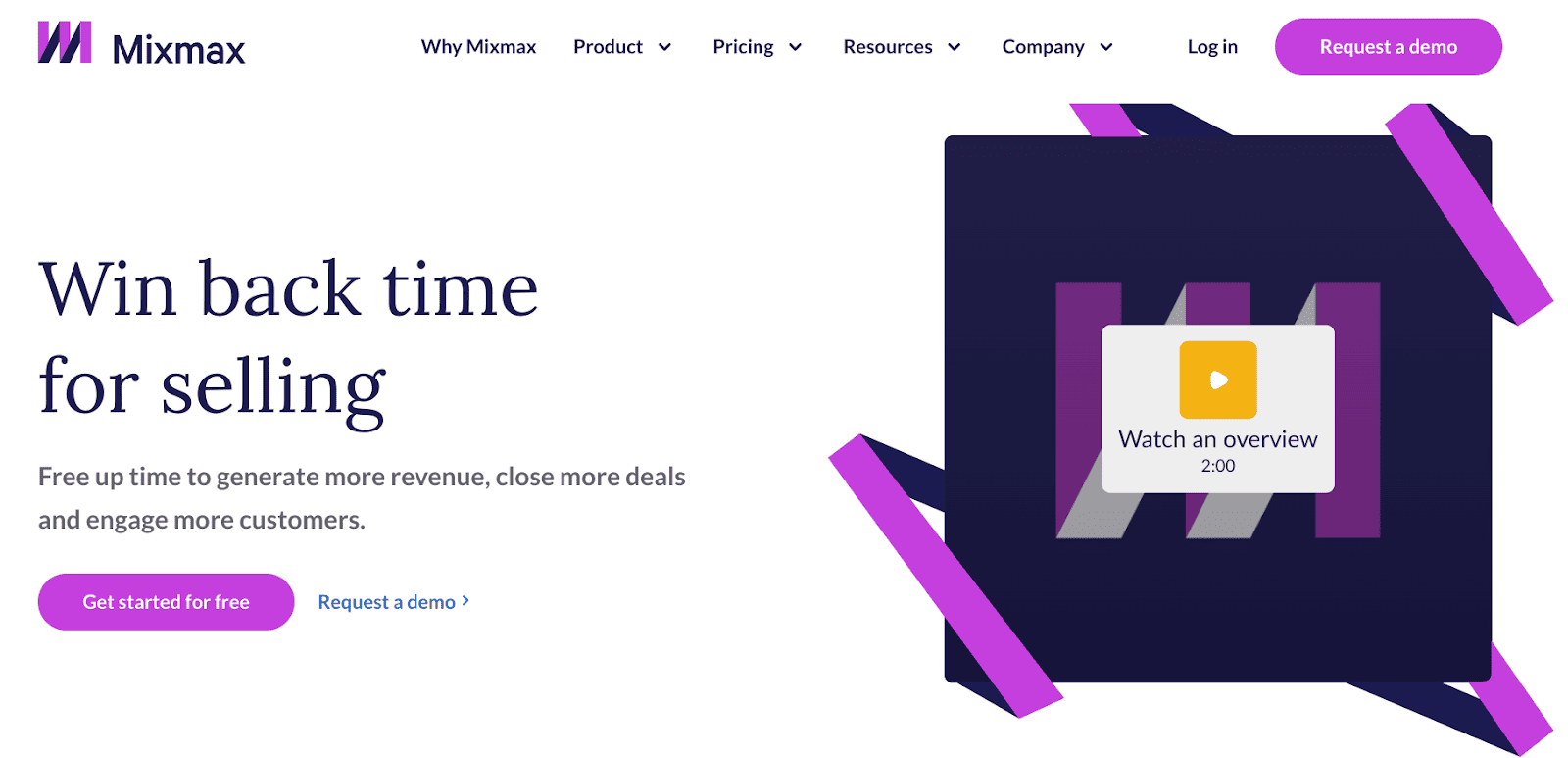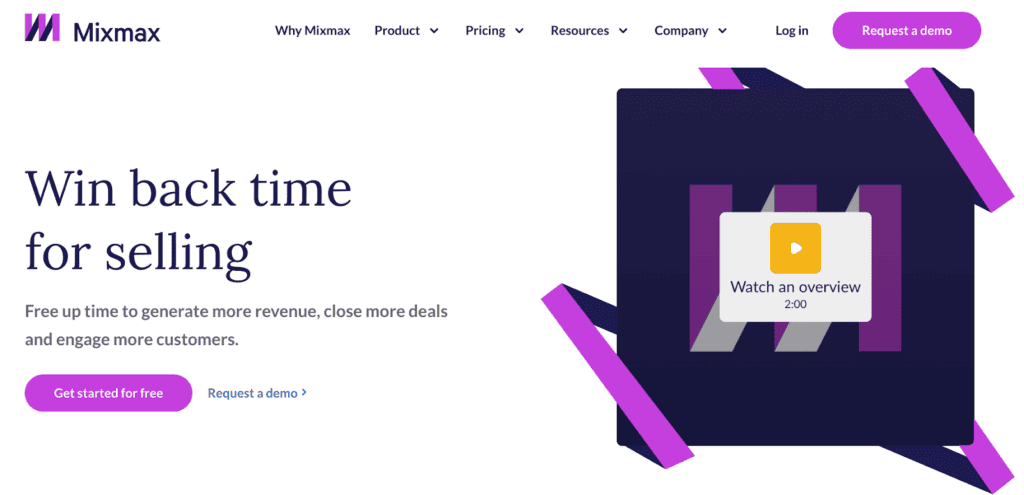 If you need an email platform for sales professionals, I suggest Mixmax. Like SaneBox, MixMax is an extension for Gmail, so you don't have to go on a separate interface to manage your sales emails.
Mixmax allows you to create templates from scratch, even including attachments in these templates. You can share these templates with your team members, so your entire staff is on board with your branded emails.
They also include powerful tracking features and insights. You can track which leads open emails and click your links, so you always know which emails work.
I recommend Mixmax more for those who need sales email tools rather than an organizational platform. Some tools, such as the email scheduler, aren't user-friendly. Integrating with different platforms can also be tricky.
MixMax is also super affordable. They offer a free plan with basic features, such as email tracking and scheduling. The next tier, SMB, is only $29/month. In case you need more functionality, upgrades are always free.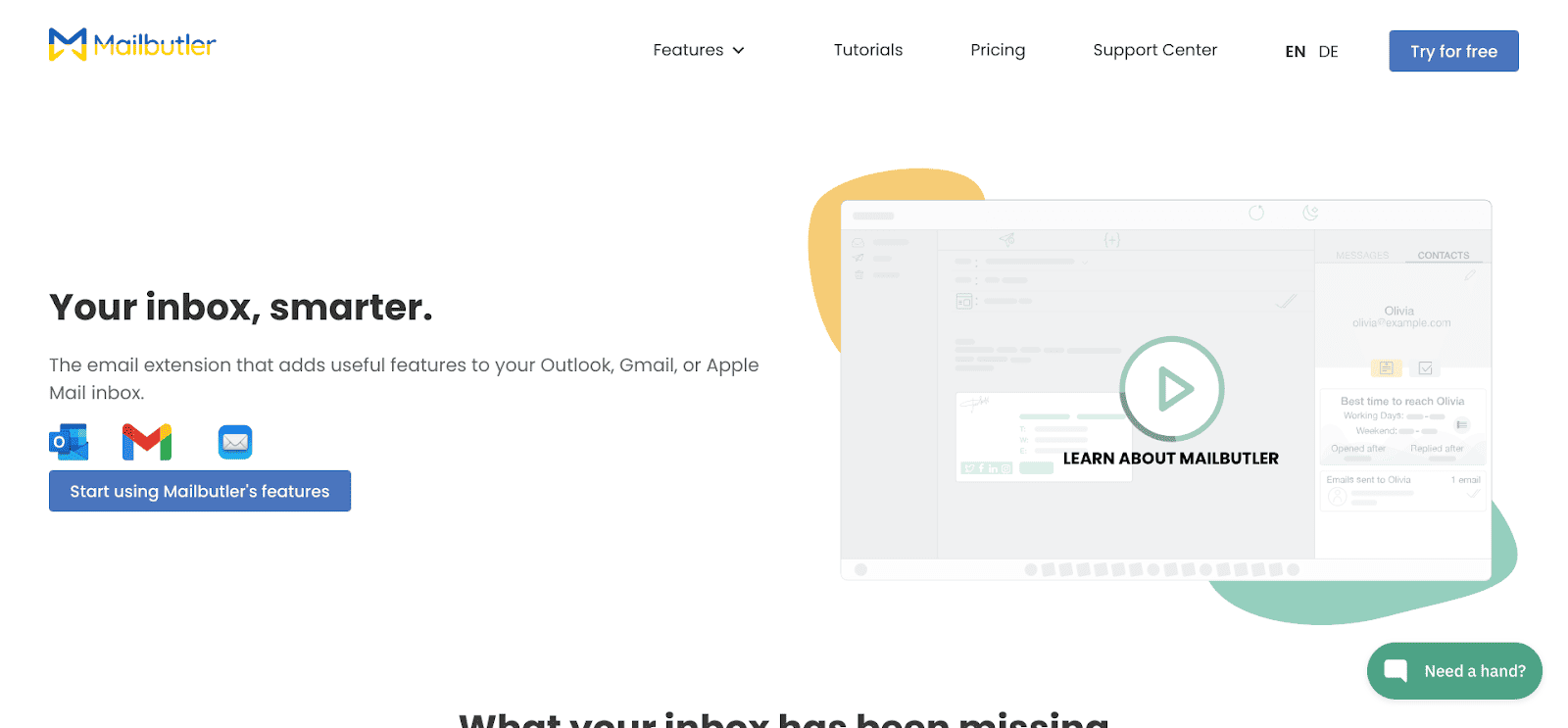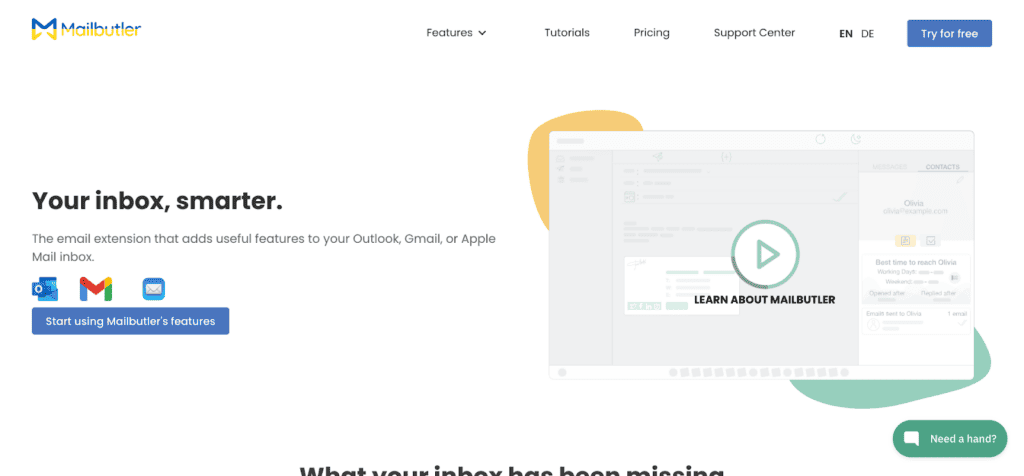 If you want an all-in-one email productivity tool, I suggest Mailbutler. This program is an extension that connects to nearly every major email provider, such as Gmail, Outlook, and iCloud.
Even with the numerous capabilities that this platform offers, it's super easy to use. For example, you can schedule email sends, which is a feature I love. You can also unsend emails, which is super neat.
Mailbutler also has impressive email tracking tools for your sales and marketing team. You will always see if your recipients received and read your email, which takes a lot of anxiety away from my shoulders, and prevents me from sending numerous reminders.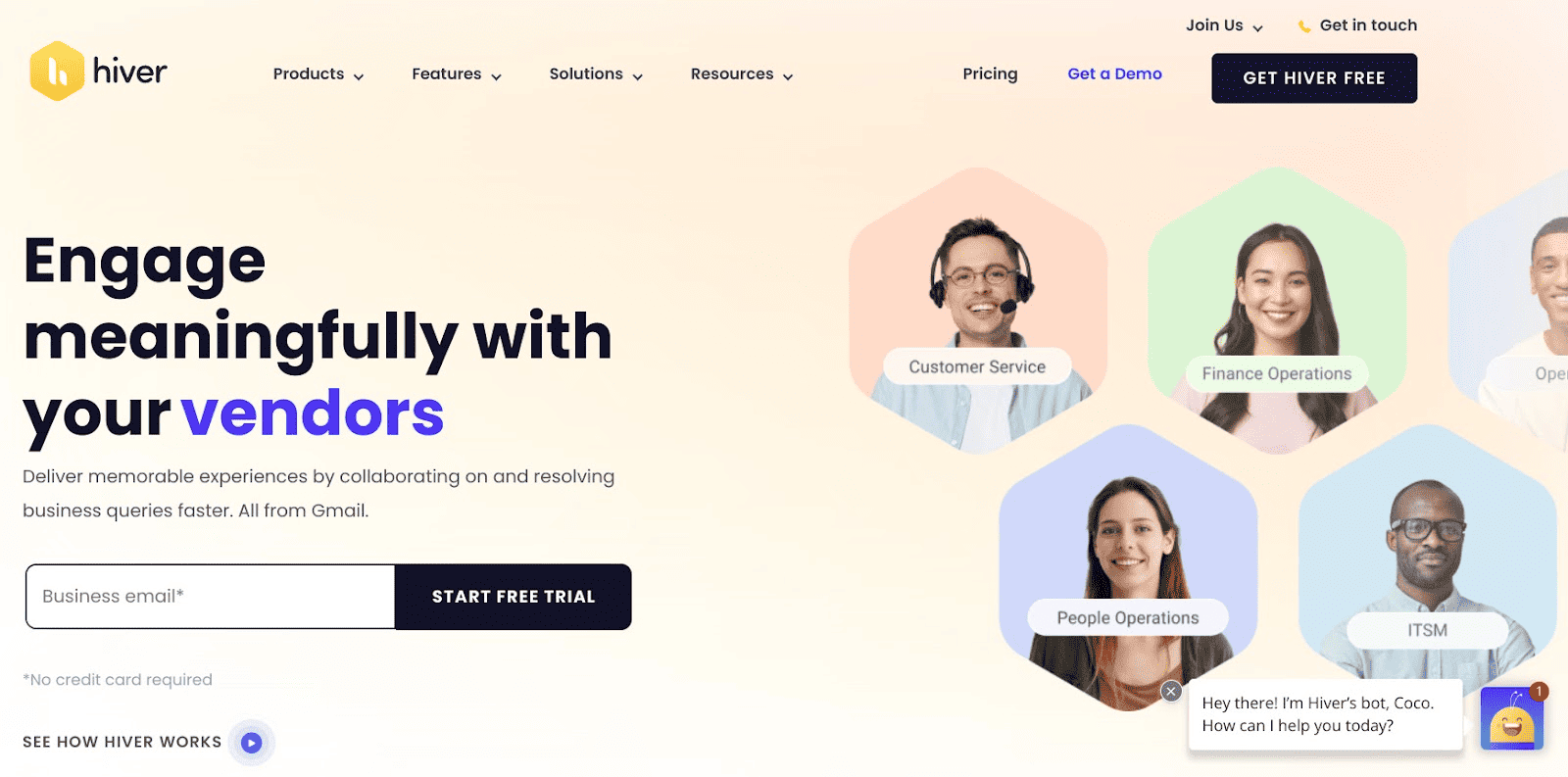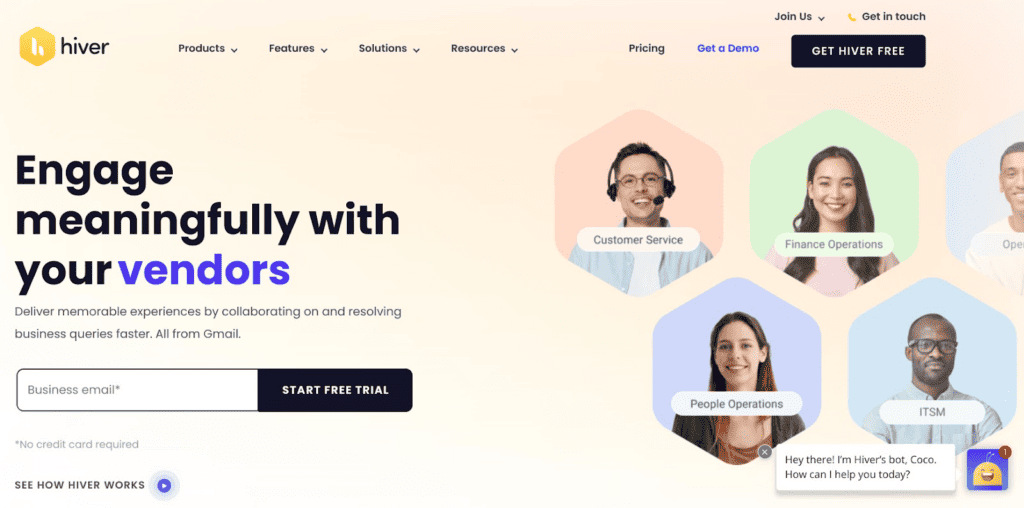 Like Mixmax, Hiver is another Gmail integration that enhances your email functionality. While Mixmax is a great solution for solopreneurs and startups, Hiver is a better option for larger teams. Hiver operates like a project management platform on email and Google Workspace.
You can tag and assign team members to emails, which is great if you often CC or forward emails. Hiver also lets more than one person collaborate on email, and there's even a nifty chat function you can use.
The pricing is the downside. The Lite plan starts at $15/month, which is pretty expensive. Plus, they offer solutions to only select industries, which is pretty limiting.
Honorable Mentions
Here's a few more I've compared recently that are worth mentioning:
FAQs
Question: Is There Another Way I Can Clean My Email Inbox?
Answer: Before I started using these platforms, I would manually delete emails. Gmail has separate Social, Promotions, and Spam folders.
I would go through all of them and ensure no important emails fell into these folders by accident. You can also unsubscribe from emails you aren't interested in (most let you unsubscribe directly from the email). If I need to find a specific email, I always search by the sender.
Question: I Have Thousands of Emails I Need to Organize! What do I do?
Answer: That sounds like my former problem! I tried doing this manually, but it became too much. I suggest choosing SaneBox, Clean Email, or one of the alternatives to organize your emails for you. If you're on a limited budget, Clean Email offers a free plan.
Question: Should I Choose the Clean Email Free or Paid Plan?
Answer: I chose the free plan, though I don't like how I can only do bulk actions for 1,000 emails at a time. If you need more functionality, I suggest signing up for another plan.
SaneBox vs Clean Email Compared: Bottom Line
I will continue using Clean Email, and I will give up SaneBox after my free trial is up (UPDATE: SaneBox is now offering our readers a $25 credit in addition to their free trial… so you can use much longer). The main reason why is that Clean Email is free and for my personal email accounts, this works fine.
For business accounts (think thousands of emails a day), you just can't beat SaneBox's features and cross-platform capabilities.
While I'm not a fan of Clean Email's separate interface, I like the bulk actions I can do. I wish I could do bulk actions for more than 1,000 emails, it's still not the end of the world.
There are aspects I like about SaneBox more than Clean Email. Separating emails into different folders makes the world of a difference and helps me stay organized. I just wish SaneBox offered a free plan. You can also use both of these platforms together, or try one of the alternatives that I also recommend.