Last Updated on August 18, 2023 by Ewen Finser
As a Marketer, I rely on my email mailbox as a task management system and central hub for internal and external communication.
That's why I know how crucial it is to keep your mailbox in order! My guide to the best email cleaner tools will help you have a mailbox detox.
Receiving in-house reports, client requests, and industry newsletters, for example, all in one central mailbox, can become overwhelming.
How do you differentiate your tasks, and how do you prioritize your workflow? Thanks to an email cleaner tool, the work is done for you after the initial setup, but it's hard to know which one to go for.
I've tested 5 different platforms to give you my honest opinions on each from the perspective of someone who coordinates a marketing team.
I'll weigh up the pros and cons and provide insight on how to make these tools work for you.
Bottom Line Up Front
Out of the tools in this article, I prefer SaneBox because of its features. It makes the initial mailbox deep clean easy, it's reasonably priced, and I can see how useful it will be to managing both my work and personal mailboxes.
Overall I would recommend SaneBox for any type or size of business as well as for your email account.
I liked most of the tools on this list, some more than others, so carry on reading to find out more!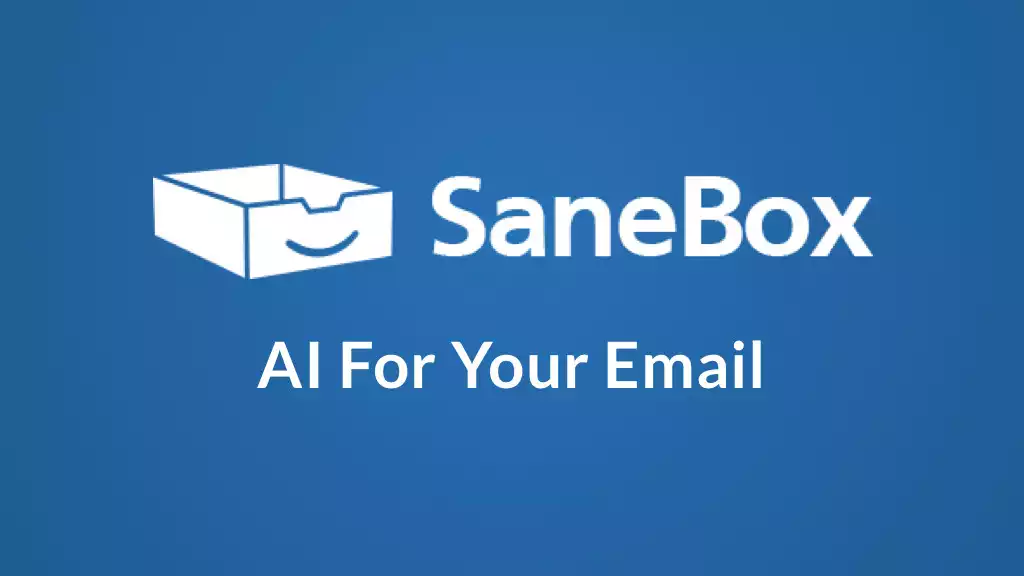 My Top Picks
Here are my top three picks for today:
SaneBox – an excellent tool with everything you'd expect to organize your mailbox
Clean Email– a great tool with a wide range of features
Mailstrom– a good tool with simple but easy-to-use features
How to Choose an Email Cleaner Tool for Business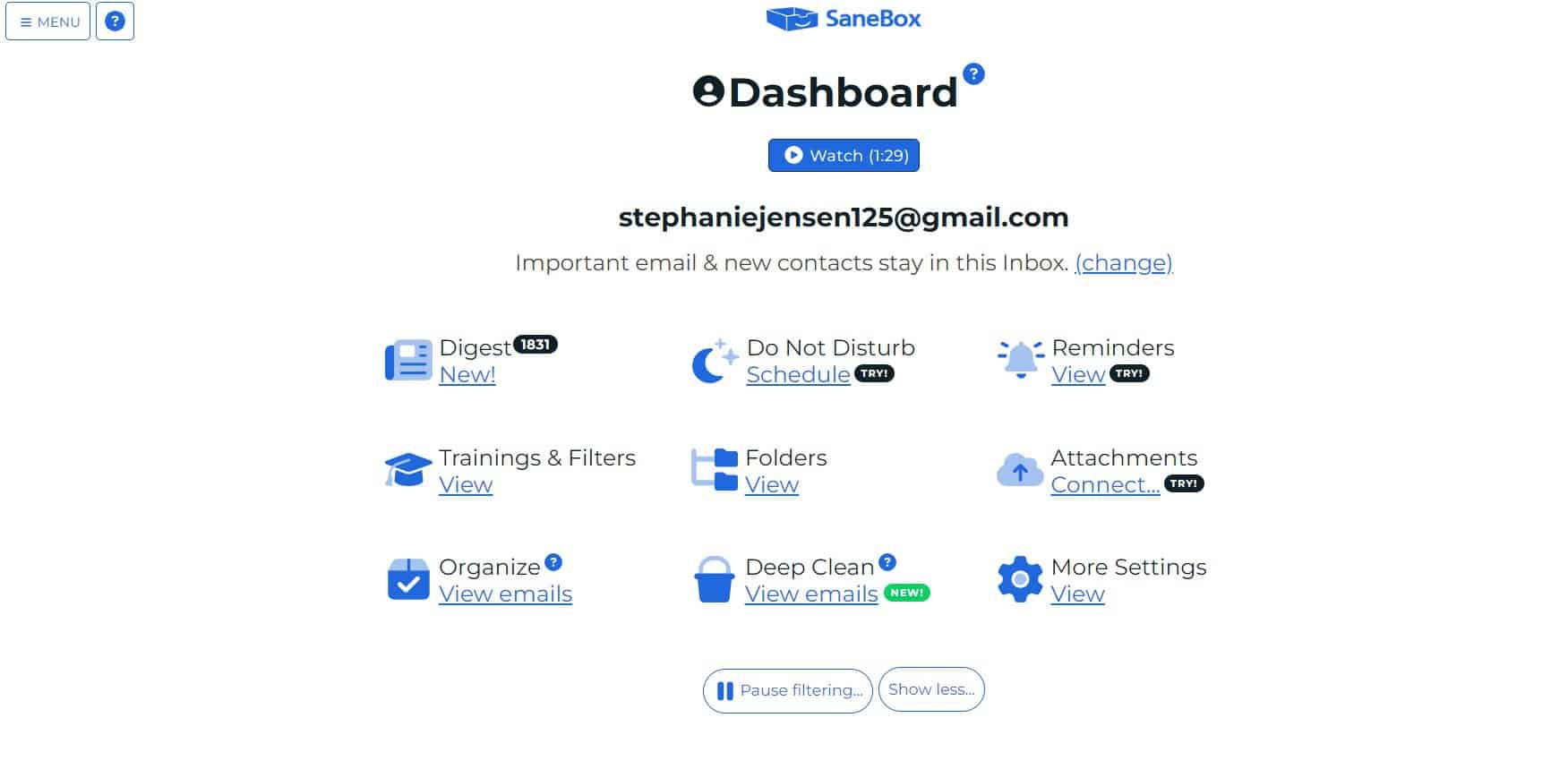 If your mailbox is overflowing and you're losing track of important information, what kind of features would benefit you? Here is what I looked out for:
UX/UI
When using a platform to organize your workflow, the last thing anyone wants is for it to overcomplicate the situation even more. That's why I needed to find the most efficient and simple-to-use tool available.
Most of the tools on my list support major email providers such as Gmail inbox, Outlook, and iCloud and allow you to connect your mailbox by simply signing up using your email address on their website; no need to download any extensions to your desktop.
Some tools in this article also offer apps for iOS and Android, allowing you to conveniently clean up your mailbox on the go via your smartphone or tablet.
I think this is a bonus for initial setup as you have to let the tool scan your emails, and if you have a lot like me, this can take a while (but worth it overall).
If you need assistance when getting started or using the clean-up tool, all of the tools on my list offer help through articles or videos on each feature which I found useful to refer to throughout the process.
Security
Ensuring that the content of my emails, attachments, and personal data wasn't shared outside the server was at the forefront of my mind when deciding to use an email clean-up tool.
However, I was impressed that privacy and security were listed at the top of most of the tool's features on my list and reassured me that most of the time, the only person reading my emails would be me.
Instead, most of the tools scan information such as the subject line, sender, date, and time or analyze the patterns in your email behavior.
Although some tools might need your email password or OAuth token, these are encrypted for maximum security.
However, there is one tool in my list that, to keep it free, sells data for statistical purposes. This was disappointing, but, as there were plenty more tools to choose from, this wasn't a hindrance.
Mailbox Cleanse
For me, this was the first point of call when incorporating an email cleaning tool into my mailbox.
Getting rid of emails from over three years ago, out-of-date newsletters that were sat unopened, and any leftover spam or junk mail was not only highly satisfying but helped clear my workspace, only leaving relevant communication that I needed to refer to or action in the future.
However, as a marketer, this has made me mindful when targeting my audience with email campaigns to ensure that the subject lines are intriguing and don't trigger spam filters (or getting manually marked as spam emails).
Using email marketing software helps you track which emails are best received by your audience, but you can find out more in our guide on how to find the best email marketing software for your business.
The ability to cleanse your mailbox is also great if you're reaching your storage limit, especially when you receive emails with large file attachments like I do. Ultimately having this detox motivates you to continue to keep your mailbox clean and organized.
Inbox Organization
The game changer!
Sorting the spam from the genuine and filtering your emails into specific folders is really what we're here for when connecting an email cleaner tool to our mailboxes.
Most of the tools on my list have presets or predefined filters relating to common kinds of emails a user like you or I might receive, for example, newsletters, cc'd emails, or spam from accounts with a sketchy sender reputation.
However, I found that most of these are customizable, so you can manage your mailbox your way.
Streamlining the emails that come in into organized, logical folders saves time and maximizes your workflow as it allows you to concentrate on what's important or relevant to your current projects.
I find this particularly proactive and, therefore, rewarding as I prioritize my time on my creative work rather than constant admin.
Pricing
Like various business, marketing, and organizational programs, most email cleaner tools do have a pricing system in place – especially when they offer more than just a mailbox clean-up!
They're usually tiered with a basic, standard, and pro approach that all offer different features and several account connections.
How much you pay depends on how organized you want to be and how many people within your team, if used for business, will be involved.
I'd suggest starting with the free trial, seeing how many of the features you benefit from using, and basing your price plan on that.
SaneBox: Best Email Cleaner & Organizer

SaneBox offers more than just an email cleaning service. It helps manage your inbox day to day, which is extremely beneficial for business communication and workflow management.
This email cleaning and management system encourages an initial deep clean and then offers a range of predefined folders for less important emails for you to refer back to during downtime or automatically delete after a specific period.
You can change the algorithm of most of these folders to determine what kind of emails end up in there. Although, folders such as 'Reminders,' 'Attachments,' or 'SaneNoReplies' are set in place as these handle the important stuff that needs to be on your radar.
Their 'do not disturb' feature works as an 'out of office' to discourage you from checking emails while on holiday or concentrating on a big project.
However, like with your phone, certain people can access you, which you pre-set with a keyword that triggers the algorithm to get through.
I really like this feature because it's too easy to peek at your emails when notifications are constantly coming through.
SaneBox is supported by Google, Office365, and iCloud, but you can enter any email address to use the service.
In addition, the site offers a variety of resources, FAQs, and a blog alongside short help videos to offer advice, tips, and tricks to stay on top of your mailbox organization.
They offer multiple reports relating to privacy audited by various security companies reassuring users that their personal information is safe with maximum encryption.
Their pricing is structured into the number of features and users available, which is limiting if you require all the features but only need to manage one email account.
However, they offer a free trial and the 'Appetizer' plan for 7 cents a day, giving you 1 feature for 1 email account.
UPDATE: SaneBox also now offers our readers a $25 credit, good for any paid plan if you'd like to try it out for a longer period of time beyond the trial.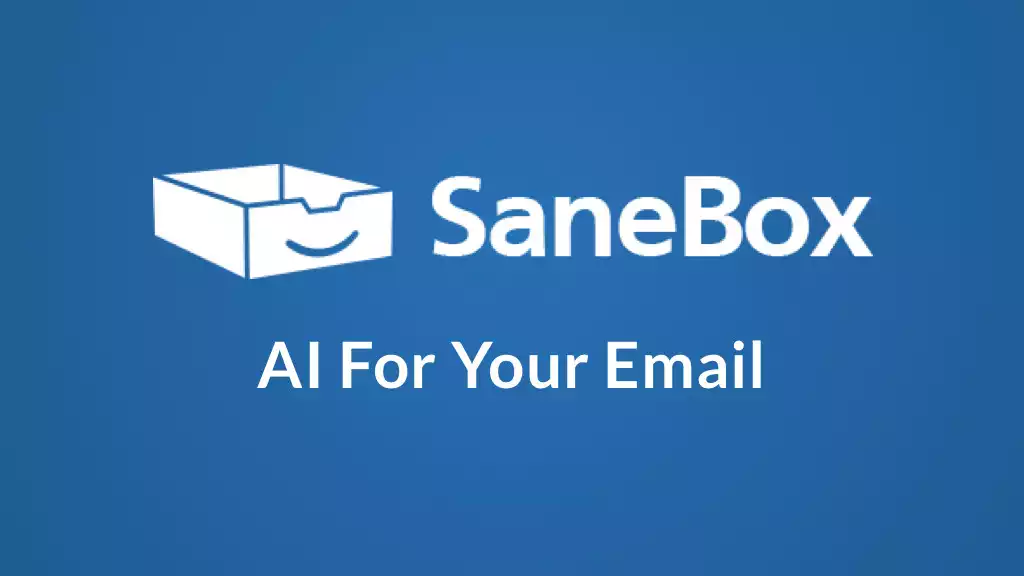 Pros
A customizable folder-filtering system
The do not disturb feature encourages you to take a break
Encrypted for maximum security
Cons
Not all features are available on different price plans
SaneBox Coupon & Deals
While there aren't any active coupons per se that I'm tracking, you CAN get a $25 credit by using our readers only link here (good for all paid plans).
SaneBox Compared to Others
I've also compared SaneBox directly to a few competitors directly:
Clean Email: Best Gmail Inbox Cleaner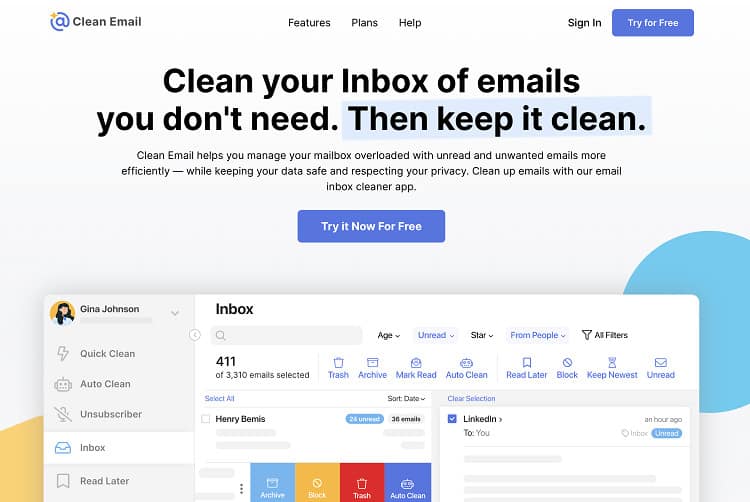 Clean Email is pretty self-explanatory as it cleanses your overloaded mailbox by allowing you to delete or archive thousands of unwanted email at once and then helping you manage everything else coming in automatically.
The tool offers you predefined filters to group similar emails together, such as 'emails larger than 1MB' or 'emails from 'dead ends''.
This is suited to those who would rather scan over the content before getting rid or deciding which way to action.
I liked this for peace of mind before hitting that delete button, as I would be able to save any emails I thought could be important.
A beneficial feature of Clean Email is the ability to see if your mail is from an actual person or a mailing list, allowing you to differentiate between real people and automated systems.
It's authorized by the top email providers, such as Google, Yahoo, and Outlook, meaning it doesn't need access to your inbox password if you use one of those.
You can try for free or choose from three different plans that offer access to different accounts with all features available.
Their YouTube channel offers advice videos alongside productivity hacks and various tips and tricks to organize your inbox.
Pros
Easy-to-use cleaning, groups, and filter features
All features are available on different price plans
Encrypted for maximum security
Cons
Clean Email Coupon & Deals
As of this writing the code "CHEAPERLIFETIME" nets 50% for annual pricing. This may change!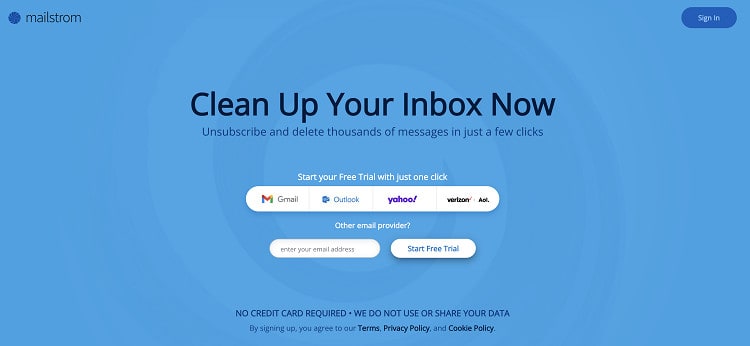 Mailstrom is a simple tool that puts the user in control of managing their inbox. It identifies groups of related mail, such as by sender, subject, or time, for you to decide whether to delete, archive, or sort.
However, I found its features limited, and without any automation, it was time-consuming to implement within my mailbox.
I did like the spam protection and unsubscribe button, which blocked unwanted senders and removed me from any old mailing lists (email list cleaning), but that's as technical as it gets with Mailstrom.
All major email providers were supported as you'd expect, and a free trial was offered before upgrading to their priced plans.
Despite the lack of features, Mailstrom is quite pricey compared to other email cleaning tools, particularly with their pro plan.
Mailstrom does offer a range of articles to offer assistance with email organization and clearouts, but only one information video, which I found limiting.
I would say this is a tool for someone who wants to still be in control of their mailbox while filtering out any junk from their personal emails as opposed to their business ones.
Pros
Good UX/UI
Simple organization features
Encrypted for maximum security
Cons
Priced more than competitors
Very limited features
Mailstrom Coupon & Deals
As of this writing, there are no active coupons for Mailstrom that I've been able to successfully apply.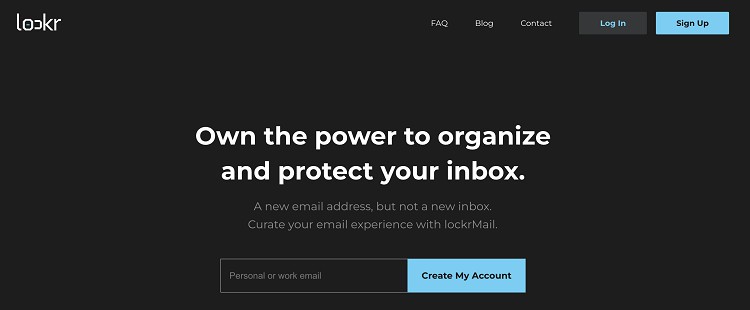 Another simple yet effective tool, lockerMail, pre-filters the mail coming into your inbox.
It works by first signing up with your usual email address as a destination for the mail to go, but then the tool generates a 'lockerMail' email address for you to use when making an online purchase or signing up to newsletters, for example.
You can add other email addresses to connect to the tool and direct which inbox you'd like the mail to go to.
You can filter to only mail, such as receiving order confirmations, discount emails, or delivery updates, as well as blocking any senders you want to stop receiving communication from.
I didn't like the aspect of having a new email address created for me as I almost always forgot to use this when completing an online order, but more importantly, it felt as if the company owned my emails.
There also isn't much in terms of security advertised on their website, another concerning element.
Again all the usual email providers were supported, and lockerMail is a free service to use, particularly good for those on a budget. They have an accessible blog with loads of information as well as a quick set-up video.
Pros
Good UX/UI
Simple organization features
Free to use
Cons
Limited security information
Creates a new email address for you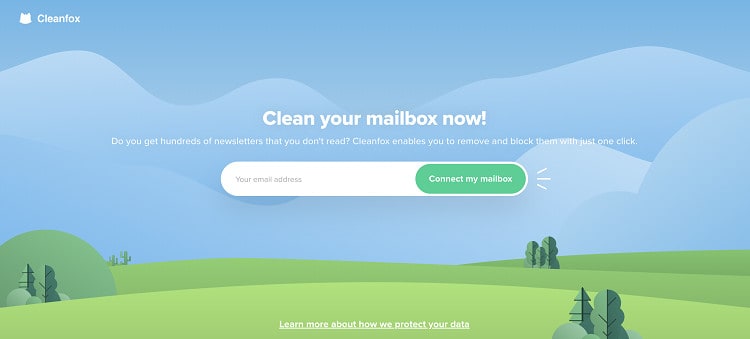 Cleanfox is probably the most simple in terms of features and easy-to-use tool out of all the ones on my list. That's not to say it's not effective, however.
You simply connect your mailbox by entering your email address on their website and then select the mail you want to delete. You can also block these senders from receiving any future mail too.
Cleanfox is a free service that is beneficial to those on a budget or who only want to clear out their inbox and not continue with any filtering moving forward.
However, because of this, they do sell your data for statistical purposes compiled from the transactional emails and newsletters they scan.
This was a downside for me and did prevent me from moving forward with the tool. If you are interested, though, I'd suggest reading through their privacy policy first.
Pros
Simple and easy-to-use UI
Free to use
Cons
Email data is sold for statistical purposes
FAQs
Question: What is an Email Cleaning Tool?
Answer: An email cleaning tool connects with your email provider and allows you to clean up old, unwanted, or junk emails, as well as assist you in maintaining an organized mailbox.
Question: Do all the Tools on this List Offer a Free Trial?
Answer: Yes, all the tools in this article are either completely free or offer free trials so that you can choose one that's right for you!
Question: Can Email Cleaning Tools Access the Content of my Emails?
Answer: All of the email cleaning tools in this article prioritize and are transparent about their privacy and security policies. However, I would advise reading through these before going ahead if you're unsure.
Best Email Cleaner Tools – My Final Thoughts
The email cleaning tool I've decided to implement with both my work and personal emails is SaneBox.
The initial setup with my email provider was simple and deep cleaning my mailbox was easy to navigate, which reassured me that I'd made the right decision.
I enjoyed using their predefined folders to easily manage and filter my mail going forward. I'm looking forward to setting up the 'do not disturb' function when on vacation, particularly with my work emails, so I can fully relax.
If you want to see how SaneBox compares to another popular email cleaner tool, you can read our guide SaneBox vs. Superhuman Compared.
However, I'd also recommend Clean Email if you want to access all the tool's features as an individual that doesn't need multiple accounts connected.
The initial clean-up service was simple, and the grouping system made for peace of mind before deciding what to do with your emails.
Finally, if you're looking for a budget option, I'd recommend lockerMail. It's free and offers basic features, so if you're just looking for an organization system for future emails, this is a good option to go for.
I hope this article has helped with your decision of which email cleaner tool to go for.