Last Updated on June 27, 2023 by Ewen Finser
If you ever feel overwhelmed by your inbox, you're not alone. That's why I was interested in testing out SaneBox, a popular email management service to see how it works.
I know what it's like to fall behind on your email organization, or to lose an important message in a crowd of newsletters; using an email management tool can help, but signing up for something with access to your messages can feel daunting.
I've tested SaneBox for myself to see if it can make my email management easier and to look at key features like security, filtering, and scheduling. Keep reading this SaneBox Review & Guide to find out more about how it works.
Bottom Line Up Front
I was impressed with SaneBox. Even for personal use, it's worth considering: keeping on top of your emails and organizing them is very useful. For professional use, it's a game-changer.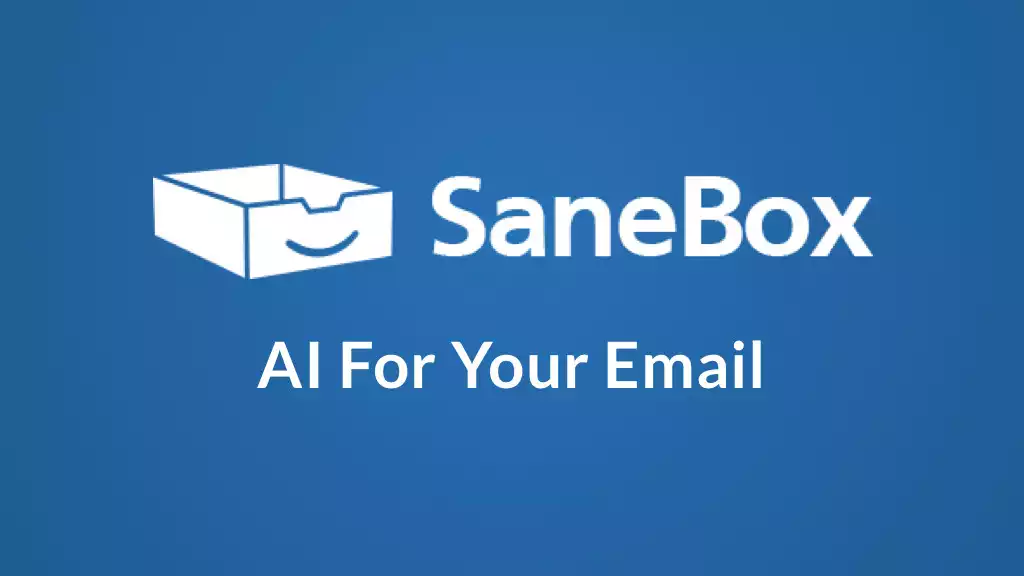 What Is SaneBox?
SaneBox is an email management service. Launched in 2010, it automatically filters your emails into the correct folders, allowing you to keep up with your most urgent emails.
Plus, you can set up email reminders, manage your email storage, and set up Do Not Disturb mode for much-needed vacation time.
How to Choose an Email Management Service
Email management services are excellent both for personal and professional use. Here are some key features you should look out for:
Security
Security is very important. It feels daunting to give your details to a third party, especially if you deal with sensitive information in your inbox.
Look at how the email management system works: can it access your full emails, and what does it do with that information? For example, SaneBox only reads your headers, not the full email, which provides some reassurance.
Pricing
Pricing is another obvious consideration. While choosing a free email management tool is tempting, I'd say choosing a paid option is better from a security perspective.
Usually, when something is free, there are strings attached somewhere down the line. You may, for example, find that your data is the product, and could be passed on to other parties.
Folders
Email management services should allow you to organize all your emails into specific folders, making it easier to find what you want. Also, look for custom folders; this allows you to make your email management system fit your needs.
Do Not Disturb Mode
Some email management services allow you to switch on Do Not Disturb mode, safely storing your emails in a specific folder until you return. Some may even allow certain emails to come through, allowing colleagues to contact you in an emergency.
Extra Features
You can also look for extra features, including:
Storage management – you may be able to tidy your emails, clearing out old ones to create more space
Signatures – you may be able to create custom email signatures with key contact details
Email scheduling – you may be able to schedule your emails in advance
Reminders – you can ask to receive emails reminding you of meetings, bills, or other events in your calendar
I tested out SaneBox, and here's what I thought of how it works. I'll go into user-friendliness (with any email client), organization, scheduling, support, and the other features it offers!
UX/UI
The SaneBox website itself is easy to use. It's super easy to sign up and connect with your email address; you don't need to download any software. Most of the work can be done from the dashboard, and you don't need any technical knowledge.
I'd say there is a low learning curve; some of the terminology can take a moment to get your head around, but other than that, it's very simple. Plus, there are videos for each feature, which you can view at any time.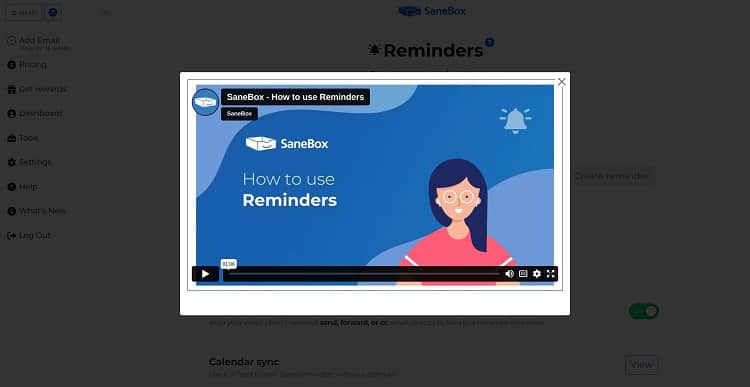 The setup process is only time-consuming because SaneBox has to scan your emails. This can take some time, depending on how many you have!
Make sure you allow for time for SaneBox to complete the initial scan; you won't be able to jump right in straight away without this, and some features can't work until the scan is completed (for example, the Digest feature).
Security
Security is an important point regarding emails: it can be daunting to hand over personal or confidential data to a company if you don't know what they're going to do with it!
However, I was pretty impressed with SaneBox's security credentials. You can read their security policies for the full picture, but to give you the important points:
Your emails stay on the server, so you don't have to worry about your data leaving the security of your inbox.
SaneBox only analyzes headers and how quickly you respond to emails, etc., to get them into the right places. They don't access the content of your emails.
It requires your email password or OAuth token to access your inbox, which means no one else can sign up for it apart from you.
Your login credentials will never leave your server.
I'd recommend browsing their full security policies for more information. SaneBox is legit, and it's worth paying for this level of security, especially if you're dealing with confidential information in your inbox.
Email Filtering
SaneBox diverts emails to the most logical places. This means it will set up a series of new folders in your email account. Suggested folders include:
SaneLater – these are non-urgent emails that can wait until later
SaneNews – this collects newsletters and mailing lists into one place
SaneCC – all your CC'd emails
SaneBlackHole – you can put an email here, and the same emails will be automatically sent there for seven days before being moved to Trash (bear in mind this isn't for spam – it's more for marketing emails or emails from real people)
Importantly, you can set up your own email folders, too, which can include personal emails, invitations, expenses, eTickets, work, or anything you require.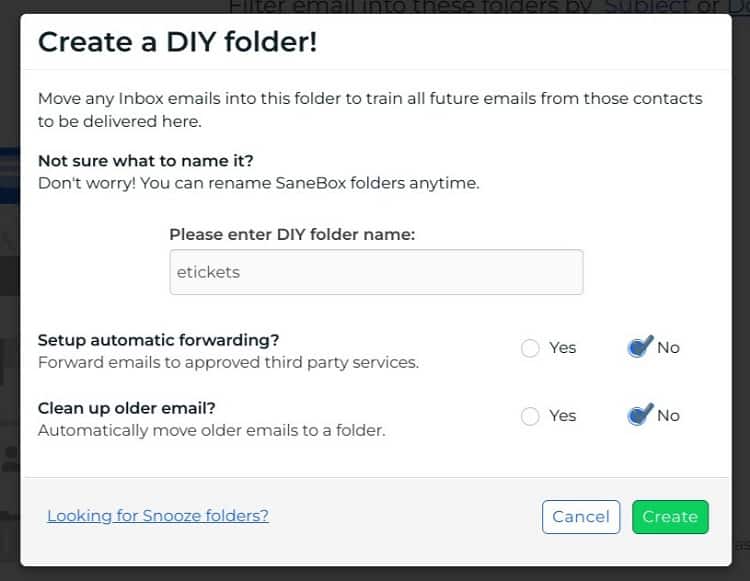 All of the above folders can be 'trained': you can teach the algorithm which emails to put into them. (I'll go into that in more detail a little later.)
Some folders cannot be trained. These include:
SaneDoNotDisturb – this diverts emails to a separate folder, so you won't be tempted to check them (more on this in a moment, too!)
SaneNotSpam – these are emails that may not be spam, that have been rescued by SaneBox from your spam folder
SaneNoReplies – emails you have sent but you haven't received a reply to
Reminders – emails you send to yourself
Attachments – a cloud folder for all your attachments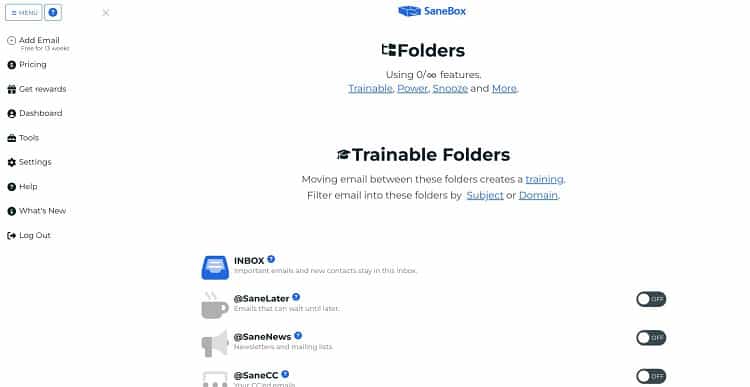 You can see the potential for making a huge, unwieldy inbox much more organized and streamlined; with a little bit of effort at the beginning, emails will begin to flow much more simply into the correct folders, saving you time and allowing you to efficiently prioritize your workflow.
This is also useful if you're a project manager, as it will allow you to keep track of everything relating to the project under one folder.
Even just for personal emails, I can see the benefits of using SaneBox; viewing receipts quickly, for example, without having to move them manually, would be beneficial if you want to keep a close eye on your spending!
It's worth noting that you can only create six folders, which is a shame if you'd like to categorize your emails further.
You'll notice a toggle on the suggested folders; you can switch these on when you're ready and switch them off if they're not working for you.
SaneBox Reminders
If, like me, you've ever forgotten to send an important email like me, the Reminders feature can help.
You can set reminders to send follow-up emails, ask SaneBox to email you about a future sale or event, receive reminders for bills, and have meeting agendas emailed to you two hours before key meetings.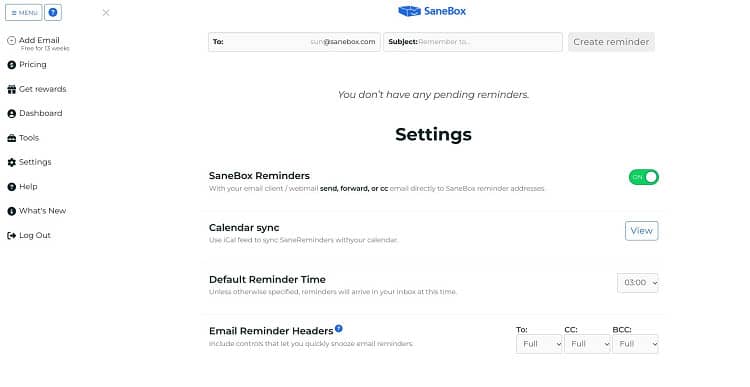 This is a nice feature; it does a lot of thinking for you, essentially reminding you of those small but vital events or occasions that may need some preparation.
SaneBox Deep Clean
If you're nearing your email limit, SaneBox can help. You can scan emails before a certain date (this is automatically set to emails from at least one year ago, but you can set it back further if you want to).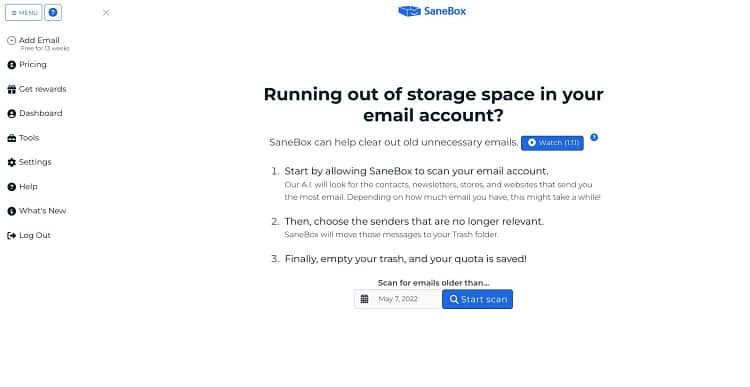 It will then flag up the senders that you receive the most emails from (for example, email newsletters from an email marketing service). It will allow you to select those senders, automatically sending all emails from that person from that period into your Trash folder.
This is crucial if you receive a large volume of emails: it will stop you from running out of space and keep your email account neat.
Do Not Disturb
I, for one, find it really hard to commit to the idea of 'Do Not Disturb'. It's tempting to sneak a look at your emails while you're away, but this can make it hard to get decent downtime away from work.
I like SaneBox's Do Not Disturb feature for this reason. Select the date and time you require, then set your away message. All emails you receive in this time period will be sent to the SaneDoNotDisturb folder.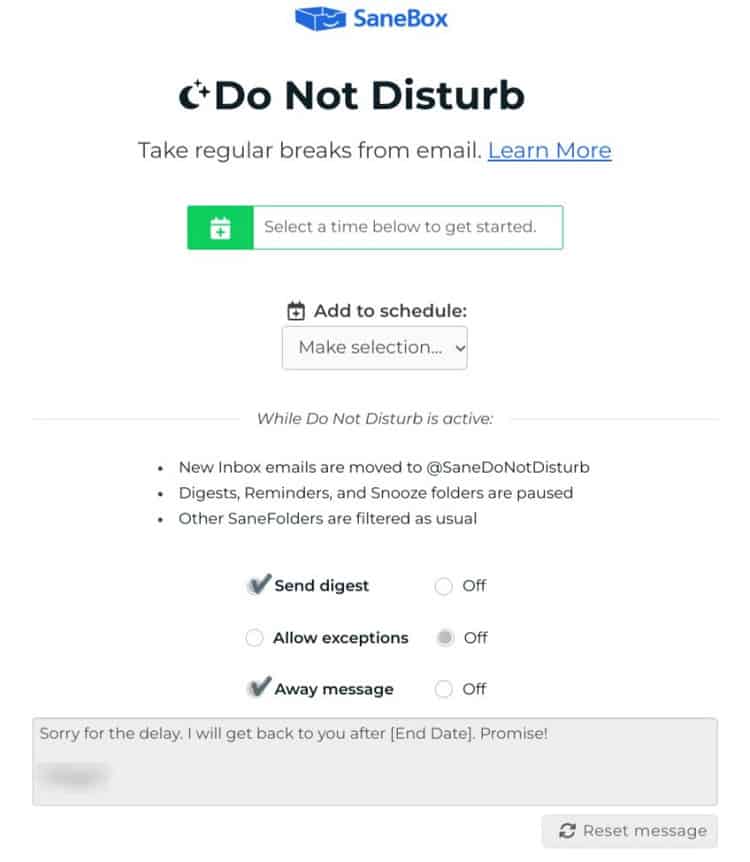 However, if you want certain people to be able to get hold of you, you can give them a keyword; using this keyword in their email title will allow the message to get through.
This is a clever way of allowing certain people to be able to contact you in an emergency, for example.

Training
To make the most of SaneBox, you need to train the algorithm. This is done by moving certain emails to specific folders. For example, if you want to add messages from an email newsletter service to your SaneNews folder, just drag the latest newsletter into that folder.
That's all you have to do! All future email newsletters from that sender will be added to the SaneNews folder.
You can train the algorithm using contacts. You can divert emails from a specific address into the right folder.
It has potential if you're a freelancer, or you work with multiple clients: you can divert emails from one client or business into its own folder, which is so useful.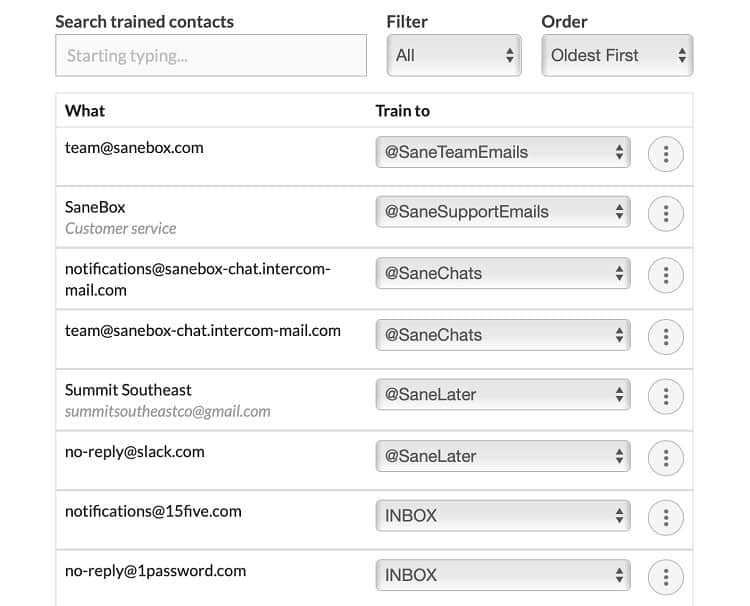 You can also train emails via subject heading. For example, emails with the word 'invoice' in the header can be diverted into a folder for your invoices, which is useful if you need to keep track of them to use with your accounting software.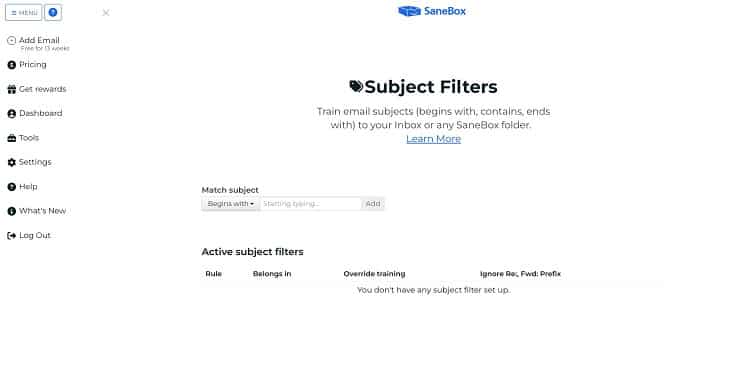 This is very straightforward and takes just minutes to set up. I like how fast it is: once you've taken a few moments in the beginning, you can enjoy organized emails from that point onwards.
I would say that this process isn't perfect. As SaneBox doesn't access the contents of your emails, it does rely on the headers for information (as well as other information, like how quickly you respond to them). So if a header is unclear, it may not end up in the right spot.
SaneBox Customer Support
The help center is clear and easy to use: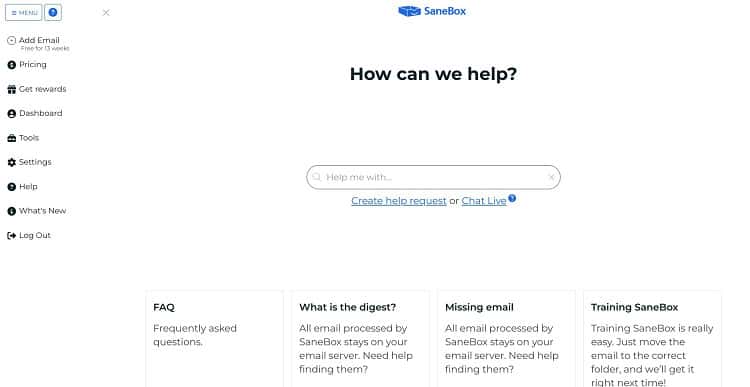 You can get support through a ticketing system, live chat, or phone support (if you go for the highest price tier). However, some users have reported that email support can be slow, which is a shame.
I will say that any issues I had during setup were easily solved just by browsing the help center.
SaneBox Pricing
Let's check out the pricing. You can pick the additional features you want from the following:
Reminders
Attachments
SaneNotSpam
SaneNoReplies
SaneDoNotDisturb
Snooze Until …
Snooze For …
This is for one email address and provides email support and up to 2 features from the above list.
This is for two email accounts and provides email and live chat support, along with 6 features for each account.
Dinner is for up to 4 email accounts and includes email, live chat, and phone support, and all features.
There's also the 'Appetizer' plan for 7 cents a day; this gives you 1 feature for 1 email account. This is a nice option if you are hesitant to add a SaneBox subscription to your recurring bills and/or just want to try it out beyond the free trial more.
I'd suggest checking out their free trial; however, it's worth noting that you will have to allow them access to your email account, and it may be a bit inconvenient to uninstall it later if you don't want to use it past the trial period.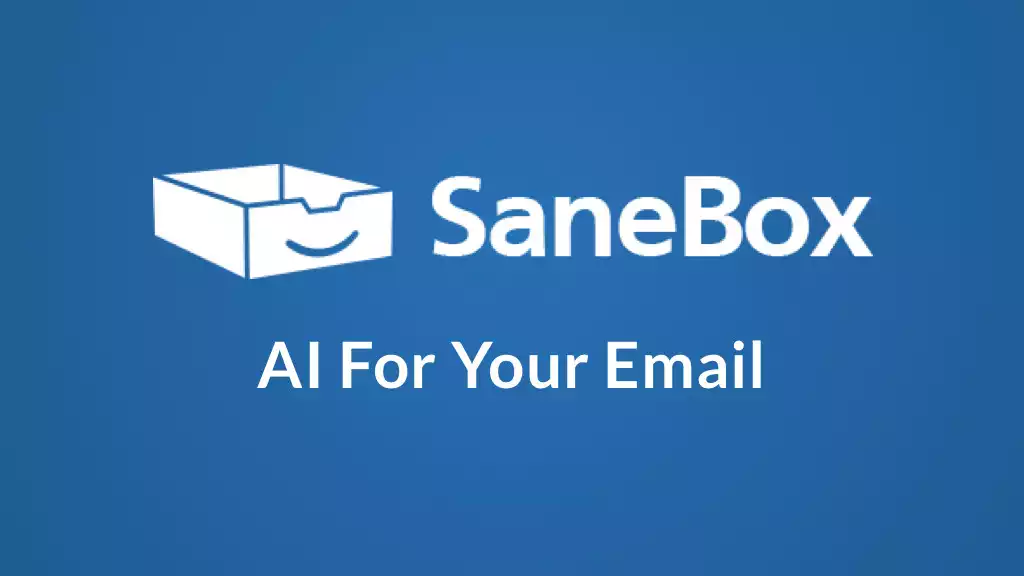 SaneBox Discounts and Promos
The team at SaneBox has generously offered our readers a $25 credit off of any paid plan. Just check out this page to take advantage of the special offer.
Pros and Cons
Let's check out the pros and cons of SaneBox:
Pros
Easy and fast to set up
Simple to train the algorithm
Excellent security credentials
Custom folders allow you to set up your emails the way you want them to
The Do Not Disturb feature works well
Can pick and choose the features you want
Cons
Only six custom email folders are allowed
Some users found that email support could be faster to respond
SaneBox Alternatives to Try
If you want to keep looking, here are some alternatives to try:
MailButler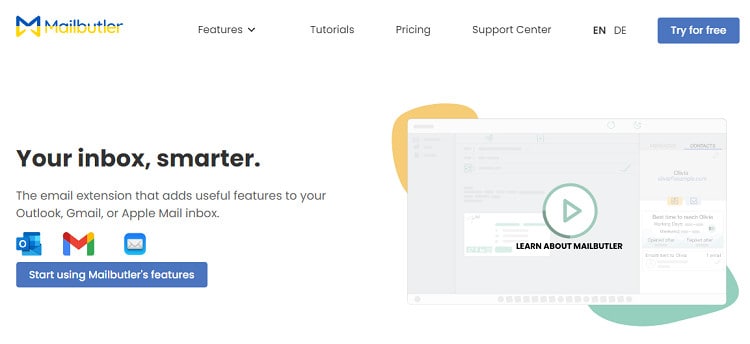 Mailbutler is another great service that makes it easier to manage your emails. It allows you to set up custom signatures, create tasks, use smart scheduling to send emails automatically, and track your emails to see when they were opened and on which device.
lockrMail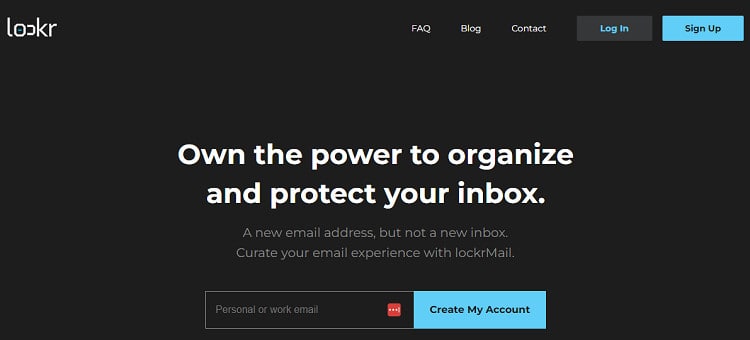 lockrMail helps to reduce unwanted email by pre-filtering it before it reaches your main inbox. It also has good security credentials.
HEY

HEY allows you to filter your emails: when an email lands in your inbox, you can decide whether you want to hear from them again or not. It also filters emails into groups, so you can easily find what you want.
Superhuman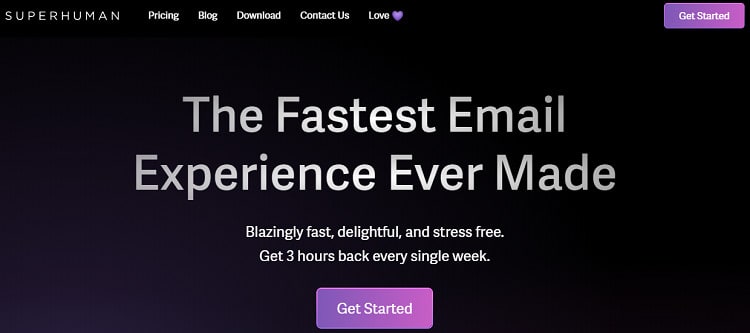 Superhuman triages incoming emails, presenting you with the most important messages first. It will remind you to send follow-up emails and can even automate phrases or emails. You can read more in our SaneBox vs. Superhuman comparison.
Other Options I Considered
Here are some other options I've considered for some or all of SaneBox's features:
FAQs
Question: How does SaneBox work?
Answer: SaneBox creates a connection with your email server; it then analyzes your interaction with emails and the headers to filter it into the right folder.
Question: What happens if SaneBox goes down?
Answer: You'll still get your emails, but they'll just go into your general inbox rather than being filtered into their correct folders.
Question: Can I use SaneBox with more than one email address?
Answer: Yes, depending on your pricing plan, you can use more than one email address with SaneBox.
SaneBox Review & Guide: My Final Thoughts
Whether you work for a large company and deal with sensitive information, or you're a freelancer and want to keep on top of your client emails, SaneBox is a solid option.
I like that the algorithm is super-easy to train; it doesn't take long for emails to flow into the right folders. Plus, the Do Not Disturb function is brilliant if you want to switch off.
There could be more custom folders, which is my main gripe, but overall I think SaneBox is well worth checking out.