Last Updated on August 1, 2022 by DMEditor
Having your own website comes with a lot of benefits. With 4.66 billion active internet users, nearly 60% of the world's population is online. They shop online, find businesses online, decide whether to use a product or service by reading online reviews, and more.
If you aren't online, how will people know about you or find your business? This is true whether you are a solopreneur (freelancer), a small business owner, or a large company. Even if you just want to share your passion for art, cooking, or dancing, online is the place to be.
With many content management systems (CMSs) available, Wix and SquareSpace are two popular options. However, which is the best for your website-building needs? Today, I dive deep into the main differences between these two platforms, look at their pros and cons, their pricing options, and which is easier to use. Let's dive in.
Main Differences Between
The main differences between Wix vs Squarespace are:
Page editor: Both feature drag-and-drop interfaces. With SquareSpace, your page elements are placed more structurally on the page with the help of content blocks (rows and columns). , you can place your elements anywhere on the page, whereas with
Ease of use: SquareSpace as it is more beginner-friendly. It has , which is an artificial intelligence tool that asks you questions. Once it has your answers, it presents you with a website you can tailor (or choose something else). is easier to use than
Features and tools: Both platforms have a significant number of built-in features, but has a huge library that helps you scale your site.
Knowledge center:

SquareSpace offers more helpful forums, videos, blog posts, webinars, and guides to help you figure out how to build a website and troubleshoot.
There are just a few of the main differences before I discuss each CMS in detail. Then, I discuss each separately so you can decide which platform will suit your needs best.
: Overview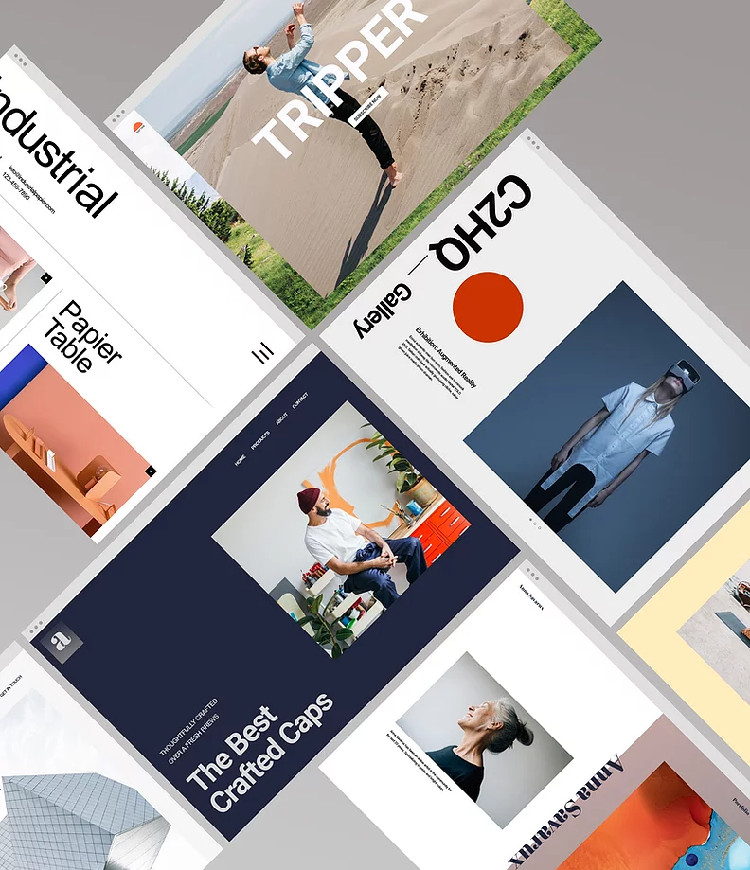 Founded in 2006 by Avishai Abrahami, Nadav Abrahami, and Giora Kaplan, it took only 3 years before Wix was already used and loved by 1 million users. Fast-forward to today (2021), and 200 million users in 190 countries have used Six for their website building needs. Currently, more than 7 million websites are live that have been built using Wix.
The platform has 1,000+ features that you can test and use to create professional-looking websites. The purpose is to enable users to easily create a website after the founders realize that it is costly, frustrating, and challenging to create a website without tech know-how. With Wix, which helps you intuitively build sites, you don't need any tech knowledge.
Pros
Drag-and-drop interface that lets you place your logo, photos, text boxes, and more anywhere on the page

More than 800 templates

Ideal for beginners to create their first website

Lots of apps to choose from to improve website functionality

With Wizard, you get a personalized to help ensure your site ranks

Affordable starting plans
Cons
You need to edit your site twice: once for desktop view and once for mobile view

Once your site is live, you can't change your
SquareSpace vs : SquareSpace Overview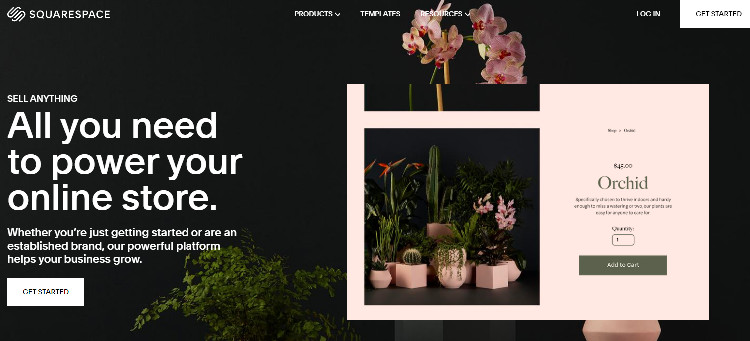 SquareSpace was founded in 2003 by Anthony Casalena. Today, the platform has nearly 3.8 million subscribers. In addition, more than 2.7 million websites are currently live that have been built using SquareSpace.
Compared to Mac (vs PC), SquareSpace is better suited for creatives because you can get really creative with your website. Plenty of built-in features and third-party extensions or plugins gives you customization options to design your website. So you can get it looking and working the way you want it to.
Pros
An excellent
Mobile so you can edit your site anytime, anywhere

Stunning templates

Offers high-quality support, 24/7

Only need to edit your website once, as it features responsive (it's optimized for both desktop and mobile)

Change your templates with ease
Cons
Not as beginner-friendly as

Only 113 templates

Need some coding know-how to get the best out of your website design
Is or SquareSpace Easier to Use?
Even though Wix and SquareSpace both use drag-and-drop to create websites, their editors are vastly different. With Wix, you get an unstructured editor, meaning you can place your text, images, and videos wherever you want on the web page. If you have a keen eye for design, this is no problem, but if not, it is easy to create a chaotic-looking web page.
If you do mess up, there is a Site History function that lets you recover content. The platform also offers Wix ADI, an assistant that presents a website after you've answered some questions. If you are happy, great! You can go with this website, and if not, go to the regular editor and create your site.
SquareSpace, in contrast, has a structured editor. So you have Content Blocks in the form of columns and rows in which you place your text, images, videos, and other content. In essence, you click more times to get the same results you need on Wix.
With SquareSpace, you don't need to edit your content for mobile and desktop separately as it uses responsive design. On Wix, a mobile-friendly version of your site is automatically created. Still, it isn't always perfect, so you need to tweak your content a bit.Overall, if you are new to creating websites, Wix is your go-to. Its drag-and-drop approach is intuitive, and with Wix ADI, it doesn't get any easier to set up a website.
However, if you don't mind a learning curve and watching a few tutorials, SquareSpace is the platform to use.
Makes the Most Professional-Looking Website?: Which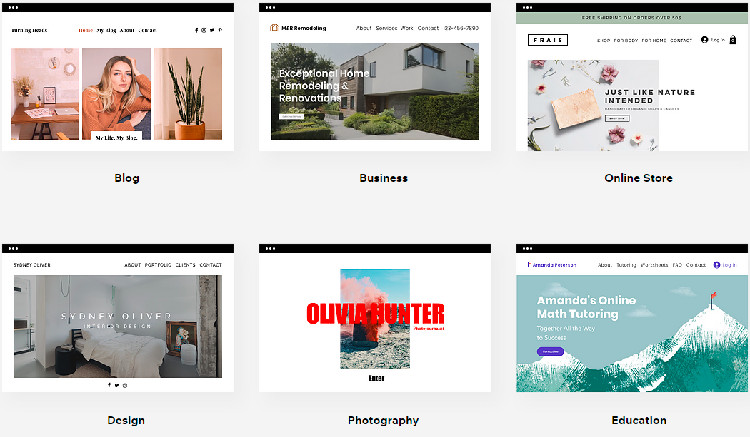 It's a tie. You can create professional-looking websites using Wix and SquareSpace.
Wix has more template options, but with more options comes indecisiveness too. While SquareSpace has fewer templates, their template designs are simply stunning. With some coding knowledge, you can create a genuinely professional-looking site.
SquareSpace vs : Other Notable Features
There are a few other elements I want to note in this Wix vs SquareSpace battle:
Blogging
With Wix, you have a separate blog editor for blog content. The editor is fine, but you can't see what your post will look like on the front-end (what your visitors see).
SquareSpace wins with its blogging features. The best part is that you can search through your older posts, and this is a convenient tool to have if you create a ton of content.
eCommerce
It's a tie here. Wix and SquareSpace aren't pure eCommerce platforms. For Wix, you want to choose one of their eCommerce or Business plans if you need to accept online payments. You can also get some apps to integrate eCommerce features on your site.
I found that both platforms offer the same features in accepting payments, selling digital and physical products, creating mailing lists, setting up an import catalog, and more.
Marketing
The question here is whether you prefer quantity over quality. For example, Wix offers many marketing tools. Still, many customers prefer how SquareSpace's marketing tools work and integrate with their site.
Here, it is best to see what tools you need and what CMS platform offers them.
SEO
Is there a purpose to having a website, but no one can find it? You need SEO, and Wix does this really well. While Wix and SquareSpace offer the basics in search engine optimization, Wix has an SEO Wiz (wizard) that helps you set up your SEO.
You can also adjust your URLs and tags, and you can set up SEO-friendly page redirects. Even better, you can install third-party apps, like Crazy Egg, to boost your SEO even more.
Apps vs Extensions
Everything in SquareSpace is in-built, and if you want anything more, there are third-party extensions you can add. The downside is that most of these are geared toward eCommerce, so there are extensions for sales and marketing, finance, fulfillment and shopping, and inventory and products.
With Wix, you have an App Market with apps made by Wix and by third-party creators. These apps let you customize your website and add features to make your site do what you need. For example, there are apps to send you notifications, set up calendars and take bookings, dropshipping tools, call conversion apps, and so much more.
Pricing for SquareSpace vs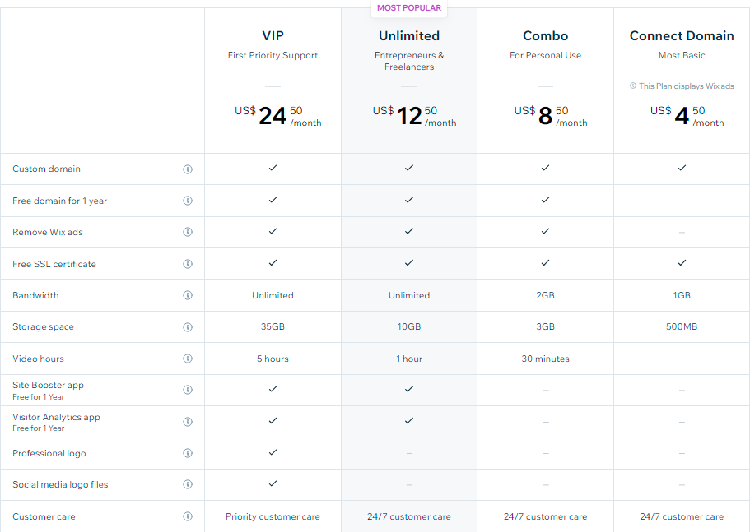 Whenever you need to choose a plan, you only want to pay for the elements you need. Otherwise, it's like throwing money away, right? With Wix and SquareSpace, there are 4 subscription plans each, so you can find the best solution for you. With Wix, if your business needs to accept online payments, there are 3 business and eCommerce subscription plans.
However, back to the vital question: which is better with pricing and what you get? Wix or SquareSpace?
Pricing
Fix (and SquareSpace) offers a free 14-day, no-commitment trial. There is no free plan. The rest of the plans Wix offers are Premium plans.
Wix has two groupings of pricing plans:
are ideal for freelancers and small businesses to showcase your skills, products, and services.

Business and eCommerce plans are the way to go if your needs to accept online payments.
For the website plans, here are the subscription options, what they cost (at the time of writing), and what you essentially get:
Connect Domain: the most basic plan that displays , $4.50/month, get a , SSL certificate, 1 GB bandwidth, and 500 MB storage space
Combo: ideal for personal websites, $8.50/month, everything in the Connect Domain + a free domain for a year, no (!), 2 GB bandwidth, 3 GB storage space, a $75 ad voucher, and 30 mins of video time
Unlimited: ideal for entrepreneurs and freelancers, $12.50/month, everything in Combo but unlimited bandwidth, 10 GB storage space, 1 hour of video time, a Site Booster , and Visitor Analytics
VIP: ideal for priority support, $24.50/month, everything in the Unlimited plan, plus 35 GB storage, 5 hours of video, professional logo, and logo files
For the Business and eCommerce plans:
Business Basic: $17/month, no , secure online payments, and more
Business Unlimited:

$25/month, ideal for growing your business, more storage and other features than the Basic plan

Business VIP:

$35/month, everything in the Business Unlimited but with more storage, unlimited video hours, customized reports, and more
With SquareSpace, there are only 4 subscription options. All the prices are if you pay annually, so you save between 25-30% compared to paying monthly.
Personal: $12/month, free , SSL certificate, unlimited bandwidth, SEO features, basic website metrics, and more
Business:

$18/month, everything in Personal, plus premium integrations, advanced website analytics, fully eCommerce integrated, and more

Basic Commerce:

$26/month, everything in Business and point of sale option, customer accounts, eCommerce analytics, products on Instagram, and more

Advanced Commerce:

$40/month, everything on Basic Commerce and abandoned cart recovery, advanced shipping, advanced discounts, and more
The Winner
The winner is Wix. Their plans start at a lower price point, so you just pay for what you need. They offer a total of 7 plans compared to the 4 on offer by SquareSpace, and even their business and eCommerce plans are less expensive.
Other Popular Website Builders
Other popular website builders you can consider for your site-building needs if Wix or SquareSpace doesn't quite meet your needs are:
GoDaddy
This is a user-friendly website builder. If you need to quickly create a basic site, GoDaddy is ideal. You can also change templates, but there are no SEO tools if you opt for the cheapest plan.
Weebly
If you want to scale your business and your website, then go with Weebly. It has a large app store. The templates aren't the best, but you can still create a pretty site for eCommerce or blogging.
Zyro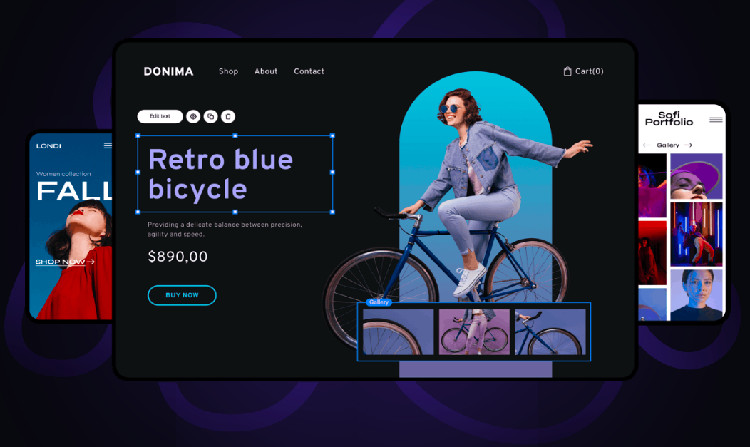 If you are making your first website, Zyro is a good choice. The templates are logical and clean, and with the help of a grid system, everything on your site will be in place. One con is that you can't change your template once your site is live, so you'll need to start from scratch if you want a different template.
FAQs
Question: How Much Does it Cost to Hire Someone to Build a Website?
Answer: How much it costs to hire someone to build a website for you depends on how simple or intricate your website needs to be. On average, you can pay anything from $100 to $500. However, if you need very sophisticated features requiring coding, you can expect to pay $3,000 or more.
Question: How do I Start a Website?
Answer: To start your own website, register your domain name and find a hosting service for your website. Next, think of design ideas and create your website on a content management system, like Wix or SquareSpace. These are user-friendly drag-and-drop website builders. If you need something more than these platforms can offer, you may need to hire a website coder to build your website for you.
Question: How do I Make my Website Look Professional?
Answer: There are numerous ways to make your website look professional:
• Match your website with your brand in terms of colors (background, foreground, accents, text, etc.).
• Use the correct font.
• Strengthen your brand's image and upload a favicon.
• Choose eye-catching, high-quality photos.
• Remember KISS – Keep it simple, silly.
• Optimize your website for mobile devices.
Question: What Makes a Good Website?
Answer: A good website meets its goal in both form and function. This means your website works as it should, and the design is optimized to attract visitors. It keeps them on your page because you provide high-quality content, and it's easy to navigate.
Question: How Long Does it Take to Transfer a Domain from SquareSpace to Wix?
Answer: It takes, on average, 7 days to transfer your domain from SquareSpace to Wix. Connecting the domain only takes about 2 days, so connect your domain first and then move your site. This prevents any downtime, which could cost you revenue.
The Final Verdict: Should You Choose Wix or SquareSpace for Your Website-Building Needs?
The winner is Wix, simply because you can do more without needing a background in coding. You get 250+ apps to choose from to personalize your site, the subscription plans start at a lower price point, and you can move your elements to wherever you want on your page.
It is also beginner-friendly, and with knowing how to use a computer, you can set up your website in no time.
I'm not saying you need to discount SquareSpace, however. It is a great website builder, but it is aimed at photographers, fashionistas, artists, designers, and other creatives.
Looking for more Wix vs SquareSpace alternatives? Why not check out who wins in the Wix vs Weebly battle? Or what about Hostgator vs Wix?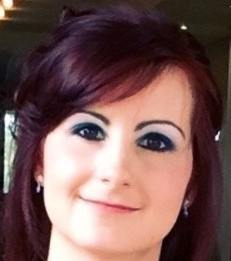 Latest posts by Denine Walters
(see all)
Get 40% OFF for 3 Months