Last Updated on July 29, 2022 by DMEditor
You're excited to get your new website online, but you need to make sure you have a domain name so people can get to your website. There are a lot of options available to get a domain name but in this Namecheap vs GoDaddy comparison, you'll soon see that these two are a couple of the best options you'll find to get your site online.
Trying to find the perfect domain registrar can feel like a hassle, but our goal is to make sure you can easily make a decision by the end of this article. Since these are both great services, you'll have to look at all of the features and see which ones suit your specific goals best. You may find going with the giant of domains GoDaddy works best, or the David in this situation, Namecheap might snag you with some of their great benefits.
Main Differences Between Namecheap vs GoDaddy
The main differences between Namecheap vs GoDaddy are:
Namecheap continues to charge you the same price after year one, whereas GoDaddy increases the cost after your first year.
Namecheap provides a free guard for WHOIS, whereas you have to pay for it with GoDaddy if you want it.
Namecheap has a more confusing dashboard, whereas GoDaddy is very user (and beginner) friendly.
Namecheap offers live chat support and support tickets, whereas GoDaddy has 24/7 phone support and live chat.
Namecheap vs GoDaddy: Namecheap Overview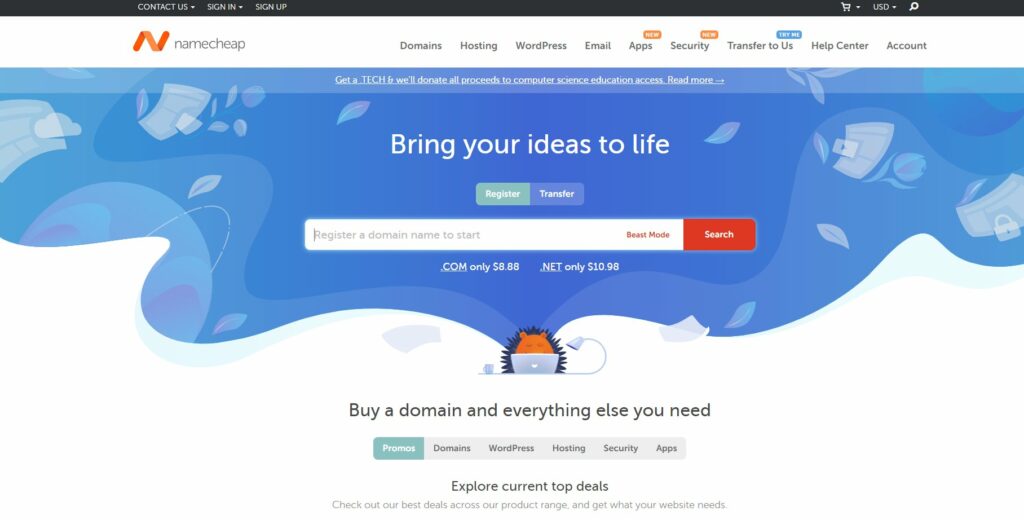 Namecheap came to be in 2000 and is a budget hosting provider and the domain registrar. Their goal is to build a better online world together. They manage over 13 million domains and serve customers in 18 countries around the globe. Namecheap has about 2% market share but it's a big pie that they're still chipping away at.
When Namecheap started in 2000, their goal was to give people the best domain names at the best prices with the best service. So far they are doing well with the customer base they have now. Their mission is still the same, they're just growing like the companies they host are growing.
Quick overview of the main features:
Web hosting
Managed WordPress hosting
Email
Security
Cloud bases services
Getting Started with Namecheap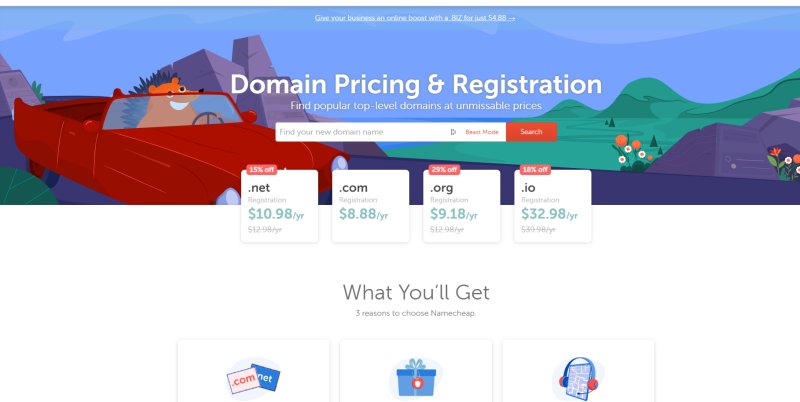 It's easy to get started with Namecheap products by creating an account. You can also choose to pick the products you want first and then make an account at the end. If you're new to domain registration, hosting, and similar services, the website can be a little confusing.
If you get stuck trying to figure out terms or what you need for your website, the best thing you can do is contact support. They have a good support team that is more than happy to help you figure out which services you need to get your website going.
It's not uncommon for Namecheap to run promos that make it very inexpensive to get started. If you don't plan on building a big website right away, you can get started for a very low price but you can still experience a good quality of service.
Namecheap vs GoDaddy: GoDaddy Overview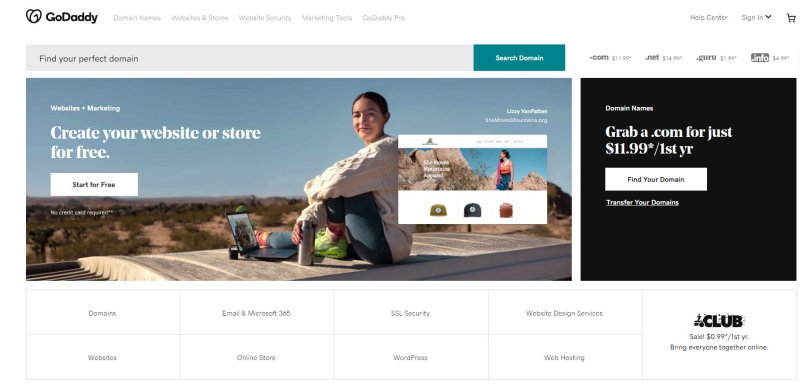 GoDaddy came on the scene in 1997 and became famous due to their racy Super Bowl advertisements. The company has over 20 million customers with 7,000 employees around the world and is a household name when it comes to websites and other similar services.
Quick overview of the main features:
Domain name
Website builder
Online store builder
Web hosting
WordPress hosting
Website security
Digital marketing suite
Getting Started with GoDaddy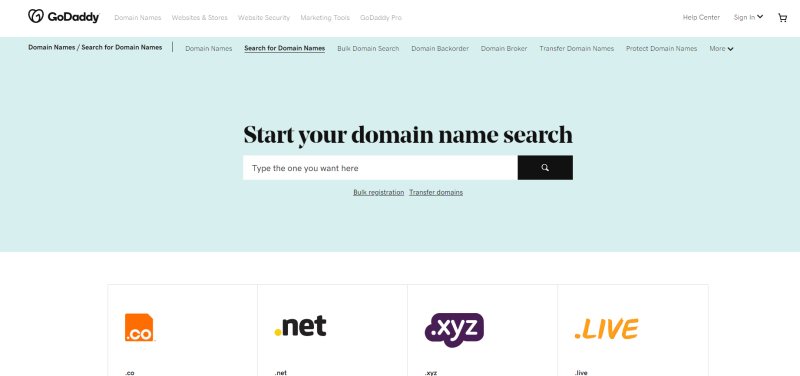 GoDaddy has a user-friendly website that makes it easy for you to find everything you need. It can be challenging to figure out what you need and what's extra, but you'll be sure to get everything you need. Since GoDaddy has 24/7 customer support available via phone, you can easily get the help you need. They will walk you through the entire process and help you get everything set up.
GoDaddy is more expensive than Namecheap and some other competitive companies, but they make up in support of what they lack in good deals.
Domain Names You Can Register on Namecheap vs GoDaddy
A lot of .com domains are already taken even though many of them don't have anything built on them. Many people buy up the domains to resell them at a higher profit but you can buy another extension to get the domain name you want. Having a lot of options for the domain name extensions you can buy is a must.
Both Namecheap and GoDaddy have many different domain name extensions you can choose from. Keep in mind that you should price compare when it comes down to the domains you want to buy. Many domain name extensions can be pricey if they are attractive to customers. Checking both websites to see which one gives you the best price on the specific domain you're considering is a must.
Does GoDaddy or Namecheap Have the Best Prices?
While we're on the subject of price, let's get into the nitty-gritty here. You don't want to pay more money than necessary when you're starting your website and this guide can give you an idea of whether Namecheap or GoDaddy will give you the best bang for your buck.
If you compare .com domains, Namecheap gives you the best price. Keep in mind that GoDaddy does have sales from time to time, but it's best to look at the primary price vs the sale price.
GoDaddy – $18.99/yr
Namecheap – $12.98/yr
Another price we will compare is a start website on WordPress hosting.
GoDaddy – $9.99/yr
Namecheap – $3.88/yr
If you're just starting out and you're on a budget then Namecheap is the obvious winner for your goals.
Namecheap vs GoDaddy: User Experience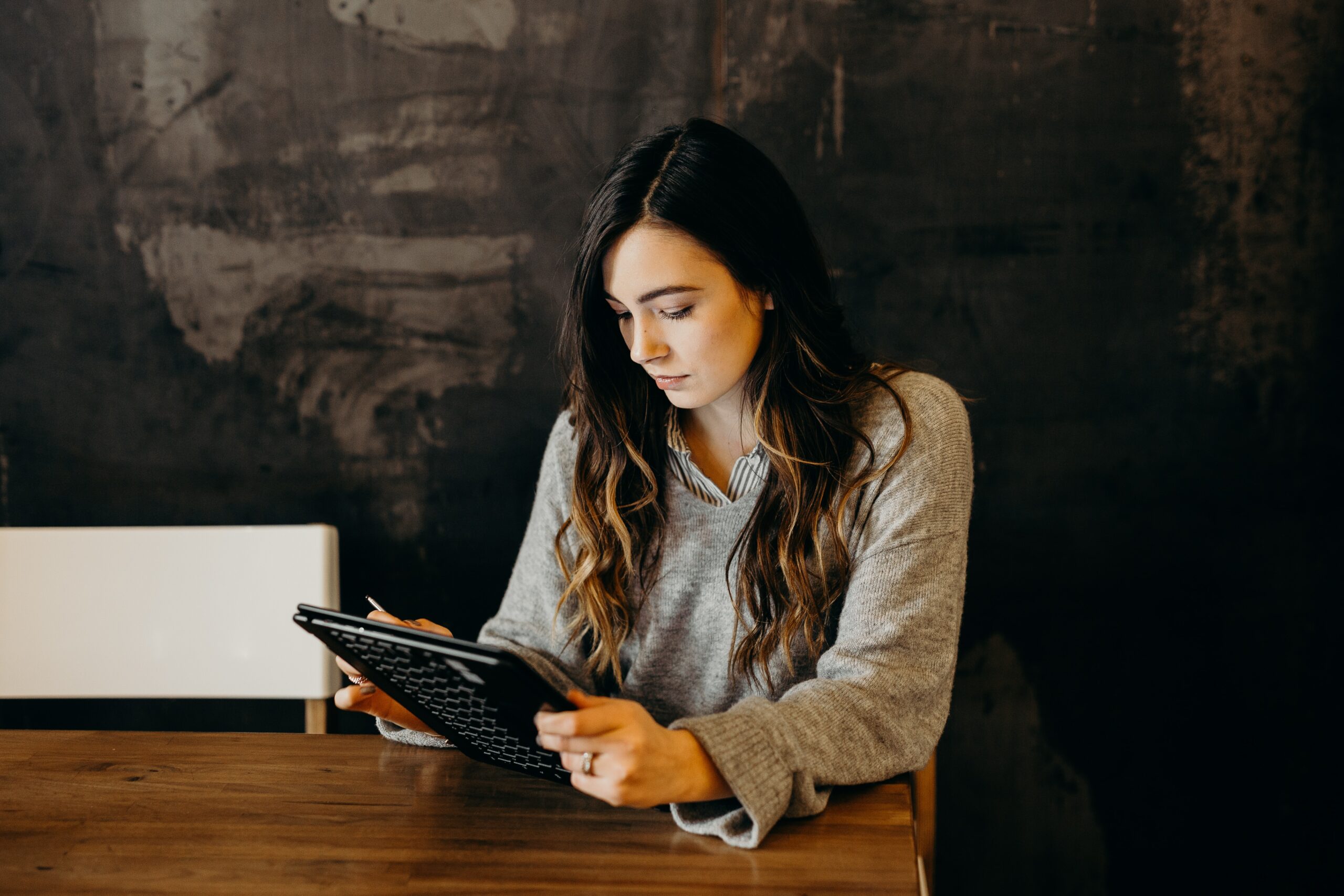 The last thing you want to do when building a website is to feel like you're stuck without any help. You want to get your website online without a lot of hassle, but you aren't sure if GoDaddy or Namecheap can help you do that.
Namecheap User Experience
You can easily create an account with Namecheap and select the products you want. You don't have to deal with a lot of upselling and confusing questions about, "Do you want this add-on?" and other similar questions. Even though they don't have phone support, it's still pretty simple to get things going.
GoDaddy User Experience
GoDaddy lets you create an account easily as well, but you can get stuck in the sea of upsells. After going through all of the sales tactics of GoDaddy, you'll likely come out the other side feeling confused about what you needed and what you didn't need.
Will GoDaddy or Namecheap Keep Your Website Online?
One of the worst things that can happen to your website is for it to go offline. If you don't go with a reputable host, you might find your website is down and that could cost you money. There is a simple statistic you can look at to make sure the host you're looking into is a good one. You want to find out what their "uptime" is for their hosting.
GoDaddy has a 99.94% uptime which is very good and Namecheap has a 99.9% or 100% uptime guarantee.
GoDaddy vs Namecheap – Extras
GoDaddy offers a lot of extras, but you'll have to pay for them.
You can get things like:
Custom nameservers
WHOIS guard
Email addresses with the domain ending
Namecheap offers extras without a price tag on them like:
Free privacy protection for life
2-month free trial of domain name email addresses
Free security on your website
Does GoDaddy or Namecheap Have the Best Customer Support?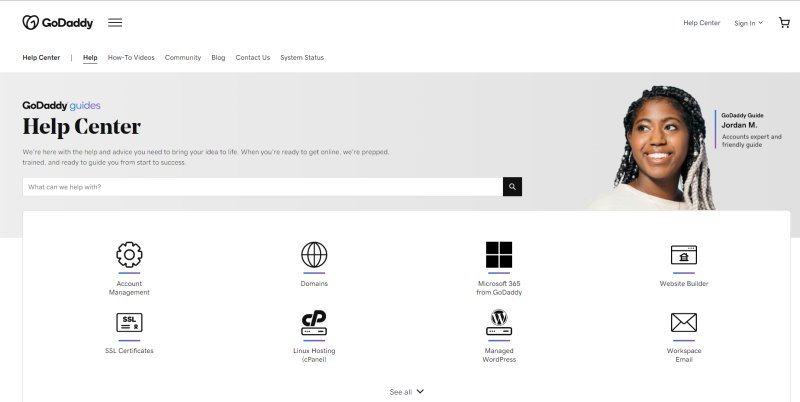 If you need customer support, there are options for help from both GoDaddy and Namecheap. The companies have a little different way of dealing with customer service, so make sure the methods of help work for you.
GoDaddy offers customer support through these methods:
24/7 support by phone
Live chat support
Tutorial videos
Knowledge base
Community forum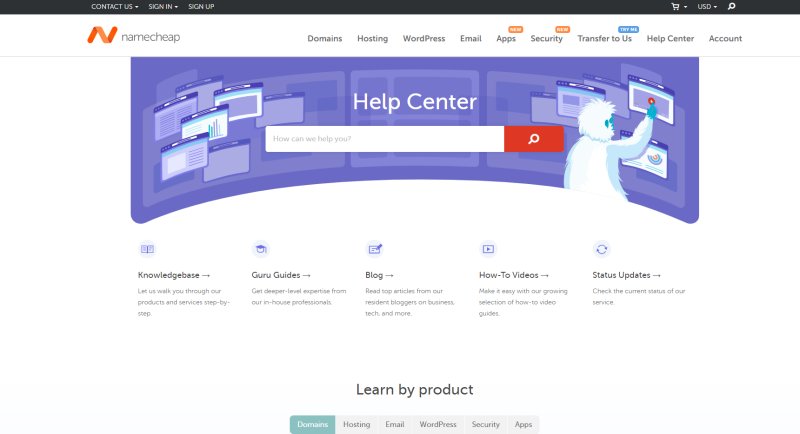 Namecheap offers customer support through these methods:
Support tickets
Live chat support
Knowledge base
API docs
Blog with status updates
Having customer support available by phone is a major plus for GoDaddy, but not everyone likes to call support. If that doesn't matter to you then Namecheap does just as well as GoDaddy.
FAQs
Question: What is a reasonable price to pay for a domain name?
Answer: Anywhere from $10 to $25 is a reasonable price to pay for a domain name. Keep in mind that some "premium" domain names go for hundreds or even thousands of dollars.
Question: Can you get everything you need to start a website from one company?
Answer: You can get everything you need to get your website online from both GoDaddy or Namecheap.
Question: Why is Namecheap less expensive than GoDaddy?
Answer: Namecheap is less expensive than GoDaddy because the company's goal is to help as many people bring their creations to life.
Question: Can someone help me set up my website?
Answer: Both GoDaddy and Namecheap have support tickets and GoDaddy can help you set up your products over the phone.
Bottom Line: GoDaddy vs Namecheap – Which Is Best?
When you're on a budget, Namecheap is hands down the best option for you. Once you get into GoDaddy's upsell hole, you could end up spending twice as much money or even more when you opt to go with them. GoDaddy is a great company and well-known, but it has been hacked before—unlike Namecheap.
Some people like having the name recognition of GoDaddy and the confidence you have behind a company that you know more about. Both companies will get the job done, but if you need a website builder, you should consider going with GoDaddy. Namecheap doesn't offer that and even though you can buy website builders to help you, it's likely easier just going through GoDaddy.
If you're confused about how to start building your website, make sure to check out our article on finding the best website builder.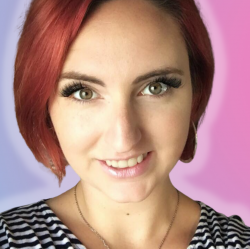 Latest posts by Jessica Lauren Vine
(see all)
Get 40% OFF for 3 Months