Last Updated on April 24, 2023 by Ewen Finser
If you run a small business, you might be overwhelmed by the number of tasks you have to complete to stay compliant with payroll and HR – in our OnPay review, we'll be looking at a great platform that could help to make this easier.
OnPay Payroll takes care of a lot of the admin tasks that might feel a bit complicated when you're first starting out.
For example, it automatically calculates and files payroll taxes, and takes care of the onboarding process for new employees. It also helps to demystify employee benefits.
It's not a perfect platform, but we think it's pretty great – keep reading to find out more about it!
What is OnPay Payroll?
OnPay is an HR and payroll platform. Launched in 2011, it's a good platform for small businesses. It helps to automate some time-consuming admin work, as well as ensuring that businesses can stay compliant with local and federal tax laws.
The Main Features of OnPay Payroll
If you're in a hurry, here's a quick overview of the main features OnPay has to offer:
Payroll – users can run payroll for multiple types of employees, with payments made by direct deposit, debit card, or check
HR – New employees can take care of their own onboarding process including signing important documents with e-signatures
Taxes – OnPay automates tax filings and payments, including state and federal payroll taxes, and Form 941/Form 940 when required
Benefits – OnPay offers employee medical, vision, and dental plans, as well as contribution matching and employee information on 401(k) retirement plans
Scheduling and Time Management – employees can request paid time off at any time, and managers can approve or deny these requests
Reporting – OnPay generates payroll reports when required
We'll take a look at each of these features in more detail.
Payroll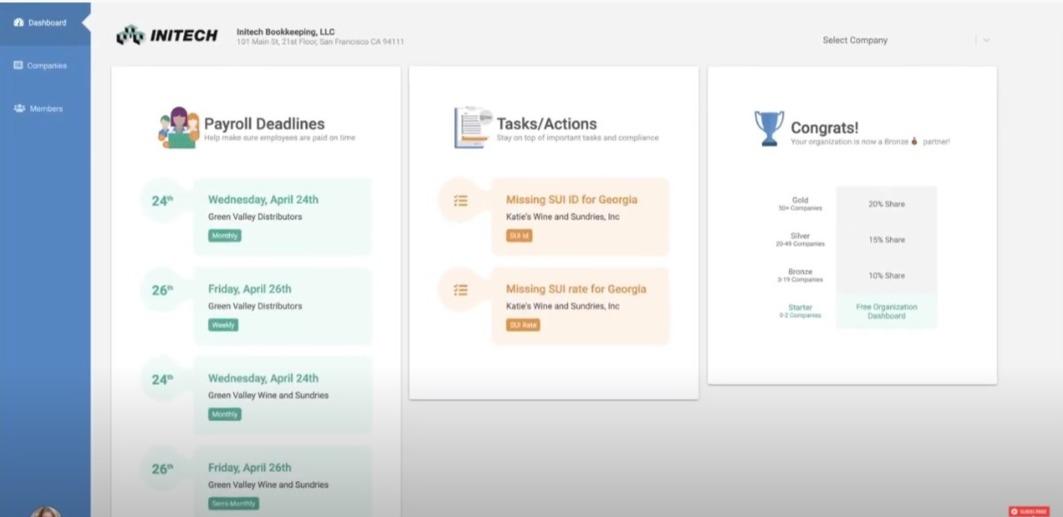 You can run payroll whenever you like with OnPay. This is good if you have different payroll schedules for certain employees, or if you hire freelancers or contractors. You can pay employees using direct deposit, debit card, or check (with no hidden fees for any of these payment methods). If you have to pay employees in different states, you won't run into hidden charges – perfect if your workforce is spread across the country.
You can easily set different pay rates for individual employees, too.
Employees can access their own payroll information wherever they are, as OnPay is a cloud-based platform. While they don't have a mobile app, employees can access OnPay via their web browser. Managers can set permission access too, which means that only payroll staff can access some of the tools and features.
OnPay takes care of tax filings and payments at both a state and federal level. They file Form 941 and Form 940 when required, too.
HR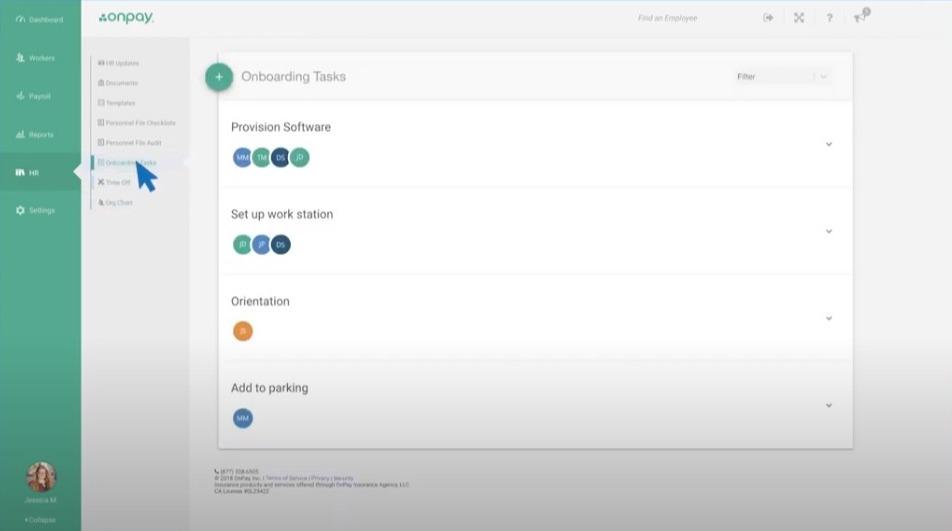 Employees can take care of their own onboarding process, which saves you a bit of time. They can fill out their profiles and complete important paperwork using e-signatures. This is good for two reasons: it allows you to go paperless, and it stops you from accidentally forgetting to deal with important paperwork. Some forms, like Online I-9 and W-4 forms, are given to new employees automatically, so you can't forget. OnPay also reports new hires to your state automatically, which is helpful.
Small jobs like setting up a new employees' computer and workspace won't be forgotten, which may help new recruits feel welcome. You can also delegate certain employees to be an 'onboarding buddy' to help new hires get settled in.
OnPay has some documents for you to use – these are blank templates, like offer letters for new employees. This isn't an extensive library of documents, but you can create your own templates too. Any documents created in OnPay are stored securely, and employees can access their documents whenever they wish.
If you like, you can set up a checklist of documents that must be completed in certain situations (for example, during the annual review cycle, or for incident reports). To go alongside this, you can create checklists for certain employees to complete. This means you can keep on top of these small admin jobs and delegate tasks to others.
OnPay has a built-in direct messaging service, which makes it easier for employees and managers to communicate. It creates a paper trail, which is automatically stored.
The platform will flag up any outdated paperwork to admins, which means that expired paperwork can be dealt with straight away.
Benefits
OnPay promises employee benefits, like vision plans, medical, and dental, for every price point. They also offer:
Automatic withholdings
Safe harbor plans
Contribution matching
Employee education during the onboarding process (about 401k retirement plans)
This is all integrated with the payroll system, making it easier for your payroll team to manage.
Workers comp' is taken care of, too – you'll be compliant in every state, and you can choose pay-as-you-go workers' comp too. Payments are automated, and you can make changes easily (for example, if you have new hires, or if someone leaves the company).
Scheduling and Time Management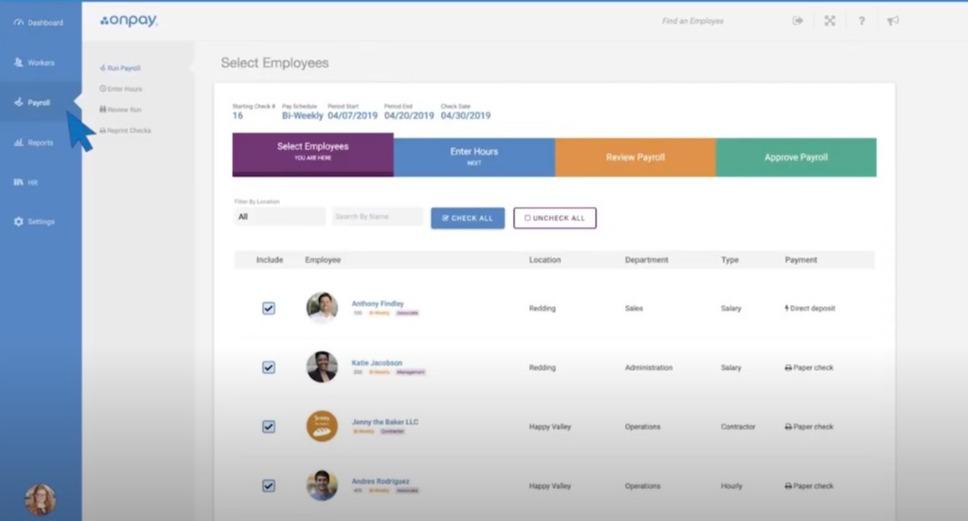 While OnPay doesn't offer some of the more in-depth time management tools like some other platforms out there (Zenefits being a good example), it still makes a few things easier for your admin team.
Employees can request paid time off using OnPay. Managers will be alerted to these requests, which they can approve or deny. They can add comments in response, too. This is great because it helps to keep track of PTO requests, and admins can view all approved or pending time-off requests.
OnPay works quite well with some integrations (like TSheets) to help keep track of employees punching in and out. You can view who is currently in and out of the office, which is a helpful tool. But the options open up with integrations (more on those shortly).
Reporting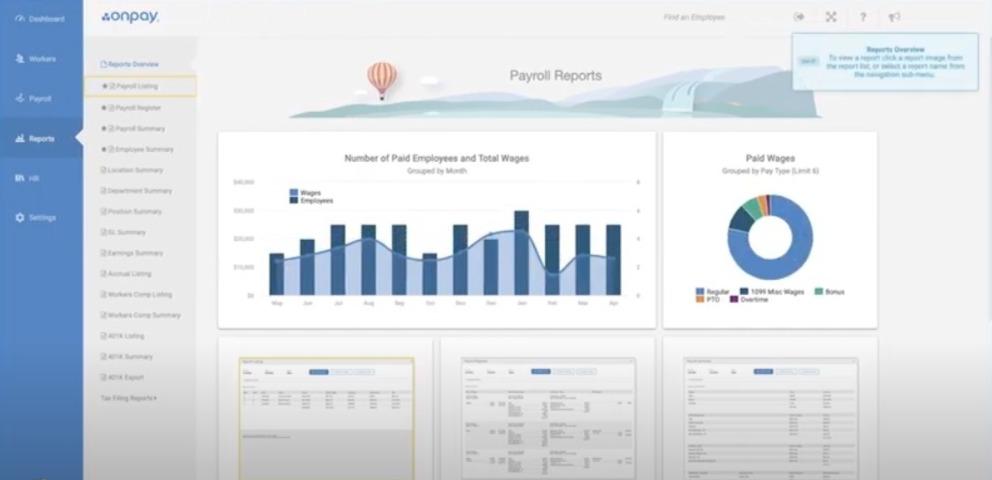 You can run reports using OnPay, including:
Payroll register
Earnings summary
Employee summary
PPP loan forgiveness
There are other reports available, too. These can be edited, saved, and downloaded at any time. The reporting is pretty clear and easy to understand, and you can set permissions for certain employees to be able to view and run reports.
Integrations
OnPay has a lot of integrations, including:
QuickBooks Desktop
TSheets
ThinkHR
Magnify
The QuickBooks integration works really well if you want to take care of accounting using the same platform. TSheets allows employees to punch in and out of shifts, which is ideal if you don't have a punching-in system already in place (or you want to replace it).
OnPay Payroll – Customer Support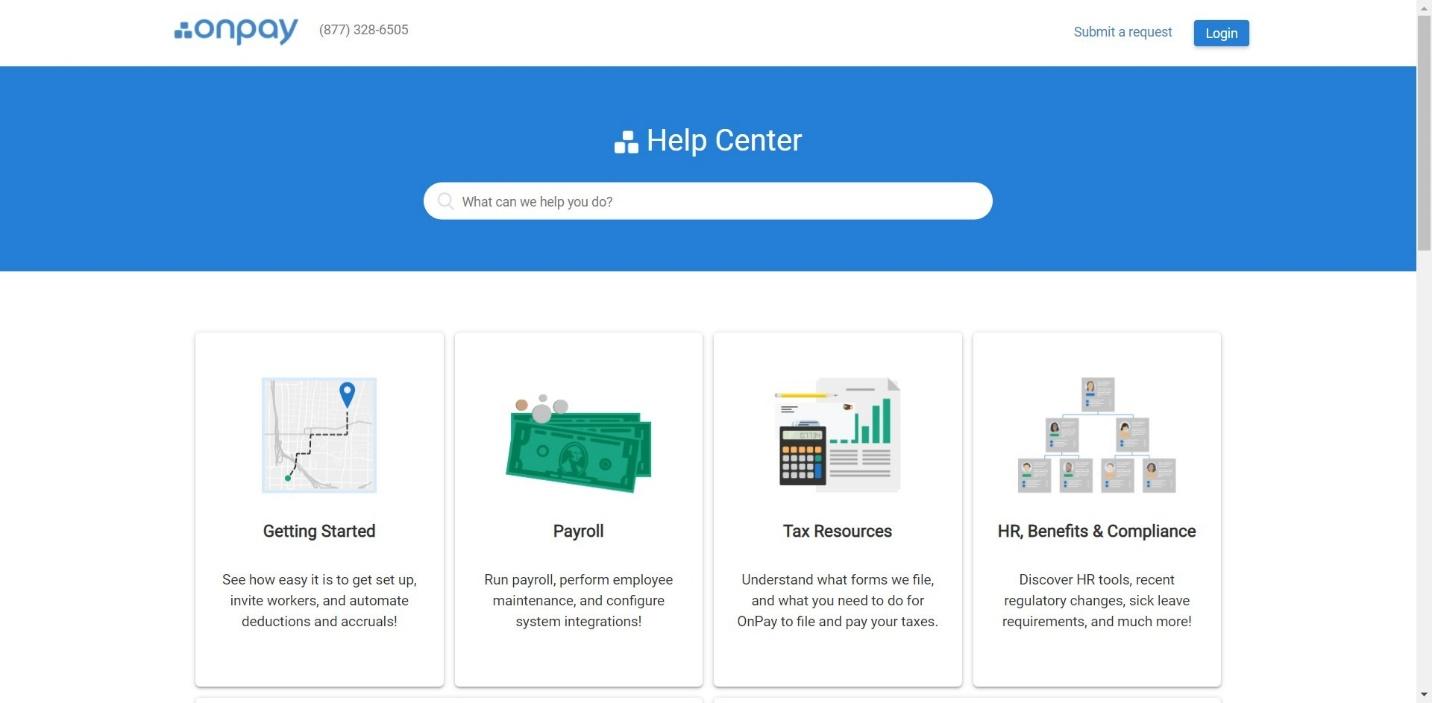 One important aspect of any HR and payroll platform is customer service. If something goes wrong with payroll, for example, you may need help quickly. So how does OnPay's customer support perform?
It's reported that their customer support team is very good. They have a great reputation for being fast to respond, and helpful and friendly too. You can contact them via email, phone, or live chat.
OnPay also has a help center with articles and guides, which is great if you're learning the platform for the first time. They also have guides for small businesses, including Payroll 101, HR Basics, and a Benefits Guide.
OnPay Payroll – Pricing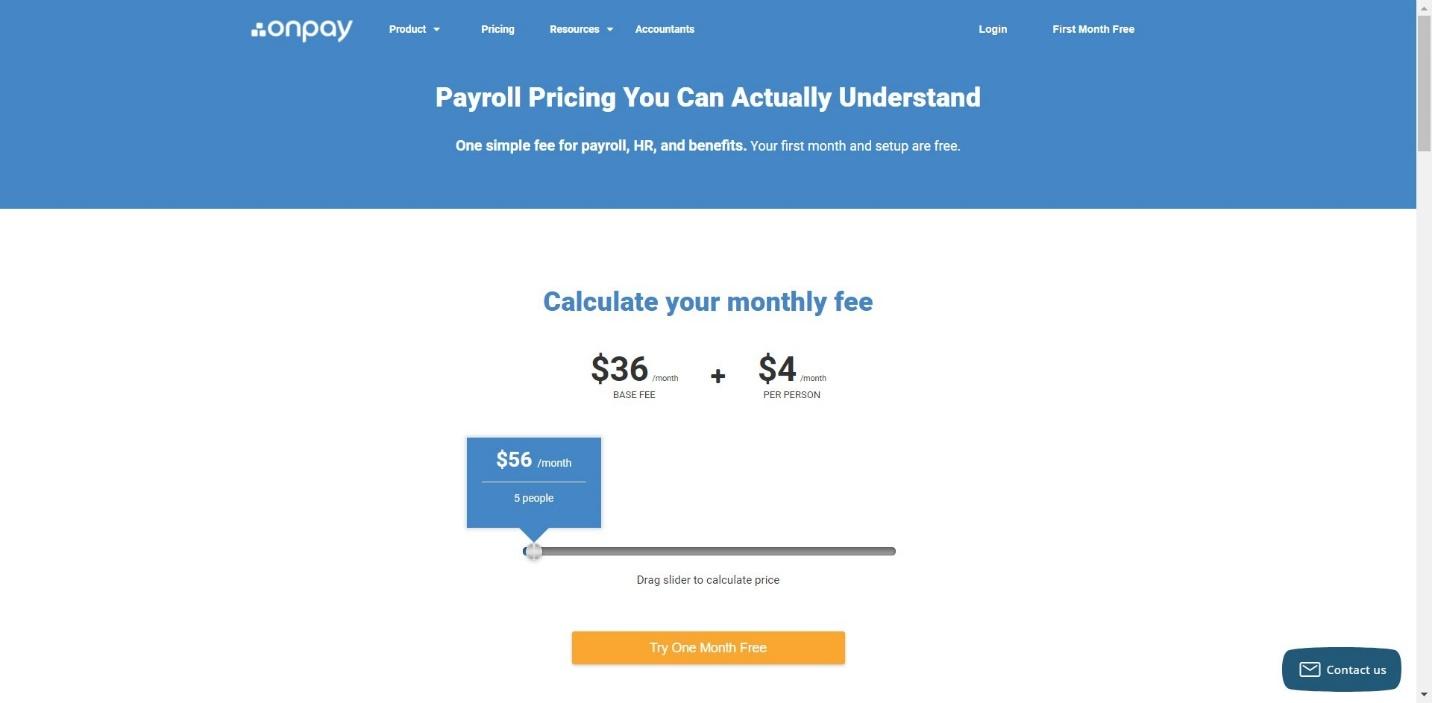 OnPay's pricing is based on a sliding scale depending on how many employees you have. There are no pricing tiers, which means that you have access to all the features on the platform no matter how small your business is. The base rate is $36 per month, with a charge of $4 per person each month on top. For example:
10 people – $76 per month
50 people – $236 per month
100 people – $436 per month
500 people – $2036 per month
You're only billed for the employees that are paid for that month. For example, if you have contractors or freelancers in your system but you don't require their services that month, you won't have to pay a fee for them.
You can go as low as one employee – which makes OnPay a really good choice for small businesses.
You can find out more about their pricing here.
OnPay Payroll – Pros and Cons
Here are our thoughts on the best bits of OnPay, as well as what we think could be improved:
Pros
Easy to use
Good for small businesses
Transparent pricing plans
Takes care of some processes automatically, to ensure you stay compliant
The onboarding process is much easier for employees
Managers can easily manage PTO requests
Reporting is simple and insightful
Cons
Doesn't have a mobile app
Lacks some features that other platforms have, like scheduling, or employee wellbeing features
OnPay Payroll – Alternatives to Try
If you've decided you want to keep looking for a HR and payroll platform, we can recommend a few alternatives.
Frequently Asked Questions
Here are some of the most commonly asked questions about OnPay:
Question: Do I have to download software to use OnPay?
Answer: No, it's a cloud-based platform, so you can access it using your internet browser.
Question: Is OnPay good for larger businesses?
Answer: yes, there's no reason why OnPay wouldn't work for larger businesses- it's simple enough for small businesses, but will help larger companies keep track of payroll and HR, too.
Question: Can I cancel OnPay at any time?
Answer: Yes. You're not tied in, so you can cancel whenever you want to by contacting their customer support team.
Question: Can I pay overseas employees using OnPay?
Answer: Yes, you can pay overseas employees using OnPay's payroll services.
Question: Can employees split their pay into multiple bank accounts?
Answer: Yes, they can. They can decide which bank account their pay goes into and can even split it into different accounts if they wish.
Question: Does OnPay calculate taxes automatically?
Answer: Yes, OnPay calculates payroll taxes automatically, even if your employees live and work in different states. You won't have to do any of the tax calculation yourself.
Question: Can I run a 'bonus' payroll?
Answer: yes. You can run a bonus payroll, for example, at the end of the year — this is easily done using the platform and can be done at any time.
To Sum Up … Is OnPay Payroll the Best for Small Businesses?
If you run a small business, you can't really go wrong with OnPay.
We like the fact that you have access to all the platform's features immediately – even if you only have one employee. Nothing is locked behind a different pricing tier, which makes it very accessible. While it lacks some of the features that other platforms have (like managing performance reviews and employee wellbeing features), it does have a good price point, which suits new businesses perfectly.
If you want something that is going to take care of the basics – taxes, benefits, and payroll – we would recommend OnPay. While it's not perfect – the lack of a mobile app is annoying, for example – it has everything you need to make payroll and HR less of a headache.
We hope this has helped you to get an idea of how OnPay works. If you've used it, we'd love to hear your thoughts in the comments!
Further read: