Last Updated on April 24, 2023 by Ewen Finser
If you run a business, you know how hard it can be to stay compliant – which is where our OnPay vs Gusto comparison can help.
A good HR platform can help you to stay on top of everything and can automate some time-consuming admin work, helping your team to run more efficiently.
The question is: which is better – OnPay or Gusto?
Bottom Line Up Front Summary: I think that the better, more affordable, option for most small business is OnPay here. That says, once you get to 10+ employees, it makes a lot of sense to switch to the more fully featured Gusto here. If the pricing differences are not important, it might make sense to just start with Gusto (like we did, as we were growing quickly).
We'll take a look at each one in more detail, so you can figure out which one is right for your business. Let's start by looking at the main differences between the two.
OnPay vs Gusto – the Main Differences
Here are the main things that set OnPay and Gusto apart:
OnPay's pricing system is based on a sliding scale per employee, whereas Gusto has set pricing plans with different features available in each tier
OnPay lacks a few scheduling features, for example punching in and out, whereas Gusto has a system in place for punching in and out
OnPay's customer support team are quick to respond, whereas Gusto's customer support team can take a bit longer
OnPay doesn't allow employees to withdraw money from their next paycheck, whereas Gusto does allow this
Our Pick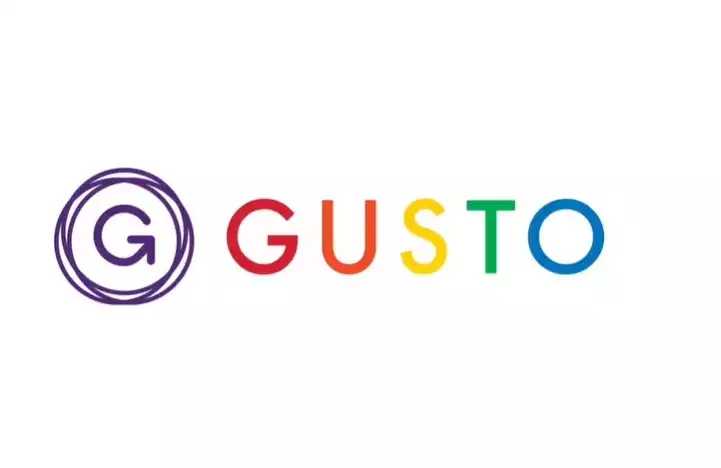 Why I Personally Prefer Gusto
Easier to use, cheaper, and much more scalable than the competition. Gusto WORKS better, particularly for small to mid-sized companies. We went with Gusto for our business and are incredibly happy with the support and integrations with our other accounting tools.
TRY GUSTO FIRST HERE
We earn a commission if you click this link and make a purchase at no additional cost to you.
OnPay and Gusto are pretty similar, but there are a few key differences there. The pricing system is quite different, and in our opinion, OnPay is better for smaller businesses, as you won't have to pay as much to get going with just one or two employees.
Gusto has a couple more features for employees, but OnPay's customer support team is a bit better.
The Feature Similarities
There are a lot of similarities:
They both make it easy to stay compliant
They're both great for running payroll easily
They both allow employees to take care of their own onboarding process
They both offer pre-made templates for you to customize and use
They both take care of employee benefits
The reporting is good on both platforms
They both have good integrations with other services
They both offer employee direct deposit features (and employees can control their direct deposit settings)
What is OnPay?
OnPay is a cloud-based HR and payroll platform focused on helping small businesses to stay compliant whilst automating some admin processes. It was launched in 2011.
What is Gusto?
Gusto is a cloud-based HR and payroll service aimed at any-sized business. It helps businesses to stay compliant during hiring and payroll, automating some processes and flagging up issues that may otherwise slip through the cracks. It was launched in 2011.
The Main Features of OnPay
Let's take a look at what OnPay has to offer.
Payroll Feature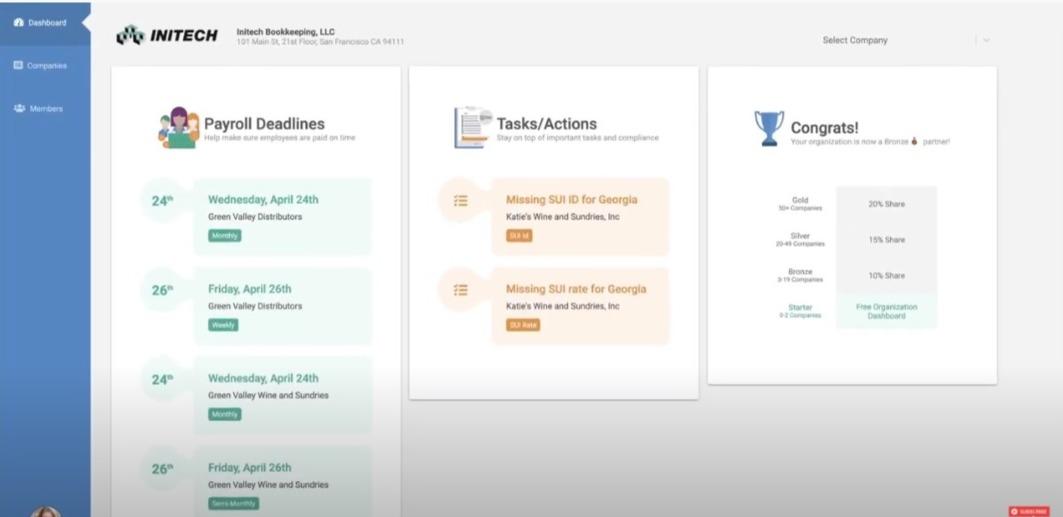 OnPay has a lot of features to make payroll easier. You do a payroll run as often as you need to (unlimited payroll runs), and you can even have different payroll schedules for different employees.
Employees can be paid using direct deposit, debit card, or check. There are no hidden fees for direct deposits or debit card payments either, which is a bonus.
You can pay freelancers and contractors using the same dashboard as you would pay your regular employees, and there are no extra fees if you have to deal with taxes for employees in different states – ideal for businesses with multiple locations, or for employees who work remotely. Each employee can have their own pay rate, too.
OnPay runs well on mobile as well as desktop, so both managers and employees can access payroll information wherever they are.
You can set permissions for payroll duties – for example, employees can see their own payroll information, while the admin staff taking care of payroll can access more tools and features.
It also automates tax filing and payments, including state and federal payroll tax. They also file Form 941 quarterly and Form 940 at the end of every year.
HR
Onboarding is made easier using OnPay. Employees can take care of the onboarding process themselves, filling out their profiles, and signing documents using e-signing.
Tax withholding tax forms like Online I-9 and W-4 forms are automatically given to new employees to sign, which helps you to stay compliant. You can also assign onboarding tasks for employees or managers (like getting new employees' computers ready).
You can create a library of documents using OnPay, either by using their built-in templates or by creating your own. For example, you can also create a customizable offer letter for new employees, saving you time each time you welcome a new recruit.
Any documents created within OnPay are saved and stored, and employees can access their documents at any time.
OnPay will automatically report new hires to your state, too. Again, saving you a bit of time and hassle.
You can take a bit of time to set up a checklist of documents or tasks for events like incident reports, or annual review cycles. You can also create checklists of tasks to be completed for certain people, for example, groups of employees who require more training than others. This helps to keep on top of things and gives your management team a bit of peace of mind.
You can also delegate tasks that aren't directly related to HR. You can assign someone to be an onboarding buddy to your new employees for example. This is a nice touch and will ensure that every employee gets a nice welcome to your company.
There's a built-in direct messaging service, too. This not only makes it easier for employees and managers to communicate, but it also creates a paper trail, which means it's easier to remember to follow up on actions planned in meetings, for example.
If a document becomes outdated, admins will be alerted, meaning they can quickly take action to fill in the correct paperwork.
Scheduling and Time Management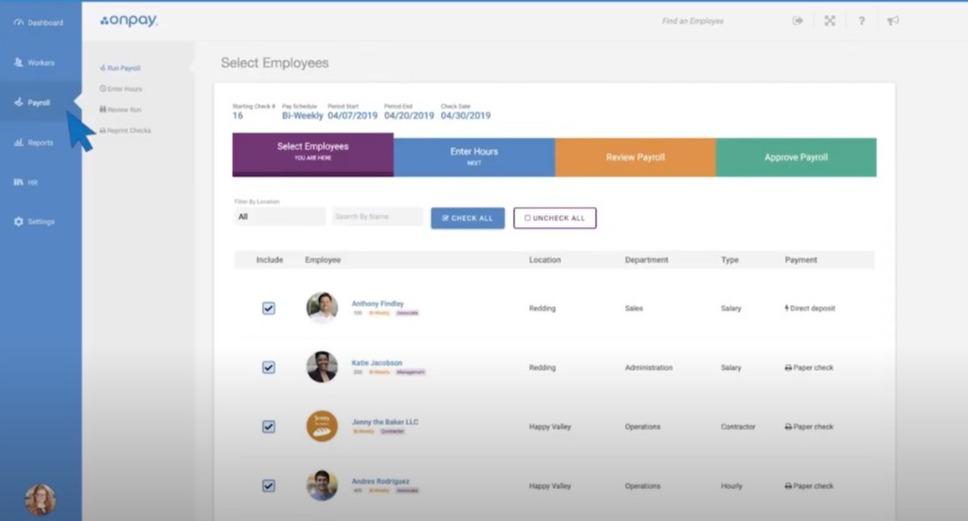 OnPay allows your employees to request paid time off. Managers can then approve or deny those requests, and even add comments in response.
This is a helpful way of keeping track of PTO requests, and it makes it easier for employees, too. You can view all approved or pending time-off requests in calendar form. It's a simple, but very useful, feature.
Where OnPay differs from Gusto is that it doesn't have some of the same features in terms of scheduling. For example, employees can't punch in and out of shifts.
You can view who is currently in and out of the office, which is handy, but it does lack some of the features that Gusto offers in that respect. You can use integrations for punching in and out, like TSheets, to take care of that element instead.
Benefits
What about employee benefits? OnPay promises employee medical, dental, and vision plans (with licensed insurance brokers) for every price point.
They also offer automatic withholdings, safe harbor plans and contribution matching, and employee onboarding and education when it comes to 401(k) retirement plans. All of this is integrated with the payroll system, which makes it much easier for your admin team to deal with.
Workers' comp is taken care of with OnPay, too. They will ensure that you stay compliant in every state, and you can go for pay-as-you-go workers' comp. Payments are automated, and you can quickly and easily update the system when your team changes.
Reporting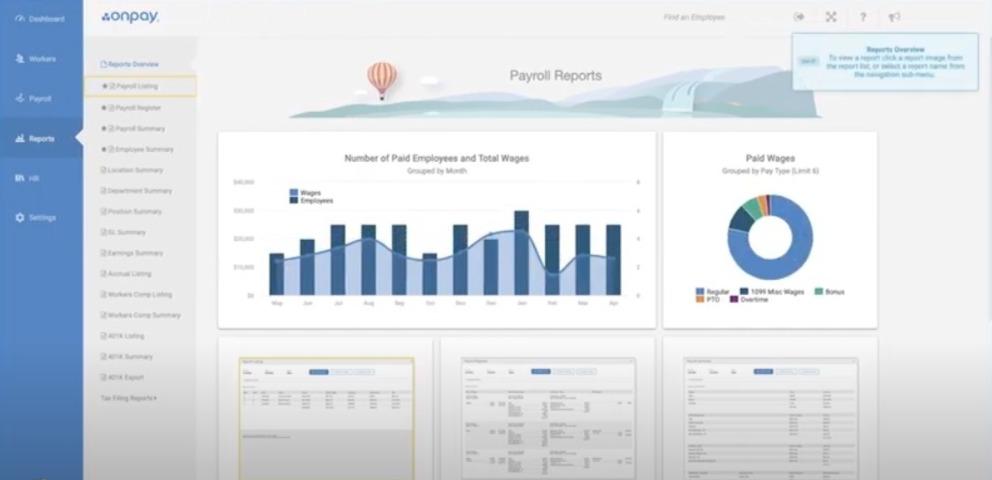 OnPay generates payroll reports in the desktop app, including:
Payroll register
Earnings summary
Employee summary
PPP loan forgiveness
There are many more reports available, too. You can make changes, save custom views, and download reports to share.
Integrations
There are some useful integrations with OnPay, including:
QuickBooks
QuickBooks Desktop
Xero
FreshBooks
TSheets
ThinkHR
Magnify
The Main Features of Gusto
Now, let's take a look at Gusto.
Payroll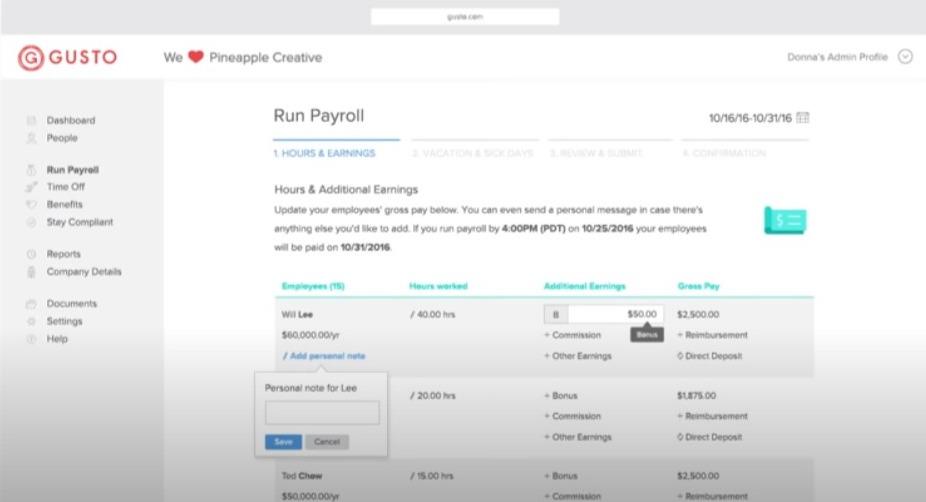 Like OnPay, taxes are filed automatically with the right agencies for payroll. This means that you will always stay compliant even if you have employees scattered across different states. You'll be alerted to forgotten forms and signatures, so you won't have to worry about forgetting anything important.
Employees can punch in and out on their mobiles, tracking their working hours wherever they go. This feeds into the payroll system, ensuring that every employee will be paid what they're owed. Plus, they can access their pay stubs and W-2s online. You can also send out payday emails to every employee.
Gusto Checkout is a great feature. If you choose to use it, employees can access money between paydays if they need to.
HR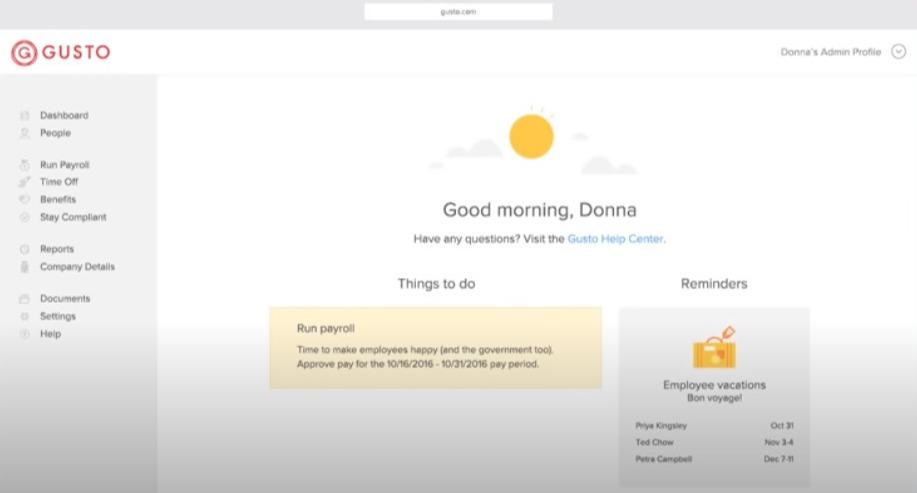 Like OnPay, you can take care of onboarding using Gusto. Employees can manage their own onboarding, and they can use e-signing to take care of important forms, allowing you to go paperless. You can set custom welcome messages and sign-up forms for new employees, too.
You can also send offer letters using templates, which can be customized. Documents are stored in an employee document vault, a safely encrypted vault that can be accessed when you need to. Certain tasks (like notifying the state of a new employee) are automatically taken care of.
Like OnPay, you'll gain access to a library of templates, all of which can be customized, including hiring practices, job evaluations, job descriptions, termination requirements, labor law policy templates, harassment prevention policies, and more.
Employees can give you feedback using anonymous surveys. This is a great way to get some honest feedback on how your team members feel, and it allows them to feel completely secure in giving their opinions.
Scheduling and Time Management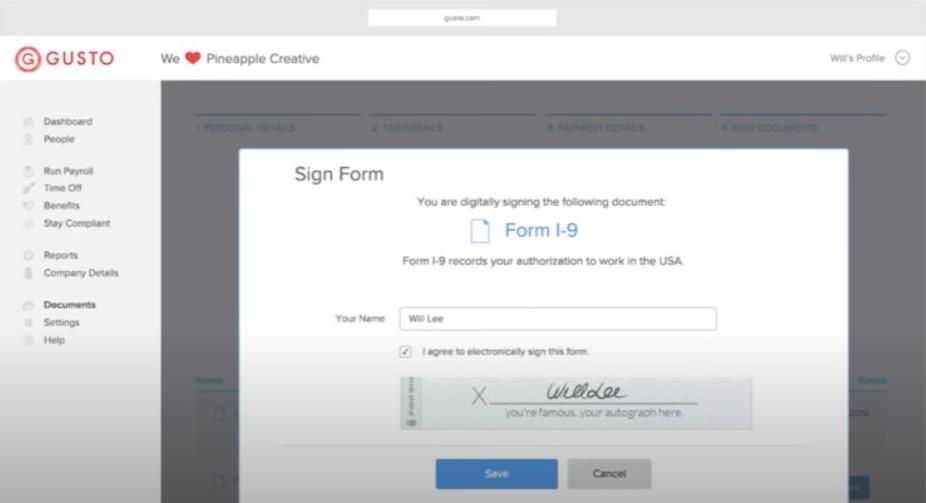 Time-off policies can be customized to suit your business, and you can black out important days for your company, which means no-one can request time off on those days.
Paid time off is automatically calculated, and employees can request days off easily. Approved requests will be automatically synced to both the payroll and the team calendar.
You can also schedule key dates, using Google, iCal, or Outlook.
Benefits
If you have an existing benefits broker, you can continue to use them, or you can use one of Gusto's brokers instead. You can stay on top of dental, medical, and vision plans, with more than 3,500 to choose from, including Humana, United Healthcare, BlueCross BlueShield, Oscar, and Kaiser Permanente.
You can also take care of 401(k) retirement plans, as well as life and disability insurance, health savings accounts, and commuter benefits. This all syncs up with the payroll system.
Reporting
You can generate and download reports easily with Gusto. These include:
The Payroll Journal – detailed payroll information for each pay period
The Benefits Report – shows employee deductions and company contributions
Agency Payments – shows federal, state, and tax deposits
Bank Transactions – shows all payroll-related bank transactions
Year-to-Date report – shows total earnings, taxes, and pay for each employee
The reports are clear and easy to understand and can be shared with team members.
Integrations
There are a lot of integrations available with Gusto, including:
Xero
QuickBooks Desktop
QuickBooks Online
FreshBooks
TSheets
Shopify
OnPay vs Gusto – Support & Customer Service
How do they compare in terms of support and customer service?
OnPay Customer Support & Service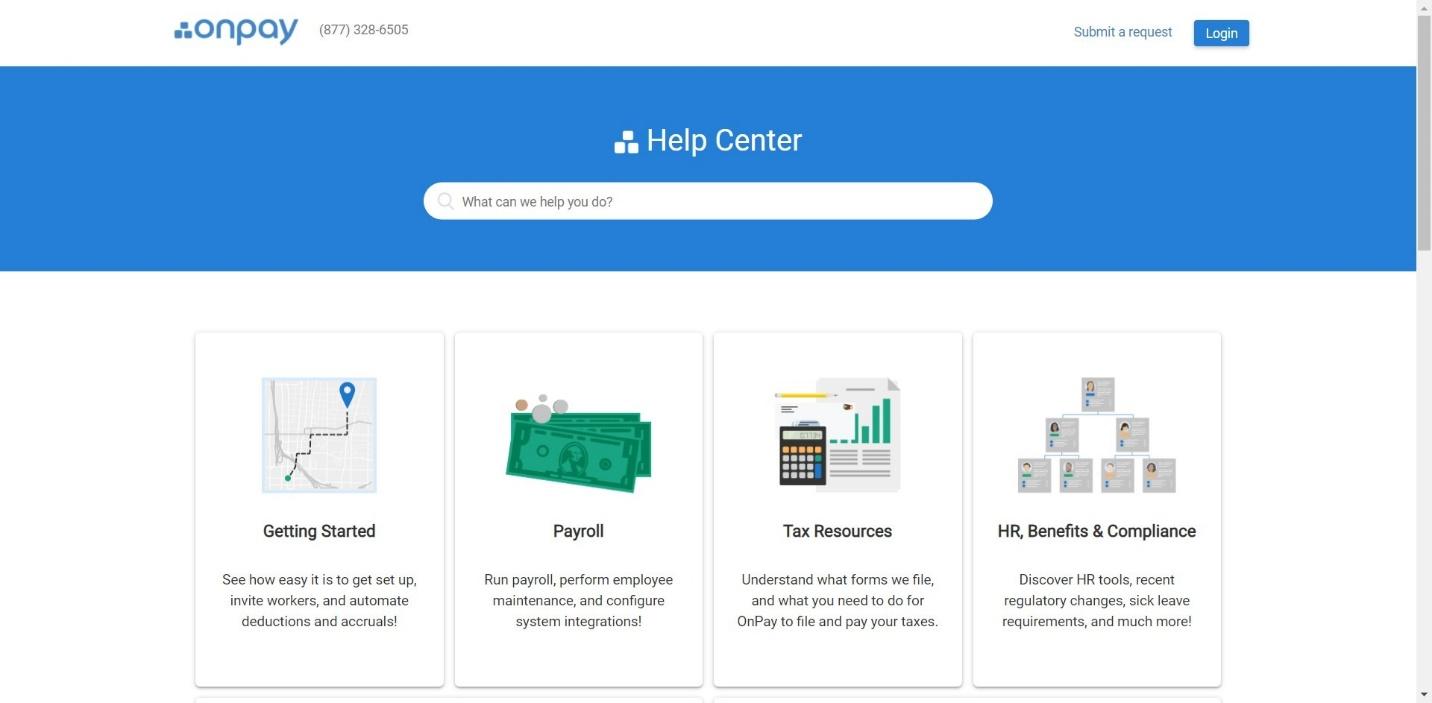 OnPay has a help center with articles and guides on how to make the most of their services. You can access customer support using email, phone, or live chat. Their customer support team has a good reputation for being helpful, friendly, and quick to reply to queries.
Gusto Customer Service & Support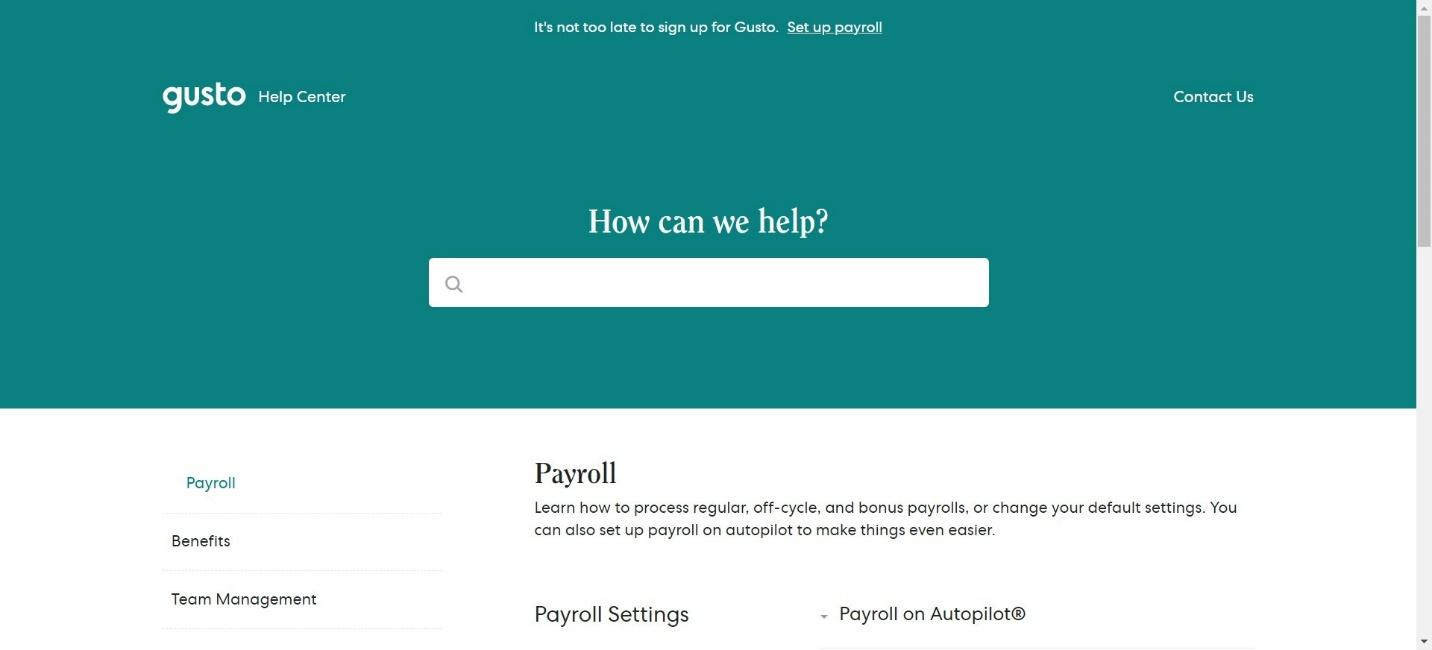 Gusto has a support center with articles to help you to learn to use their platform. You'll need to have an account to access customer support, with support available via phone or using a ticketing system. They have a good reputation in terms of being friendly and helpful, but they can be a little slower in responding to queries, especially at busy times of the year.
OnPay vs Gusto – Pricing
OnPay and Gusto are quite different in terms of pricing, so let's take a look at how they compare:
OnPay's pricing is completely decided on how many employees you have. Rather than having tiers with certain features locked behind different price plans, you can access all the tools that OnPay has to offer – but the pricing will depend on the number of employees.
Their base rate is $36 per month, and they charge $4 per person per month. For example:
You will only be billed for the people that are paid in a given month. So if you're paying contractors or freelancers, for example, you won't have to pay for them every month – just the months that they work for you.
This works well for smaller businesses too, as you won't have to pay for features that you won't use. Even if your business is just you and one employee, you can still use OnPay.
You can find out more about their pricing here.
There are four pricing plans for Gusto:
Gusto Contractor Plan – $0 per month base price + $6 per month per person
Unlimited payroll for contractor payments
Contractor self-service
Form 1099 creation and filings
Gusto Core Plan – $39 per month base price + $6 per month per person
Full-service payroll
Employee self service and profiles (employee portal)
Health benefits administration
Workers' comp administration
Best-in-class support
Paid time-off policies
Employee access to Gusto Cashout
Gusto Complete Plan – $39 per month base price + $12 per month per person
Everything in the Core plan
Permissions
Employee offers and onboarding
Simple time tracking
PTO policies and time-off requests
Employee directory and surveys
Gusto Concierge Plan – $149 per month base price + $12 per month per person
Everything in the Complete plan
Dedicated best-in-class support
Certified HR Professionals
HR Resource Center
You can learn about their pricing plans here.
OnPay vs Gusto – Pros and Cons
OnPay
Pros
Simple, flexible pricing
Easy to use
Makes it simple to stay compliant
Employees can access their own information easily
Cons
Lacks some features that similar platforms have, like performance review cycles
Doesn't have a mobile app
Gusto
Pros
Employees can withdraw money from future paychecks (before processing payroll)
Onboarding is really easy
It makes it easy to stay compliant
It's simple to run payroll each month
Cons
Doesn't have a mobile app
Customer support can be slow to respond
Frequently Asked Questions
Here are some of the most frequently asked questions about OnPay and Gusto:
Question: Can I pay employees overseas?
Answer: Yes, you can pay overseas employees as you would pay US-based employees with both OnPay and Gusto.
Question: Will my employees get emails with their pay stubs each month?
Answer: Yes, with both OnPay and Gusto you can set up automatic emails to employees with their paystubs.
Question: Can I use OnPay and Gusto on PC and Mac?
Answer: Yes. They're both cloud-based platforms, which means you can access them with an internet browser.
What are the Best Gusto and OnPay Alternatives?
Answer: Yes, there are a few alternatives we can recommend:
To Sum Up … Which is the Best Payroll Software?
We think that both platforms have good features and can help your admin and management teams to stay on top of important tasks.
However, if we had to pick a winner, we'd probably pick OnPay. We like the simple pricing system, and it feels more accessible for small business to get going right away with their HR features.
Even if you only have one employee, you can enjoy everything that OnPay has to offer without worrying about having to pay extra for certain features.
We like that the customer support team is responsive – this is important, especially if you're new to using HR services and you get stuck on something.
Having said that, we do feel that Gusto is a strong platform with excellent HR features, too.
From an employee perspective, being able to access funds before payday, as well as being able to clock in and out wherever you go, is useful. There are definite benefits to using Gusto, so it's worth checking out.
Bottom Line Summary: I think that the better, more affordable, option for most small business is OnPay here. That says, once you get to 10+ employees, it makes a lot of sense to switch to the more fully featured Gusto payroll here for growing businesses. If the pricing differences are not important, it might make sense to just start with Gusto (like we did, as we were growing quickly).
We hope this has helped you to figure out which platform is right for you!
Further Reading on Payroll Software, HR Tools & Payroll Management: