Last Updated on November 7, 2023 by Ewen Finser
If you are looking for the right CRM for your business and have narrowed it down to HubSpot or Freshworks, this article is for you.
I've been using CRMs for the last 7+ years and have tried pretty much every major entrant into the market. This is mainly because we run a fairly non traditional media and ecom holding company and most of the CRMs I try require some customization and tweaking.
That said, I've found a few finalists and HubSpot is one I've used off and on most frequently. That said, it's a love / hate relationship. Love the features (mostly), but hate the upsells and long term cost at scale.
This is why I was eager to test out Freshworks and see if it could "do enough" and save some money at the higher tiers.
This comparison is the result of this testing.
TL;DR: I really like both of these companies and have used their tools off and on for various companies I've operated. HOWEVER, Freshsales CRM is the one I ended up sticking with, because it better fills the middle ground (features + affordability) between Hubspot's free lite crm and their expensive ecoystem plans. Unless you are a larger enterprise, Hubspot can quickly get out of hand on the cost side ONCE you need to scale.
Main Differences Between Freshworks and Hubspot
Here's how I see the primary differences and trade offs between Hubspot vs Freshworks:
Pricing Comparison
Overall, Freshworks CRM is more affordable than HubSpot. The most expensive plan of Freshworks CRM costs $149 per month, while HubSpot's most expensive plan costs a whopping $4,000 per month. However, it's important to mention that HubSpot offers a comprehensive free CRM plan.
Freshworks CRM Pricing Details
Freshworks CRM pricing ranges between $35 and $149 per month for their Freshsales CRM module. If you opt for an annual subscription paid upfront, you can save up to 18%. Freshworks CRM also offers a 21-day trial for each plan.
| | Pricing |
| --- | --- |
| Starter | $35 per month |
| Professional | $85 per month |
| Enterprise | $149 per month |
HubSpot Pricing Details
HubSpot's pricing ranges from $25 to $300 per month. All HubSpot plans are billed annually, and a free 30-day trial is available for each plan.
Here's an overview of HubSpot's pricing plans:
| HubSpot Plan | Pricing |
| --- | --- |
| Essentials | $25 per month |
| Professional | $75 per month |
| Enterprise | $150 per month |
| Unlimited | $300 per month |
Freshworks CRM & HubSpot: Feature Comparison
Freshworks CRM and HubSpot offer standard and advanced CRM features, including lead capture tools, contact and deal management tools, workflow automation, and insights reporting.
HubSpot offers more lead capture methods, including social media as a lead capture tool.
Lead Capture
Freshworks CRM and HubSpot both offer form, live chat, and email as lead capture tools. However, HubSpot stands out with its ability to capture leads through social media and offers a superior email lead capture tool.
Email Lead Capture
Freshworks CRM has an automatic feature that captures email senders who are not already labeled in your system as sales-qualified leads. However, it doesn't capture additional information found in emails like phone numbers, company names, and websites.
HubSpot, on the other hand, offers a chrome extension that can capture information found in emails such as names, phone numbers, company names, company locations, and even industries. This feature also allows you to edit leads' details within Gmail.
Lead Capture Through Social Media
HubSpot allows you to capture leads through an integration with Facebook and LinkedIn. You can run ads and attach lead capture forms to your social media platforms. Once your ad and form are created, you can set up a basic automation that creates a contact list of those who submit your form. HubSpot also allows you to send yourself email notifications when someone becomes a lead from your ads and forms.
Contact Management
Freshworks CRM and HubSpot offer contact management tools that let you create comprehensive contact profiles and efficiently organize your contacts. Freshworks CRM is better for managing less than 50 contacts at once, and HubSpot is better at managing more than 50 contacts at once.
Contact Profiles
Both Freshworks CRM and HubSpot allow you to create robust contact profiles. Each offers its own advanced capabilities. Therefore, it's crucial to evaluate these features to determine the best platform for your business.
Freshworks CRM's artificial intelligence system, Freddy AI, provides insights as to whether a contact is a good fit for your business. Freddy AI uses your CRM data, including other contacts and deals, to predict a contact's score. You can train Freddy AI by inputting positive and negative data involving contact properties, engagement, and web or in-app activities.


HubSpot's contact profile feature lets you capture someone's website activity and how a contact was obtained. You can use this information to better understand which marketing methods are most productive.
Hubspot also has great built in automations to pool from either Gmail or Outlook.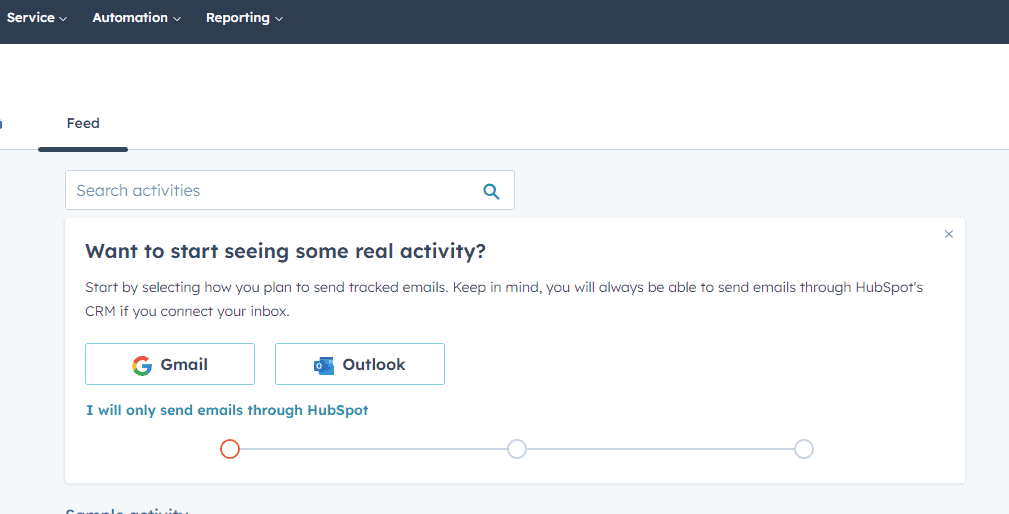 Automatic Contact Activity Feed
Both Freshworks CRM and HubSpot offer features that automatically track your contacts' activity. This type of tracking keeps you up-to-date with where prospects are in your sales process.
Both Freshworks CRM and HubSpot allow you to view contact activity for emails, events, website activity, phone calls, meetings, chats, and tasks. However, unlike HubSpot, Freshworks CRM allows you to track when a contact was last contacted and organize your contact activity by date.
Deal Management
Deal management within a CRM involves managing pipelines, tasks, and lead scoring. Freshworks CRM is better if you have less than 50 simultaneous deals, and HubSpot is better for managing more than 50 simultaneous deals.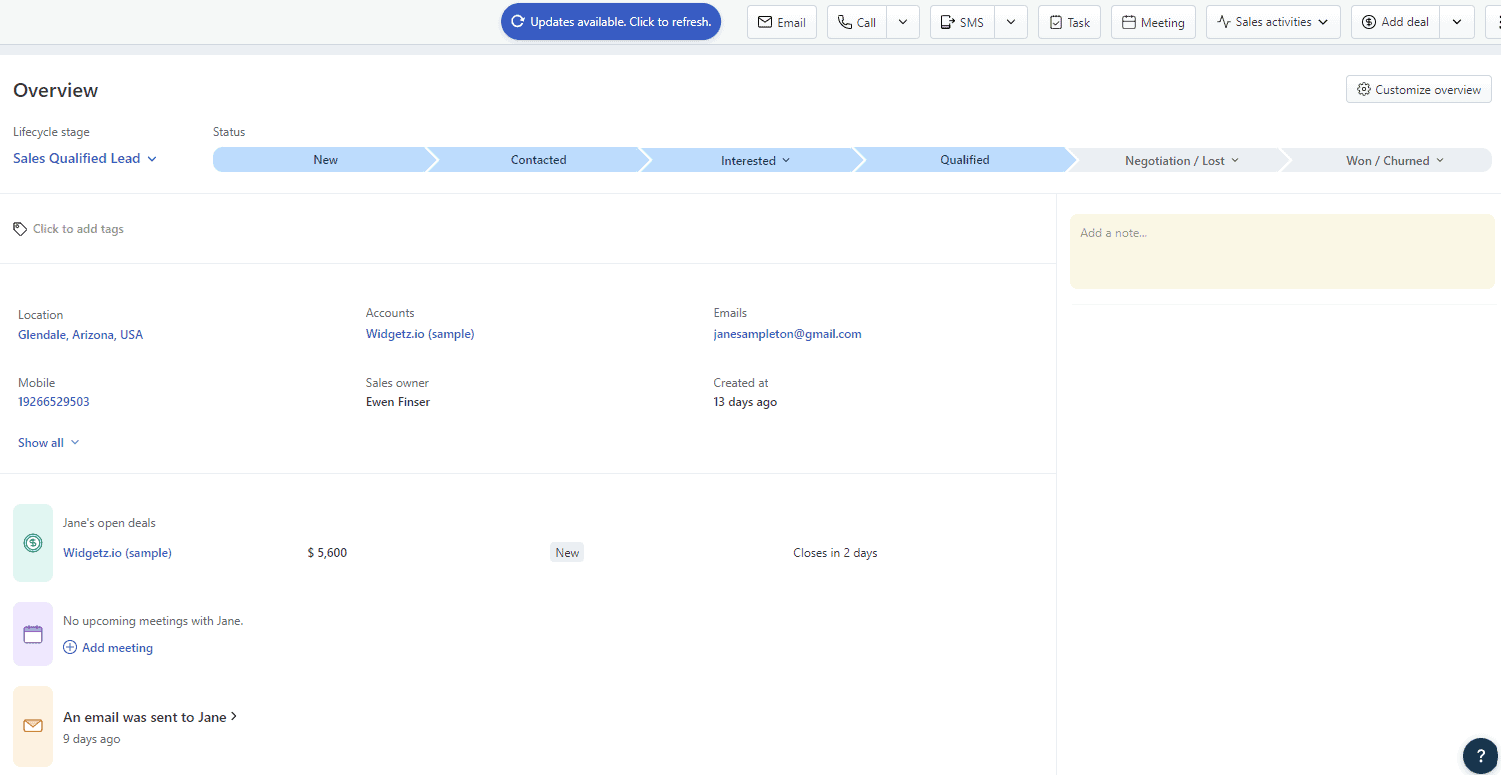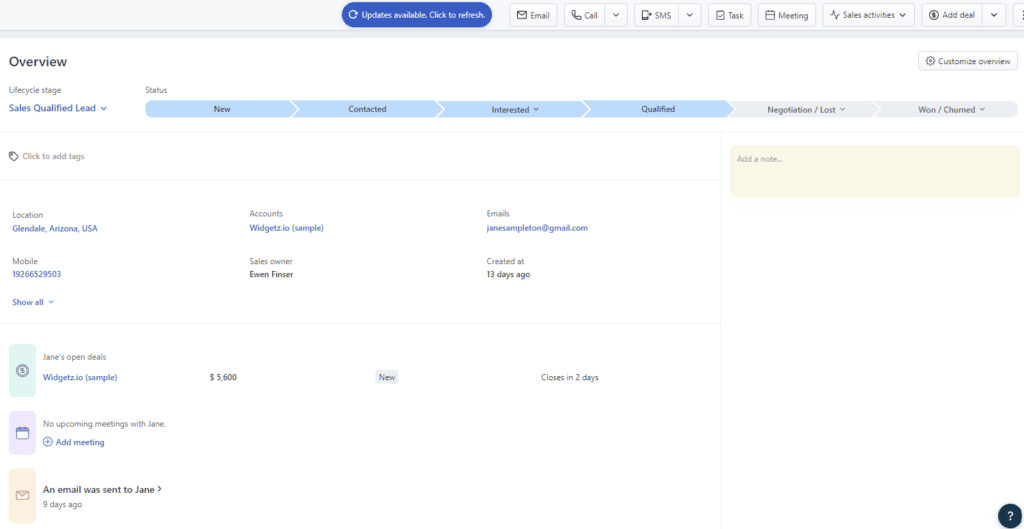 Task Management
Tasks in a CRM are actions taken to bring a deal to completion. Overall, HubSpot's task management feature is more robust than Freshworks CRM's.
Both solutions let you customize your task's titles, descriptions, and due dates. However, unlike Freshworks CRM, HubSpot lets you set reminders for tasks. Reminders reduce the chance of losing a potential deal.
Another advantage of HubSpot's task management feature is that you can use filters like task type, priority level, creation date, and creation source to organize your tasks. Freshworks CRM only lets you organize your tasks by days or whether they are open, completed, or overdue.
Lead Scoring
Freshworks CRM and HubSpot let you assign numerical values to a lead, which reflects the likelihood of a lead becoming a paying customer. These values also help your sales representatives prioritize their time and resources.
Freshworks CRM's lead scoring tool is more advanced than HubSpot's because Freshworks CRM uses artificial intelligence to score your leads – Freddy AI. Freddy AI uses your CRM data to provide a score, whereas HubSpot makes you manually input positive or negative score indicators.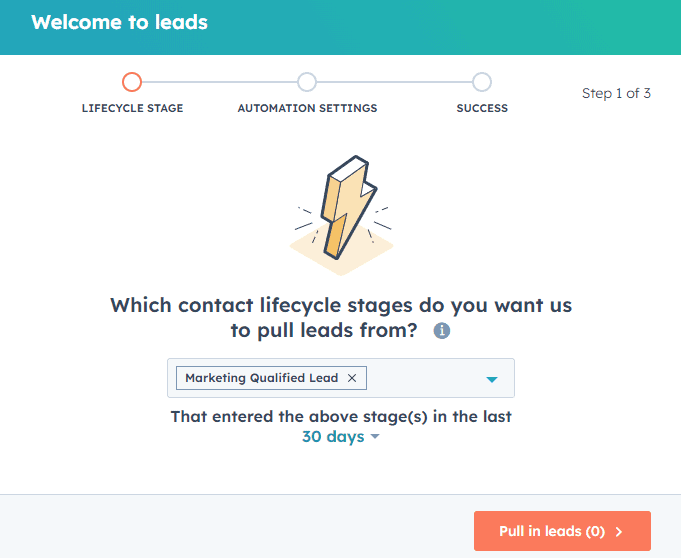 Workflow Automation
Freshworks CRM and HubSpot offer triggered events as tools that automate common tasks. Overall, HubSpot's work automation tools are superior to Freshworks CRM's.
Both Freshworks CRM and HubSpot let you perform actions like field updates, sending emails, and task creation. However, HubSpot also lets you perform actions related to record reassignment, and list, ads, and property management.
As shown below, HubSpot also includes sequences as a workflow automation tool. Sequences are best for developing 1:1 relationships between leads and sales representatives. With sequences, you can send automated follow-up emails that contain highly targeted content to a potential lead.
Insights Reporting
Freshworks CRM and HubSpot offer insights reporting for key information like deals won and lost, pipeline progression, sales forecasting, and sales funnel performance. Overall, HubSpot's insights reporting feature is slightly more advanced because it offers more dashboard customization capabilities.


As shown above, HubSpot lets you drag & drop and resize reports in a dashboard. Customizing your dashboards in these ways lets you emphasize the metrics that are especially relevant to your business.
Final Summary View
Here's an overall at a glance summary of the key attributes of both platforms that I looked at:
| Key Features | Hubspot CRM | Freshsales CRM |
| --- | --- | --- |
| Pipeline Management | Yes | Yes |
| Email Tracking | Yes | Yes |
| Contact Management | Yes | Yes |
| Lead Scoring | Yes | Yes |
| Invoicing | No | Yes |
| Contract Management | No | Yes |
| Analytics | Not built-in | Yes |
| Organizing and Managing Contacts | Yes | Yes |
| Customization Options | Yes | Yes |
| Collaboration Features | Yes | Yes |
| Bulk Emailing | No | Yes |
| Behavior-Based Contact Segmentation | No | Yes |
| Document Management Tool | Yes | No |
Hubspot and Freshsales Alternatives
These aren't the only CRM solutions out there. Our editorial team has contrasted a whole lot of these directly, so see below for some comps:
Freshsales (Freshworks) Compared to Others
Final Verdict: Freshworks or Hubspot?
Freshworks CRM is an excellent choice for small businesses seeking a beginner platform. Those in need of strong communication tools would greatly benefit from using Freshworks CRM.
On the other hand, HubSpot is an advanced, all-in-one platform with robust features. It's a expansive solution compared to Freshsales CRM, but it is also much more expensive. Put simply, Hubspot is better suited for medium to large businesses that also need high-quality digital marketing tools.
Bottom Line Summary: Here's how I view the decision personally…
Still Stuck? Other CRMs by Use Case
If you still aren't quite decided, check out these more specific CRM guides by industry and use case: