Last Updated on April 27, 2022 by DMEditor
While Square may be a powerful Point of Sale (PoS) tool in its own right, connecting it with one of the best Square Inventory Management Apps can provide invaluable functionality that helps you better track and monitor your stock levels.
Of course, Square does have its own inventory management feature, but it's fairly limited compared to the kind of comprehensive functionality you get with a dedicated app.
The only question then, of course, is which one do you use?
Below, I'll share with you the top ten very best inventory management apps for Square currently on the market today.
Selection Criteria
Before we begin, I should tell you that not a single app developer paid me to include their product in this guide. Instead, every single of the following top ten picks were chosen by me and me alone because I really do believe they score the highest marks against the following key selection criteria:
Features and Functionality
Whether you're choosing a Salesforce app, a Shopify shipping app, or just about any kind of application at all, one of the first things you're bound to want to look at is the kind of features it offers.
When putting together my top ten, I went with Square Inventory management apps which offered the most features and functionality, ultimately ensuring that each app is going to provide a real, tangible benefit to your business.
Value for Money
There are a range of both free and premium Square apps on the market.
None of the premium apps are exactly what you'd call cheap, but I did pay particular attention to those that cost the least while still providing great value for money.
Of course, I also included a couple of top-rated free options too.
Ease of use
The best inventory management apps are designed to simplify and streamline your selling process, but if they're complicated or cumbersome to use, then they often prove to be less of a help and more of a hindrance.
With that in mind, apps that offered excellent useability scored much higher than those that were a pain in the proverbial to use.
Best Square Inventory Management Apps 2022
Shopventory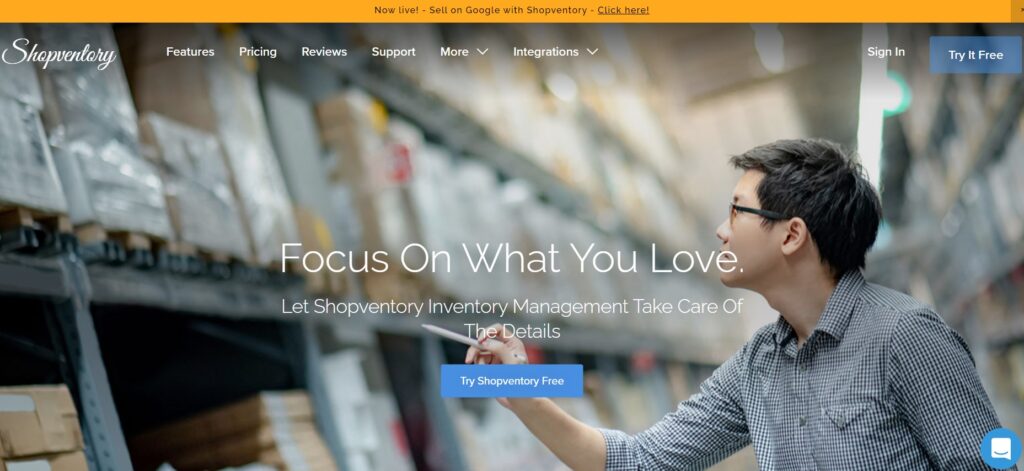 Shopventory is by far and away one of the most popular Square inventory management apps currently on the market, earning rave reviews for how effortlessly it integrates with Square and for its almost impeccable customer service.
While both of those things are undoubtedly important, what really stands out to me with this one is the sheer wealth of available features.
A major highlight is the Inventory Optimization tools that help you quickly identify your biggest money-makers and in-demand items and those that may be costing you money and ultimately make the kind of changes you need to make improvements.
That said, I'm just as big of a big fan of the Kits & Bundles feature, which can prove to be a game-changer for restaurants, gift shops, liquor stores, and other retail outlets, and I'm also really impressed with other essential features such as:
Profit Margin Management
Smart Stocking Alerts
Use in up to 100+ locations
User Access Control management
Vendor Management
Automated Daily Reporting
and more.
Pricing
Shopventory offers a 30 day free trial with access to all of its features so that you can test whether it's the app for you.
After that, the company offers several plans which work out cheaper if you pay annually at the following prices:
Standard Plan – $79/mo
Professional Plan – $199/mo
Elite Plan – $399/mo
Enterprise – $799/mo.
A pay-monthly is also available, but choosing this option will cost you 20$ more per month.
Pros
Easy to integrate with Square
Unbeatable customer service
Offers complete catalog management.
Cons
A steeper learning curve for beginners than other apps
No ability to edit purchase orders.
Finale Inventory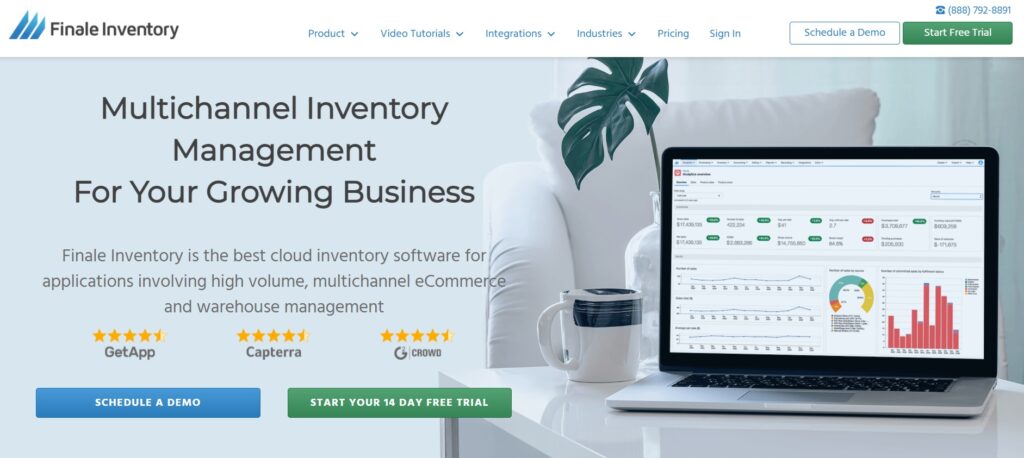 Designed specifically for those with multichannel inventory management needs, Finale Inventory is a reasonably priced app which you can access via a web browser, ensuring anytime-anywhere access for anyone with the right credentials.
Seamlessly integrated into leading eCommerce platforms like Shopify and Amazon, but it's what happens when you sync it with your Square POS that impresses you the most. Once connected, stock quantities are automatically updated in your inventory, while selling channels can be instantly updated to avoid you over=selling.
Elsewhere, the integrated barcode scanner takes the hard work out of stock-taking and is worth the cost of the app alone.
Pricing
Speaking of the cost, Finale Inventory is also one of the most affordable tools of its type out there right now.
You'll save the most money by opting to pay annually for one of the following plans:
Starter – $63/mo
Bronze – $166/mo
Silver – $291/mo
Gold – $458/mo
Platinum – $665.
If you choose a pay-monthly plan, you'll pay around 16% more, but even these plans are less expensive than some of the pay-annual rates charged by other platforms.
Pros
Low-cost pricing
Over 40 multichannel integrations so you can keep all of your platforms in sync.
Offers full multi-warehouse inventory management capabilities.
Cons
The starter plan only allows for 500 orders per month
Limited ability to control user access and permissions
DEAR Systems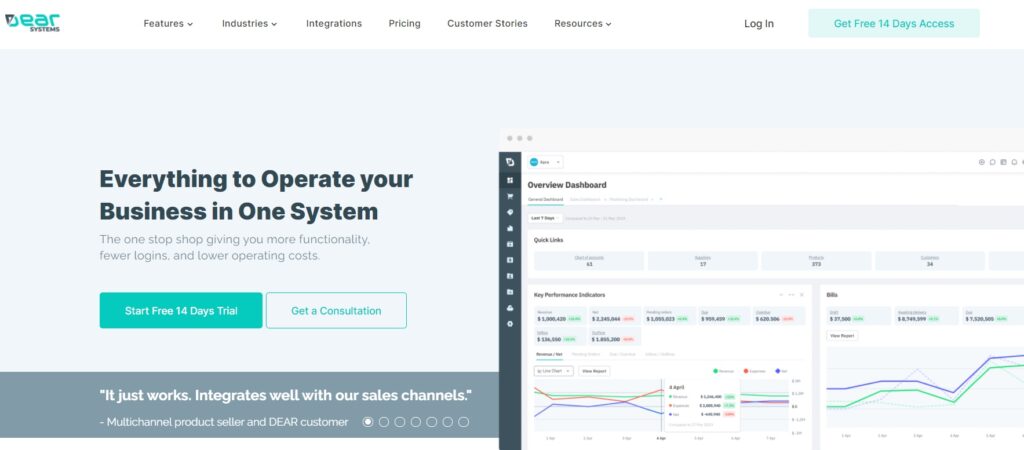 DEAR Systems sets itself apart from the crowd by striving to be a one-stop shop for your eCommerce business and, to that end, it pretty much succeeds.
One sync with Square, the app gets to work on streamlining your whole sales process.
The Pick, Pack, and Ship feature allows you to fulfill orders, with inventory automatically updated and customer invoices created instantaneously.
Moving beyond that, DEAR is an excellent choice for managing large product volumes, with the ability to create product families helping to simplify what is often a complex process.
Pricing
The DEAR Systems Inventory Management app comes at a flat rate of $99 per month. While that may not be the cheapest around, it's by no means the most expensive either and means you still get to enjoy great value without the hassle of paying an annual fee upfront.
Pros
Excellent custom reporting tools
Very beginner-friendly
Cloud-based to allow for remote access
Cons
Limited amount of information available in reporting
Customer service can be slow.
SKuHarmony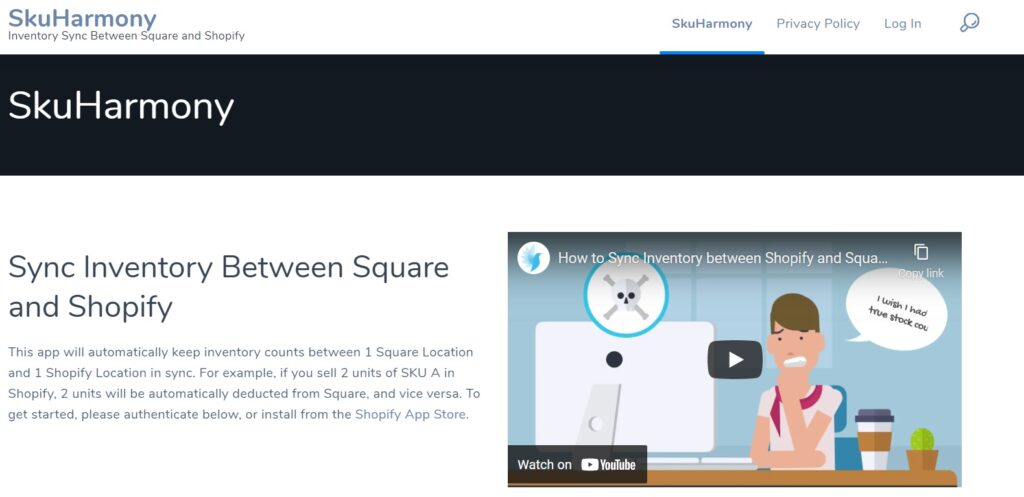 SkuHarmony may not be the most feature-rich inventory management tool you're ever going to come across, but that's actually all part of its appeal.
While tools like DEAR may try and do everything, SkuHarmony focuses on doing one thing but doing it really, really well.
That one thing is simply this:
Syncing your inventory counts between Square and Shopify.
In other words, if you sell 4 units of SKU-1 via Square, 4 units of SKU-1 will automatically be taken from your inventory in Shopify and, of course, the other way round.
However, what really appeals about SkuHarmony isn't so much what it does, but how it does it, namely lightning-quick and as easy as you could possibly form.
Pricing
Another thing that I love about SkuHarmony is that it comes with a free plan. So, if all that you need is to keep your Square and Shopify inventories linked together, choosing SkuHarmony seems like a no-brainer.
Pros
It takes seconds to sync Square and Shopify
Very easy to use
Available for free.
Cons
It may be insufficient if you need a full inventory management tool
Limited, if any, customer service.
Yellow Dog Inventory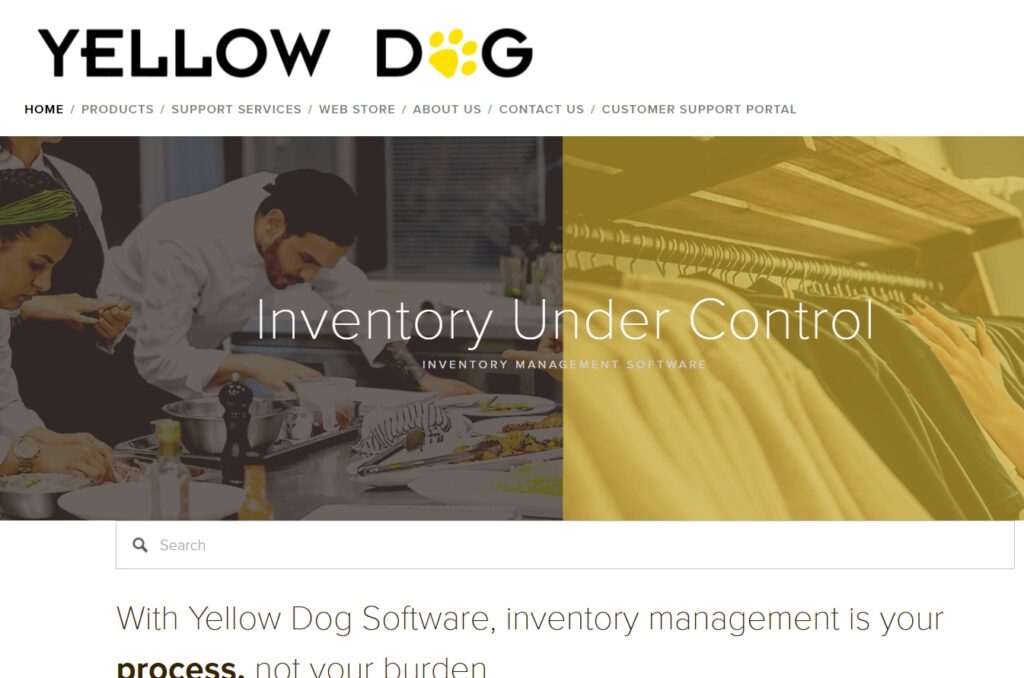 Yellow Dog Inventory aims to be the ultimate inventory management app for businesses with a physical location, such as retail outlets and those in the food and beverage industry.
Available online and as a lightweight mobile app, the tool focuses on efficiency, making it easy to create and manage inventory items, process vendor invoices, and more, all in just seconds.
A real highlight, though, is the comprehensive 380 data reports that allow you to really get a clear look at what's going on with your inventory and make the kind of important decisions that will help you boost those all-important profit margins.
Pricing
Yellow Dog Inventory is fast, powerful, and easy to use, but it's also pretty expensive compared to others in this guide.
Plans are charged per month, per location, making this a costly option for multi-location businesses.
If you do decide to opt for this one, you'll need to choose between one of the following plans:
Bronze – $129/mo/loc
Silver – $199/mo/loc
Gold – $269/mo/loc
Pros
Excellent purchasing and receiving features
Very easy to synch with Square POS
Includes automated invoicing features.
Cons
Costly plans
The cheapest plan is limited to 500 items
Connex for QuickBooks Online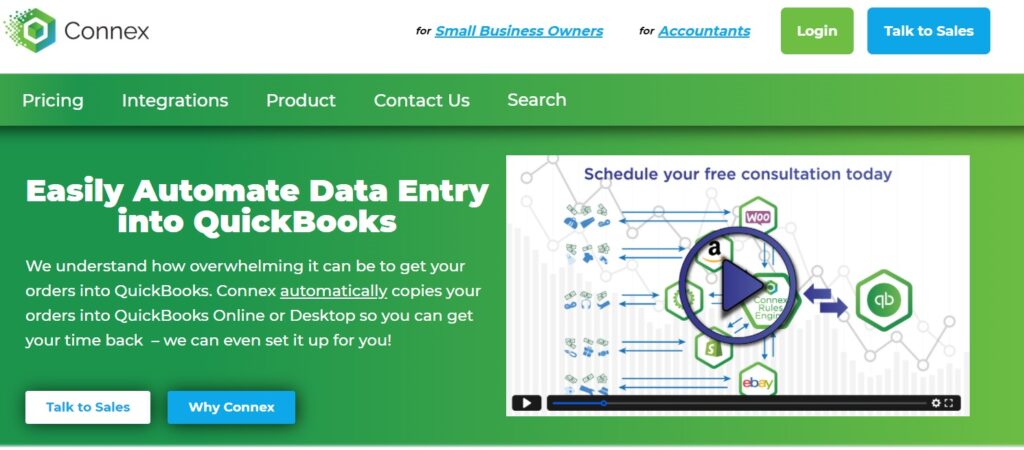 Of course, not everybody needs a brand new inventory management system.
If you're already pretty happy using Quickbooks to manage your inventory, you might simply be on the lookout for a tool that will sync it with Square to make your life easier.
If that's the case, Connex for Quickbooks Online is the one for you.
Though it's by far and away from the most expensive tool you'll find in this guide, it also may well prove to be an invaluable investment for existing QuickBooks users.
Simply put, the tool takes data from Square and other leading eCommerce platforms and automatically enters it into QuickBooks, saving yourself time and eliminating the risk of human error that typically comes with manual data entry.
Pricing
This one may be very expensive, but there are still ways to save money with it.
If you choose to pay annually, you won't have to pay the high $199 activation fee, though you will have to pay the following rates depending on your plan:
Silver – $239/year
Gold – $3,588/year
Platinum – $4,788/year.
Pros
Allows for automated deposit matching between online sales and your bank account
Allows for order and refund syncing
Also available in a desktop version.
Cons
The lowest-priced plan is limited to two channels
The $199 activation fee for pay-monthly plans is expensive.
DigitalPour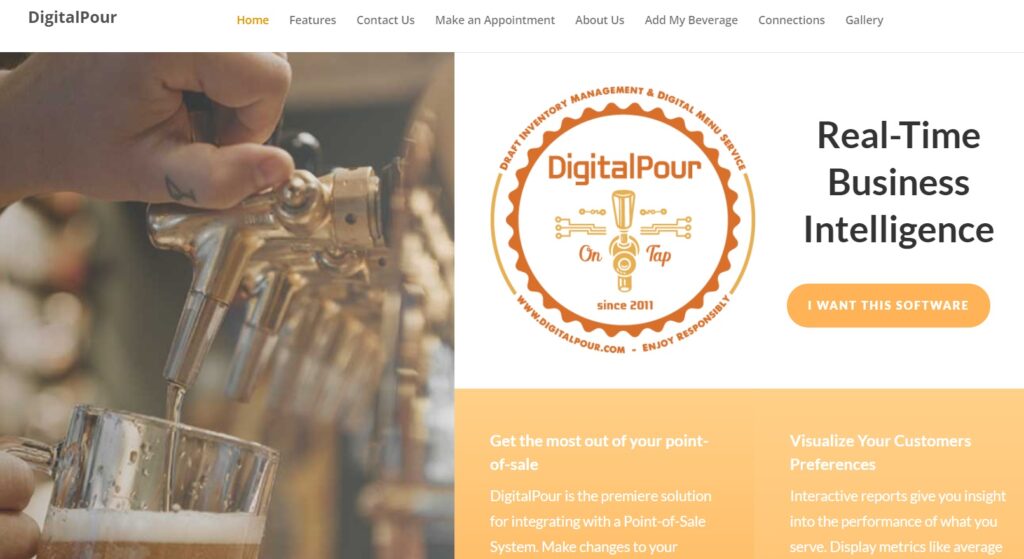 DigitalPour is one of those Square apps that focuses on solving one particular problem unique to a certain niche.
In this case, it's a problem of managing keg inventory in bars, clubs, and similar establishments.
Making use of the Square PoS API, DigitalPour automatically updates a digital draft menu when a new keg is put on tap, even going so far as to create product variations for different pour sizes and recommending pricing.
The app can also show you when a keg is running low and will be ready for replacement and generate reports that will show you what's selling well and what isn't, proving a hit with customers.
Pricing
One thing I like about DigitalPour is that it comes with just one all-inclusive plan charged at $99, meaning you don't have to deal with the time-consuming hassle of determining which of several plans is right for you.
Pros
Offers a free app for customers to order drinks from
Full inventory management, including order placing, deposit tracking, and more
Sync menu changes across Square, your website, Facebook, Twitter, digital menus, and your mobile app
Cons
Management app isn't the most intuitive
Limited customer service.
PeachWorks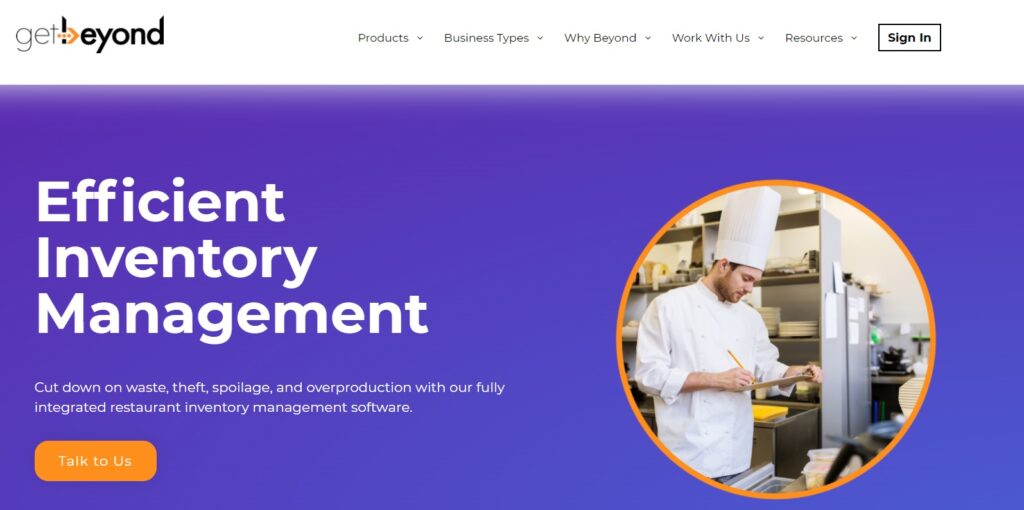 Much like DrinkPour, PeachWorks is a specialist inventory management app for Square serving a niche market.
This time, it's the restaurant industry, with a wealth of tools designed to help restaurants take better control of their food costs.
The app's key feature is a recipe management tool that connects individual menu items in Square to recipes hosted in the app. This allows you to get accurate updates of how much of each ingredient you should have used and, thus, when it might be time to restock.
That said, inventory management goes much further with this one, with mobile counts, automated invoices, and a feature that allows you to compare ideal usage to actual usage, all helping restaurant owners streamline the way they manage their stock.
Pricing
PeachWorks is another one of those apps which comes with one simple, per-month flat fee.
With this one, you'll pay $137 per month, which is a little on the pricey side but may prove worth compared to the kind of savings it can help you make in terms of food costs.
Pros
Extensive sales and margin reporting and analytics features
It offers a multi-location option
Features useful supply chain features such as automated purchase orders and invoice tracking.
Cons
Steeper learning curve than other apps
Higher-than-average price tag.
SKU IQ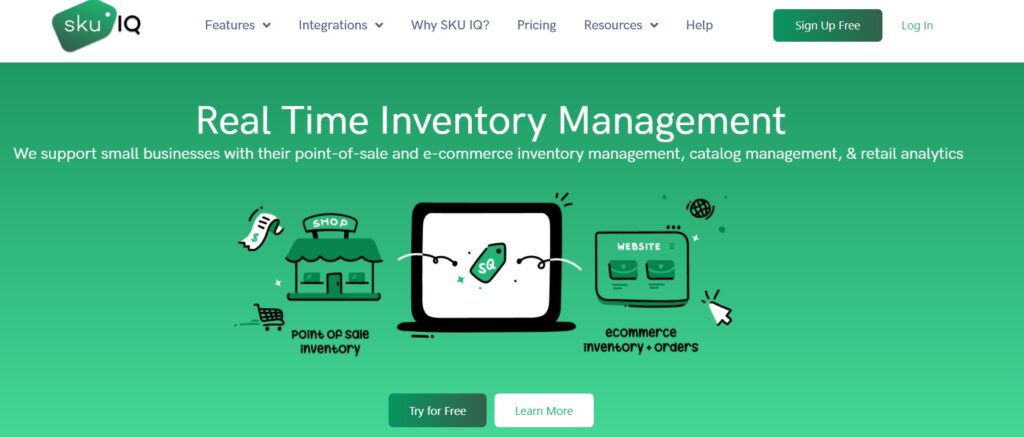 Remember earlier, when we looked at the simple SkuHarmony tool which synced your Shopify and Square accounts?
If you liked that idea but not the app itself, or if you need simple syncing between Square and a platform other than Shopify, then Sku-IQ may be the one for you.
Along with Shopify, this affordable app easily integrates with WooCommerce, BigCommerce, Wix, and Magento to allow for effortless inventory syncing between Square and your prefered eCommerce platform..
Not only does it ensure that stock levels are accurate across multiple platforms, but the app also allows for cross-platform analytics which combine data from both your eCommerce site and your Point of Sales to help you make data-driven decisions about maximizing profits.
Pricing
Sku-IQ comes with a 30-day free trial so that you can give it a test run before signing up to one of its four low-cost plans.
These include:
Basic – $45/mo
Plus – $89/mo
Growth – $159/mo
Premium – $349/mo.
The app's developers can also set you up with a custom configuration for an additional $500.
Pros
Accommodates unlimited items
Features multi-store configurations to enable click-and-collect orders from multiple outlets
Great customer service.
Cons
The product search feature leaves a lot to be desired
Limited choices on shipping vendors.
Trunk

Trunk is another inventory syncing app that allows you to integrate your Square PoS with a huge range of eCommerce platforms.
WooCommerce, Shopify, Amazon, eBay, Etsy, SquareSpace, and many others are well accounted for here, with the option to connect as many sales channels as you need.
In other words, if you're selling on both eBay and Etsy while also taking orders via your Square PoS, all three can be fully synched to give you an accurate indicator of your inventory levels at any given time.
For me, the best part is that it also allows you to sync Square with QuickBooks Online at a much better price than the one we looked at earlier, making this one of the handiest tools in this guide.
Pricing
Trunk comes with a 14-day free-trial with access to all of the features.
After that, you'll have a choice of two simple, low-cost plans:
Essential – $35/mo for up to 100 orders or $45/mo for up to 200 orders
Pro – $39/mo for up to 100 orders or $59 for up to 200 orders.
Custom pricing is also available for retailers who process 200+ orders per month.
Pros
Unlimited sales channel syncing
Features low stock level alerts
Very easy to set up.
Cons
A limited number of orders can be processed
Limited in terms of reporting and analytics.
FAQs
Question: How do I Connect Square to QuickBooks
Answer: Apps such as Connex allow you to easily link Square with QuickBooks Online so that you can manage inventory, process orders, and more.
Question: Does Square Charge for Inventory?
Answer: Square does have its own inventory management feature, which is free of charge to use but lacks some of the functionality you get with the apps in this guide.
Question: What is the best Square inventory management app for Shopify users?
Answer: Apps like Finale Inventory and SkuHarmony are both great options for connecting your PoS to Shopify.
Final Verdict: What is the Best Square Inventory Management App of 2022?
All in all, every single one of my top ten picks could be considered the best Square inventory management app, depending on exactly what you need.
For example, if you need a complete inventory management tool but you're looking to keep your costs down, then the combination of extensive features and affordable pricing makes Finale Inventory an excellent choice.
If you simply need a quick way to sync inventory counts between Shopify and Square, then I recommend SkuHarmony as it does this job better than most at a very reasonable cost.
However, if your top priority is getting your hands on the absolute best app going today, then the easy-to-use, feature-rich Shopventory app is going to be tough to beat.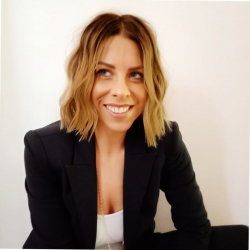 Latest posts by Maddy Chiffey
(see all)
Get 40% OFF for 3 Months