Last Updated on April 23, 2023 by Ewen Finser
Whether you are a current NetSuite customer looking for a change or interested in an Enterprise Resource Planning (ERP) software, this article is for you. NetSuite has its positives in functionality and scalability but it isn't without its drawbacks.
NetSuite is a cloud-based ERP software by Oracle created to streamline business processes so your company can scale faster with fewer speed bumps. Automate everyday processes like financials, inventory, orders, billing, e-commerce, and Customer Relationship Management (CRM). In this sense, NetSuite combines an ERP with a CRM.
NetSuite integrates with the following software: Deltek, Epicor, Legacy On-Premise ERP, Microsoft Dynamics GP, QuickBooks, Sage, and SAP. With these integrations in mind, NetSuite markets directly to users of the above ERP software platforms.
Implementation of NetSuite usually takes 2 to 6 months. After you are a paid client of NetSuite, the platform provides a Customer Success Services Team. This team will customize features for you, help you identify business goals, and streamline business services.
Customer service is available in both Basic (all clients) and Premium. There is an extra cost for Premium but you will receive priority service that is worth the extra cost if you generally rely on software support.
Premium adds 24/7 technical center and non-critical access, call routing, 4 authorized support contacts, and more. If you desire proactive customer support, a third-tier called Advanced Customer Support (ACS) is also available.
And while NetSuite is a great all-in-one ERP solution, it also has its shortcomings. For companies that are seeking on-premise software, NetSuite does not currently offer this option. Third-party integrations can expand software capabilities but often cause performance issues if you don't proactively maintain them.
Fortunately, there are several NetSuite competitors. I have featured our top 8 NetSuite alternatives below. Check out each listing for more information about the platform, pros and cons, and pricing.
But first, at a glace, these are my top recommendations:
Salesforce Sales Cloud – Best Overall Netsuite Alternative
SAP Sales Cloud
Microsoft Dynamics 365
Oracle CX Sales
Sales Creatio
Acumatica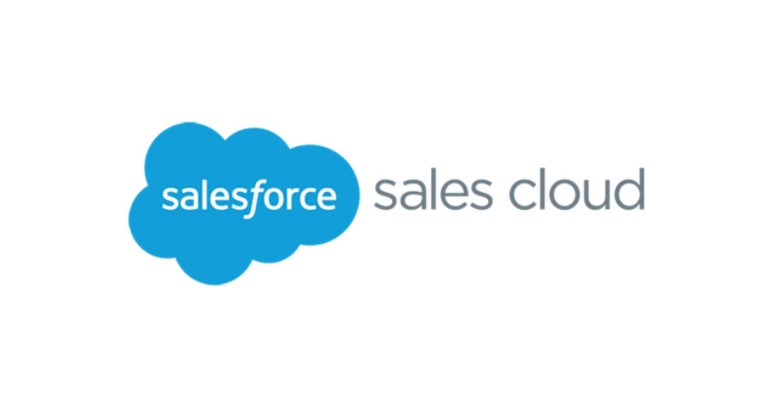 Salesforce provides CRM software, sales team software, and marketing in B2B and B2C. The platform supports small businesses to large enterprise organizations across all industries.
Salesforce offers a robust eCommerce solution by personalizing sales emails, streamlining sales territories, and a navigable view of the complete lead pipeline. The software can be completely customized to your business AND features plenty of third-party Salesforce integrations.
Pros
Einstein AI, AI forecasting, and workflow automation (and marketing automation)
Sales quote email templates
Use on the go, data can be accessed and updated even while offline
CMS
Drag-and-drop builder
Cons
24/7 customer service is only accessible to those with unlimited monthly plans
The low data storage limit for larger organizations (10 GB)
Salesforce CRM Pricing
All-in-one sales and support app
(billed annually)
Complete CRM for any size team
(billed annually)
Deeply customizable sales CRM for your business
(billed annually)
Unlimited CRM power and support
(billed annually)
Salesforce versus Other Competitors with Similar Functionality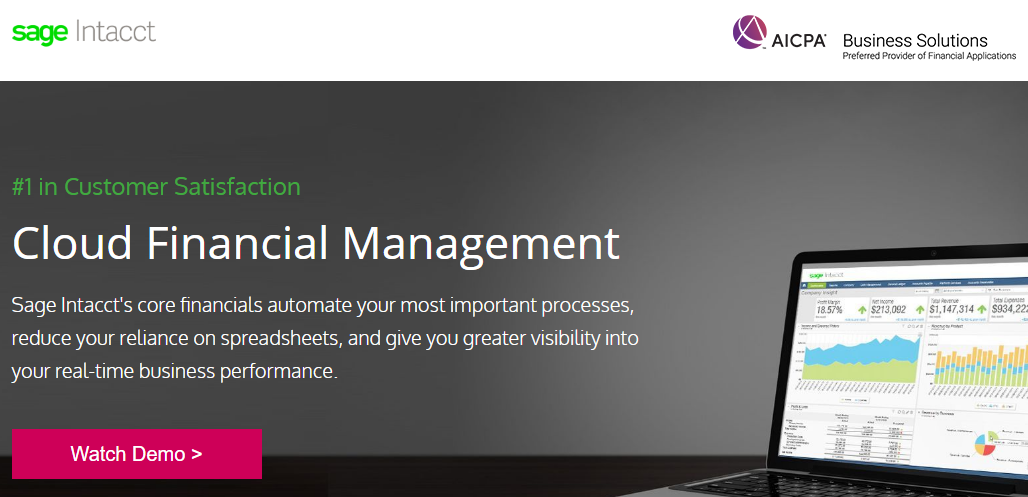 Sage Intacct provides financial management for larger businesses. With key features such as customizable reports, streamlined quote-to-cash process, and automated procure-to-pay.
Instantly run financial reports and prepare for taxes and audits. A digital board book helps you make strategic financial moves with real-time SaaS metrics.
The platform allows for quick communication between departments, streamlined accounts payable and accounts receivable, and automated order management.
Best for Salesforce & Sage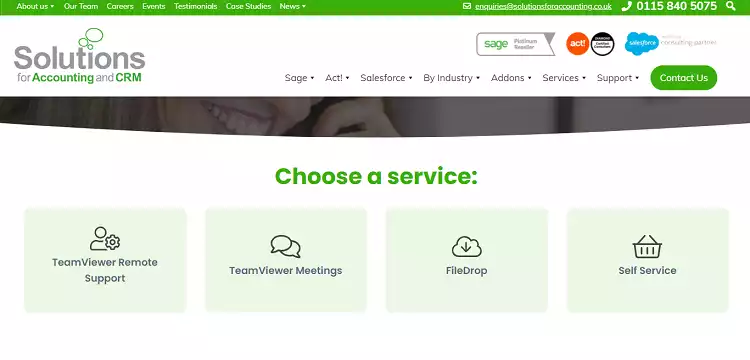 Why Go With Intacct?
If you ALREADY run a team on Salesforce OR Sage, Intacct is a no-brainer for it's seamless integration. Otherwise, you may be missing some CRM and custom tailored functionality.
Try Intacct Here
We earn a commission if you click this link and make a purchase at no additional cost to you.
Pros
Customizable dashboards for key metrics
Easy to use
Workflow flexibility
High customer satisfaction ratings
Cons
Not an all-in-one solution, third-party applications needed for inventory, payroll, etc.
Implementation is managed by Sage Intacct which drives up the cost and offers less flexibility
Sage Intacct doesn't provide transparent pricing on their website but claims that their clients on average spend $15,000 to $35,000 annually. Since Sage Intacct must manage implementation, expect to pay one to one and a half times your annual subscription fees in implementation costs.
You can fill out a form on their website to get a better estimate of services.
By signing up with Sage Intacct, you will receive the following benefits:
24/7 operations, upgrades, and enhancements
Award-winning US-based support
15GB of storage (5GB of data/transaction storage and 10GB of file storage)
Core Financials (base package)
General Ledger
Accounts Payable
Accounts Receivable
Cash Management
Order Management
Purchasing
Add-ons available for an additional cost:
Global Consolidations
Revenue Management
Inventory Management
Multi-Currency
Project Accounting
Salesforce Integration
User-Defined Dimensions (3)
Check Delivery Service
Implementation includes the following services:
Project management
Definition of business process flows and requirements
Initial training through Sage Intacct University online courses
Setup and configuration of the software
Data upload, including the chart of accounts and master records
Supplemental training provided by Cargas
Setup of a sandbox environment
Transaction testing
Upload of open balances for receivables and payables
Cutover and cutover support
Further Reading:
3. SAP Sales Cloud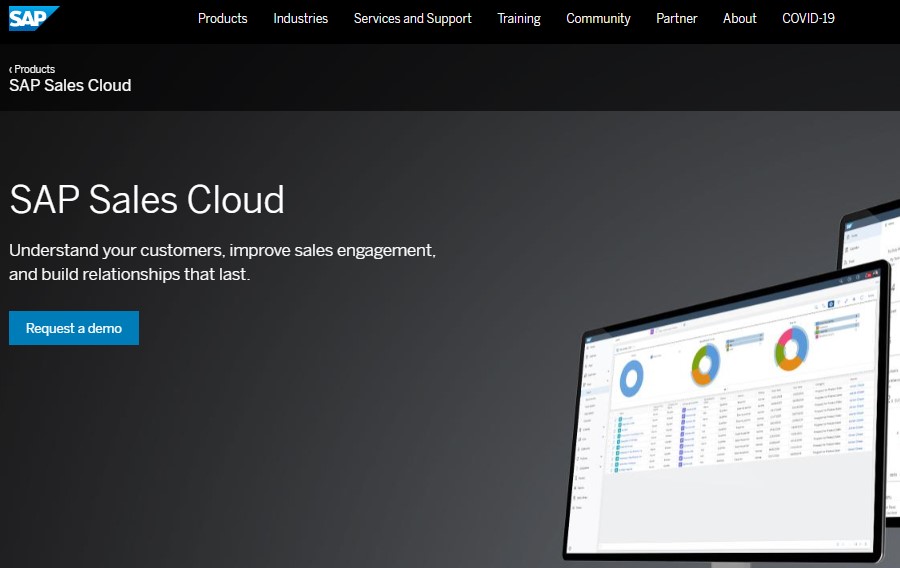 The SAP Sales Cloud platform runs on the SAP C/4 HANA framework. It keeps track of customer activities and uses this data to update sales reps. The data is then used to create proposals and complete contracts.
The platform is best for medium to enterprise-level businesses. Most SAP Sales Cloud clients are in the financial, service, and energy sectors.
Pros
Supports advanced analytics (OLAP and Microsoft Excel)
Offers personalized recommendations to customers through AI
Chatbot creation
Extensible with the full SAP ERP stack (SAP Business One, etc…)
Sales territory management to help meet sales quotas
AI lead scoring
Cons
No free trial
No built-in customization, all third-party tools
No built-in email marketing options
Pricing
SAP Sales Cloud, standard edition
SAP Sales Cloud, professional edition
$120.00 per user per month
SAP Sales Cloud, enterprise edition
$204.00 per user per month
SAP vs Top Competitors
4. Microsoft Dynamics 365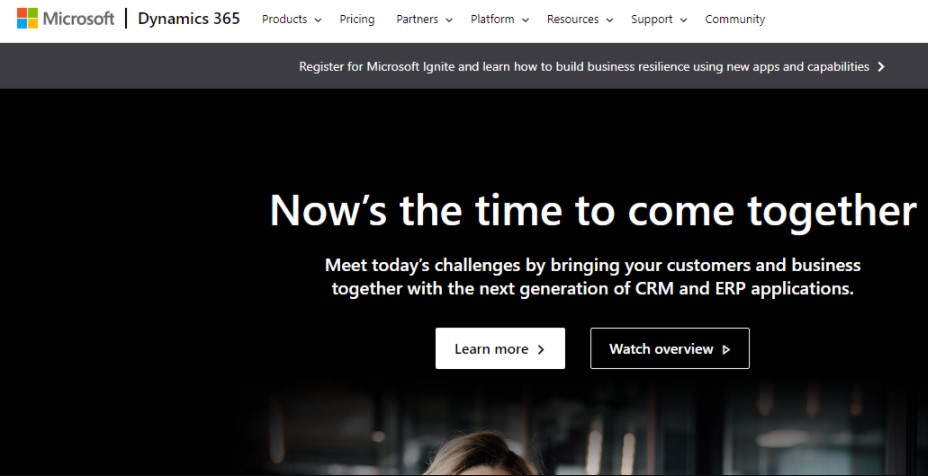 Microsoft Dynamics 365 relies on insights to help sales reps speed up the time between lead and sale. It also helps build the relationship between salesman and customer.
The platform provides hosting options including partner-hosted, private on-premise cloud, or Microsoft's cloud. It supports all-size businesses and caters to government, auto, healthcare, manufacturing, retail, and more.
Pros
Relationship health score (between sales rep and customer, AI weighs risks and opportunities)
Big data identify new segments, automated workflows, and brings to light any pinch points
Microsoft Forms Pro (survey insights to improve engagement)
Integrates with LinkedIn Sales Navigator
Offline sync
Supports iOS, Android, and Windows 10
AI sales forecasting
Interactive charts with filters
Power BI integration for sales pipeline analyzation
Cons
Lack of third-party integrations
Important integrations like MailChimp or Docusign can glitch
Clunky navigation and session breaks can impede productivity
Pricing
Microsoft Dynamics 365 is priced per industry
Customer Data Platform
Customer Insights – From $1,500 per tenant per month
Customer Voice – From $200 per tenant per month
Sales
Sales Professional $65 per user per month
Sales Enterprise $95 per user per month
Sales Premium $135 per user per month
Microsoft Relationship Sales $162 per user per month
Service
Customer Service Professional $50 per user per month
Customer Service Enterprise $95 per user per month
Field Service $95 per user per month
Remote Assist $65 per user per month
Marketing
Marketing From $1,500 per tenant per month
Commerce
Commerce $180 per user per month
Fraud Protection $1,000 per user per month
Supply Chain
Supply Chain Management $180 per user per month
Guides $65 per user per month
HR
Human Resource module at $120 per user per month
Finance
Finance $180 per user per month
Project Management
Project Operations $120 per user per month
Small Business
Business Central Essentials $70 per user per month
Business Central Premium $100 per user per month
Customer Service Professional $50 per user per month
Sales Professional $65 per user per month
5. Oracle CX Sales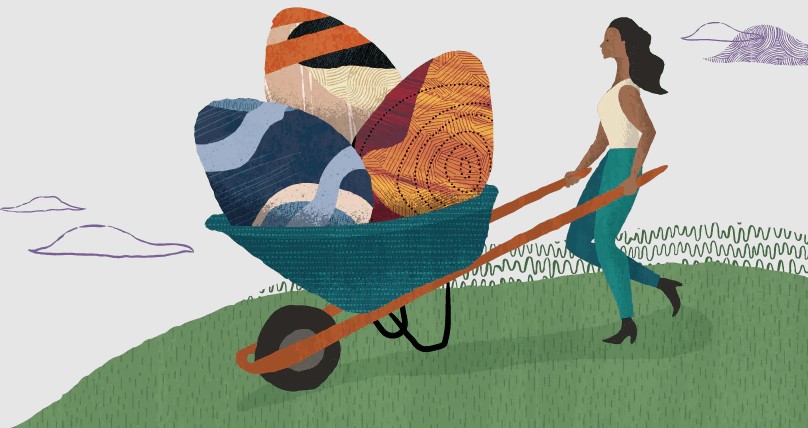 Oracle CX is a SaaS-based platform that utilizes AI to improve customer relationships and sales. The platform includes sales management, sales force automation, social collaboration, B2B commerce tools, and more.
Oracle CX is most suited for B2B and B2C enterprise businesses in all industries.
Pros
DataFox AI data engine can scan more than 5 million digital data points
Overlay sales teams
Sales forecasting
Microsoft Outlook integration
Customer subscription management
Cons
Lead assignment automation isn't reliable
Lack of third-party integrations
Limited customization capabilities compared to competitors
Pricing
Professional Edition
Standard Edition
Enterprise Edition
Premium Edition
6. Sales Creatio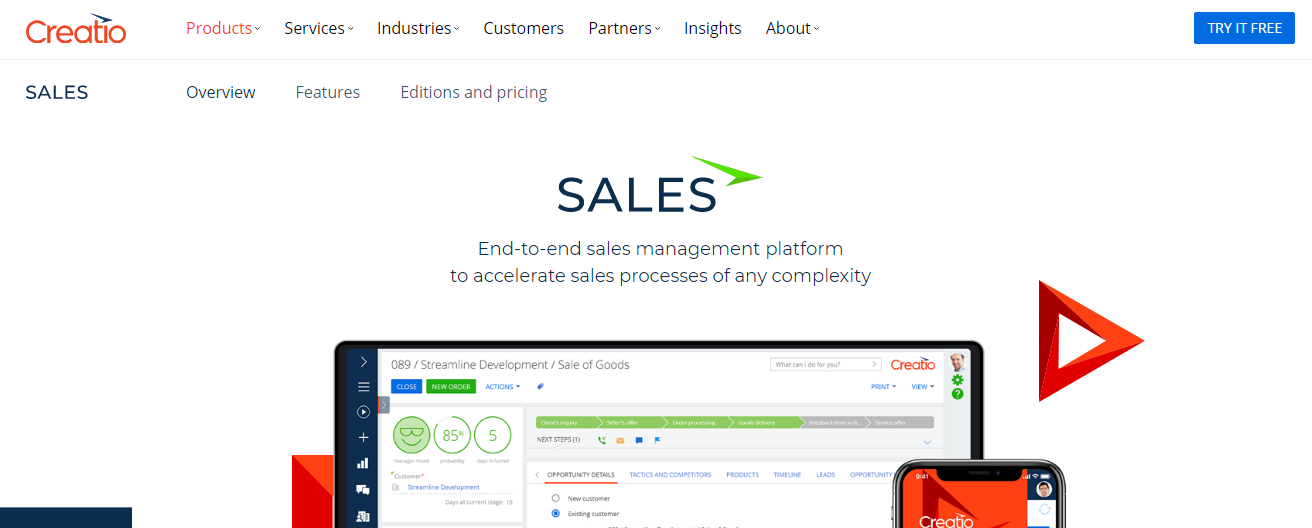 Sales Creatio is a cloud-based platform that offers an all-in-one solution for managing sales cycles. Creatio is both a customer relationship management (CRM) and business process management (BPM) software. It works for businesses of all sizes and streamlines workflow.
The platform supports small to enterprise-level businesses across all industries. It can integrate with MS Exchange, Google, PBX and offers email integration via IMAP/SMTP.
Pros
Sales force automation
Sales forecasting
Supports multilingual environment
Works seamlessly across devices
Project cost and time projections
Heat maps
Single-click sales orders
Invoice templates
Customer support through email, phone, and chat (24/7 support for premium customers)
Extensive knowledge base
Product catalog integrated with an Enterprise Resource Planning (ERP) system
Email marketing tools
Cons
Lacks integration with social media platforms
Navigation and filters could use improvement
The analytics tool is basic and features such as an export of the dashboard and calculated variables
Pricing
Team
Small and medium businesses with direct sales teams
Commerce
Short sale cycle and e-commerce tools
Enterprise
Medium and large enterprises to manage all sales channels: direct and partner sales, e-commerce, field sales, and POS
CRM Bundle
Marketing, Sales, Service
Custom pricing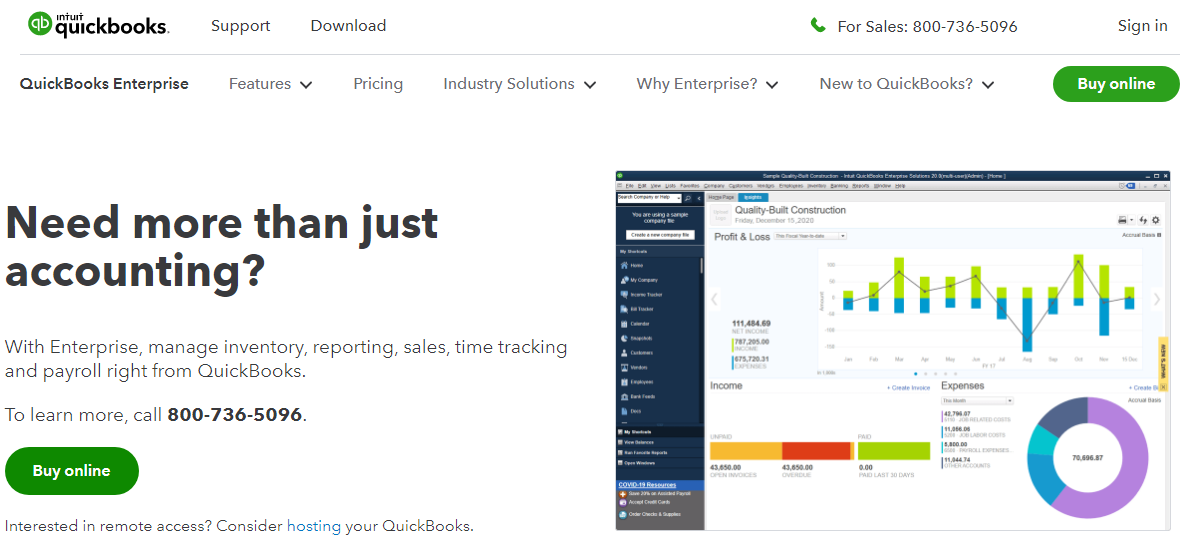 QuickBooks added the enterprise version in 2002. The software features yearly updates with seven version options: Standard, Contractor, Manufacturing & Wholesale, Nonprofit, Retail, Professional Services, and Accountant.
Compared with other QuickBooks products, QuickBooks Enterprise has knowledgeable customer service. However, the name is misleading.
Marketed as an Enterprise platform, the software is more suited to multi-user medium to large-sized businesses that benefit from advanced features, not Enterprises that should be investing in an ERP solution.
Pros
Full set of features without committing to a full ERP solution
Supports 40 users
Manage leads
Cons
Long customer service wait times by phone
Expensive for the features
Cloud-hosting is an additional cost
Only compatible with Windows
Not for small businesses
Not best for true enterprises
Steep learning curve
Lack of security for locally-installed software
Gold
The Gold plan starts at $1,577/year and includes:
Invoicing
Contact management
Lead management
Expense tracking
Chart of accounts
Accounts payable
Inventory
Time tracking
Project management
Budgeting and planning
140+ reports
200+ integrations
Multi-currency support
Tax support
Automatic data backups
Automatic upgrades
Intuit Field Service Management subscription
Enhanced Payroll
Platinum
The Platinum plan starts at $1,940/year
Includes everything in the Gold plan, plus:
Advanced inventory
Advanced item pricing
Diamond
The Diamond plan starts at $3,825/year
Includes everything in the Platinum plan, plus
Assisted payroll ($1 per employee per pay period)
TSheets Elite ($5/month per employee)
QuickBooks Enterprise also offers hosted plans. These plans are billed monthly and include the features listed above as well as automatic upgrades and data recovery.
The Gold with Hosting plan starts at $175/month.
The Platinum with Hosting plan starts at $206/month.
The Diamond with Hosting plan starts at $363.79/month.
QuickBooks versus Top Competitors
8. Acumatica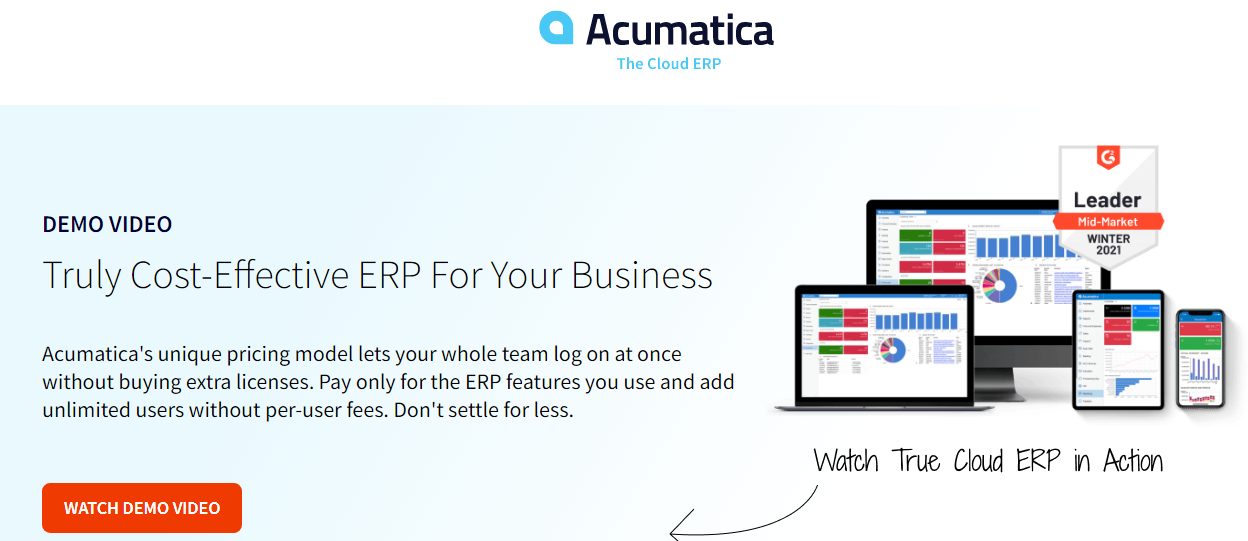 Acumatica is an ERP software that caters to several industries including accounting, commerce, distribution, manufacturing, and retail.
With Aucmatica, you can automate inventory tracking, provide better customer service, and order management. Plus, integrate with CRM and accounting tools.
The platform offers three different software implementation options. The client can choose a full-time cloud host, deploy Acumatica on-premise, or through a preferred hosting vendor. No matter which option you choose, an Acumatica Partner that has successfully trained on ERP implementation will assist you through the process.
Pros
Software is improved frequently (adding features, etc.)
Record management
Unlimited users
Cloud access for remote workers
Good documentation features
Cons
Direct Customer Support is an extra annual fee
Difficult to navigate as a new user, the learning curve
Customization can be difficult for end-user/vendor
The reconciliation module needs to be improved
App functionalities are limited
Acumatica Pricing
Acumatica does not publish their fees online as they tailor pricing for each client. You can contact Acumatica directly for a customized quote.
Expect to pay based on these 3 factors: applications needed, client license (private cloud, SaaS, private perpetual), and revenue based on transactions and data storage
Further Read: Acumatica vs Netsuite Compared Directly.
Full Netsuite Competitors List
While the above recommendations are my recommended top alternatives, there are certainly more Netsuite ERP alternatives on the market.
Here's the entire list of Netsuite Competitors by approximate market share:
Microsoft Dynamics 365
Deltek
Workday
Sage Business Cloud
SAP ERP
Infor
Epicor
IFS Cloud
Acumatica
EnterpriseIQ
QuickBooks Desktop Enterprise
Navision
Great Plains
Financial Force
Calculating Netsuite Cost Per User (or "Price Per User")
Inevitably when looking to transition from Netsuite, someone – in some department – is going to ask the question: how much does Netsuite cost per user?
This might not be an immediately obvious answer. Depending on what additional features and tiers are in use, price per user can vary from $150 to $250 per user per month.
At the very minimum, companies must at least pay the $999 monthly licensing fee PLUS a $99 monthly per user fee for Oracle Netsuite. While the additional per user fee is generally known, the licensing fee can vary depending on the package, so that fee is the key nut to crack.
FAQs
Question: Is NetSuite expensive?
Answer: Like most of NetSuite's competitors, Netsuite's pricing is custom to every client. To determine price, NetSuite takes into account the client's ERP configuration, necessary add-ons, total user count, and length of the contract.
The base price for a NetSuite license is $999 per month with an additional $99 per user access cost.
Question: Is NetSuite suitable for small businesses?
Answer: NetSuite has a Limited Edition model that supports pricing for small businesses. NetSuite Limited Edition was created for companies that have a single legal entity and only need 10 or fewer user licenses and less than 50 employees.
However, NetSuite has high implementation costs for discovery, analysis, configuration, deployment, data migration, integration, customization, and training. The costs start at $25K and up. If you are a startup or just starting, consider choosing a simple software like QuickBooks.
Question: Is NetSuite hard to learn?
Answer: Users are split on whether NetSuite is hard to learn. However, all users agree that NetSuite is suitable for their needs and offers a wide variety of customization options.
Question: How does NetSuite compare to SAP?
Answer: NetSuite can only be accessed via the cloud, whereas SAP was created to be accessed by the user's own IT system only. Currently, SAP also has a cloud option or via a hybrid online-offline system. The user can now benefit from both NetSuite and SAP equally.
Question: What database does NetSuite use?
Answer: NetSuite was built on Oracle's database. Oracle acquired NetSuite in July 2016.
Further Reading on Netsuite vs Competitors: