Last Updated on April 22, 2023 by Ewen Finser
In today's ShipMonk review, we are going to be taking an in-depth look at ShipMonk to see if it's the right order fulfillment software for your eCommerce business.
The eCommerce industry is growing faster than ever, with no signs of slowing down. In 2019 alone the eCommerce industry sales worldwide hit 3.53 trillion dollars, and sales are projected to reach 6.54 trillion US dollars in 2022. With the U.S. having the second largest eCommerce market in the world, now is a great time to be in the eCommerce business!
As your business grows, you will no doubt be looking for ways to streamline your order and fulfillment process, so that you can focus your time on selling more products, and making more money. It's a no brainer, right?
Now that so many people are shopping online, being able to offer fast and reliable shipping to your customers has the potential to put you above your competitors. People have busy lives these days, and most people have to be out at work during the day, so being able to offer a range of flexible shipping options that work around your customer's lifestyles is a must. I mean, look at the success of Amazon Prime!
Tools like ShipMonk and other fulfillment services allow you to offer your customers a wide range of reliable shipping services at affordable prices, which in turn can boost your business by bringing you to repeat business from happy customers, and even reducing your abandoned cart rate.
In this ShipMonk review, we will be looking at all of the features it has on offer, as well as its pros and cons, it's customer reviews, and the pricing, so that you can decide for yourself if it's right for your business.
Let's get stuck in, shall we?
ShipMonk Review: An In-Depth Look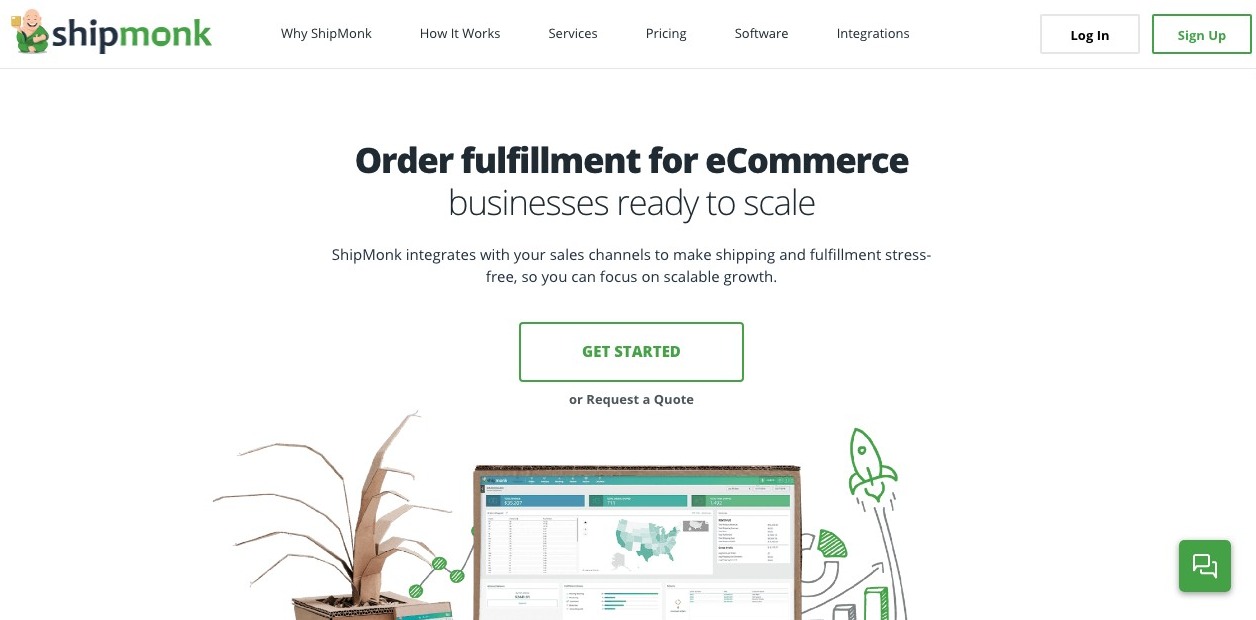 ShipMonk is an order fulfillment service for eCommerce businesses looking to scale. The software integrates with your eCommerce software and handles everything relating to the shipping and fulfillment of your products. As well as offering shipping services, ShipMonk also has its own warehouses in a variety of locations, so that you can ship your products to the warehouse in bulk, and they can be dispatched even more quickly to your customers following a purchase.
ShipMonk was founded in 2014, and since then they have worked tirelessly to help small and medium-sized eCommerce companies grow their businesses by offering technology-driven fulfillment solutions at affordable prices. They have locations in Fort Lauderdale; Florida, Los Angeles; California, and Pittson, Pennsylvania.
The Main Features of ShipMonk Fulfillment Service
Inventory Management Software
Returns
Snap 'n' pack
Order Tracking
Billing breakdown
Data Importing
Best in Class support
Major shipping discounts
Quick fulfillment times
99.9% picking accuracy
Cheaper fulfillment costs
Secured storage
Customization for packaging and labels
Multiple warehouses
Transparent billing
Free Integrations
Freight Management
User permission
Enterprise-grade security
Actionable reports
Special projects Feature
Returns Management
How the ShipMonk System Works
Using ShipMonk means you only need to focus on marketing and selling your products because ShipMonk can handle absolutely everything else. ShipMonk integrates directly with your shopping cart software to automatically import orders when a customer makes a purchase.
As soon as you have found a product to sell, you can have it shipped straight from your supplier to the ShipMonk warehouse. You can even use ShipMonk's discounted freight shipping rates to ship to their warehouse, so you get the best deal possible.
When one of your customers places an order, it will come straight through to the ShipMonk software, since it is fully synchronized with your shopping cart software. As soon as ShipMonk receives an order they will pick and pack your order in your preferred packaging, and they even have 'Happiness Engineers' who will consult with you on exactly how you would like your product to be presented, so it meets all of your brand standards.
ShipMonk has the capability to pack anything from 1 to 10,000 orders per day, so no matter how busy you get, they will be able to handle your orders with ease. The best thing here is that you only pay for the services you use, so if you only ship one order, you only need to pay the fee for that one product.

Once the order is packed and ready to be shipped, ShipMonk's intelligent algorithm will work to find the best shipping method for your product. They have access to heavily discounted rates from all of the best carriers, such as the USPS, FedEx, DHL, and more, so you can be sure you will be saving money on your shipping too.
After the order has been dispatched with the best carrier available, your customer will receive an email with a tracking number so that they can easily track their order all the way from the warehouse until the moment it reaches their doorstep.
Hopefully, at this point your customer is happy with their product, but if not then ShipMonk has a robust returns portal for exchanges and returns, to take this worry out of your hands. Your inventory levels are all updated automatically, so you can easily see when you are starting to run low on a product so that you have plenty of time to re-order.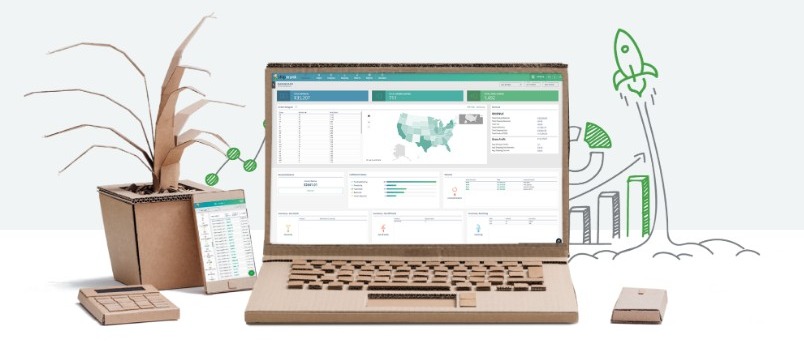 The ShipMonk software itself is very intuitive and easy to use. It has all been specifically designed to be user friendly and functional, so there's no learning curve when you're getting started. There are over 70 shopping cart and marketplace integrations, so whichever tools you use to run your business, you will be able to connect them to ShipMonk.
The integrations available range from shopping cart software such as Shopify, WooCommerce, Magento and BigCartel, to marketplaces like Etsy and eBay. The software also integrates with retailers such as Walmart, Target, and QVC, as well as integrating with a wide variety of tools and other solution providers.

When it comes to reporting, ShipMonk gives you everything you need to have a full overview of your business's performance. The reports give you a breakdown of your revenue, stock levels, total orders and items shipped, fulfillment statuses, shipping destinations, and your top products.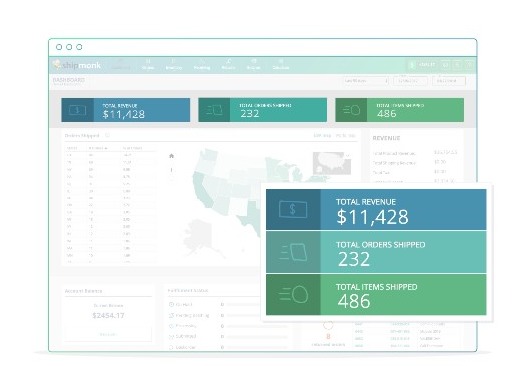 Additional Services offered by ShipMonk
As well as typical eCommerce fulfillment, ShipMonk also offers a range of other services including retail fulfillment, subscription box fulfillment, crowdfunding fulfillment, FBA prep services, seller fulfilled prime, and delivered duty paid.
The Retail Fulfillment option enables you to sell your products wholesale, directly to retailers. Since the software integrates with both B2C and B2B platforms, you can easily make selling to retailers hassle-free. ShipMonk's B2B capabilities include:
Customized Labels and Packing Lists
EDI Compliance
Various Shipping Options
Cross Docking
Consolidation & Breaking Bulk
Multi-retailer Support
3rd Party Shipping Accounts
If you're running a crowdfunding campaign through Kickstarter or Indiegogo, ShipMonk can integrate with your crowdfunding software and fulfill your orders as they come in.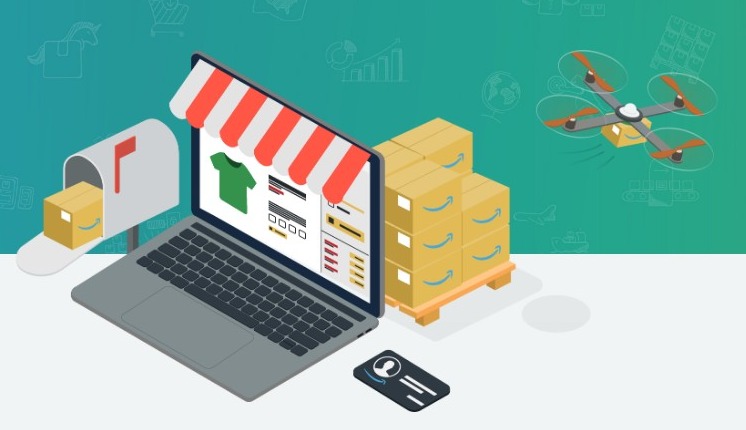 And if you're a Subscription Box seller then ShipMonk can help you with everything from kitting and assembly, custom packing procedures, and of course, shipping. When you start a subscription box account with ShipMonk, you will receive an in-depth consultation to assess your needs before creating an account. You will also receive extensive onboarding and guidance, and then once ShipMonk receives your inventory, they will assemble your boxes for you, sending photos so that you can check that they have followed your directions perfectly.
ShipMonk is also a great option for Amazon sellers, as they can provide FBA prep services if you want to sell your products through Amazon FBA, but aren't able to prepare your products to Amazon's requirements before sending them to the Amazon FBA warehouse.
They can also help with seller fulfilled Prime, so that you can take advantage of Amazon's millions of Prime members. Being able to use the Prime badge on your listing can not only boost your visibility on Amazon but also make you eligible to win the 'Amazon Buy Box' more often.
Using Seller Fulfilled Prime can work out cheaper than using FBA, as ShipMonk doesn't have any long term storage penalties to pay if your stock isn't moving as quickly as you'd hoped. Seller fulfilled prime also works out cheaper for larger products and heavy items!
If you ship internationally, 'Delivered Duty Paid' is another option that ShipMonk offers, which enables you to include the cost of Duty in the cost of the product you are selling, so that your customer won't receive a surprise Duty bill after receiving their product.
Your customer will receive a fully branded tracking experience, so they will know exactly where their order is as it makes its way to them. Using this service can increase your conversions by up to 30% compared to unpaid shipping solutions.
ShipMonk Customer Service and Reviews
If you need any help or support from the ShipMonk customer support team, there is a support center available on their website. You can get in touch in a variety of ways including email, live chat, or phone, as well as being able to browse the support forums and see answers to frequently asked questions. They also have a blog that is packed full of useful information and articles on how to grow your business.
In general, ShipMonk has pretty good reviews from its customers. It receives a very respectable 3.4 out of 5 stars on Capterra from a total of 68 independent reviews, with reviews complimenting the ease of use, features, and functionality of the software, as well as the customer support and overall value for money.
ShipMonk also receives an overall rating of 4.2 stars out of 5 on the Shopify App store, with reviews saying how easy the onboarding process is, and how ShipMonk makes it easy to run your business from anywhere in the world.
The Benefits of Using ShipMonk
The ShipMonk software is very easy to use, so there is no learning curve when you are getting started.
ShipMonk can handle absolutely everything, when it comes to fulfillment and shipping, allowing you more time to focus on growing your business and selling more products.
They have an excellent customer support team known as 'Happiness Engineers' who will help you with anything you need, including making sure your products are packaged exactly the way you want them to be according to your brand standards.
ShipMonk gives you access to huge shipping discounts with many major carriers, including USPS, FedEx, DHL, and more, so you save money on each product that is shipped. Their unique algorithm will work out exactly which carrier offers the most affordable shipping price for your product based on its size, weight, and where you are shipping it to.
Their warehouses use all of the latest automation technologies to ensure that picking and packing your product is as quick, efficient, and reliable as possible.
ShipMonk allows you to use your own custom packaging, stickers, and labels, and even have cameras in their packaging area so that they can send you photos to check everything has been done correctly.
The reporting dashboard is clear and easy to understand, giving you insights into data that you can use to grow your business, such a breakdown of costs, number of units sold, and which regions you are shipping to most frequently.
The software includes returns management so you can easily create a return label for your customer from within the software, and you will be notified when the returned package arrives back at the warehouse.
The plans are affordable and based on the numbers of orders processed, and so are suitable for businesses of all sizes, including startups.
ShipMonk also provides Amazon FBA preparation services, as well as 'seller fulfilled Prime' and 'Delivered Duty Paid' services.
The DownSides to Using ShipMonk
The pricing can quickly add up, so ShipMonk isn't a great option for anyone selling lower-priced products. We have also seen a few reports on independent review sites that there have been occasional mistakes with billing, with customers being overcharged due to their shipping codes being reused after a product has been shipped.
The billing you will receive with ShipMonk is very detailed, so it's probably a good idea to make sure you keep an eye on it to ensure that you have been billed correctly. If you do have an issue with your billing though, the customer service team should be able to resolve it quickly for you.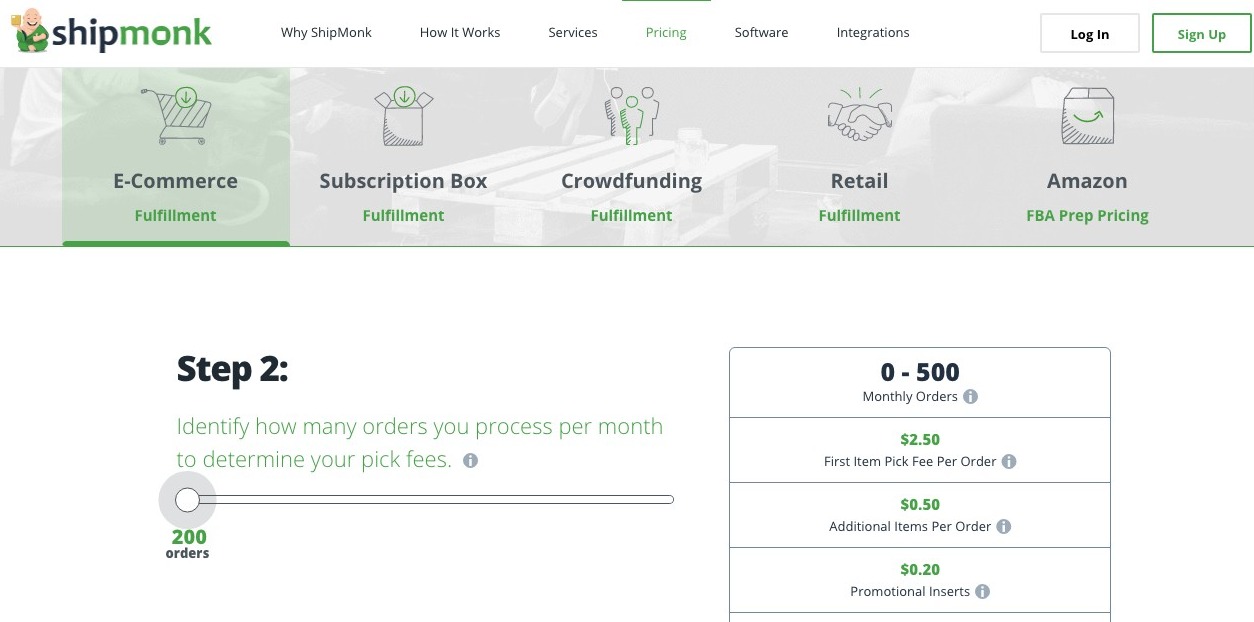 ShipMonk has a few different pricing options based on your needs.
For E-Commerce Fulfillment, based on 0-500 monthly orders you will be charged a $2.50 pick fee for the first item on any order, plus an additional $0.50 for each additional item on the same order. You are also charged $0.20 for any promotional inserts you would like to include with your products.
The price goes down depending on how many products you are shipping each month, so the more products you ship, the lower the fee you will pay per item.
For Subscription Box Fulfillment, ShipMonk charges $2.00 per box for box assembly and kitting of 5 items, and then a charge of $0.10 for each additional item that you would like to include in the box. There is also a charge for returns processing for subscription boxes, which is $2.00 plus $0.10 for each additional item.

There is also a separate fee for the storage, ranging from $1/month for a small bin to $20/month for a Pallet, so you can choose the size that best suits your needs. Keep in mind that you will need a separate storage container for each product SKU, as each SKU will have a different location in the warehouse depending on its size, turnover rate, and the quantity being stored for the efficiency of picking and packing.
Your next cost will be shipping, but this will vary depending on which carrier you use, and the size and weight of your product, and you will receive discounted shipping options through ShipMonk, so you will always be paying the lowest Shipmonk pricing.
One-off costs
Depending on your business type, there may also be some one-off costs:
Special Projects: $45/man hour – this can include anything from counting inventory, repackaging products, quality control, and any other tasks that only happen occasionally.
Container Unloading: $300 per 20' container, or $500 per 40' container. This is a cost you may encounter if your inventory is arriving in a container 'free loaded' instead of on pallets. Your inventory will be offloaded and put onto pallets for you, and you will be billed depending on the size of the container.
Minimum Pack and Pack Fee: $250. If you do not reach the minimum fee with your pack and pack fees, you will be billed the difference.
Packaging Materials: $0.15- $2.00 ShipMonk offers over 50 different packaging materials including boxes, bubble mailers, clear poly bags, and even pallets. They can also order special items if they don't have what you need.
If you would like to check out the pricing, head over to ShipMonks website here to see exactly what your costs would be based on your requirements.
Our Verdict: Is ShipMonk worth The Money?
ShipMonk offers a complete shipping and fulfillment solution, so it's a great option for any businesses that want a complete 'hands-off' approach, since once you have actually made a sale on your website, it will be sent straight to ShipMonk, and they will handle absolutely everything else for you.
The software itself is very intuitive and easy to use, so anyone can get to grips with it right from the start. The only issue we can see that may be an obstacle for some smaller businesses is the price, since there is a minimum 'pick and pack' fee of $250/month, as well as the storage costs for products. Although the pricing is affordable, it may not work out to be profitable for smaller low priced items, so you will need to take this into account and work out your costs and profits before signing up for a plan.
ShipMonk is a great option for any Amazon sellers who would like to take advantage of Amazon Prime and use the 'Seller Fulfilled Prime' option, as it can often work out to be cheaper than using Amazon FBA. This software is also great for anyone who is selling on multiple channels such as Amazon, as well as their website, or an online marketplace such as eBay or Etsy, as it eliminates the need to use multiple warehouses for your products, therefore saving money on shipping too.
Overall, the best thing about ShipMonk, is that it enables you to run a product-based eCommerce business (without drop shipping) from anywhere in the world. Think about it – you could be sitting on a beach in Bali, and with the help of ShipMonk you could source products, have them shipped directly to the warehouse, packed in your own customized packaging, and sent directly to your customers without ever having to touch a physical product! This tool can give real freedom to eCommerce entrepreneurs, allowing them to scale their business more quickly, and run their business with a 'hands-off' approach, so in our opinion, it's definitely worth giving this software a go.
If you think that ShipMonk might be the right Shipping and Fulfillment tool for you, head over to their website and check out the options here.
ShipMonk Alternatives & Competitors
Still not sure which service is right for your eCommerce business or company? We've looked at a variety of other fulfillment companies.
Why not take a look at Shippo. Shippo is a well known web-based shipping software company that connects directly with your eCommerce store to give you everything you need to manage your entire shipping process from order management to choosing the right carriers, and even managing the shipping and returns process.
Another option is something like Easyship here.
We also compared ShippingEasy vs ShipStation, and ShippingEasy vs Shippo, two other popular shipping management tools that might work for your business too.
Frequently Asked Questions About ShipMonk
Why is there a $250 Minimum pick and pack fee with ShipMonk?
The minimum pick and pack fee are there because of the associated cost with running each account on ShipMonk, and to cover the support provided. The fee starts at $250/month, or if your storage fees work out to be higher, then the fee will be equal to your storage fees. So for example, if your storage fees come to $300/month, your minimum pick and pack fees will also be $300/month. If your fees amount to less than this at the end of the month, you will be billed for the difference.
Does ShipMonk provide shipping insurance?
It is recommended that you purchase shipping insurance if you are selling high valued products. Your products are in safe hands while they are in the ShipMonk warehouse, but as soon as they leave the warehouse they become the responsibility of the carrier, who may or may not offer their own insurance up to a certain amount. If you would like to find out more about shipping insurance you can speak to one of ShipMonk's 'Happiness Engineers' who will be able to go through everything with you.
Does ShipMonk provide storage insurance?
No. However, you can choose to add your ShipMonk location to your own insurance policy to cover your products.
What are 'Special Projects'?
Special Projects are any non-standard tasks relating to your products or business. This can be absolutely anything from labelling to stock counting, and even kitting or assembly. You will just need to let ShipMonks Happiness Engineers know exactly what you need, and they will provide the service for an hourly fee of $45 per person required for the project.
Can ShipMonk handle fragile products?
Yes, the team at ShipMonk can handle fragile products, there is usually just a small additional fee of $0.30 for any special packaging required.
What happens if a package comes back undelivered?
That depends on which carrier you use. Some carriers such as DHL eCommerce, FedEx SmartPost, UPS SurePost use the USPS for their last-mile deliveries, and therefore when a package is returned undelivered USPS delivers it back to ShipMonk and changes them for postage due. Some other carriers, however, will return undelivered packages back to ShipMonk free of charge. Undelivered international parcels are usually too expensive to return so are destroyed in the destination country. If an internationally posted package is undelivered, the carrier will usually contact you to see what you would like to do.
Can I provide my own custom packaging with ShipMonk?
Yes! You can include any custom packaging you want. The custom packaging will be billed as an additional item per order.
Does ShipMonk offer Gift Messaging?
If you would like to give your customers the option to include a gift message in their order, there are a few options for you. Firstly, you could include the gift message on the packing slip, which would be free of charge. The second option is that you can include the message on a blank 4×6 card provided by ShipMonk, which will incur an additional fee of $1, and finally, you can choose to provide your own custom 4×6 cards which will cost an additional $0.80 plus the insert pick fee.