Last Updated on April 22, 2023 by Ewen Finser
Did you know that PEOs provide services to 175,000 small and medium-sized businesses? If your business doesn't have a PEO, you should consider investing in one.
"PEO" stands for professional employment organization (or: professional employer organization). This service handles different business tasks, such as managing benefits, running payroll, filing paperwork, and other HR tasks. In other words, a PEO handles vital business functions so you can focus on the core of your business.
With so many PEO services available, it can be difficult to find the right one. Don't worry, we did the difficult work for you. Here are the best PEO service providers.
Looking for an EOR? Slight distinction, but check out the differences between a PEO vs EOR if you aren't sure what you need exactly.
Best PEO Service Overall: Paychex
Paychex is one of the most trusted names in the PEO industry. They formed in 1971 and provide effective PEO and payroll services. As a payroll provider, they have both ESAC and IRS credentials, proving their compliance and excellent reputation.
They offer even more than payroll services. Paychex is a leading provider of full-service HR customer support and they include different features such as health insurance, employee management tools, retirement plans, life insurance, and more.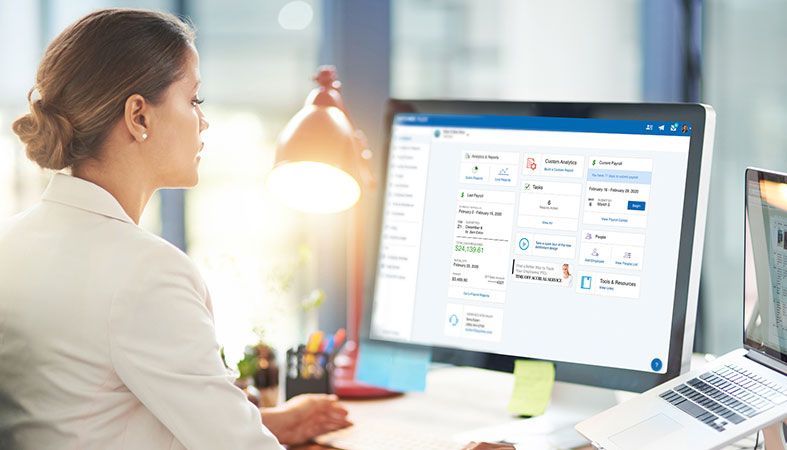 Their HR service also ensures you stay compliant with different employee benefits, such as COBRA requirements. Some other tools they offer include workplace safety training, on-site safety inspections, return to work programs, and more.
Paychex is also expanding — they recently acquired Oasis Outsourcing, which is the largest-owned professional employer company company in the country. You can also utilize some of their tech tools, such as a secure mobile app and their business filing system called Tax Pay.
Just because Paychex is a huge name in the industry doesn't mean they don't offer benefits for businesses of all sizes. They charge businesses per employee and require that businesses have at least five employees to sign up.
Customization Pick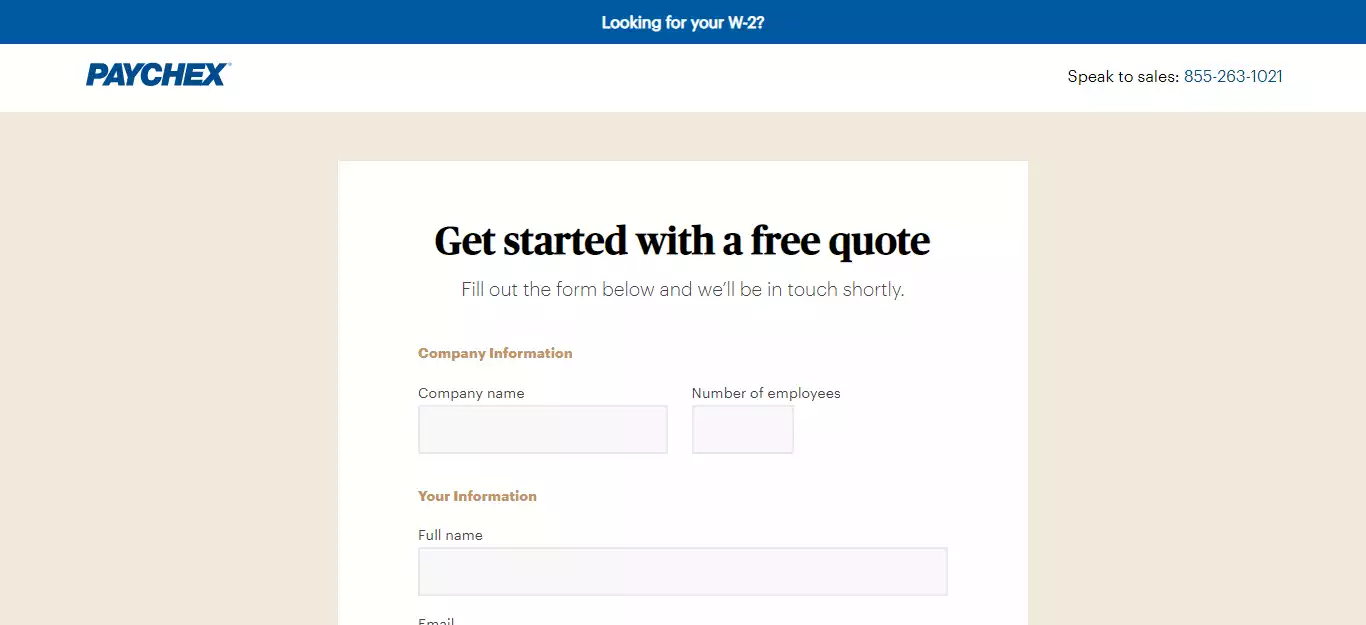 Why Go With Paychex?
Paychex just has MORE experience handling business payroll needs. They also have a modular, with specific addons for other common HR functions. a FULL PEO suite (if and when you need it).
Customize with Paychex
We earn a commission if you click this link and make a purchase at no additional cost to you.
Pros
Some of the best features in the industry
Flexible pricing
Can cancel anytime
Excellent customer service
Cons
Expensive — their services include many fees
Slower service

Paychex Alternative Options Compared
If you're looking for more of a technology-centered PEO, you'll prefer ADP TotalSource. Ever since 2011, ADP has been providing HR software solutions for a variety of different businesses.
It's no surprise that ADP offers the most robust human resource technology systems in the professional employer organization industry. You can manage all of your functions, including payroll, HR, recruiting, and employee benefits, on their web dashboard and mobile app.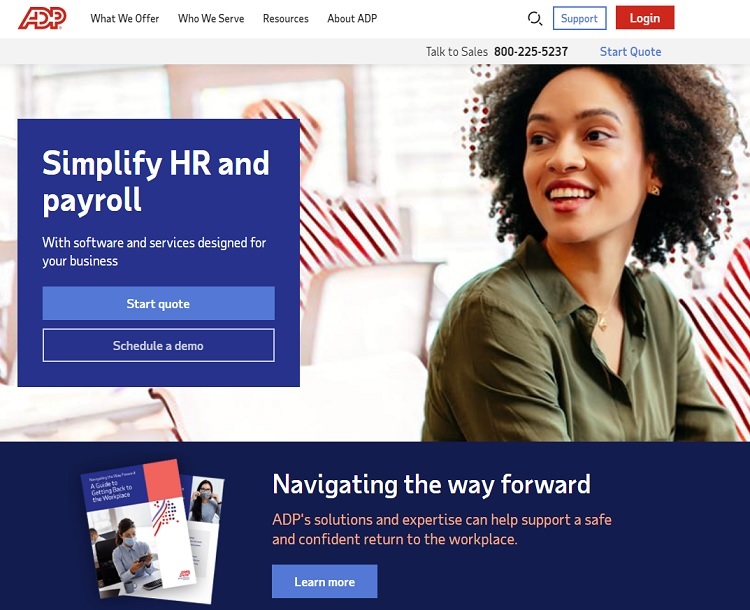 ADP also offers full-service PEO products and offers more flexibility than its competitors. They have products for the largest enterprises to even a startup with only one employee. Many clients love using ADP for talent management, human resources, employee benefits, payroll, and risk assessment.
ADP is also a popular option for healthcare. They offer a wide range of health insurance options, including dental and vision insurance.
ADP also stands out because they offer options for industry-specific businesses. This includes hospitality, restaurant, healthcare, manufacturing, government, construction, nonprofit, education, finance, and technical/professional services.
Clients love ADP's customer service, as well. Not only are their customer service lines open to businesses but also to employees. You can easily refer staff or HR professionals to the ADP customer service line to discuss their benefits, pay, and other topics.
Companies outside of the U.S. can also utilize ADP. They currently operate in over 140 countries worldwide.
Pros
Convenient web dashboard and mobile app
Many PEO service options
Amazing customer service
Generous employee benefits package, including retirement plans
Cons
Not the best option for small businesses

ADP Alternatives Compared
Insperity is another major name in the PEO software and payroll service industry. This is an award-winning company with a long list of achievements, accreditations, and positive reviews from clients. They formed over 30 years ago and provide HR solutions for both small businesses and enterprises.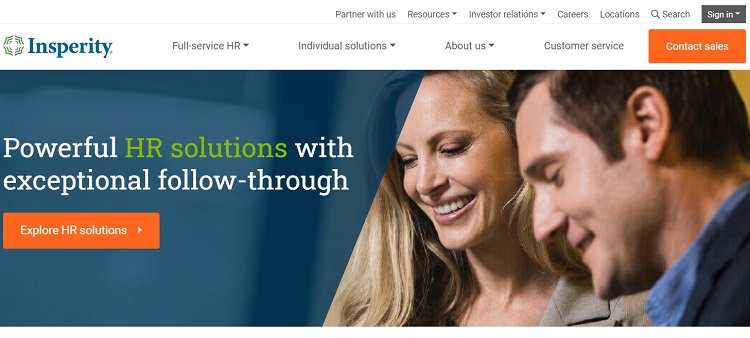 Insperity can provide these services to your company:0
H R210 20. 00 20 10 0 0administration
Employee benefits
Risk management
Payroll processing
Talent management
Compliance
Tech services
They offer these services as a package deal as well as individual services. This makes them the perfect option for large enterprises with over 5,000 employees as well as small and medium-sized businesses with less than 150 employees.
Insperity also makes it easy to manage your account. They have apps for both iOS and Android and other ways to streamline your processes.
Above all, Insperity is renowned for its excellent customer service. No matter what you need, Insperity can help you. And as long as you give them 30 days' notice, you can also cancel their services anytime.
The only downside is they offer limited health insurance options. Employers can only offer their employees a single plan rather than provide a range of options. If this isn't a problem for you than the pros definitely outweigh the cons with Insperity.
Pros
Customized pricing
Full-service HR and PEO options
You can also pick your own services
Excellent services
Cons
Limited health plan options

Insperity Alternatives Compared
Justworks is another newer company — they only launched in 2012. But they're becoming one of the biggest PEO companies in the country. They currently offer HR, payroll processing, employee benefits, compliance, and more under a single package.
Justworks can handle other tasks for your business, such as W-2 and 1099 filings, worker's compensation, and unemployment insurance.
Clients love Justworks' automated payment system. You can trust their system to pay contractors and vendors and handle direct deposit. Justworks can also integrate with your accounting systems, such as Xero or Quickbooks.
Are you a startup and are interested in trying Justworks? If so, you may wonder what will happen when your business grows.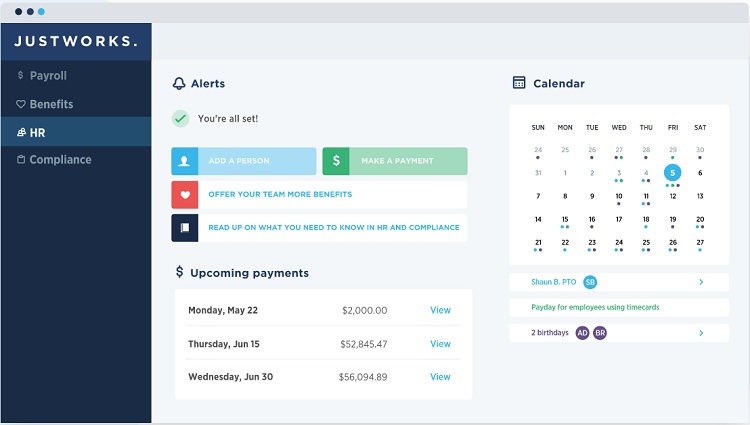 Don't worry, Justworks can scale your services to meet your needs. Justworks offers two major plans: basic and plus. They charge a monthly fee for their plans and insurance options.
Justworks also offers many savings. For example, if you sign up for a yearly plan, you can save as much as 15%.
Pros
Offer many plans based on business size and needs
Different service options
Easy to scale their services
Amazing customer service
Cons
A relatively new company and may not offer the same high-quality services as their competitors
Lack of overall experience

Justworks Alternatives Compared
Amplify PEO offers a wide variety of services, including different employee benefits administration, payroll processing, onboarding, HR, time and labor, and compliance.
But what makes Amplify stand out is they're a smaller company, meaning they're more human. For example, if you or your employees have a question or concern and need to contact Amplify, you'll immediately connect to a customer service representative and not a robot.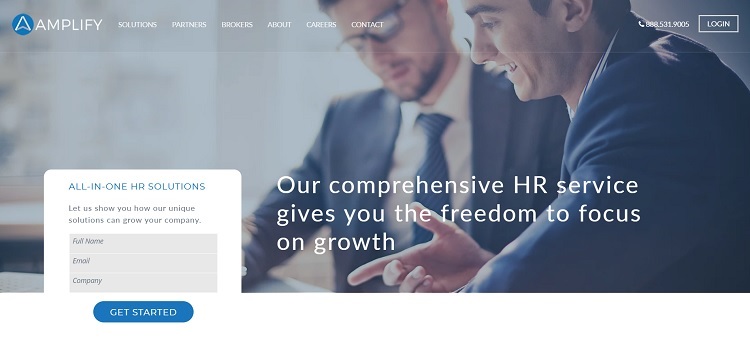 Many businesses stated they saved money by using Amplify PEO. However, pricing isn't clear on their website. You'll have to request a quote to discover prices.
Pros
Cost-effective PEO services
Full-service PEO options
Cloud-based HR portal
Cons
A little difficult to find pricing and plan options
We mentioned Oasis Outsourcing briefly in this article. Paychex acquired this company; however, they still operate under their own name.
Formed in 1996, Oasis HR Outsourcing quickly became one of the biggest names in the PEO industry. That's because they offer many high-quality services. This includes employee benefits, HR, payroll, risk management, and technology solutions.
Businesses also love their affordable healthcare plans. Oasis bundles your healthcare plan with other clients' plans, saving you a significant amount of money.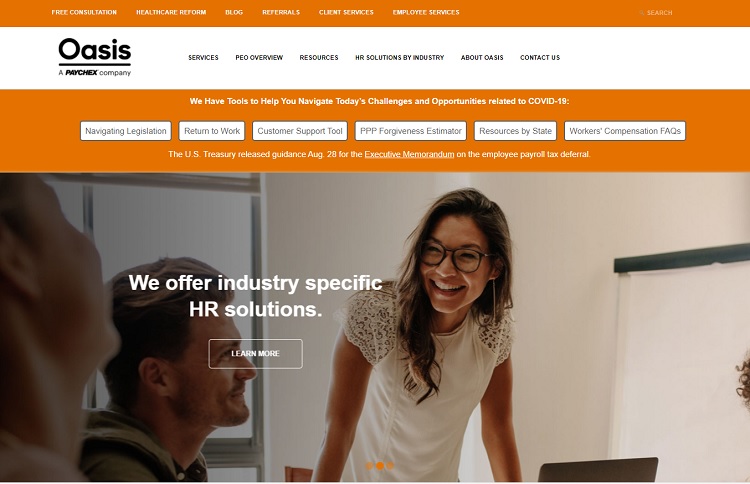 If you're not sure which services you need, Oasis offers different solutions for businesses in many industries. This includes architecture, banking, education, hospitality, retail, food industry, legal, private equity, finance, and even property management.
Keep in mind, Oasis only offers a one-year contract. But you can try their services for 90 days and receive a refund during that time period if you're not satisfied.
Pros
The best option for startups
Owned by a well-renowned company, Paychex
90-day money-back guarantee
Cons
Get stuck in a one-year contract
TriNet is another well-renowned company, offering PEO services to businesses for over 30 years. As of now, they have over 16,000 clients. Their services are similar to others on this list — they offer employee benefits, HR consulting, risk mitigation, payroll, and technology solutions.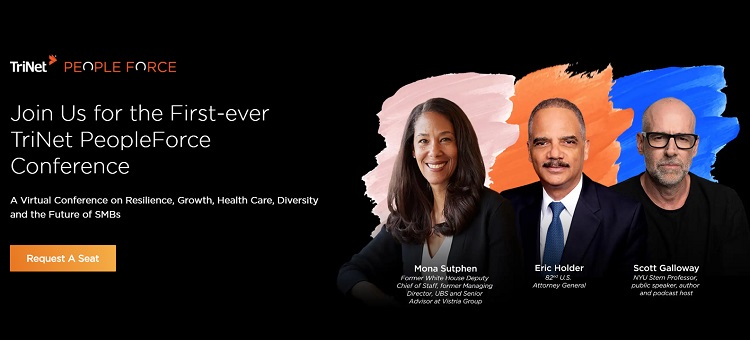 TriNet is by far the best option for startups and small businesses. They separate their plan tiers by employee size, offering more solutions for small staff sizes rather than large ones. They have plans for:
5-19 employees
20-99 employees
100+ employees
TriNet is also a great option for their health insurance packages. They offer health insurance options from major brands such as United Healthcare. They even have partnerships with major brands, such as Verizon, to offer even more employee discounts.
Pros
Different industry-specific options
Well-renowned business
Over 16,000 trusted clients
Cons
Not the best option for large organizations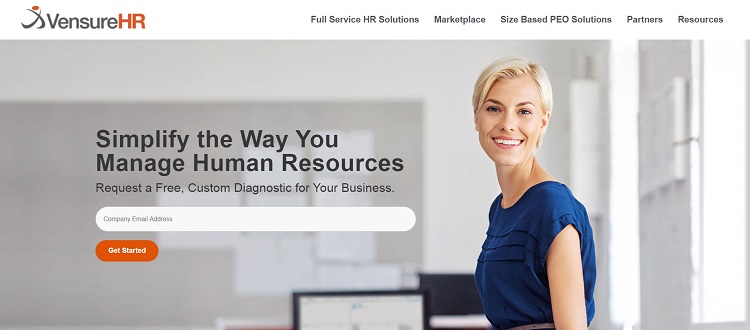 VensureHR is another newer company, forming in 2004. But in that short amount of time, they have processed payroll for hundreds of thousands of employees.
Their other services include risk management, employee benefits, HR solutions, and worker's comp. Small businesses will especially benefit from their robust HR solutions.
Pros
One of the best PEO companies for payroll
Other high-quality PEO and HR solutions
The perfect option for small businesses
Lots of devoted clients and wonderful employee support (and customer support to business owners)
Cons
Their services mainly focus on small businesses and growth
Pricing is unclear
Infinit HR is perfect for a small business or any business that only needs a few PEO services. This PEO company doesn't force clients to bundle their services in one package — rather, you can pick and choose which services you need.
Some of these services are ones you can get from their competitors, but you can only use the ones you need. This includes:
Payroll
HR
Employee benefits
Risk management
Recruitment
Keep in mind, Infiniti HR is the newest business on this list. They have only been around for just over 10 years and are constantly improving their services. This doesn't mean they're low-quality — some of their clients include major players such as Best Western, Supercuts, and Massage Envy.
Pros
Offer all essential PEO services
Can pick and choose the services you need
Great reputation
A fantastic option for recruitment
Cons
Only a 10-year-old company so they're still improving their services
Don't have a mobile app yet (expected release is the end of 2020)
Many of these PEOs have specific acceptance standards. XcelHR is the exception — there are no payroll minimums and you can even use this PEO company if you only have one employee. Therefore, this is the best option for brand new businesses, startups, and microbusinesses.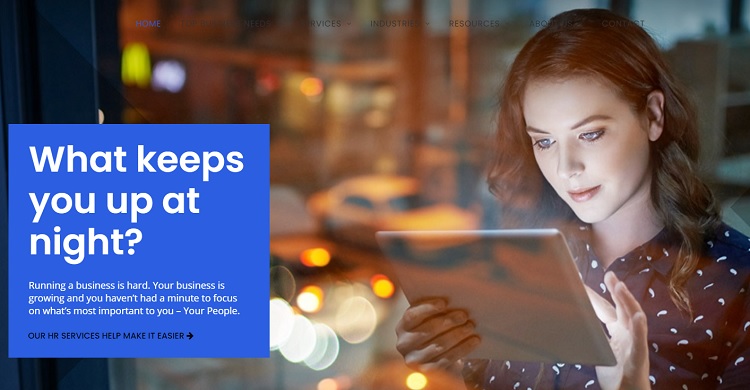 Otherwise, XcelHR offers many of the same services as a normal PEO company. Some of their products include payroll, health insurance, retirement plans, life insurance, and more. You also receive OSHA-compliance resources and risk management services.
XcelHR also offers an administrative services option (ASO). The features of this option include talent acquisition, W2/1099 forms, and employee benefit plans. Keep in mind, you'll sacrifice other services such as worker's comp, risk management, and retirement plans.
Businesses pay a percentage per employee. They don't require long-term contracts but do require businesses to give a 30 days notice before ending their service.
Pros
Great services that are comparable with larger PEO companies
Affordable
They have an option for startups and microbusinesses
Receive an administrative specialist for HR and payroll
Cons
Not the best customer service
Difficult to use their online portal
Acadia HR offers payroll and HR services to small and midsized companies. You can also opt for their PEO package, which includes payroll and payroll tax compliance, worker's compensation, HR, employee benefits administration, and state unemployment.
Pros
Excellent employee benefits administration
Great HR customer support
Many clients have been satisfied with their talent recruitment services
Cons
Might not be the best option for large enterprise businesses
Abel HR is a family-owned and operated PEO firm and HR company. Founded in 1992, they target small and midsized businesses. They're best known for their high-quality HR services and highly personalized HR expertise. Some of their other services include training, worker's compensation, payroll, and employee benefits management.
Pros
Offers great HR services to small businesses
Family-owned and operated
Cons
Targets growing businesses as opposed to well-established businesses
Best PEO Service FAQs
With all of these PEO options and services, you likely have many questions. Don't worry, you're not the only one! Here are some FAQs.
How Do PEO Companies Charge for Their Services?
All PEO companies have different pricing options. Many charge per employee while others have a set pricing plan. Some may bill you monthly while others may bill you yearly.
Do PEO Companies Charge Additional Fees?
Most will charge a setup fee. This may range from $1,000 – $10,000.
Can I Get Benefits for My Family?
Most PEO companies offer benefits for everyone in your organization. This includes your immediate family.
How Quickly Will the Service Take to Execute?
You may need to wait at least one week to use the benefits. Then again, this depends on the size of your company.
Do Startups Need a PEO?
PEOs streamline many of your essential tasks, such as payroll and employee benefits. But you should do your research. Many PEOs offer products that benefit large enterprises more. Find an affordable PEO that's scalable and encourages growth.
Does the PEO Own My Business?
You will sit under a joint EIN with a PEO; however, this only affects your taxes. The PEO doesn't own your company, your employees, and you can handle your business however you want.
Conclusion: The Best PEO Companies and Services for Businesses of All Sizes
Whether you're a startup with a handful of employees or are a major enterprise with thousands of employees, a PEO service can benefit your business in many ways. Today, businesses have more options when choosing different PEO companies and the services they offer.
While we think Paychex is the best PEO company, we advise all businesses to look at all of these PEO services and find one that works with your needs.
Do you need more business and HR management services? What about other essential business tools, such as e-commerce solutions for a robust CRM system?
The Digital Merchant offers unbiased reviews, comparisons, and best-of lists such as this one. Take a look at some of the articles we offer below.