Last Updated on April 22, 2023 by Ewen Finser
Did you know e-commerce sales account for 14% of all retail sales worldwide? And this number is only supposed to increase. Whether you want to start a business or are looking for a side hustle, selling products online is one of the best ways to profit.
Now, sellers have many platforms options to list and sell their products. Etsy and eBay are two of the most popular options. You can easily upload your products and sell them all over the world. In addition, both platforms offer plenty of powerful features for sellers.
But which one should you use? Here, we weigh the pros and cons of Etsy and eBay.
Main Differences Between Etsy vs eBay
The main differences between Etsy vs eBay are:
eBay sells vintage and second-hand items, whereas Etsy attracts sellers who want more handmade items.
eBay doesn't have that professional e-commerce feel, whereas Etsy does have that feel.
eBay charges a 10 fee on every item that you sell, whereas Etsy charges 5%.
Things to Keep in Mind
Before we get started on this comparison, here are things to know about Etsy and eBay.
Both platforms have heavy competition. That's why sellers should have a powerful strategy before setting up their shop. Brand yourself well, take high-quality pictures, write great product descriptions, and think as if you were the customer.
Research the top-selling items in your niche and find ways to beat the competition. For example, find what makes your product different or how you can market yourself better.
Know the basics of pricing items. While you'll want to calculate your investments and charge more to make a profit, your work doesn't end here. Always research your market. You can also ask yourself what you would be willing to pay for the item you're selling.
Both Etsy and eBay charge fees. Etsy charges a 20 cent listing fee. eBay also has a listing fee in addition to a storage fee. eBay's fees also depend on what size store and subscription you have.
Best for New Sellers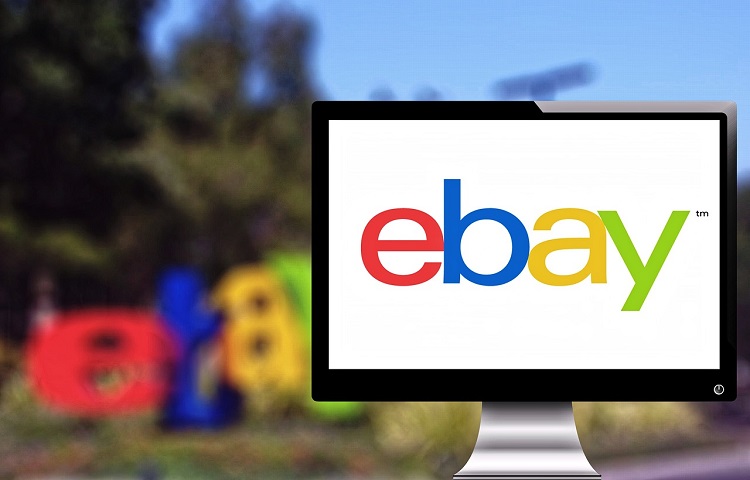 If you're reading this guide, you're more than likely a new seller. If this is the case, does Etsy or eBay cater to new sellers or experienced sellers?
eBay caters to sellers with great performance — i.e. those who make more sales and receive heavy shop traffic. In other words, the more work you put into your shop and the more sales you receive, the more eBay will reward you. How does eBay reward you? They have seller levels that are tokens of trust for customers. Some common seller levels include "Above Standard" and "Top-Rated."
But gaining more sales isn't all that matters. eBay wants you to have excellent customer service, few product defects, international orders, shipping orders on time, and zero to few seller cases. Etsy doesn't have as strict standards for sellers. However, Etsy does rely on one main thing — customer reviews. The more positive reviews you have, the better your shop will perform.
Don't worry, new sellers can get reviews quickly. Other than making high-quality products, you can market your products well and always provide excellent customer service. When customers see you taking a step beyond the average seller, they will be more likely to leave a review.
Even though Etsy relies on customer reviews, they're still a friendlier platform for new sellers than eBay.
Shipping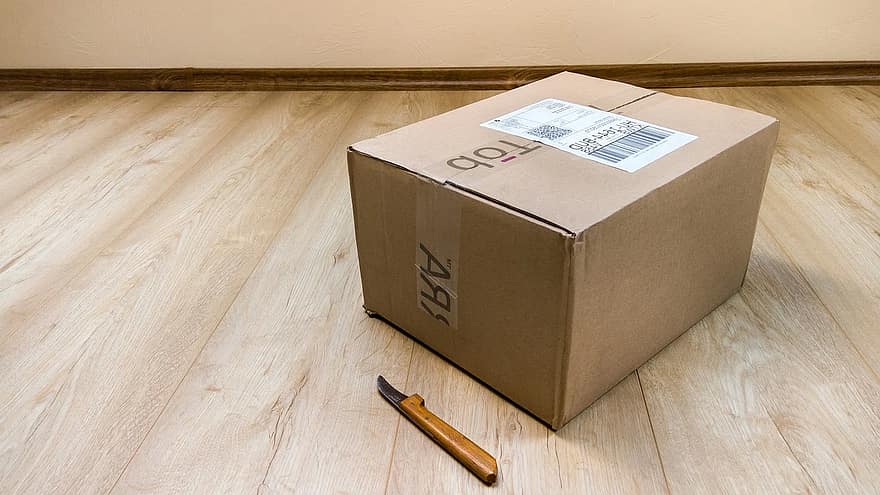 Shipping is integral to online businesses. Therefore, you'll want to know how shipping works on eBay and Etsy. Fortunately, both platforms make shipping easy for sellers. But what about international shipping? eBay offers its global shipping program where they calculate shipping costs, add tracking details, fill out customs forms, and can even create a shipping label for you.
Etsy also has a similar program: Etsy shipping. They show shipping prices for all orders and they print out a shipping label for you (as long as your package is less than 150 pounds). They also offer customs forms.
What if you sell on eBay and mainly sell to domestic customers? You'll want to offer free shipping. The majority of sellers offer free shipping and you'll want to keep up with the market. Etsy recently started offering this requirement, as well.
Both platforms offer other impressive tools for sellers. You and your buyers can track all orders directly on the platform. On Etsy, you can also create different shipping profiles to automate shipping. To create shipping profiles, click "Shipping settings" in the "Settings" menu.
The main downside to both platforms is their shipping platform isn't the most user-friendly. For example, to access the tracking, sellers need to jump through multiple pages to receive shipping updates.
Overall, this is a tie. Both platforms offer many shipping tools and resources for sellers. Unfortunately, tracking orders is difficult on both platforms.
Advertising and Marketing
Both Etsy and eBay offer different advertising and marketing tools for sellers. But who has the best?
eBay offers many marketing tools directly on the platform, including:
Email marketing
Cross promotions
Promoting similar items
Seller top picks
The ability to add branding materials such as your logo
eBay offers two types of advertising: brand advertisements and promoted listings. If you have a big budget, you can invest in a large ad banner for your entire brand. But most sellers use promoted listings to push their products to the top of a listing. To promote your listings, click the "Promoted Listings" tab under "Marketing." Click the blue "Create New Campaign" button to the right of the page.
Etsy offers similar advertising options. Etsy Ads is their platform that shows your product ads throughout Etsy. This includes Category Pages, Search, and Market Pages. Your ads will show up on the website as well as the app. Sellers can set up their own Etsy Ads campaign and set their own budget. To access the Etsy Ads section, click "Marketing" on the left sidebar and select "Etsy Ads."
In addition, Etsy also offers an offsite ads campaign so your ads can appear on a number of different social media platforms and search engine results. This includes but is not limited to:
Facebook
Google
Pinterest
Instagram
Bing
As of now, eBay doesn't offer a similar program.
All sellers are already enrolled in offsite ads, though you can opt-out. Previously, if your shop made more than $10,000 in a 365 consecutive day period you were required to participate. They ended this requirement in July 2020.
So, what are the advertising fees like? eBay and Etsy charge sellers differently. eBay only charges you when a buyer clicks on the ad and buys the product within the first 30 days of clicking the ad. Not only that, but you also choose the ad rate you pay.
Etsy has a similar format, but charges sellers when the buyer clicks the ad — not when they buy the ad. While you can choose your daily budget, their minimum daily budget is $1. This means your advertising campaign can get expensive with no promise you'll profit.
Keep in mind, this doesn't apply to offsite ads. You'll only get charged when the ads generate a sale (you're charged 12% if your store makes over $10,000 and charged 15% if your store makes under $10,000).
While eBay doesn't offer as many tools and resources as Etsy, its advertising platform is risk-free and cost-effective. Therefore, eBay wins this round.
Customer Service and Resources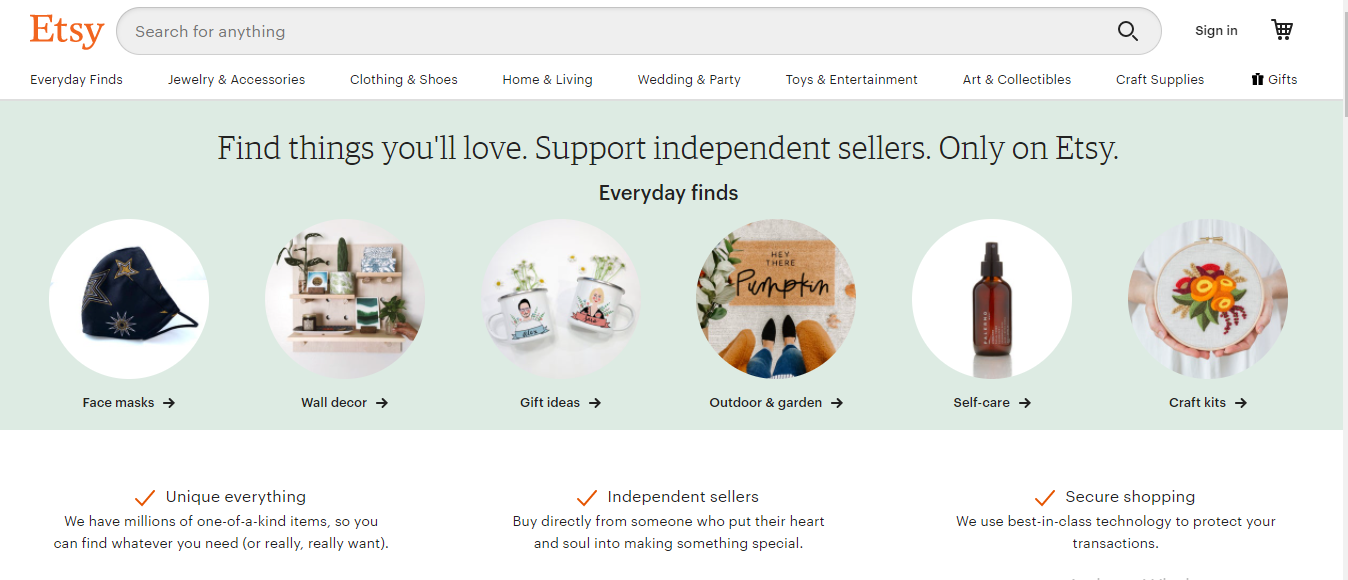 What if you're having issues, you have a question, or the platform is experiencing some difficulties? Which platform has better customer service?
First, let's look at their help pages. If you're new and are having trouble setting up your store or have common questions about selling, both platforms offer help pages.
Let's first look at Etsy's help center for sellers. Their content is pretty basic — they offer essential topics for sellers such as navigating your orders, managing your shop, FAQs about payments, common questions about listings, and more.
eBay also offers an in-depth help center that covers topics such as selling fees, creating a listing, returns, shipping, selling tools, performance factors, and more. While eBay's help center is pretty basic, Etsy goes a step farther with its support content. They offer content on managing your shop during the COVID-19 pandemic, using easy stats, information about Etsy search, and more.
Both platforms also offer forums where sellers can connect to each other and ask questions.
But what if you need to contact each platform directly? Many have reported eBay's customer service is better than Etsy's. eBay makes the communication process easy — they offer different communication channels such as emails, phone, live chat, and you can even reach out to eBay via social media.
Etsy has clear customer service channels, but many have complained it takes a long time for them to respond, specifically to support tickets. You can contact eBay's tech support line directly and talk to an expert.
Both channels have plenty of resources for customers, such as a robust help center. But users in support forms have reported issues with submitting support tickets to Etsy. Therefore, eBay wins this round.
FAQs
Can You Sell the Same Item on Etsy and eBay?
Yes, you can sell your items on both platforms as long as they meet their criteria.
Which Is Cheaper?
This depends on many factors, such as the eBay tier you have, advertising fees, and more. Generally, Etsy is cheaper. That's because eBay has a store fee as well as a listing fee. Etsy only has a listing fee.
Are There Any Alternatives to Both Platforms?
There are plenty! Some common ones include Amazon, Facebook Marketplace, and Pinterest. You can also create your own store using a platform like BigCommerce.
Does eBay Own Etsy?
No, Etsy is owned by Etsy inc. However, Etsy does own other e-commerce sites and online marketplaces.
Etsy vs eBay: Which Is the Best Platform for Sellers?
Both platforms offer their pros and cons, but they both have an equal number of pros and cons. Therefore, this is a tie. Ultimately, choose the platform that's best for your audience. eBay welcomes attention from second-hand goods while Etsy gains more traction from specialty and handmade items.
Both platforms also have their pros and cons in terms of quality and performance. While eBay is more expensive, you get amazing customer service and tech support as well as risk-free advertising. Etsy is friendlier to new stores and doesn't charge a fee for your store.
Are you thinking about choosing a shop instead of either of these platforms? If so, read our Shopify vs Etsy guide first.
Further read: