Last Updated on April 22, 2023 by Ewen Finser
Voluum is cloud-based affiliate tracking software with a number of optimization tools. You can track all of your affiliate campaigns in a central location using Voluum. If you don't use a tracker yet, you have no idea if your money and time are being allocated correctly. With a tracker, you can fine-tune your campaigns to make them more efficient.

Let's say you use a self-hosted tracker, though. It's still an imperfect way to keep an eye on your affiliate marketing campaigns. You're probably dealing with common problems like hidden costs, difficult setup, poor usability, frequent updates, and even security breaches. That makes it not only hard to manage your affiliate campaigns but even harder to scale them and grow your business.
Even if you currently use a cloud-based tracker, it may not offer some of the premium features you get with Voluum, like notifications, bot detection, personalized onboarding, and AI features.
Benefits of Voluum
The main benefits of using Voluum are that you can track your multiple ad campaigns, analyze data in-depth, optimize ad performance to get more from your budget, and scale your affiliate marketing to grow your business. Let's quickly go over these benefits:
Track Ad Campaigns
Track third-party offers and build marketing funnels.
Collect organic and paid campaign data.
Track costs, including CPA, CPC, and CPM.
Learn more here.
Analyze Data
Get over 30 data points on every visit.
Group data and get detailed reports to extract relevant information.
Get real-time campaign data with instant reports.
Learn more here.
Optimize Ad Performance
Run A/B tests to audiences and create rules and advanced targeting metrics.
AI tools auto-distribute traffic to the highest-performing campaign elements.
Custom notifications send alerts so you can see and react to performance.
Learn more here.
Scale Your Affiliate Marketing
See if there are any suspicious clicks or visits to prevent traffic from bots.
Get access to new offers through your panel.
Share data with external partners.
Learn more here.
The Main Features of Voluum
With Voluum, you can track everything that happens with your affiliate campaigns, including organic and paid traffic from all sources. All ad formats and traffic sources are supported.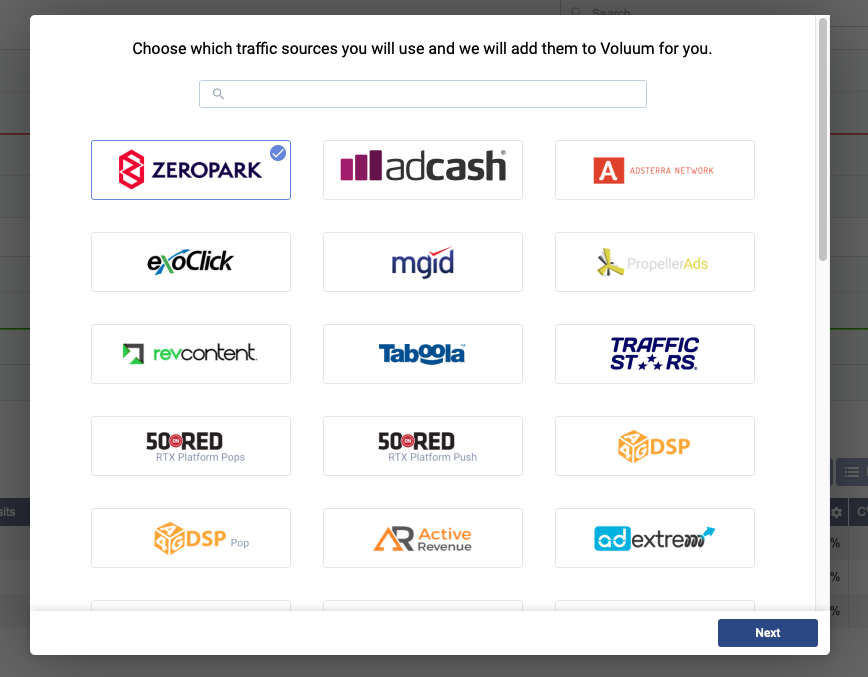 There are pre-made templates for traffic sources (like Facebook and Google), and you can add custom templates, too. Supported ad formats include:
Display banners
Email ads
Native ads
Pop-ups
Push ads
Search ads
Social ads
Video ads
You can also create rule-based paths to send visitors down specific routes based on a variety of factors, like what device they're using or their country. Voluum has a dedicated Flows page where can you create all sorts of funnels, including a default one that you can apply automatically if you don't need to set specifics.
While Voluum is relatively user-friendly, even for beginners, this sort of in-depth planning may require help – luckily, Voluum has a thorough documentation center where you can find walkthroughs for all sorts of things you'll need to do, including creating paths.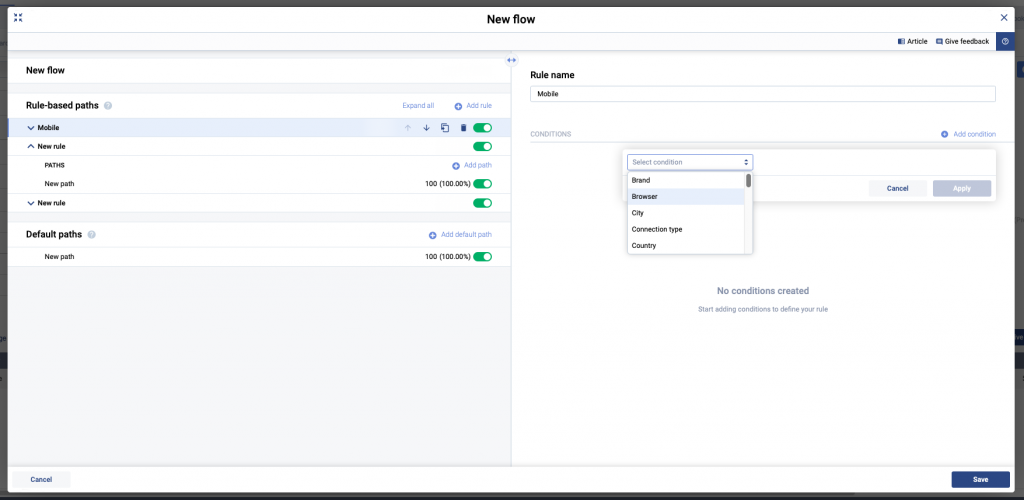 Here are more features you'll get from Voluum:
Automatic Campaign Optimization: Auto-test A/B campaigns so that you can learn which offers and landing pages convert best.
Campaign Migration: You can automatically migrate campaign data from AdsBridge, BeMob, Binom or Thrive. If you're currently using another tracker, you can get in touch with customer support to get help with migration.
Collaboration Tools: You can get the whole team involved by adding users, assigning them to specific workspaces, and customizing their levels of access. You can also share reports with external users.
Daily Caps: If one of your offers hits its limit for the day when it comes to conversions, Voluum will auto-redirect traffic to a different offer.
Data Retention: Historical data is accessible for a limited time based on your plan, but Voluum stores data forever – if you need to access data that's farther back than your plan allows, you can upgrade.
Event Tracking: Events refer to actions that are tracked, like clicks, conversions, registrations or visits. Whenever a user goes through the Voluum infrastructure to take any sort of action with your campaign, it's considered an event.
Fraud Detection: Detect suspicious clicks and visits so you can protect campaigns from bots.
Lander Protection Script: If a user stumbles upon your campaign without following one of your URLs, Voluum can auto-block them – that way, you can get a more accurate view of your marketing performance.
Listicle Tracking: Instead of creating a basic campaign funnel, you can create complex funnels and paths for visitors to maximize conversions.
Push Notification Alerts: Get desktop and mobile notifications when there's a performance change. Add conditions and rules to control how you get notified.
SSL Certificates: This security measure means that visitors will know your web pages are safe.
Here's something else you need to know about Voluum's features: you may come across the word Automizer a lot, which essentially refers to everything powerful that Voluum offers, like controlling all of your campaigns from a single dashboard and creating rules for campaign automation.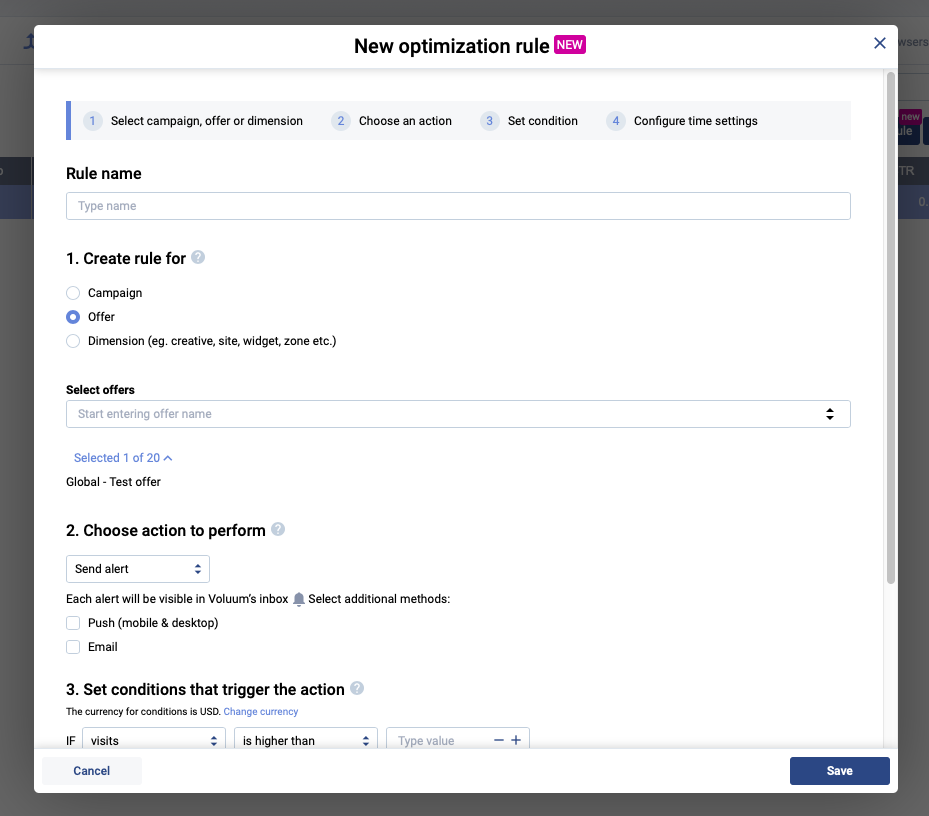 Also, a roundup of Voluum's features wouldn't be complete without mentioning reporting. With Voluum, you can access your data in real-time, and reports can have 30 different data points to get a well-rounded view of your campaigns.
Is Voluum User-Friendly?
Even if this is your first time using this type of marketing software, Voluum has a lot of ways to get you started and teach you what you need to know. From the main page, click the Free Resources tab to access documentation, step-by-step guides, video tutorials, and their blog.
Also, when you log in for the first time, you'll get a walkthrough with helpful tips about how to get started, and there's a guide to direct you around the software as you learn it.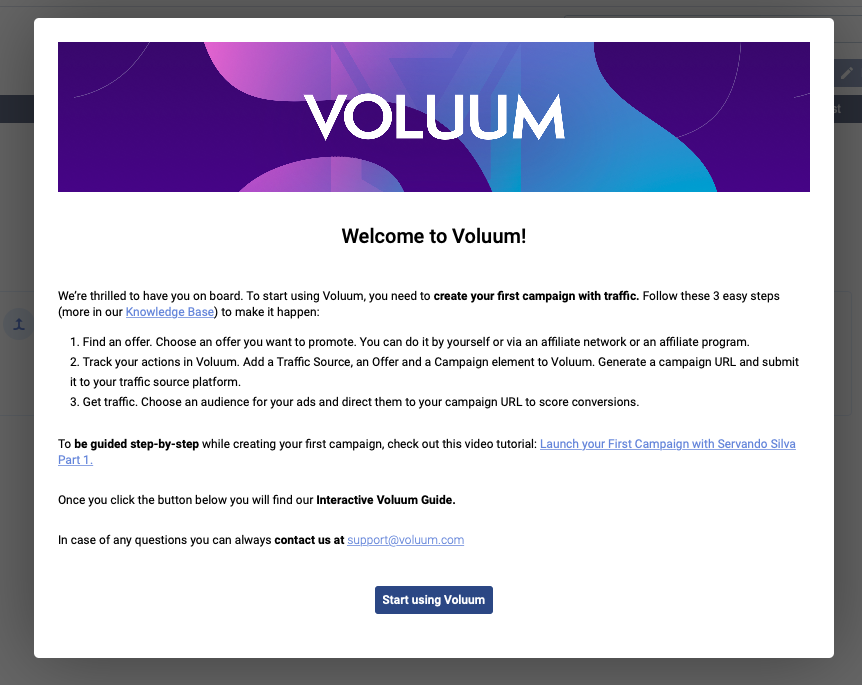 When you purchase a plan, you'll receive onboarding emails, too, and you can also sign up for individual onboarding or attend a group webinar (depending on the plan you've chosen). Overall, Voluum is user-friendly even for beginners who have never experimented with affiliate marketing software before. Let's get into some specific areas of Voluum, though, and discuss how they function.
The Voluum Interface
The interface may feel busy at first, but as you look closely at the sections, they all make sense. Affiliate marketing software has to do a whole lot in order to serve you well, but while the interface may be involved, it's not confusing or overwhelming.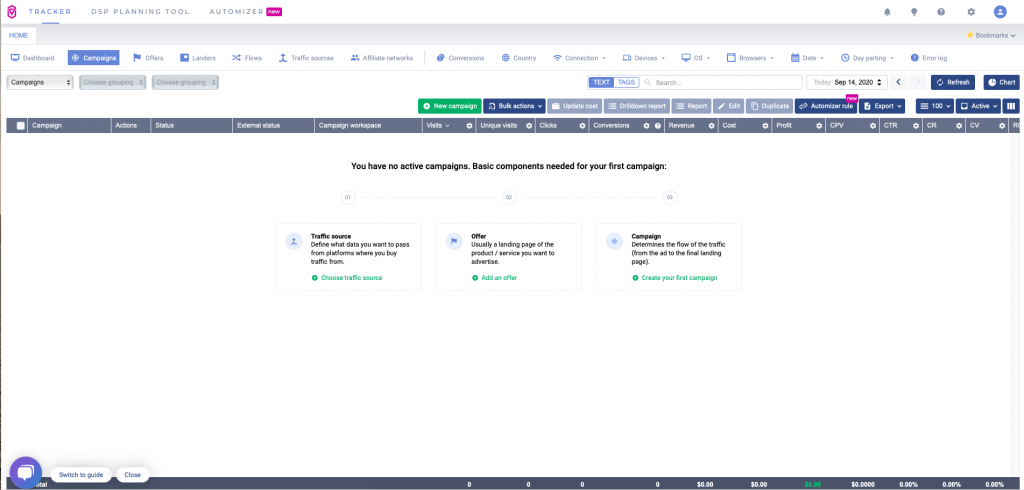 You'll default to the Campaigns tab (pictured above), but the main Dashboard is one tab to the left. You'll probably be doing a lot of work and tweaking in Campaigns, but the Dashboard is where you can get a bird's eye view of how everything is performing.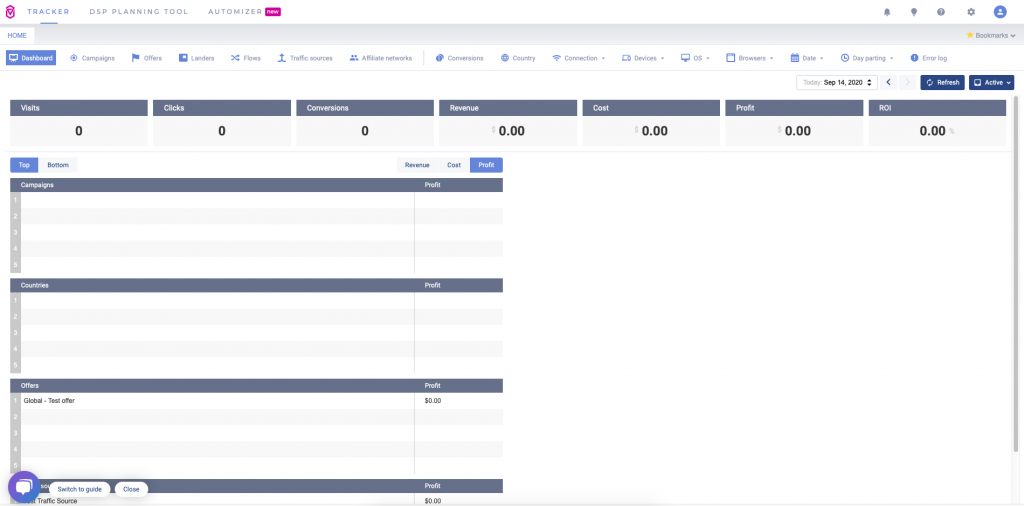 Creating an Offer with Voluum
Click the Offers tab will bring you to a page where you can view, create, edit and manage all of your offers.
There are several details you can add about an offer, including:
Workspace, which you can assign other people to if they're part of that team.
Affiliate network.
Country tag (or global).
Name of the offer.
Any tags you want to be associated with it.
Offer URL.
Conversion tracking method.
Payout (auto or manual) and currency.
Any notes you want to remember about the offer.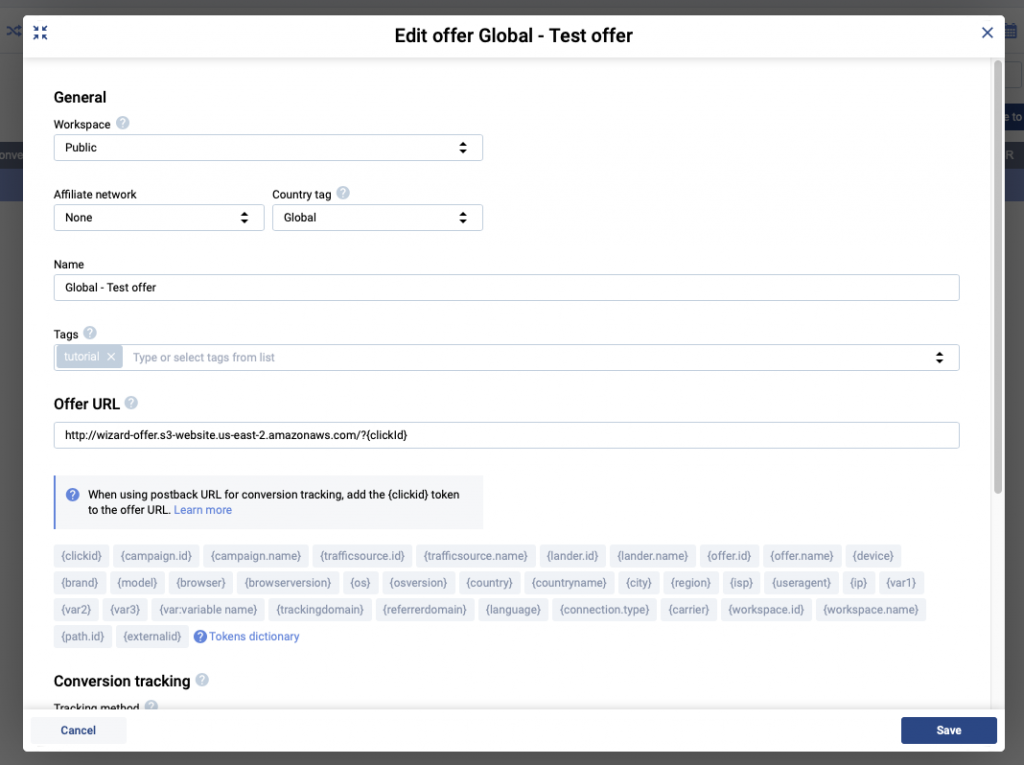 To connect your affiliate networks, you'll just head to the Affiliate Networks tab and choose the networks you're part of.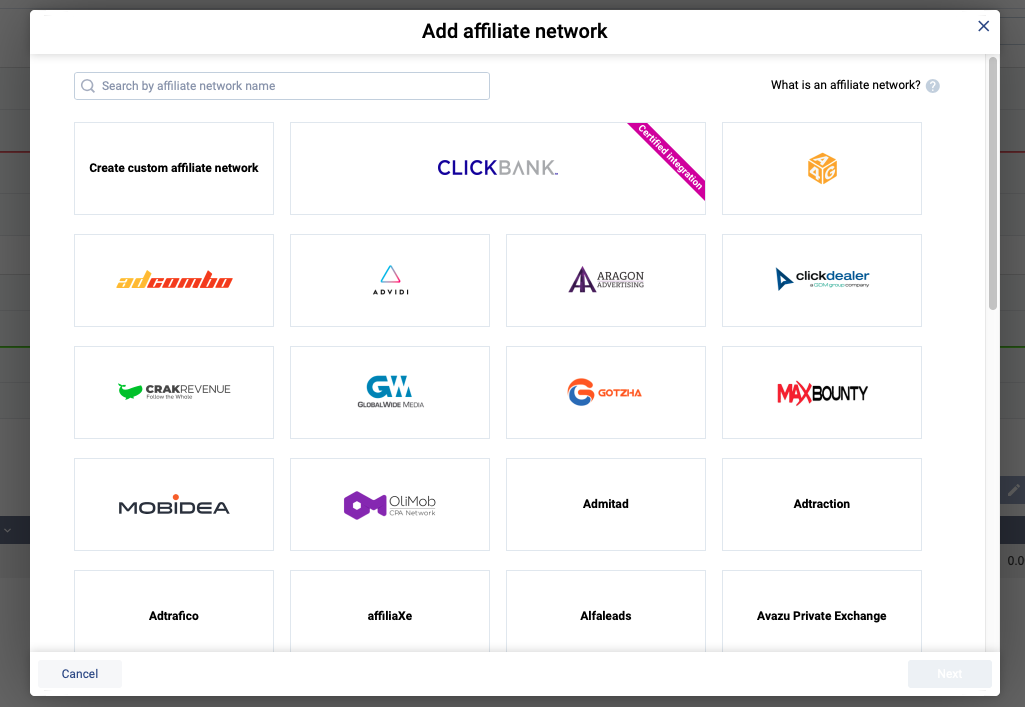 Track Landing Page Performance
In the Landers tab, you can track the performance of landing pages to keep an eye on stats like the number of visits and unique visits, clicks, conversions, revenue, ROI, and more.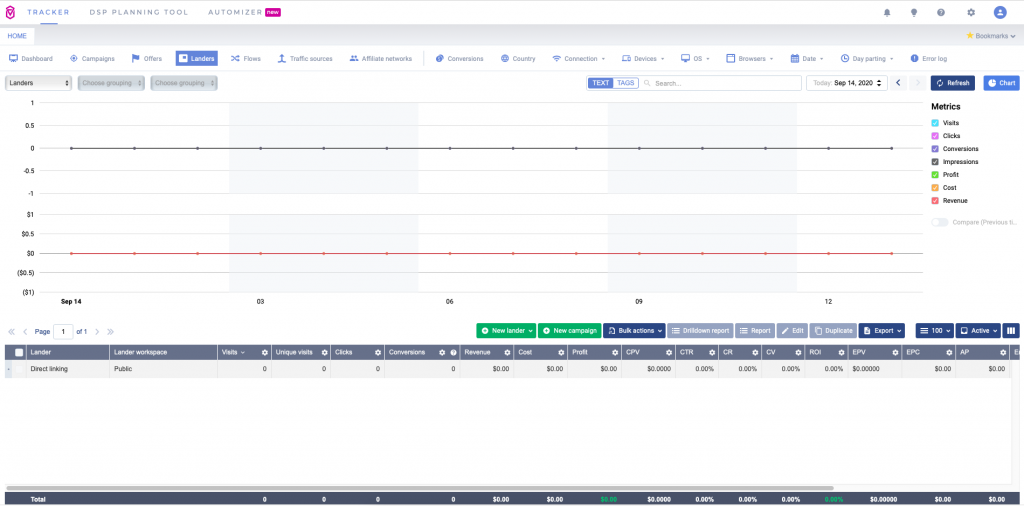 Adding a landing page to track works similarly to adding an offer. You'll fill out associated information, like a workspace, country tag, name, tags, URL, number of CTAs, and tracking options.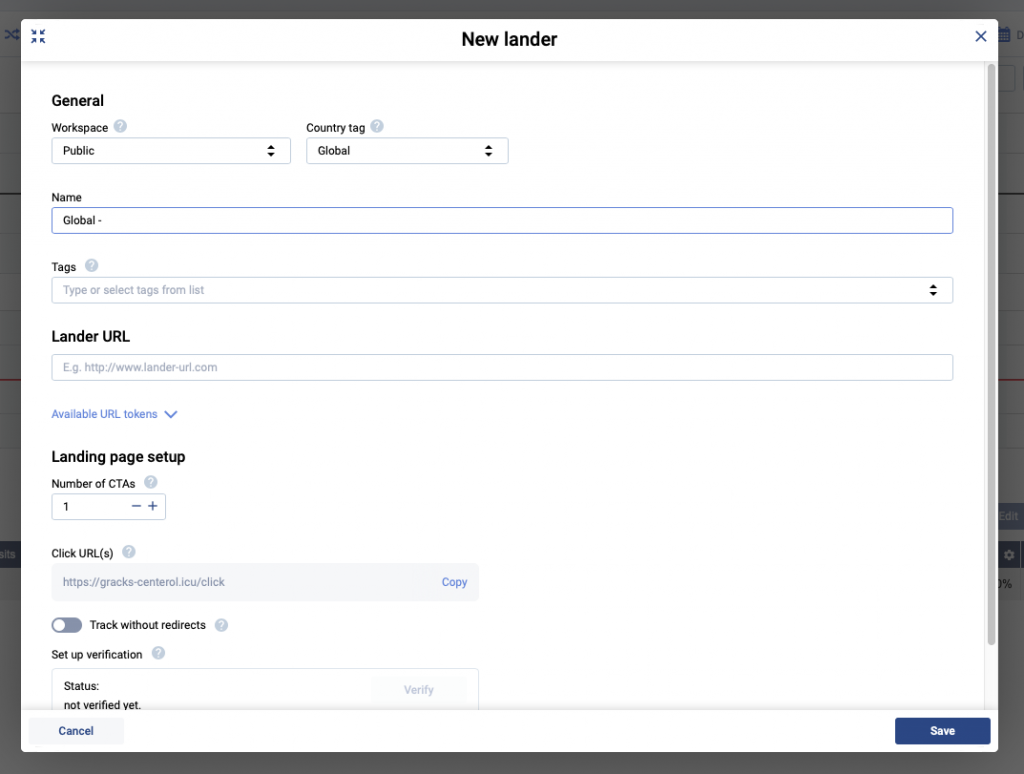 What Does Voluum Cost?
There are four plans to choose from: three basic paid plans and a custom plan. You can book a free 15- or 30-minute demo if you want to see how Voluum works before you buy it.
We've put together overviews of the plans so you can see what you get with each one:
Discover
$69 per month or $49 per month when billed annually
3 months of data retention
20 active campaigns
1 custom domain
1,000,000 events
Profit
$149 per month or $119 per month when billed annually
6 months of data retention
Unlimited active campaigns
3 custom domains
3,000,000 events
Grow
$449 per month or $349 per month when billed annually
12 months of data retention
Unlimited active campaigns
5 custom domains
10,000,000 events
Agency
There's an Agency plan that starts at $999 per month, and it requires an individual contract. This plan has tons of flexibility and is highly customizable.
The Differences Between the Plans
Some features aren't available for the Discover and Profit plans – you can compare features here. Note that every plan comes with the Automizer. Even if you're on an annual plan, you can contact customer support to upgrade to a higher plan before the year is over.
Aside from how long data will be retained, the main differences between these plans have to do with active campaigns and custom domains. With both the Profit and Grow plans, you can add unlimited active campaigns – with Discover, you can only track up to 20.
There's a huge price difference between Profit and Grow, and the major difference – aside from some advanced features – is that with Grow, you can add up to five custom domains, but with Profit, you're limited to three. If you need what the Grow plan offers, it's best to pay for one year upfront, because you'll save $100 per month.
Another major difference between the three basic paid plans is how many events will be tracked and reported. If you go over what you've paid for – for example, if you exceed 1,000,000 with the Discover plan – Voluum will continue tracking events, and you'll just have to pay an overage charge to see the data. Overage charges range from .05 to .07 cents per 1,000 events, depending on the plan you've chosen. Also, note that regardless of your plan, Zeropark events are free to track with Voluum.
Best Alternatives to Voluum
While Voluum can do a lot for affiliate marketers, it does lack a few important components. For example, some marketers feel like they can't get into the nitty-gritty of data. Also, the price can be a bit steep. If you're looking for a Voluum alternative, consider these options.
ClickMagick: You can get advanced reporting as well as cross-device tracking with this tool, and for a lower price tag than Voluum has.
ClickMeter: This service's best feature is the link rotator tool, which lets you send visitors to different landing pages on a rotation you choose.
JotURL: You can track clicks to branded links and also use various link redirection mechanisms, like time-scheduled redirects and first-click redirects.
FAQ
What is the highest paying affiliate program?
While how much you can make with affiliate marketing has to do with how well you know your audience and which products (or services) you choose to promote, some programs pay better than others. Among the top-paying affiliate programs are HubSpot, AWeber and ConvertKit – all companies in the tech niche (which may be a good area for you to focus). Amazon Affiliates is also known for being a reputable program in terms of how it pays, and there's a broader selection of items to choose from.
What is the purpose of ad tracking?
By tracking your ads, you can determine if your budget and other resources (like manpower) are being allocated correctly. By assessing what's going wrong and what's not performing well, you can adapt your campaigns so they get a higher ROI.
Is affiliate marketing still profitable?
Yes! However, as more people learn about affiliate marketing and try it out for themselves, the landscape has become much more competitive than before. You have to put extra work into your brand and online presence to stand out and attract an audience.
Final Thoughts About Voluum
Any affiliate marketer needs a way to track their campaigns – that's the only way to see if your efforts are successful or not. Without gathering that info, how will you know what needs to be changed or what strategies you should do more of?
Overall, we like Voluum, and we think it's a solid choice for any affiliate marketer out there. What's best about Voluum is its ability to scale – if your affiliate marketing business suddenly grows, Voluum will be able to keep up with the influx of traffic and data. Plus, if you have to expand your team as your business grows, Voluum's workspaces make it easy to add new team members while controlling who has access to what.
However, if the cost is a bit too steep – especially for beginner marketers – you may want to go with a more budget-friendly option, at least until you make a decent profit. That said, though, make sure that the software you choose has features like A/B testing, smart traffic management tools, and advanced security measures – areas where Voluum succeeds.
Are you considering a different way to track your affiliate links? Check out our article with 8 Sniply alternatives.