Last Updated on November 23, 2021 by DMEditor
In this ClickMeter review, you'll learn everything about the ClickMeter tool and how ClickMeter will help you increase your conversion rate by monitoring, comparing, optimizing all your marketing links.
Without proper digital marketing tools, the sales of your products and services can fall flat. ClickMeter combines multiple marketing tools in one providing visitor and customer behavior data that can take your company to the next level.

Go With ClickMeter
Put simply, the best link tracker out there. Advanced data for detailed click performance, dashbords, network integrations, and split testing. ClickMeter = full spectrum link analytics.
Try ClickMeter First
We earn a commission if you click this link and make a purchase at no additional cost to you.
However, ClickMeter isn't just for business owners. It's also essential for agencies, an affiliate marketer, advertisers, and publishers. Whether you have a few clients or a few hundred, ClickMeter will keep you organized. The platform will provide your clients with real-time data that isn't skewed by bots, separates commissions, and confirms your marketing successes.
ClickMeter has over 100 features and powerful third-party integrations but is this reliable conversion tracking tool (tracking link) right for your business? Check out our in-depth review to see if ClickMeter checks off all of your boxes for a comprehensive marketing solution.
What's ClickMeter?

ClickMeter is a 4-in-1 digital marketing software (traffic routing, link cloaking/referral wiping, branded tracking links, and conversion tracking cross-platform).
The platform has customized marketing link solutions for agencies, affiliates, advertisers, and publishers. Top companies like Amazon Buy VIP, Fuji Xerox, iStockphoto, and L'Oreal trust ClickMeter with link management.
ClickMeter Features
Targeting
ClickMeter allows you to target visitors who click on your links and segment them to high-converting pages (landing page) based on their location, language, device, and whether they are a human or bot.
Redirect
Redirecting forwards a visitor from one URL to another URL to split test (to see which marketing tactic works better for the same product or service) or to increase the likelihood of a sale.
ClickMeter offers several redirect options:
Random redirect
Sequential redirect
Weighted redirect
First click redirect
Max clicks redirect
Countdown links
Password protected redirect
Time-scheduled redirect
Http/https redirect
Dynamic redirect
IP rotation
Tracking
Every time a visitor clicks a link, ClickMeter can record their information and extract it into powerful analytics. All of the data is compatible with Google Analytics UTM (urchin tracking module).
Currently ClickMeter tracks:
Timestamp
IP
Country
Region
City
Organization
Language
Browser type
Platform type
Mobile detection
Visitor type
Unique/Non-unique
Source analysis
Custom parameters
Keywords
ClickMeter also tracks conversions. Conversion parameters include product ID, cookies, value, commission amount, cookies, and multi-parameter. You can even track data on SSL pages.
Along with collecting specific data, you can also exclude certain data to conform to UE privacy rules, exclude IPs, and block spammers from throwing off your data.
ClickMeter Tracking Pixel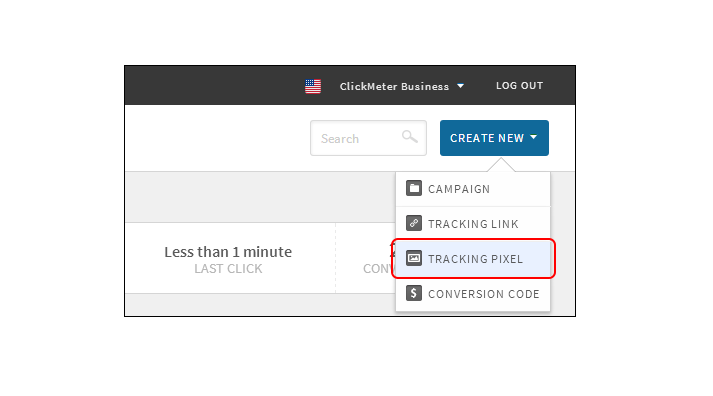 Tracking pixels are beneficial in advertising campaigns (organic or PPC campaigns) to determine the success of a certain webpage or ad itself. The tracking pixel will give you an accurate number of impressions.
This is great for business owners or marketing agencies that need to prove worth to a business partnership or individual client.
To create a tracking pixel in ClickMeter, click on "create new" and then "tracking pixel". You can assign the tracking pixel to a campaign or create a new marketing campaign to connect it with. Tracking pixels can have tags and conversions.
After creating your tracking pixel, copy and paste the code within the web page's HTML code so it will properly track impressions. To view stats, go to "reports" and "tracking pixels".
Analyze
While ClickMeter can track virtually any useful behavioral data you might need, it is not worth much if you can't analyze that data.
Detailed reports collect your data in easy to view reports and maps on a daily, weekly, or monthly basis. Plus, compare different data points to instantly improve your marketing strategies.
Detailed reporting includes:
List of clicks
World map
Top browsers
Top cities
Top nations
Top organizations/ISP
Top parameters
Top sources
Top keywords
Top IPs
Export reports in CSV format so you can import into different software applications and quickly grid pertinent data. Setup email and audio notifications to know in real-time when you've met a certain goal (i.e. a visitor converts into a paying customer).
The platform provides organizational tools that can speed up the process of analyzing your visitor and sales data. You can filter by tag (links and campaigns) and timeframes.
Utilize the advanced reports settings to customize in the following ways:
Six different languages
Use your logo
Use your timezone
Use your currency
Time and number format
ClickMeter Integration Partners
ClickMeter supports a wide range of third-party integrations from affiliate to web, to eCommerce.
They support over 400 affiliate networks so you can join multiple networks and view stats all on one page. Every affiliate link is tracked (affiliate tracking) with multiple data points through a UTM so you always know what is working and what needs to go.
ClickMeter also offers retargeting. This allows you to designate links with retargeting codes so you can add a visitor to a segmented list when they click on one of your links.
The platform supports the following third-party integrations:
AdWords
Backpage
Chrome
Firefox
Megaphone
Rebrandly
Safari
Shopify
WordPress Plugin
Collaboration
If you are running multiple campaigns or servicing a variety of clients, easy collaboration from a the software is a must-have feature.
With ClickMeter you can share reports publically or require clients to log-in to keep your data private. Sharing report links can be completed in the platform and ClickMeter will send links via email so clients don't have to remember a username and password to access.
Get access to unlimited sub-accounts. Choose options from read-only to fully editable.
ClickMeter API
If you are interested in custom development, a dive into ClickMeter APIs is worth a look. You can access the same data as you can through the platform but with standard REST calls. You can customize your analytics to get more bang for your buck with ClickMeter.
The API also creates a way to give data access to third parties through DAC access control. This is helpful by allowing third parties access to particular data points and not others allowing for transparent communication without compromising sensitive data.
Working with ClickMeter's API can help you automate batch links, campaign creation, branded aggregated data, and enhancing consumer data without starting from scratch.
Multi-Tool

Agencies
Monitor and track multiple campaigns simultaneously in an easy to view, organized way
Quickly see which campaigns are successful through detailed sales and conversion tracking
Ward off bot clicks that can cause data to be skewed
Share reports directly with clients in real-time
Affiliates (Affiliate Software Integration)
Affiliates will appreciate unique, practical features at a fraction of most professional affiliate marketing tools.
Cloak affiliate links – Hide affiliate based links and protect your commission codes to increase your conversion rates.
Vanity links – Shorten URLs (URL shortener) with your domain name to increase trust with your visitors. Plus, vanity links can improve your affiliate marketing SEO.
A/B test – Build your brand quicker with split testing to see exactly what your audience is into.
Multiple click detector – Get rid of bots and spend more time catering to your human visitors.
Advertisers
Advanced redirect options for powerful split testing
Quickly see which campaigns are successful through detailed sales and conversion tracking
Ward off bot clicks that can cause data to be skewed
Real-time data reporting
Publishers
Share visibility stats (view, clicks, conversions) directly with clients in real-time
Gain more clients with professional reporting
ClickMeter Review: Security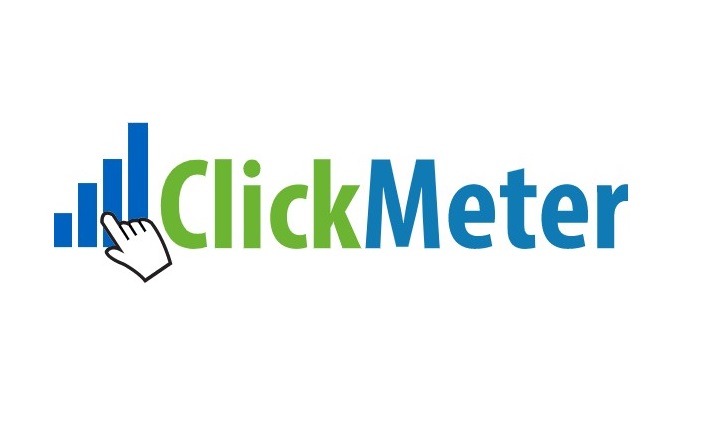 As of August 2020, ClickMeter had a 99.99% uptime in the last year. This says a lot about the redirect reliability and ClickMeter's engineering team.
They also take privacy very seriously. They have a strict internal and external privacy policy. They use advanced anti-spam rules and constantly review and update server security to ensure the big data you collect isn't seen by outsiders.
There are 3 main tiers of pricing, Medium, Large, and X-Large. However, if you need more events and data points there are multiple levels between the 3 main tiers. For example, you can increase the $19 Medium plan to $29 per month which adds 20,000 events and an extra 2,000 data points.
To have access to sub-accounts, click fraud protection, and branding, you will need to spend at least $99 per month. If you are looking for dedicated engineer ClickMeter support, the minimum monthly spend is $349. Custom plans can be requested through customer service if you have specific numbers or features in mind.
ClickMeter does not provide a free trial. However, all plans include a 30-day money-back guarantee.
Use the platform for 30 days to see if it is the right fit for your business. If not, ClickMeter will provide you with a full refund upon subscription cancellation.
The money-back-guarantee is only available to new users. You must downgrade your account to free or delete it completely within the first 30 days. You can then send a refund request to administration[at]clickmeter.com using your ClickMeter registered email.
5,000 Events/mo
500 Data Points
1-year Data storage
100+ Features
Affiliate marketing tools
A/B test rotator
Full Excel export
1 Branded domain
Track conversions & revenue
Retargeting/Remarketing

200,000 Events/mo
20,000 Data Points
2-years Data storage
100+ Features
Affiliate marketing tools
A/B test rotator
Full Excel export
10 Branded domains
Track conversions & revenue
Retargeting/Remarketing
10 Sub-accounts
Click fraud protection
Your logo in reports

2,000,000 Events/mo
200,000 Data Points
3-years Data storage
100+ Features
Affiliate marketing tools
A/B test rotator
Full Excel export
100 Branded domains
Track conversions & revenue
Retargeting/Remarketing
100 Sub-accounts
Click fraud protection
Your logo in reports
Dedicated engineer support
ClickMeter Customer Service & Customer Support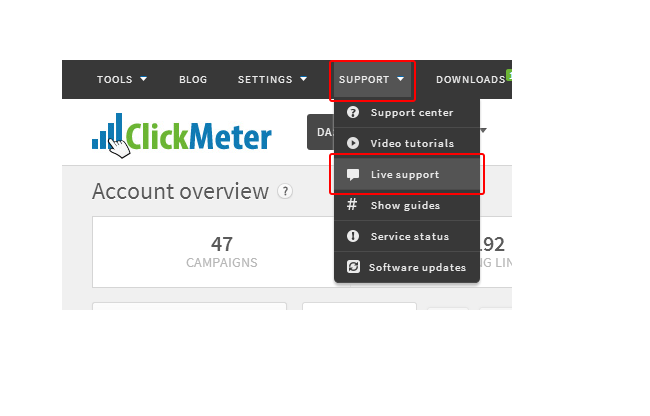 Online Support Center
ClickMeter has an extensive knowledge base that includes 25 categories of in-depth information regarding how to use the platform and its API. It also provides video tutorials for completing basic skills within the software.
Support Tickets
For personalized support, you can submit a request through the website or within your account. With an around the clock monitoring team to minimize glitches, a highly trained engineer will respond to your ticket in less than 24 hours (with most logged yielding a quicker response time).
Please note that tickets are answered based on what tier service you pay for. Higher tiers receive priority service as a part of their monthly cost.
Email
You can also email support[at]clickmeter.com with your ClickMeter support request. By emailing ClickMeter, it will automatically generate a support ticket so this method will be answered in the same time frame as using the support ticket form.
Twitter and Facebook
If you prefer to go through social media to get your questions answered, you can comment on your question on ClickMeter's Twitter or Facebook page and they will automatically open a support ticket for you. You will get a notification when the question has been addressed by the support team.
Live Chat
Live chat can be accessed from the support center's homepage or within your account (as shown below). As with all support, more expensive plans will get priority. X-Large plans include a dedicated support account.
ClickMeter Review: Pros and Cons
Pros

Over 100 features
Creates pixels to track blog posts
Intuitive UX
Can export raw data
Vanity links
Sales reporting
Data tagging
Integrations with Rebrandly, CloudFlare, Google Tag Manager
API
Traffic routing (geo, language, device, etc.)
Conversion tracking
Multiple click detection/bot flagging
A/B test
Customer support questions are answered within 24 hours
Extensive online support center with tutorials, videos, API
Money-back guarantee (within first 30 days)
Cons
Data expires
Missed bots can cause you to upgrade your plan, just to gather necessary data for your campaign
The monthly cost is more expensive than competitors
Compatibility issues outside Google Chrome and Firefox
No direct phone support
ClickMeter Review FAQs About ClickMeter
Does ClickMeter require you to sign a contract?

No. ClickMeter does not have fees including signup, cancellation, and minimum commitment. There is no contract. You can upgrade, downgrade, or cancel your plan at any time. The platform also has a 30-day money-back guarantee if you are not completely satisfied.
Are there ClickMeter alternatives?
Yes. Similar software platforms that are 4-in-1 (traffic routing, link cloaking/referral wiping, branded tracking links (branded link), and conversion tracking cross-platform) include RedTrack, Voluum, ClickMagick, and Improverly to name a few.
Do I have to install ClickMeter on my website?

No. ClickMeter is a cloud-based software that doesn't require any installation process or copy and paste code on your website. Within a few minutes of opening your account, you will be able to use all the features in your plan tier.
Is ClickMeter tracking legit?
Yes. ClickMeter is an affordable link tracking tool for websites, email, sales, and social media pages. It is great for beginner marketers that are new to link building. ClickMeter has around-the-clock monitoring, knowledgeable customer service that will answer your questions within 24 hours, and advanced security measures to keep your customer behavior data secure.

Go With ClickMeter
Put simply, the best link tracker out there. Advanced data for detailed click performance, dashbords, network integrations, and split testing. ClickMeter = full spectrum link analytics.
Try ClickMeter First
We earn a commission if you click this link and make a purchase at no additional cost to you.
ClickMeter Review: Conclusion
ClickMeter starts at $19 a month and can scale as your needs increase. Plus, the platform offers a 30-day money-back guarantee, an option to upgrade/downgrade your plan at any time, and no contracts.
If you are not very hands-on, keep in mind that if you exceed your events limit within the month, you will be given the option to upgrade plans. If you fail to do so, your links will still be redirected but you won't be able to access reporting (including tracking and monitoring).
This can be an inconvenience when working with multiple clients and not having a consistent month to month flow of events. Plus, the extra time and expense of upgrading and downgrading can get old.
However, if this is a minor issue for you, we recommend you give ClickMeter a try. It is easy to set up and has an intuitive drop-down menu system to access the majority of features. It will get rid of bots and create accurate human reporting so you can accelerate your business growth.
You can share your data in real-time to as many or as few people as you would like. And using the API, connect ClickMeter to your favorite systems and brand your reports for a professional touch.
Powerful features like retargeting, vanity links, raw data exporting, tracking pixels, and split-testing are essential for dominating your competition. For all of the features, we think ClickMeter is worth the minimal investment. Once you learn the ropes, the platform can pay for itself.
Further Reading on Link Tracker and Click Tracker Tools: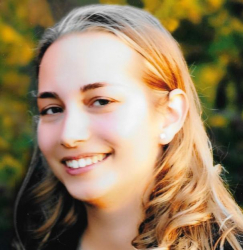 Latest posts by Julie Thompson
(see all)
Get 40% OFF for 3 Months