Last Updated on November 23, 2021 by DMEditor
In 1996 Bill Gates published an article on his website ("Microsoft", you may have heard of it?) entitled "Content is King". Long story short, in his piece Gates, spoke about how broadcasting had changed the way people do business. He then went on to make a very bold prediction that the internet would have a similar effect.
Our Pick
Start with ClickMagick
Easy to use and affordable, ClickMagick is where I reccomend most marketers start. Track your entire sales funnel thru an intuitive dashboard, without breaking the bank.
Try it FREE
We earn a commission if you click this link and make a purchase at no additional cost to you.
Fast forward 24 years and Gate's hunch was correct. Globalization is occurring rapidly, and technology combined with the internet is acting as the key agent of change. (According to a study conducted in 2015, companies who have embraced digital technology are making more money than those that haven't.)
Anyway, this shift toward internet-based technology has become known as digitalization. Digitalization has resulted in the creation of online marketing tools. Hence today we're going to be reviewing one of those tools, ClickMagick – a click tracking software.
So, here's how ClickMagick works (in a nutshell): When creating web content for your online business' marketing campaign, ClickMagick enables you to gain an insight into what current traffic is clicking within your tracking links.
In turn, you're able to gain a greater understanding of how visitors are interacting with various aspects of your online business, such as your marketing funnels. So, if you're creating email funnels, landing pages, or any type of content designed to convert, ClickMagick can help you earn more money by enabling you to see what is and isn't working within your web pages (tracking links).
Clickmagick Review: What is Clickmagick?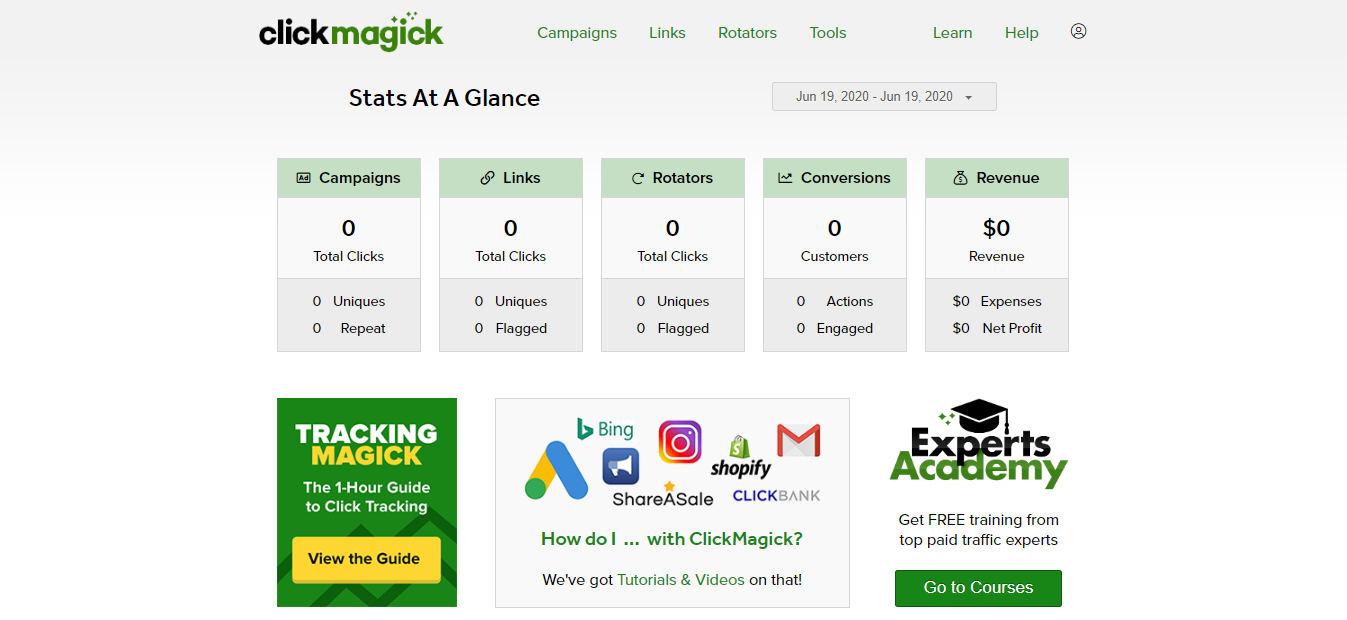 In a traditional sense, Clickmagick is a "link tracker" that lets you test and optimize links and ads within all your marketing campaigns. Clickmagick emphasizes its compatibility with tracking sales funnels, tracking across multiple devices, and optimizing ad performance.
The tracking tool also draws attention to its useful functionality. For instance, the ability to perform split testing as well as monitoring of real-time analytics and reporting.
Clickmagick is a tracking system that'll help you run better marketing campaigns through segmenting click and analyzing real-time traffic flowing through URLs you wish to track (regardless of source e.g. Facebook, Google, Paid, etc…).
Clickmagick Review: Who is ClickMagick for?
ClickMagick is for the following:
Online businesses exchanging web traffic.
Bloggers looking to assess the quality of their traffic sources.
Affiliate marketers aiming to high-converting sales funnels, landing pages, and email campaigns.
Individuals involved in SEO marketing, content marketing, email marketing, and CRM marketing.
Marketing agencies.
Clickmagick Review: Features
Link Tracking
ClickMagick helps online businesses, particularly affiliate marketers and affiliate marketing companies engaging in traffic exchange and the monitoring of sales funnels, to gather actionable data.
In truth, however, it's a useful tracking tool whether you're looking for a landing page, email marketing, or a link management solution. Anyway, regardless of why you need to set up tracking links. Which, is easy to do with ClickMacick. You just have to click on the "Links" tab and create your tracking link.
As we'll talk about later in this review, bot traffic can be segmented from organic traffic. This segmentation occurs through setting up a "Blocked URL".
This blocked URL is where all traffic resulting from bot clicks will be sent, which helps ensure you only receive report data from quality traffic sources. In turn, giving you a better idea of how your affiliate links are performing within your sales funnel or landing page by preventing fake clicks skewing reports on tracking links.
Link Tracking Software – Features to Note
Clickmagick gives you the functionality you need to track links. While doing so, you'll have a number of useful features at your disposal. For example, you can segment tracking links via the calendar on the relevant dashboard. You can "Copy Tracking Link"(s) for convenience, plus, you'll also have the added bonus of the following features:
You'll have the traditional methods at your disposal while trying to accomplish this task within your sales funnels. For example, you can track for "Pixels", which is done using a conversion code that has been added to a page you wish to track.
Again, if you're with a major ad network you may not be able to engage in "Pixel" tracking. It's important to also note that it's possible to track conversions using Postback URLs (most accurate sales tracking method) as well as Sub-ID tracking.
You can inform Clickmagick's system to automatically notify upon changes to your action conversion rate, engagement conversion rate, sales conversion rate, earnings per click, and average customer value when they become less than or greater than a specified figure after so many clicks.
Clickmagick Split Testing Links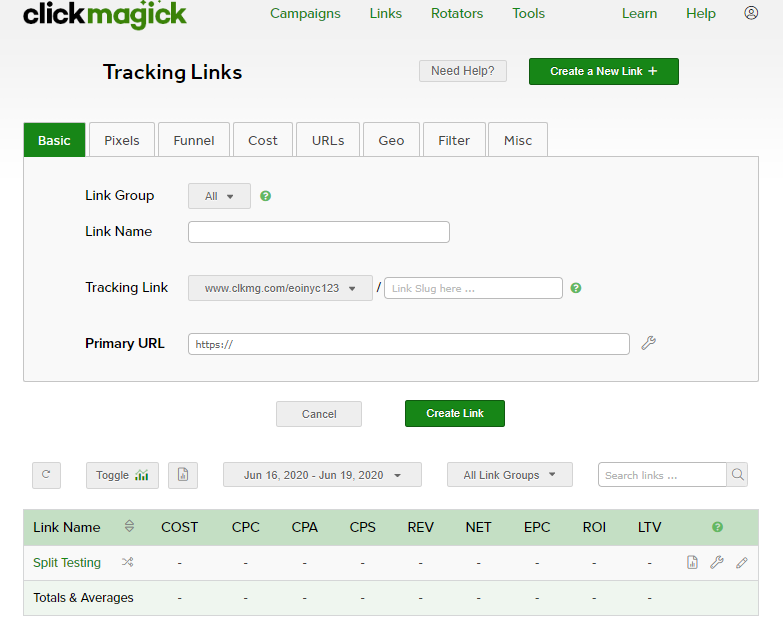 Split testing with Clickmagick can be done using two distinct tracking methods – Campaigns and Tracking Links. Should you choose to track a campaign, it's of the utmost importance to be aware of the nuances between doing so through a major ad network – such as Google Ads – and not using a major ad network.
All you need to know here is that major ad networks have ad policies in place that don't coincide with split testing using Tracking Links.
Anyway, to split test any link that you're tracking you need to "Create a New Link" and input a "Primary URL" to track (see tracking links for more info). When split testing with Clickmagick you can optimize your tests for:
Actions
Engagements
Sales
Earnings Per Click
None – Manual Test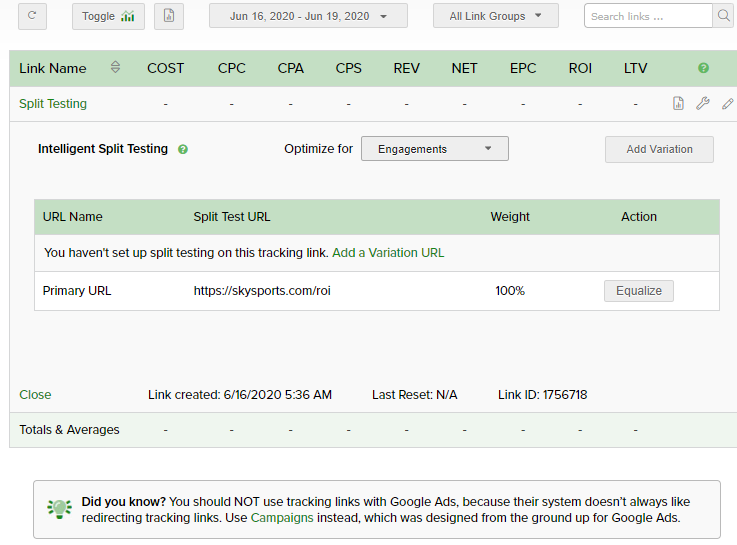 Split Testing Specifics
Clickmagick provides actionable information to improve your testing experience. The "Recommended Action" word box on the Link Tracking dashboard is useful in this regard.
A helpful Clickmagick tip is to only A/B split test in instances where such a message occurs due to a low search volume landing on your URL variants. You can "Weight" your split testing should you wish to do so with the 0-99 percentile range. If you want to run a more balanced test, then select "Equalise" to weight the test 50-50%.
Finally, to see which URL variant performs best pay attention to the difference level between each variant. A positive difference will be noted in green, whereas a negative difference will be denoted using the color red. Green indicates that the URL variant outperformed its red counterpart, while the colored figure represents the discrepancy as a percentage.
Other things you can do when split testing with Clickmagick include:
Create Dynamic Code
Add Tracking Code
Advanced Features for Tracking Sales Funnels
Input Traffic Cost Per Type (cost per sale, cost per action, etc.)
Add Various URL Types (Backup URL, Mobile URL, etc.)
Geotargeting
Filtering for Bots, Abusive Comments, etc., with the ability to block such behavior.
Tracking Links with Rotators
Clickmagick provides you with the features you need to perform link rotator tracking. Rotators aren't all the same, however, they can be generally classified as a feature that sends clicks to different or multiple URLs. Ultimately, they let you keep track of the traffic you're directing to other peoples' sites.
Clickmagick offers four different "Rotator Modes":
Fulfillment – clicks are only sent to the first URL in the rotator. Clickers can re-enter the rotator until the rotator has reached its specified amount of unique clicks.
Spillover – clicks are sent to each URL in the rotator, one after the other, as repeat users enter the rotator.
Random – clicks are randomly sent to all active URLs.
Sequential – clicks are sent to a URL sequentially, then the process repeats itself. Sequential rotators differ from spillover rotators in that a user will not visit each URL in the Sequential rotator one after the other.
Naturally, you can add pixels to your rotators to make identifying and segmenting clicks based on actions much easier. Also, it's possible to set up email automation within your rotators. You can do so using both plain text and HTML.
Geotargeting and filtering are available when tracking using rotators, and you can also blank referrers so that they can't locate the source of the traffic that you're sending.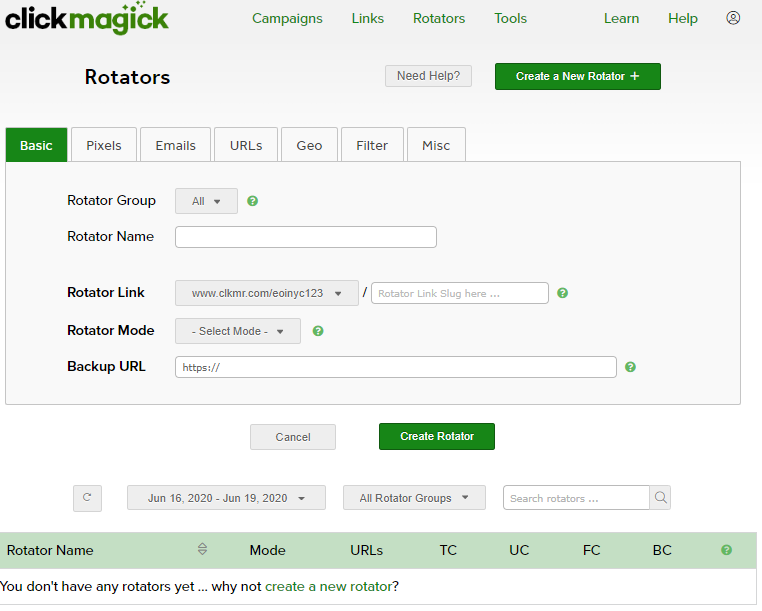 Traffic
ClickMagick's funnel tracking software improves your marketing by enabling you to track and segment clicks by traffic source and traffic quality. Also, tracking links in this manner can make identifying organic traffic from bot traffic far easier, which is handy for anyone buying or selling traffic.
Bad clicks, as well as fake clicks, can seriously mess up your reporting on your paid traffic. So, ClickMagick's traffic features are extremely useful when click tracking.
For instance, ClickMagick's traffic report contains a traffic score that reflects the performance of your current traffic as a whole against your competitor's data. A traffic score of below 75 suggests that your traffic is fake. Knowing that your traffic is not of high quality can help you save money long term for those buying clicks.
The click tracker also places your traffic into a composite of three tiers: tier 1, tier 2, and tier 3. Long story short, you want tier 1 traffic sources flowing through your sales funnels and landing pages to increase your conversions.
Bot Filtering
As we've previously mentioned, this click tracker provides functionality to block bots to enhance source visibility within tracking links. For instance, the ability to block bot clicks is particularly useful for PPC affiliates as well as members of affiliate marketing programs.
Indeed, you can also choose to filter or block fake clicks sent by a bitter competitor or spiders using the tracking tool's VPN. You can also keep affiliate links safe by banning or segmenting traffic by IP Address and location.
Regardless of whether you're buying or selling traffic, ClickMagick's tracking tool can help prevent fake clicks and affiliate marketing scams from undermining the performance of your online business.
Organic Traffic
This click tracker also allows you to create "organic" projects by placing an organic pixel within your custom domains. In other words, you can track links in every way possible because you're able to add your tracking code to all your site's pages.
That means that all real-time traffic visiting your site is visible through the organic tracker, regardless of whether that traffic comes through an email marketing funnel, landing page, or directly from the URL search bar.
Real-Time Reporting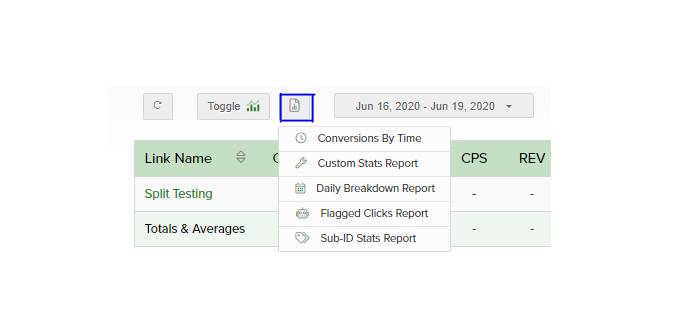 Reporting with Clickmagick is powerful, as you probably might expect. Apart from all the statistics present in the main dashboard, it's possible to generate even more stats using reporting. There are five traffic reports in total for you to choose from:
Firstly, the "Conversions by Time" report. This report shows your conversions across multiple timelines ranging from hours to months. To decide the timeline you wish to track, use the interactive calendar. All stats are displayed in real-time and should only take a couple of moments to generate – depending on whether your analyzing 10s or 100s of links.
Secondly, the "Custom Stats Report". The same rules apply as with the previous report, except this time you're not solely tracking for conversions. Instead, your using metrics to track for everything. For example, ROI, Total Clicks, Net Profit, Sales Conversion Rate, Cost Per Action, Unique Clicks, and so on.
Thirdly, the "Daily Breakdown Report". This report does what the other two reports do essentially, except breaking them down on a daily basis per link group/all data.
Fourthly, the "Flagged Click Report". This report lets you see which links and rotators are generating the most flagged clicks. You can sort by "flagged clicks" (obviously), "total clicks", "name" and "ratio".
Finally, the "Sub-ID Stats Report". This report is similar to the custom stats report except you've got fewer data sets to choose from. What you do have, however, is the ability to segment your report data by Sub-ID. You can't select the device you wish to analyze for traffic, which is possible in the "Custom Stats Report".
As you can see below, you can also access additional reporting by clicking the reports icon when performing split tests, rotator tests, etc.

How ClickMagick's Tracking Software Can Help Affiliate Marketers
Being an affiliate marketer you've got a need for "link", not to mention "click", tracking software. After all, to successfully monetize your site's traffic you need to understand your audience.
ClickMagick can help you do exactly that by providing you with invaluable information regarding traffic sources as well as traffic quality. You can combine this information with its previously discussed split testing to find your high converting landing page variants, for example.
Link tracking software can be extremely useful when it comes to weeding out "bad clicks". For example, if you've got unwanted bot traffic visiting your sites you can use ClickMagick's bot filtering tracking software to block its source. That way, you'll be able to boost your affiliate marketing efforts by gauging to a greater degree of accuracy on how organic traffic is interacting with your tracking links.
Naturally, affiliate marketing with ClickMagick will require you to create affiliate links. And, as a ClickMagick affiliate, you'll be able to do exactly that by creating a unique tracking link for each of your source URLs.
This method of tracking can be achieved using sub-ids. ClickMagick's tracking system lets you combine reporting with sub ids to monitor multiple tracking links, meaning you as an affiliate can benefit from statistics regarding the performance of your links.
Other Features Available With Clickmagick
Batch Editor
Click ID Lookup
Custom Postbacks
Data Importer/Exporter
Domain Manager
Funnel Set Up
Group Manager
IP Lookup/Manager
Postback URLs Builder/Debugger
Record Phone Sale
Testing Tools
Tracking Pixel Builder/Debugger/Code Editor
Clickmagick Review – Pros and Cons
Pros
Incredibly Helpful Support or "Knowledge Base".
Clean Dashboards that are Easy to Navigate
Over 120 Features to Help You Track and Optimise Your Marketing
Functionality Available to Track Other People's Websites
Advanced Filtering Options Available
Geotargeting to Segment Traffic
Powerful Split Testing Explained Through Actionable Tutorials
Tracking Pixels, Postback URLs and Sub-ID Tracking
Ability to Track Entire Sales Funnels using Campaigns and Rotators
Powerful Automations to Complete Sales Optimisation Actions
Reasonably Priced
Data-Rich Reports and Segmentation
Cons
There's a Considerably High Learning Curve due to the Depth of Functionality Available
You'll be Heavily Reliant on the Knowledge Base to Get to Grips with Clickmagick's Platform
You Need Must Provide Bank Card Details to Sign-Up for ClickMagick's Free Trial (your account will be charged should you fail to cancel your account before the trial period ends)
Clickmagick's Pricing Page Doesn't Display All Pricing Options
Clickmagick Review FAQs
How Does ClickMagick Work?

Clickmagick works by giving you the functionality to track links using rotators, campaigns, and tracking code. The platform provides a whole host of what it terms "Tools", which are useful when it comes to helping you run successful ads.
Clickmagick's functionality also helps you track and optimize your marketing performance by analyzing and segmenting your traffic.
Is Clickmagick Free?

Clickmagick isn't free, however, it does let you test out its platform free of charge for a reasonable period of 14 days. You'll have access to much of its features, with the platform's functionality possessing a fairly high learning curve.

Bear in mind, Clickmagick's free trial requires you to enter your bank card details to avail of its free trial offering. If you fail to cancel your account before the 14 days pass – your card will be charged.
How Much Does Clickmagick Cost?

Clickmagick costs 27$-97$ while paying for a monthly license, whereas its offering will cost anywhere from 257$-897$ should you choose to pay annually. Notably, the annual salary represents a saving of 25%.
Does Clickmagick Offer an Affiliate Program

ClickMagick does indeed offer an affiliate program. You can access the said program via the top right of your screen. Once you sign up to ClickMagick's program you'll be able to begin earning 35% commissions.

To signup for ClickMagick's affiliate program, you'll need to have a PayPal account because ClickMagick uses PayPal MassPay. The company does pay out commissions on a daily basis, although there is a delay of up to 14 days pending discrepancies in pay. Also, the minimum payout is $50.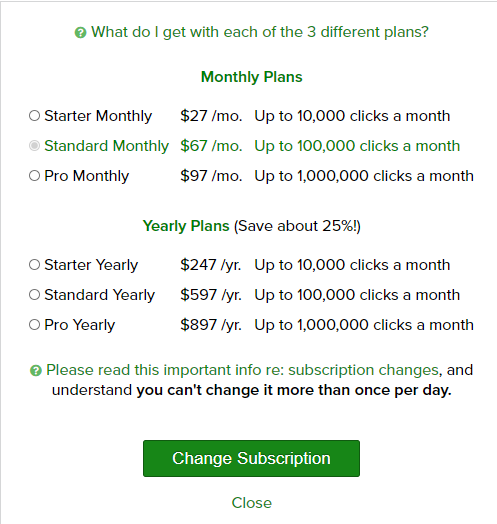 This is a screenshot of ClickMagick's official pricing page, however, you actually have more pricing options available to once you sign-up for the 14-day free trial.
Clickmagick Review – ClickMagick vs Voluum vs ClickMeter
1. Voluum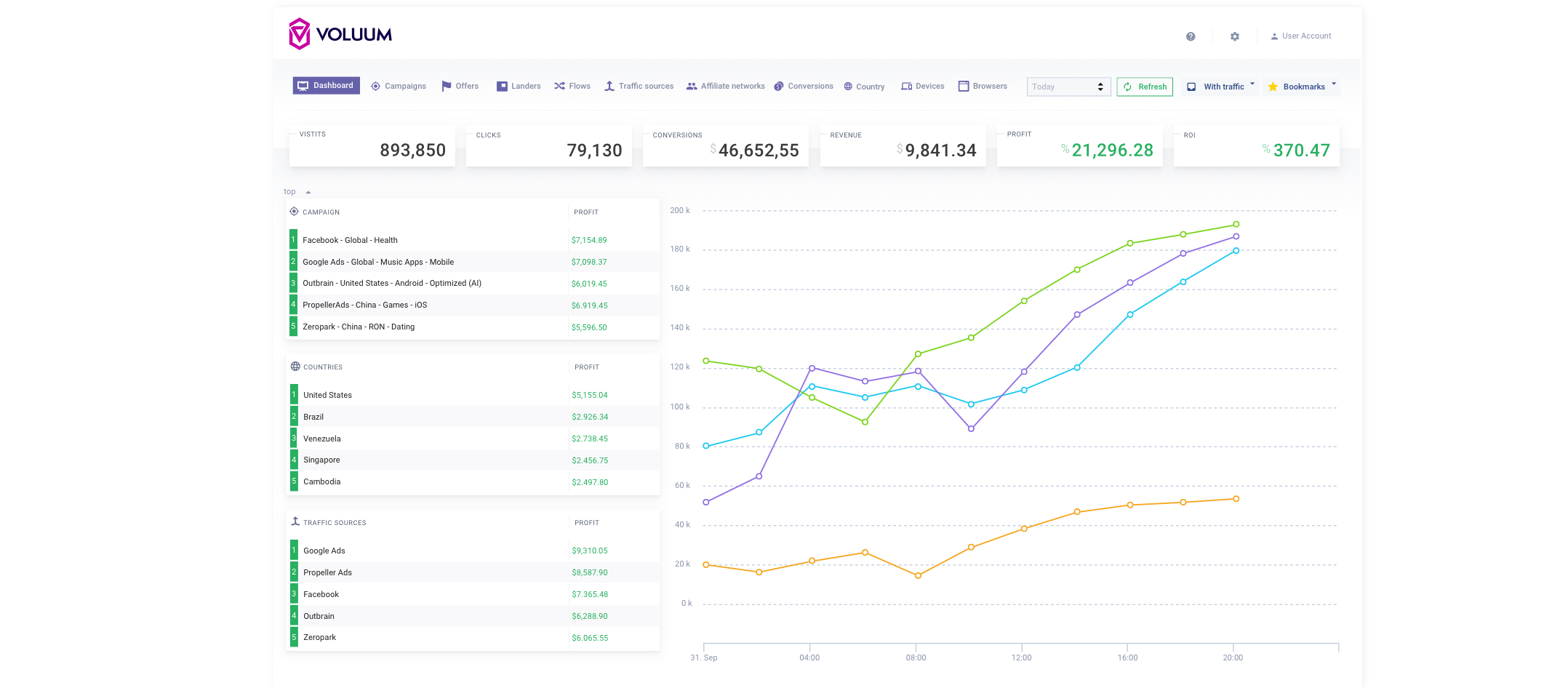 Voluum is an ad tracker and respectable alternative to ClickMagick. It's well suited to the direct tracking of affiliate links, landing pages, and marketing funnels. Voluum's affiliate tracking software is designed to track, optimize, and automate. (If you want to know the differences between these two, check the ClickMagick vs Voluum Comparison and find the winner!)
2. ClickMeter
ClickMeter is an organic tracking system geared toward link tracking, affiliate tracking, and conversion tracking. Its link tracking software enables license holders to monitor, compare, and optimize URLs, aiming to boost conversions and provide an insight into traffic clicks.
Our Pick
Start with ClickMagick
Easy to use and affordable, ClickMagick is where I reccomend most marketers start. Track your entire sales funnel thru an intuitive dashboard, without breaking the bank.
Try it FREE
We earn a commission if you click this link and make a purchase at no additional cost to you.
Clickmagick Review – Buying decision
Overall, Clickmagick is worth investing in. The tracking software boasts robust functionality and, apart from its sharp learning curve for a typical marketer, there are no major issues regarding performance. The price is reasonable, and the platform holds its own when compared with others of its kind.
Finally, the tool's knowledge base is home to concise, actionable information. The options when tracking, testing, and analyzing links, make Clickmagick ideal when optimizing sales funnels, landing pages, and email marketing campaigns.
Further Reading on Link Tracking and Link Analytics: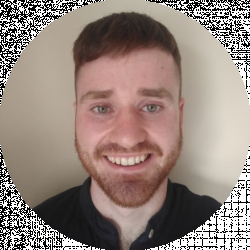 Latest posts by Eoin Cunningham
(see all)
Get 40% OFF for 3 Months