Last Updated on June 1, 2023 by Ewen Finser
As your business scales, so do the daily responsibilities. Hiring multiple employees can create endless work completing mundane tasks including HR, payroll, and employee benefits.
Signing up with a Professional Employer Organization (PEO) can ease the burden of keeping current with state and federal compliance, retirement plans, and rising costs of healthcare. We look at TriNet vs Insperity PEO services so you can take care of your employees while having more time to focus more on core business tasks.
TriNet vs Insperity PEO Services- Main‌ ‌Differences‌ ‌
The main differences between TriNet vs Insperity peo services are:
TriNet offers industry, location, and size-specific HR teams, whereas Insperity does not.
TriNet doesn't offer ala carte services, whereas Insperity does offer this feature.
TriNet doesn't have pre-built payroll data reports, whereas Insperity has 50 pre-built payroll data reports.
Insperity has 50 pre-built payroll data reports, whereas TriNet does not.
TriNet has over 500 training courses for employees to advance their skills, whereas Insperity does not.
The‌ ‌Similarities‌ ‌
5 employee minimum
Per-employee cost model
No long-term contracts
30-day cancellation notice
IRS certified PEO
Email, phone, and live chat support
Employee self-service tools
Mobile app for iOS and Android
TriNet vs Insperity peo services: What is TriNet?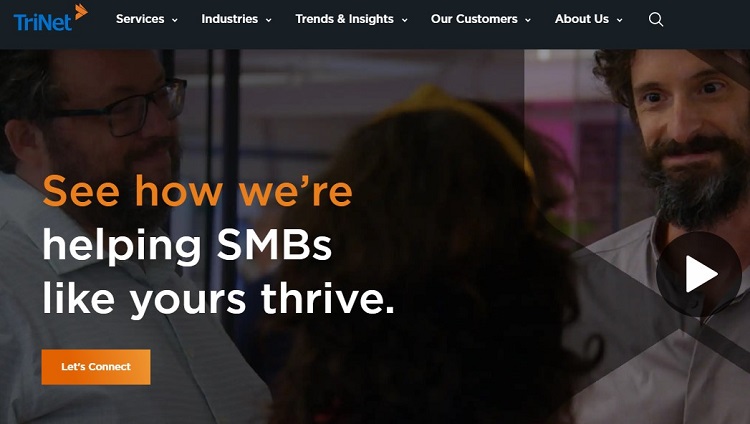 TriNet (TriNet Group, Inc.) is a cloud-based platform for payroll and health benefits. The company is built for small and medium-sized businesses. TriNet also provides outsourced human resources upon request, along with risk reduction and employment law compliance.
TriNet vs Insperity: What are Insperity PEO Services?
Insperity (previously Administaff, Inc.) is a cloud-based platform that provides administrative and human resource services. The company specializes in small to medium-sized businesses.
The Main Features of TriNet
Employee Benefits
TriNet partners with thousands of small businesses like yours so they can provide a discounted rate for health, wellness, and retirement plans. Choose from health, vision, dental, 401(k), commuter, auto and home, and access to wellness programs.
Your company will also receive help managing COBRA and ACA. TriNet even passes on discounts to your employees on top brands through an online marketplace
HR and Compliance
TriNet will match you with a team of HR experts that are experienced in your industry, location, and size of business. This is extremely helpful when you have questions about location-specific compliance or need advice handling your current staffing.
Included in your TriNet HR features are employee onboarding, HR reporting and analytics, policy development, recruiting, performance management, and termination and dispute services.
Additional compliance services cover OSHA and workers' comp. TriNet makes it simple to participate in workers' comp by offering a pay-as-you-go plan that includes no deposits or deductions.
Payroll Processing and W-2s
TriNet's payroll software has integrated time and attendance tools to automatically track your employees' hours and PTO/sick days. The platform features direct deposit and expense tracking.
At tax time, TriNet will prepare employee W-2s and follow compliance guidelines according to current state and federal tax regulations.
Training Courses
TriNet has developed over 500 training courses that employees can use to earn professional certifications organized by industry. Courses are available in three key areas—best practices, business skills, and software skills.
All training courses are interactive, provide relevant topics, and are cloud-based. Plus, employees can track their progress and keep a tally on which courses they have completed.
Security
TriNet uses industry-standard technologies to protect your personal information. Once a year, all TriNet employees are required to complete security and privacy training.
Mobile App
TriNet has a mobile app for both iOS and Android. Employees can quickly check earnings, direct deposit transactions, and a breakdown of their check including taxes, deductions, and year to date (YTD) totals. Plus, access tax documents such as W-2 and W-4 forms.
Use the app to submit expenses and see if they are approved or denied. Other features include health benefits and ID cards, PTO, and discounts on tech, groceries, and fitness through the TriNet Marketplace. Users can log-in using FaceID or your fingerprint.
The Main Features of Insperity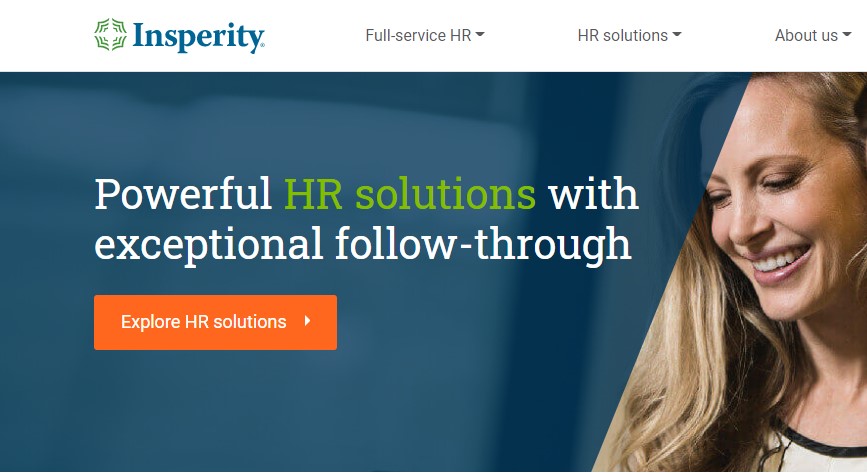 Employee Benefits
Employees can choose from medical (plus prescriptions), dental, vision, and a flexible spending account (FSA). Employees can opt for just medical, a combo, and even buy coverage for a significant other and dependents.
FSA can be funded by employees, employers, or a combination of both. FSA is beneficial for using pre-tax dollars to pay for medical expenses.
Employee Self-Service
Insperity allows the business owner and employee access to onboarding documents, work hour tracking, vacation requests, and detailed benefits information. With 24/7 access to benefits, it can save time for both the employer and the employee.
Employee Assistance Program
The Employee Assistance Program can discreetly take care of your employees' mental health. EAP offers affordable counseling services, recovery from addiction, and more.
401(k)
Insperity can take care of the 401(k) plan for employees and even customize the plan to your specific business needs.
Workforce Acceleration
If you prefer an a la carte approach to HR, the platform offers a Workforce Acceleration package. Once you are signed up for Insperity's payroll service you will gain access to individual features such as:
Accounting and bookkeeping
Benefits administration
Recruiting
HR Consulting
401(k)
Performance management
ACA compliance
HR Policy development
Training
HR and Compliance
Compliance can be a gray area for small businesses if you don't have the time to keep up with new laws and regulations. The platform provides training on common HR issues including discrimination, drug-testing, federal and state laws, background checks, performance reviews, and unemployment claims.
Payroll Processing and W-2s
Employers can generate payroll reports to keep budgets on track. Employees have several options to receive regular payroll including direct deposit, epaystub, and payroll debit card.
Payroll taxes can be generated automatically through the software.
Training Courses
If you are interested in learning about Insperity features at your own pace, the platform provides a podcast, webinars, blog (600+ articles from 100+ HR experts), and eBooks for an endless amount of useful knowledge.
Security
Insperity takes precautions to keep your data safe including firewalls and frequently reviewing and updating security measures.
All employee data is professionally secured at Fibertown, a Tier IV data center. Fibertown ensures little to no downtime and high-speed performance. Insperity monitors security 24/7 and tests it against security breaches.
Insperity PEO Services on Their Mobile App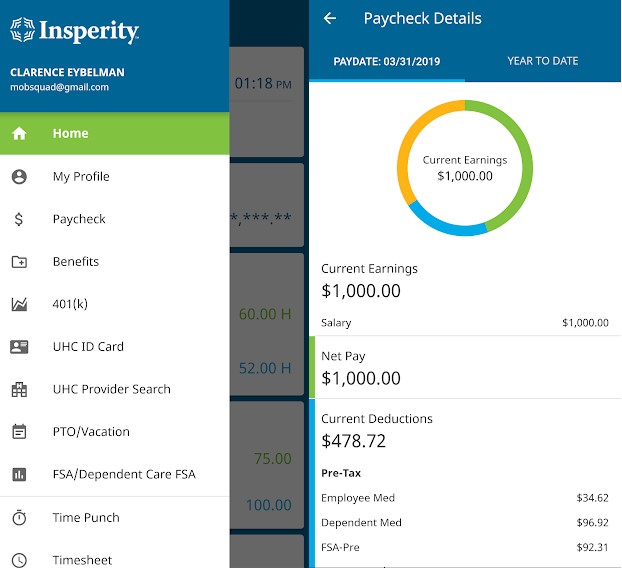 The Insperity mobile app is available on both Android and iOS. The free app provides access to paychecks, 401(k), FSA, and more. When app issues arise, Insperity is attentive and offers solutions including a direct customer service number for immediate assistance.
TimeStar
TimeStar is Insperity's time tracking platform. It offers businesses time tracking options including badge, biometric (fingerprint), mobile (smartphone or tablet), and web punching (via company computer).
Managers can benefit from Time Star by using the software to approve or deny an employee time off requests with only one-click.
Employee Performance Management
Insperity can help you create personalized performance reviews for employees across the board. Keep a digital file on each employee and reference the information to learn your employee's specific strengths and weaknesses. Record Insperity training courses and increase overall company morale.
TriNet vs Insperity – Pricing
TriNet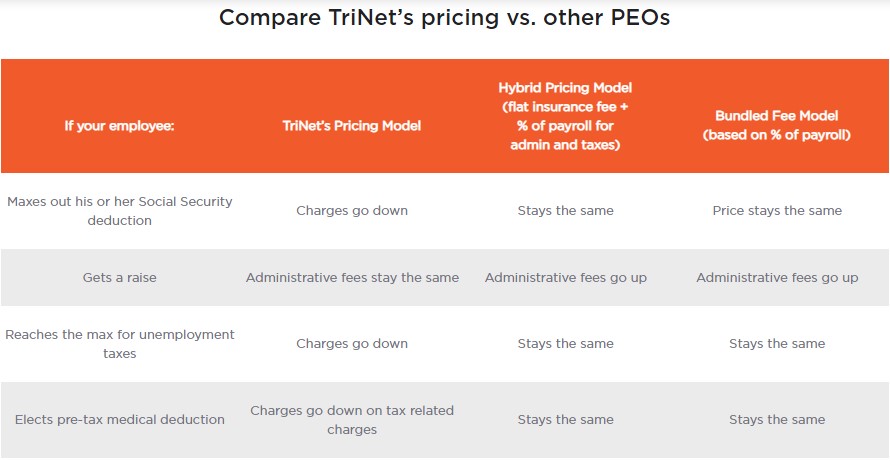 TriNet creates custom contracts and pricing based on your specific needs. You can cancel the contract with a 30-day written notice for any reason. However, cancellation fees may apply.
All of TriNet's PEO plans have a structured flat fee per-employee-per-month (PEPM). The platform's plans all have solutions for payroll, employee benefits, HR, technology, and risk mitigation.
There is a minimum of five employees to sign up for one of TriNet's plans which is a standard minimum across software platforms. PEO plans can scale and evolve with your business.
Insperity
Like TriNet, Insperity uses a per-employee cost as opposed to a payroll percentage cost. This helps keep monthly costs the same. Cost only goes up or down if the number of employees you have changed.
Pricing is custom to each client. There are no long-term contracts and businesses can cancel with a 30-day notice.
Insperity also has a 5 employee minimum to use its services but you can contact customer service if you don't meet the minimum and still desire to qualify. However, if you have less than 5 employees that TriNet and Insperity require, you should consider Gusto or Paychex that are built to handle smaller businesses.
Insperity doesn't have a free trial available. However, some demos explain Insperity's services in detail and knowledgeable customer service reps that can answer any questions that come up before signing a contract.
TriNet vs Insperity – Support
TriNet
TriNet offers customer service by email and phone during the hours of 6 AM – 12 AM EST, Monday – Friday. The platform is also offering 24/7 chat support (during the pandemic).
Have a question about HR, payroll, benefits, etc.? TriNet features support teams that specialize in one category so you always get an expert answer. The platform offers one-on-one HR support for policy support and helps with HR pinch points.
TriNet has a trio of personal finance tools such as a 401K calculator, salary calculator, and hourly paycheck calculator on their website. PEO resources such as a blog, demos, e-guides, videos, and webinars help you learn at your convenience.
TriNet also offers a mobile app with TriNet Mobile. The app is supported by iOS and Android. Employees have access to main features including paycheck summaries, W-2forms, time-off information, benefits, and company contacts. The app is protected by multi-step authentication.
Insperity
Insperity offers online chat (sales), email, and phone customer service. If you call customer service, there are various numbers available for different categories including expense reporting, full-service HR, organizational charting, TimeStar, performance reviews, accounting, and bookkeeping. Users rave that the customer service team is very responsive and knowledgeable about the software.
Larger businesses receive an account manager to handle questions and concerns regarding the platform. This is a huge benefit for instant answers to your questions.
TriNet vs Insperity PEO Services – Pros and Cons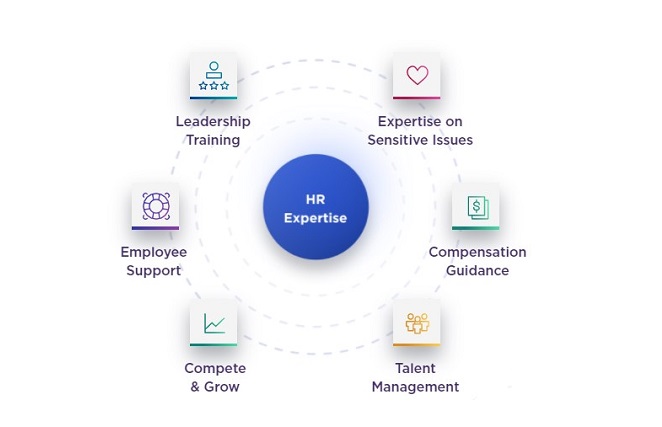 TriNet
Pros
Easy onboarding
Advanced payroll options
Per-employee pricing
All-in-one online portal
Customized HR services based on company size, location, and industry
Top-tier benefit options to secure the best talent
Nationwide service, great for remote workers
Marketplace discounts for employees
Phone, live chat, and email support
Cons
The interface lacks customization options
No a la carte option
Minimum of 5 employees
Onboarding can be difficult
More expensive than competitors
Insperity
Pros
Access to valuable training courses
Easy to use the online platform
Employees and business owners have access to personal information including time, attendance, vacation requests, 401K, HSA, FSA, and more (self-service)
Employee Assistance Program
Excellent 401(k) management
Electronic employee database
Time-tracking and employee management tools
Human Resources in-person and phone support
Cons
Minimum of 5 employees to qualify (for exemptions contact customer service)
No breakdown of fees
Concrete options for health care, 401(k), etc. (Since they manage this for you, you have to accept what cookie-cutter plans they offer)
FAQs
Question: Is TriNet a certified PEO?
Answer: Yes. In July 2018 TriNet was certified by the Internal Revenue Service (IRS) as a Certified Professional Employer Organization (CPEO). CPEO is a federal program. To qualify, TriNet had to meet multiple IRS compliance standards including bonding, financial, and operational requirements.
Question: Does TriNet offer 401K?
Answer: Yes. TriNet offers a low-cost multiple employer plan (MEP). MEPs handles all administrative duties regarding 401(k) plans and assumes much of the fiduciary liability.
This is great for small businesses that would otherwise not be able to provide employees with these benefits. TriNet 401(k) plans feature lower than average industry fees.
Question: Who is the largest PEO company?
Answer: The largest PEO company and provider of PEO services are ADP TotalSource. It is recommended for larger companies and the platform can scale easily.
Question: Who is ADP's biggest competitor?
Answer: ADP has several competitors. The top 10 have a combined 300K+ employees and over 9 billion in revenue. Competitors include Ceridian, Epicor, Heartland Payment Systems, Insperity, Oracle, Paychex, SAP, TriNet, Ultimate Software, and Workday.
Question: What are the pros and cons of working with a PEO?
Answer: Here follow the pros and cons of working with a PEO:
Pros:
– PEO manages risk, liability, workers' comp, state unemployment
– Lower rates for health benefits
– Payroll processing
– Fewer employees
– Advanced HR services
Cons
– Lack of control, employees are reliant on PEO responsiveness
– Lack of health benefit customization
– Not all PEO's are responsible for compliance (taxes)
– Fees can get expensive as your business grows
TriNet vs Insperity PEO Services – Which One is Best?
TriNet vs Insperity shares a lot of features. They both are capable of handling a small to medium-sized company's HR and payroll services. With employee-onboarding, you can minimize personal information mistakes while automating a time-consuming task.
Both platforms provide customer service via phone, live chat, and email. Plus, TriNet and Insperity offer per-employee pricing so your monthly bill is predictable.
Where the two PEO platforms differ, may cause your specific company to choose one over the other.
TriNet has a nationwide service which is great for companies with remote workers. It also provides over 500 training courses categorized by industry so you don't have to worry about teaching skills or hiring a training team. However, TriNet is an all-or-nothing package so you might be paying for more than you need, at least before you begin to scale.
Insperity features an EAP program, multiple time tracking options, and employee performance management. The platform offers an a la carte HR approach so you only pay for what you need. However, pricing can be abstract since each company chooses its services and health care options are cookie cutter.
Taking all of the features into consideration, I would recommend Insperity to most small businesses. The advanced tools and a la carte options create a custom system that is built for your business. Plus, having a specific contact for each category of customer service (HR, benefits, etc.) can be a huge time saver when you need a quick fix.
Further read: